Not a single appealing men's outfit can go without a golden touch these days. The right choice of accessories in a men's look is just as important in modern fashion as the outfit itself. Gold jewelry provides so many options for creating bright and elegant images, helping to reveal and emphasize a man's individuality and taste. That's why the ability to accessorize right becomes a quite useful skill for a modern man with style.
The world of gold jewelry offers a wide range of items to choose from: sophisticated men's gold rings, exquisite earrings, trendy chain necklaces, customized pendants, edgy gold bracelets, and many more options to satisfy your aesthetic preferences and complete your look. So, let's dive into the diversity of gold jewelry for men to find the treasures that will elevate your style with their golden touch.
Gold jewelry is responsible for making men's fashion brighter and more elegant. It instantly turns even the dull outfit into a look full of style and sophistication. The golden touch of luxury jewelry helps men make the right accents and loud statements.
Earrings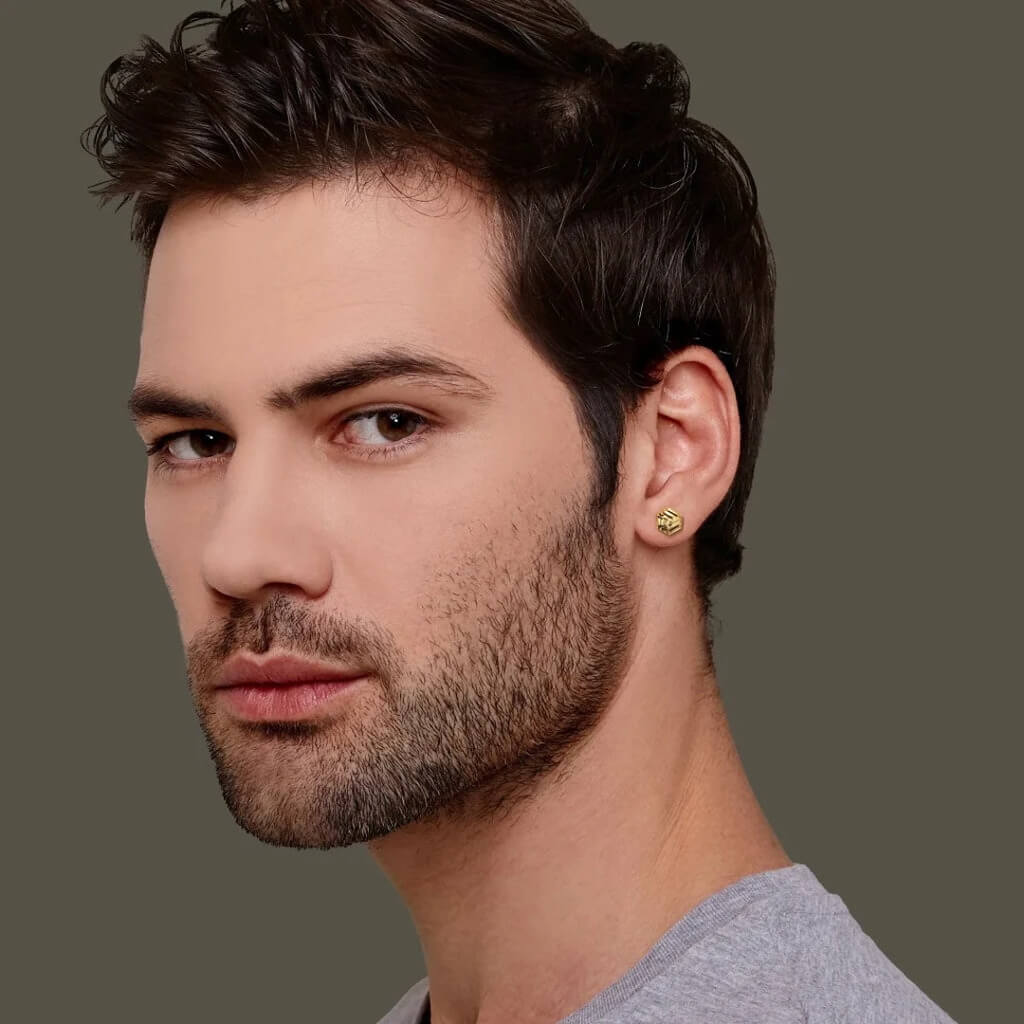 Gold earrings for men have gained more popularity in recent years, and as men look for ways to express their personal style through jewelry, the earrings have become bolder and more intricate. However, one of the most popular styles still remains the stud earrings. They are simple and versatile and can be worn with any outfit. Gold studs come in various sizes, from small and subtle to larger statement pieces. Many men choose to wear a single stud earring, while others opt for a pair. The diversity of gemstones helps expand design possibilities providing space for creativity and personalization.
Another popular style of gold earrings for men is the hoop earring. These accessories typically have a circular shape and can range in size from small and subtle to large and bold. Hoop earrings can be worn alone for a simple and classic look, or paired with a stud earring for a more layered and eclectic style.
Dangle earrings are another stunning option for men's gold earrings. These jewelry items feature a decorative charm or design that hangs from the earlobe. They can range in size and design, being rather simple and laconic, or they can help express a man's individuality with an extravagant, elaborate and eye-catching design.
Being a popular and fashionable accessory that can add a touch of style and sophistication to a man's look, gold earrings also help men make a bold yet elegant statement giving them an opportunity for self-expression.
Chains
For centuries, gold chain necklaces have been a popular accessory for both men and women. In recent years, men's gold chain necklaces have experienced the burst of popularity, with a wide variety of styles and designs available.
One of the most prominent styles of men's gold chain necklaces is the classic rope chain. These necklaces are made up of interlocking links that give them a twisted, rope-like appearance. Men often opt to wear them alone as a statement piece, layered with other chains for a more textured look, or completed by a pendant. The chain provides a sophisticated look, especially when different colors of gold, like white, yellow, and rose, are combined in one design.
Another popular style of men's gold chain necklace is the Cuban link chain. These chains feature interlocking links that are flat and wide, which makes the piece rather chunky and statement-looking. They have a distinctive and eye-catching design that is both bold and elegant. Cuban link chains are perfect for heavy pendants and reveal most of their allure when iced out with diamonds.
Gold Figaro chains are also among the timeless men's favorites. These necklaces feature a pattern of two or three small links followed by a larger link, which creates a unique and distinctive design. This type of necklace accentuates male sensuality and adds elegance to a great deal of men's outfits making it a great choice to have in your jewelry collection.
Choosing the right type of gold and style of chain can help men make appealing accents in their outfits and diversify their looks in a tasteful and elegant way.
Bracelets
Gold bracelets are beating the trends in men's jewelry this season. There are many different styles of men's gold bracelets, each with its own unique features and appeal, giving men the possibility to add a golden touch to a variety of outfits and occasions.
The classic chain bracelet is the absolute favorite among men's gold bracelets this year. These accessories are, just like the necklaces, made up of interlocking links that give them a sleek and sophisticated look. They come in a range of thicknesses, from thin and delicate to bold and chunky, and styles. All the chain necklaces' patterns are available as bracelets and can become a perfect accessory pair emphasizing man's flawless taste. Chain bracelets can be worn alone or layered with other bracelets for a sharp and trendy look.
Gold bangle bracelets have also made it to the top of men's fashion trends this year. Solid pieces possess a simple and polished look that provides a man's style with a touch of laconic elegance. They can come in a range of widths and can be worn alone or stacked with other bangles for a more casual and effortless look.
Gold cuff bracelets are another popular style of men's gold bracelets. They have an open construction and are worn by slipping them over the wrist. They often feature flashy gemstones and can be adorned with intricate details. Such pieces are created to be noticeable and make a statement while completing a man's look with atmospheric aesthetics.
The number of types and designs of men's gold bracelets gives a lot of opportunities to explore your style by experimenting with implementing different bracelets into your looks and combining them with other jewelry.
Pendants
When it comes to men's jewelry, gold pendants make a rather popular choice. They are versatile accessories that can spice any outfit with elegance and personalization. Gold pendants come in various shapes, designs, and sizes, and they can be made featuring a range of gems, which considerably affects their value. Let's check some of the most popular types of men's gold pendants.
The classic cross pendant is a timeless piece that has been popular for generations. It is a symbol of faith and devotion and is often worn by religious men. The cross pendant comes in various designs, including plain, adorned with diamonds or gemstones, or intricately detailed.
The dog tag pendant is another frequent choice in men's jewelry. It originated from military identification tags worn by soldiers. Today, it has become a fashionable accessory that can be customized with engravings, designs, and gemstones. Dog tag pendants come in various shapes, including rectangular, oval, and round, and make the classic combination with a beaded chain necklace.
The men who are passionate about sports or some teams may consider sports pendants. They can be designed with team logos, player numbers, or championship titles. Sports pendants may be represented by different shapes, including basketballs, footballs, and baseballs, while diamonds and other gemstones can add glamour and luxury to the favorite sport symbol.
Personalized pendants are a popular choice for men who want a unique piece of jewelry. They can be engraved with names, dates, initials, or special messages. Personalized pendants tend to feature custom designs, elaborate shapes, bright gemstones, and intricate details. They are the best way to showcase your creativity, individuality, and imagination, to make a message, or even bring your favorite geek universe closer.
Gold pendants are versatile and stylish accessories that can be worn by men of all ages. They are perfect for accessorizing men's outfits, adding a personal touch, keeping precious memories, and expressing beliefs and preferences in a glamorous way.
Rings
In recent years, men have become more confident in their choices of gold rings. With a wide range of styles and designs available, it is rather easy to add a golden touch to your look with the help of a ring or a few.
One of the most popular styles of men's gold rings is the classic wedding band. These rings are simple and elegant, often made from a single band of gold. The choice of width is usually up to the wearer's comfort. It can be worn alone or mixed with other rings for a more layered look.
The signet ring makes another popular type of men's gold accessory. These rings feature a flat surface that is engraved with a design or initials. They are usually worn as a statement piece or as valuable hereditary or vintage jewelry with history.
Stacking rings is a vivid jewelry trend in men's fashion. The rings chosen for the look are typically thinner and more delicate and are meant to be worn in multiples. They can be mixed and matched to create a unique and personalized look.
Gold rings are meant to draw attention to men's hands and gestures, making them more significant and convincing. They inevitably add style, making the look more polished and sophisticated.
Don't limit yourself to stylish explorations and experiments with accessories, let the golden touch of fine jewelry take your style to a whole new level!
For additional insights:-