Are you planning to get a Labret Piercing done for yourself? Labret piercing is so popular that more than 9 to 11% of the total population every year chooses to get a labret piercing done. It is absolutely stunning and amazing. Located right below the lips, the labret studs give you an enhanced look.
Labret piercing is the technique that requires one single piercing right below the lower lips. It is nothing but a simple piercing slightly below the lips.
If you are really looking forward to getting a lip piercing, you must understand the entire process, pros & cons, what the types are, and what kind of aftercare is required for you. Labret piercing seems to be painful, but it depends on what kind of piercing you are getting.
I am a huge fashion enthusiast. Believe me, I have seen many people who make the mistake of not getting detailed information before doing the labret piercing. Unfortunately, getting a lip piercing without any information can lead you to loss, pain, and regret.
I know you are excited to get a lip piercing, but you should read this blog to help you with the ultimate details. It is for sure, the blog will help you understand the studs better and decide how exactly you need to get the piercing done under your lips.
Now before wasting any time, let us dive into the blog.
Labret Piercing Meaning
Every Piercing needs puncturing in the skin that allows the studs to get tucked in between the skin. In Labret Piercing, the concept is the same. It needs a single puncture right below your bottom lip. It seems to be too painful, but every beautiful thing requires some painful effort.
Just Kidding, though the puncturing process is painful, it relaxes soon. Once the entire process is done, you will achieve your satisfaction. The professionals will guide you with the dos and don'ts.
Usually, the aftercare and protection will lead you to healthy healing from the pain and inflammation caused due to the piercing between the skin. As per professionals, it depends on the skin type, how quickly it heals.
You must understand that piercing requires strength to overcome your fear. We all know, the final result relieves us from all the pain. Thus, if you are really interested, learn more about it.
Types of Labret Lip Piercing
I am pretty sure after understanding the traditional concept, you are excited to explore more options. Here, we have listed some of the unique styles for your exploration.
Off-Centered Lip Piercing
Just like the Labret piercing, the off-centered piercing is an interesting puncturing. If you love to try uneven thighs in life, try Off-center piercing. Over here, the piercing is done slightly away from the mid alignment.
Either they are punctured on the left or the right sides. Believe me, it looks desirable when inserted with the correct lip studs. The askewness brings an alluring result, especially when you smile. You can explore different studs to enjoy the piercing.
Unlike the centered labret piercing, this is admired more. Most probably, every person tries for this piercing. The reason is, it enhances the side profile of the face.
Side Labret Piercing
One of the most beautiful piercing styles. As per the professionals, more than the average customers visit to get side Labret piercing. Same as the off-centered, side lip piercing allows you to enjoy the profile look.
It is popularly known as "Snake Bites" if pierced on either side of the bottom lips. Though people love to try it on both ends, it looks perfect on one end. "Spider Bites" refer to double piercing on either side.
If you are unsure of how the centered piercing looks, you may try the Side piercing. And believe me, the professionals recommend letting the piercing settle on your face. After it settles down in a week, you will discover whether it suits you or not.
Vertical Labret Piercing
Have you ever imagined the geometrical vertical and horizontal concept would apply in fashion too? To be honest, just like the name suggests, vertical lip piercing is inserting the studs from the top of the lip and removing them from the bottom side.
The vertical piercing is painful yet worth the try challenge. If you are mentally prepared for getting a piercing done, go for it. This unique piercing is also known as Ashley Piercing when inserted inversely.
Ashley Piercing is one of the most admired piercings. It will puncture the middle of your lower lip, inserting the stud inside it. If you are choosing for Inverse Vertical or Ashley Piercing, you will have to limit the studs. In this particular piercing, you can only insert barbell studs.
Horizontal Labret Piercing
Horizontal Piercing feels something like two dots simultaneously inserted side by side. The only problem here is, you won't get the option of loops. Loops can be a distrustful lip stud that can irritate you.
You can explore different barbells and seamless rings that will easily set on your lip skin. Believe me, this will definitely give you the ultimate satisfaction of getting the Horizontal Labret Piercing.
If you are looking for a unique and challenging lip piercing, you must definitely try this one. Initially, you will have to be of utmost care. Once the piercing has set perfectly, you will find it comfortable on your lips.
Chin Or Lowbret Piercing
Lowbret Piercing may cause you pain and extreme inflammation. In this piercing, you have a single puncture. This is a complex puncturing as per the professionals. It requires a lot of patience and dedication.
The puncturing is done right where the lip tissues meet your gum line. Thus this can be painful, but you need not worry unless you are happy with the result. You will have to ensure that your skin is okay with the pain.
You will have to limit yourself with barbell studs, which will sit perfectly on the skin. You can explore different patterns and designs of barbell studs. Exploring different options will help you to try varieties of Barbell lip studs.
Types Of Labret Piercing Studs
When you have finally decided to get a lip piercing done for yourself, explore the studs. You have varieties of options available in the market for you. Darling, the point is your Labret Piercing allows you with options of jewelry.
When you are getting options, why stick back with the simple ones. I am listing down some of the popular options you must try. Just look at them and find out which will suit your personality and lip piercing type.
Seamless Rings
If you are not interested in trying some old and challenging lip studs, try these ones. They are the most subtle and simple options you must try. If you want to maintain a decent and straightforward pierced lip look, explore more seamless rings.
The style allows you to try hoops too. You can definitely have the feel of a traditional hoop that settles on the lip lines. Seamless rings are customizable. If you want, you can definitely customize the rings as per your style and preferences.
Circular and Diamond Engraved Barbells
If you are fond of the circular look of the studs, try Circular Barbells. If you think barbells are simple and dull, you are wrong, my friend. In fact, barbells are available with a variety of options.
You can get customized barbells as per your taste and choice. Nowadays, people are highly adopting the diamond engraved barbell lip studs. The design and the pattern of the barbell stud are a universal classic. So, what are you waiting for? Go grab your barbell studs.
Flat or Reclining Back Studs
Now you can tell this is a classic stud option. The Reclining Back Studs are very common and regular labret piercing studs. Usually, professionals insert the Flat or the reclining back studs once the puncturing is done. They prefer to insert the flat studs to provide a comfortable puncture.
Especially when you are planning for a vertical labret, flat lip studs are more preferable. It is advisable to avoid friction between the gums and your teeth. It is advisable to choose push pins beneath the stud. The pushing pins will insert the studs smoothly without causing any damage to your skin and lips.
Captive Bead Rings
Captive Bead Rings, generally known as CBRs, are standard in the piercing world. Here you get a range of options. You can try different silver, platinum, and turquoise options. You can avail of different patterns and designs that are suitable for your profile and face feature.
Please ensure that you are choosing the right design and pattern for yourself. Usually, these lip bead rings are larger in comparison to others. The large size may hurt you while biting and result in breaking your teeth.
In short, whatever design or pattern of labret piercing beads and studs you are choosing must suit your piercing type. You have many factors to consider while selecting the piercing studs. Just go through them before finalizing any of them.
They are not uncomfortable to your skin, which may lead to hurting your skin.
Make sure that the beauty of the studs is looking for the safety of your skin too.
Do not go for too large beads that may pain your gums and teeth both.
Ask your piercer whether the type of piercing stud is actually meant for your piercing type.
Once you have considered all these factors, you will realize whether the beads are meant for your skin or not.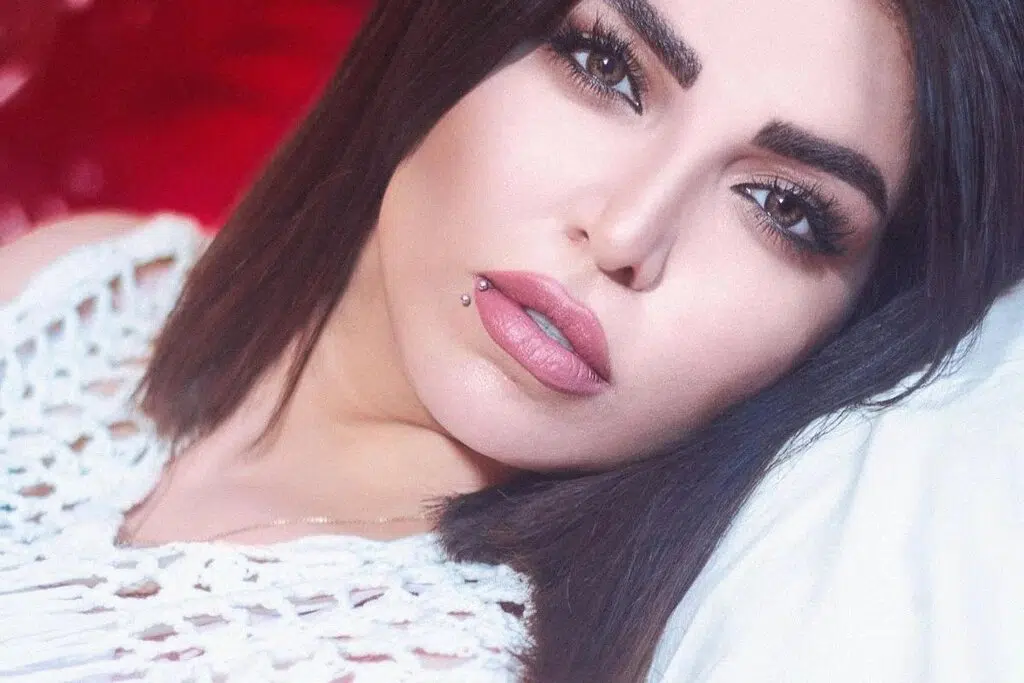 The Complete Procedure
As per the professionals, labret piercing is not a simple process. It requires a lot of patience and a detailed process. Before everything, ensure that you have reached the right piercer. Once you have instructed the professional on the exact location of the piercing, the process starts.
Ensuring the safety and hygiene measures will result in a safe and easy piercing procedure. As per the professional experts, all the tools and devices must be properly sanitized and sterilized. Now the piercer will locate and mark the area with a surgical pen.
Professional Tip: Make sure that the location is rightly marked. If you are still cont sure of the particular area, ask them to re-mark the location. No need to move further unless you find the ideal location.
After the marking, the piercer will puncture the lip from the top to the inside and outside from the bottom end. While puncturing the lips, the piercer will insert the labret studs. The process will be performed swiftly to avoid extreme pain.
Once and for all, the process is completed, you will get some aftercare instructions to take care of. Before leaving the piercing studio, ensure that you are clear with all the doubts. Usually, vertical piercing jewelry is inserted to avoid pain. These are thin and allow the in-between skin to breathe freely.
It is highly advisable to discuss the concerns before the process. If you have any skin-related issues, it is advisable to discuss them with the professional before booking your appointment.
The Aftercare and Healing Routine
Getting a labret piercing is not the end, you have to be very cautious of many things. The healing process will take a long time. You only have one option available, and that is taking proper aftercare for healthy and quick healing.
If you manage to take the correct care of the piercing, it will heal soon. It will take hardly three to five weeks to reduce the inflammation. If you want to get quick healing, you can consider the following steps.
Here are some of the professional tips approved by dermatologists for your safety.
Keep cleaning the piercing twice to thrice a day for two weeks from the piercing day.
It is advisable to keep changing your bedsheet and pillow covers to avoid bacterial infections.
Before touching the lip piercing, ensure that you have cleaned and sanitized your hand.
Brushing your teeth regularly and rinsing them with a non-alcoholic wash after every meal is essential.
No need to remove the vertical piercing jewelry again and again. It can definitely lead to infection and bleeding.
If you remove the jewelry, the piercing will heal immediately. Thus avoid removing the labret jewelry even if you feel irritation.
What all to Avoid in The Healing Period?
After the aftercare, it is crucial to consider the following things to heal healthily. Please make sure you are looking after these things. It is strictly suggested by the dermatologist to consider the following things.
Do not consume acidic, citric content food, spicy food, and alcohol for the next month.
Try avoiding oral contact with your partner.
No sharing of food and liquids with others. It can lead to an infection that can be injurious to your health.
Avoid applying beauty in that particular area. You can use aftercare products instead to keep that particular area moist.
No need to play with the jewelry. This can be painful and lead to infection.
Why Avoid Labret Piercing?
Labret Studs are definitely pretty, but there are some limitations. Some drawbacks are to be considered. Just read them and decide whether Labrets are meant for you or not.
First and most importantly, your diet will get altered. You have to consider changing some eating habits temporarily.
One of the most suspecting risks is getting a mouth infection. It is important to invest at the right place when getting a lip piercing. You will have to consider a correct studio with professionals performing the piercing task. Thus, a studio at times can be a bit expensive and out of your budget.
You may feel your new eating style is a bit irritating. The lip-piercing stud will move together with the movement of your mouth.
Is Labret Piercing Meant for You?
Labret piercing is meant for everyone. It is just that you have to be confident of the piercing. Understand your skin before getting it pierced. I am pretty sure you must have explored everything you wanted to know about the labret in this blog.
In case you missed it!