Body-shaming and size zero are a thing of the past now. In today's fashion world, we celebrate the fact that women of all sizes are simply queens and that no matter how you look, we can all use some fashion hacks now and then. Since curvy women have different priorities and problems, we thought, why not put together a list of essential fashion hacks for plus size women should know? Whether it's boob sweating or thigh chafing, we all go through a bad day at styling and badly need a fix that can get us through the day.
So, wipe that frown away and pay attention because here are the top fashion hacks that you should try today.
1. Know Your Size:
We've all been through a situation where we settle on an imaginary size, thinking that our bodies will magically fit into it. Wrong! The biggest mistake that you are probably making right now is not knowing about your measurements.
Wearing clothes with unwanted loose-fitting and the wrong size is an insult to your gorgeous curves. A helpful tip would be to know the difference between current clothing fashion trends like boyfriend jeans, jumpsuits, and your day-to-day outfits and how to combine them to complete a look you desire.
For instance, plus size jeans for women needn't be according to your measurements, like formal dresses and blouses. But, before you try anything else, it is a good idea to know your measurements of front waist length, neck, shoulders, waist, back waist length, arm, length, hips, and bust.
2. Choose the Right Plus Size Fabric:
Wearing a suitable fabric is as important as wearing the perfect size. While it is easier for everyone to say that plus-size women should wear stretchy clothes, it is not all about that. Some fabrics are stretchable, like modal or Tencel, but get out of shape. But some like polyester is not adjustable, making you look stiff and uncomfortable.
By wearing outfits made of the suitable material for your body type, you can be comfortable and show off your fabulous curves. Therefore, invest in buying fabrics like jerseys, lycra spandex, Ponte knit, nylon, and stretchy cotton.
3. Don't Hold Back on Accessories:
Accessories are your best friend, period. Many curvy ladies would think that accessories may not look good on their thick wrist or waist or that it would draw attention to them. But guess what? That's the point!
The whole point of looking for the right fashion hacks is to ensure that you look stylish out there. So, embrace accessories and wear trendy things like multiple bracelets, adjustable rings, belts, hairpieces, and more.
We also recommend going for a statement necklace or a choker with fancy earrings, clutches, and even watches.
4. Go for Comfy Innerwear:
If you have to invest in only one department of your wardrobe, then it's hands down the undergarments department. You must wear comfy innerwear that is not digging into your private parts. Wearing wired and lung-squeezing push-up bras will do you no good in terms of looking attractive because you'll be in pain most of the time.
For instance, it is a common problem that bra straps dig into your shoulder so bad that it hurts; in that case, a comfortable strapless bra will do the trick. The goal is to wear the right bra that fits your goodies inside the cup, even if you have big busts. Also, don't be afraid of mismatching because we aren't all the same up and down.
5. Get Rid of Chafing Thighs:
Isn't it awful when your thighs rub together under a flaunting dress? Chafing thighs are a nightmare, and they make wearing skirts and dresses very difficult. Never step out with a dress without wearing soft bike shorts or cotton shorts to avoid unnecessary friction between your thighs.
You can use all sorts of creams and gels to combat this problem, but the best way to beat it is to wear a lightweight layer that will keep your crotch area safe from sweating, chafing, and the wind.
6. Choose Subtle Color Combinations:
Bright and unique color combinations are trendy this season. While you can step right up to this trend train, we recommend that you also try going for subtle color combinations. Don't go for the same monotonous colors that you have worn all your life.
Step out of your comfort zone and try various soft combinations like lavender and mint, turquoise and coral, If you have a warm complexion. Try orange and navy for a bold statement, yellow and tan for a soft professional look, and so on.
Also, don't be afraid to try out darker hues like petite black dresses, which have the power to make us look sleeker.
7. Tummy Tuckers Are Saviors:
We should put it on the billboard that there is no shame in wearing tummy tuckers or any other type of shapewear. It is entirely natural to gain a few pounds here and there, and let's admit it, sometimes we don't want that extra weight showing.
This is when the likes of tummy tuckers and bodysuits save the day. When you want to wear a snugly fit dress or top, tummy tuckers can help create a smoother shape that seems more delightful. Again, wearing comfortable innerwear and shapewear is not to make you look thin but to make you look elegant and comfortable.
8. Invest in Dresses: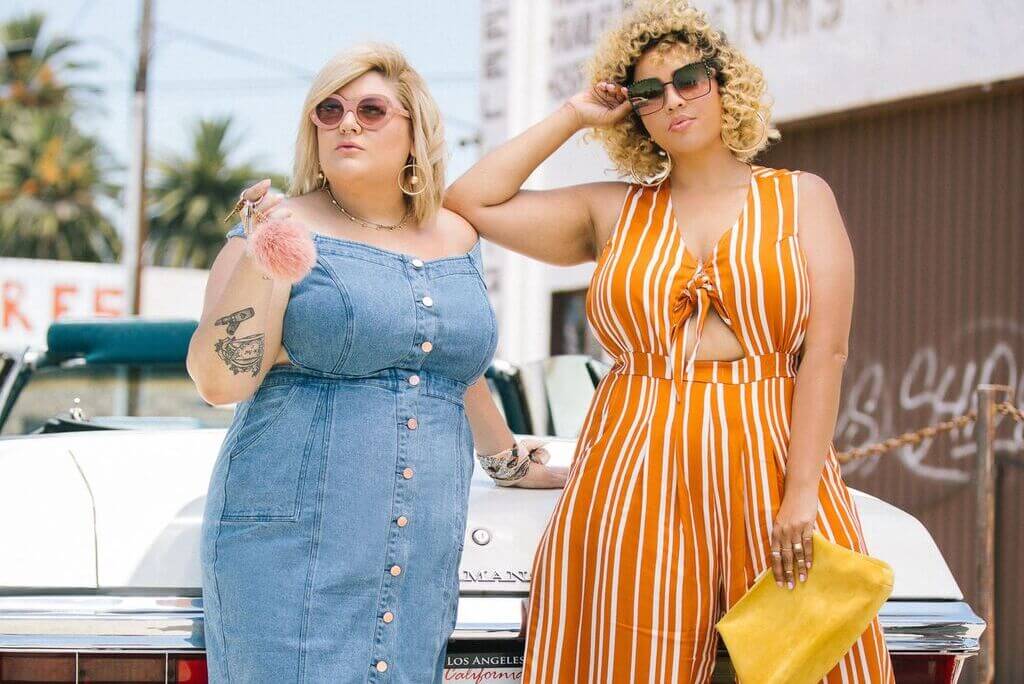 Mainstream clothing brands may have sidelined plus-size women, but that doesn't mean you should too. Stop tucking away your empire and sundresses in the closet and bring out the fashion queen in you. Invest in the perfect sized dresses of all kinds, whether a wrap-around dress or a strapless one.
Wear formal dresses and maxis that complement your body shape. Don't always opt for loose clothing until you're having a lazy day. Throw in a belt at the waist as well so that the dress hugs your curves even more.
Conclusion
Wearing what you love is a favor to yourself. You don't always have to go for high-end dressing because it is all about making a statement. Therefore, whenever you struggle to choose the ideal dress that compliments your curves, take pointers from our hacks pointed above.
Being a plus-size woman doesn't mean you have to fit in everything; the key is to wear clothing that fits you perfectly, makes you look desirable and confident.
For more information:-