Halloween is just around the corner, and it's time to brainstorm ideas to pick the best costumes.

Do you know that about one-third of people plan to attend a Halloween party, and 47% of them enjoy dressing up in costumes?

If you are among these people and looking for ideas to make your costume stand out, try crowns for Halloween.

The majority of people often go with scary masks and makeup, but adding a spooky crown on your head will give you a complete look.
At Sweetv, you'll get a great collection of crowns for Halloween. It is a jewelry brand known for making different types of accessories and jewelry.
Here, you'll get top-quality crowns for Halloween that are made by hand to offer durability. The best thing is that you can safely store the crown after Halloween and use it next year as well. There are many different types of crowns available at this store, suitable for both men and women and people of all age groups.
You can browse the collection and pick the best designs to match your costume and make everyone's jaw drop with your amazing style. In this article, we are going to discuss the 7 best spooktacular crowns for Halloween from Sweetv.
So, let's begin!
1. The Black Knight Halloween Series
If you are planning to attend a party dressed up as a medieval knight, this is one of the best crowns for Halloween to buy. As the name goes, this crown is jet black with intricate designs to add a mysterious touch. It is made from alloy and is strong and sturdy enough to last for years to come.
The design of this crown is very unique, and you'll not find it anywhere else. It is designed with a time-honored pattern and is rough on the surface to give it a vintage appearance. The height is medium with 8.3 cm, and the diameter is 16 cm. You can easily wear it on your head as it is lightweight and doesn't put too much pressure.
The crown also gives major Game of Thrones vibes with its rough edges, design, and black color. It is simple, with tall and thin spikes on top. Each spike has a carved pattern to make it look real. In addition, the crown has a subdued dragon-like pattern to enhance its charm.
It's among the best crowns for Halloween because of all these aspects. It's appropriate for cosplay as well as costume parties. Wearing this knight crown will give you the appearance of a dark vampire king or Viking. Because of its minimalist style and black hue, it may be used with a variety of outfits.
Although this crown is meant for men, with the appropriate clothing, boys and girls can also wear it. You can even carry a fake sword and paint three black lines on your face to give your Halloween look a bold new touch.
| | |
| --- | --- |
| Color | Black |
| Diameter | 16 cm |
| Height | 8.2 cm |
| Material | Alloy |
2. The Night Reindeer Halloween Series
There is also another set of crowns for Halloween called the Night Reindeer. It is glossy and dazzling and offers you an exquisite appearance, unlike the black knight crown. A black crystal in the center of the crown, which resembles a reindeer, adds to its allure. Its surface is adorned with crystals, and it is composed of alloy.
This is one of the most stylish crowns for Halloween in terms of style. With its reindeer horn pattern and silver color band, it has an entirely distinctive appearance. Perfect for adults and teenagers, the diameter is 17.4 cm, and the height is 7.4 cm.
You can dress up as a monarch or a lone prince by wearing this crown. It is appropriate for both genders. Additionally, it can be worn with a variety of costumes, such as that of an Alpha Wolf, Dark Queen, Alpha Lord, or Ice Princess. This product offers countless styling possibilities.
The fact that this crown comes in two distinct colors is its best feature. You have a choice between the golden and silver designs. The golden crown has a gold crystal in the center. However, the silver crown has a black crystal.
The surface of the crown has a rough appearance because of the various designs on the reindeer antlers. It fits snugly on your head and will give you the ideal Halloween appearance.
| | |
| --- | --- |
| Color | Silver and Gold |
| Diameter | 17.4 cm |
| Height | 7.4 cm |
| Material | Alloy |
3. The Death Halloween Series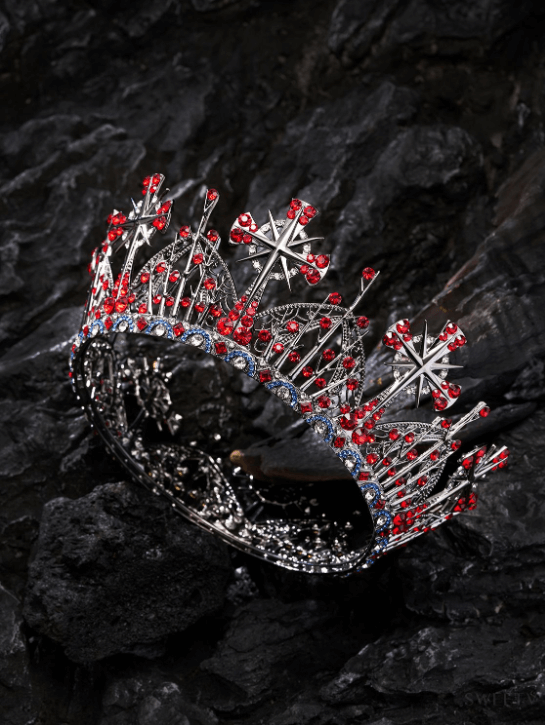 While the above two crowns for Halloween were a bit subdued, the death crown doesn't hold back when it comes to the spooky element. It is clear from the name itself that this crown represents death. However, it's not about gore but rather has a deep meaning.
The crown is silver with red crystals and blue and white rhinestones. The design is elegant and can look really good, especially when you wear it with the perfect costume. The height of the crown is 2.75 inches, and the diameter is 5.51 inches. It is an average size, so anyone can wear it.
The meaning behind the crown is rebirth after death. It comes with a cross emblem on top adorned with red crystals. It represents reincarnation and the beginning of something new. Then, next to the cross, there is an arch that is shadow-bound. Also, there are branches inside the arch design, which symbolizes new opportunities.
So, if you want crowns for Halloween with deep meaning behind them, this is the best option. The crown is very beautiful with its shiny silver color and the red crystals on top. The base of the crown has blue and white rhinestones, which perfectly complement the red.
You can wear this crown to get a queen or princess look. Apart from that, you can also pair it up with mystical or mythical costumes. It goes perfectly with an oracle or a Greek goddess look. There are many ways to style it with your Halloween costume.
| | |
| --- | --- |
| Color | Red |
| Diameter | 13.9 cm |
| Height | 6.9 cm |
| Material | Alloy |
4. Felix Crown Halloween Series
One of the best crowns for Halloween costumes is the Felix crown. It is a king crown with a beautiful antique finish. The crown will give you a regal look and make you look like a historical character. It is one of the best crowns for Halloween when it comes to men and boys.
The crown is decorated with multiple blue crystals to create a royal look. It is made from alloy and is extremely durable, unlike those cheap plastic alternatives. The metal has a vintage copper color with intricate carvings and patterns. The floral design is further decorated with white crystals. The combinations of the colors make it truly stand out.
The height of the crown is 2.16 inches, and the diameter is 6.89 inches, making it suitable for men. You can wear it with a fallen king costume for Halloween. Apart from that, you can also use it for cosplay or fancy-dress parties.
The best thing about the Felix crown is that it is available in two different colors – blue and red. You can choose one with blue crystals or the red ones. Both the colors are vibrant and stunning, and the crystals are of good quality and won't fall off the crown. You can even use it as a piece of decoration in your home.
| | |
| --- | --- |
| Color | Red and Blue |
| Diameter | 17.5 cm |
| Height | 5.4 cm |
| Material | Alloy |
5. Lukas Crown Halloween Series
If you are looking for king crowns for Halloween, Lukas crown is a great option. It has an antique and vintage design that will give you a real king-like appearance this Halloween. The product is strong and durable as it is made from alloy. This makes it lightweight and comfortable to wear.
You can buy this crown if you are dressing up as a king for a Halloween party. It has a copper hue with an amazing royal design and is adorned with white crystals that look like diamonds. It will go perfectly with a red cape and a white shirt with black trousers. You can create your own look with this product.
This Halloween crown is available in different colors. You can choose a gold color for a rich look or go with antique gold. Both the colors come with white crystals. Apart from that, you can also choose one with peacock blue and red crystals. Depending on the shade of your costume, you can choose from any of these 4 options.
The height of the crown is 3.07 inches, and the diameter is 6.89 inches, which makes it perfect for men. Overall, it is a great king crown for Halloween and is available at a good price.
| | |
| --- | --- |
| Color | Gold, Antique Gold, Red and Peacock Blue |
| Diameter | 17.5 cm |
| Height | 7.7 cm |
| Material | Alloy |
6. SV Eliana Costume Crown
When it comes to Halloween costumes, you can choose to be anything. While most people go with scary characters, you can break the stereotypes and choose to be a queen. The SV Eliana crown can be a perfect addition to your queen costume.
It is a stylish and elegant crown crafted from alloy and has a gold finish with a center cross. It has a baroque style and can give you a perfect vintage queen look. The height of the crown is 14 cm, and the diameter is 12 cm, making it suitable for women.
The biggest highlight of this crown is its design. With a gold finish, this crown is decorated with crystals of different colors. There are white, red, green, blue, as well as yellow crystals on the surface. Apart from that, the cross is covered in rhinestones with a big blue crystal just beneath.
You can wear a gown and style it with this crown for a Halloween look. The size is perfect for little girls. You can dress up your daughter like a queen with this crown for a school Halloween party. The beauty of the product will truly give a real queen-like appearance to anyone.
| | |
| --- | --- |
| Color | Gold |
| Diameter | 12 cm |
| Height | 14 cm |
| Material | Alloy |
7. SV Natalia Crown Set
Halloween is all about making a bold style statement, and you can do it perfectly with the SV Natalia crown set. It comes with a crown and a set of earrings to complete your Halloween look. The crown is shimmery and stunning, with Austrian crystals on the surface.
The design is based on baroque vintage style and is great for showcasing your love for culture and fashion. The height of the tiara is 8.7 cm, and the diameter is 14.4 cm. It is a great fit for women and girls. You will get bobby pins with the crown to easily secure it on your head.
The chandelier dangle earrings have an equally beautiful design with a center crystal surrounded by rhinestones. It measures 6.3 cm in height and 2.7 cm in diameter. Their bullet clutch earring back keeps it secure in your ear. It is nickel-free and lead-free, making it suitable for people with sensitive ears.
This crown and earring set is available in many different colors. You can choose from sliver, champagne, emerald, red, and aurora borealis color. You can wear it for Halloween, birthdays, prom, theatre, bridal showers, maternity shoots, baby showers, weddings, costume parties, or any other special occasion.
| | |
| --- | --- |
| Color | Silver, Champagne, Emerald, Red and Aurora Borealis |
| Diameter | 14.4 cm |
| Height | 8.7 cm |
| Material | Alloy and Rhinestones |
If you want to make this spooky season special, pair your costumes with these amazing crowns for Halloween. We have listed the 7 best crowns for Halloween from Sweetv. These crowns are suitable for men and women and are made from strong alloy material. You can choose from any of these options to create a perfect Halloween look and turn heads with your unique style and fashion. We have listed options that can suit the style of every age group.
FAQs
How do you make a crown for a costume?
For a costume party, you can create a cardboard crown at home. In case you're looking for anything sturdy, it's advisable to choose a metal crown.
What is the difference between a crown and a tiara?
The form is the primary distinction between a tiara and a crown. Tiara bases are semi-circular, but crown bases are whole circles.
What does a king crown look like?
A monarchy crown is audacious and large, crafted from silver or gold metal and embellished with crystals, diamonds, and priceless stones.
Explore Further:-