The fluttery Butterfly haircut has already captured the hearts of Gen Z. Are you obsessed with it too? Coined by celebrity hairstylist, Sunnie Brook, the hairstyle effortlessly blends short layers with long ones, creating an enchanting allure that's difficult to resist. Every internet influencer is talking about the butterfly haircut trend these days.
A Butterfly Haircut combines elements from different eras: 70's shag, 90's Rachel, and jaw-dropping blowouts. Another word refers to it as Rachel's haircut and Pamela Anderson's hairstyle from Baywatch. Stunning versatility and timeless charm make this haircut a standout.
What is a Butterfly Haircut?
As the name suggests, a Butterfly haircut mimics the graceful fluttering wings of the beautiful butterfly. The short layers artfully cascade the long layers adding tremendous volume to the hairs. The short layers elegantly cover the frame of the face while the long layers gracefully fall below the shoulders. The best part about this chop is its adaptability with a wide range of face shapes and hair types. Whether you have an oval, round, or square-shaped face, this hairstyle effortlessly enhances your natural beauty.
Here are some fresh and playful Butterfly haircut ideas:
Butterfly Haircut with Bangs or Butterfly Haircut with Curtain Bangs:
Butterfly haircut undoubtedly transports you back into the era of bangs in various captivating ways. If you wish to have a shorter look, add wispy bangs or curtain bangs followed by artful arrangements of short and long layers around the face. The combination will add width to the look and make it look more admirable.
Short butterfly haircut or butterfly haircut short:
The butterfly haircut looks extremely heavenly, even on shorthairs as well. Don't hesitate to go for it even if you have shoulder-length hair and are contemplating the butterfly haircut. Combining curtain bans with textured short layers will add undeniable charm to the look. Get ready for some bold, head-turning transformations.
Butterfly Layers Haircut:
Butterfly layers cut is the new mesmerizing look, perfect for welcoming spring with style. This hairstyle looks beautiful on individuals with symmetrical faces and prominent facial features. To make the most of this cut, go for a blowdry session after applying a texture spray, amplifying its beauty and bringing out its mesmerizing charm.
Butterfly Haircut For Straight Hair:
This hairstyle seamlessly blends along with the natural texture of your straight hair. The addition of long layers adds a twist to the look. Long locks symmetrically cascade the face frame, extending to the shoulders or beyond.
Butterfly Haircut For Curly Hair:
Do you wish to achieve a Bohemian look with your curly hair? Butterfly haircut captures the essence of the theme, and the flowy, bouncy waves give you a picture-perfect radiant look.
Butterfly Haircut For Long Hairs:
Your desire to don beautiful layers leads you to a butterfly haircut. This versatile haircut allows you to shape up the long layers you want without being fussy about the ends and tresses.
Butterfly Haircut For Thin Hair: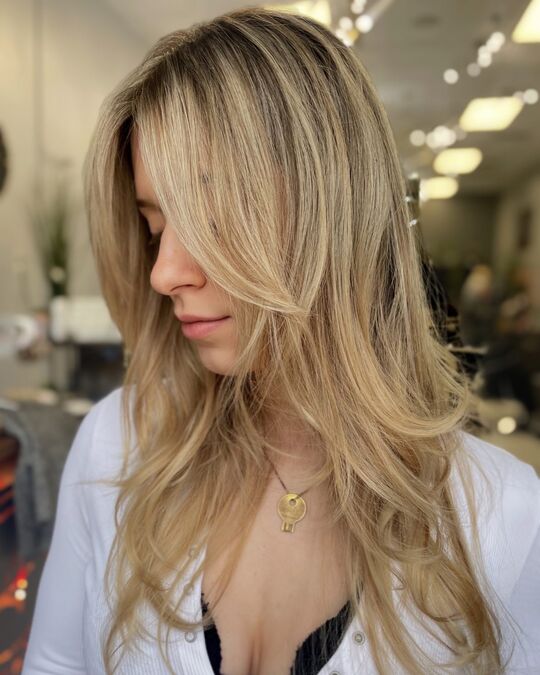 Butterfly layers technique crafts wispy layers, which eventually make the hairs look thinner. However, if you are blessed with smooth and a bit thicker hair, the haircut will give you a stunning transformation.
Butterfly Haircut Side Parts:
If you're fond of flaunting the flirtatious charm of your waves and side bangs, the Butterfly haircut with a side part is an excellent choice. This haircut throws a modern and chic vibe that instantly elevates your hair's value. You can effortlessly carry this look without extensive blow drying or copious amounts of styling spray.
Butterfly Haircut For Fine Hair:
A butterfly haircut spices up the bounciness of the hair and gives you a classic look reminiscent of a Lob hairstyle. The long layers and intertwined ends create a perfect party look.
If you want to opt for a more romantic and smooth hairstyle, you can add some curtain bangs to the mix. These bangs enhance facial features and elevate the evening look, adding more sophistication.
Alternatively, you can explore a bob cut with layers, which imparts a weightless effect to your hair, delivering a chic and contemporary twist to your style. The possibilities are endless, allowing you to embrace your style with confidence and flair.
Butterfly Haircut With Big Waves:
Imagine cascading strands of glossy hair, each layer gracefully flowing at varying lengths. This mesmerizing hairstyle exudes an aura reminiscent of a divine goddess. To maintain this beautiful look, you can opt to apply a light mist of hair spray for added hold or do a gentle blow drying, ensuring the long layers remain beautifully intact.
In other words, a butterfly haircut is a game of layers that wonderfully cover the face. Then, what is the difference between a butterfly haircut and a layers haircut?
Butterfly Haircut vs Layers Haircut: What's the Difference?
Butterfly haircut is all about creating a fascinating layering effect that delicately frames the face, much like a butterfly's wings. On the other hand, a traditional layers haircut involves the layers being shaped inward, providing a different look where they embrace and cover the face in a more subdued manner.
How to Style Butterfly Haircut?
If you have already embraced your hair to this celebrity-inspired haircut, it is time to bring out your trusty blow dryers and round brushes.
To master the art of styling butterfly haircuts, follow these steps.
Maximize the blow dry: Begin by blowdrying the hairs to their full potential. Blow dry in sections and smooth down each section with a round brush. As you keep doing, allow the hairs to cool, eventually lending a delightful bounce.
Alternatively, you can also try blast drying instead of blow drying. At the end of blast drying, use a round brush and smoothen the hairs.
Guard your locks: For best results and to protect the hairs from potential damage, apply heat protection cream before subjecting hairs to the heat of styling tools.
Take Away:
Butterfly haircut undeniably gives a style statement look. It complements every face so beautifully that everyone repeatedly falls in love with it. So, why resist the transformation? Allow your locks to break free from their cocoon and gracefully embrace the change into a stunning butterfly.
Read More:-