How many tattoos do you have? Are you a fan of tattoos? When it comes to getting a tattoo, from the wrist, neck, top of the arm to fingers and ankles, there are many places to get one. One of the best and popular locations to get a tattoo these days is the chest! Many Hollywood celebrities, TV stars, and singers such as Cara Delevingne, Demi Lovato, Rihanna, Ariana Grande, Miley Cyrus, and many more have breast tattoos.
In recent years, chest tattoos have become a fashion statement for both men and women. That's the reason nowadays many women and girls are getting breast tattoos. If you also want to get and showcase your tattoo, the chest will be a great location for you. These tattoos are the best and unique way to add hotness to this body part.             
When it comes to breast tattoos, there are numerous types of designs available. From small ones to large chest tattoos, there are many styles that anyone can stay amazed at after looking at those designs. 
What was your first reaction after hearing about chest tattoos? You might be thinking about bold and large tattoos. Many people always start to think about the whole chest covered in ink when they hear the words 'chest tattoo.' That's totally wrong because this completely depends on your choice, and your design can be small or big or whatever you want it to be.
Today in this blog, we've compiled up some of the best breast tattoo designs for you. From under the chest, side to quotes tattoos, we've covered everything. So, if you're looking to accentuate your cleavage or just simply want a small but stunning design, you'll get some inspiration from the below list.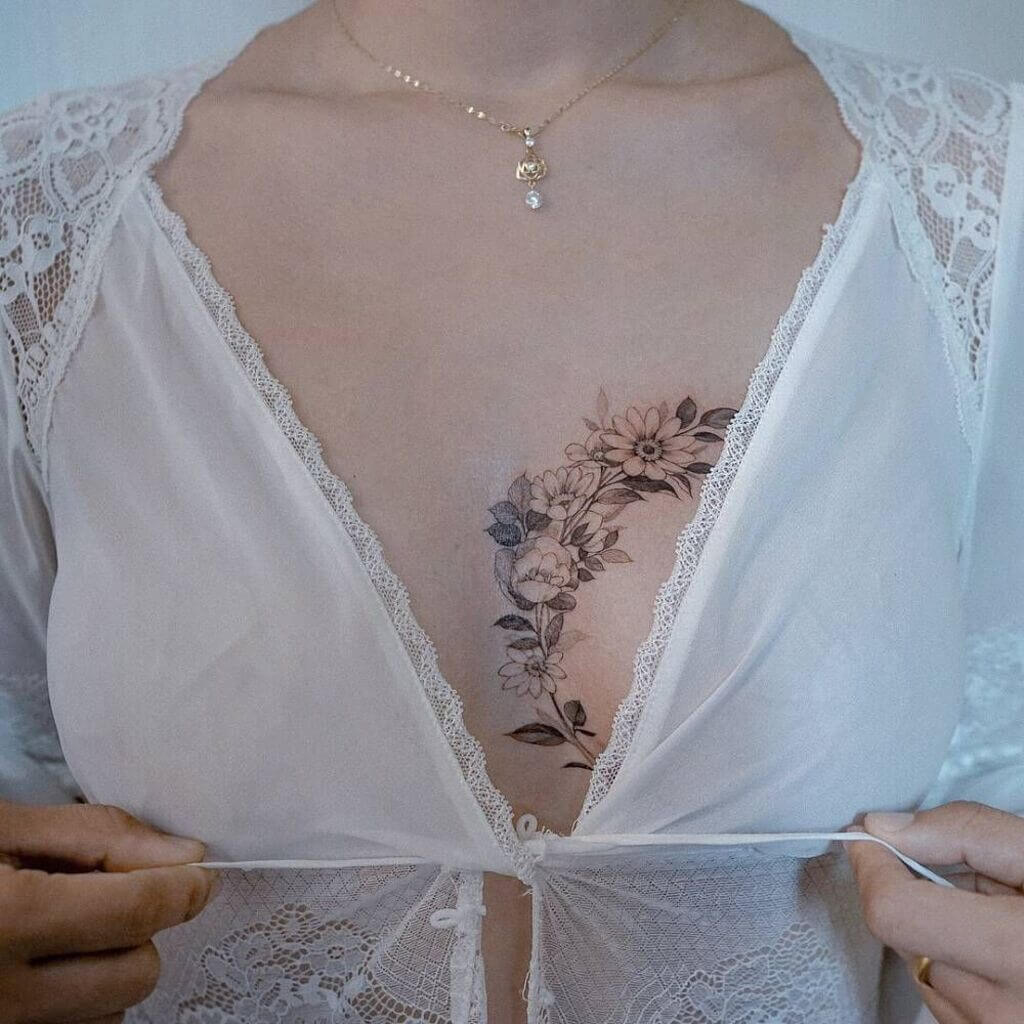 Source: amazonaws.com
But before we get into the design, here are few things that a woman should consider before getting a tattoo design on the breast, such as:
Size of the tattoo.

The shape of the tattoo. 

The proportion of the tattoo.

Colour of the tattoo. 
After knowing the above things, you can finally go on to the selection of the designs. Let's look into the best chest tattoo ideas for women.
Top 7 Cool & Stylish Breast Tattoos Designs in 2022
Some of the latest tattoo designs include lace, flowers, characters, and tribal motifs. If you want to customize, you have to think about the placement, size, color, and styling. Below are the top seven breast tattoo ideas in 2022 for you: 
1. Floral Breast Tattoos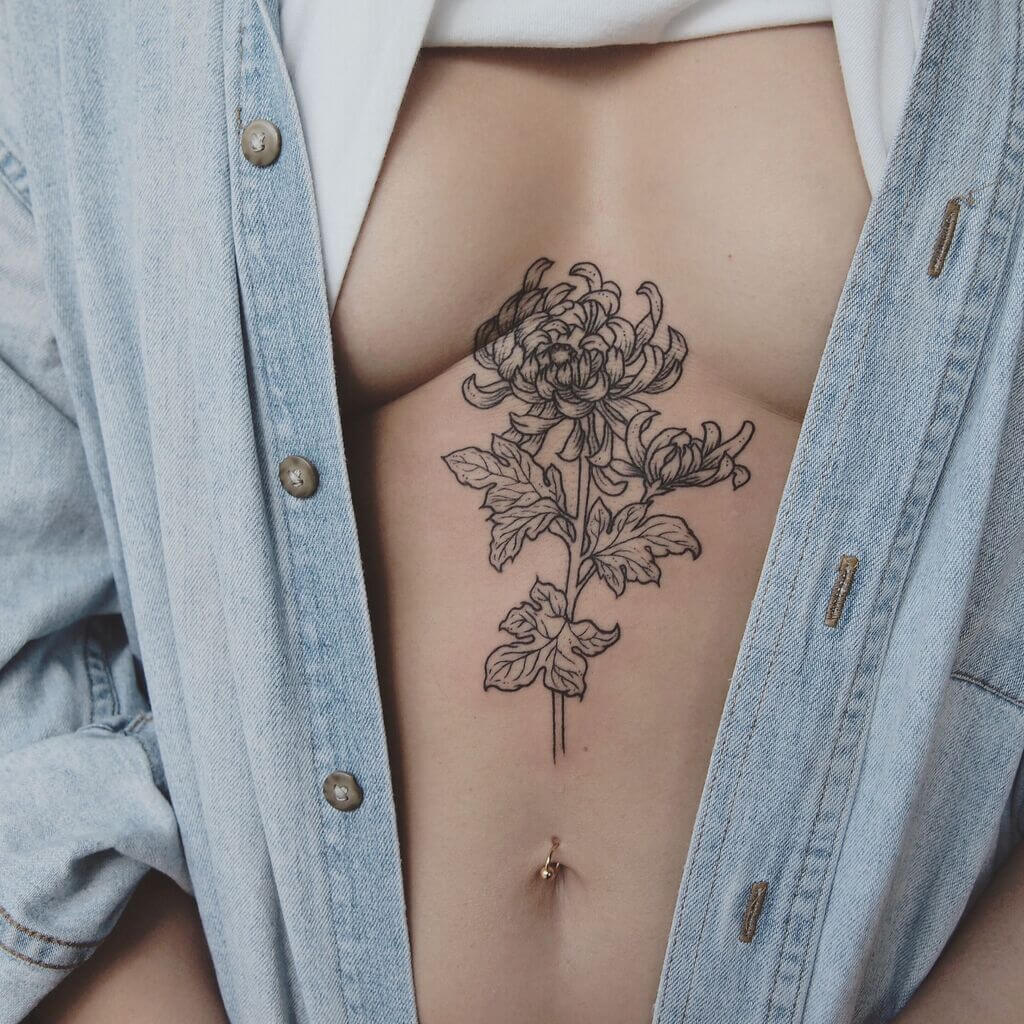 Image Source: pinimg.com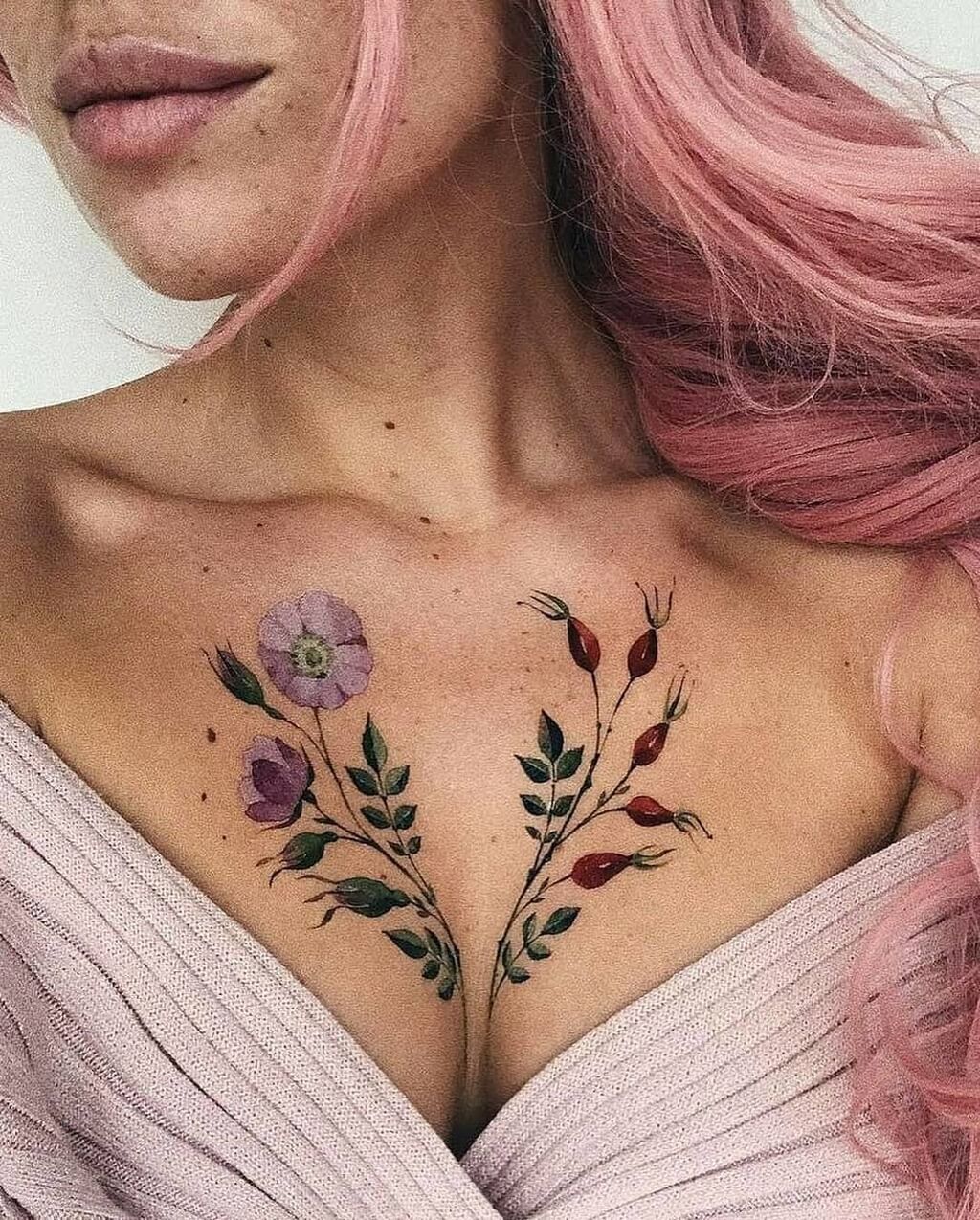 Source: whicdn.com
Though flowers are considered as a symbol of femininity, still they can also depict boldness. Flowers and nature are great tattoos for females. These floral designs come in many variations. You can get small blooming flowers, wildflowers, or flowers with thorns, or anything related to floral designs and nature. 
The best thing about floral chest tattoos is that they're not just a fashion statement, but they tend to mean everything positive and joyful. They also represent birth and a new life filled with happiness and colors. From small breast tattoos to large full chest tattoos or any design with flowers, colorful leaves, and nature will look pretty on girls.         
2. Quote for the Side
Image Source: tattoostime.com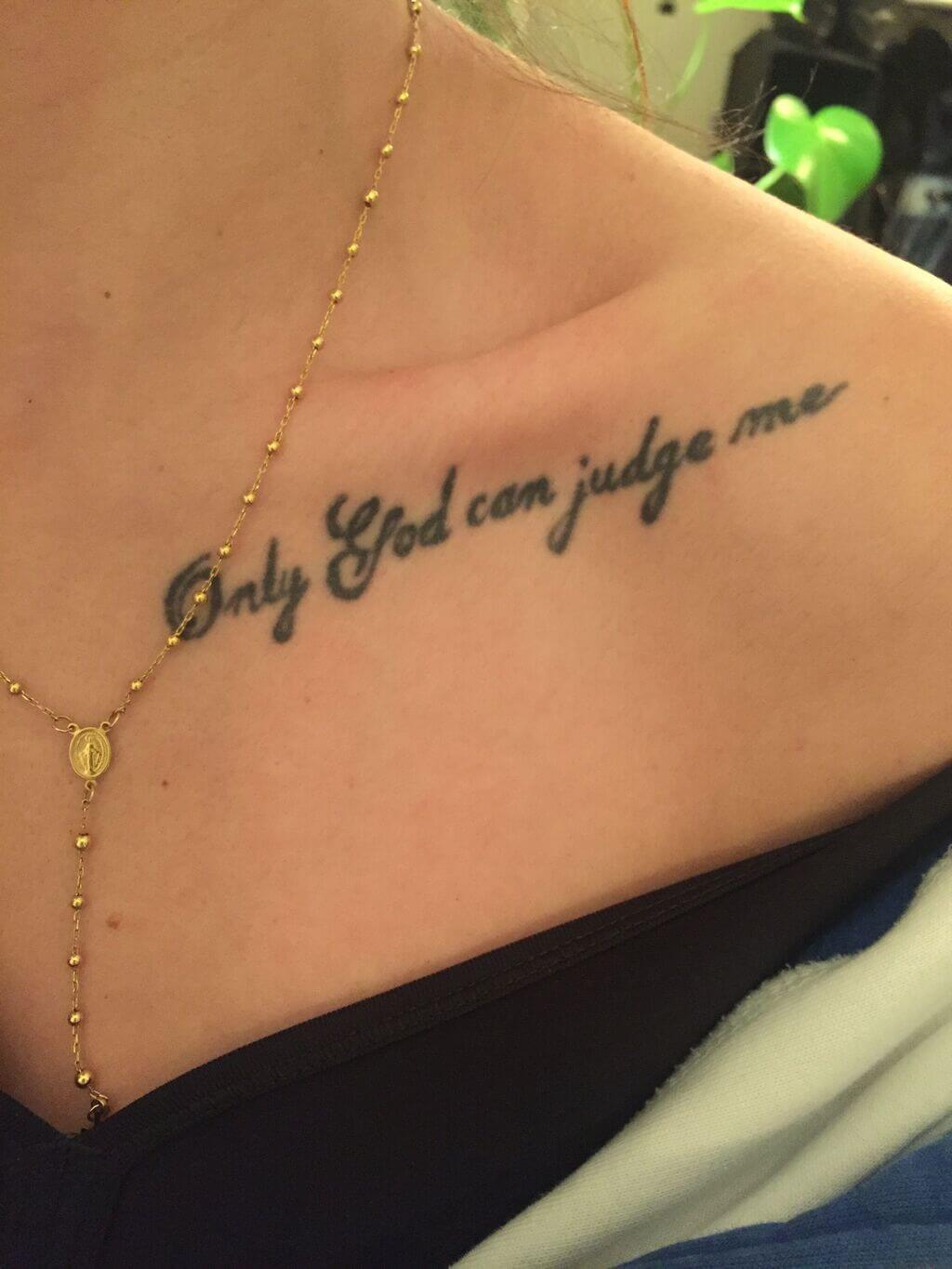 Source: pinimg.com
Quotes are one of the most impactful ways to spread positivity and hope. That's why quotes as boob tattoos are another popular choice among females. So if you have any personalized message, meaningful quote, or even mantra, you can use it when you're picking out your new ink. You could always ask your tattoo artist to inscribe any message, date, or quote on your breasts. 
The breast quotes tattoos can have personal meanings and connotations. They look sophisticated and trendy at the same time. Chest tattoos look more adorable when you select the right position.
Small lines can be easily inked along the boob's curvature. This side boob tattoo idea looks pretty and cute. Another great location is along your collarbone, heading towards the shoulder. If you're going with big lettering, the center will look best.  
3. Small Chest Tattoo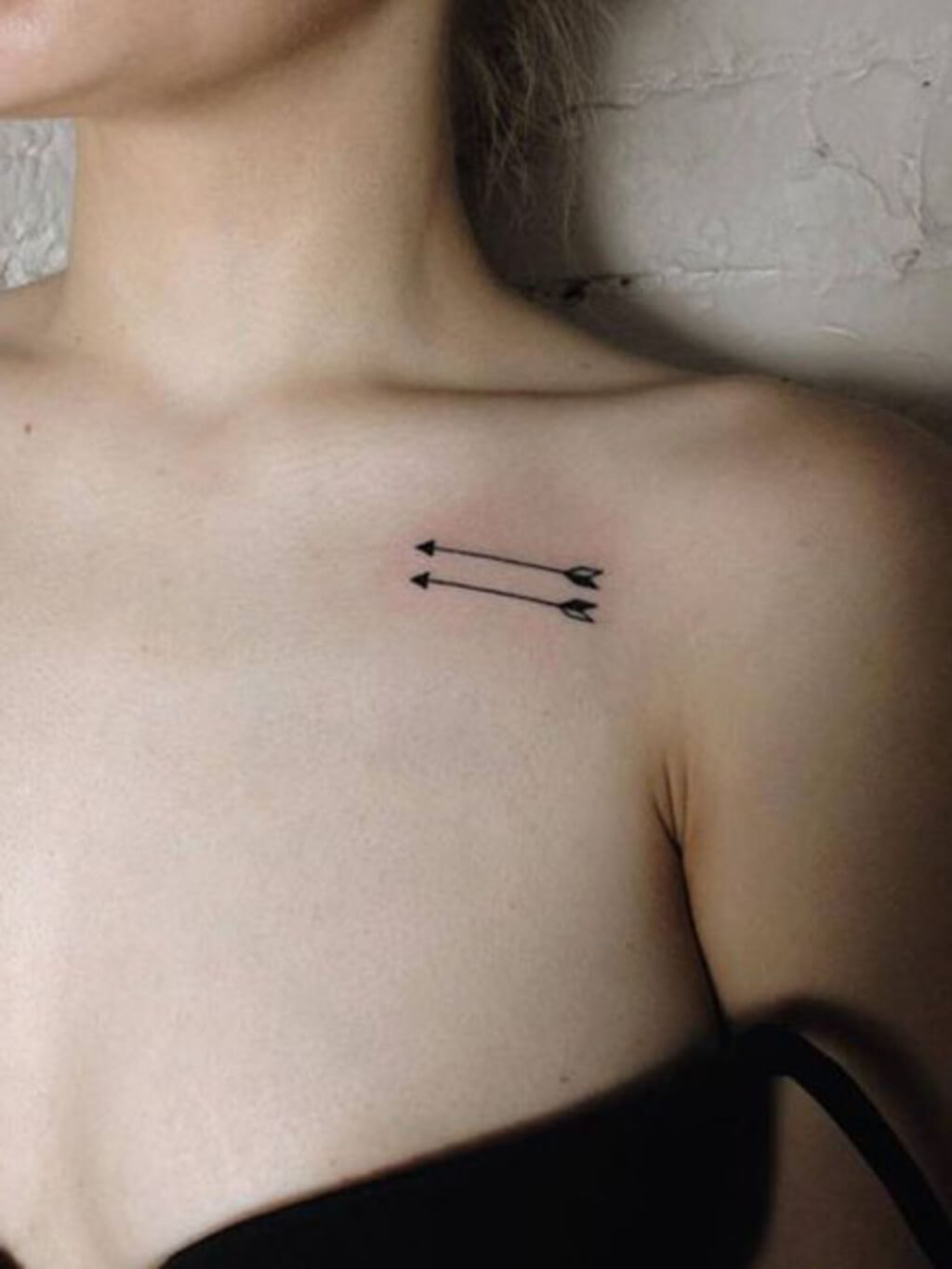 Image Source: thetrendspotter.net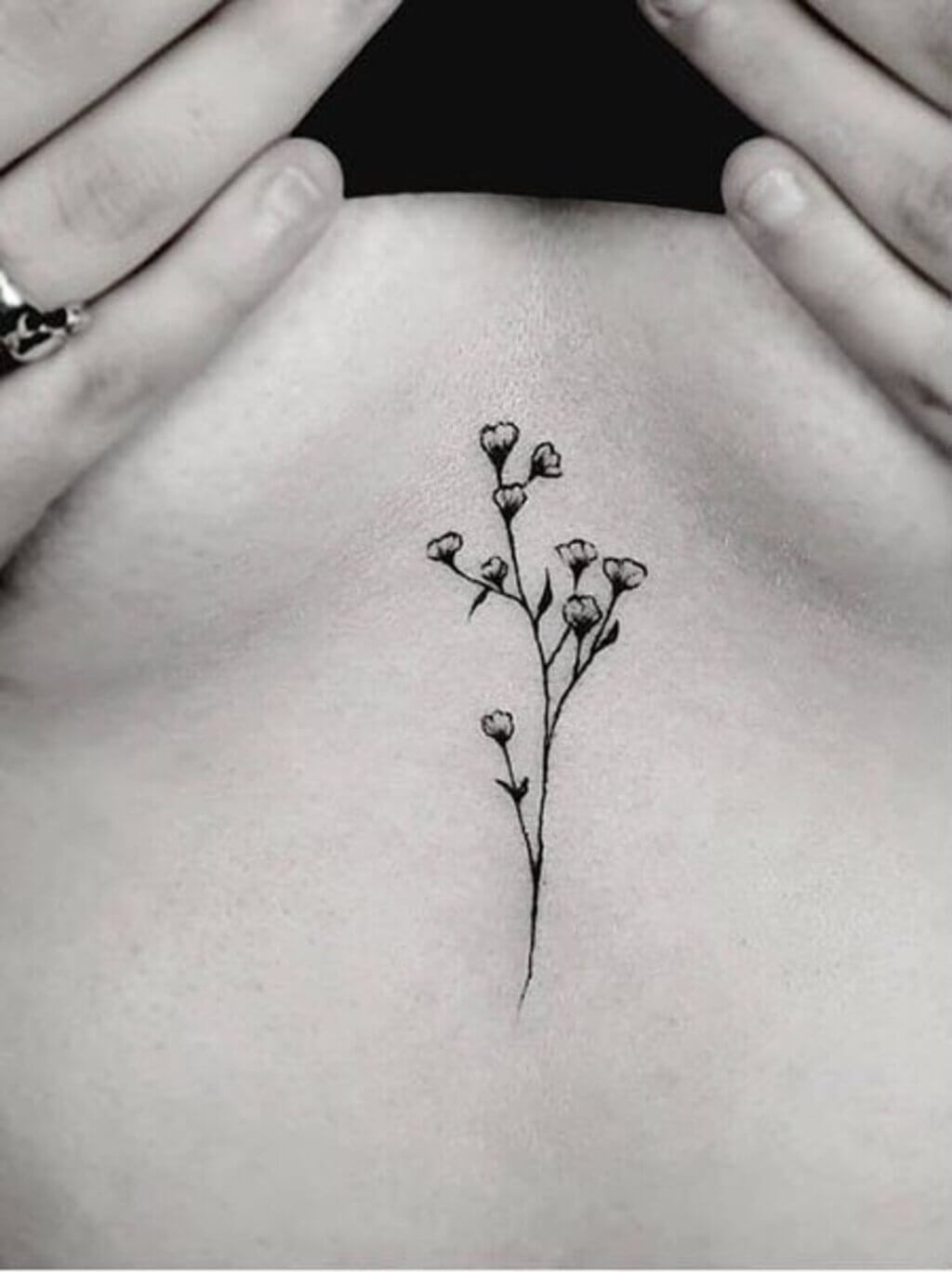 Source: thetrendspotter.net
If this is your first time getting inked, we recommend going for a small tattoo. There are many options that you can find in small tattoos. They're simple and understated and absolutely perfect for women who want a cute tiny tattoo. 
You can select the size from a ten-cent coin to the size of your palm; they are all considered as small. First, select the design and tell your tattoo artist the most comfortable place you want it.
Many girls use these kinds of small tattoos to cover some spots or marks. You can go with the pencil style or add more details like shading as per your liking. They all look beautiful and adorable. 
4. Bold Tribal Chest Tattoo
Image Source: pinimg.com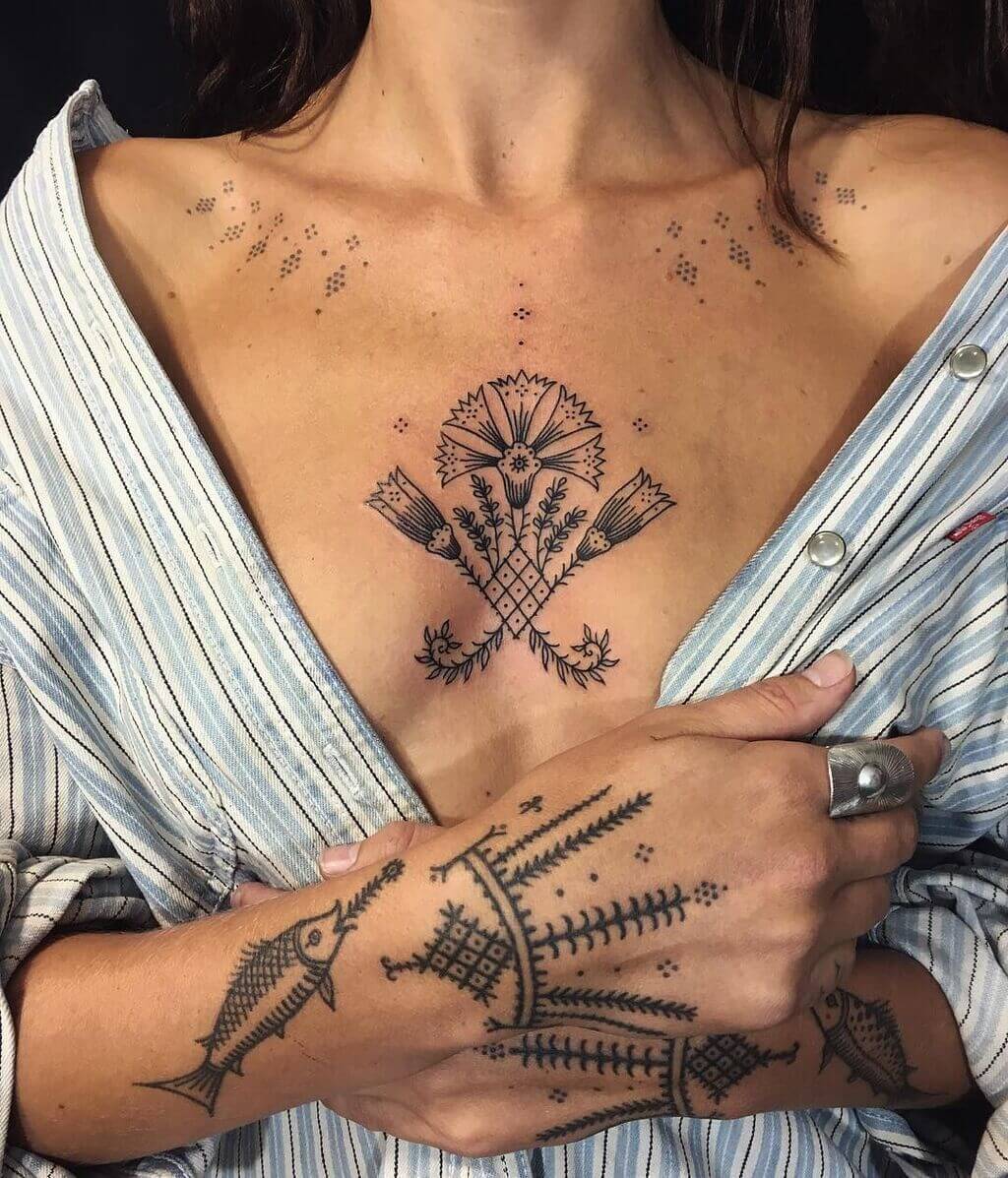 Source: pinimg.com
Want to honor your heritage or tribe? Go for Tribal chest tattoos! There is no better way to show love to a specific culture or heritage than getting inked. These types of designs look best when they cover the whole chest or larger area. This way, the tattoo artist can incorporate each distinct portion of the tribal print.
If you don't want to go with a huge design, you can also select small designs such as side boob tattoos. The tribal art and patterns look quite interesting and alluring in the chest area. These designs go with the curvature of the breast, and if you want, you can go for a symmetric design that makes it even more attractive.
Just make sure to keep the tattoo design as close to the original heritage or print as possible.
5. Unique Under Chest Tattoo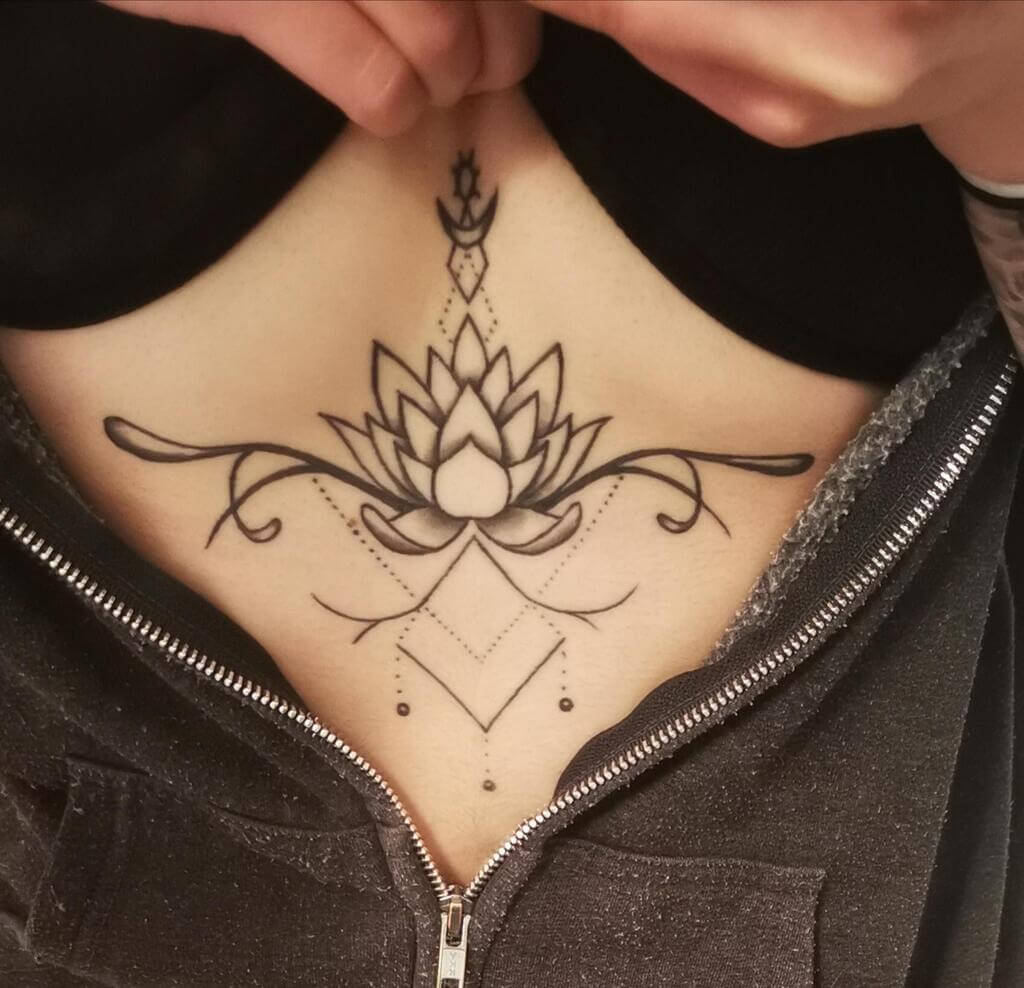 Image Source: redd.it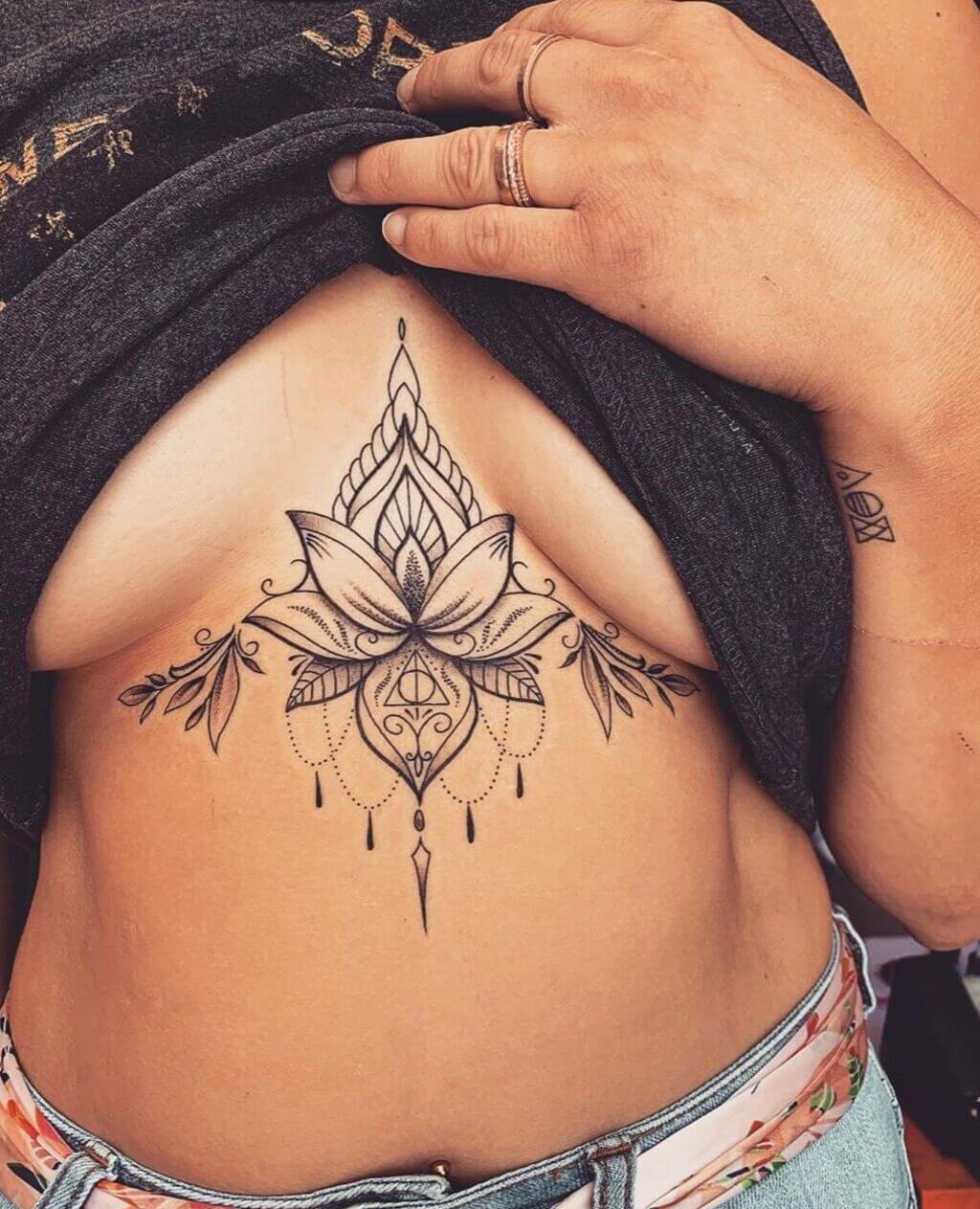 Source: pinimg.com
Want something daring and intriguing? If yes, go with Under breast tattoos! They're so dramatic and attractive. People who don't want to get inked in the upper chest area can go for these alternatives under chest area tattoos. 
These designs are popular among those people who don't want their designs to be on show all the time. Whether it is small or large, every design will look great. It looks more fantastic if your design follows the curve of your chest with its focal point sitting right in the center.
So, first, select the design and its placement with a focal point laid over the center of your chest. These tattoos create a unique visual that is sexy and eye-catching.
6. Pretty Vines Breast Tattoos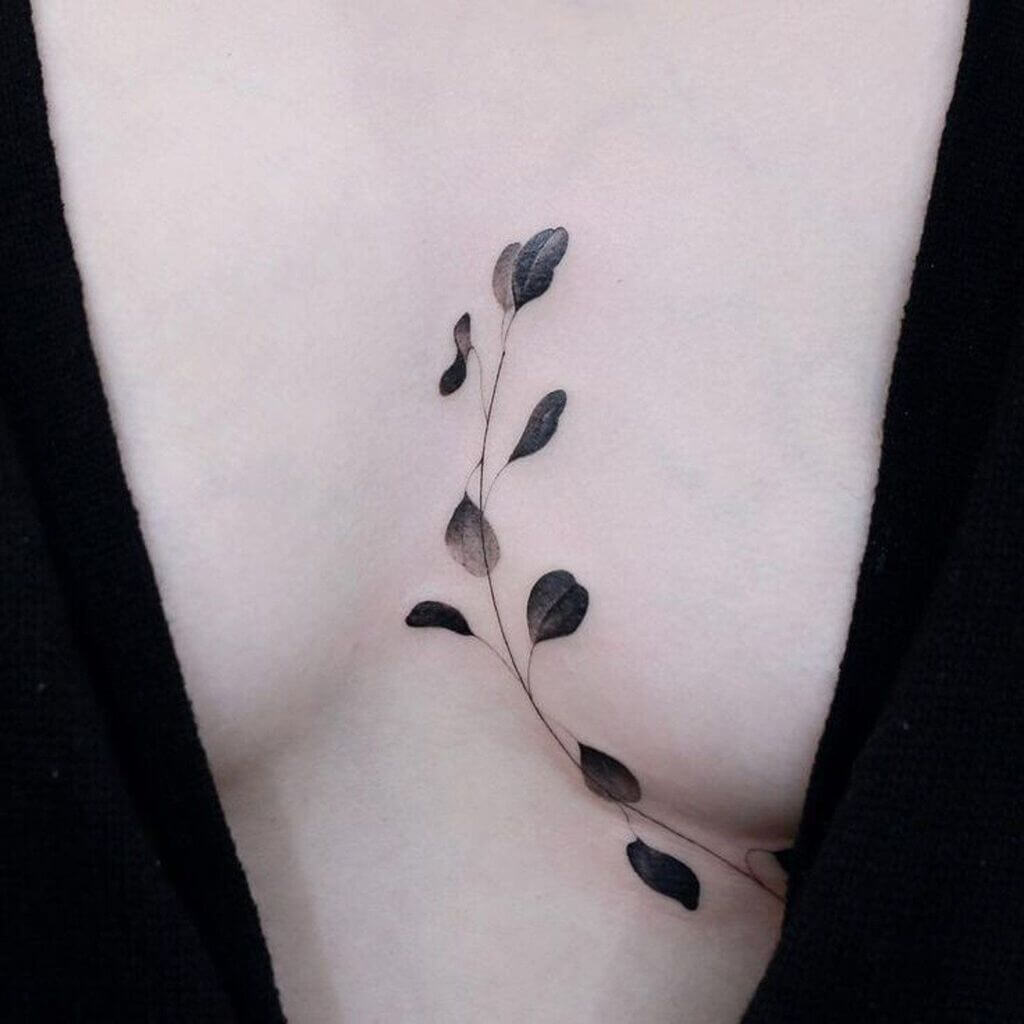 Image Source: pinimg.com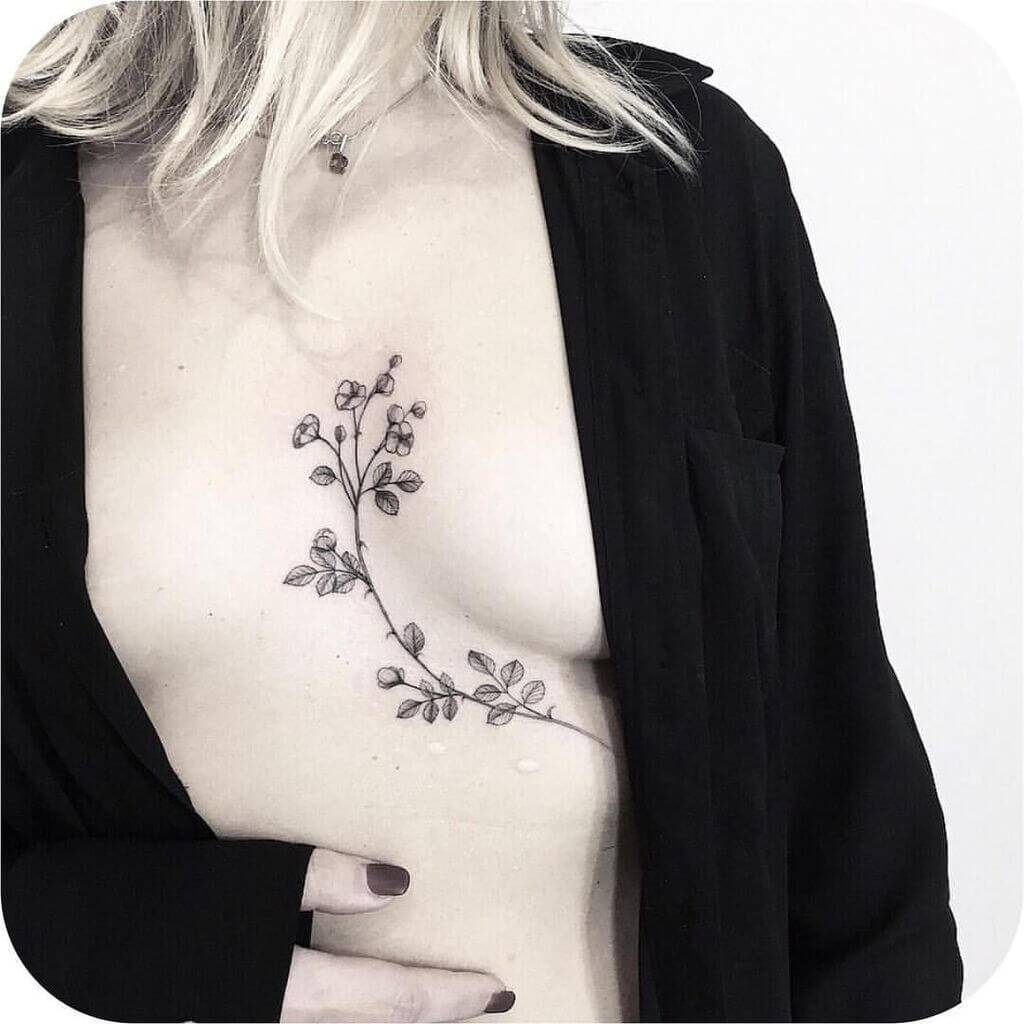 Source: pinimg.com
If you're looking for a simple and beautiful tattoo design, a vine will be a great option for you. This design will surely fit well with your minimalistic aesthetic. This design is an under breast tattoo as well as an in-between breast tattoo. This simple, pretty, and elegant leafy vine will depict nature and growth.
If you want something big, you can go with the above design idea. These styles of tattoos look best when sprawled against the hollow of your collarbone or when delicately wrapped from the rib cage upward. However, it is also reliant on the type of artist you choose 
7. Rose Chest Tattoo
Image Source: pinimg.com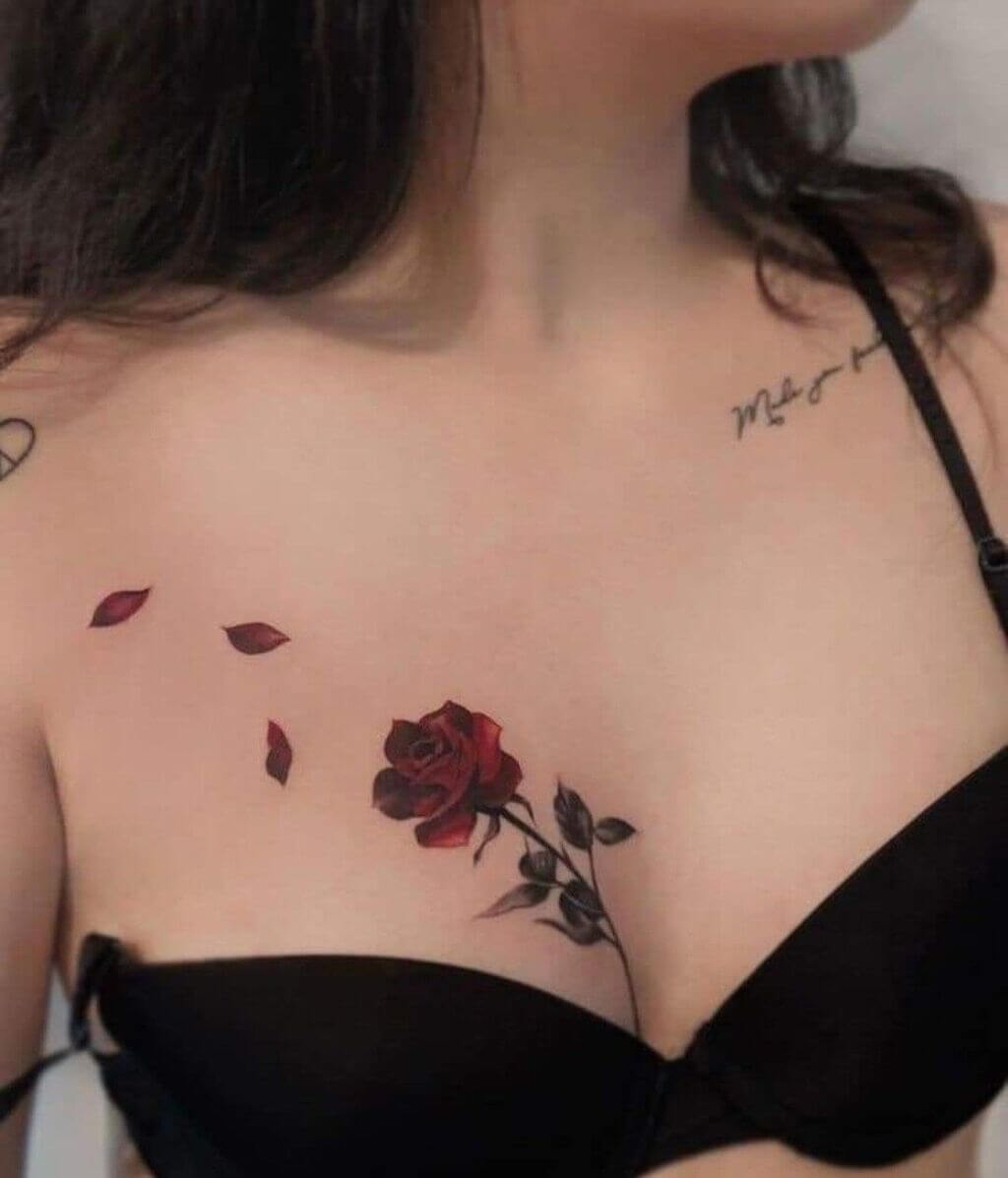 Source: pinimg.com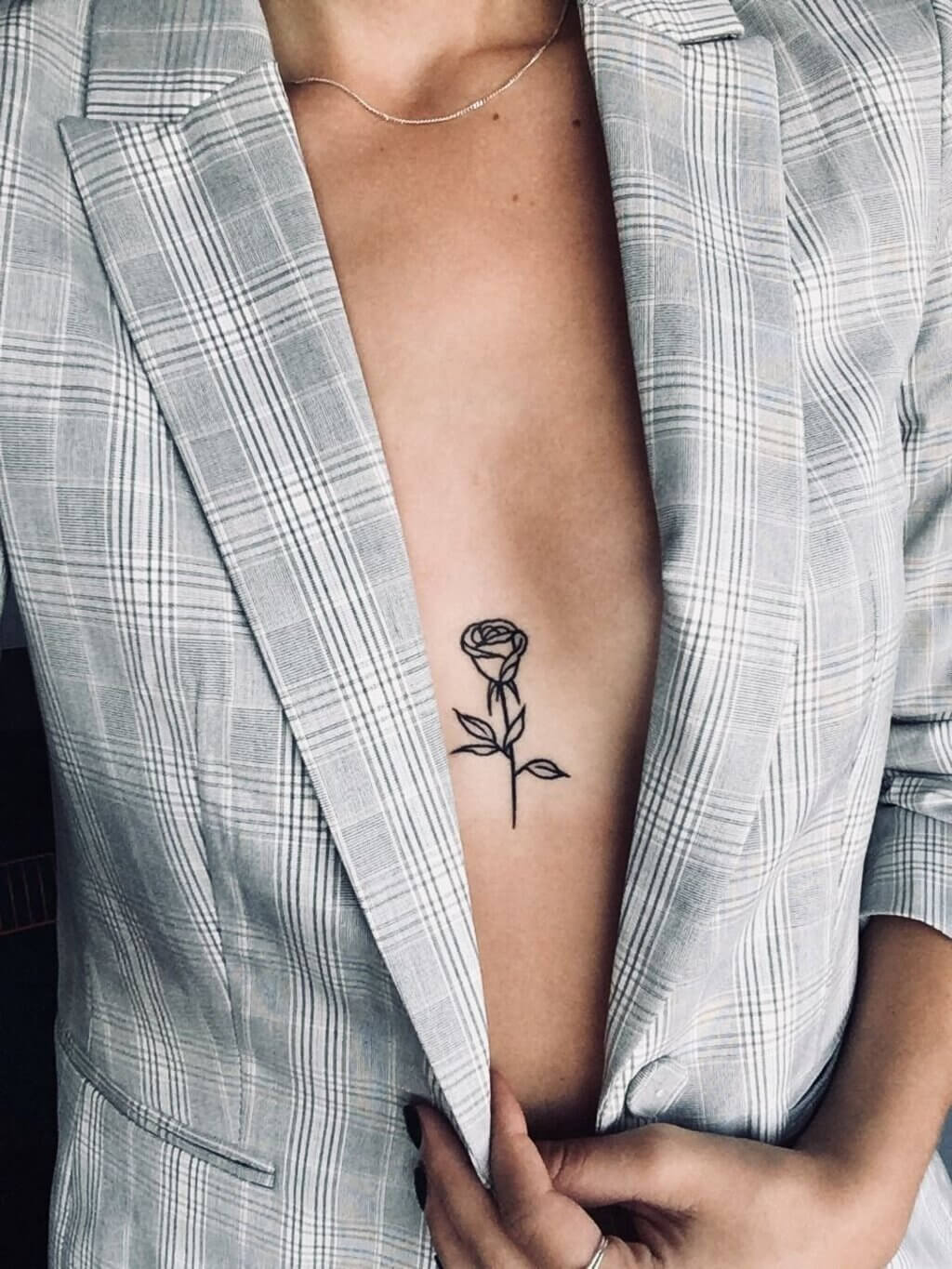 Image Source: krot.mobi
Last on the list is the Rose tattoos. They're extremely popular among women of all ages. If you're confused about which breast tattoo you should go for, don't think much and go for this 'go-to' tattoo. 
A rose chest tattoo can be wild as well as sweet. There are also various types of designs available, from a simple single rose to a whole bunch. You can either have a colored rose one or the simple ones. Go with the one that suits your personality and aesthetic. 
You can either get the outline of a rose in black ink or a detailed one that looks similar to an actual rose. Red roses not only look pretty but are also a symbol of love, passion, and loyalty.
On the other hand, the rose outline tattoos are usually suited to different areas of the chest and different personality types. For example, if you want a small rose, the sternum or along the collar bone is the best location and if you want a bunch of rose heads, go for the upper chest area.
Here are some more female breast tattoos designs and inspirations for you: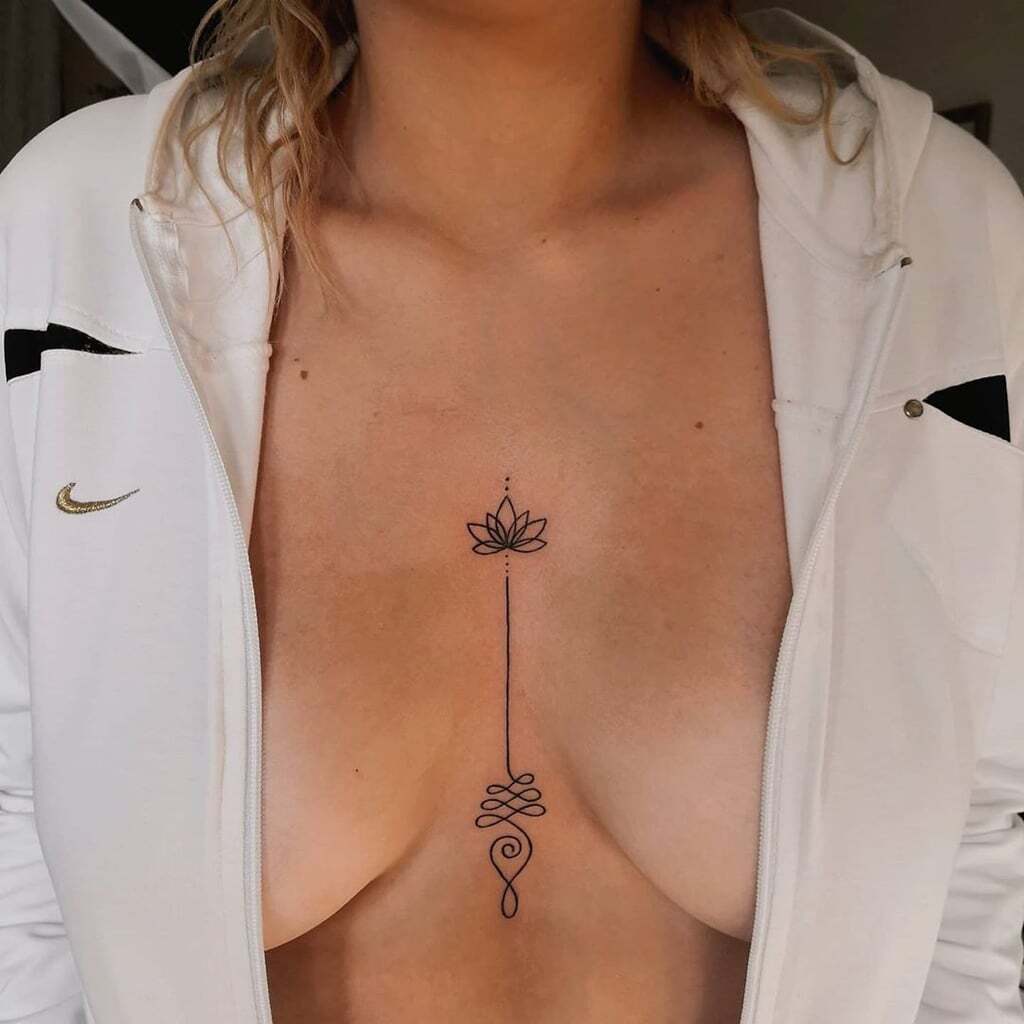 Source: popsugar-assets.com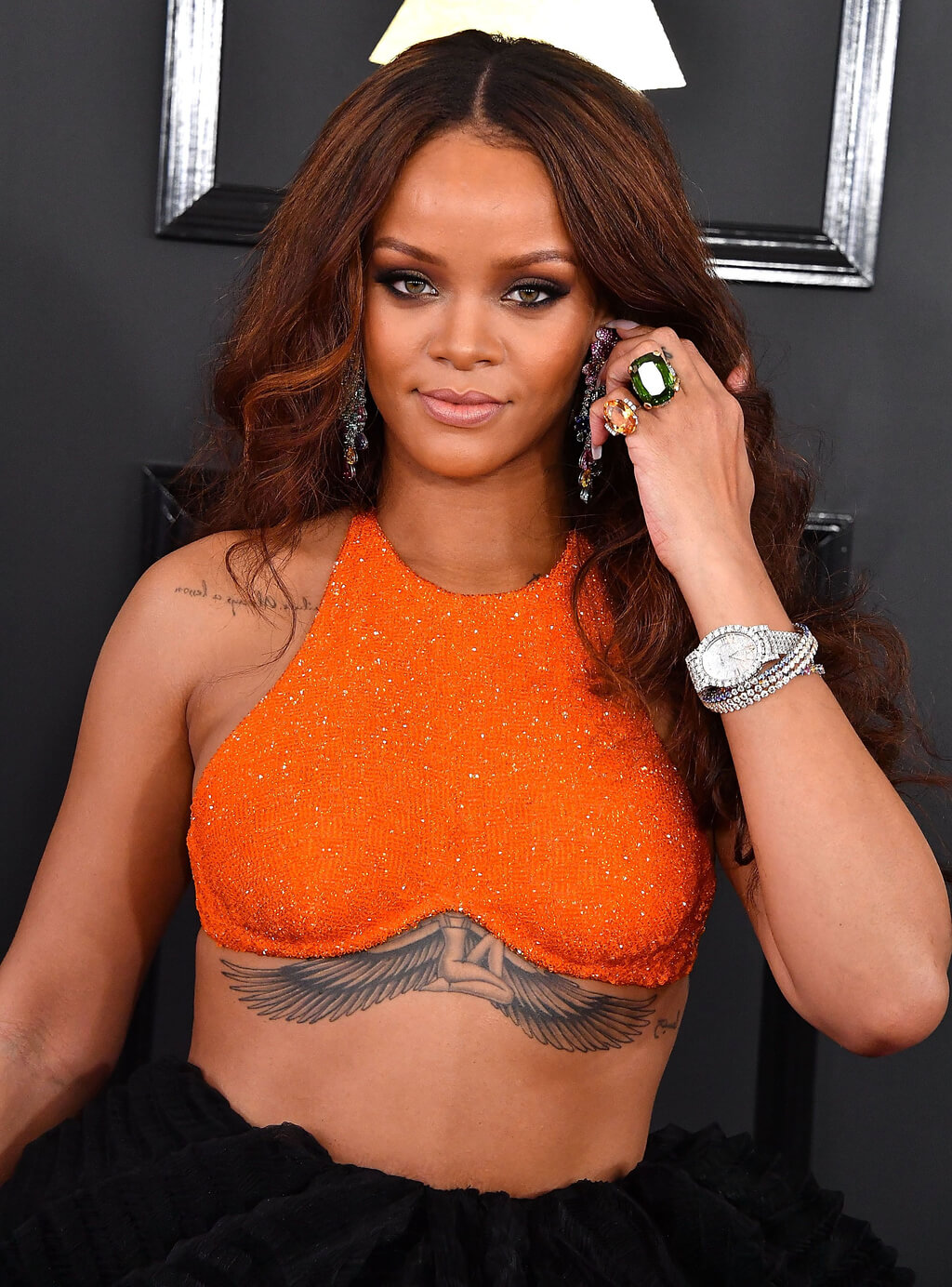 Image Source: voguedout.com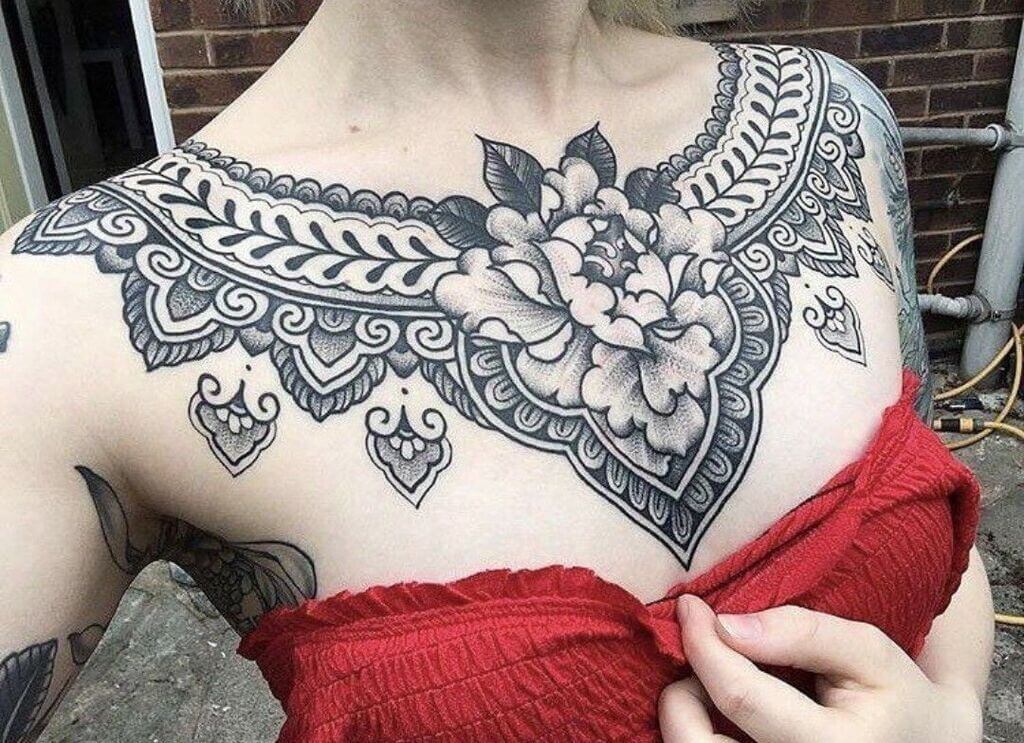 Source: pinimg.com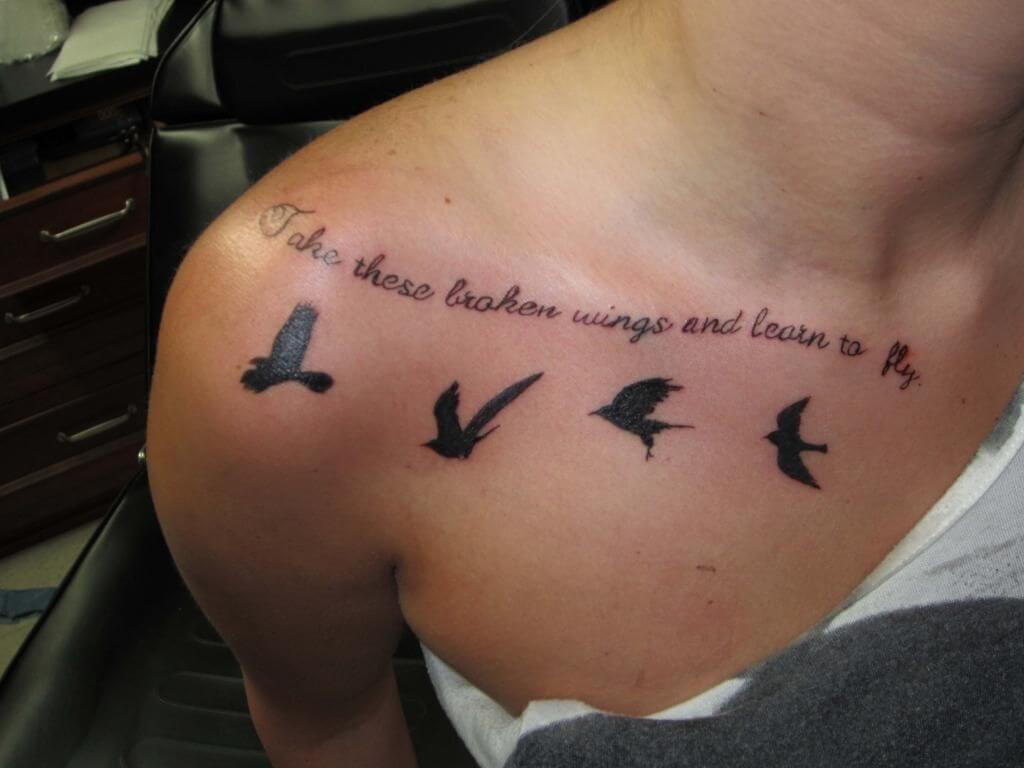 Image Source: pinimg.com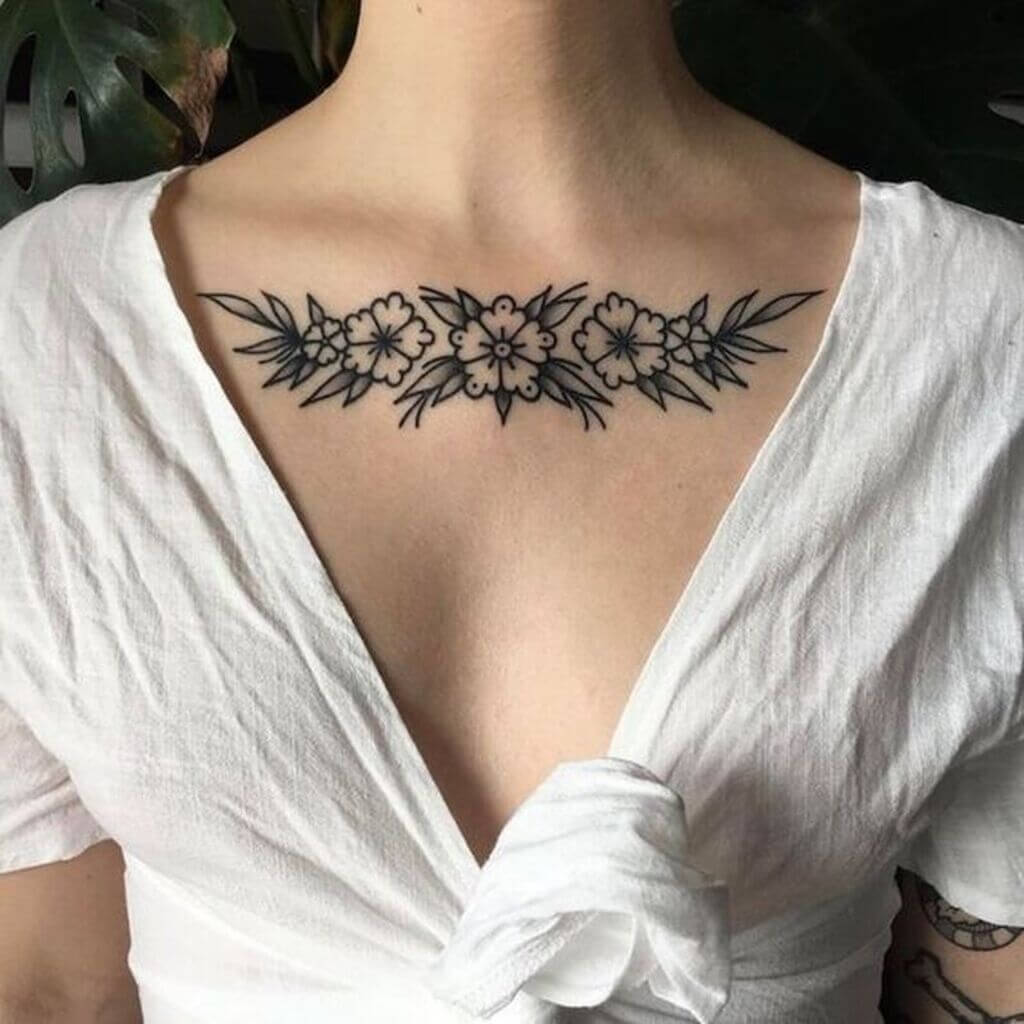 Source: pinimg.com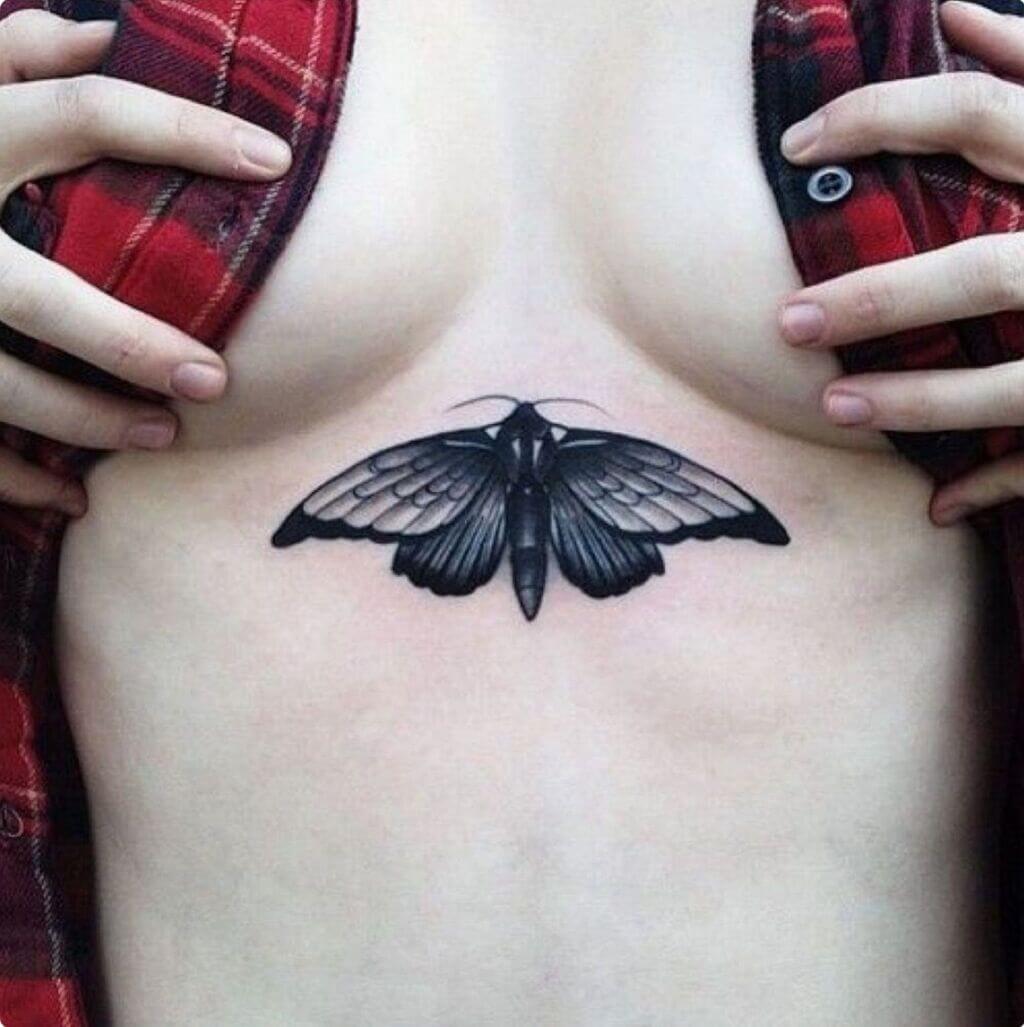 Image Source: pinimg.com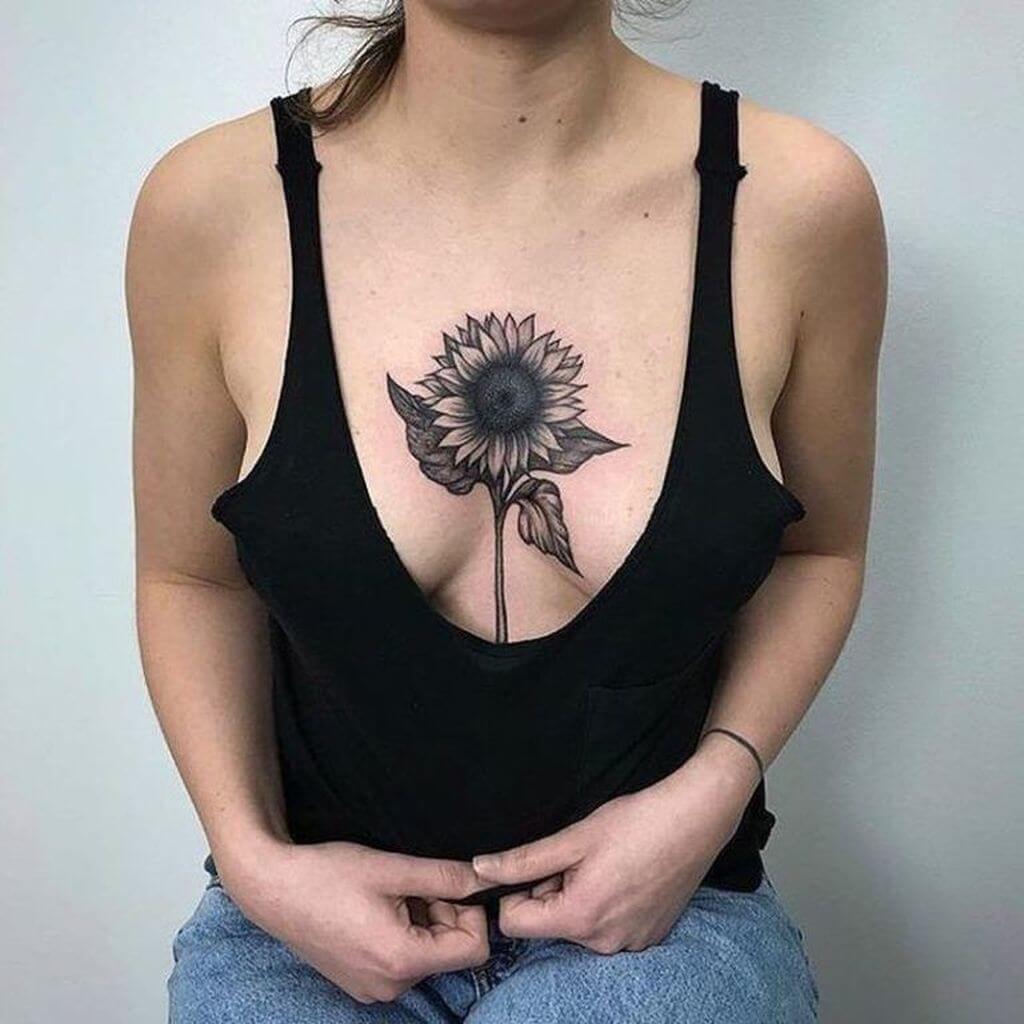 Source: pinimg.com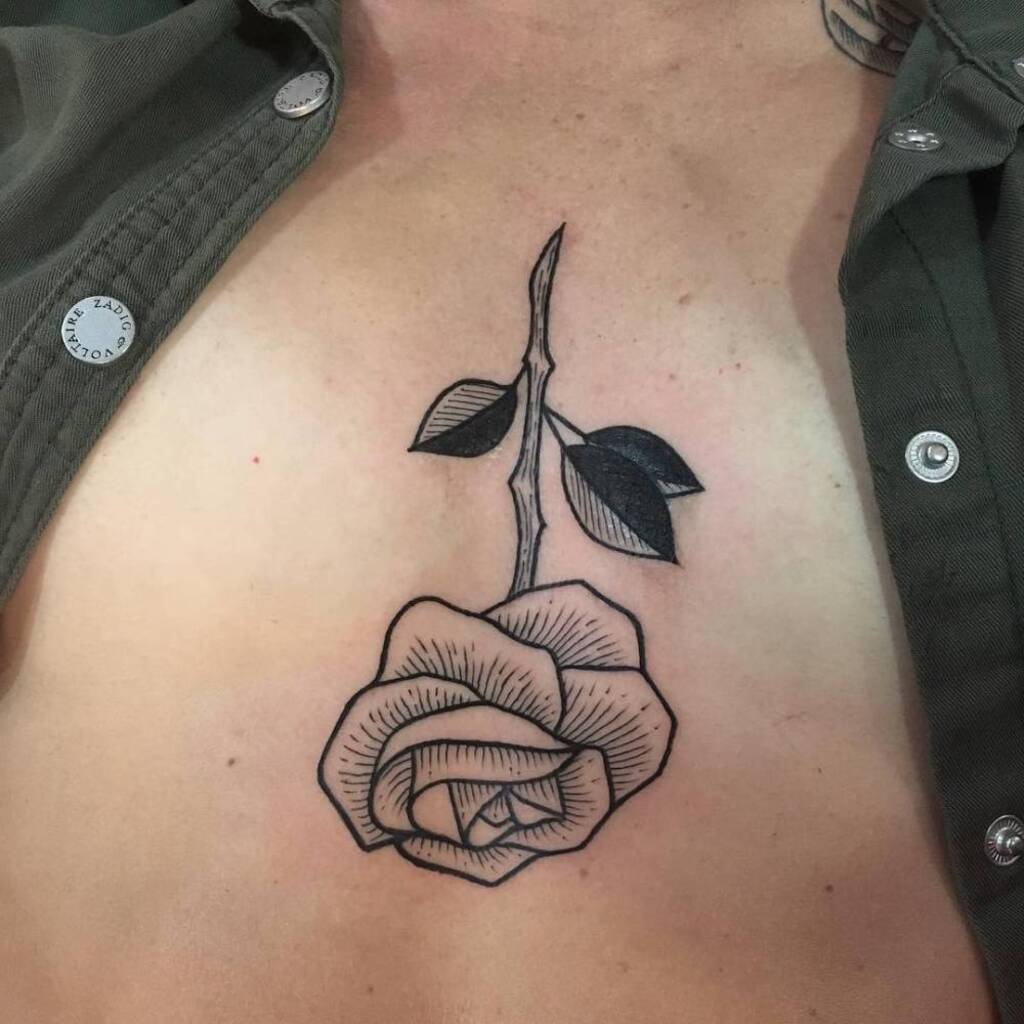 Image Source: cdntattoofilter.com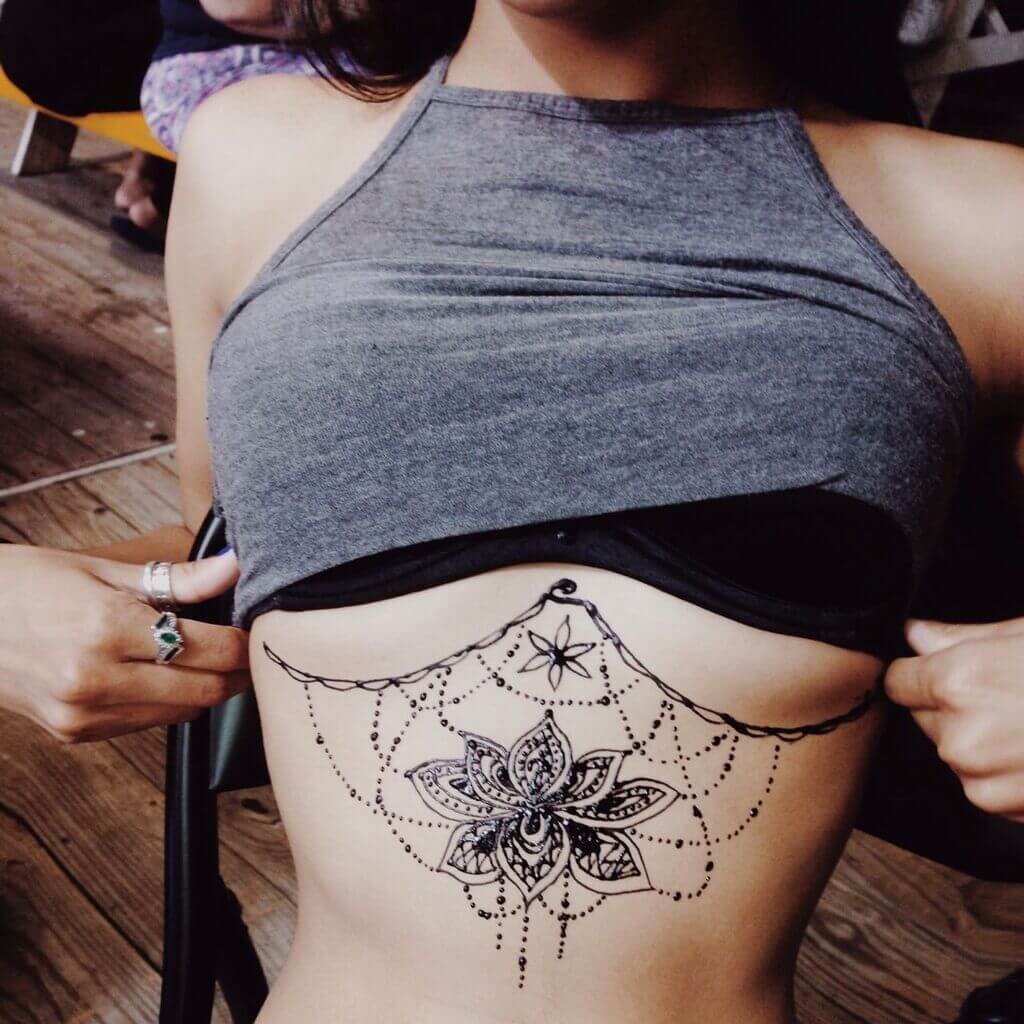 Source: pinimg.com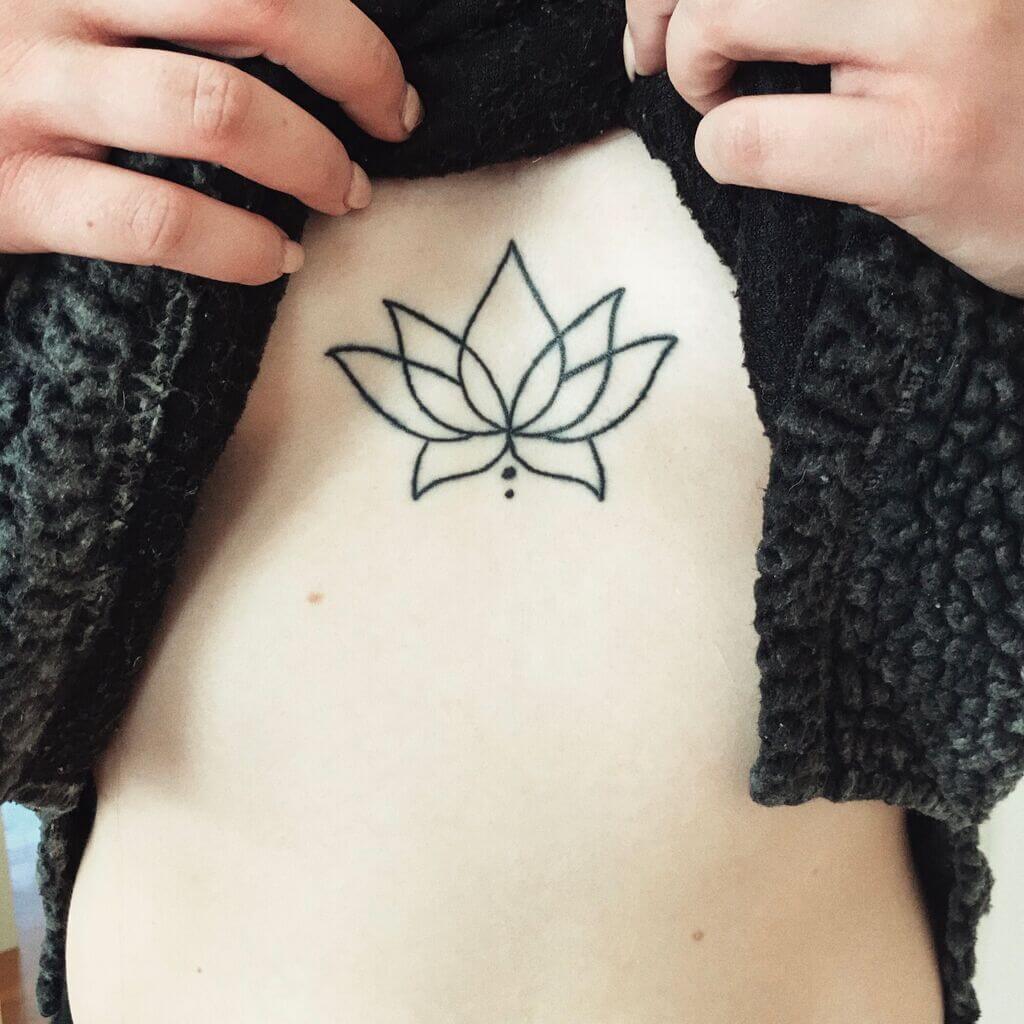 Image Source: byrdie.com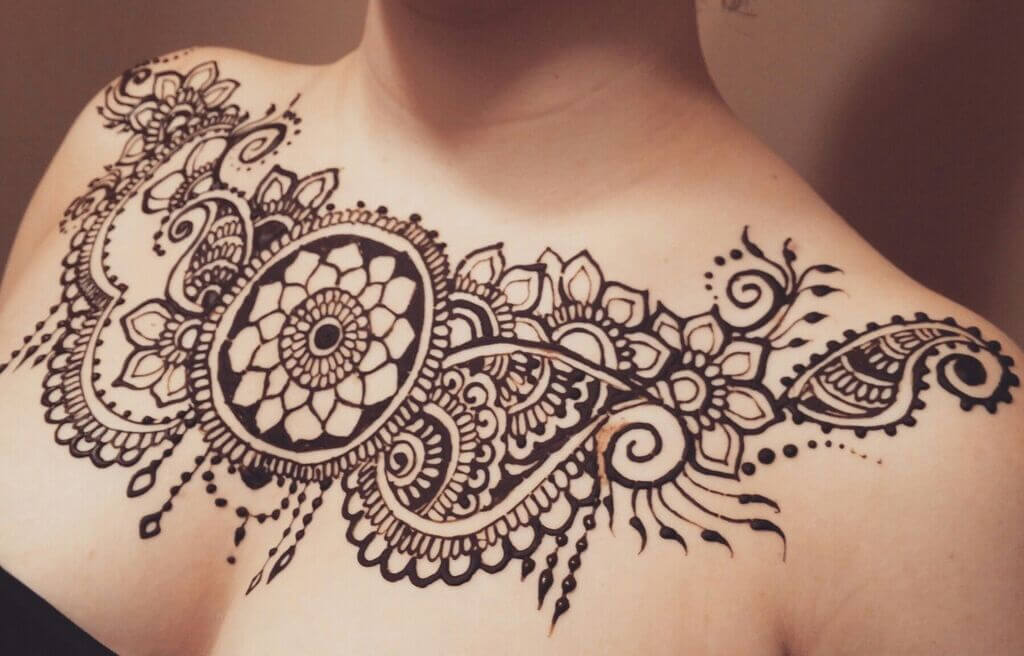 Source: pinimg.com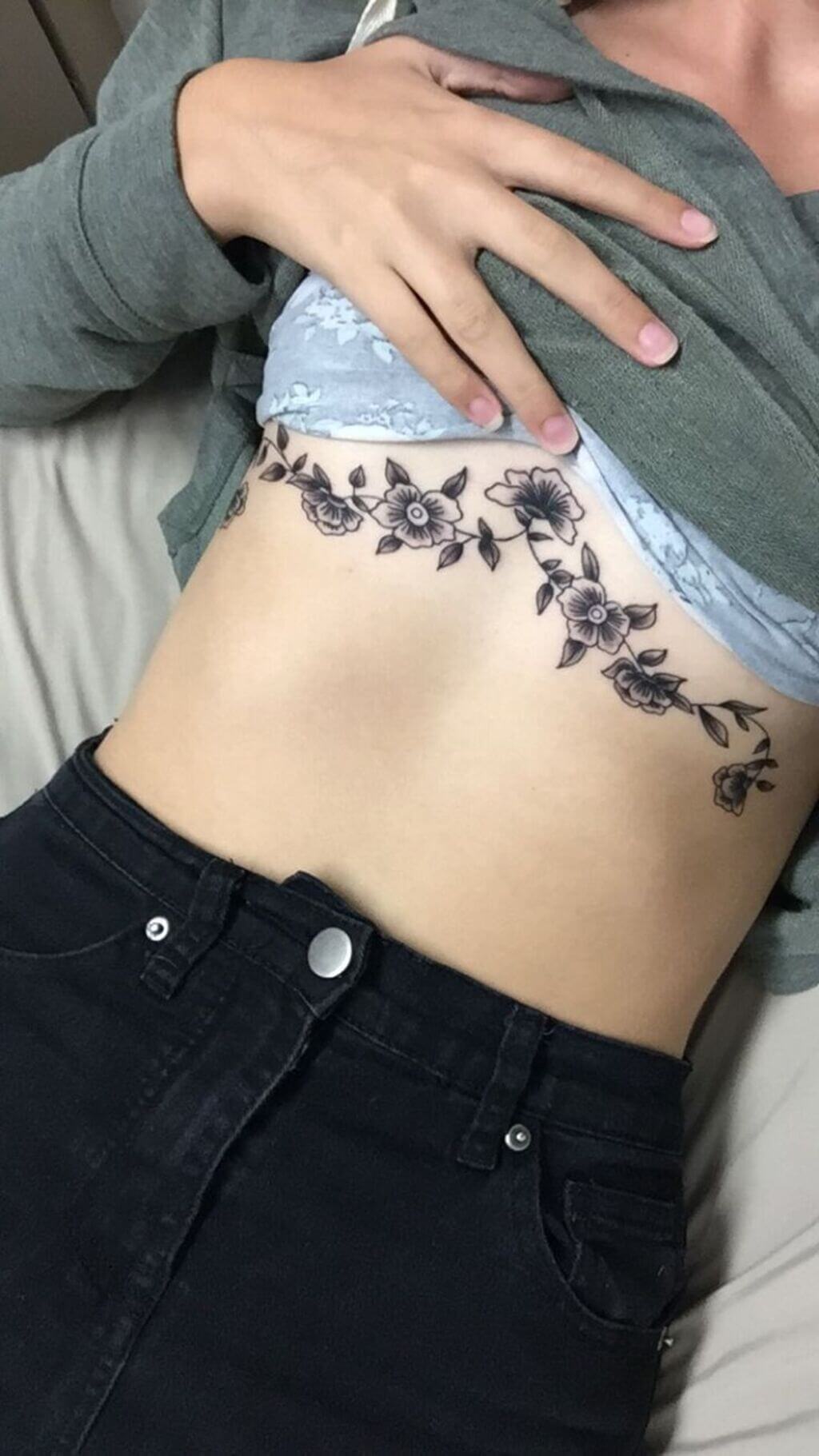 Image Source: pinimg.com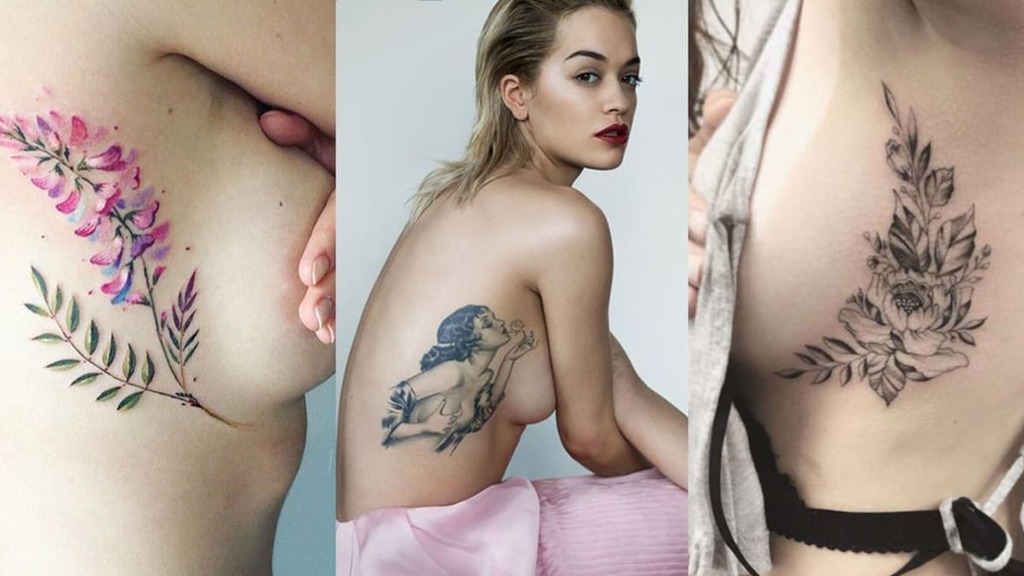 Source: inkedmag.com
The Bottom Line
So, which breast tattoo you liked the most? Chest tattoos are captivating, attractive, and a great way to show your personality to the world. 
So if you want to follow this latest trend, you can go ahead with the favorite tattoo designs on your breast. There are many amazing patterns you can choose from tribal, floral, mandala designs, butterflies, or many more. 
So, this is all about breast tattoos. Also, tattoos can cause infection and can be painful depending upon the design. So, if you're daring and can afford to maintain or get a touch-up regularly, then you can get inked on your body. Also, get them from an authentic tattoo artist and a clean and hygienic place. 
Read our previous blogs on A complete guide on Nose Piercing, Top 10 Most Expensive Shoes in the World, Best Model Poses For Photoshoots, and many more. 
For more information about skincare, haircare, or fashion styling tips, keep coming back to Fashionterest.
 Also, follow us on our Instagram page fashionterestofficial for daily fashion updates.