Shampooing and conditioning are an essential part of haircare. And choosing the right product for them is too overwhelming. With hundreds of options available in the market, it is hard to get your hands on the right one.
Till now, you might have used chemical-based shampoos and conditioners. However, it seems like you finally realized how negatively it is impacting your hair quality. Hence, you are here searching for the best natural shampoo available in the market.
Many brands claim that their shampoo is 100% natural, but their ingredients include parabens, sulfates, and other harsh cleansing agents. Now, my point is then how is it natural? 
Natural shampoo is something that is made with real 100% natural products, including plant oils, aloe, coconut oil, organic honey, olive, etc.
Here I have made a list of the best natural shampoo products that you can buy and get rid of those chemical poos. Also, below that, you will find a section having organic brands mentioned in it. Then, last but not least is the buying guide. (Keep Reading!)
7 Best Natural Shampoo Products 
Source: amazon.com
Botanic Hearth's biotin shampoo and conditioner have 100% pure ginger oil that you can use on a daily basis (even on color-treated hair). It has a blend of nourishing and refreshing ingredients that repair and promote long thick hair. It is a perfect natural shampoo – free from sulfate and paraben.
Source: amazon.com
Pure nature's Moroccan argan oil shampoo and conditioner is ideal for all hair types and provides moisture and leaves it hydrated for a longer time. It will make your hair manageable, smooth, and silky.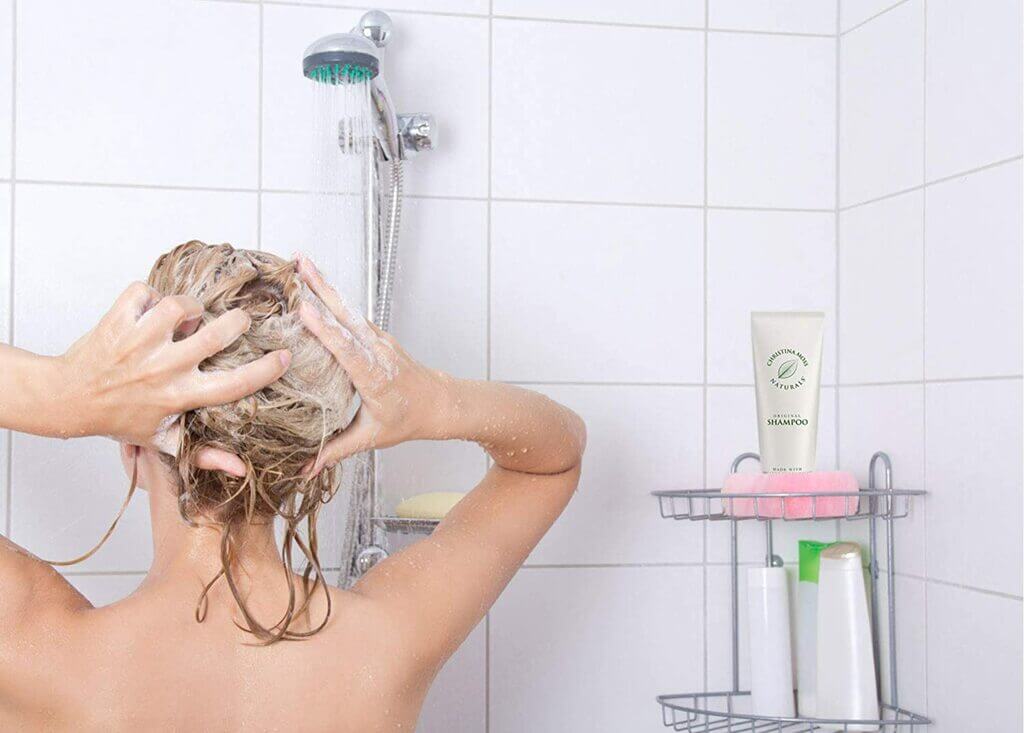 Source: amazon.com
Christina Moss Naturals' hair shampoo has the formulation of organic aloe and essential oils like coconut, olive, etc. There are no harmful agents available in shampoo. Hence, it is suitable for sensitive skin and scalp as well.
Source: amazon.com
WOW's apple cider vinegar shampoo is one of the best natural and organic shampoos available in the market. You might not be knowing, but apple cider vinegar acts as a detox for hair. It clarifies, deep cleanse, and soothes the scalp, balances pH levels, repairs damage, and strengthens the hair.
Source: amazon.com
The Maple Holistics' shampoo has botanical keratin tea tree oil, rosemary, & lavender with the tea tree's scent. It is suitable for every hair type: normal hair, dry hair, oily hair, color-treated hair, or dandruff-prone hair. 
Source: amazon.com
Art Naturals' Moroccan argan oil shampoo can be the substitute for Pure Nature's shampoo. With the same ingredients, it does protect the best protection for hair you can ask for! It is a neutral-gender base shampoo that will work for both men and women. This natural shampoo is affordable as well as free from sulfate and paraben.
Source: kohlsimg.com
The Jason Restorative's biotin shampoo has ingredients like biotin, ginseng, lavender, shea butter, avocado oil, and olive, which helps in strengthening the hair and keeping it moisturized. This brand's shampoo is also free from sulfate, paraben, and phthalates just like other natural shampoos. 
FYI: According to a survey in 2017, around 52% of consumers opted for natural shampoo and 39% opted for conditioners. (Statista)
7 Best Natural and Organic Shampoo Brands
Natural and organic shampoos are those that don't harm your scalp as well as nature. Below are a few brands that consider these two points while developing and manufacturing their products.  Let's spread the word about them!
Ursa Major
Ursa major is a small-scale skincare company that believes in providing plant-based natural shampoo for the whole family. Yes! It is neutral-gender base shampoo, which will work for the entire family. Now you won't have to buy different products for everyone. Use Go Easy Shampoo for yourself, your partner, and even kids.
As it is based on plant oils, it works fast and effectively, that too on every hair type. It is formulated with bergamot, licorice, macadamia, and coconut-derived surfactant. Yep! There's no chemicalized fragrance added to it.
NatureLab Tokyo
Another organic shampoo brand that is loved by many. NatureLab Tokyo's founder Rosa Takagi believes that a healthy hair tale begins from the scalp. The formula of its shampoo is plant-based and a perfect balance between the traditional Japanese beauty rituals and future-forward clean technology.
The packaging of this brand's natural and organic shampoo is classic with sleek and round bottles. Even the refill is packed with 85% less plastic usage than two large shampoo bottles. Isn't it amazing?
Also Read: How to Pick the Right Shampoo for Your Hair?
100% Pure
The name says it all – 100% Pure. I am more than sure that the ingredients used in making its shampoo are free of toxic chemicals. The brand believes in making cruelty-free products that won't harm your scalp as well as nature. It uses natural ingredients while formulating the shampoo rich in protective antioxidants which then promotes healthy hair.
The 100% Pure brand is a skincare product company manufacturing each and every product naturally and at an affordable price. They do have fragrance and pigmentation but it is given using natural ingredients.
True Botanicals
I have realized one thing while researching about the organic shampoo brands that each of them truly signifies its name. Just above you read about 100% pure, now it is True Botanical. The products made under the brand's name are MADE SAFE certified, which means they are free from 5000+ known toxic chemicals.
The brand even takes care of its impact on the environment. The design of the development, production, packaging, and shipping is done keeping in mind the minimal impact on the environment.
Prose
Do you think that even the standard natural shampoos and conditioners are not adequate for your hair? Try signing into Prose. This is a unique brand that doesn't only make pre-formulated shampoos but will also customize the one for you. Yes! You read it right. But how?
It asks you the information about your hair type, condition, issues, texture, and location. Then they will formulate the right product for you with the right ingredients (considering environmental factors). 
I forgot to mention that Prose is a certified B corporation, which means it is both a sustainable and ethical beauty brand.
Yarok
Yarok is just another brand focusing on the scalp's health. However, the formulation of its shampoos and conditioners is unique. It has organic and natural botanicals along with the vitamins, minerals, and essential oils required for the nourishment of hair.
Even with these, it is still different, how? It has special vitalized water to provide an extra boost to your hair. It is processed six times with rare volcanic minerals for purity.
Aromatica
Aromatica is a Korean brand known for its safe, gentle and authentic products. The smell of this brand's product is mind-blowing, it infuses the aromatherapy with natural and organic ingredients to form the product having properties to make hair healthy along with a great fragrance.
The Aromatica has shampoos and conditioners for every type of hair, be it dry, damaged, oily, frizzy, thick, thin, etc. Their truly botanical remedies will make your hair healthy and free from damage with smooth looks and feels.
How to Buy the Best Organic and Natural Shampoos?
Getting the natural shampoo is indeed an overwhelming task but with the right buying guide and process, it will be done in minutes. There are few things that you need to keep in mind even before you look for shampoos.
1. Hair Type:
The first step should be knowing your hair type. Why? Every type of hair needs different ingredients to keep them nourished and safe from external and internal damage. Here's the specification of ingredients you should look for according to your hair type:
Frizzy Hair: Coconut oil (provides moisturization and reduces frizz)
Damaged Hair: Argan oil, green tea, and other essential oils (provides nourishment to hair)
Oily Hair: Charcoal, lemon, grapefruit oil, etc. (prevents excessive oil buildup)
Dry Hair: Aloe vera, coconut oil, etc. (will keep your hair hydrated and moisturized)
2. Ingredients:
Ingredients are everything when it comes to selecting the best natural shampoo. Once you have defined your hair type look for the shampoos that have the contents that will impact positively on your hair.
Follow the specifications I mentioned in the above point. If your hair is in neutral or the best form, make sure the organic shampoo you buy has hydrating, relaxing, and moisturizing agents. All those together will improve the hair condition and make it stay healthy.
3. Genuine Brand:
As said in the introduction part, there are brands that claim their products to be 100% natural but with the ingredients like paraben and sulfate. So always look for the brands that don't only advertise but actually provide the same.
You must look at the label section to know whether the shampoo has natural ingredients or not. If there's nothing mentioned, avoid buying that product. Besides, I have already provided you with the products and brands for getting a natural and organic shampoo.
What Are the Benefits of Using Natural Shampoo?
Yeah! I know this section should be the first one, but it is okay. The primary purpose is to educate – before or later, it doesn't matter! This is my final pitch for you to finalize one of the best natural shampoos for your hair. There are reasons behind that, the immeasurable benefits:
You will get nature's care and not harmful or toxic chemicals and ingredients.

There are no side effects as organic and natural ingredients are healing and soothing.

It can moisturize your hair at its best and keeps it that way for a longer time.

You might have colored your hair or at least used a straightener or curler, which includes too much heat. The natural shampoo will repair your hair and make it stronger.

You will save nature along with your hair.
Also Read: The Hair Growth Benefits of Marula Oil
Keep Your Hair Healthy with Organic and Natural Shampoo:
This article was full of natural and organic products and brands providing them, along with that you also learned how to choose the best natural shampoo for your hair and benefits. I guess this is enough to prepare yourself for going sustainable with the haircare routine as well. 
Important Note: 
Upon knowing the surge of sustainability in the fashion industry, Fashionterest highly recommends going ethical and sustainable with fashion and beauty products. Make sure you check out other sustainable-related blogs on our website. Thank You!
For more, you can browse through Fashionterest.