The seasons are shifting, and it's time to give your wardrobe a makeover. It's time to put away those sundresses and bring out the cozy sweaters. As you reorganize your closet to make room for your favorite winter attire, don't forget about your winter accessories. That means it's winter hat season once again! Yay!

Whether you live in extremely cold climates or just planning to take that ski vacation, having a winter hat is a must. There's a wide variety of styles to pick from, including cozy trapper hats, classic beanies, and sleek running caps, each with its unique advantages and drawbacks.

If you're looking for a new winter hat, this list is here to kickstart your shopping adventure.
1. Carhartt Women's Acrylic Watch Hat
| | |
| --- | --- |
| Fabric Type | 100% Acrylic |
| Care Instructions | Hand Wash Only |
| Closure Type | No Closure |
| Pattern | Traditional beanie |
This winter hat for women is made from 100% acrylic knit and features a warm and stretchable rib-knit construction. It's designed to be versatile and goes well with any outfit. The one-size-fits-all design makes it suitable for men of all sizes. Plus, it carries the classic Carhartt durability, ensuring that it will last through many chilly seasons.
To keep it in great condition, simply hand wash it. With its traditional beanie pattern and quality materials, this beanie is a reliable choice to keep you warm and stylish during the colder months.
2. Adidas Originals Women's Trefoil Beanie
| | |
| --- | --- |
| Fabric Type | 100% Acrylic |
| Care Instructions | Hand Wash Only |
| Closure Type | Pull-on |
| Pattern | Trefoil Beanie |
This Adidas Originals beanie is crafted from 100% acrylic and offers a standard fit silhouette designed specifically for women. Its soft, flat-knit construction ensures comfort and warmth. The best winter hats for women feature a 2-5/8″ flat knit cuff and a fold-up brim, allowing you to customize your style. The bold embroidered trefoil logo on the front adds a touch of pride to your look.
To keep it in great shape, simply hand wash it. With this beanie, you can stay warm and stylish while representing Adidas Originals with confidence. It's a fashionable and cozy choice for colder days.
3. Columbia Watch Cap
| | |
| --- | --- |
| Fabric Type | 96% Acrylic, 4% Nylon |
| Care Instructions | Hand Wash Only |
| Closure Type | Stretch |
| Pattern | Marled |
Columbia Watch Cap Beanie is designed in a classic sailor cap style and is available in various unisex-friendly colors. Crafted from a durable blend of acrylic and nylon, these winter hats for women ensure warmth and comfort on cold days and evenings. It's inherently insulating, making it an ideal choice for keeping your body warm by retaining heat at the head. Whether you're going for a walk, hike, or a water adventure, this beanie has you covered.
Its one-size-fits-all design offers excellent temperature control and wearability, and you can choose from a range of colors to suit your style. With Columbia's commitment to quality, you can trust in the longevity of this worry-free garment, ensuring seasons of enjoyment to come.
4. Amazon Essentials Women's Chunky Cable Beanie with Yarn Pom
| | |
| --- | --- |
| Fabric Type | 100% Acrylic |
| Care Instructions | Hand Wash Only |
| Closure Type | Pull-On |
| Pattern | Cable Knit |
The Amazon Essentials cable knit pom pom beanie offers a comfortable and regular fit. Made from high-quality and durable materials, it features an acrylic cable knit body and a yarn pom pom that adds a unique touch to the classic beanie style. With a crown height of 9.5 inches and a 7-inch opening when measured flat, it provides a snug and stylish fit.
Whether you're out playing, hitting the slopes, or simply enjoying a winter day, these cute winter hats for women have you covered and pair perfectly with your favorite Amazon Essentials outfit.
5. FURTALK Womens Winter Knitted Beanie Hat
| | |
| --- | --- |
| Fabric Type | 100% Acrylic |
| Care Instructions | Machine Wash, Hand Wash Only |
| Closure Type | Pull-On |
| Pattern | Knitted |
Stay warm in style with these warm winter hats for women, crafted from 100% soft acrylic, to keep you cozy during the cold months. Designed to fit most head sizes, it's elastic and stretchable, accommodating head circumferences from approximately 22 to 23.2 inches (55-60cm).
The hat features a charming fur pompom, which is not only adorable but also removable. This hat complements both casual and youthful outfits, making it a versatile choice. It covers your ears comfortably, providing extra warmth in winter. The copper buckle at the top of the hat allows you to remove the pompom with ease.
For maintenance, it's best to hand wash the beanie with warm water, avoiding washing the pompom to preserve its shape. If machine washing is necessary, use a laundry bag to prevent damage.
6. YANIBEST Womens Satin Lined Knit Beanie Hat
| | |
| --- | --- |
| Fabric Type | Acrylic, Satin |
| Care Instructions | Hand Wash Only |
| Closure Type | Pull-On |
| Pattern | Line Knit |
Experience premium quality with this Acrylic beanie, featuring a soft gold polyester satin lining that feels gentle against your skin. Choose from a variety of colors for both women and men, so that your outfit is complemented perfectly.
Designed to protect your hair, the satin lining minimizes moisture absorption and friction, safeguarding your strands from damage due to wind, sun, and cold. With a width of 8.25 inches and height of 9 inches, this one-size-fits-most beanie can comfortably fit adults with head circumferences ranging from 21 to 23 inches. The elasticity of the cable-knitted outer layer and silk lining allows it to accommodate a wide range of head sizes, and you can also pull the cuff down to cover your ears for added warmth.
7. Braxton Wool Beret Hat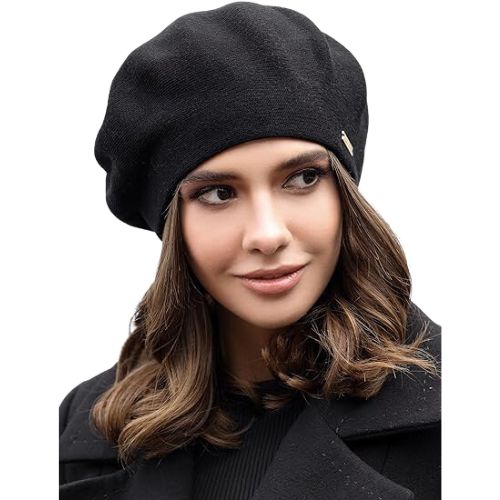 | | |
| --- | --- |
| Fabric Type | Angora wool 30%, wool 40%, acrylic fibers 5%, polyamide 25% |
| Care Instructions | Hand wash only at 40 degrees water temperature, air dry. Don't use dryer |
| Closure Type | Pull-On |
| Pattern | Lined Crochet Angora Knit Beret |
Stay cozy and comfortable during winter or cold autumn days with this black beret featuring a fleece-lined interior. The long brim provides excellent coverage for your forehead, ensuring warmth and protection. These French-style stylish winter hats for women are a versatile addition to your wardrobe, perfectly complementing coats, jackets, dresses, sweaters, and more. It's a stylish choice that will effortlessly enhance your overall look.
Crafted in Ukraine, this beret boasts exceptional quality, made from 30% angora with European yarn. With a one-size-fits-most design and a circumference ranging from 55 to 59 cm (21.6 to 23.2 inches), it's a comfortable and stylish accessory.
8. TrailHeads Fleece Ponytail Hat for Women
| | |
| --- | --- |
| Fabric Type | 94% Polyester, 6% Spandex |
| Care Instructions | Machine Wash – cold water, delicate cycle; air dry |
| Closure Type | Pull-On |
| Pattern | Hat |
These winter hats for women feature an ear warmer that you can flip up or down, ensuring your ears stay cozy in cold conditions. With two layers of breathable fleece, it's perfect for activities like walks, hikes, runs, and more. The sleek and sporty design caters to high-intensity activities with its sweat-wicking material while still maintaining a trendy look suitable for casual wear.
Make someone's day special by gifting them one of these TrailHeads hats for women, equipped with reflective accents to enhance safety during outdoor excursions. Rest assured; every design is thoroughly trail-tested in Kent, CT, to ensure quality and performance.
9. PAGE ONE Womens Winter Ribbed Beanie
| | |
| --- | --- |
| Fabric Type | 100% Polyester |
| Care Instructions | Machine Wash |
| Closure Type | Pull-On |
| Pattern | Chunky cable Knit |
When the cold of winter sets in, bring out outdoor style with a chic cap that not only keeps your head but also your ears toasty during various activities like running, skiing, biking, or dog walks. Crafted from 100% polyester, this crocheted hat is designed to offer superior warmth. It's easily maintained, as you can toss it in the washing machine and hang it up to dry.
These winter hats for women are comfortable to wear thanks to its excellent elasticity and adjustability, making it suitable for all head sizes and hairdos. With PAGEONE's chunky cable knit hat, you'll be well-prepared for whatever the winter has in store, ensuring your noggin stays warm, cozy, and fashion-forward.
10. Jaxmonoy Cashmere Slouchy Knit Beanie Hat
| | |
| --- | --- |
| Fabric Type | Wool blend |
| Care Instructions | Dry Clean Only, Hand Wash Only |
| Closure Type | Elastic |
| Pattern | Slouchy Knit |
Wrap your head in comfort and style with these women's cashmere slouchy beanies designed for winter. This cozy accessory combines 15% cashmere, 35% wool, 20% viscose, and 30% acrylic to create a soft, lightweight, and warm option that's gentle on your skin. The fashionable slouchy design adds an elegant touch to your winter wardrobe, allowing you to easily match it with various clothing styles for a chic, youthful look.
Thanks to its great elasticity, this knit slouch beanie fits most head sizes, comfortably covering your ears. Whether you're engaging in indoor or outdoor activities like skiing, cycling, or shopping with friends, this hat has you covered.
FAQs
Are hats in style 2023?
Yes, most definitely yes. Hats are making a major comeback this fall season.
Which cap is best for winter?
We suggest you go for a knitted beanie or a fleece hat if you are staying in cold climates.
What makes a good winter hat?
Fleece or woolen material makes for a good winter hat.
Conclusion
When it comes to winter hats for women, the choices are endless. If you are a hat connoisseur, you may have already taken your pick; however, if you are a novice, take your time to evaluate each hat and its functionality, the region you live in, etc., to find the perfect fit for you.
More Women Accessories