After the hazardous year 2020, almost every field is leading towards sustainability. The Amazon fire has opened eyes for many. To fulfill our worldly desires, we are taking away nature's comfort. You might have heard about sustainable architecture and development. However, do you know about the sustainable fashion pact?
There's only one thing focused on or highlighted in the past two Fashion summits – the importance of sustainability in the textile and apparel industry. Sustainable jewelry is a part of that only. Not only textiles but metals are also harmful to nature, that too directly. 
The fault is in the manufacturing process. The factories produce much pollution, so opting for ethical and sustainable jewelry is much beneficial. You won't only save the environment, but you will also encourage the local communities to grow more and be productive. Do you know that maximum ethical pieces of jewelry are hand-made by artisans from around the world?
Enough of a knowledge session, now let's get to the point. You are here looking for sustainable jewelry brands, and we have made a list of them. At the end of the article, you will read frequently asked questions about sustainable jewelry as well.
Sustainable Jewelry Brands to Save Nature
1. AGMES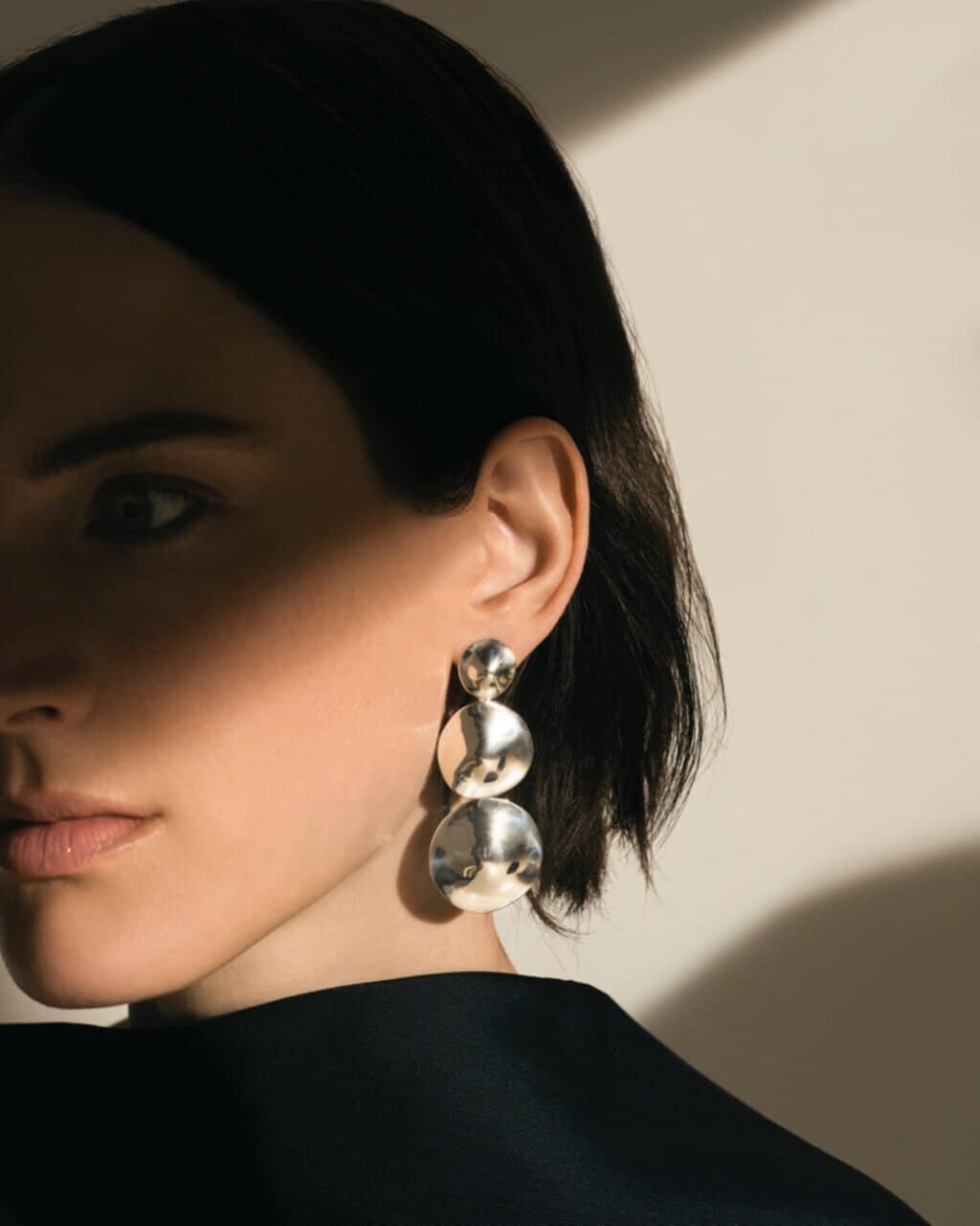 Source: fashionista.com
AGMES is the New York-based jewelry brand founded in 2016, led by a sister duo, namely, Morgan and Jaclyn Solomon. The company aims to provide jewelry that can last forever, like for another generation as well. The AGMES is the brainchild of their late friend who always believed in saving nature for future generations.
The jewelry they sell is made of sustainable materials like 925 sterling silver, 18-karat gold vermeil, 14-karat gold, and freshwater pearls. The metal they use is recycled and repurposed from the scrap. The most fascinating feature of the brand is that jewelry products are hand-made by the local artisans (eventually reducing the environmental footprint).
2. Akola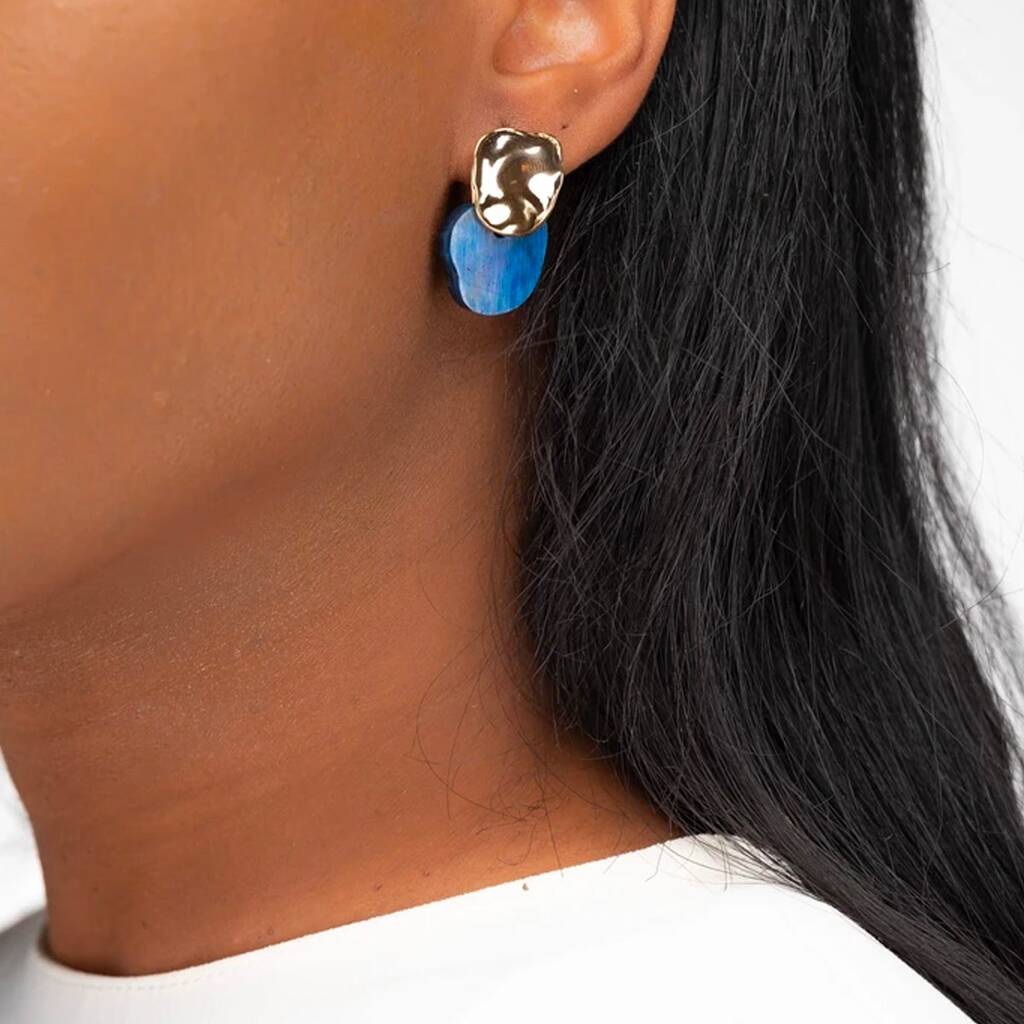 Source: glamour.com
Akola is an African jewelry brand founded in 2007 by Brittany Merrill Underwood. In 2004, she landed in Uganda, and this place changed her for good. Being the one who was unhappy with everything saw the struggle of women over there to feed their children. She decided to build an NGO for needy children and a working opportunity for betterment of women's careers.
Akola means "She Works" in the Ugandan dialect. They make sustainable pieces of jewelry from horns, sisal, raffia, glass, and bone. The techniques used are traditional to the East African style, i.e., sculpting, carving, pressing, cutting, and dying the material. 
3. Washed Ashore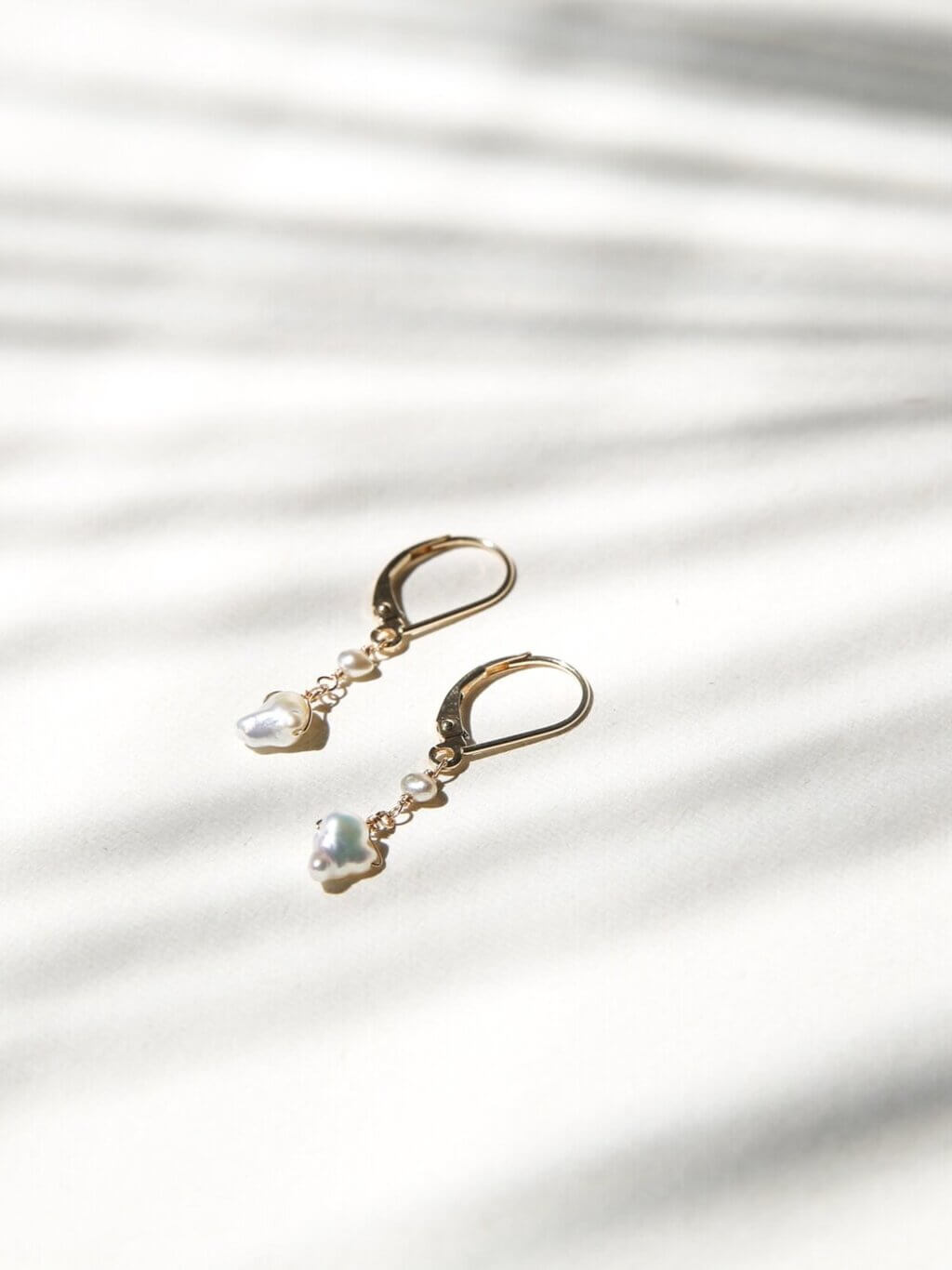 Source: squarespace-cdn.com
Washed Ashore is a sustainable and ethical jewelry brand that is protecting nature and artists making them. Larada Lamsam, the founder and owner of the company, has studied archeology and art history. This instilled a passion for jewelry making in her.
The history behind the name Washed Ashore is fascinating. She believes that jewelry possesses more magical power, and it isn't just any ornament (or historical evidence). The jewelry is made from recycled gold & silver. Other than that, all the metals, stones, and pearls are upcycled.
Also Read: Can You Be Fashionable Whilst Also Being Eco-Friendly with OGLmove?
4. Zoe Chicco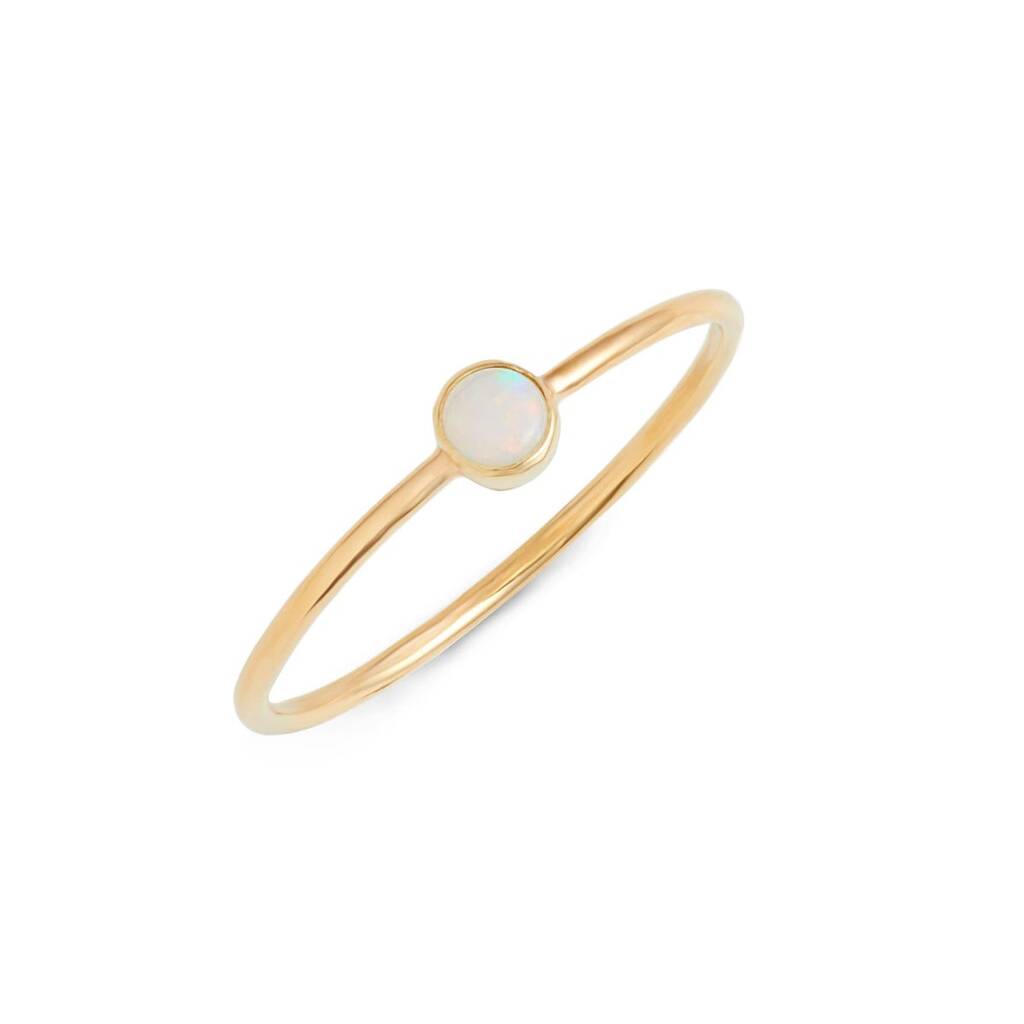 Source: glamour.com
Zoe Chicco isn't only sustainable and an ethical jewelry brand that takes care of its artist and provides the jewelry piece that won't harm nature in any way. Zoe Chicco is a Pennsylvania-based jewelry design brand that uses only 14 karat gold, and all the diamonds are conflict-free sourced. 
The company houses 20+ artists who gave their 100% dedication in creating a piece of jewelry that everyone loves. All the artists receive health insurance, paid vacation, and family leaves. None of them are exploited for their work. As for the products, you will fall in love with them in a glance only. Whether you are looking for minimalist jewelry or the trendy one, Zoe Chicco is the answer.
5. Poppy Finch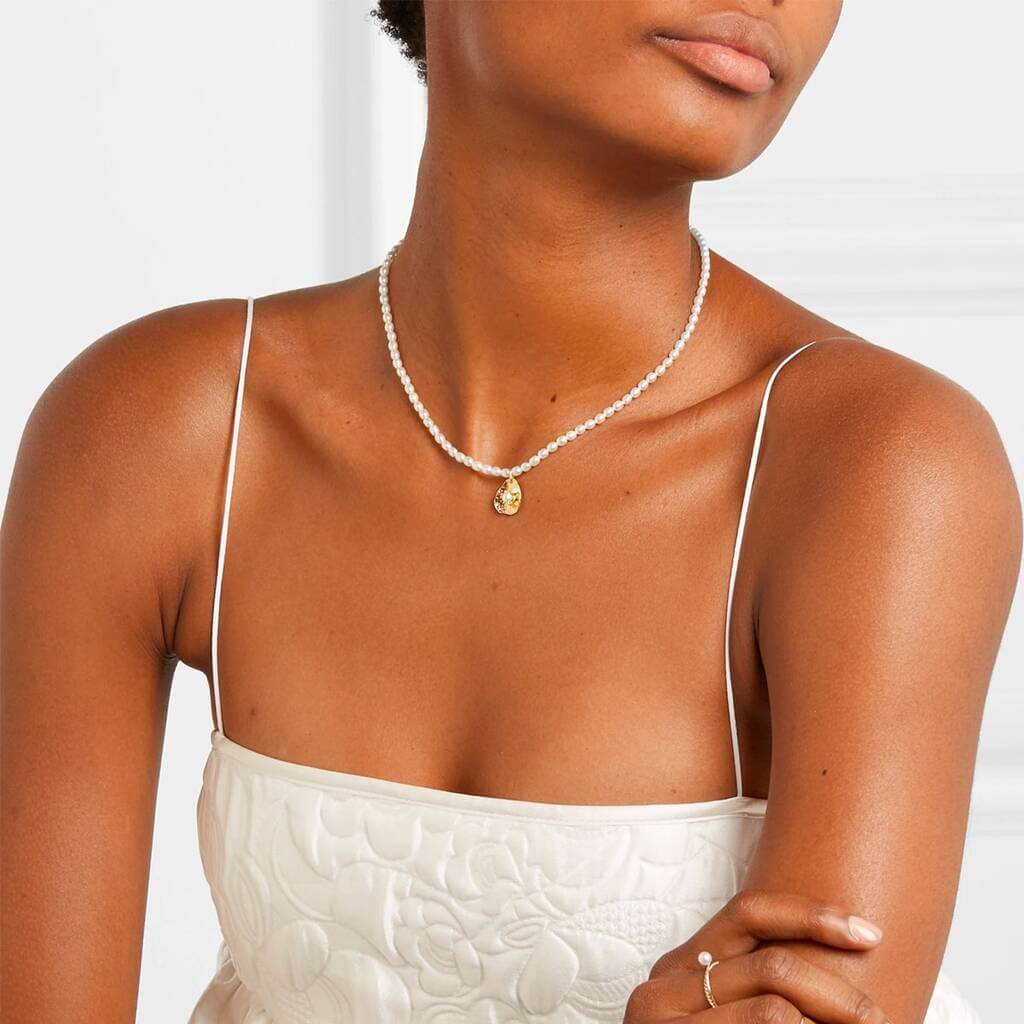 Source: glamour.com
Poppy Finch is a Vancouver-based sustainable jewelry brand that makes jewelry from ethically resourced gemstones and 14k or 18k gold & silver. It was founded to change the way people see jewelry. Who says jewelry can't be sustainable? It has collaborated with high-end boutiques to make its pieces available to everyone.
The jewelry pieces on the website are affordable, qualitative, and ethical. It produces locally with the help of handicraft artists. If you are looking for minimal yet detailed jewelry for everyday or occasional use, then Poppy Finch is the solution.
6. Laura Lombardi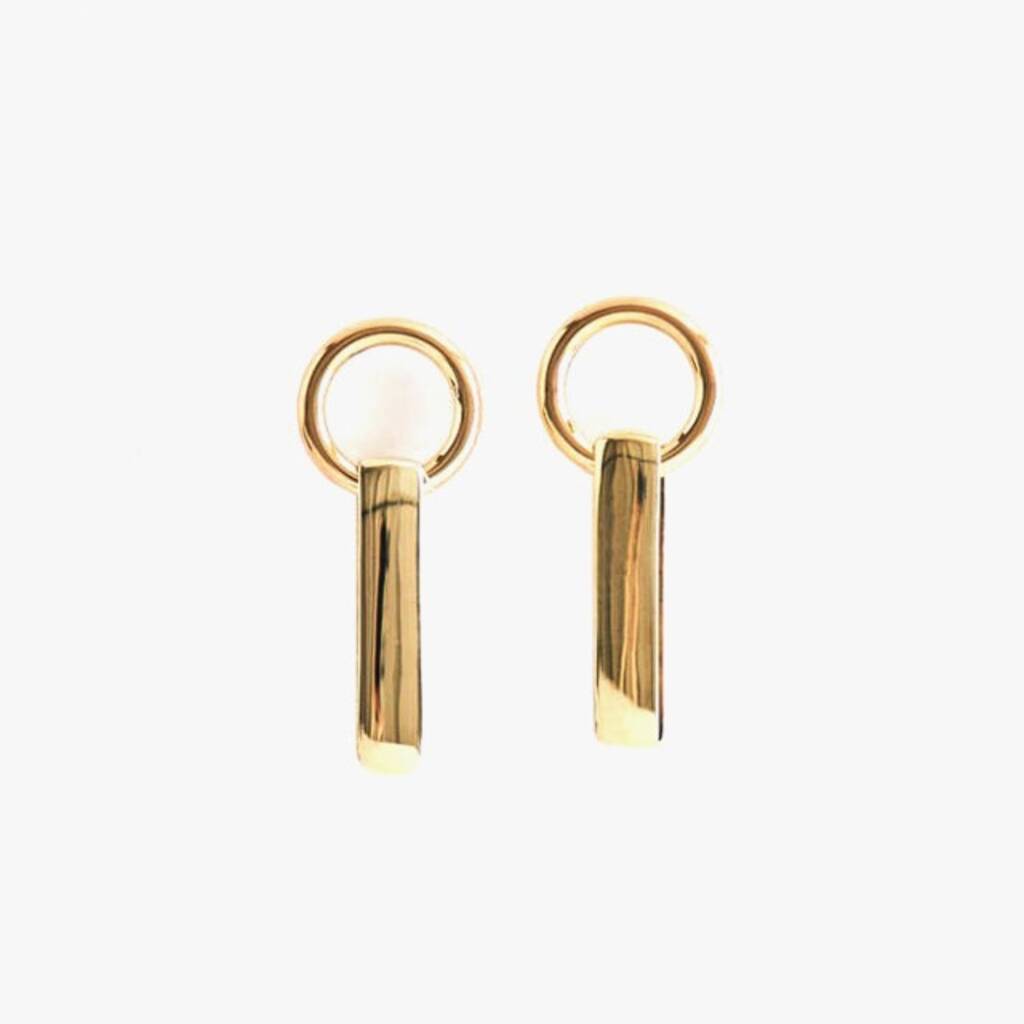 Source: vogue.com
Laura Lombardi, a jewelry line based in NYC, is known for its classic pieces. The jewelry designer – Laura found fascination in the gold chains her father brought from 
Italy in the 1980s.
In 2010, she started her own jewelry brand producing the classic piece that instills and reflects the raw industrial style of New York City. The hoop earrings and the chunky chains are the statement style of this jewelry brand. All the pieces you will see are sustainably made using raw and recycled materials.
7. Wolf Circus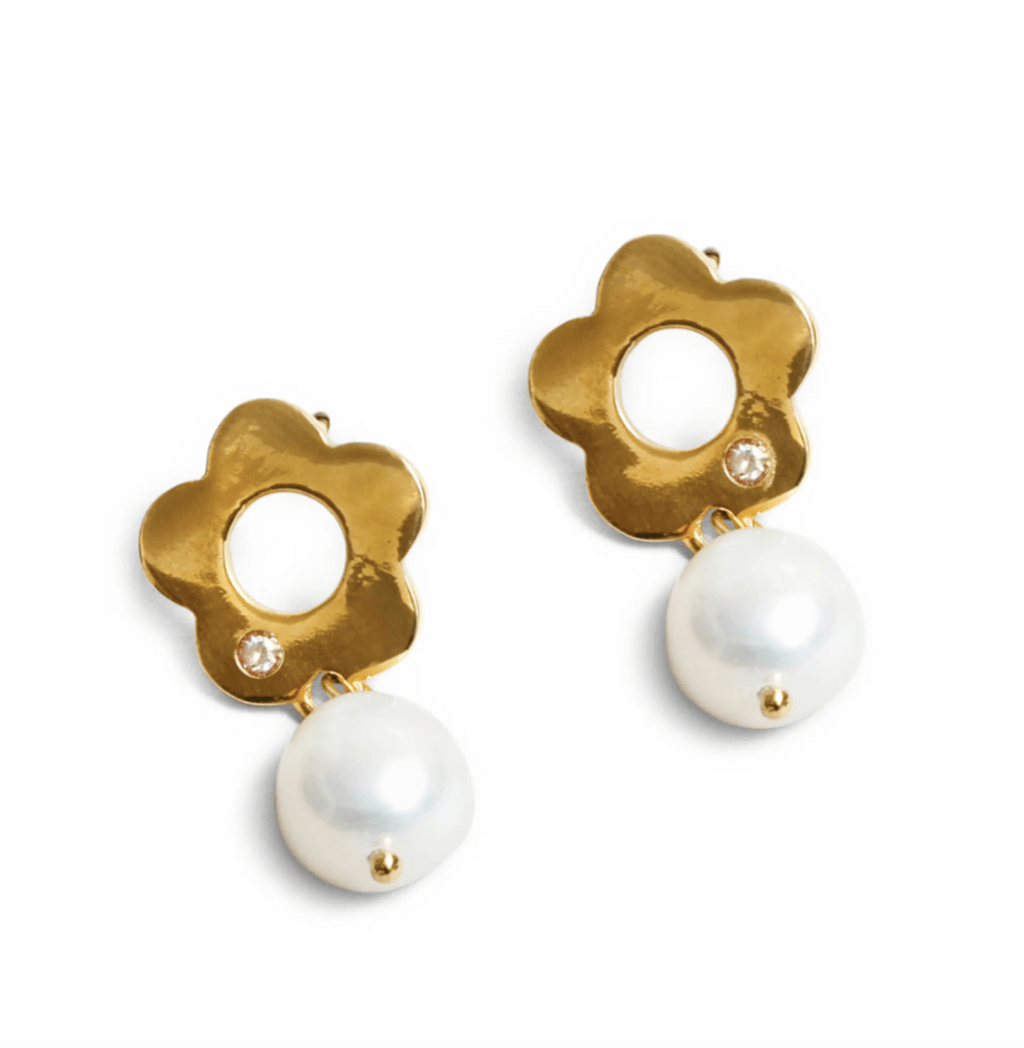 Source: glamour.com
One more eco-friendly sustainable jewelry brand from Vancouver, Canada, is Wolf Circus. The brand hand fabricates the demi-fine jewelry that can encourage everyone to be the real-self and builds confidence in their daily hustle. Recycled sterling silver and bronze is used for jewelry making, and then it is coated in high-grade 14k gold plating.
The Wolf Circus' store showcases glass hoops, colorful necklaces, flower-shaped clasp chain necklaces, and dome-shaped rings. The collection is minimal and trendy. You will find a checkered design to straight gem studded necklaces and rings. 
8. Bagatiba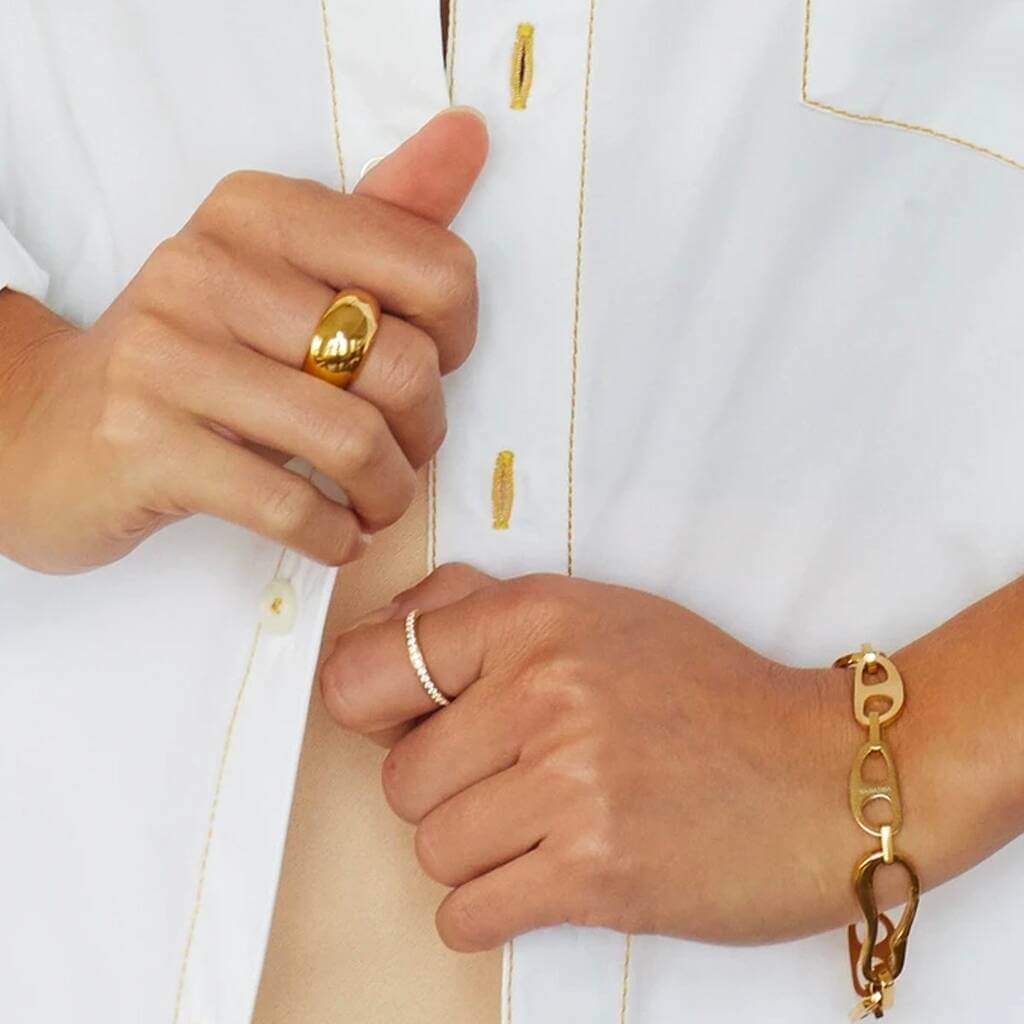 Source: glamour.com
Bagatiba is known for its A-Z sustainable approach towards jewelry making. It believes in recycling the metals that otherwise will end up in landfills. It generates a discount coupon for the next purchase if you donate your existing or unwanted metal jewelry. The only motive is to recycle, and it is also educating everyone about the benefits of recycling via their products.
Jewelry is a part of the fashion industry, and hence they are contributing towards it with their Triple R project. Whether it is about ethical working conditions or reducing the carbon footprint, everything is properly taken care of! The jewelry it offers is suitable for day-to-day use as well as occasionally.
9. Able
Source: shopify.com
Able is no regular jewelry store. It is a brand that started manufacturing and selling scarves, clothes, leather bags, and now they are designing sustainable jewelry for people worldwide. This brand's main motive was to break the cycle of poverty by creating job opportunities (especially for women). 
ABLE is more of an ethical brand that produces all the jewelry in-house with their artists' help. It ensures that all the employees get the proper wage and benefits that they deserve. No matter what you are looking for, be it jewelry or accessories, Able is a one-stop-shop.
10. Ten Thousand Villages
Source: squarespace-cdn.com
The US-based market-to-market store believes in sustaining the environment and helping the makers. It is a fair trade business where the planet and people are put first, before anything. Every product and its process is 100% sustainable and ethical. Hence be rest assured that no one is compromised for another's benefit.
You will get everything at this market, from home decor to jewelry, and all made using recycled and reused materials. They have a minimum of 25+ years of relationship with its artists, they have seen the difference a stable income can make, they have seen their children grow. 
11. Soko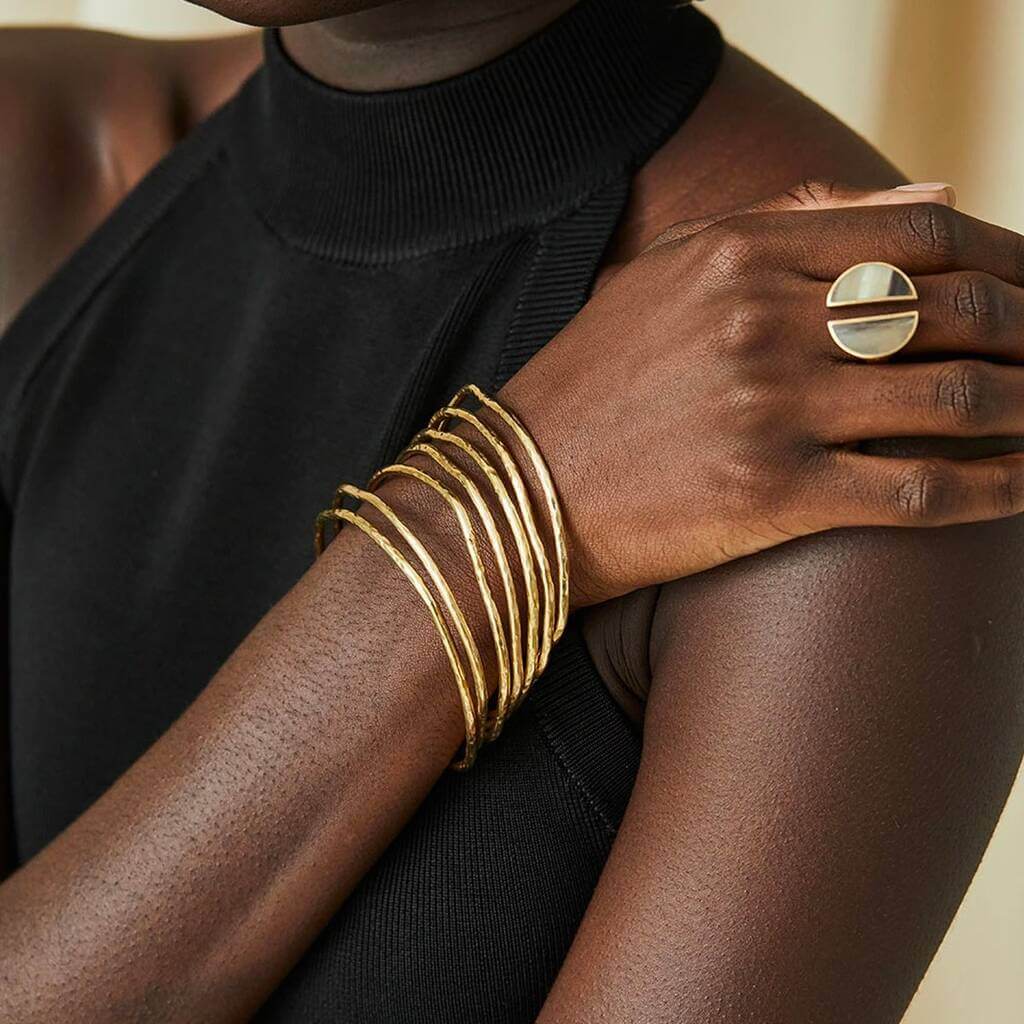 Source: glamour.com
Soko is another sustainable and ethical brand providing opportunities to women. It connects Kenya's artisans to the global market and gives them exposure. Soko being a B-certified corp aims at creating jewelry that will help nature recuperate. It is building an inclusive and sustainable economy to solve social issues.
In Soko's online store of sustainable and eco-friendly jewelry, you will get minimal to classic pieces. It has an aesthetic touch to every part of jewelry that shouts the motive of the brand's origin.
12. Mejuri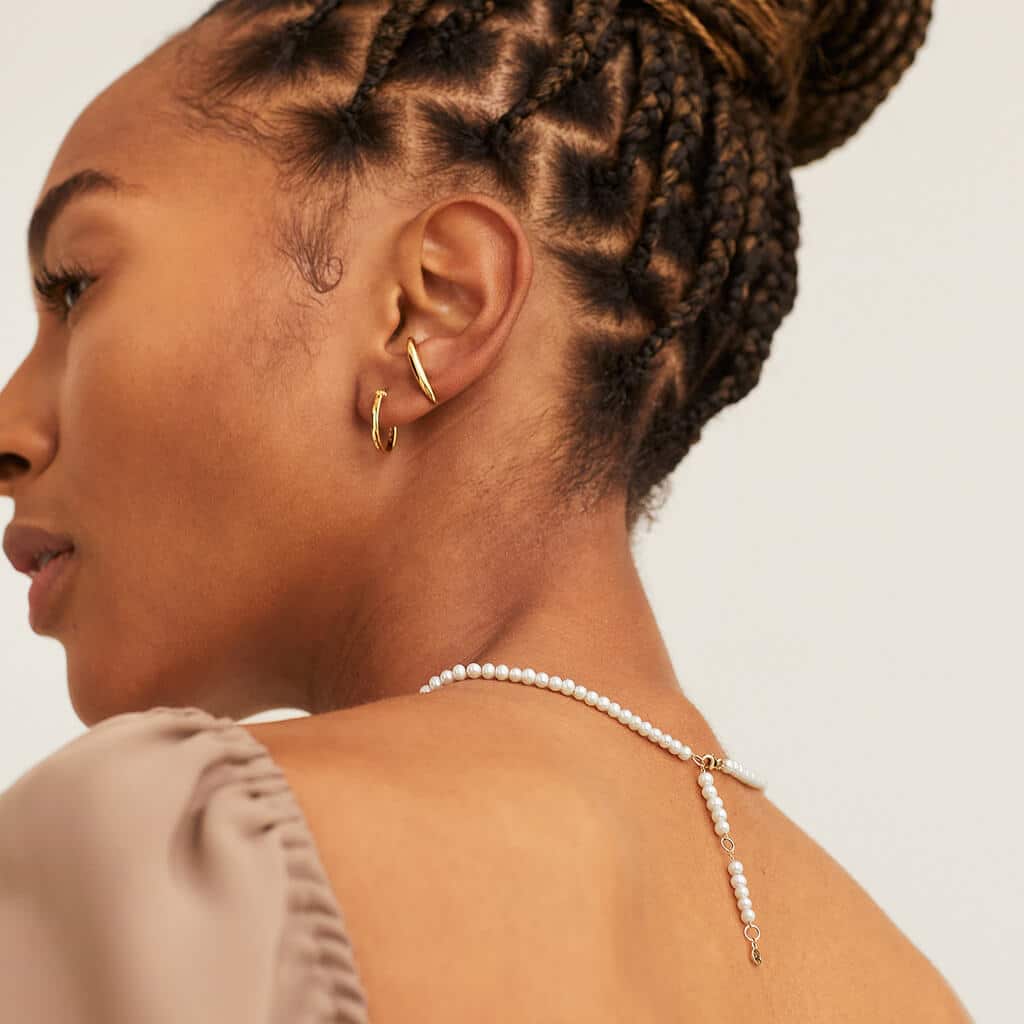 Source: cloudfront.net
Another Canada-based sustainable jewelry brand with worldwide presence is Mejuri. The brand produces in small quantities to avoid wastage and also introduces the limited edition jewelry every week. 
Mejuri sources environment-friendly raw materials with fair trade and in an ethical way. All the metals and diamonds sourced are conflict-free. The range of handcrafted jewelry varies from rings, earrings, necklaces to bracelets and anklets. The jewelry it offers is made not only for occasional wear but for everyday wear as well.
13. Catbird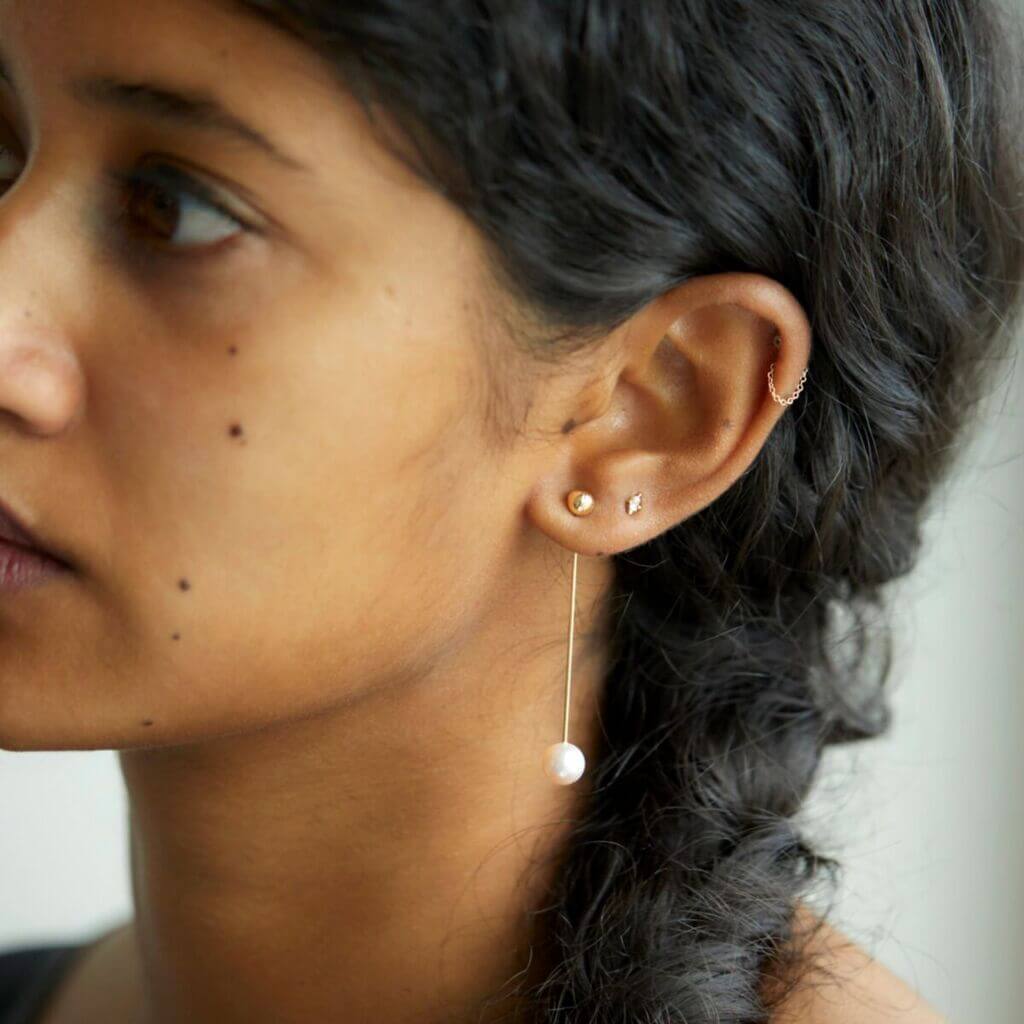 Source: catbirdnyc.com
Catbird is also one of the women-owned and operated brands that work on the belief of women empowerment. The brand's products are entirely made in-house at Brooklyn Navy Yard. It houses around 40 artisans that craft and designs dainty and classic pieces. The most important thing that you should know about this brand is that it donates 1% of its sales to non-profit organizations.
Catbird uses recycled gold and conflict-free gemstones in the making of its jewelry. All the workers are fairly paid and treated equally. You will find a wide range of jewelry in this NYC-based store, from engagement and wedding rings to home & beauty.
14. Nisolo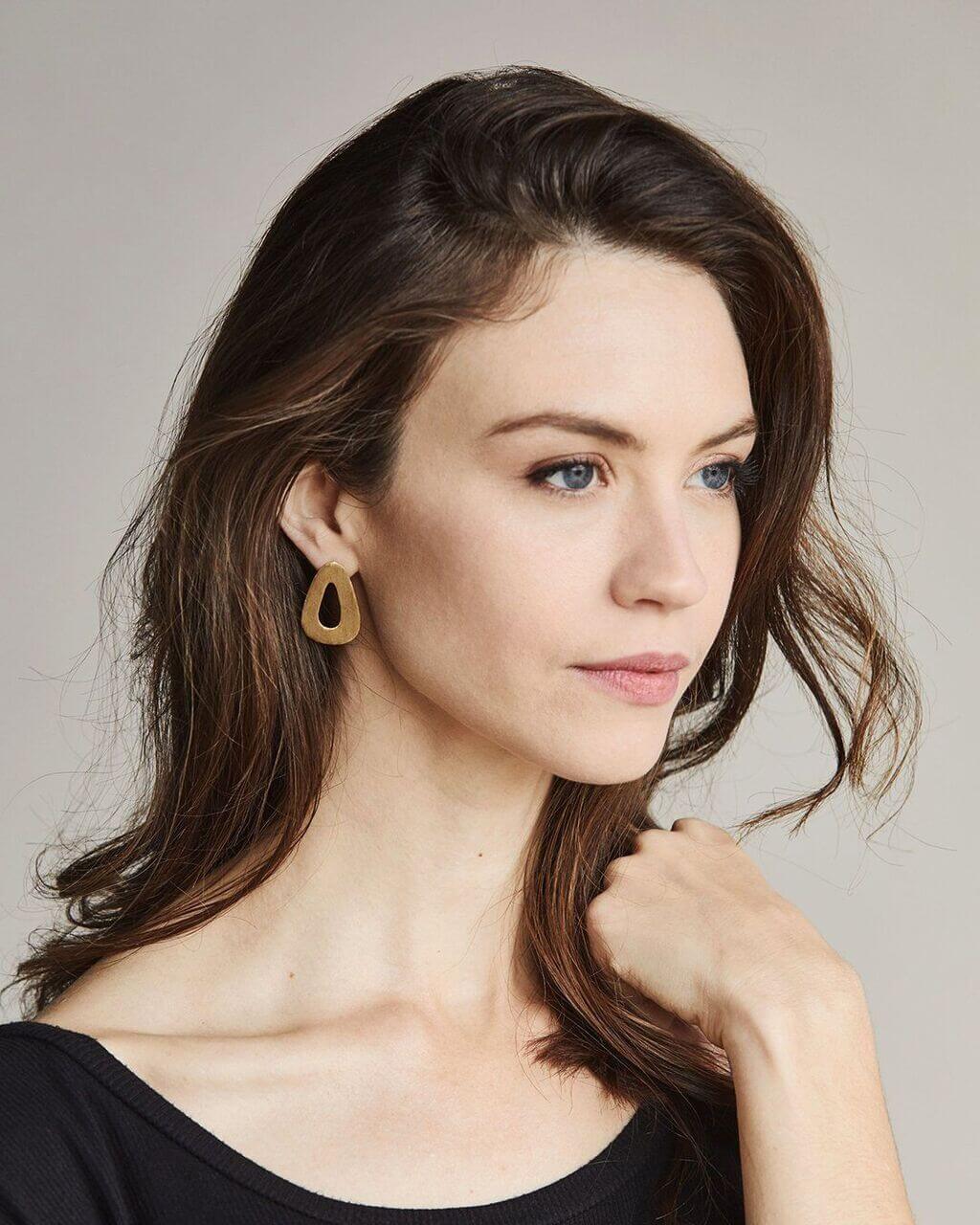 Source: pinimg.com
Intending to make the fashion industry sustainable and a better place for people, Nisolo decided to go green and ethical with its productions. You can relax after knowing that no single person was compromised in the production of your jewelry. Nisolo is a Kenya-based jewelry store that sources raw materials sustainably.
It has collaborated with artisans from Kenya, Mexico, and Peru to give them the right amount of exposure. You will find minimal and classic pieces of jewelry that you can wear on anything and anytime. This certified B Corp brand has no middlemen to make the purchase and sells. All the jewelry is directly collected from the artists and sent to you.
15. Aurate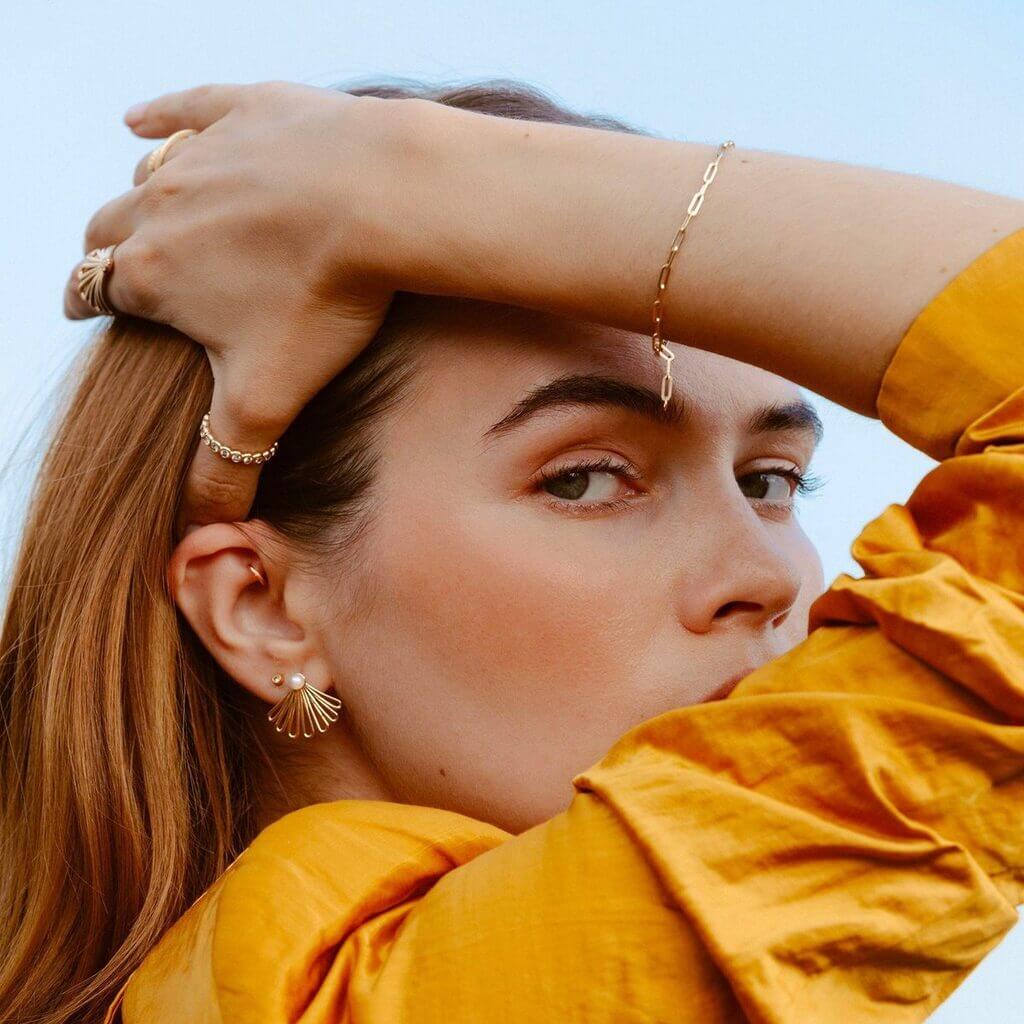 Source: shopify.com
Aurate, a jewelry brand based in New York, works both ethically and sustainably. Right from the material sourcing to delivering to your hands, it makes sure that no one is hurt. The company's founder designs jewelry taking inspiration from historic building's doorknobs, arches of the Brooklyn Bridge, and all the everyday life aspects.
They sustainably source 14k gold, 18k gold, 100% recycled gold, and gold-plated vermeil. As for pearls, they are sourced from the deeper south sea, and the Akoya style is brought straight from Japan. Recently it has launched the crescent moon collection, which has cute and classic everyday wear earrings.
16. Accompany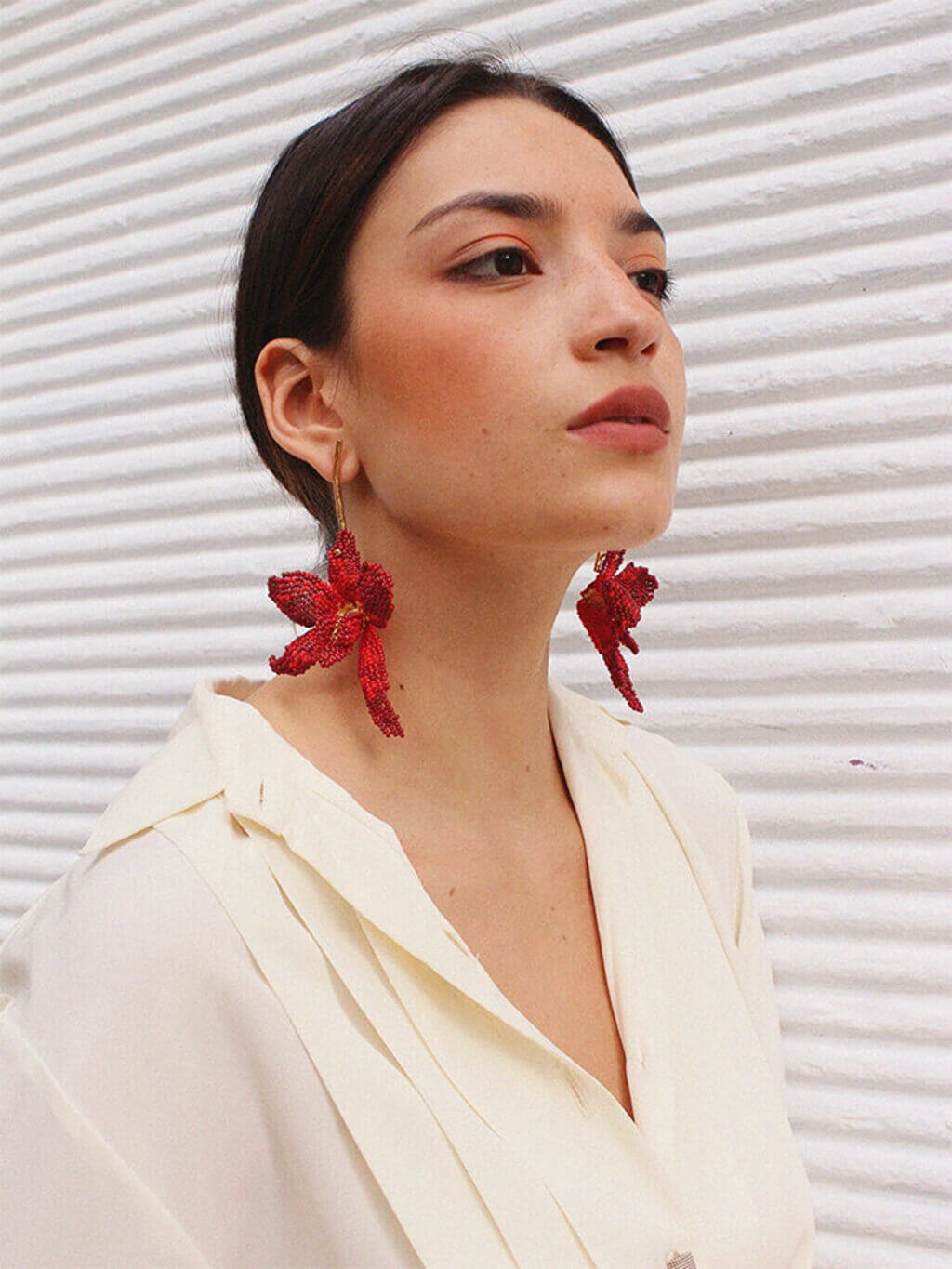 Source: squarespace-cdn.com
Accompany is another certified B Corp jewelry brand from New York City. We all know there are artists who make the best ethical jewelry, but the problem is the connecting gap. This brand focuses on bridging the gap between you and the artists. Their foremost aim is to change the lifestyle of communities, families, and individuals. Sustainability is related to the environment, but economic and social factors do affect that.
This jewelry brand is maintaining every factor by approaching the local artisans and craftsmanship to lead them to large-scale selling and improving their lives. Accompany has collaborated with other sustainable brands like Soko to achieve its aim. You will find every type of jewelry on the website, which is reasonably priced.
17. 31 Bits
Source: shopify.com
A brand owned by four friends, who were carefree juniors, babysitters, waitresses, and whatnot. It was the time when they had to decide what they would do after graduation when one of them came back from Uganda. That place really changed their lives. The teenagers decided to start the business but not just the basic t-shirt or keychains.
Thirty-one bits employs women and artists from around the world and takes care of their beneficiaries, health care, and financial education of the children. The brand has a presence in Indonesia, Uganda, and the USA. Also, the product you will see on the website is minimal and ideal for formal use.
18. Monica Vinader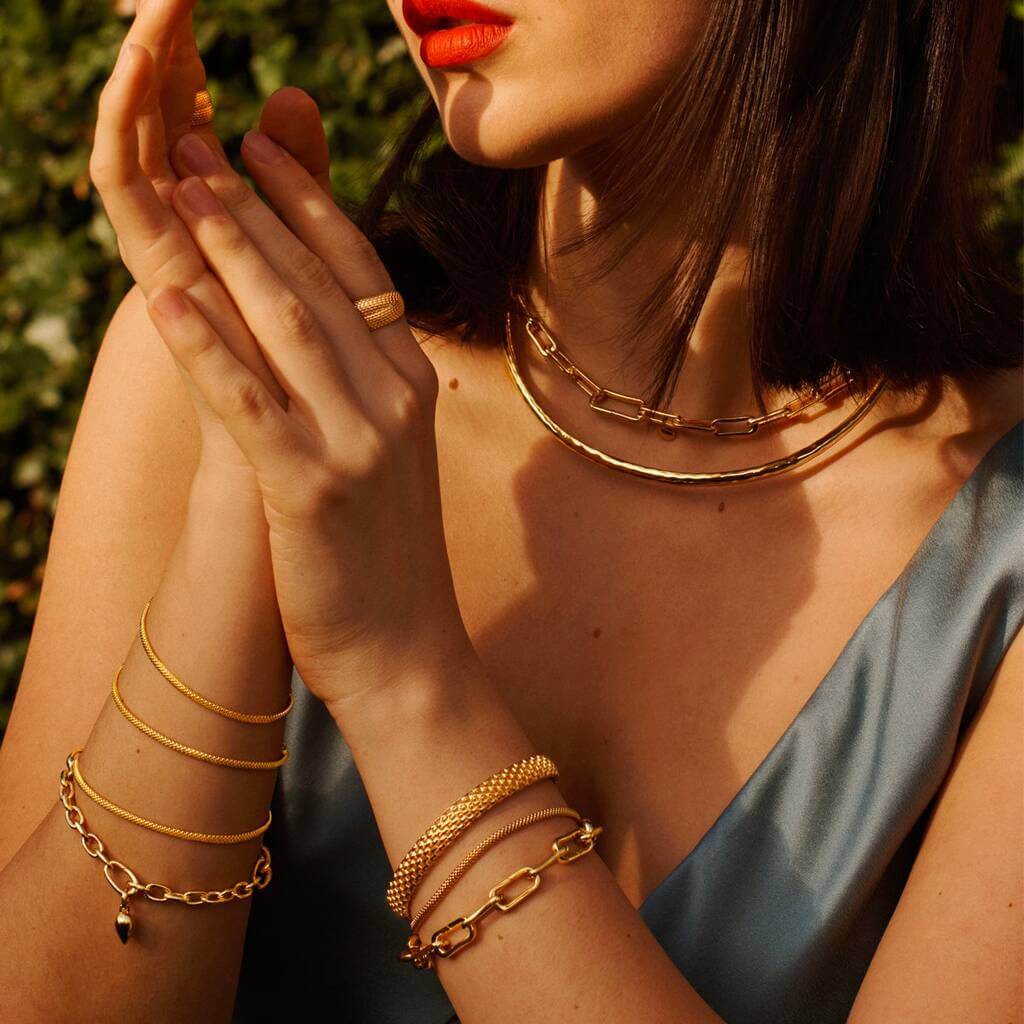 Source: glamour.com
Monica Vinader is a jewelry brand that has recently shifted to the sustainable side. You don't see this change every day or with every brand. It was one of the ethical brands from the start, but it wasn't counted as sustainable (now it does). The main aim was to reduce the CO2 emissions and act responsibly for the environmental changes.
The brand houses jewelry designed by their in-house team in Norfolk, crafted by the masters from Thailand, and gems are cut and given shaped by the artisans in Jaipur. From the classic 90s piece to the modern jewelry, Monica sells everything with fair trade.
19. Vrai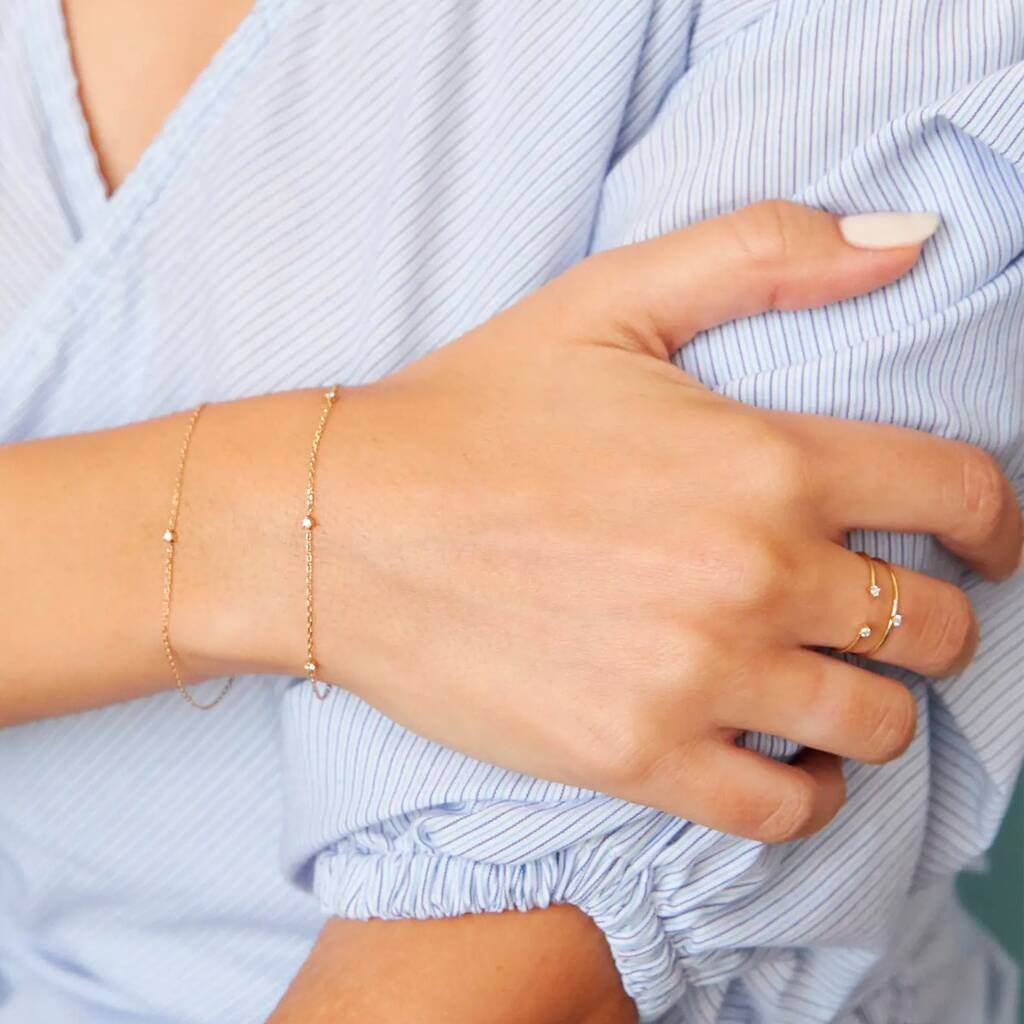 Source: glamour.com
Vrai is a unique and occasional jewelry brand using eco-friendly methods to produce goods that don't harm nature in any way. Even the packaging it does is compostable. The jewelry is made from recycled original gold and platinum only. Among all, the USP of the brand is its diamond jewelry, for which the raw material is sourced from Diamond Foundry (the only certified carbon neutral diamond producer).
Vrai means TRUE – the main purpose of the brand. As for the jewelry's design, they are classic and timeless. You can even select from the diamond cut type and size while purchasing one of them.
20. SVNR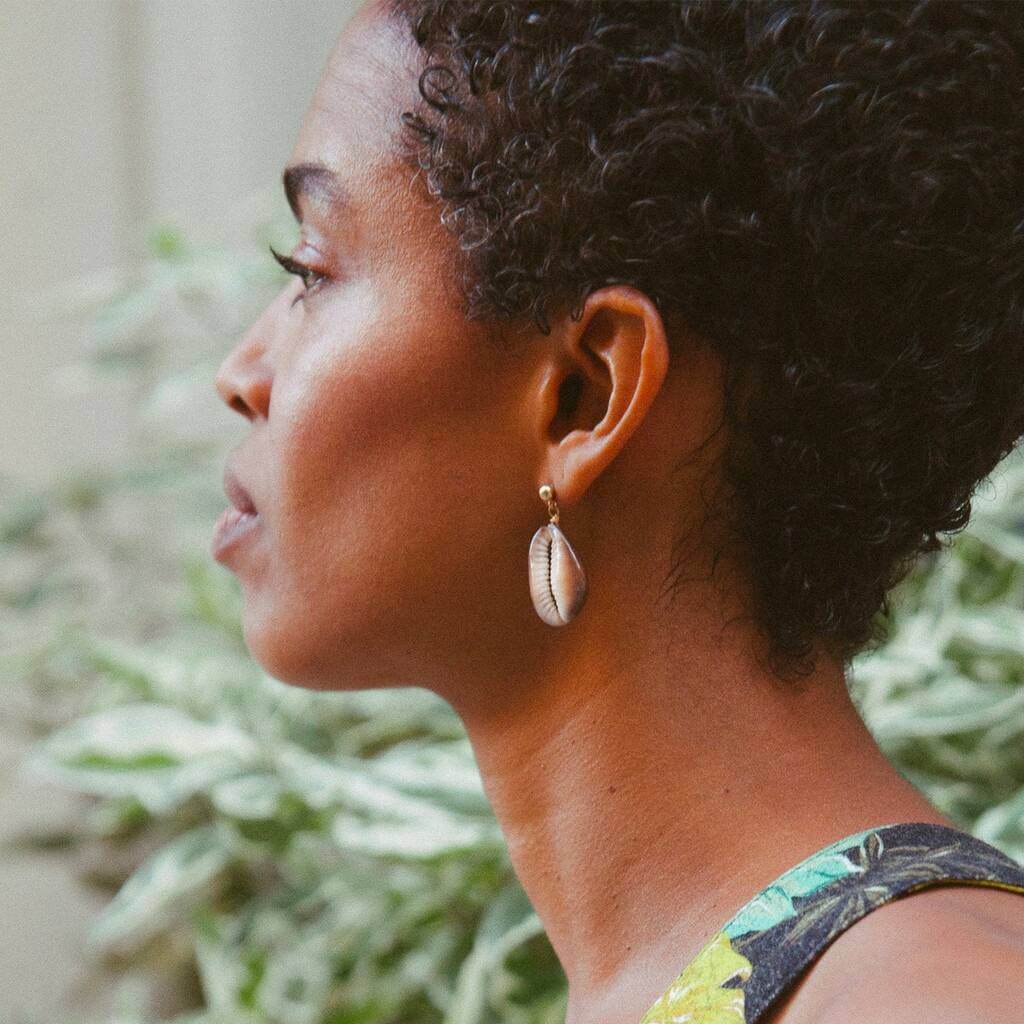 Source: glamour.com
Svnr is a women-led jewelry brand that makes distinguishing jewelry from the found, re-used, up-cycled, and natural materials. The meaning of the brand's name is to 'remember,' and this is what they want. Once you have worn the Svnr's jewelry, it is going to be your go-to brand for jewelry purchasing. This is something that I can assure, without any doubt.
The earrings, necklaces, bracelets, etc., are made using cowrie shells, beads, and baroque pearls, which makes it 100% sustainable and eco-friendly. The brand sells individual earrings. Reason? For you to mix and match the styles, which are inspired from the destinations like Lagos, Havana, and Positano.
21. Bario Neal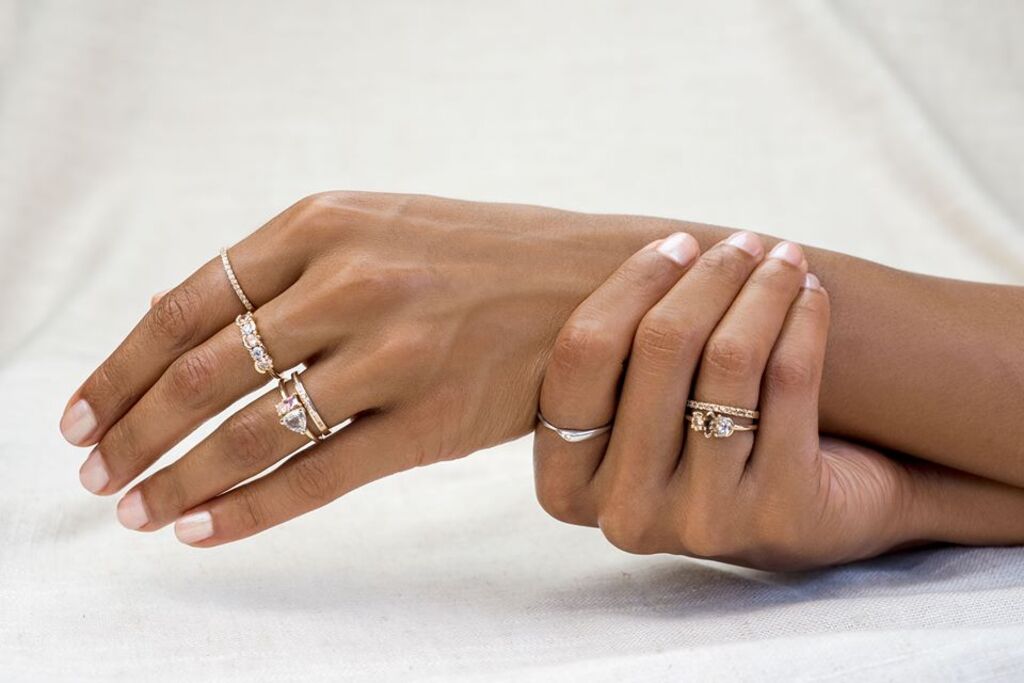 Source: cloudfront.net
Last but not least on the list is Bario Neal. The brand is an initiative by the two designers, namely Anna Bario and Page Neal. Like them, I too believe that every piece of jewelry has a story behind it (from the maker's side and the seller's). No matter how complicated or detailed jewelry you like, one must not neglect its manufacturing impact on the environment.
So keeping everything in mind, they decided to introduce a brand that will fulfill the jewelry dream of women and protect nature. Today, Bario Neal is among the industry leaders known for its ethical sourcing and progressive manufacturing worldwide. Get a ring or a pendant. Everything is designed in-house and handcrafted by the artisans with ethically sourced stones and gold.
Also Read: Affordable Jewelry: What Is Trending And Worth In The Market?
FAQs – Frequently Asked Questions on Sustainable Jewelry
1. What Makes Jewelry Sustainable?
A piece of jewelry is sustainable when it is made from materials that didn't harm any part of nature and won't even do so in the future. A piece of sustainable jewelry is something that lasts longer for like forever. 
2. Where to Buy Sustainable Jewelry?
You can buy sustainable jewelry from any of the brands practicing the raw materials' ethical sourcing and manufacturing. Here in this article, we have mentioned a few of the industry's best sustainable jewelry brands.
3. What Is Sustainable Jewelry?
Jewelry that is manufactured to contribute economic, social, and environmental support to the localities is considered sustainable jewelry. The sourcing and manufacturing process should be transparent to everyone. It should have no to minimal impact on the environment and must provide fair wages to the artists and handcrafters.
4. What Is Ethical Jewelry?
Ethical jewelry is a vast subject (even if it is about the definition). However, the short meaning is – jewelry made without hurting or compromising the needs and requirements of the people who make it is called ethical jewelry.
5. How Do You Make Recycled Jewelry?
Who said only brands could make sustainable jewelry? You can too help around. Jewelry made from recycled materials also counts as sustainable. You can use buttons, soda caps, bubble wraps, paper beads, quilling, and much more to make recycled jewelry.
The Bottom Line:
This was everything you needed to know about the sustainable jewelry brands to go for in 2021. Among these 21 brands, you will definitely find the ideal one for you. Want to get the everyday jewelry or the occasional ones? Go for the eco-friendly jewelry hand-made by artists all over the world. 
For more information on the fashion industry and latest trends, visit Fashionterest.