Fashion has a place to be not only for female representatives with a model appearance because many of the beauties are owners of curvaceous forms, which we can increasingly observe on the catwalks. Here we will talk about the latest plus-size clothing trends in 2023.
Every woman deserves to look bright, feminine, and attractive, and fashionable clothes for overweight in the 2022-2023 season will certainly help the fairer sex to achieve the desired result and create flawless images for overweight in different styles and every taste.
How to Choose Fashionable Plus-Size Clothing?
Like any other, fashionable clothes for overweight have their characteristics and subtleties that are suitable for her, and only correctly selected plus-size things will fit perfectly and look harmoniously on girls with appetizing shapes.
You should remember that for plus-sized women it is important to follow the rule: "Everything should be in moderation." This concerns the brightness of colors and their presence in plus-size bows, expressiveness of prints, the size of the clothes should correspond to yours – not too tight, but not drooping.
Fashionable clothes for overweight should emphasize beautiful forms, but at the same time hide flaws as much as possible.
Colors
For women with a full figure, it is important to choose clothes that will not only emphasize the merits, gently hiding individual flaws, but also help to look stylish and attractive. It is dressed that is a chance for each of us to become a little more feminine, graceful, and more elegant, even with extra pounds.
The basic colors of dresses in the wardrobe of obese women are still neutral shades, which allow building unique images on their basis. Most stylists advise overweight women to pay attention to dresses of cold shades, rightly believing that it is these colors that can visually slim a curvy figure.
Cold colors are ideal for a fat woman's wardrobe, who strives to look stylish, but at the same time does not focus the attention of others on certain details of her image. Having abandoned the dominance of dark boring shades, you should turn your gaze to a muted cold color scheme.
Material and Textile
An important aspect in the competent drawing up of a bow for full, in addition to color and style, is the material and texture of the clothes.
Girls with curvaceous forms should limit themselves in replenishing their wardrobe with knitted things, the pattern on which is large and textured ("braids", "leaves", "bumps") – they visually add a couple of extra centimeters.
Choose things from linen and cotton, denim and tweed, satin and silk, which can very nicely fit into plus-size bows, providing that the style is choosing correctly.
Ideas of Plus-Size Dresses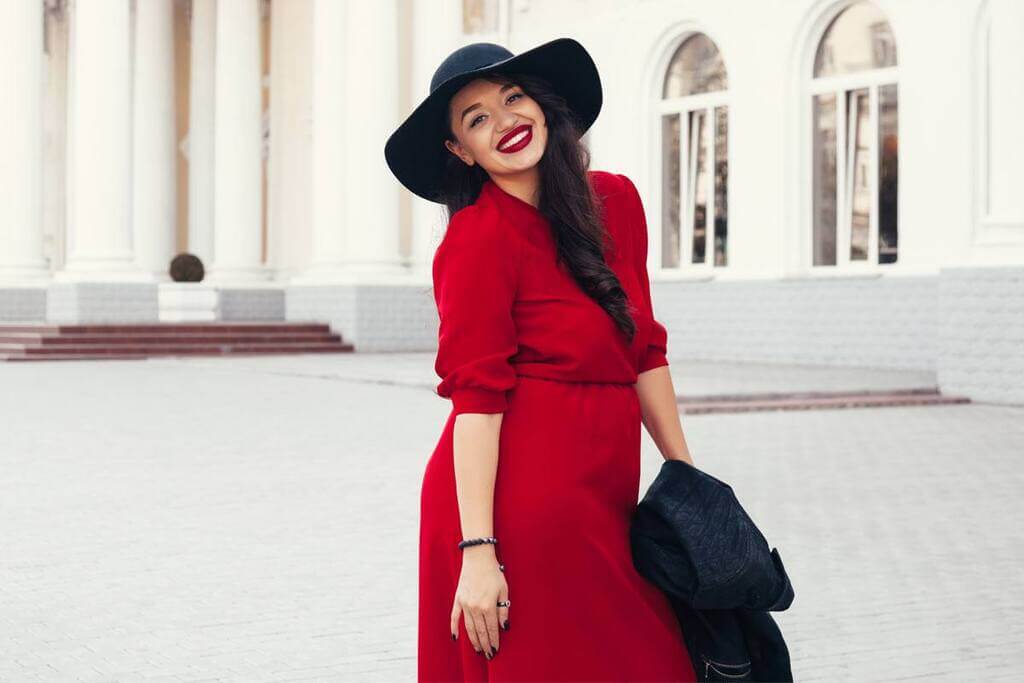 Wanting to hide the excessive fullness of the arms, you should give preference to models with flared sleeves or 3/4 sleeves. You can pay attention to things with an original finish – embroidery or a bright pattern on the chest.
Such decor will distract attention from full forearms. You should not choose dresses with puffy lantern sleeves and voluminous sleeves. If the shoulders are much wider than the hips, then dresses that fit the hips, with a hem that is flared to the knees, will help to visually balance the figure.
With excess breast volume, give preference to plain dresses without appliqués and voluminous patterns that focus attention on this area. An outfit with a triangular or round neckline of medium depth will look attractive.
The main accent should be the waistline, emphasized with a belt. Evening dresses for obese women with extremely voluminous hips should have a light top and a dark flowing bottom.
Dresses for plump ones with geometric prints, asymmetric stripes, polka-dot dresses, and flowers will become actual style – the main thing is that the pattern is not large and too intrusive.
As for the style, the fashion for plus-size summer dresses is presented by shirt-cut, asymmetrical, sheath dress, A-line dress, and jacket dresses.
Plus-Size Skirt
Full girls should give up mini skirts, and choose midi models that look feminine and elegant. Designers offer light and flowing models for the spring-summer season, as well as tweed and dense models for cold autumn and winter.
Accessories
To choose the right accessory, you need to understand that completeness can be different. For example, a lush top with quite slender legs, or vice versa – fullness in the lower part.
Recommendations:
Business bags of a strictly rectangular shape are suitable for short and full ladies;
For those with full hips, accessories for wearing on the shoulder are better;
If the lady has a plump upper part, then a medium or large bag with a long harness will help to hide the lack of a figure;
You can visually remove the weight – if you give preference to bags, the size of which is larger vertically than horizontally;
For owners of full and top and bottom, designers recommend medium-sized accessories for wearing at waist level (with short handles);
Bags with short straps are suitable for women with curvy hips. Also, the accessory can wear under the armpit or at the end of the elbow. But it is better not to include small handbags and clutches for ladies with a wide bottom in their image;
A bag as a distraction: Buy an accessory in a flashy color and it will distract others.
Belts for Plus Size Women
Belts, belts are ideal accessories for curvy girls, as they suit them in 99.9% of cases. It is not only beautiful but also practical: the accentuated waist gives femininity even to a too heavy figure.
About the width. The same rule works here as for bags – the golden mean. That is, the average width (2-5 cm) – does not fill up, like wide belts, and does not get lost at the waist, like too narrow accessories.
You can even use a brooch instead of a belt – this is ideal for those with wide shoulders and narrow hips. To make the figure seem more slender, a woman's belt or belt is best worn with dresses, tunics.
If you want to visually lengthen the upper body, hide a not very wasp waist, then the belt is recommending to wear on the hips. And here a wider accessory is appropriate – from 5 cm. Be careful: the belt on the thighs "removes" the length of the legs a little.
Belts for overweight should not be bright and catchy, so as not to conflict with decorations, decor, and other style elements. Also, they should not differ dramatically in color from the outfit.
Continue reading: