Paris is all about love, fashionable magic, and hot-breezing romance. Thinking of sunny sides, coffeelicious evenings, and Parisian's fashionable magic, OLALA is the only emotion that pops out from our heads.
Undoubtedly, the capital of fashion & the hub for fashionistas, "Paris" legit lured our senses with the oh-so-boggling charms, coming straight outta Paris Fashion Week 2022. They're indeed the best hosts as they're celebrated twice a year, we surely can't deny this fact!
Viral Moments You Can't Miss, Pictures That You'll Definitely Not Skip!
Needless to say or ask, we're gifting your senses – The Most Viral Moments from Paris Fashion Week 2022. Unaware of what are they? Well, the one in trend, gets followed by the layman and gets trolled, really quickly on many social media platforms. But trends are trends, either they can make a fashion brand at Paris Fashion Week or can ruin it damn easily.
Wondering What 2022 Paris Fashion Week Is?
All the fashion connoisseurs fondly revere, it has finally concluded. More than 40+ fashion houses presented their spectacular collections on the star-studded runaway of September & October 2022.
Many brands at 2022 Paris Fashion Week came to inspire & excite, not to provoke. This same year, viral moments have grabbed the attention of fashion bloggers, influencers, and fashion lovers of course, and have maneuvered the standards of the fashion industry.
Not wasting your time anymore & quickly rolling your eyes at the fashion-studded moments;
1. Get Swooned with Bella Hadid Spray-Painted Dress
Instagram & Pinterest Worthy is the synonym we have penned for Bella Hadid's Spray-Painted Dress. She took the ball to her own side by having her dress sprayed in front of the live audience. Isn't it a gutsy thing to do?
Well, Instagrammers love such gutsy & oh-so-attention-seeking moments. The very famous superstar came to the stage in her nude underwear and two scientists worked their magic on her.
The under-solution was a perfect amalgamation of natural and synthetic fibers with a polymer. Dubbed Fabricant, it turns into a jersey-like fabric when it touches the skin. Guests at the event like the very famous Kylie Jenner & Alexa Chung watched as the incredibly fashionable dress was painted on Bella Hadid.
With the hashtag #sprayondress , this very famous Bella Hadid moment got viral on TikTok with 3 million views.
2. The Velvet Dreams Of Kylie Jenner's Dress
Oh, you diva we swoon already! Kylie Jenner is The Royal Blue Stunner at 2022 Paris Fashion Week.
Accessorizing her charm with an unapologetic attitude in her royal blue velvet gown, she is the trendsetter, followed and revered by many.
No matter what the event is, she personifies her elegance like no one else. Who else agrees with us? Well, you can shower your acknowledgements by commenting in the comment section. Moving over to her velvet dreams, this is the most viral moment from the 2022 Paris Fashion Week.
She takes the plunge in a Schiaparelli gown with a star's anatomical heart necklace, enjoying her time in the city of lights. With a dramatic sweetheart neckline, the Kardashian star was ensemble with black pumps, a black & gold handbag, and drop earrings.
Her raven hair was styled in a swirled bun, and she legit amped up the drama with a smokey eye affair, sharp winged eyeliner ad oh-so-rosy red lip!
3. Dries Van Noten's Return
A collection of love, energy, and awesomeness. The Dries Van Noten's showcased an explosion of bold colors & damn awesome emotions. It was the perfect mixture of – Bring on the passionate joy, bring on the party!
Designed by a Belgian designer, the runaway show returned after a three-year pause. They had designed the stage with classic concrete walls in an office building with 64 looks, in front & center.
If you're a silhouette fan, you surely can't afford to miss this most viral moment of 2022 Paris Fashion Week. The collection was built up with all-black pieces, different colored florals, and ruffles. Historically, this season marked the timeless return of Dries Van Noten almost after 3 years off the runway!
4. Issey Miyake's Tribute
Surreal, Serene, Scenic – the conclusion of what the Japanese Brand Issey Miyake's first show since the founder's death.
As the lights go off, the series of screens presented a picture and a very classic quote from the founder – Issey Miyake, A much-loved legend & the very first Japanese designer to present at Paris Fashion Week. The quote goes like this –
"Design evokes surprises and joy in people."
Creatively created by the Creative Director. Satoshi Kondo, the collection highlighted the sculptural, cleverly knitted pleated dresses – in a beautiful movement with the troupe of dancers, twirling across the stage. The label showcased its extreme potential with highly technical pleats.
5. Fusion Fashion At Chloe
The climate activist Gabriela Hearst attracted her attention to the science of nuclear fusion, a very beautiful way of developing clean energy by replicating the reactions that power stars.
A gorgeous way of showcasing science & pop culture with famous personalities like Gigi Hadid & Quannah Chasinghorse.
6. Thom Browne's Varsity Jacket Opera Coats
He is the master of storytelling and who can deny the fact? Undoubtedly none. The most viral moment from Browne's collection was a mixture of American prom versatilely mixed with cinderella magic.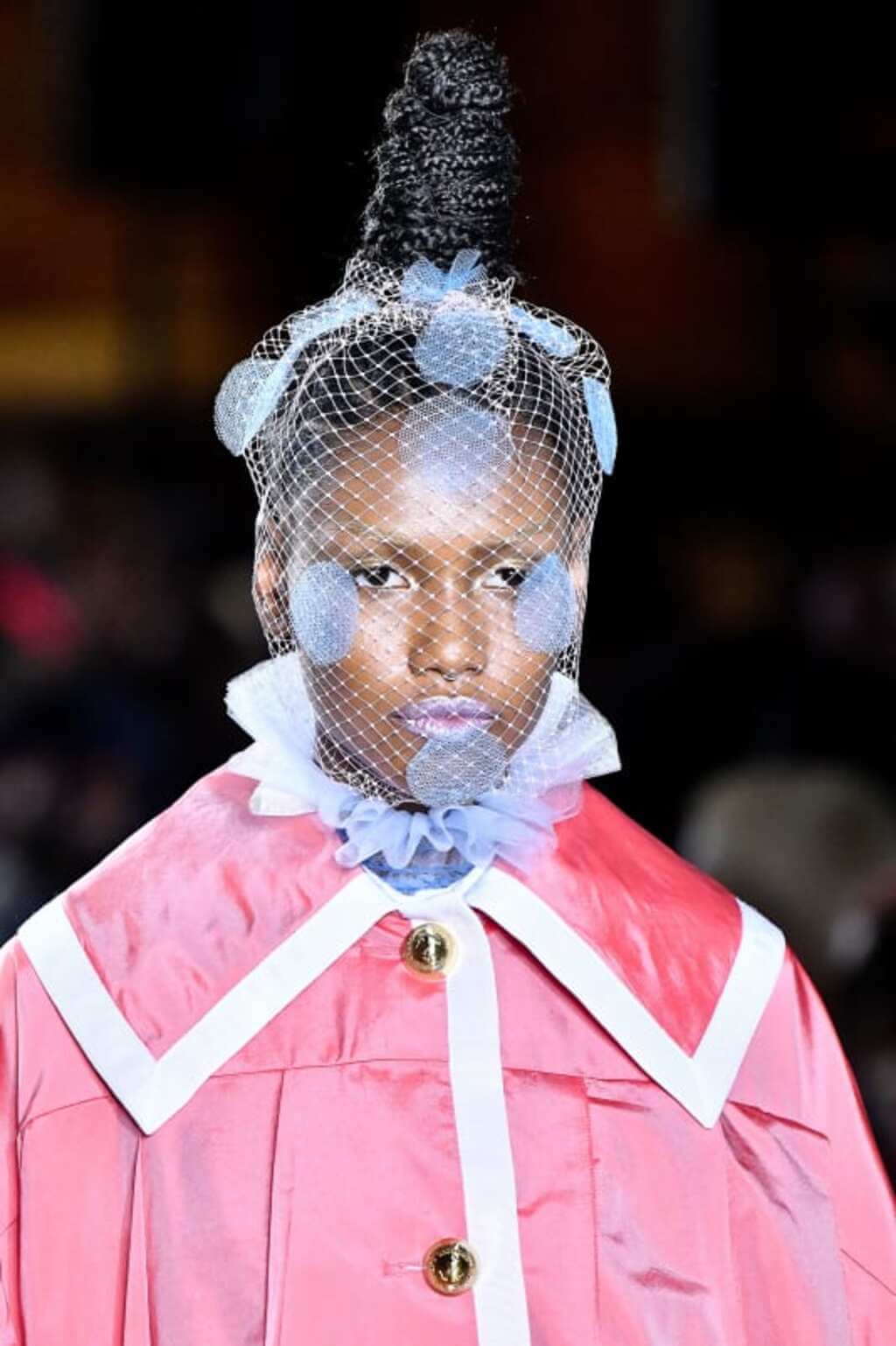 This fairytale theme was showcased like a dream and the ah-mazing opera coats played with a different incarnation of draping and were revealed with Oxford Tailoring. It ended with a pink tulle Cadillac wherein the classic cinderella and prince danced off to the tunes of their Happily Everafters!
7. Valentino Nudes
Got naughty? Haha, hold your horses, not those nudes we are talking about.
Indeed the term creates a controversy but Valentino turned the tables with the pale peachy pink, embracing all skin tones. From voluminous dresses to bodysuits and sequined trousers, the softly-textured dresses got the Barbie-perfect nude treatments.
The collection got a real-time reach on TikTok and social media platforms with the idea of different nude colors
Keep watching this space for such fashion-chic updates & insights, coming straight from Fashion Industry!
For more information:-