Here are 40+ Stylish Mens Fade Haircut To Make Women Fall For You! 
Feeling Low?
Get a Haircut, Feel Positive & You're Ready to Face the World!  
A good hairstyle for men is the same as women putting on makeup! Whether you're going to attend a professional business meeting or going on a dinner with your date, one thing that, as a man, you have to make sure – your hair! 
You can take care of your hair in many ways, including uniquely styling hair. What's that mean? This simply means getting a haircut that suits your face and personality so that you can make that first impression that people will never forget in their lifetime!   
From popular takuache or Edgar cut to stylish buzz cut, there are several types of haircuts for men! And one of the most trendy and popular hairstyles is Men's Fade Haircut! 
Looking for stylish haircut ideas for men to look fabulous? We've got you!  
Today in this blog, we've made a list of over 40 mens fade haircut ideas for you! Yes, you read it right, more than 40 hairstyles! Not only this, but we've also explained what's the difference between fade vs taper cut and answered some of the most commonly asked questions. So, grab a cup of coffee, and get ready to explore these fantastic fade haircuts with pictures!
Let's start.  
What Is A Fade Haircut?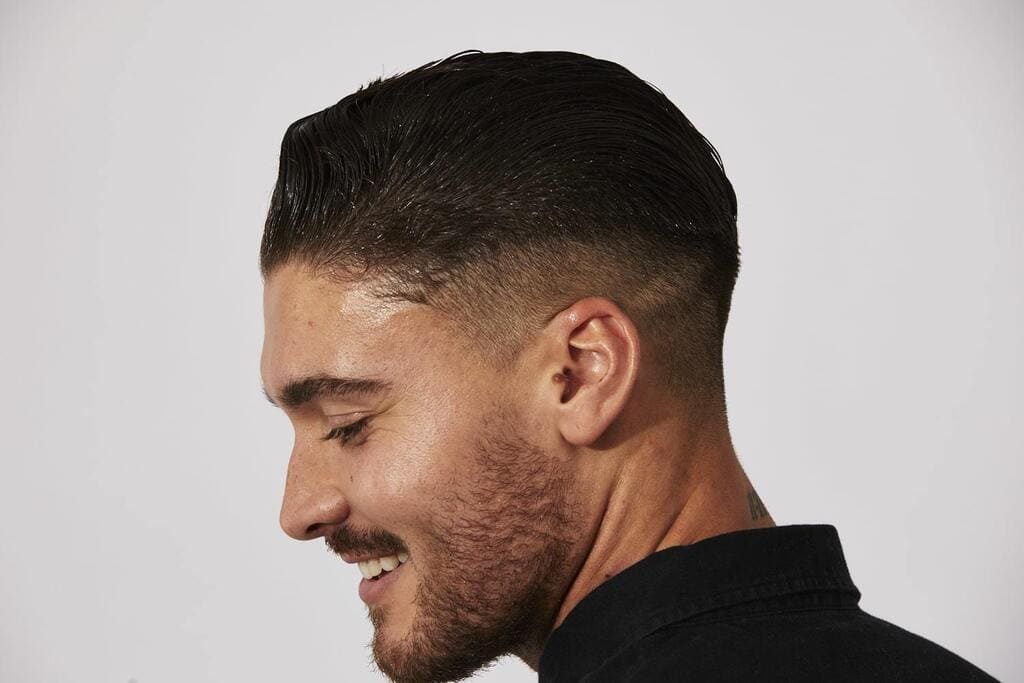 Source: unileverservices.com
A fade haircut is a cut in which the sides are shaved down to the scalp, and the top part is thick and heavy.  
Fade cut is considered one of the top classic barber styles today. There are many versions and types of fade. The hairstylist uses various techniques and hair clippers to achieve a stunning fade look. 
Due to the popularity of this fade haircut, many people get easily confused with taper cuts. This is why it's important to know the difference and some basics to avoid any serious hair drama. 
Fade Vs. Taper: What's The Difference?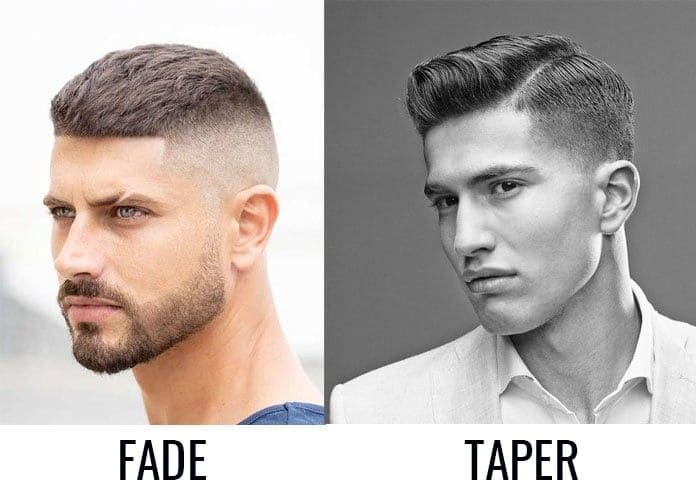 Source: pinimg.com
The hair on the back and sides gradually becomes shorter in the fade haircut. The cut includes the fade that blends down or into the skin. So, in the fade cut, the hair near the hairline will always be present in the form of short stubble hair. 
On the other hand, the taper cut is professional and more conservative. Here the fade just completely disappears, and the hairs near the hairline are entirely removed.    
Different Types Of Fade Haircuts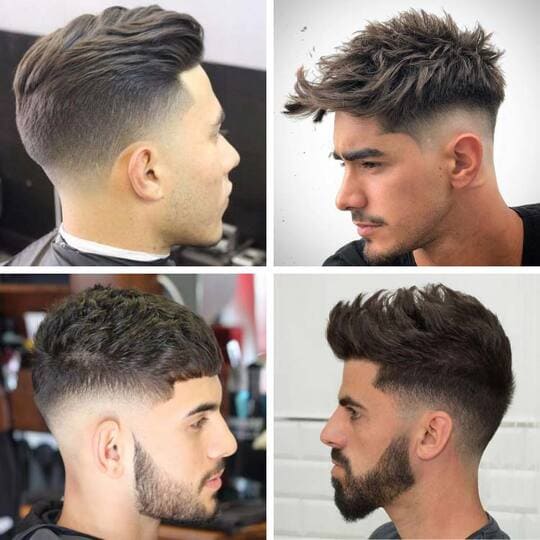 Source: stylesofman.com
Fade cuts have many details and can be carried in so many different ways. Below are some common types of fade haircuts:  
High Fade Haircut

Mid Fade Haircut

Low Fade Haircut

Undercut Fade

Taper Fade

Bald Fade 

Skin Fade Haircut

Drop Fade Haircut

Burst Fade Haircut

Scissor Fade

Temple Fade
Top 40+ Best Mens Fade Haircuts in 2023
Now that you know what a fade haircut is, its types, and the difference between fade vs. taper, it's time to know different ways to style this fantastic cut.
Let's have a look! 
1. Short Hair Fade Cut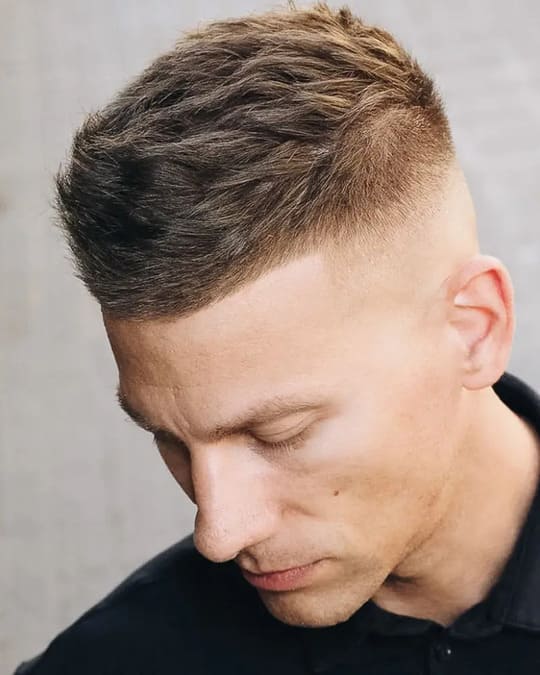 Source: luxe.digital
Are you looking for a simple yet stylish haircut? Look no more and get this short hair fade cut! This haircut looks neat and is perfect for professional settings. 
2. Caesar Cut Fade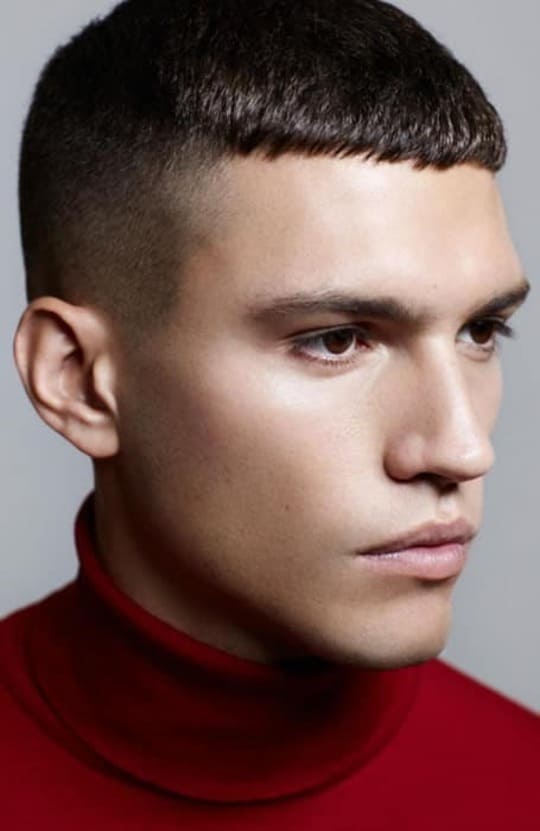 Source: thetrendspotter.net
A Caesar fade cut is a popular fade version among boys and men. This cut creates a modern but wearable hair look. It has short, straight bangs all over the head. You can add a twist by pairing it with a fade, such as a taper fade, to make it interesting. 
3. Comb Over Fade Cut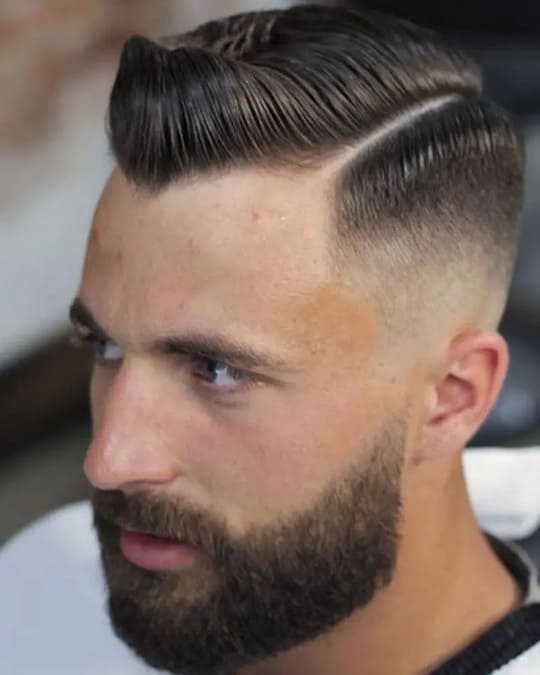 Source: luxe.digital
Once a prominent hairstyle in the 20s, many people still love to get this haircut. Comb over fade haircut is adaptable and makes any ordinary man look like a gentleman. You can also experiment with various fade haircut types to get the best fade-cut look.  
4. Buzz Cut Fade Haircut
Source: luxe.digital
Everyone knows about this fade cut! This minimalist yet cool hairstyle has won the hearts of many people. The classic military cut actually inspires the buzz cut.It is perfect for people who like a no-fuss and easy-to-wear hairstyle! 
5. Sexy Wavy Hair Fade Style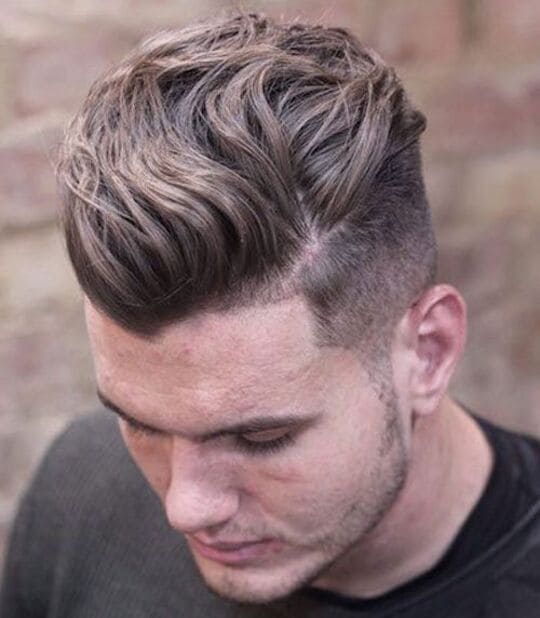 Source: pinimg.com
There is something so mesmerizing about wavy hair! 
Do you feel the same? If yes, this next fade cut is perfect for you. This haircut highlights your hair texture and also creates a contrast. Styling is also basic and minimal for this wavy hair fade style look. 
6. Edgy Two-Level Fade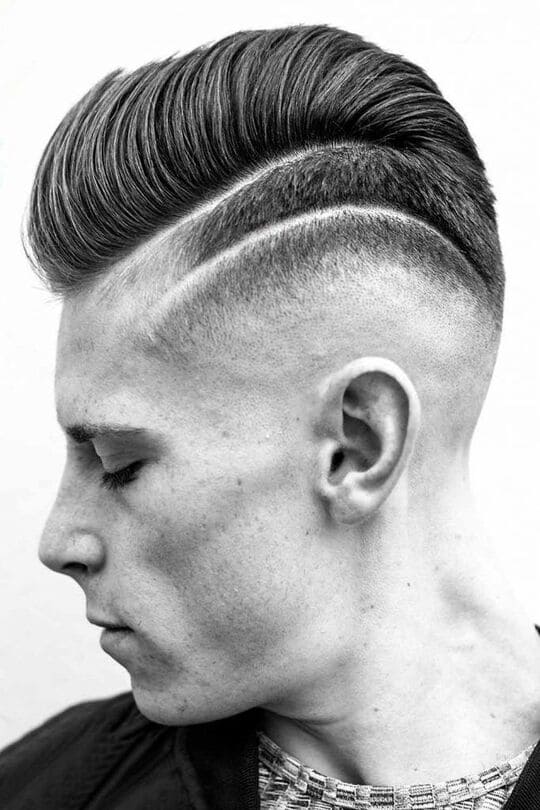 Source: menshaircuts.com
If you want something more bold and edgy, try this fade haircut! This is a two-level fade that will make you look stylish. Show the above picture to your barber for reference. 
7. Long Hair Fade Hairstyle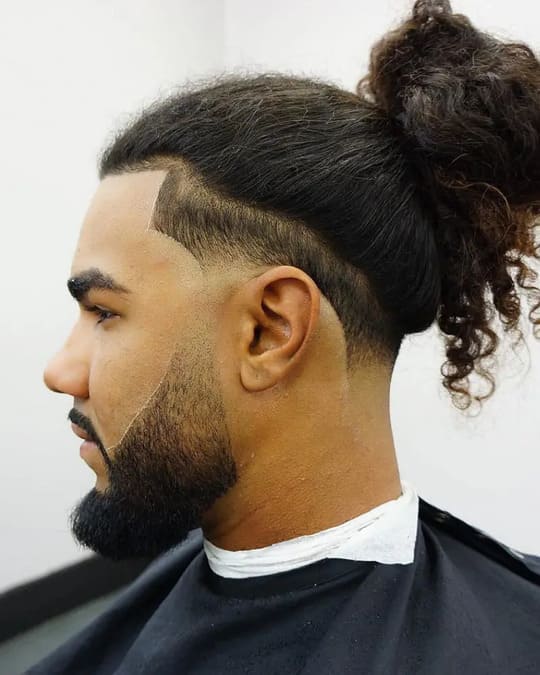 Source: luxe.digital
Don't like the short hair look? No worries, here is the long version of the fade haircut! This one gives you a stylish, relaxed aesthetic and a masculine look. Here, the fade adds contrast and texture to the hair, making it cool. 
8. Military Fade Hairstyle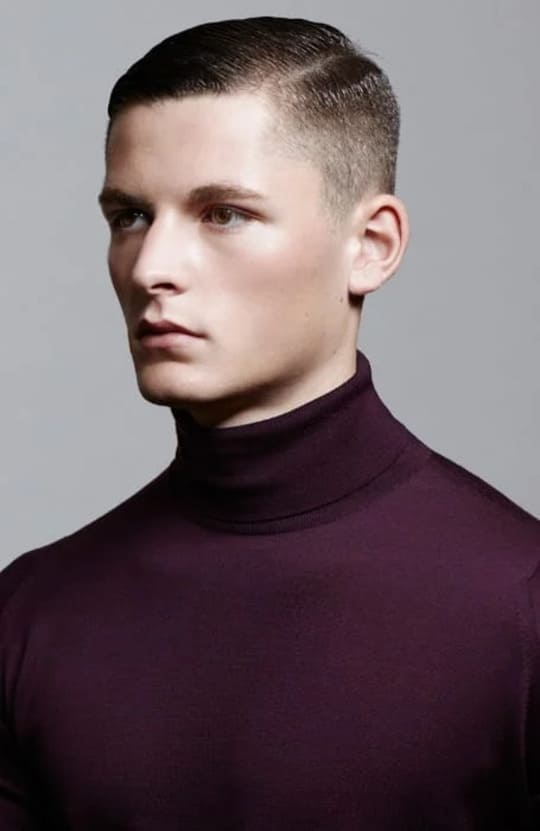 Source: thetrendspotter.net
Just the opposite of a long fade haircut, here's the military cut. These haircuts are well known for giving a short, practical, and neat look. You can get this one if you want to achieve a polished and defined appearance! 
9. Daring Mohawk Fade Cut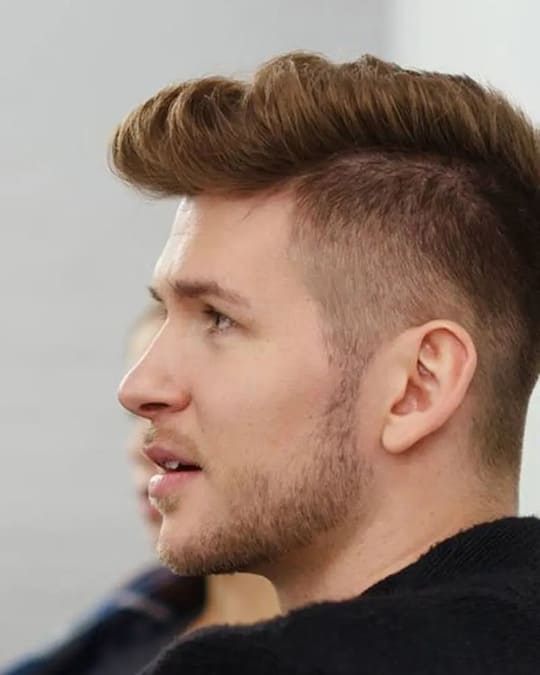 Source: luxe.digital
Searching for an edgy and bold hairstyle? The Mohawk Fade can satisfy you well! This is considered one of the edgiest and most rebellious haircuts. Why? Just look at the above picture! 
10. Blended & Faded Neckline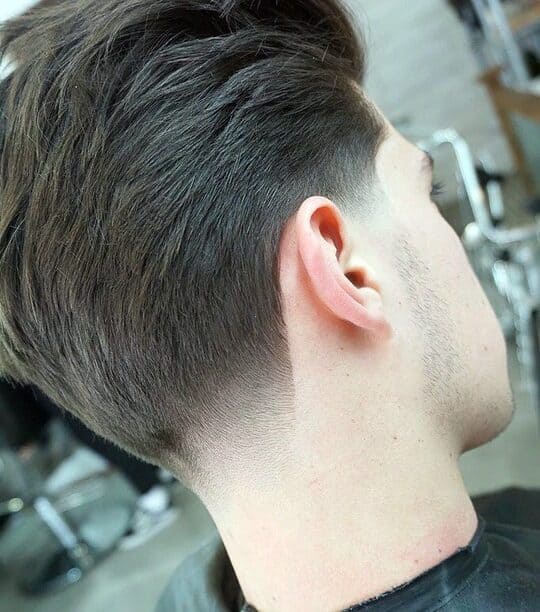 Source: haircutinspiration.com
People who don't want a bold or high fade look can go with a subtle fade. This hairstyle has a faded neckline which gives a neat but trendy look.  
11. Try Fringe with a Fade Cut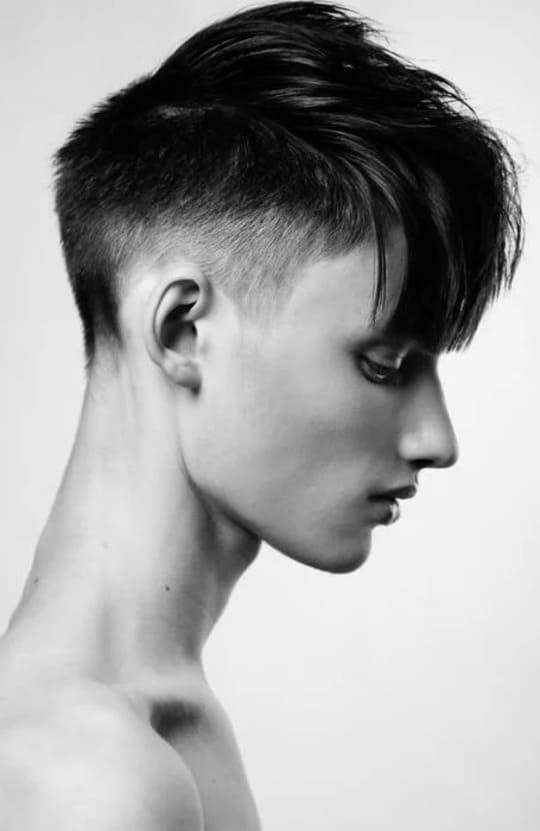 Source: thetrendspotter.net
Fringes are something that can be added to numerous hairstyles and haircuts. Here fringe is included with a fade, and you can see the results. This incredible hair look can be easily achieved on various hair proportions, textures, and lengths. Try this and get a youthful appearance.   
12. South-Side Fade Haircut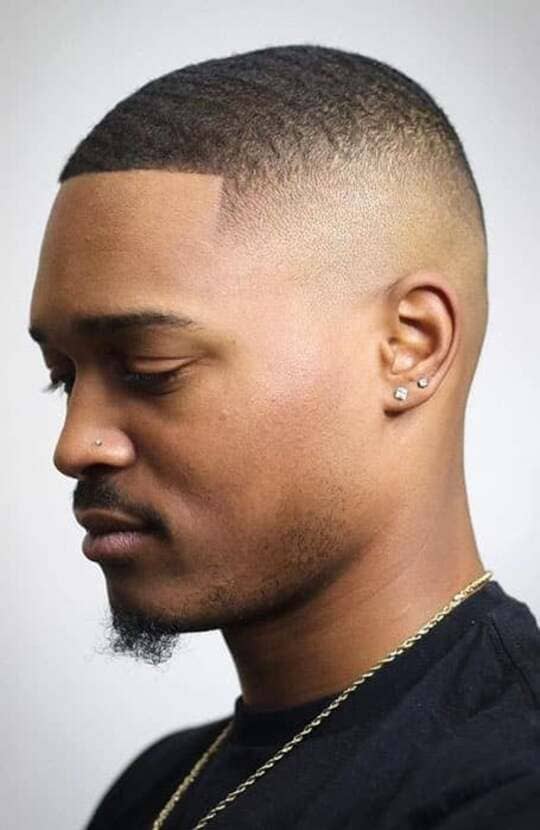 Source: thetrendspotter.net
Do you want to be a man who stands out from the crowd?
The south side fade cut was first seen in Houston, Texas. It is a modern twist on the classic fade haircut. In this look, the back and sides are cut short. It is also known as the black mens fade haircut as it looks great on thick or curly hair. 
13. Shadow Mens Fade Haircut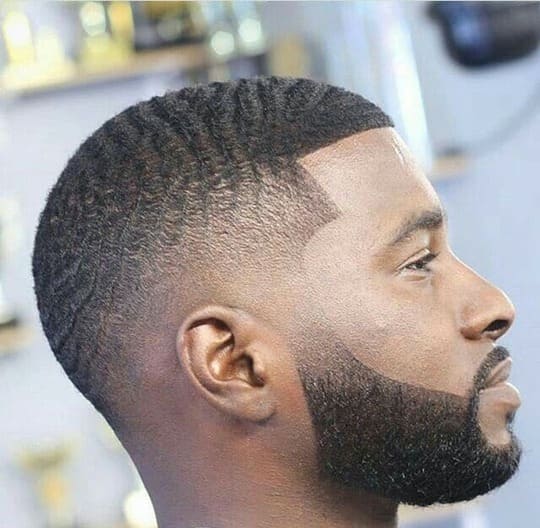 Source: nextluxury.com
This fade is the combination of a skin fade haircut and long hair fade. So, you'll get an edgy and reserved look in a single haircut. You can style your hair in a myriad of different ways.
14. Quiff Hairstyle with Fade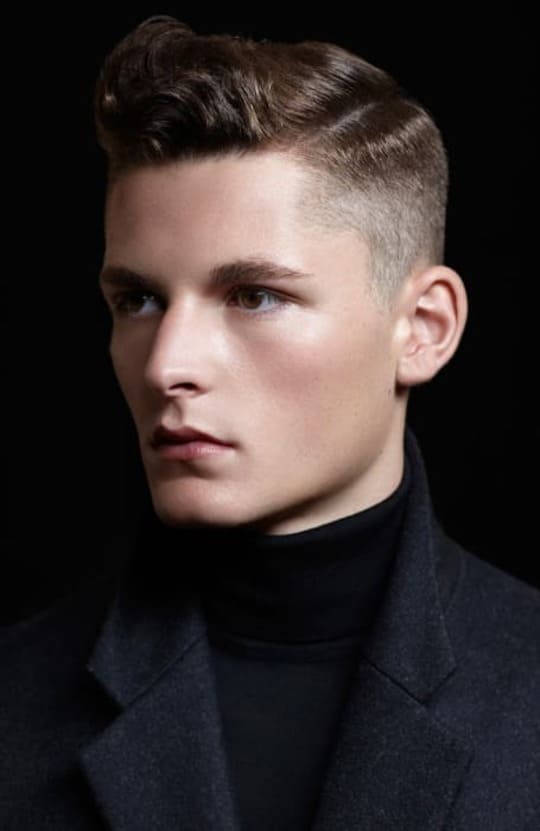 Source: thetrendspotter.net
This is another hairstyle that was popular in the 50s. This traditional hairstyle has volume on the top and length on the back and sides of the head. With fade, you can opt for short sides and back. Many men also prefer to have other details, like a razor parting.  
15. Slick Back Hair with Undercut Fade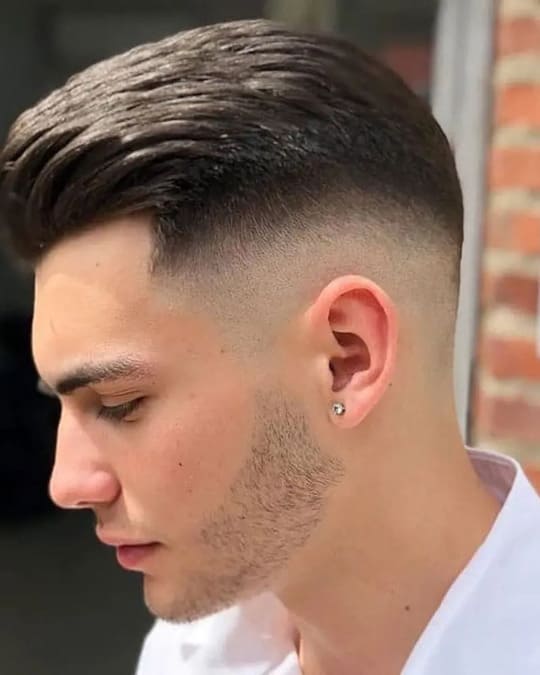 Source: luxe.digital
Get a slick hair look with a fade! 
This is another great way to elevate any basic haircut. This style is appropriate for people with soft and straight hair. Keep your front hair away from the face and in a slick way to achieve this stunning look.  
16. Faux Hawk Fade Haircut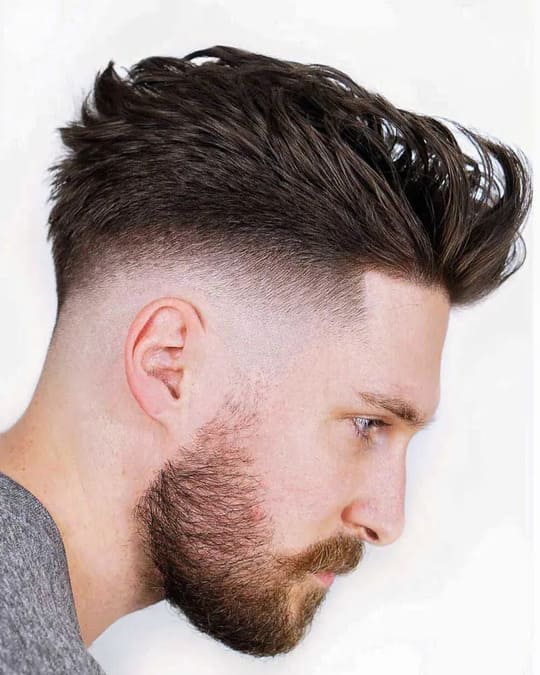 Source: luxe.digital
Faux hawk can be compared to Mohawk cut, but this one has less length and volume on top. Looks best with medium-length hair; you can try this unique fade haircut. Here the sides and back of the hair are shaved to give a more blended look.  
17. Line Up with Fade Cut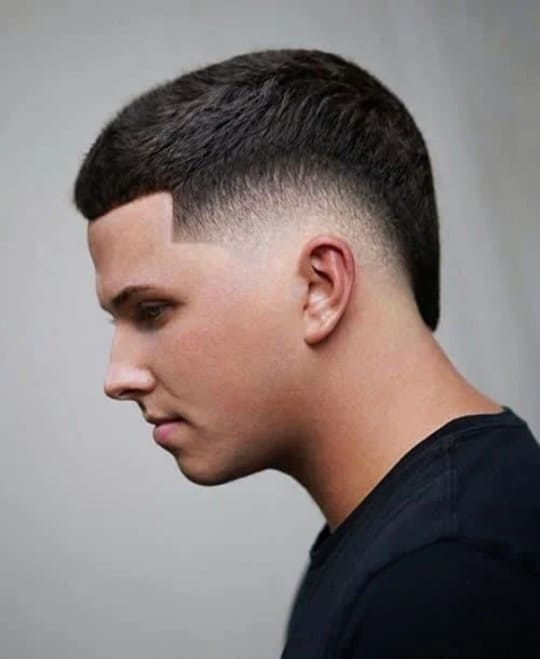 Source: thetrendspotter.net
You may have already seen a line-up haircut, so this hairstyle is about mixing that with a fade. The line up section will draw all the attention to your temples, and the fade will blend at the back and sides. 
18. Unique Hair Design with Fade Style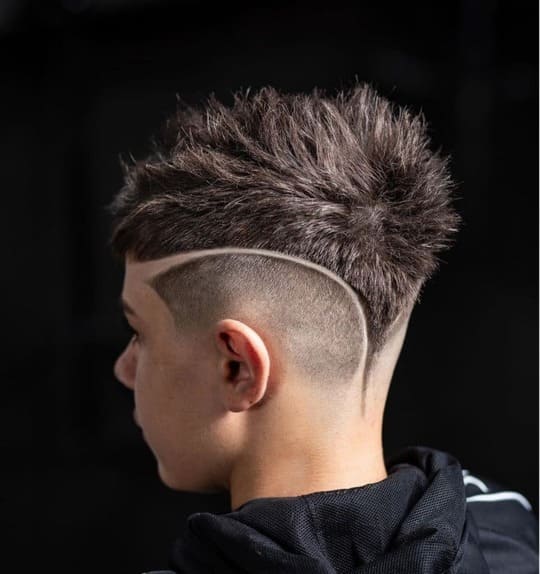 Source: menshairstyletrends.com
Why keep your hair boring when you can just have the most amazing hairstyle? Look at this one! It has an edgy, cool look with simple details like shapes or interesting angles.    
19. Short Afro Mens Fade Haircut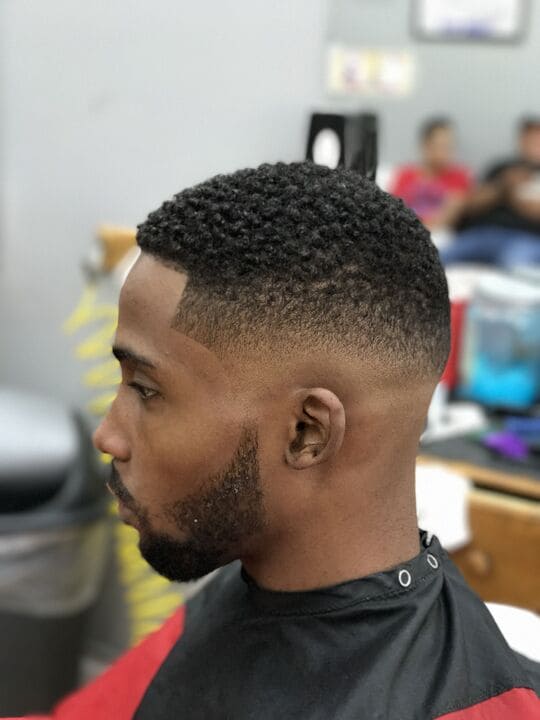 Source: pinimg.com
Is your hairstyle taking too much of your time? We've got a better solution for you! This short Afro fade haircut is easier to maintain and style. You'll also get a sleek finished look which will immediately draw attention to your hair.  
20. Long Afro Fade Cut For Men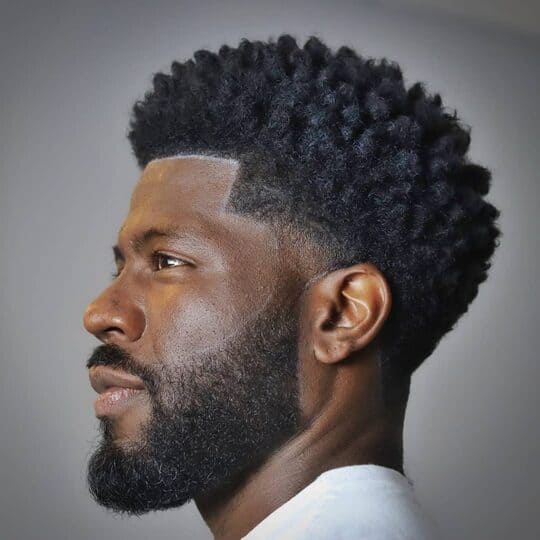 Source: menshairstyletrends.com
The longer version of the classic Afro fade cut also looks pretty impressive on men of all ages. You can embrace your naturally curly hair with pride and confidence. It is an interesting and balanced hair look that can make a guy look smart and cool. 
21. Low Fade Cut with Brushed Back Shag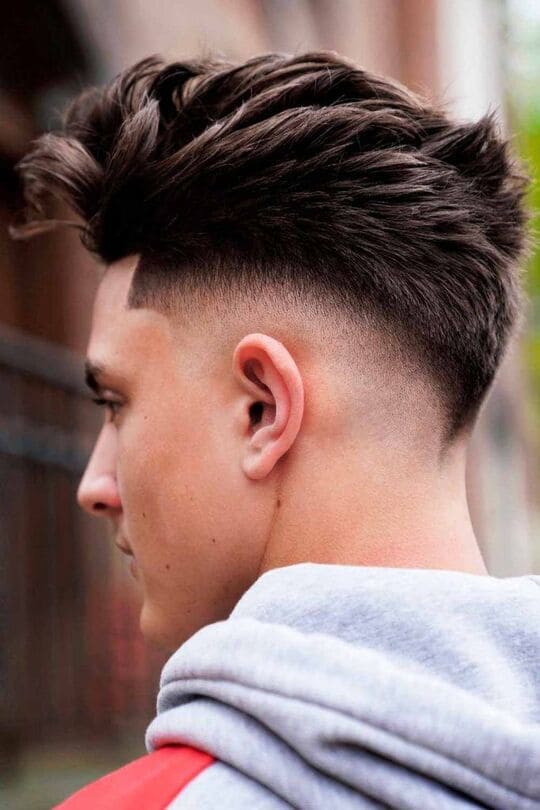 Source: menshaircuts.com
Try this versatile haircut known as Brushed Back Shag with low fade! It goes with various types of hair and lengths. Whether you want a relaxed look or a sleek formal look, this is the haircut you should get. 
22. Pompadour Fade
Source: menshaircuts.com
Can you give me one reason not to like the pompadour? There is none! This hairstyle got popular back in the 50s and is still popular among men. This cut has volume and can be worked with different types of hair lengths and textures. 
23. Crop Top Fade Haircut For Men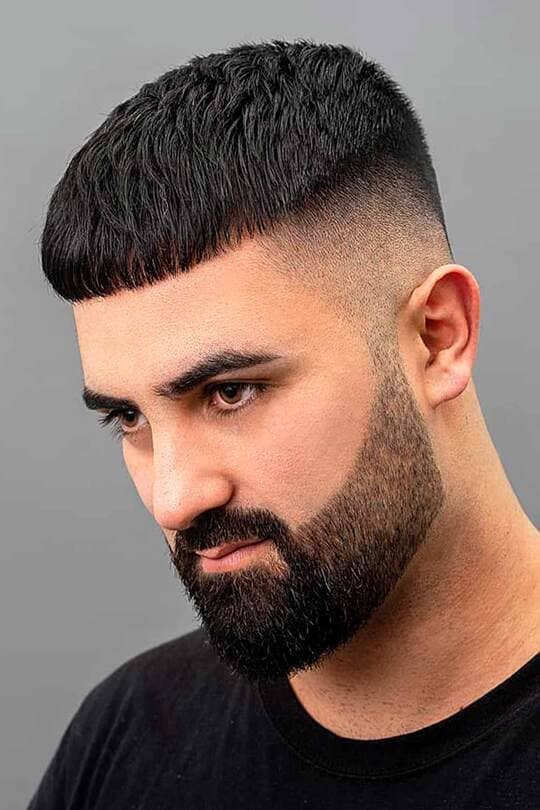 Source: menshaircuts.com
You can add a skin fade to the haircut to move the focus to the top. This hairstyle is known as crop top fade cut, which gives you a stylish appearance while keeping your hair look clean. For more drama, you can also dye or bleach the tips of your top hair in a lighter color. 
24. Curly Hair Mens Fade Haircut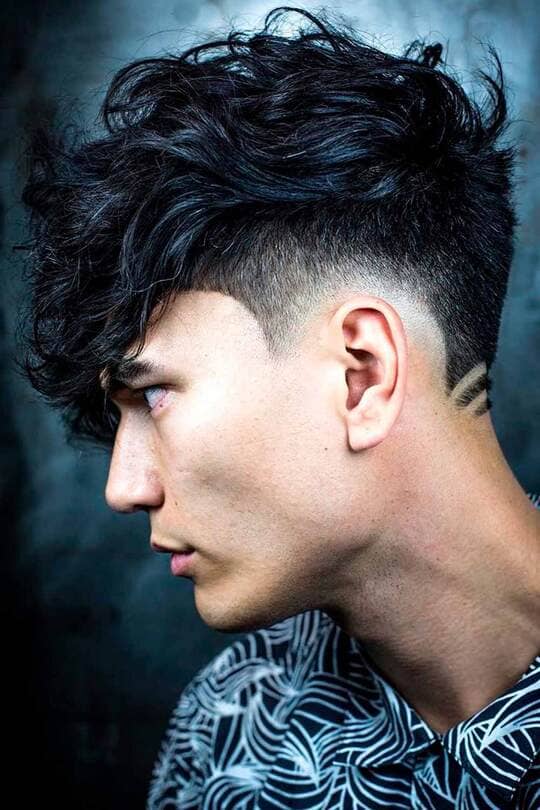 Source: menshaircuts.com
Big fluffy curly hairs are all the rage now! You can style these curly hairs in numerous ways, including the fade cut. Yes, this combo will make you look cool and polished. Keep the curls short for easy styling; your curls will get fewer tangles.  
25. Add Dreadlocks with Fade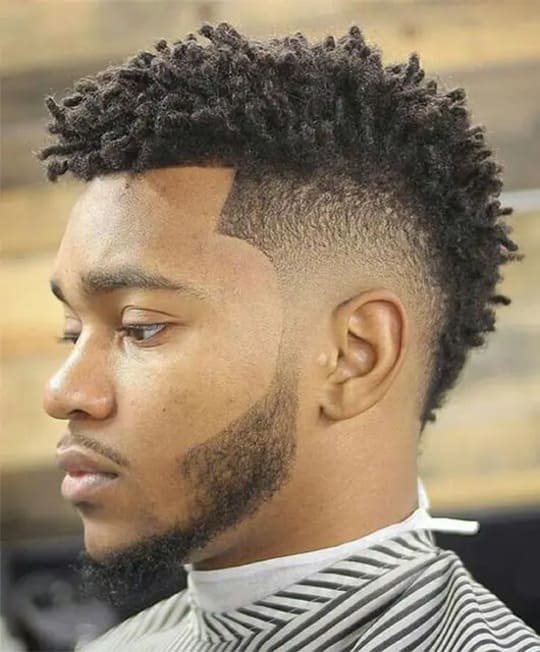 Source: menshairstyletips.com
Dreadlocks aren't just a hairstyle; it's an emotion! 
People wear this hairstyle with pride to express themselves. So, this combines two classic cuts together and gives a sophisticated and stylish look. You can combine fade and locs for your hair to add some structure and texture to your dreadlocks. 
26. Blowout Low Fade Mens Haircut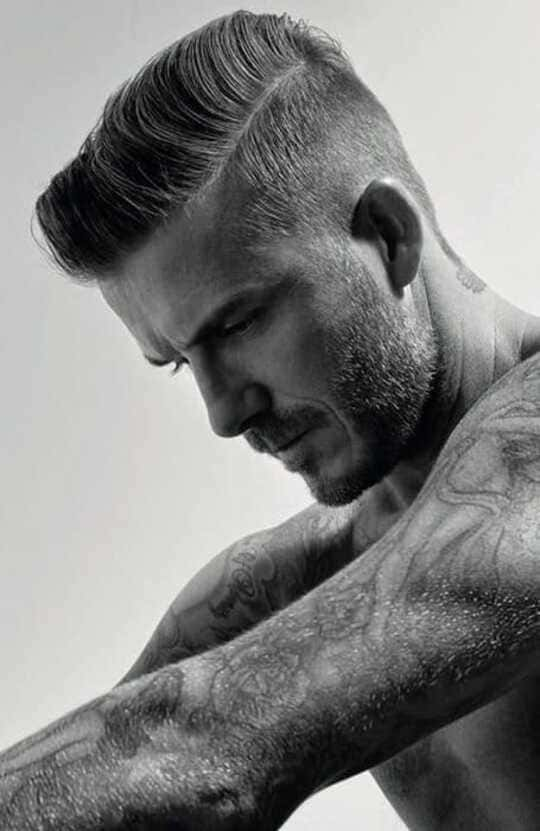 Source: thetrendspotter.net
Looking for a modern hairstyle with the volume on the top? We've got you! 
This hairstyle is known as the blowout fade. It combines the blowout technique where hair is brushed back on the top, and the sides and back are short and faded. Try this, and you'll be surprised by its good looks!  
27. Versatile Black Mens Fade Haircut
Source: menshairstyletrends.com
Get a manly and classy appearance with this spectacular fade haircut. This style can be applied to various types of hair lengths and textures and will look good on any face shape. So, if you want a new look and life, get this modern, slick hairstyle! 
28. Flat Top Mens Low Fade Haircut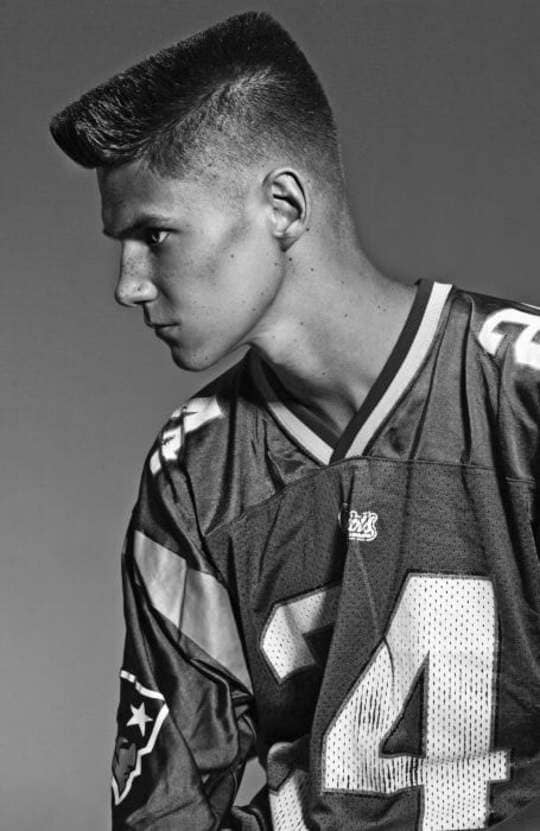 Source: thetrendspotter.net
You may have seen many versions of flat-top haircuts, including angular and shorter hair on the sides and back of the head. This flat top fade is the best choice for men who prefer a straightforward and masculine look.   
29. Trendy Mullet Fade Haircut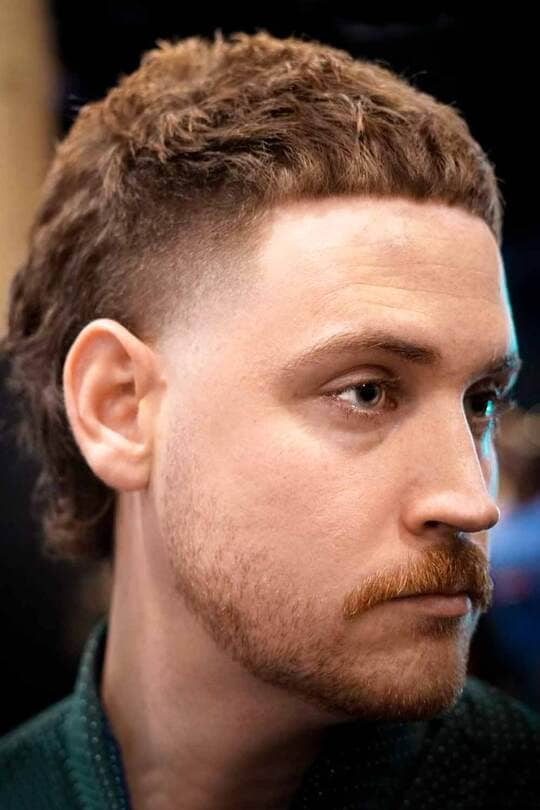 Source: menshaircuts.com
Want to keep your appearance informal yet formal? Try this latest mullet fade hairstyle! This cut features fade, which decreases gradually on both sides. This is an easy-going mullet fade style that looks amazing on guys. 
Also Read: Two Block Haircut for Men: Top 40 Cool KPOP Haircuts [2023]
30. Cute Tiny Man Bun Fade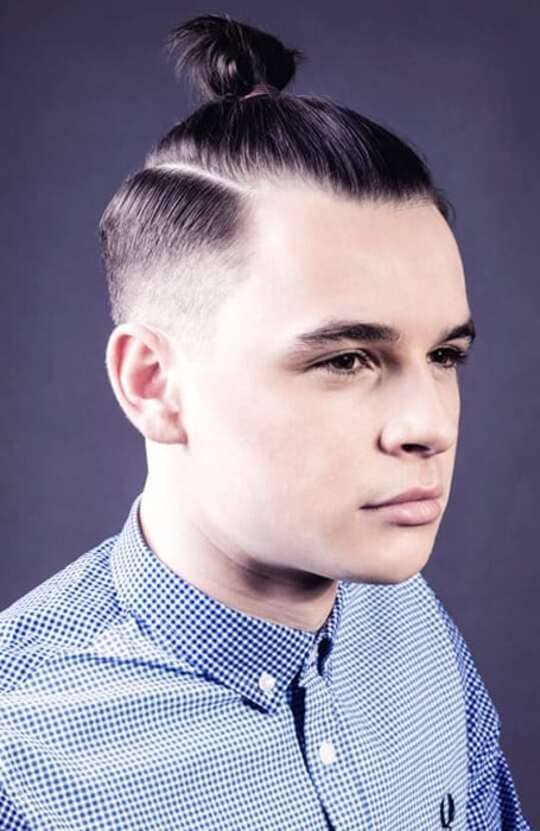 Source: thetrendspotter.net
A sexy man bun can melt any woman's heart! 
If you have long hair, this haircut will be a great idea for you. You can add a fade to give a fresh update on the usual bun style. Try this fashion-forward and cool look and impress all the girls around you.  
31. 360 Waves With Fade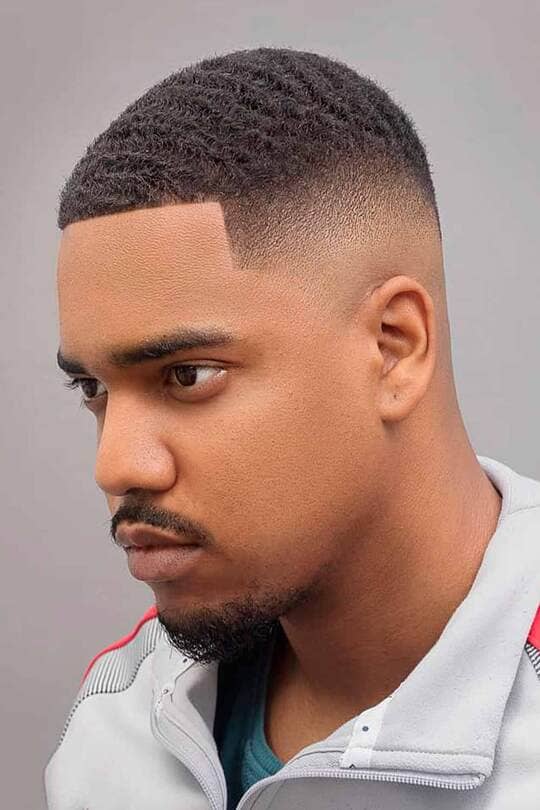 Source: menshaircuts.com
One of the sophisticated and elaborate hairstyles is 360 waves. This cut will give you a clean and edgy look without putting much effort. However, make sure you don't overdo it! 
32. Hard Part with Fade Style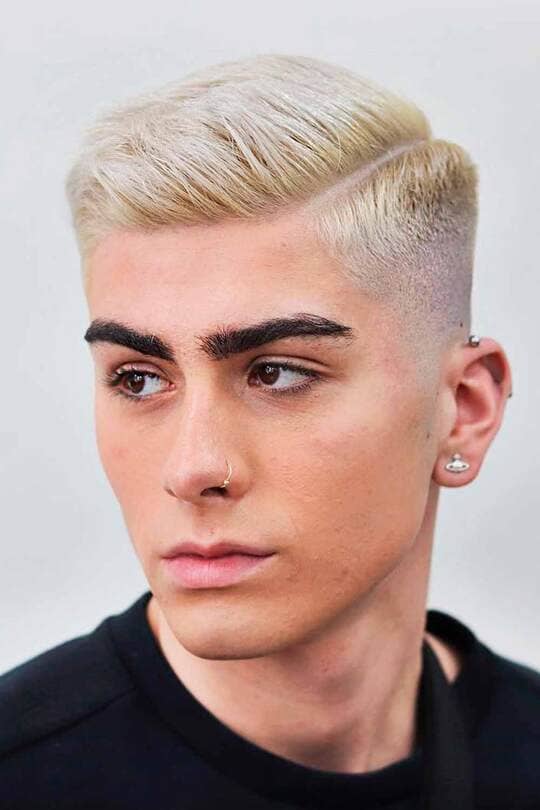 Source: menshaircuts.com
You may have seen in some hairstyles there is a clean line shaved into the hair. This clean line is known as the hard part! Men prefer this line to get a smart and trendy appearance. This looks amazing with high-fade haircuts. You can also ask your barber to give you a fade that looks best on your face shape. 
33. French Crop with Fade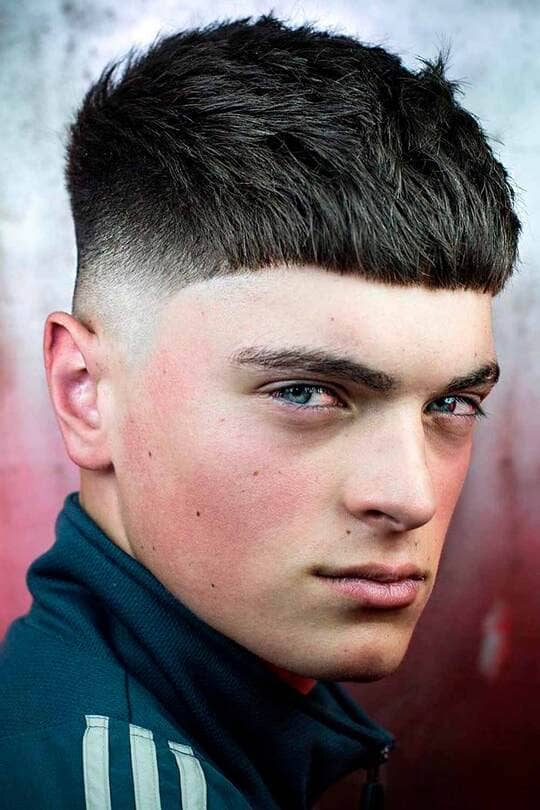 Source: menshaircuts.com
Men who want a low-maintenance haircut can try a French crop with a fade cut. This classic hairstyle requires minimum styling, yet it looks stylish. From low fade to burst fade or high fade, you can experiment to create a statement look for you. 
34. Crew Cut Fade Haircut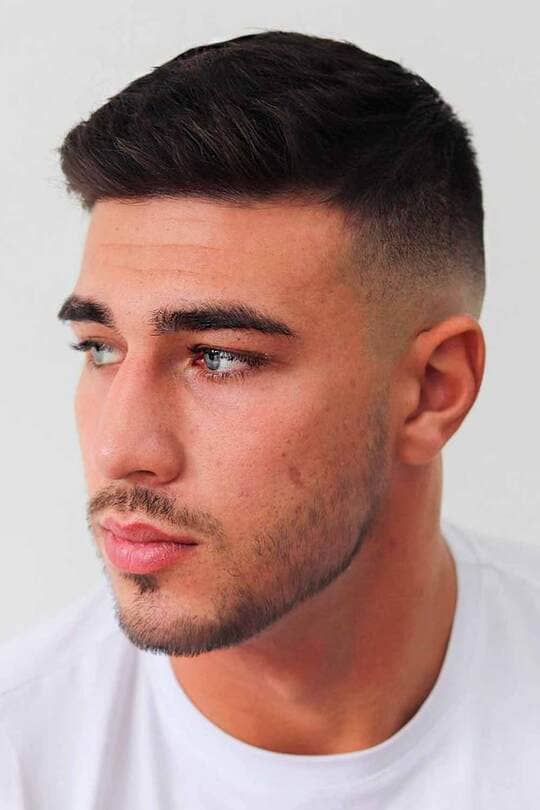 Source: menshaircuts.com
Crew Cut Fade – A simple and masculine haircut! 
This one has traditional tapered sides with a modern look. It provides a short, sleek, smart look that is perfect for various events and occasions. So, if you like to keep your appearance simple and subtle, you can try this one out! 
35. Bowl Cut with Fade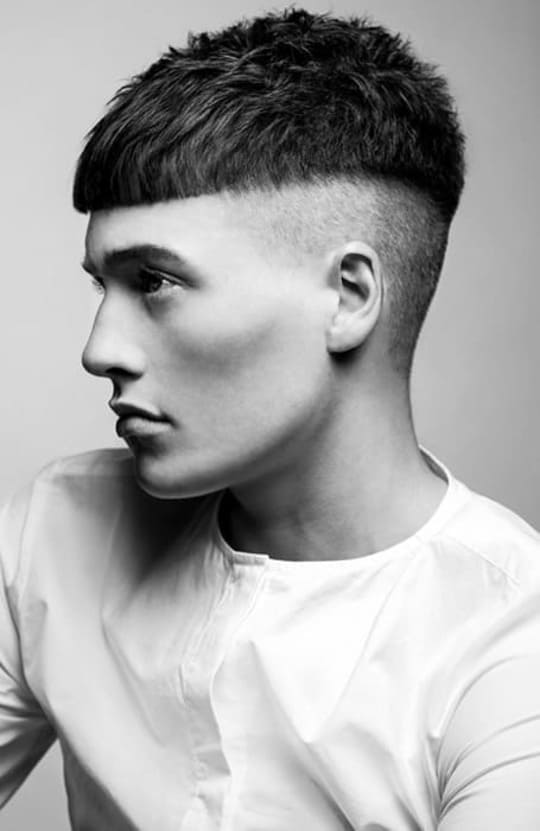 Source: thetrendspotter.net
Just by reading the name, you'll get an idea about this haircut. Bowl cut is a traditional haircut that was popular back in the 80s. It gives a rounded appearance, and when a fade is added, it provides a modern look. Look at the above picture to get a better understanding.  
36. Spiky Hair with Fade Cut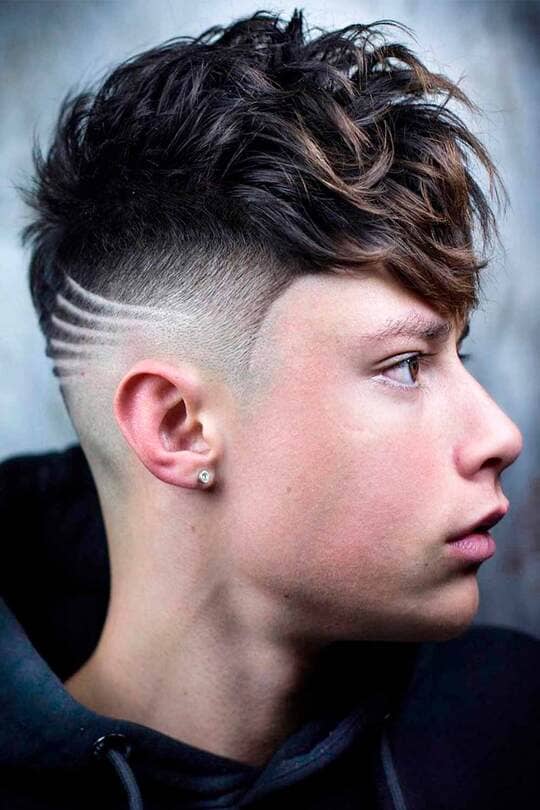 Source: menshaircuts.com
Spiky hair was one of the top hairstyles in the 90s. This look has textures and is absolutely not easy to wear. The spikes put all the focus on the top part of the hair. Adding a fade with spikes will give you a subtle look from the sides. This haircut is best suitable for people with naturally textured hair.    
37. Ivy League with Fade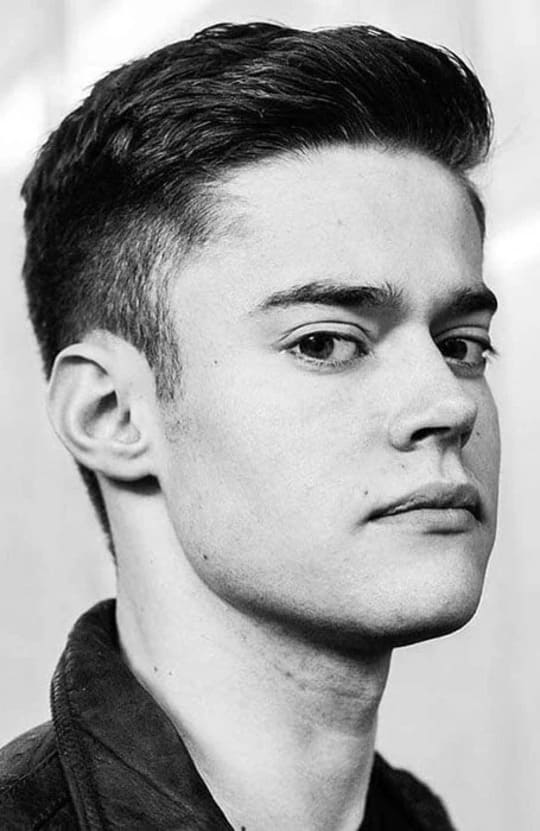 Source: thetrendspotter.net
The Ivy League was popular among American Ivy League students. It is well known for its cute and preppy aesthetics. You can add more drama to it by including a faded haircut. This hairstyle looks cool on men of all ages. 
38. Quiff Bald Fade Hairstyle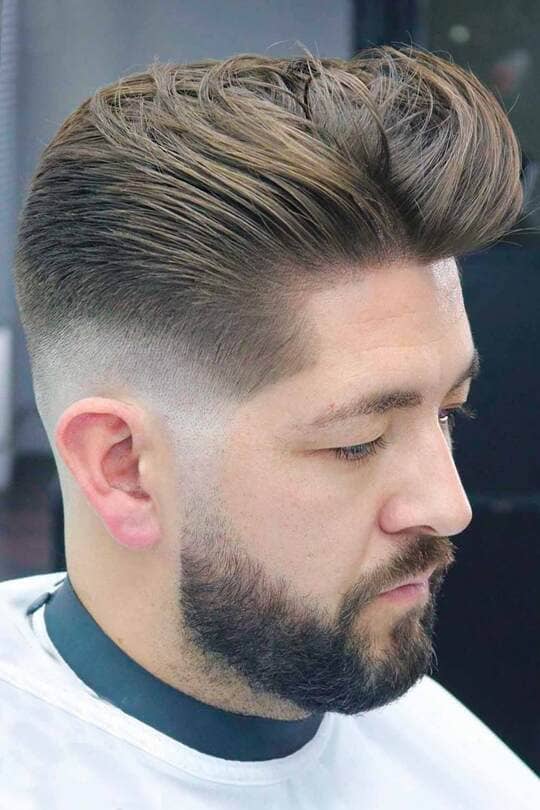 Source: menshaircuts.com
Quiff alone can sometimes look plain and boring, but adding a fade cut can easily avoid it. Here's a tip: the higher the fade, the more edgy look you'll get. So, depending on the style you're going for, you can select the fade type. Try these trending men's hairstyles in 2023.  
39. Straight Hair Fade Style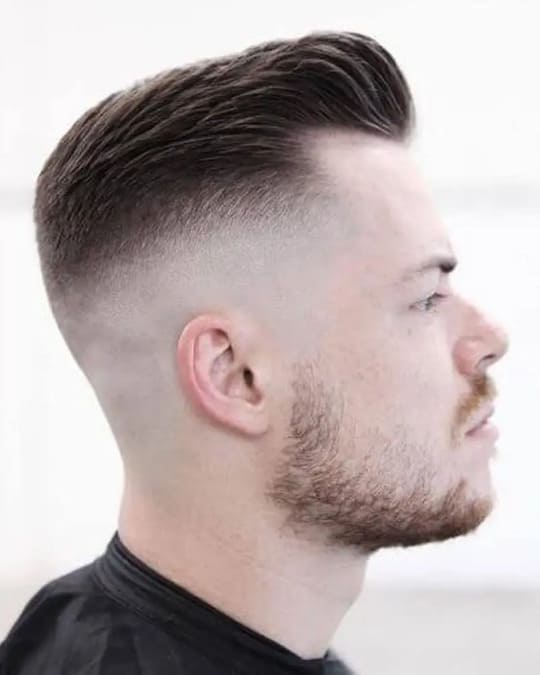 Source: luxe.digital
You must admit that a fade looks more impressive with straight locs than with other hair types. You'll get a wide range of styling options. It is considered one of the trendy 2023 men's hairstyles. You can wear it on many different occasions, including formal and casual.       
40. Short Texture With Simple Design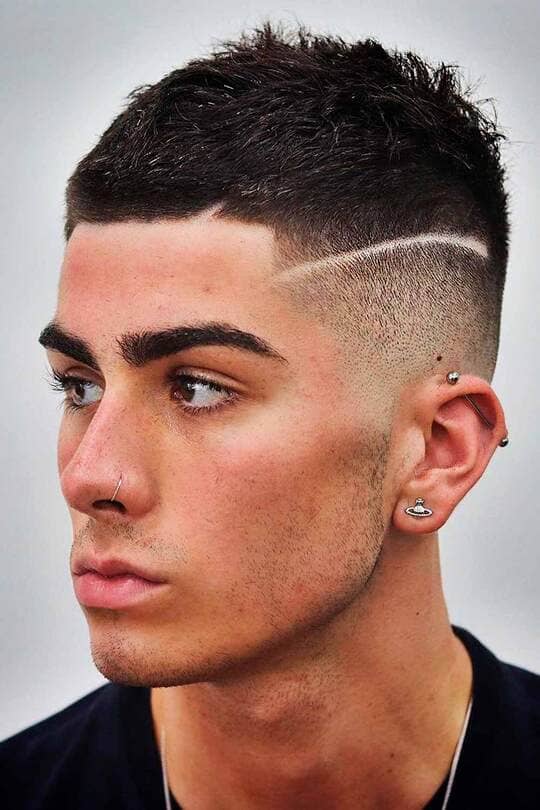 Source: menshaircuts.com
This time when you visit your hair stylist, ask them to give you a short hair fade. You can obviously ask them for personalization. From getting skin fade to low fade cut, you can go with any fade style which compliments best to your face shape and features.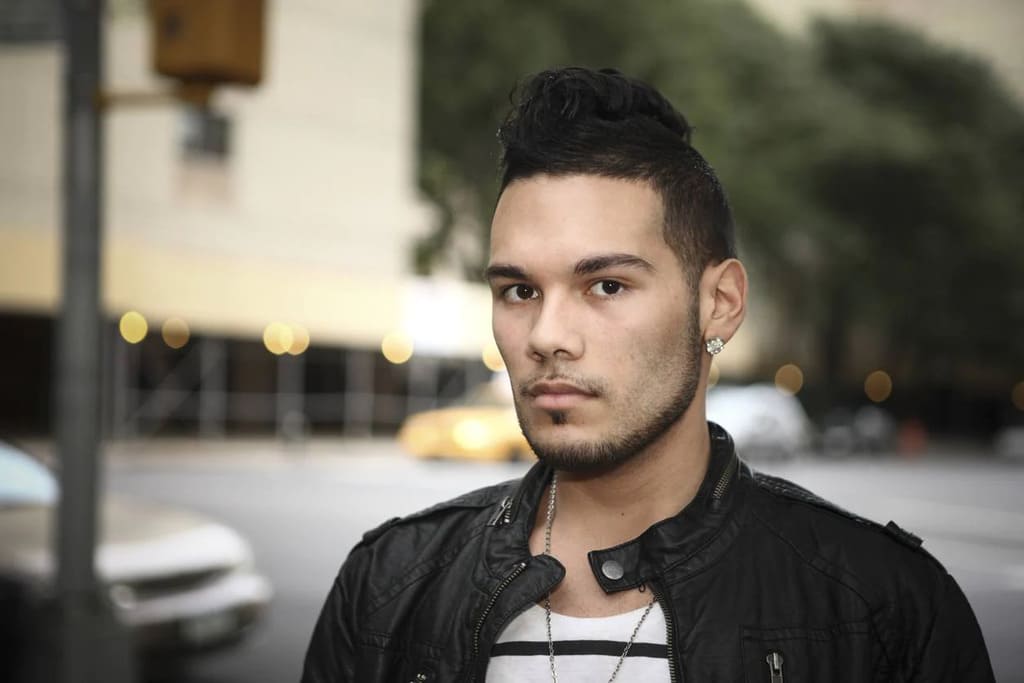 Source: unileverservices.com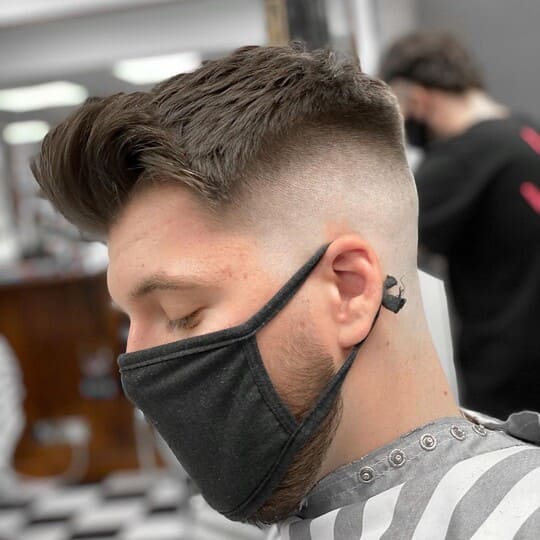 Source: twimg.com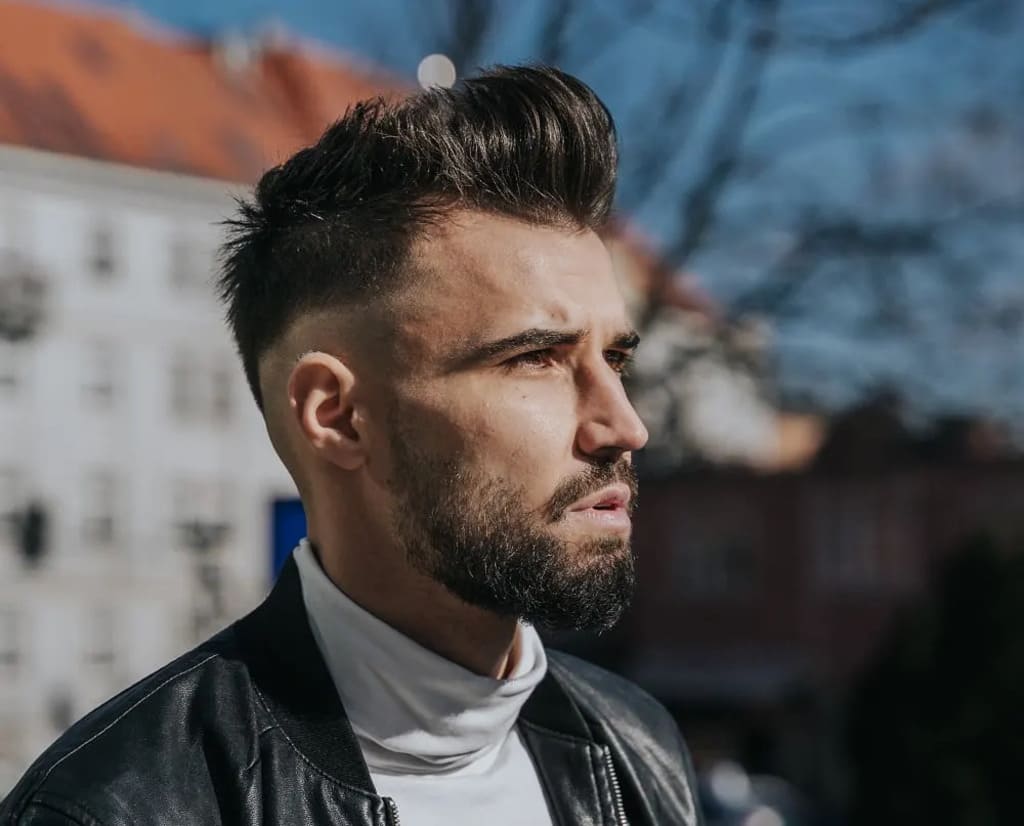 Source: hairstylecamp.com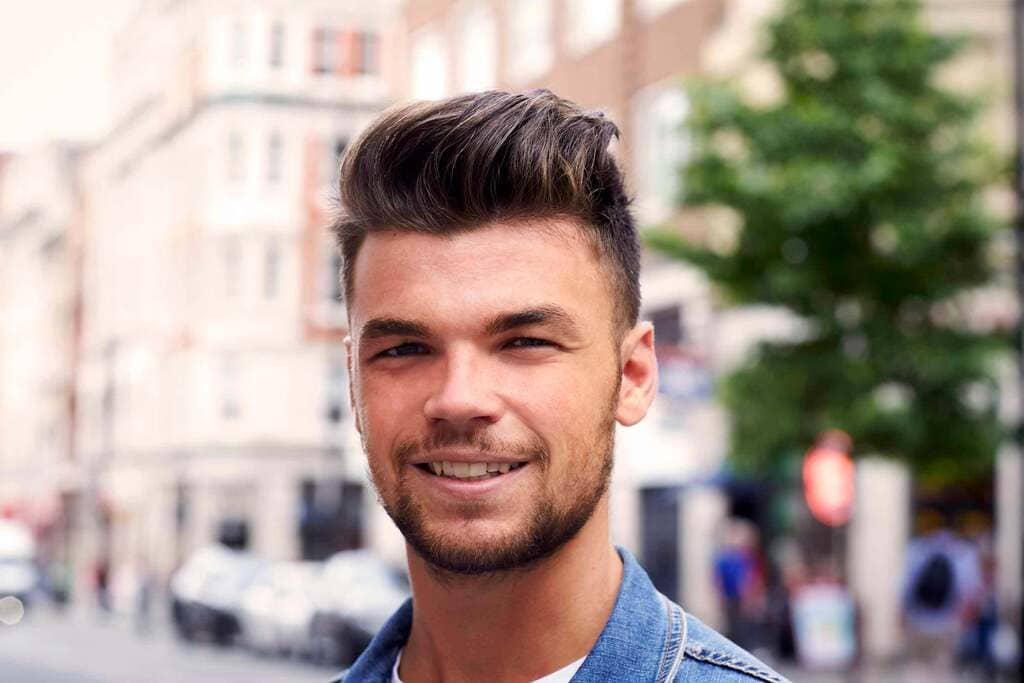 Source: unileverservices.com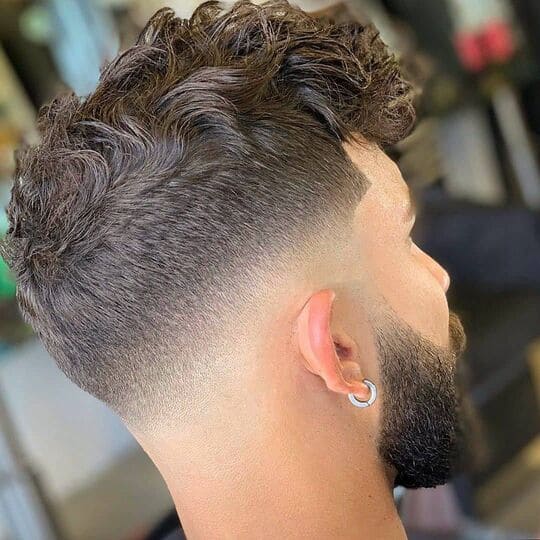 Source: pinimg.com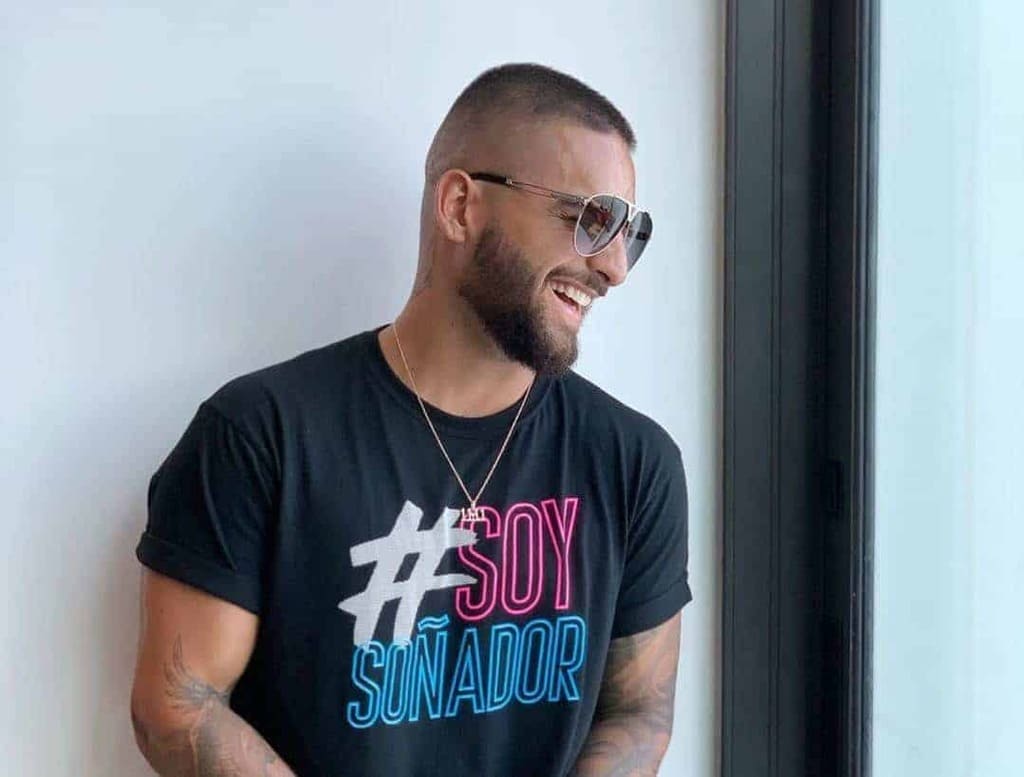 Source: coolmenshair.com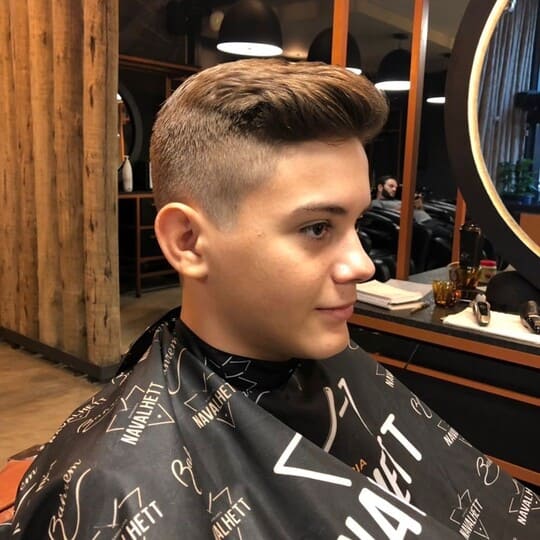 Source: menshairstyleswag.com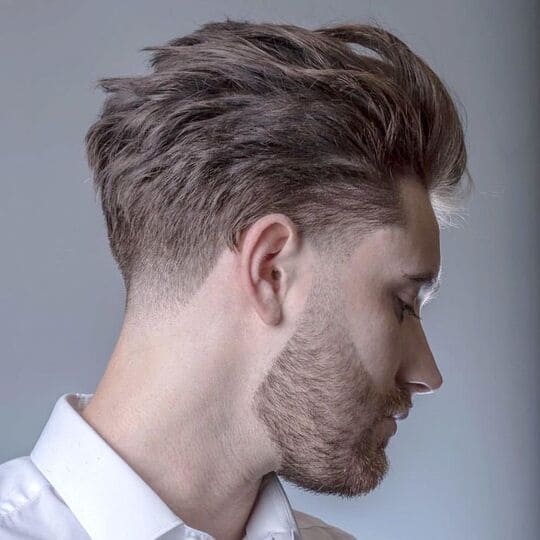 Source: lovehairstyles.com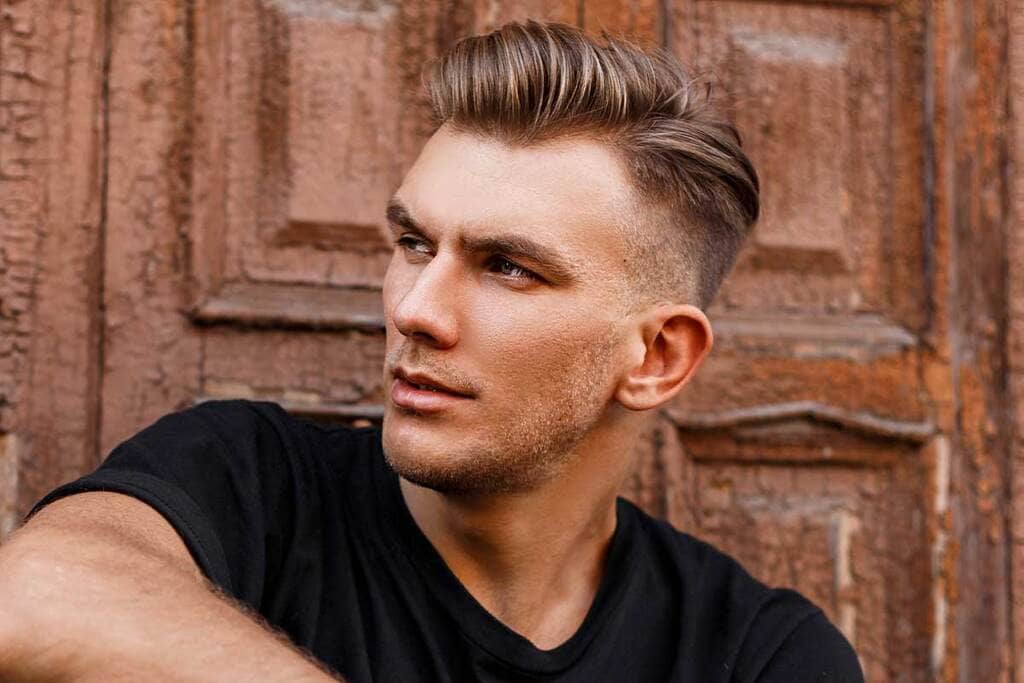 Source: menshaircuts.com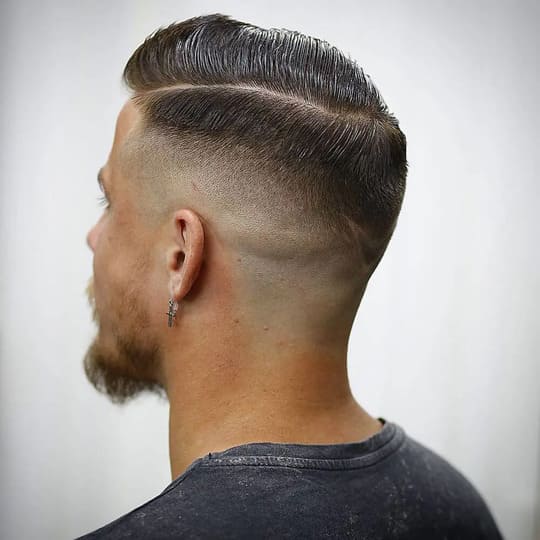 Source: apetogentleman.com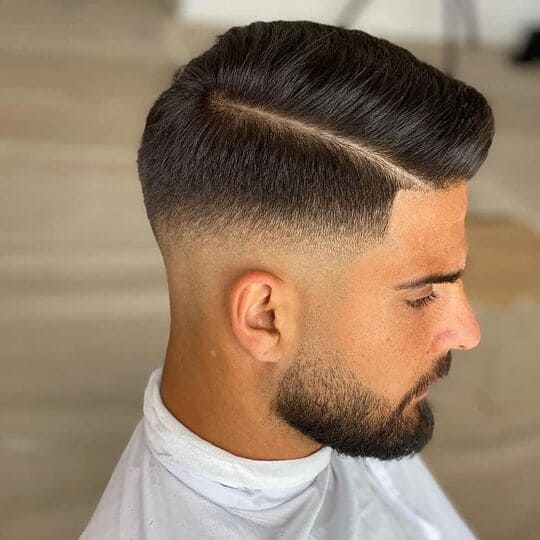 Source: pinimg.com
Mens Fade Haircut FAQs
1. What is a Fade in a Haircut?
In a fade haircut, the sides and back of the hair are trimmed short. This hair gradually gets shorter from side to back. This way, the longest hair is in the front part of the head, and the shortest will be in the hairline. 
2. What Are the Types of Fades?
Fade can be varied in pattern and design depending on the hair texture, type, and preference. There are fade cuts from the undercut to the tapered cut. However, the most common mens fade haircuts are the low fade, mid fade, and high fade.  
3. How to Choose a Fade haircut?
If you want a classic and faltering look, go with a mid-fade or taper fade. Skin fade and high fade cuts are more suitable for a trendy and fashionable appearance. However, it's better to go with a low-fade or short fade haircut for professional and formal events. 
4. How Long Does a Fade Haircut Last?
A mens fade haircut depends on your hair growth and the style you're going for. On average, a fade will last anywhere between two and three weeks.   
Get a Mens Fade Haircut! 
So, this is all about fade haircuts for men. From classic scissor cut and temple cut to bold and more daring cuts like spiky fade haircuts and dreadlocks with fade, you can try anything you think will look best on your face shape.    
So, what are you waiting for? Get a stylish mens fade haircut!

For more trendy fashion style guides, men's and women's hairstyle ideas, and beauty tips, explore Fashionterest.
Follow us on Instagram at fashionterestofficial for daily lifestyle updates.