Fashion fades, style is eternal – Yves Saint Laurent
Men's fashion has always been fascinating; This year has proved that anything is possible.
In the Spring/Summer of this year's men's fashion show, mixed gendered fashion trends have been seen. The Venice International Film Festival, New York Fashion Week, and the Met Gala have incorporated various feminine styles into menswear.
From floral prints and pink tones to bold cut-outs and ruffles, lace and numerous feminine things are seamlessly blended with various men's clothing pieces. And one of them is a skirt!
Yes, these emerging trends for men will make you wonder if women's fashion is strictly limited to women or not! Currently, fashion is not gendered specific, and anyone can wear whatever they want to! After all, men should also have as much freedom to bare their legs just like women. This season, many celebrities have stepped out on the red carpet in feminine dresses and skirts.
This year, many male celebrities have rocked various skirt looks, including musicians like Kid Cudi and Lil Nas X to Harry Styles, comedians like Pete Davidson and Dan Levy, and actors like Oscar Isaac and Keiynan Lonsdale. Because of them, wearing a skirt is now a real break-out trend, and everyone has started to follow it.
Are you wondering how this skirt has become the year's biggest trend? Do you want to know more about this new men's fashion trend? Keep reading!
Today in this blog, we'll tell you about the history of men wearing skirts and how to wear skirts in different styles.
Let's take a look.
History
Recently many high-class clothing brands have included a special collection of skirts. Many fashion labels, including Burberry, Molly Goddard, Louis Vuitton, Miu Miu, Jan Jan Van Essche, Fendi and Stefan Cooke, and so many more, have added skirts to their menswear.
However, this is not a new phenomenon.
Yes, men have been wearing skirts for a long time. In countries like Bhutan, Myanmar, and Fiji, it is quite common for men to wear skirts. Have you ever heard of Scottish Kilt?
Scottish Kilts are knee-length skirt-like garments that are the traditional national costume of Scotland. These Scottish kilts hold a vital cultural significance. Just like this, in Greece also, skirts are an important part of the military dress uniform.
How to Wear Skirts
Wondering how you can style wear in different ways? No worries, below are some cool ways to style different types of skirts in various clothing styles.
1. Suit It Up
Lately, Oscar Isaac has been seen wearing skirts at various events and functions. Recently, the actor was spotted at the London premiere of his new Disney+ show wearing a skirt.
He opted for a knee-length pleated skirt with a matching blazer. He finished the look with an oxford shirt, socks, and boots, and he looked absolutely handsome.
2. Add a Graphic Touch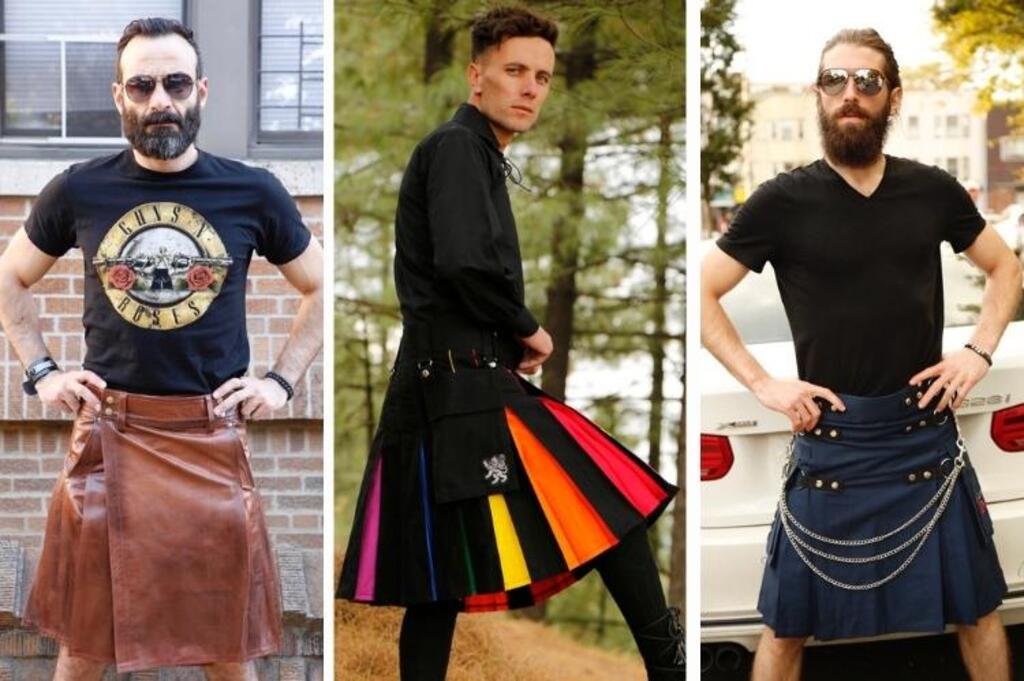 Graphic prints have always been an integral part of menswear. So why not add some graphic prints to your outfit while wearing a solid-colored skirt? This way, you can create a punk-rock vibe while adding a slight hint of contrast to the overall outfit look.
3. Pop of Color
Monochrome looks are great, but for some, it is just boring. You can add a pop of color if you also feel the same. Try to mix and match different colors, tones, and contrasting colors to create a bold and statement look.
4. The Distress Look
A skirt is already a statement piece of clothing for men, but if you want to spice it up, wear a distressed skirt. From t-shirts or bomber jackets to a skirt, wear everything distressed with a shredded fit. This way, you can create a perfect distress look which will be the showstopper of the event, and everyone's attention will surely be only on you.
5. Add Layers
This look is all about creating a simple but stunning look. To achieve this look perfectly, you have to add layers and layers. Try wearing as many layers as possible but without looking like a pile of clothes!
First, throw on a simple oversized t-shirt and pair it up with a straight-fit skirt. If you want, you can also wear a pair of pants under your skirt for that extra layering look. For accessories, just grab a pair of sunglasses and clogs, and you're ready to head out!
Style a Skirt with Confidence!
So this is all about how wearing skirts has become one of the biggest fashion. To wear a skirt, all you need is a good sense of styling clothes and confidence. Skirts have always been a part of menswear, for example, the Scottish kilt and the military uniforms of Greece.
I hope this guide has helped you understand this fun and unique piece of clothing. If you find this blog informative and interesting, share it with your family and friends and let them know about this latest skirt trend for men.
To get more information:-