Fashion trends tend to come and go, but a few remain timeless through and through. Like, take a classic pair of blue jeans, a basic white t-shirt, and in this case, a bomber jacket for men, for example. This known outerwear for men is today a universal fashion essential.
Bomber jackets are versatile and trendy. There is one for everyone and every occasion in a variety of styles, colors, and fabrics. If you are looking to switch from a casual look to a more sophisticated one, a bomber jacket is the answer. These are great to invest in as you can get your money's worth of wear from them.
Depending on your need, you can choose from waterproof, warm, or lightweight outerwear for summers. Not only fashionable, but they are super functional and comfortable as well. Every man should have a place for a bomber jacket in their closet. 
So How Are Bomber Jackets Different from Regular Jackets?
Bomber jackets have distinctive long sleeves with ribbed cuffs and hems. They feature a zipper closure in the front. Sometimes they also have button closures with it. These waist-length jackets also feature side pockets for you to carry your essentials or to warm hands.
Often monochromatic, designers now have taken creative liberty to tweak the design. Playing around with colors and design elements to create unique pieces. Earlier on, made from leather, bomber jackets for men now come in any material you want. 
The Good Old Days: Tracing the History for Bomber Jackets for Men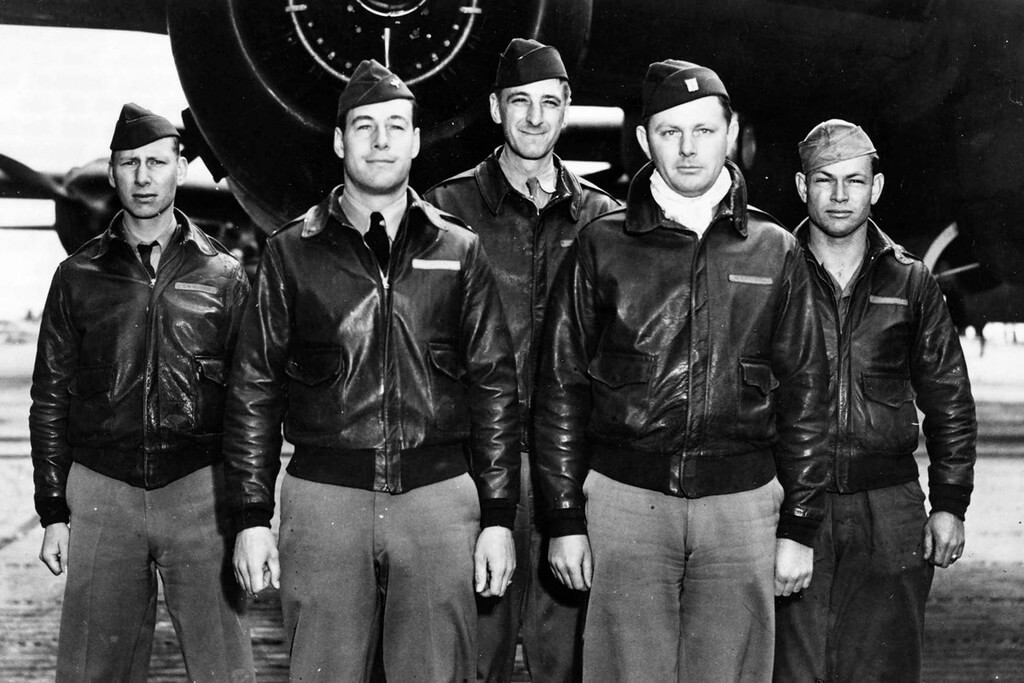 Source: hypb.st
In World War I, these bad boys (and a practical choice) were designed for fighter pilots. Made as a lightweight, durable, and warm alternative to regular jackets for soldiers, these soon trickled down to stores and into our wardrobes. Men in uniform have always inspired fashion trends now and then with the camo print, appliques, combat boots, and much more.
In the fashion food chain of the early 60s and 80s, the jacket was adopted by many subcultures. Europe and Japan were among the first where they made an appearance on the clothing racks. With the rise of the punk music scene in Europe, the bomber jackets got a cooler transformation. It hit the mainstream market when the Hollywood and hip-hop artists in the US started wearing them.
Bomber jackets struck the pot of gold when Kanye West tore down the market by collaborating with legendary Alpha Industries. We all probably remember that. It was indeed an iconic moment! The jacket is still widely available in the market as the best bomber jacket for men. Well, one thing was sure that these are meant to stay here for long. So better jump on the trend we are all lucky to have!
How to Style a Bomber Jacket for Men?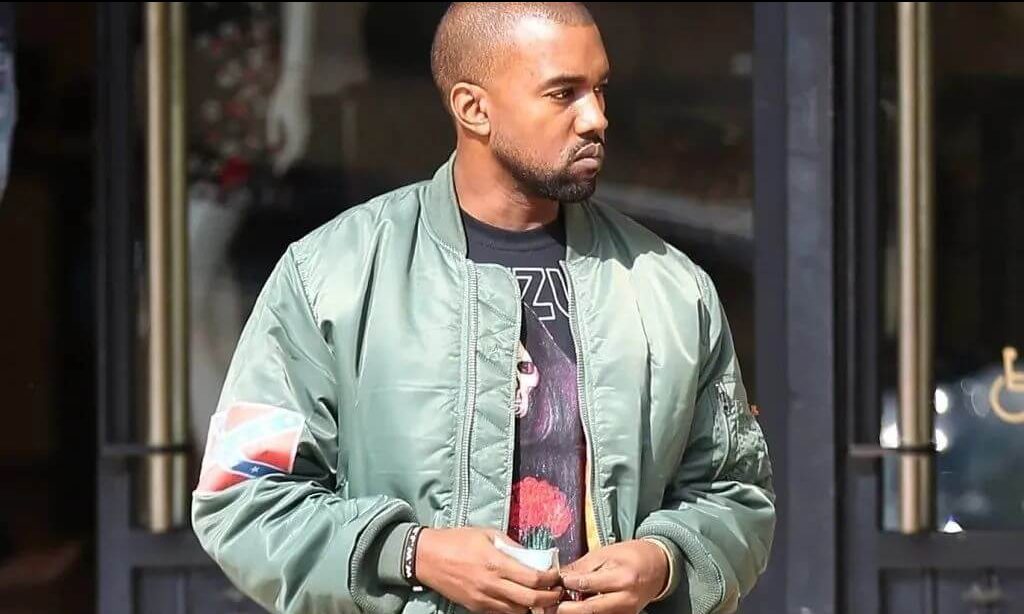 Source: qpic.cn
A good fit can make any clothing item look more expensive. Bomber jackets are an outerlayer that looks better in an oversized fit. They need extra space to layer underneath comfortably during the cold weather. Next time buying them, make sure you are sizing up.
Layering is a fun way to dress and create new looks. Wear it over a hoodie or a plaid shirt for a classic everyday look. You can also switch up to a formal look with a pair of jeans, a shirt, and a bomber jacket.
Another point to keep in mind is the length. Unless purposefully going for longer silhouettes, keep the bomber jacket till the natural waistline.
If you are missing out on having a great bomber jacket in your wardrobe, then read ahead. Here are some of the best bomber jackets for men in 2023 that are a must-have fashion staple.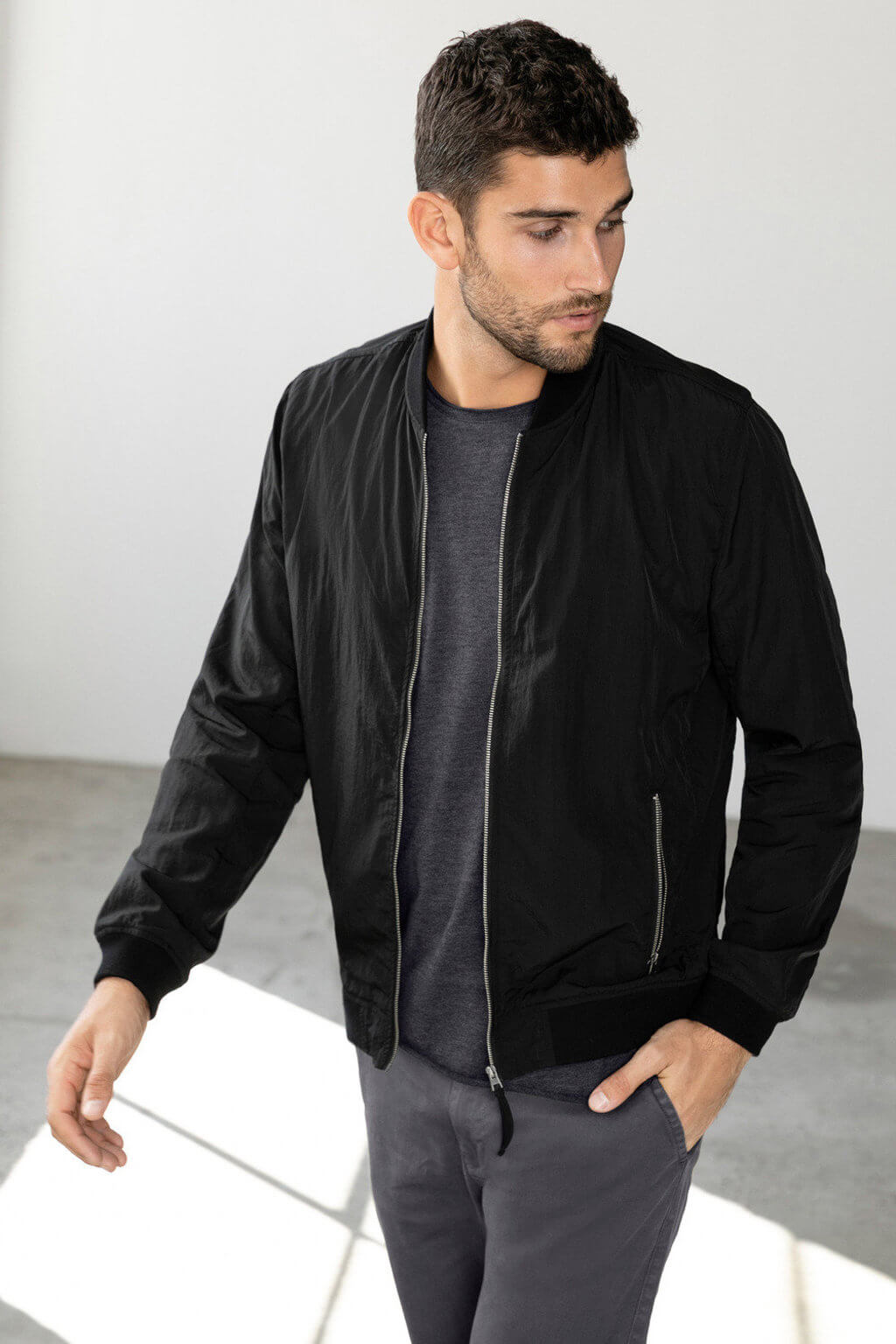 Source: ezibuy.com

You can never go wrong with classics! They come in handy for everyday looks and are comfortable for you to wear all day long. This one is a fashion essential and is the best bomber jacket for men.
It is simple, pairs wells with everything, and is a practical choice. Made from polyester, it is waterproof and acts as a wind-cheater. Throw on your favorite jeans and a t-shirt, and you are good to go on your day.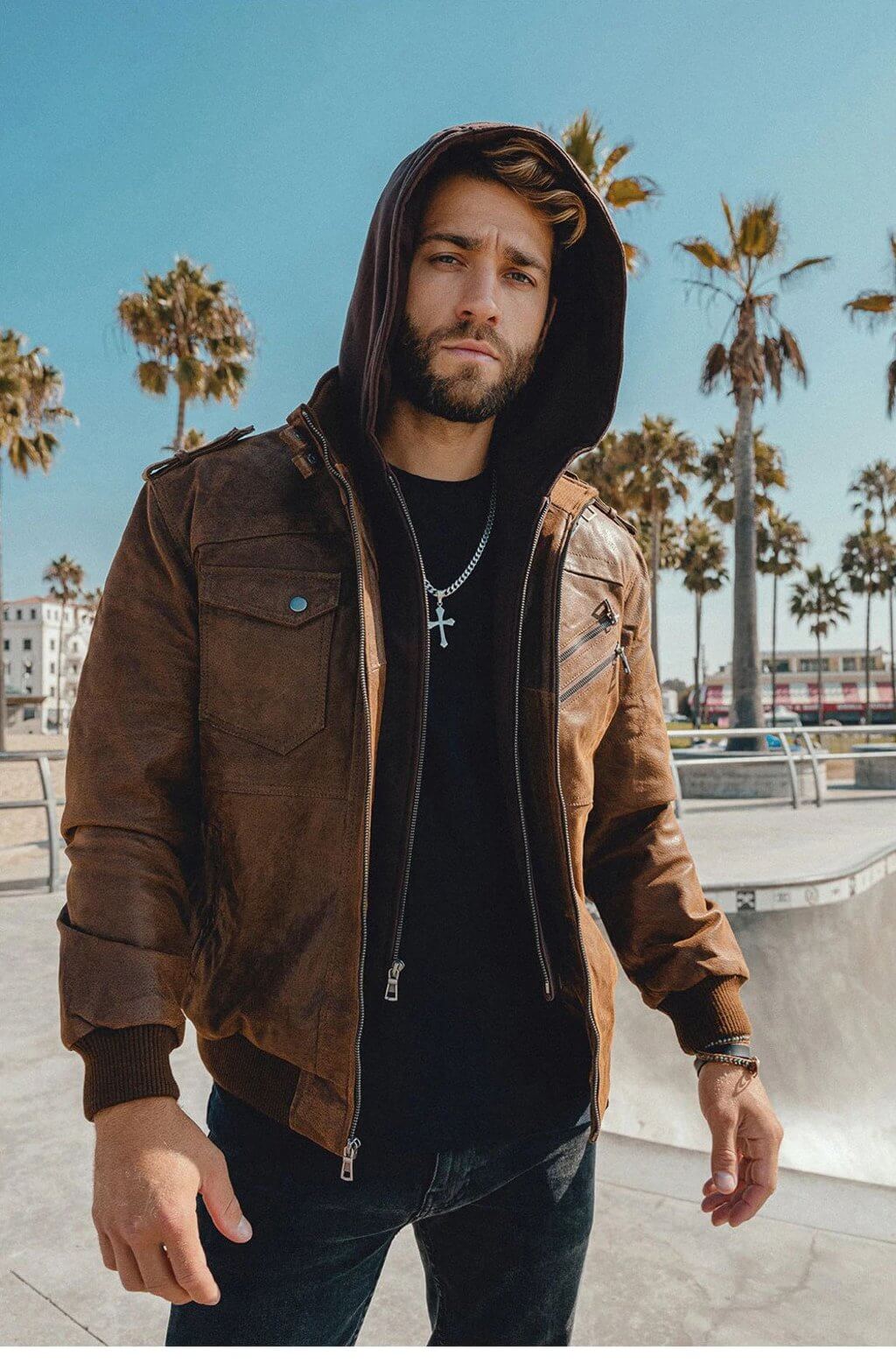 Source: alicdn.com

This brown leather jacket outfit is a hybrid between a motorcycle and a bomber jacket. It comes with a hoodie and thick stuffing to keep you warm during the cold. The soft leather feels buttery and luxe on the skin. 
Not only it gives you a rich, sporty look, but it is also durable. The ribbed hem gives it a snug fit to the body for a flattering look. When you're heading out to your motorcycle adventure or decided to look cool during the fall season, opt for this one.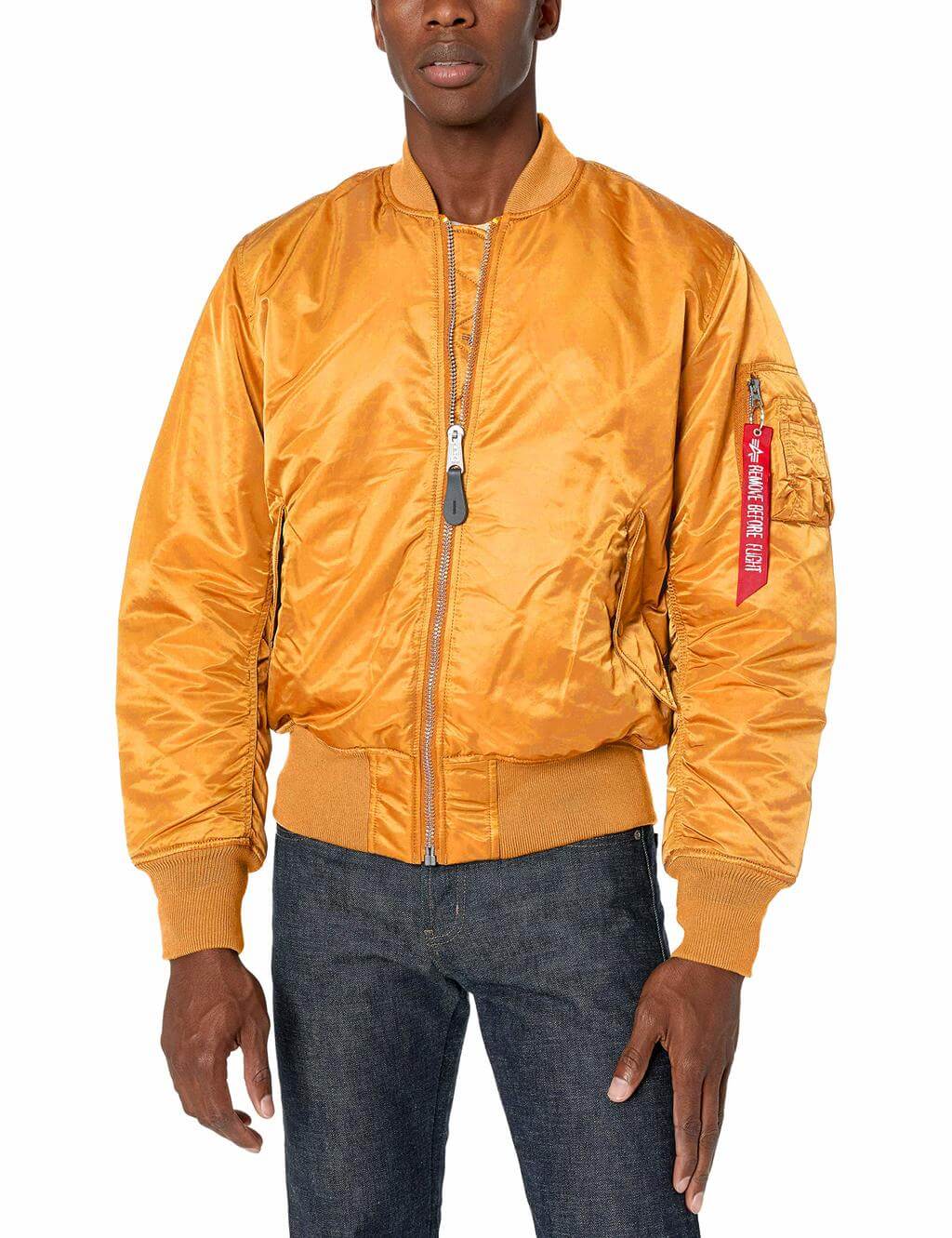 Source: yoybuy.com

Yes, this is the famous bomber jacket for men that revolutionized the game. To this date, it's the best crossover between military and civilian clothing. This bomber jacket for men is the most similar to the original one designed during WWI.
Going with the neutral color may feel like a safer option for everyday, but it is always nice to have a vibrant one in the rotation. Try this bright yellow piece to make an effortlessly cool statement. This utility bomber jacket made from a water-resistant material is great for the windy October month.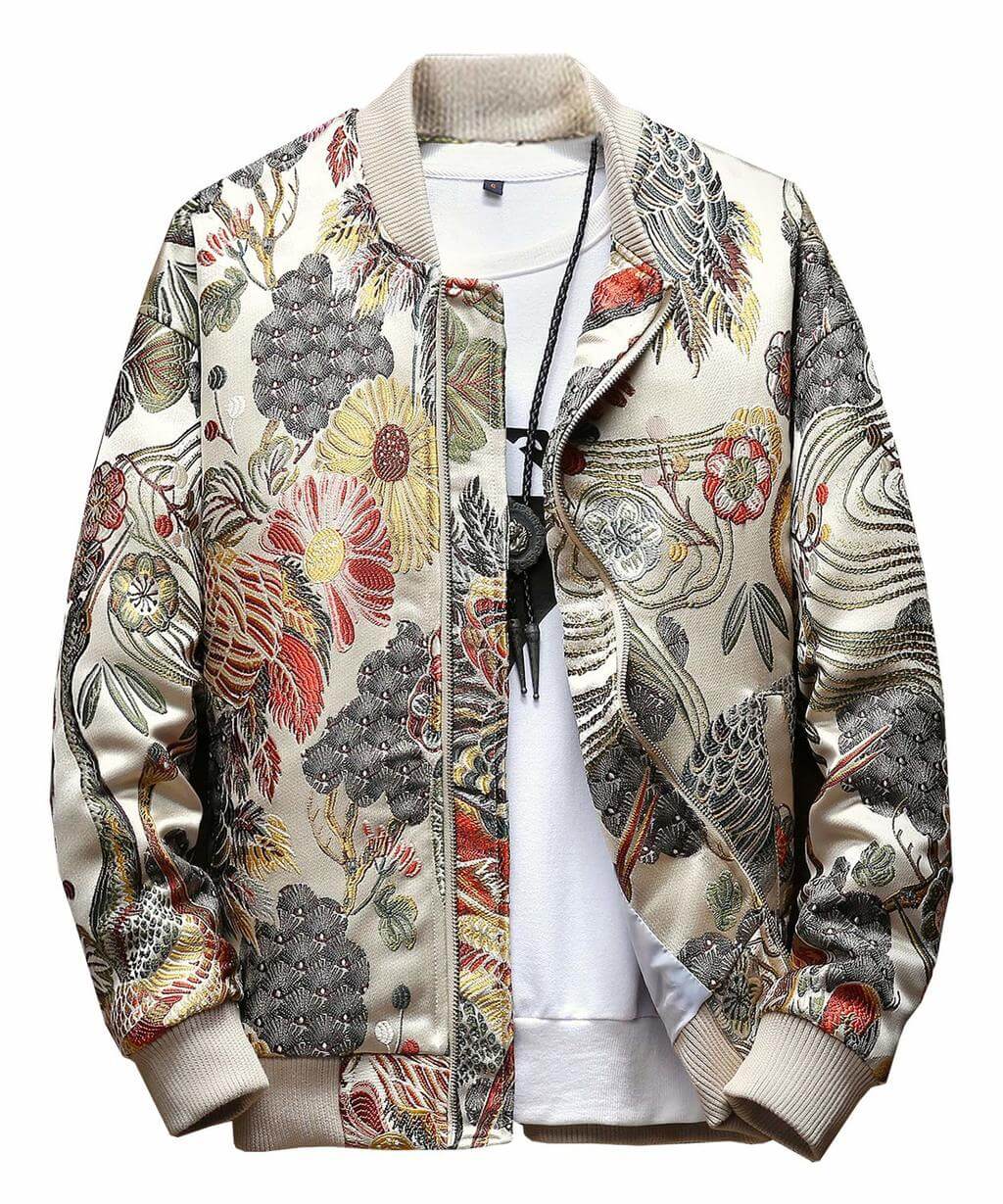 Source: amazon.com

Bomber Jackets for men but, make it glamour with this embroidered piece. Adorned with a Japanese-style floral pattern, you can add glamour to any dull grey with this.
Wear it for parties or date night, and this jacket will definitely turn heads. Wear it with a plain pair of chinos, a turtle-neck, and chunky sneakers for a trendy look for a party. You can also dress it up by pairing it with a dark color shirt and denim for a smart-casual outfit.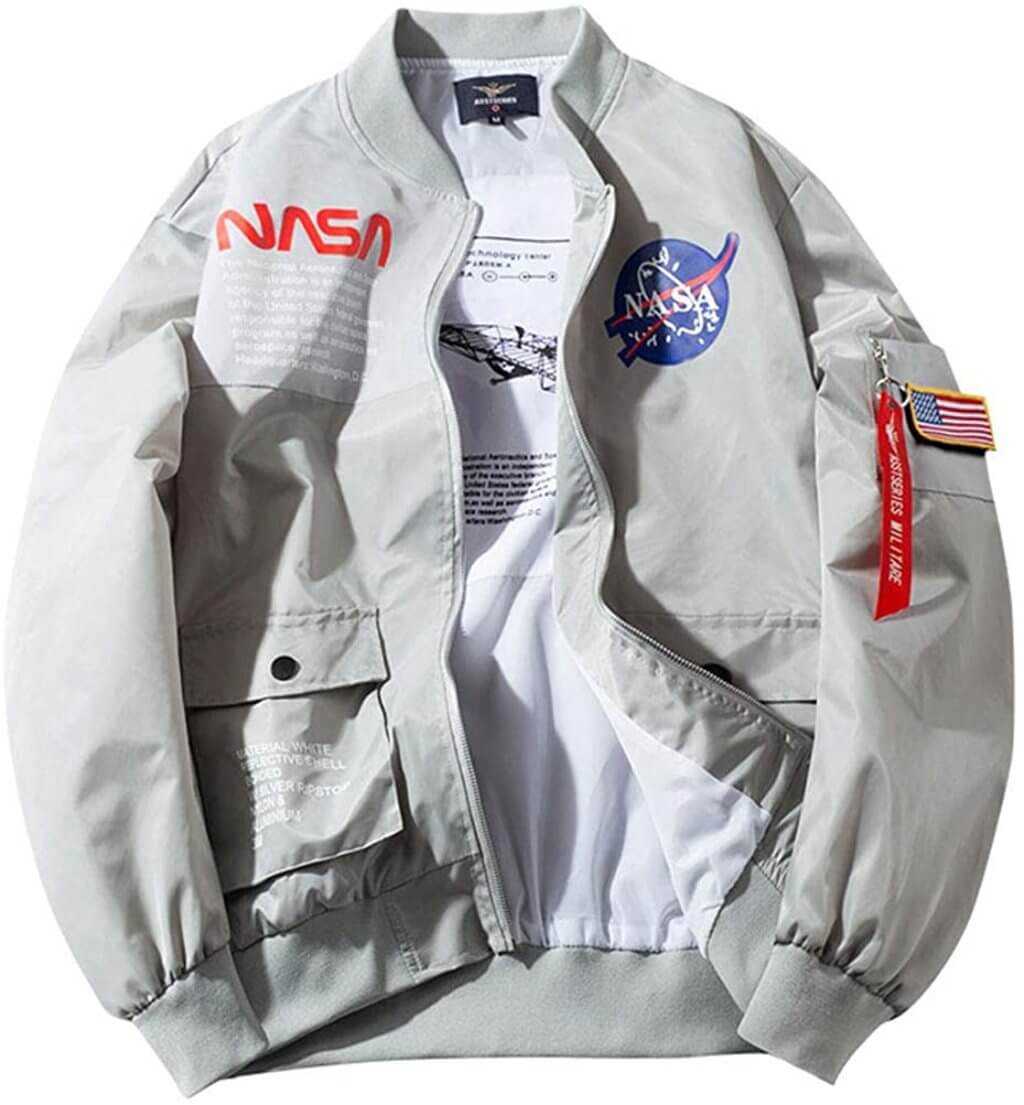 Source: amazon.com

The flight is about to take off in T-minus 3…2…1. Inspired by a spacesuit, this jacket will be a favorite for all the space lovers out there. It's light gray in color with patches of NASA's logo.
It is comfortable and looks fashionable. This bomber jacket for men is designed from a lightweight material, so it is suitable for the summer season. Who says geeky guys aren't fashionable?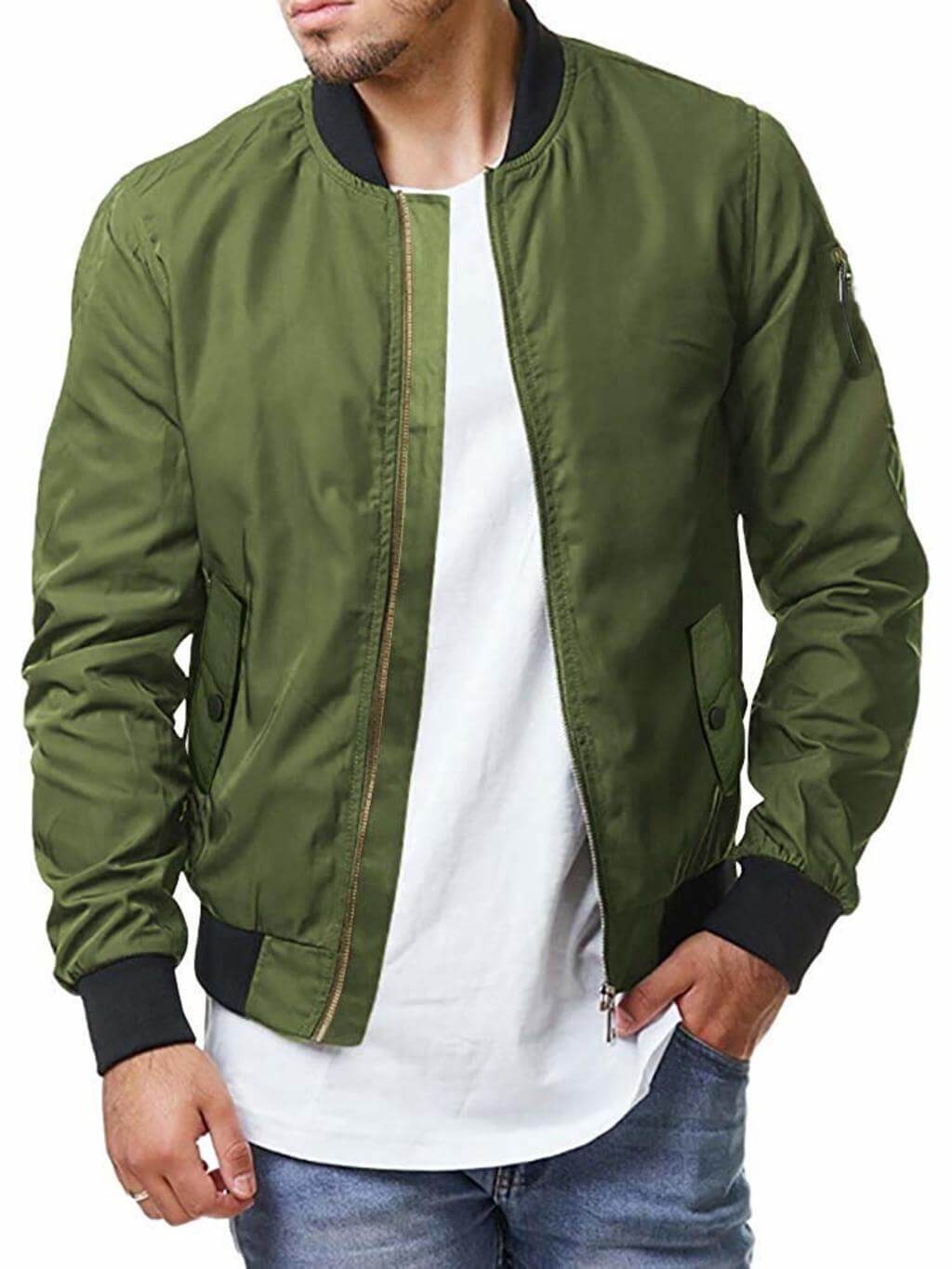 Source: yoybuy.com

Olive Green is already a popular color among men. It looks good on everyone and sets you apart from the regular whites, blacks, and blues of menswear fashion.
Just like the black, an olive-green is one of the best bomber jackets for men. It looks elegant and is an excellent choice for date-nights. The color gives an authentic military touch to the jacket. Pair it with chinos and a shirt for a dashing outfit.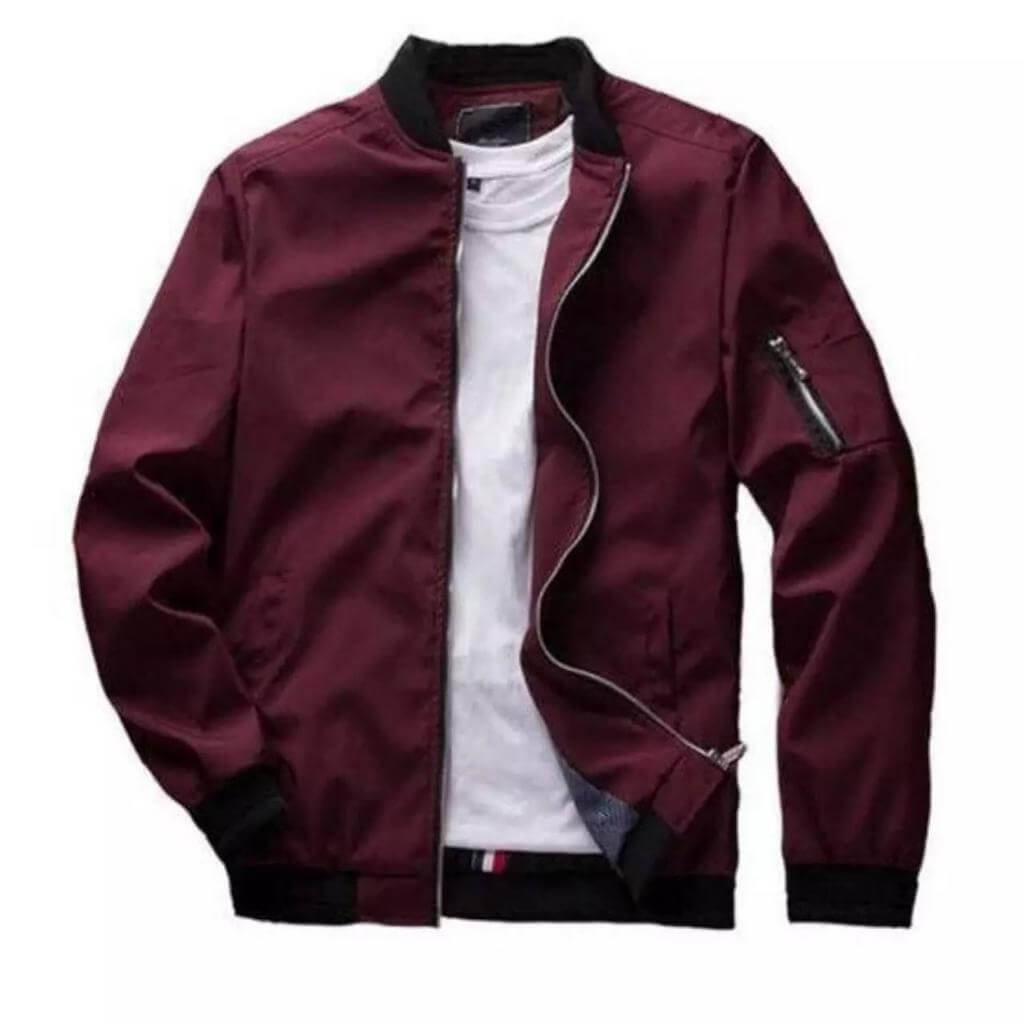 Source: slatic.net

A fall wardrobe is incomplete without the mention of a rich burgundy colored bomber jacket. Performance meets style, this jacket makes a stunning option for the in-between season look.
It is elegant yet, has a sporty feel to it. You can go for the classic white shirt and dark wash jeans or spruce up your look with a beige shirt and dark blue pants for a classier option.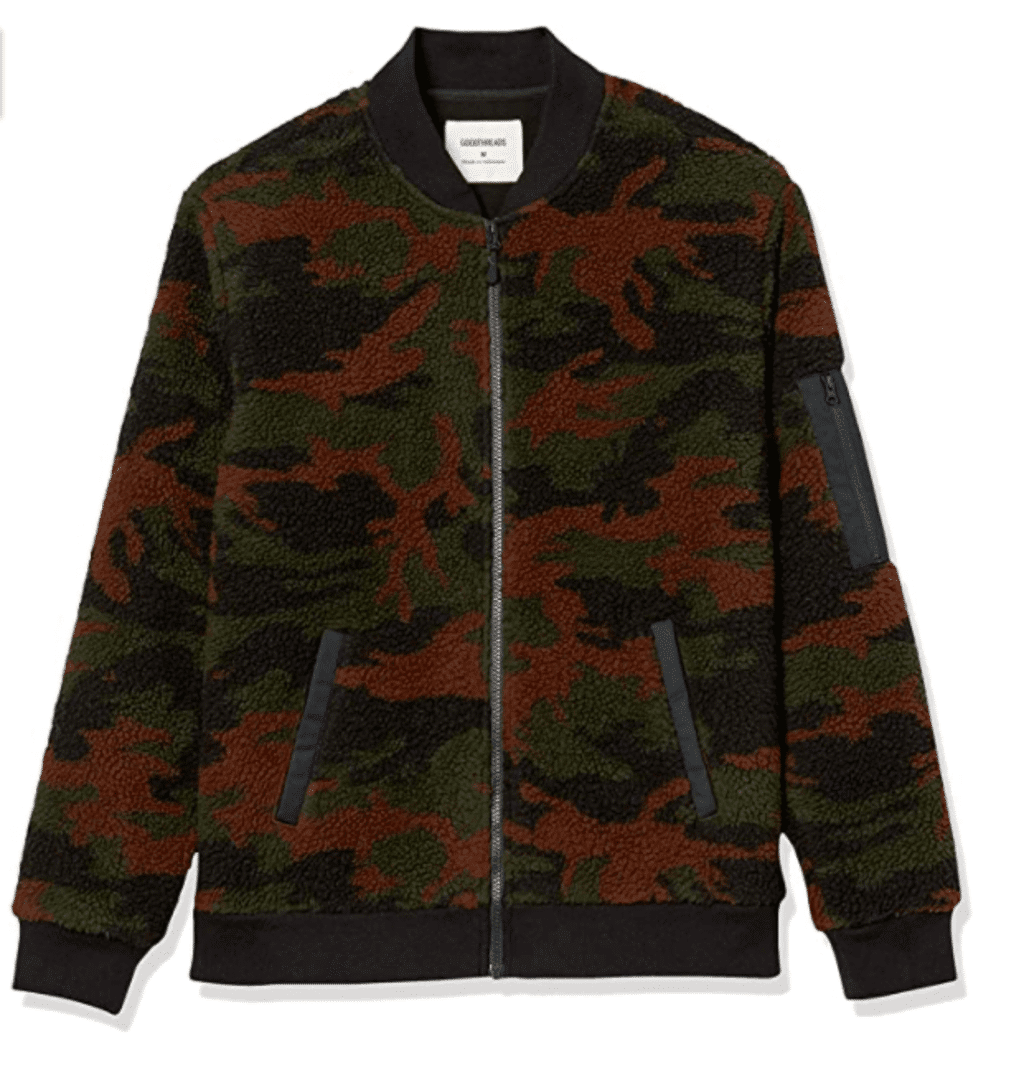 Source: mensstylepro.com

Head on for a complete military look with the camo-print. Give it a twist by swapping out the colors for some non-traditional ones like pink, blue, or like here in the below image, shades of red. Camo-print is a classic, stylish pattern that you can't go wrong with. Team it with a white tee and cargo pants for an ultimate army themed outfit.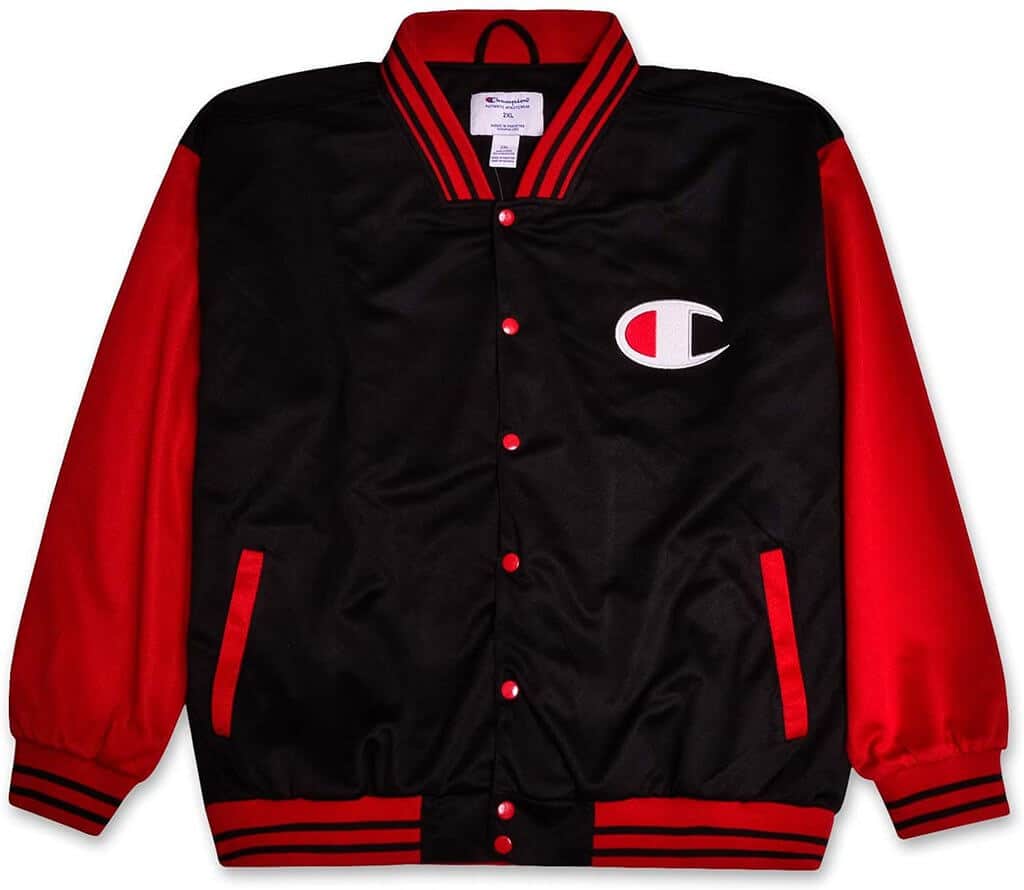 Source: amazon.com

Be ready to win the streetwear style game like a true champ with this varsity bomber jacket. This sports bomber jacket brings back many high-school and college memories. Most famously to be worn by athletes, with the team logo. It features the striped edges on the ribbed hems with dual-tone sleeves. Hit the home run for comfort and style in this one!
Also Read: 4 Men Summer Jacket to Make Yourself Look Cool in This Scorching Heat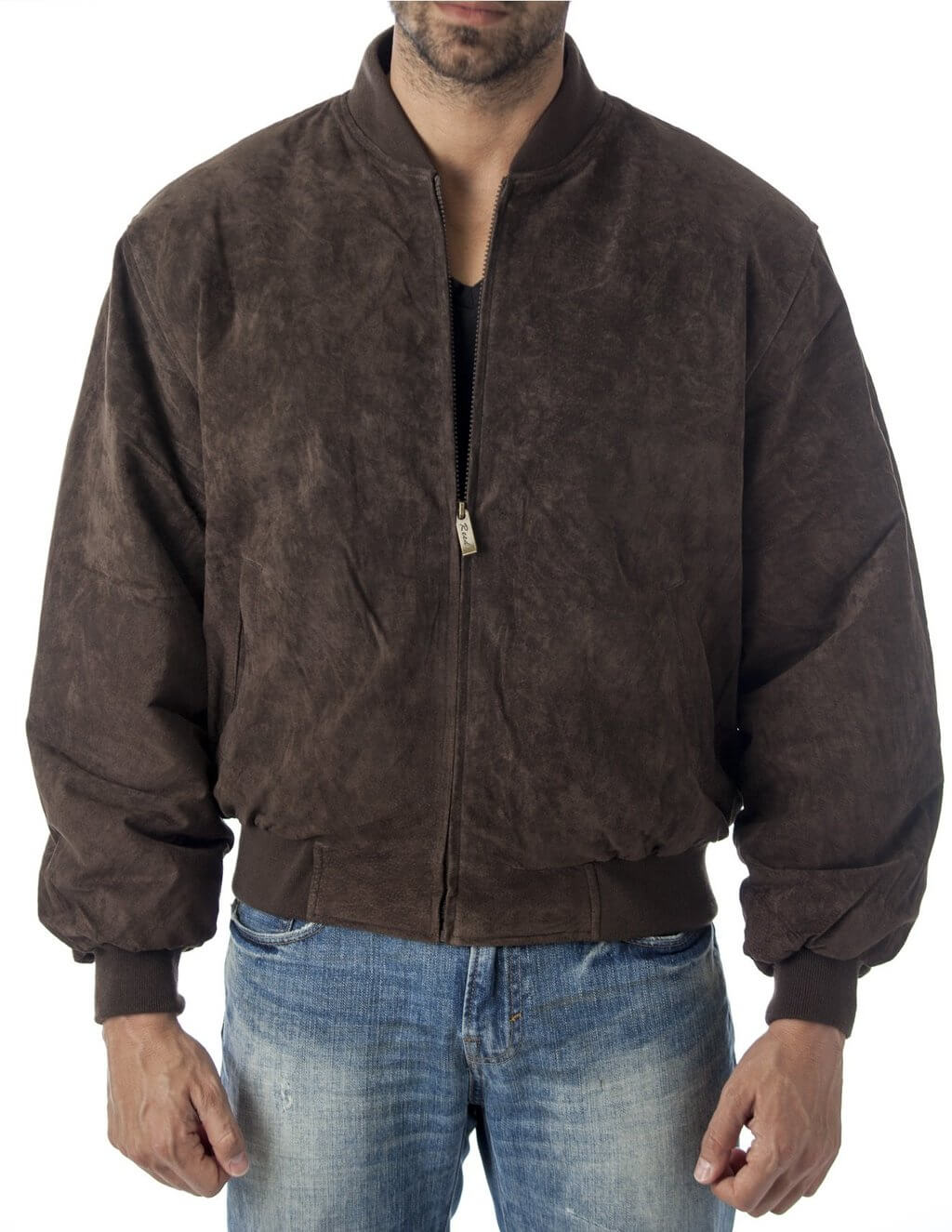 Source: yoybuy.com

Takedown the cold elegantly in this smart and dashing suede jacket. It has a luxurious look and feels to it. Add an element of texture to your outfit with suede fabric. You can get this jacket in various colors to amp your wardrobe for dressier options. 
Also Read: Cocktail Attire for Men with Dress Code Guide for Weddings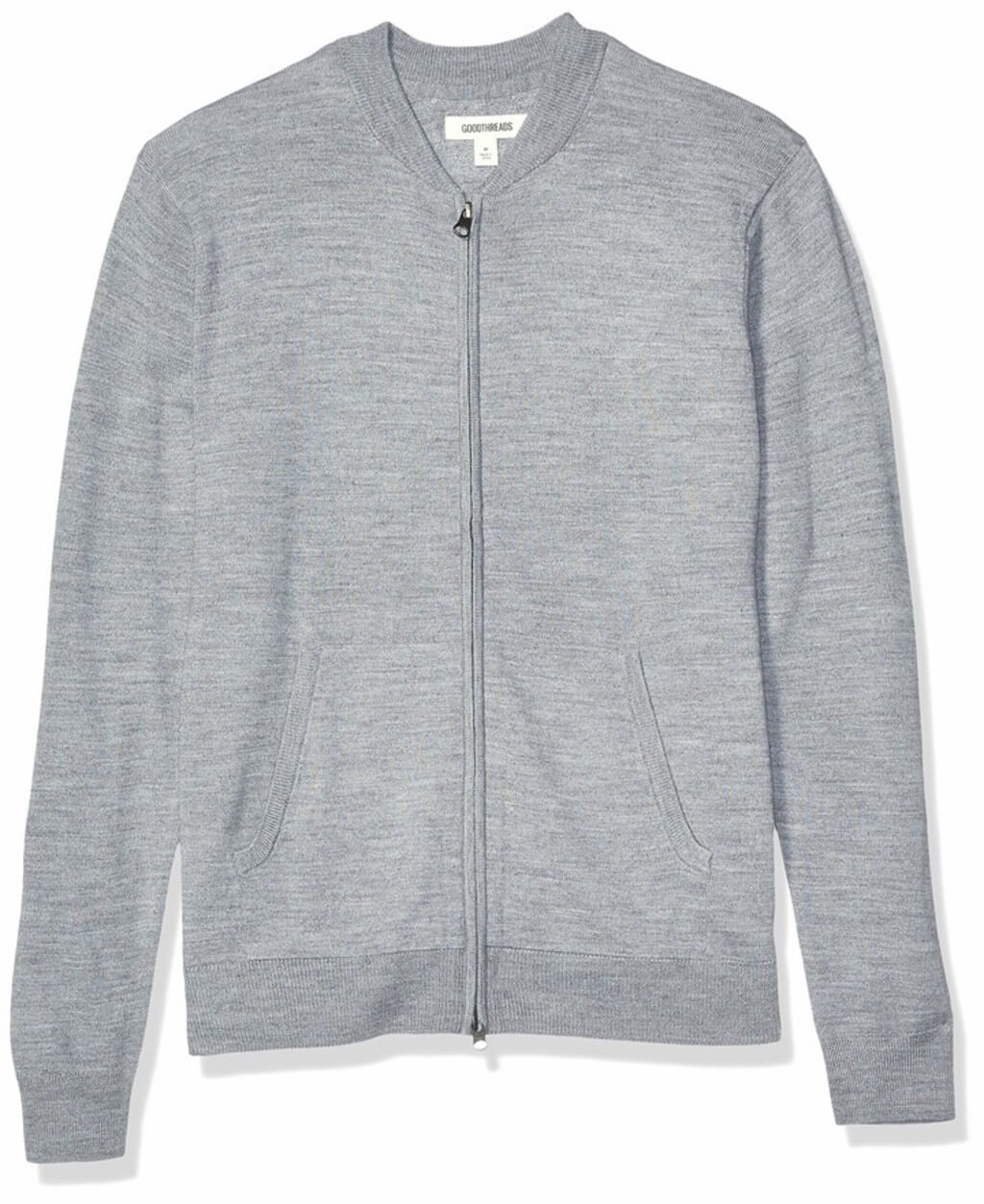 Source: shopstyle-cdn.com

Your perfect companion for early winter days when you are busy running around for errands. This bomber jacket for men is a winter essential in a classic look that never goes out style. Made from a durable woolen fabric with a sturdy and comfortable fit. When the days turn out to be colder, layer it over a hoodie or a sweater for extra warmth. 
Whatever your style may be, a bomber jacket is made for you. A good fitting, classic bomber jacket for men is the best piece you can have in your wardrobe. There's a lot more to explore new styles, colors, and patterns to spruce up your wardrobe with accent pieces.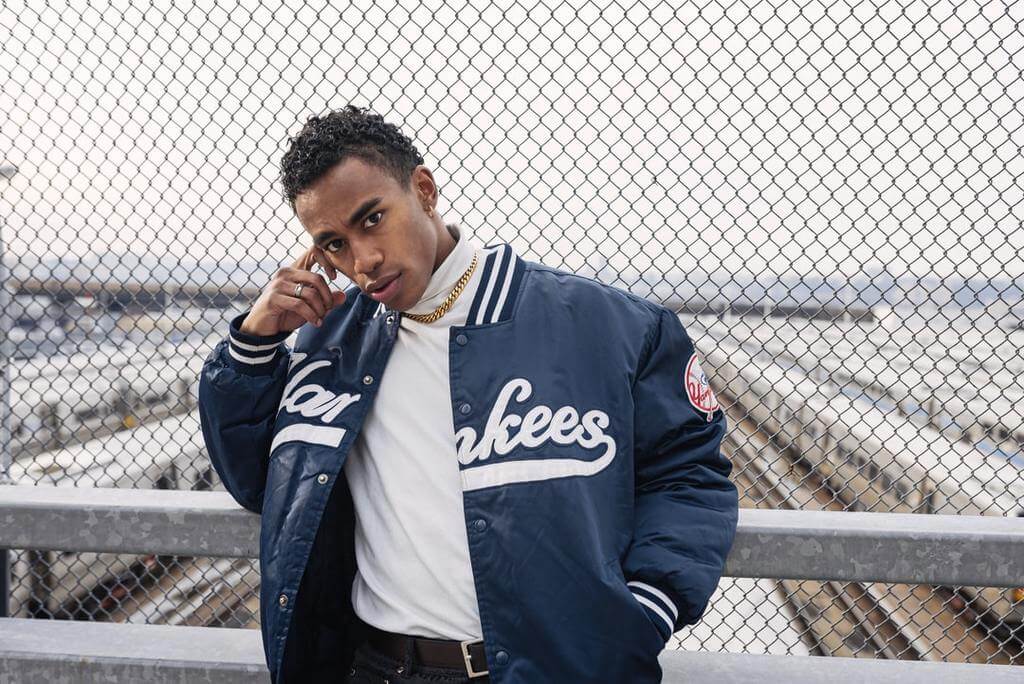 Source: unsplash.com
Military jackets are one of our favorite trends to seep into our wardrobes. Can you guess some more examples of such items that you relate them with men in uniform?
For more, you can browse through Fashionterest.