Without doubt, winter is probably everyone's favorite season to style for. There is such a wide range of clothing options to choose from, and you can mix and match them to your heart's content. If you're a guy looking for cold seasons outfit inspiration, then don't hesitate to check out these recommendations and ideas.
Unlike the summer, winter is the perfect occasion to freely layer and try our different clothing combinations. One advice for men who aren't confident in their fashion sense is that there are endless possibilities. You can go for clothes that serve more than just keeping you warm. Trendy and fashionable items can do the same while taking your look to another level.
Depending on your personal preference, choose an outfit that speaks to you from our list below. These are the currently trending items and styles for you to take inspos from:
How To Style For The Winter: Outfit Ideas For Guys
Based on what we have listed as what makes a trendy, unique look for men in the winter, let's take a look at these items and outfit ideas. We hope that they will help you create an amazing look for the season.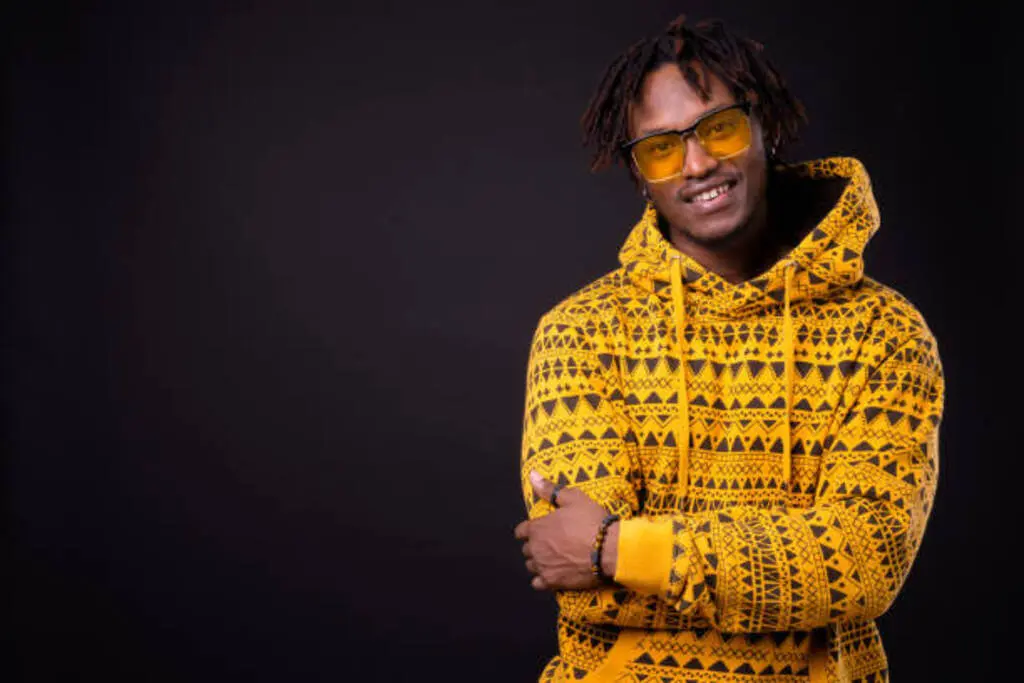 1. Shirts and Hoodies
Put away your plain block-color hoodies – it's time for something more fun and exciting. Instead of the usual cotton fabric, why not try a faux fur hoodie, for instance? They look so warm and comfy, as well as giving you that effortlessly stylish look.
On the other hand, try a new pattern for your winter wear as well. You can easily find unique apparel around you, such as these cool trippy hoodies for guys on Hyperfavor. The bold color combination will definitely take your outfit up a notch.
2. Leather Jackets
Switch from your usual black leather jackets to those in more vibrant shades such as red or green. You'll immediately see the difference they make in your outfit.
As these jackets are drawing attention on their own, wear them with other neutral clothes. This is to avoid making your outfit too gaudy. Black jeans and white shirts are the perfect partners for colored leather jackets.
3. Suede Leather Boots
You're probably too familiar with the iconic suede boots from Timberland, but not everyone can rock them with confidence. The way you lace these boots also make a personalized and unique change to your look.
Suede leather boots are the perfect addition to your winter style. You can try combining them with many different outerwear such as bombers or long coats to create a look that feels signature to you.
4. Denims
Without doubt, denims are easily the first thing to come to mind when imagining a winter outfit for guys. The material is versatile, simple to mix and match, and suitable for many occasions.
However, denims are considered staple pieces, therefore losing the unique feel to them. Thus, instead of your usual black and blue denims, try more adventurous items like overalls. They might not suit everyone, but you can't deny how refreshing they look.
5. Colorful Cardigans
Finally, a great way to upgrade your winter fashion is to have some more colors in your closet. This time, try something new other than your knitted sweaters. Men's cardigans are becoming more popular, and brands are releasing more styles and colors for them. Choose warm colors such as deep red or burnt orange for these outerwear to make a stunning outfit.
What Makes A Trendy Winter Outfit Recently?
1. Colors
You can never go wrong with warm, hearty shades like red or orange for the winter. However, we suggest that you go for more subtle hues like burgundy or ginger to catch up with the latest styles. They will also add a significant cozy feel to whatever clothes you're wearing.
Rich, earthy colors are also a big hit in recent years. You can easily find clothes of deep tones like olive green or chocolate brown at any store near you.
If you are still unsure what color you should go for, then neutrals are always your safest bets. Whether it's black, white or grey, the shades will never go out of style. But since you can find these colors anywhere, it'll depend on the pattern and styling of the item to keep your outfit unique.
2. Patterns
Plaids and houndstooth patterns are making a comeback into the fashion world. Most guys might find these patterns a little hard to incorporate into their daily wear. But if you wear them a little more subtle such as adding accessories with these patterns to your outfit, it will definitely upgrade your look.
On the other hand, bold patterns and graphics are getting more attention also. These clothes not only make a statement piece in your closet, they will help you grab the crowd's attention wherever you go as well.
3. Materials
Leather has been the most sought after trend in recent years. Not only do they give you a cool, edgy look, they are undoubtedly one of the most eye-catching materials out there.
At the same time, suede fabric is also making runway for men's clothing. The soft feel of this type of leather makes your outfit even cozier during winter time. The fabric is used in the making of many fashion items such as boots, jackets or gloves because of its flexibility as well as the unique look it gives.
Denims are also great choices for winter outfit – they are basically timeless pieces. However, try to change up the color from black and blue to create a more one-of-a-kind look.
Found your preferred winter outfit idea yet? Let us know in the comment.
Find out more:-