Gone are the times when people used to love plain t-shirts. Nowadays, everyone likes to go with the trend, and one such trend is graphic t-shirts. It has created a hullabaloo in the fashion market. With this, there's an increased opportunity in the graphic t-shirt printing businesses. You might have noticed how people are gifting each other custom printed t-shirts such as these birthday t-shirts from an online store or a gift shop.
Whether you want to buy one from the wholesale manufacturer or design your own (read the next paragraph), one thing is definitely going to bother you. What is it? It's styling. There's a big question on how to style graphic and custom-made t-shirts. Don't worry. We are here to provide you with the Rare custom solution to that only!
Okay, after reading 'design your own,' you might have thought it as a typing mistake. But that's the truth. Now you can also design graphic t-shirts from home and sell them across the world. Many YouTubers, influencers, and common people have also gained the upper hand in this business. You can also get started with custom t-shirt printing and commence your business right away!
Back to the actual topic!
How to Style Graphic T-shirts?
There are many ways to style them, but here we have mentioned the best ones – the one that will give you a chic look.
1. Pair it with Shorts
Printed t-shirts are hard to style because of their ability to attract eyes. Don't you think this is a feature you should take advantage of? If you are an oversize lover, pair it with your funky denim shorts. You can also tuck in the half t-shirt, leaving the untucked part bit fussy.
2. Tuck away in the Flared Skirt
Whether you own a printed flare skirt or a plain one, the graphic tee will look good with both of them. You don't have the option of leaving it loose. It won't look good. Tuck away that printed tee in the skirt and let the vibe flow around.
3. Keep it casual with Denim Jacket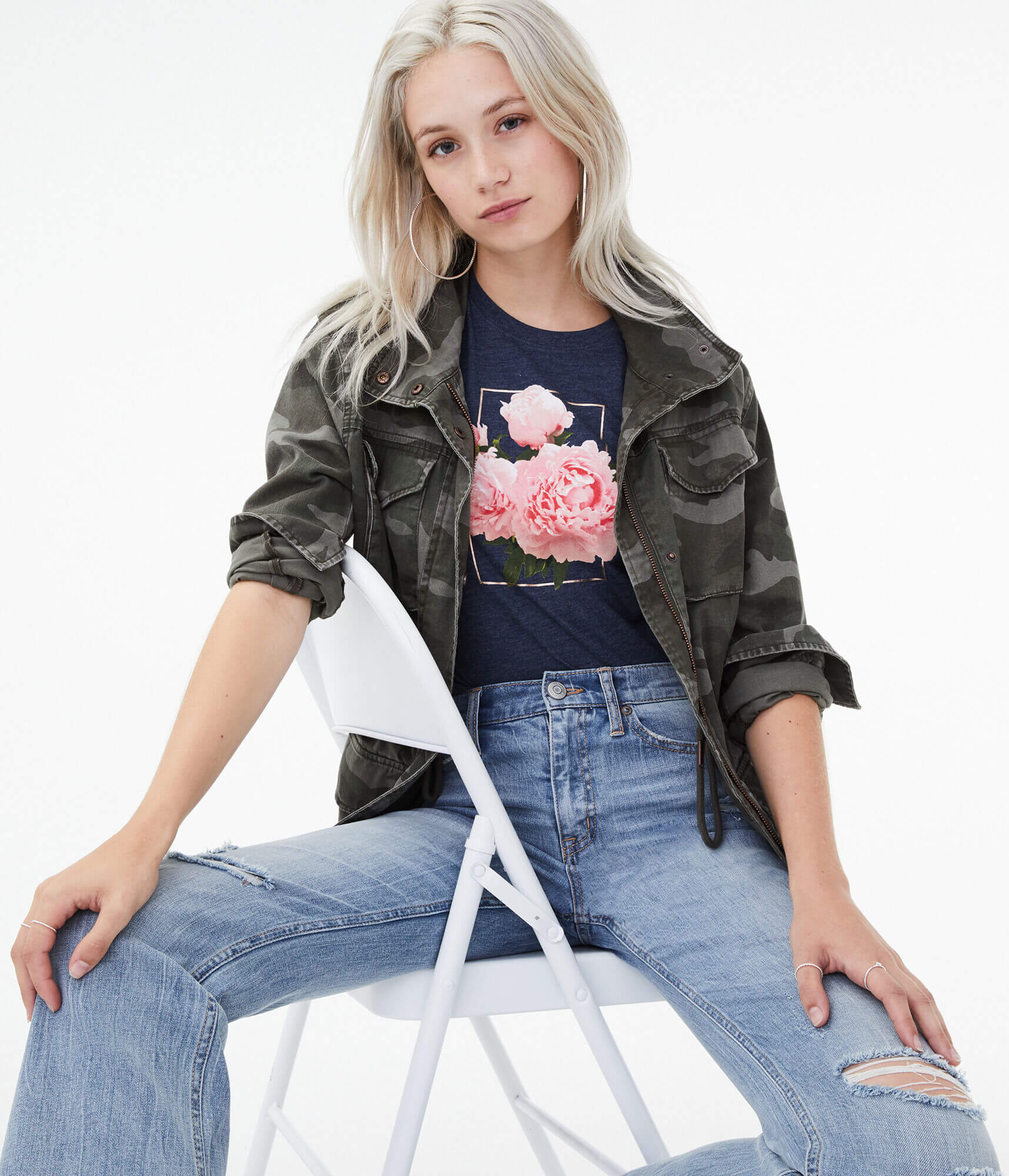 The simplest way of styling the graphic tee is with the denim jacket. Pair skinny or straight jeans, a printed t-shirt, and a jean jacket for the casual wear look. However, be careful while selecting the colors, it shouldn't be a mismatch.
4. Formals and Graphics
You may haven't considered this one ever. It's a taboo that you can't pair a t-shirt, especially the graphic one, with formal pants or skirts. Here, we will show you how to pull out the reserved look with the graphics, including blazer. Look how this model has paired the printed t-shirt with a formal skirt and white blazer.
5. Slay with the Power Suit
Hey, boss babe! This one's for you. Let everyone know who the boss is but with a quirky and playful hint. Wear a graphic tee with a monochrome power suit. It will give out the message without even saying. Slay the powerful and funky look altogether.
6. High Waist Jeans
Now for styling graphic t-shirts with high waisted jeans, you have several options, from leaving it hanging to tucking it in and DIY with its basic look. You can create fringes at the bottom of the top and wear it on the jeans.
Another styling idea is about creating a crop top look from the regular t-shirt. How? Pick the bottom hem of the t-shirt, then fold it and tuck in the bra. Now give a slight pull to the t-shirt from outside for the exact look. You can also tie a knot at the mid or side section of the t-shirt.
7. Flared Jeans
Let's be bold and beautiful this season with some out of the box ideas. You will have never thought of doing it but this time style with us. Pick out the flared jeans of yours and a graphic tee. Tuck the tee in the jeans, and there you go! (Be mindful of color contrast.) Now add the toe pointed heels to the outfit, pick your favorite bag, and swoon around for the feed-perfect picture.
Spruce up the Look by Styling Printed T-shirt:
So these are the tried and tested styling ideas for a graphic t-shirt. You can create a unique look by pairing it with palazzo, culottes, jumpsuit, and other apparel. If not anything, wear it as a t-shirt dress with a knee-high boot. It will give you a chic look to carry for friends' outings.
For more information:-