The hijab fashion has boomed rapidly in the past few years which has led to the introduction of new hijab colors. You should try these various shade variations and prints. However, these new trendy colors are now available by many hijab brands. Also, note that this has left hijabis feeling overwhelmed with too many options to choose from. In fact, hijabis right now believe they do not know how to choose the hijab color that works best for them. Taking into consideration their skin tone and shades, season (summer/winter..). The overall outfit that they are wearing which is the most important aspect.
So, this article will list the 3 must-have hijab colors that will make getting hijab ready every day easier and faster without compromising your stylish look.
1) Black Headscarf: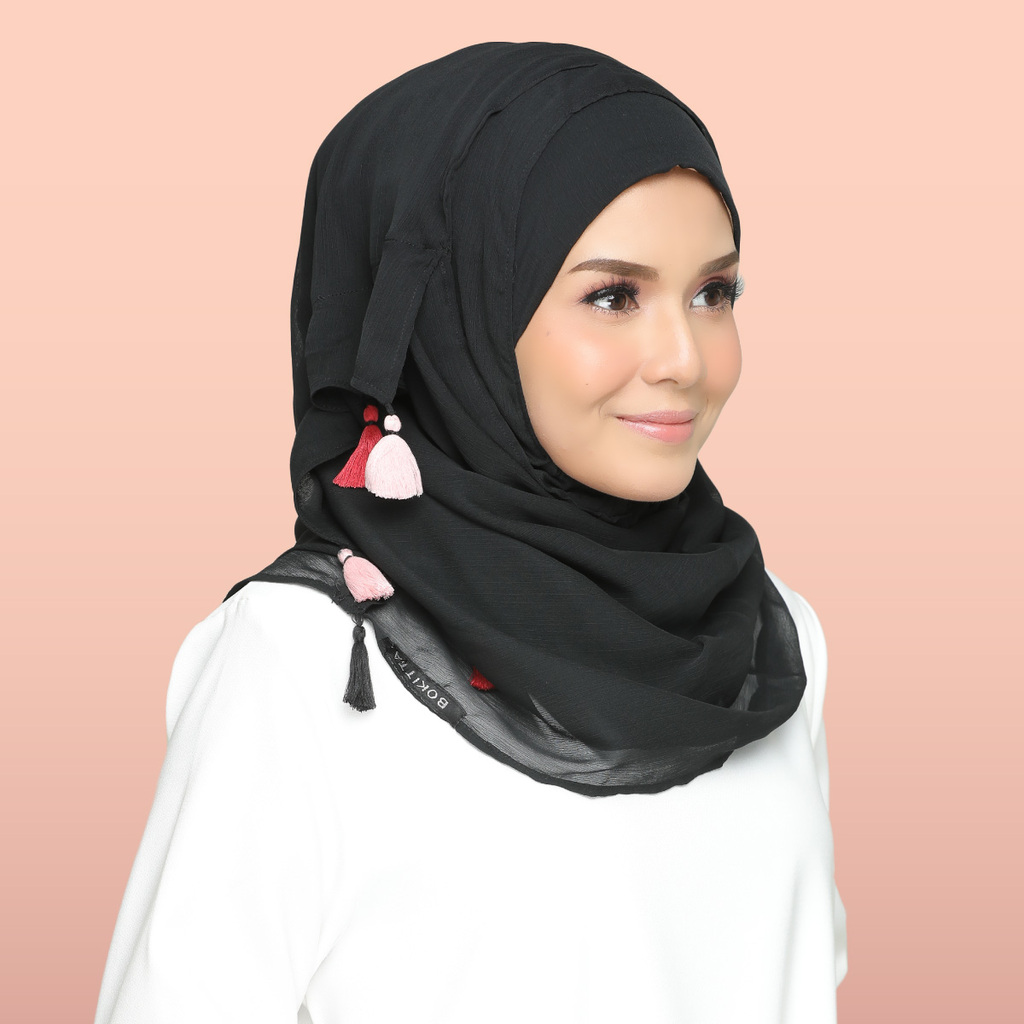 First, we start with black. Choosing this color as the most used hijab is a no-brainer. It is vital to have this headscarf color in your closet not only because this hijab goes with absolutely any outfit color but also with all skin shades. From solid black to printed hijab with light-colored patterns will help complement overall clothes and look amazing at the same time. Remember no matter how much you feel your wardrobe is complex with various color shades. A black hijab will perfectly fit bringing your entire outfit together.
2) White Headscarf:
Talking now about the totally opposite color code. While a black headscarf is a must-have, a white hijab is required and the very basic color to buy. White is exceptionally adaptable and comes in handy when no other color seems to match your favorite clothes in the morning. For that, it is without question essential the go-to color when in a hurry. The white hijab compliments both casual and formal looks. You can change the hijab style, wrap and fabric to fit a specific event. For example, go for a white chiffon hijab for an evening dinner and a white cotton hijab for a sporty outfit.
3) Beige Headscarf:
Our third must-have color is Beige. The beige hijab is certainly needed for several ins and outs. Specifically being a neutral color that goes along with any color variation when both white and black don't seem to fit. A beige headscarf is a key element of completing your entire outfit since it forms chic blends with most of the significant shades. What also makes it unique is the fact that it complements many accessories that hijabis use to style their outfit consisting of pins (although you can buy pinless hijabs), necklaces, lipstick, and purses.
Prints can be a great addition to your clothing when chosen correctly and is actually an accessory that can bring your outfit together. Make sure to have at least one solid beige hijab in your closet that matches well with a beige outfit and colors like white, black, and summer light colors such as olive green and baby blue.
The reason we have chosen these hijab colors is the fact that choosing black, beige, or white will ensure to match your outfit. Before making any decision, you should understand your skin tone and then select the right hijab color. Pairing these 3 colors can only compliment your clothes and if you are looking to spice out your look, you can choose to include light printed neutral hijabs!