Whether it is Paris Fashion Week or Instagram supermodel, one style that is timeless, french styling is eye-catching and that makes everyone fall in love with it is none other than French Style.
There is no doubt that the French girl style is one of the world's trendy and coveted fashion styles.
Whether it is shoes, outfits, or makeup, there is something special about this style. It has juxtaposed simplicity with depth to the effortless minimalism; that's why everyone on this planet is now fond of this trending style.
Effortless, undone, yet incredibly sophisticated: these words perfectly describe French girl style.
Have you ever seen a French woman? If not in real life, you may have surely seen some French fashion and styling pages on your Instagram feed, right? These gorgeous girls have perfectly tousled, slightly unkempt hair, a no-makeup look with simple clothes. This natural messy, yet elegant look is so identifiable and yet so elusive.
So, how do these women manage to achieve this incredible style?
Do you also get fascinated by this designer and classy style? Want to know how to carry this style without breaking your bank? Keep on reading this blog.
Today we've come with this ultimate French styling guide for you. From styling tips to basic clothing essentials and outfit inspirations, we've described everything in detail.
Let's start with the basics of French styling, and that is knowing what French styling is and what are some rules to follow this emerging fashion trend.
What is French Fashion?
French style is all about dressing in a way that looks both dressed up and laid back at the same time.
Compared to other fashion styles, the French girl style is not obsessed with wearing bold colors and extravagant accessories. Yes, rather than wearing bright colors and expensive pieces, focus more on selecting great materials, high-quality, timeless, and versatile items.
If you want to follow this style correctly, include those staple and basic clothing pieces that can be paired together. You can also mix and match clothes and create an elegant and classy look. Pay attention to small details like earrings, rings, and other accessories, as these things can make a huge difference in the overall appearance of the look.
Top 5 Golden French Girl Style Rules
Now let's talk about the rules for french style for women. Many people wonder if there is anything specific to consider while dressing up in French style. Yes, there are many things to consider. Below are the top five golden rules that you should remember about French fashion.
These are pretty common, and any Parisian woman can tell you about them. No matter which part of the world you live in, you can follow these french fashion rules and achieve an authentic French styling that will baffle everyone. They're not strictly about fashion, but about overall French fashion and lifestyle in general.
Here are the top five French styling tips:
1. Invest in Quality Pieces
If you're planning to switch to French styling or want to have a French capsule wardrobe, you have to keep this rule in mind.
Invest in Quality over Quantity
French women only and only invest in a few but high-quality clothing pieces. So instead of filling your wardrobe with low-cost items, go with good quality and standard pieces. You can go with materials like cotton, silk, cashmere, or wool. They'll last for many years and feel comfy and luxurious on the skin.
2. Start with Basics
The secret of Parisian styling lies in the basics! Don't get surprised; you can look at any pictures over here or anywhere, and all you can find is women dressing in simple basic clothing.
French women prefer solid and neutral colors like black, white, gray, and nude. Clothes with bold prints or patterns are a BIG NO NO! Always include simple designs and prints. Buy basics like t-shirts, button-ups, and simple pants.
3. No Huge Labels Or Logos
This rule might surprise a lot of people, but it is one of the most important ones. In French styling, there is no place for clothing items with huge and flashy labels and logos. Flaunting these things on clothing and accessories is considered taboo and tacky to show off your wealth in France.
Although Chanel and Louis Vuitton are expensive brands, you'll never see a French woman carrying one of these bags. French girls opt for a simple and minimal design. So if you want to follow French styling instead of trying to look rich, try to look classy and sophisticated!
4. Pay Attention to the Fit
No matter how expensive your clothes are, if they don't fit you right, you don't look good! So, the key to French styling is to get clothes that fit and flatter your body the best. No matter what style it is, always stay away from ill-fitting clothing and cheap brands.
Never buy something just because it looks good on someone else. Also, instead of too tight clothes, go with one size up as French women like to wear little loose clothes, unlike Kim Kardashian. You can also get the perfect fit by taking your clothes to the tailor (and yes, most French women do this!).
5. One Statement Piece Per Outfit
Now let's talk about accessories. Similar to clothing, go with minimal and basic accessories. That's because it's rare to see any Parisian girl carrying too many or anything flashy.
Use one statement piece with your outfit. For example, carry a multicolor purse with a basic white tee or button-up shirt and straight-leg jeans. All you need to keep in mind while dressing in French styling is to create a perfect balance.
NOTE:
One thing to remember about French fashion is that there are no specific rules or right ways to achieve French fashion. The goal of the French woman is to create a personal style that is both classic and comfortable. You can follow these rules and styling tips, but you don't have to become an absolute francophile.
French Girl Starter Kit: Top 7 Wardrobe Essentials
Now you know all the rules and things when dressing like a French woman. Now, what about how to dress in French styling? What are the staples of French fashion? Like any other fashion style, this style also has a few garments and accessories.
Want to dress like classy French women? Are you wondering about what you'll need to shop for? The best thing about the French style is that you don't have to buy anything specific. You can dress in French fashion with your existing clothes. Sounds surprising, but that's true!
Here are some clothing essentials of French style 2022- 2023 that you'll need. We're pretty sure that many of you already own some of the pieces that we've mentioned in the below list. So if you want to achieve an authentic French girl style, include these pieces in your wardrobe.
Here are the top seven French fashion items that the Parisian and French women love:
1. Blazer
Plaid, tweed or solid, there must be a structured blazer in your French wardrobe. Blazers are polished, flexible, and easy to throw on. This one clothing piece can give a chic and sophisticated upgrade to any outfit within a few minutes.
Another great thing about a blazer is that you can pair it with almost anything. From dresses to jeans and jumpsuits, they look good with everything. Go with solid and neutral colors black, navy white, beige or brown. These shades are best to create a very effortless chic outfit.
2. Plain, Simple T-shirt
When women hear about plain tees, they think that it is only good for wearing at home, but that's not true in French styling. Plain and basic tees have a special place in French fashion.
If you ask any French woman, they'll tell you this is one of the best wardrobe essentials that you need to have. You can pair them with a simple slip skirt or your favorite straight-leg jeans. They're also perfect for layering with a blazer, sweater or cardigan and, of course, white sneakers. However, don't forget to keep the overall look simple.
Go with colors like white, black, gray or beige. They'll help you to create an elegant and sophisticated outfit.
3. The Cotton Button-up Shirt
Another staple piece that you should include in your wardrobe is a classic plain white cotton shirt. From formal meetings to casual hangouts and lunch with friends, you can literally wear a white shirt on any occasion.
If you don't like to wear a solid plain shirt, you can also go with neutral ones or with striped shirts. You can wear it with anything from your pencil skirts to your boyfriend jeans and trousers. They also look good with both sneakers and flats. You can jazz up these shirts with a blazer, piece of jewelry, and a pair of stilettos.
4. A Little Black Dress
LBD is the ultimate wardrobe staple in the French girl's closet. From cocktail parties, weddings to date nights, and night outs, a little black dress always comes in handy. No matter what style you're going for, you can create an effortless look with a little black dress.
You know the best thing about this French style dress is that there is no rule. You can have it short or long, with or without sleeves, V-neck, or turtleneck. Pair your dress with either flats or sandals, both ways; you'll look pretty.
5. Straight-leg Jeans
There were days when skinny legs were extremely popular. However, if you want to get the perfect French style look, go with straight leg jeans. French girls always have high-quality, high rise jeans in their closets.
This style of jeans looks good on all body types. They create a long vertical line and seamlessly fits into business casual or date night. You can buy blue denim or a spare black pair and style it with a plain tee, plaid blazer, and flat shoes.
However, don't buy distressed jeans or one with holes; that's because it looks too edgy and out of the box for French style clothing. Plain, fitted jeans in the right shade will help to maintain your look clean and sharp.
6. Leather Jacket
Skinny jeans, T-shirts, messy hair, leather jackets, and sneakers: this is one of the staple looks of the French girl style. It's always good to invest in a high-quality leather jacket. If you don't want to buy a real one, you can also go with faux leather ones.
Like a blazer, a leather jacket will help you create an effortless look without looking too centred. Apart from jeans, you can also pair them with dresses to create a beautiful contrast.
7. Trench Coat
No French style is complete without a trench coat! It is a classic and timeless clothing item that can make any outfit look versatile. Perfect for spring, fall and winter, this is a must in a French girl closet. If you want to add structure to your outfit or just want to add an extra layer to your transitional weather outfit, a trench coat is the best choice.
Parisian women love to carry a beige trench coat with every possible outfit. You can style them with both jeans and dresses. So if you want to build a French girl style wardrobe, don't forget to include a trench coat. Accessorize with a statement bag, jeans, dresses, flats, or heels. Surprisingly, the most popular brand among French girls is the English brand, Burberry.
Chic & Classy French-inspired Outfits
Now how do you put together all the staple pieces? how to dress like a french woman on a budget? Here's a perfect outfit guide for you. You can wear exactly like this or do some experiments to create your personal style. All of the French outfits below are popular among Parisian girls. So copy these French girl spring outfits and be in the French styling trend.
Below are seven trending french fashion outfit inspirations for you:
1. Beige Top & Skinny Blue Jeans
2. Maroon A-line Skirt with Blouse
3. White Button-up Shirt with Red Leather Bag
4. Pink Short Dress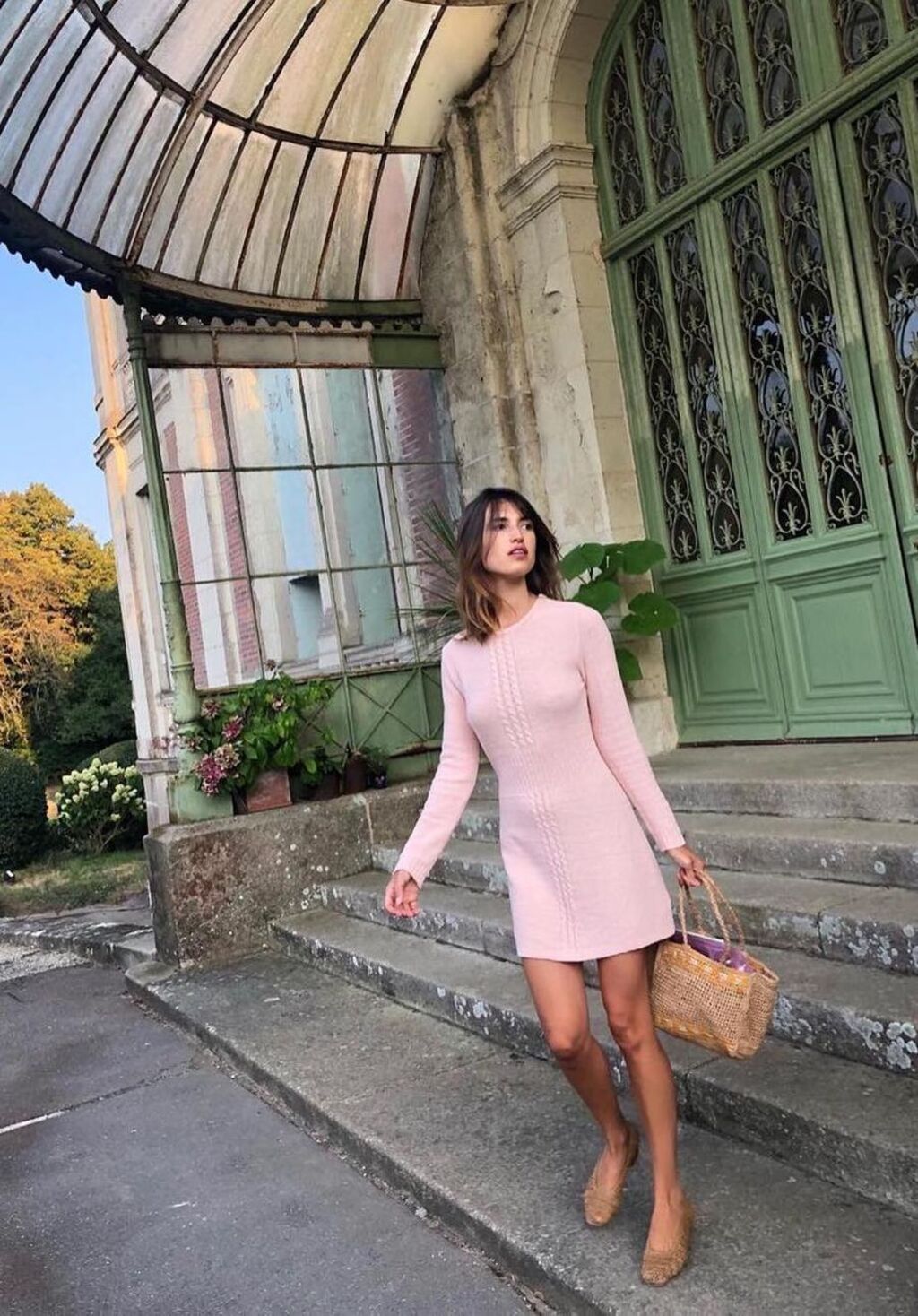 5. Turtle Neck with a French Bob
Top French Clothing Brands (Designer & Affordable)
Want to buy classic French style clothing and accessories? Want to look like a (real) French girl? Here are the best French fashion brands to help you out to dress exactly like a fashionable french girl.
Affordable French Clothing Brands
French Designer Clothing Brands
Here are some more French styling ideas and inspiration for you.
Style Like a Classy French Woman
Being like a French woman or dressing like a French girl doesn't mean spending a lot of money on expensive clothes and designer bags. Unlike many other fashion styles, French fashion is all about creating a simple and sophisticated look.
Many French women buy second-hand clothes and even go thrift shopping. You can either buy high-quality clothes that will last for many years or just shop from thrift stores and vintage shops.
So, this is all about French Styling. Now you know what to wear, how to wear and accessorize to look like a French girl. So follow and remember the simple yet powerful fashion rules that we've mentioned in this blog.
I hope this French style fashion guide will help you to create your own stylish and classy French wardrobe. So, fill your closet with minimal yet stylish French clothes. Also, share this French styling blog with your friends and family members and help them dress like French girls.
To find out more:-