Many people choose to have a formal dress code for their wedding; this type of dress code adds style and sophistication. If you are also one of those who have to attend a formal wedding this summer, this blog will be very helpful. We will tell you about wedding blazers for men and other clothes you can style at such a wedding.
For dressing in formal attire, you don't have to do much; you just need to nail the basic elements.
What Is a Formal Wedding Attire for Men?
Formal wedding attire consists of cocktail and black-tie optional dress codes. Earlier formal attire occasions only meant white or black-tie events. However, the scenario has changed a lot, and now it is not just confined to these ties. Now, it means an elegant dress that is not over the top.
Formal Wedding Outfit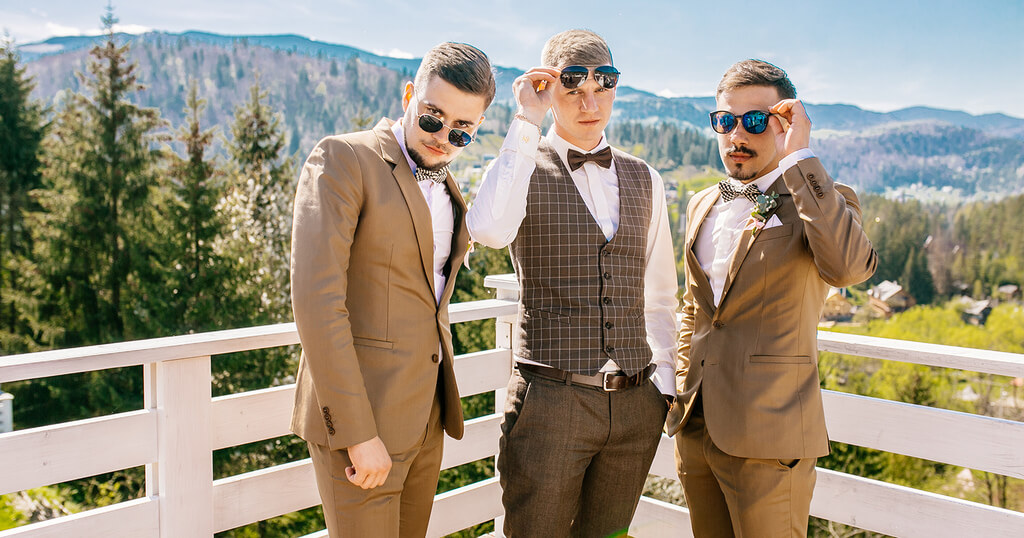 If you are invited to a formal wedding this summer, keep it suave, sophisticated, and simple. Here is how you can style a formal wedding:
Wedding Blazers
The wedding blazers will be the most accurate choice for a formal wedding. The blazer should be well-tailored and fitted for a sleek look.
A slim cut will look highly attractive and will give a modern look. If you want to stand apart, go with the midnight blue color.
Wedding Shirts
Wear a simple and classic shirt when you style for a formal wedding. A white dress shirt having a turndown or a wing collar.
Make sure to select a shirt with high-quality fabric to make sure it appears formal & polished. Make the overall style clean & timeless by avoiding any loud design details.
Wedding Bow Ties
The wedding bow ties are a classic & sophisticated accessory that gives you an elegant touch while attending a formal wedding.
When you are selecting a bow tie, make sure to consider the overall style of the wedding.
Generally, you need to be very considerate regarding the accessories at formal weddings. Just go with a simple bow tie with decent color, and do not make the mistake of choosing loud colors.
Wedding Waistcoats
Wedding waistcoats are a good choice if you are going to wear a suit at the event. The waistcoat will provide you with a slightly more formal look. Wear a waistcoat for a completely formal look at the summer wedding.
Wedding Shoes
You need to choose sophisticated shoes for a formal wedding. Black is the most obvious color when selecting shoes for a formal wedding. A pair of black color shoes will complete your look. Choose the shoes with the classic style having a narrowed and round toe. At last, do remember to keep your shoes polished and unscuffed.
Formal Wedding Attire by Time of the Day
We told you about the outfits for the formal wedding, but now we will also tell you which outfits will suit you as per the time of the day. The timing of the event will also make an impact on your outfit. So, let's see how you can wear
Daytime Weddings
When you are attending a daytime wedding, you also need to consider the venue. However, the light-colored suits for the daytime events on every man. Tan, gray, or navy will go well with the suits.
Nighttime Weddings
If the event is in the evening, the tuxedos are a good choice but not compulsory.
Men can wear tuxedos or dark suits. A solid tie will also be a good choice but select a nice print if you think it matches the venue.
Formal Wedding Attire by Venue
The venue also places an important role in deciding the outfit for the wedding. Let's see what you can wear at the different venues.
Ballroom
When the event is in the ballroom, a dark suit and a dark necktie. It will be okay if you get overdressed but don't make the mistake of remaining underdressed.
Beach Resort
If the event is on the sand, you can be a bit casual. Always choose lighter colors if this is the venue.
Religious Institutions
Use dark colors when the wedding occurs in religious institutions, whether it is a blazer or a shirt.
Do not make the mistake of ignoring the venue. It really plays an important part in deciding the outfit.
Final Thoughts
At last, we would say you must dress very nicely whenever you are invited to a formal wedding. We have told you the entire clothing you should wear to a formal wedding this year. So, if you are someone who is attending a formal wedding this summer, go ahead and just rock the look!
In case you missed it!