Cocktail attire for men offers a versatile dress code that allows you to showcase your style while maintaining an elegant and comfortable appearance. Whether you're attending a wedding or any event with a cocktail dress for men, this guide will help you choose the perfect outfit with standout style and essential tips.
What is Cocktail Attire?
Cocktail attire for men strikes a balance between formal and casual dress codes, giving you room for self-expression while following certain guidelines. It's an opportunity to show your style while looking appropriate. Whether you prefer a classic or experimental look, there are key elements to include in your cocktail attire.
Style Tips for Men's Cocktail Attire
We have got the answer to what is cocktail attire for men. Now follow these style tips to stand out as the most stylish gentleman at a cocktail event
Consider Fabrics
Choose fabrics that add texture and interest to your outfit. Move away from conservative options and opt for fabrics like velvet and silk that offer a distinct sheen. Patterns such as windowpane checks, glen checks, herringbone, and sharkskin can add uniqueness to your ensemble.
Embrace Casual Elegance
Find the balance between precision and comfort. Incorporate a casual element into your attire, such as pairing a T-shirt with a smart jacket. However, avoid wearing sneakers and reserve denim for more casual occasions.
Mindful Color Choices
Choose colors for your cocktail attire for men carefully. If you're unsure about a particular color, it's better to incorporate it through accessories rather than in your clothing. Pocket squares or ties can add pops of color and allow you to experiment. Opt for deeper, richer shades of purple and green when selecting jackets. And when in doubt, a midnight blue mohair suit is a safe and flattering choice that photographs well and looks great under bright lights.
Maintain Impeccable Presentation
When it comes to cocktail attires, cleanliness is paramount. Ensure that your clothes look fresh, and are properly ironed, neatly folded, and polished as appropriate. There's no excuse for looking slovenly, especially when attending a special occasion.
Pay Attention to the Invitation
While the cocktail dress code men may be specified as cocktail attire, it's essential to read between the lines and understand the purpose of the event and the attendees. If it's a work-related gathering where you need to impress your boss, you might still need to conform more than usual. However, cocktail attire for men can also present an opportunity to experiment with your style and showcase your individuality.
Consider the Season
Take into account the time of year when selecting your cocktail attire for men. While looking out for summer cocktail attire for men, you can opt for lighter colors and fabrics like linen, which not only look stylish but also help keep you cool. During colder months, richer shades and layered outfits may be more fitting. Additionally, consider whether the event is taking place during the daytime or evening. The later it is, the more room you have to incorporate rakish elements into your ensemble.
Attention to Detail is Key
Even if you find yourself wearing the same suit you wore to work, small details can make a significant difference. The right scarf, a carefully chosen pair of socks, or a tasteful boutonniere can elevate your look and ensure you feel appropriately dressed for the occasion.
Impressive Fashion Choices for Cocktail Parties
Striking a balance between blending in and making a memorable impression is crucial at cocktail parties. Consider the following fashion choices for cocktail attire men:
All Black, Everything!
Black is a timeless and sophisticated choice for formal and semi-formal events. While solid black suits are safe, you can also explore prints, embroideries, or other embellishments to add fun and personality to your outfit. Black is a versatile color that exudes elegance and can be styled to suit different occasions.
White Out!
For summer cocktail attire for men, an all-white ensemble creates a fresh and breezy look. If the event takes place near the ocean or in a relaxed setting, an all-white outfit can be stylish and appropriate. Aim for a polished and well-fitted appearance, keeping in mind that all-white outfits are typically more casual and require extra care to avoid wardrobe disasters.
Kurta
At South Asian weddings, cocktail parties often precede the main ceremony, offering a festive and celebratory atmosphere. Opting for a contemporary kurta instead of a traditional Western suit can embrace cultural roots while maintaining style. A kurta with modern influences is a stylish and culturally appropriate choice for these festivities.
Shoes
Pay attention to your footwear selection as it can enhance or ruin the overall outfit. Avoid wearing sneakers as they would come under casual cocktail attire men category. Classic options like Oxford shoes exude formality and sophistication. Make sure the color of your shoes matches the color of your belt to create a cohesive and polished appearance.
Pocket Squares
Add a touch of flair and elegance to your casual cocktail attire men ensemble with a pocket square. Consider adding a solid-colored pocket square or one with a fine print that complements your outfit. Despite its small size, this accessory can make a big impact and enhance the overall appeal of your look.
Accessories
When completing your cocktail attire for men, pay attention to the details. Sophistication and refinement can be added with a statement wristwatch that complements your style. For daytime events, consider wearing classy sunglasses as a thoughtful addition. To further define your style, incorporate cufflinks, a tie pin, or brooches that align with the overall aesthetic. These accessories should seamlessly integrate with your style and enhance the overall appearance.
Suits
While suits are often a staple in cocktail attire for men, not all types of suits are suitable for this dress code. Avoid wearing a black tuxedo as it might overshadow the groom and steal the spotlight. Instead, opt for suits in dark gray, mid-gray, or navy. These colors are versatile and complement the cocktail attire dress code without overpowering the occasion.
Must-Do's for Men's Cocktail Party Attire
While there aren't strict rules for choosing cocktail attire for men, understanding some fundamental guidelines can help you stand out. Consider the following essential tips:
Choose something understated and attractive, such as a well-fitted suit or a combination of a blazer and trousers. Tailored pieces that flatter your physique are the best choice. Keep the style relaxed and casual, as a tuxedo may be overly formal for a cocktail attire event.
Pay attention to the final details that complete your overall look. However, consider these details thoughtfully. Avoid wearing a "leopard print suit" as it would be too bold and out of place. Opt for elements that maintain the integrity of your style while ensuring they harmonize with the occasion.
Pitfalls to Avoid in Men's Cocktail Party Attire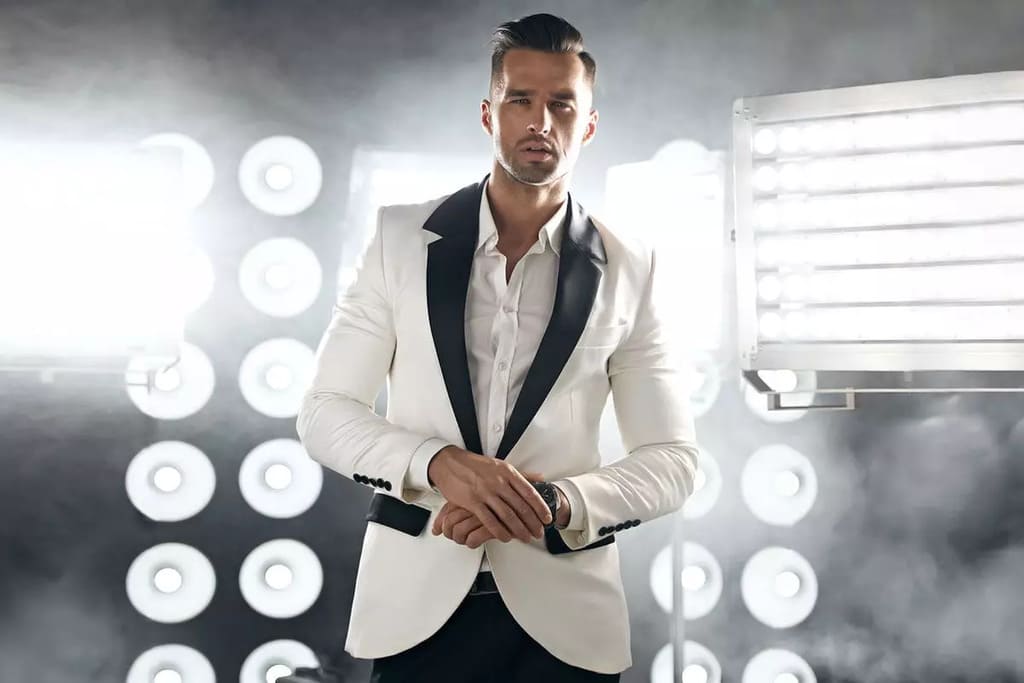 Knowing what not to do is just as important as knowing what to do when choosing the perfect cocktail attire for men. Let's take a look at the things you should avoid:
Avoid wearing excessively bright colors that draw attention away from the soon-to-be bride and groom. Remember, it's their special day, and the focus should remain on them. Instead, choose outfits in classic shades and non-overpowering tones that complement the occasion, allowing the couple to shine.
When uncertain about the ideal outfit, never hesitate to ask questions. If in doubt, reach out to friends for advice. They will undoubtedly be happy to assist in making the right choice and ensuring a confident and well-dressed appearance for the event.
Conclusion:-
Cocktail attire for men strikes the perfect balance between formal and casual dressing, allowing you to showcase your style while looking elegant and comfortable. Choose well-tailored garments, pay attention to details, and follow the guidelines of the specific event and venue. By following the provided tips, you'll be well-prepared for cocktail party attire men with confidence. For additional outfit recommendations like summer cocktail attire for me, please visit Fashionterest.
Read More:-