Are you looking for a new spot to get your favorite tattoo? If yes, your foot can be an excellent choice! These days, the foot tattoo trend is quite popular among girls and women. From the most famous celebrities of Hollywood to rocking pop stars such as Jennifer Anniston, Demi Lovato, Ariana Grande, and Rihanna have ink on their feet. You may also have already seen some of the cutest and coolest foot tattoos for women while scrolling Instagram or Pinterest pages.
So what's so special about foot tattoos? What is the hype all about? The reason why girls and women are crazy about getting foot tattoos is that they're colorful and cute-looking. After all, the smooth feet of women offer a perfect surface for tattoos. Even a small tiny foot tattoo makes a striking appearance and is easily noticeable.
Whether you're getting a tattoo for the first time or a tattoo expert, foot tattoos are a great spot to get some body art. Yes, your feet can be a fantastic placement for tattoos because it has enough space to allow for a small or detailed piece. Whether you work in a conservative environment or not, you can get these foot tattoos. Show off, cover-up, or hide: Do whatever you want to do with your foot tattoo!
Believe it or not, from full cover foot tattoos to small cute designs, there are endless options in women's feet tattoos. There are so many ink placements on your feet. You can get the one as per your liking or which represents your style and personality.
So, if you're looking for a specific cute tattoo idea or are confused about which tattoo design will suit best on your feet, you've come to the right page. There is no other place to look for some great tattoo inspo than Fashionterest! With the help of our team and experts, we've gathered up some of the best foot tattoos for women in 2022 in this blog. Let's start!
Top 9 Cool & Stylish Women's Feet Tattoos in 2022
There are numerous design ideas in foot tattoos like side foot tattoos, ankle foot tattoos, full cover tattoos, etc. You can literally get a tattoo dangling from your ankle down onto the top of your foot. From minimal designs to girly foot tattoos, there are thousands of ways to show this body art. You can also customize them as per your liking. For that, you have to think about the placement, size, color, and styling.
To help you figure out which tattoo to get, check out these nine super-cute foot tattoos. We've included all types of designs for all kinds of ink enthusiasts. From the adorable, cute foot tattoos for females to the more bold ones, you'll get everything on the list. Let's take a look at these hottest and trendy foot tattoos for women in 2022.
1. Cute Butterfly Foot Tattoos
Butterfly tattoos are so versatile and never go out of fashion. So if you want a timeless foot tattoo, go with a butterfly design! These butterfly tattoos are one of the most popular and classy small foot tattoos for females. This winged insect not only looks extremely beautiful, but they're a symbol of freedom, change, and transformation.
So if you're a girl or woman who has gone through a transitional period or currently going through one, this butterfly foot tattoo will be best to celebrate your accomplishment.
There is a wide range of butterfly tattoos, including various colors, styles, and designs. Look at the above pictures for reference. You can also combine them with flowers, vines, or quotes for a deep and meaningful tattoo look.
2. Creative Mandala Foot Tattoos
One of the most popular and trendy foot tattoos right now is the Mandala art tattoos! They're so intricate and detailed that anyone can instantly fall in love with them. Here the artist will create a circular pattern from various shapes and symbols.
You may like them for their attractive looks, but actually, the mandala is deeply symbolic. It is always associated with harmony, balance, and tranquillity. However, these mandala art tattoos are difficult and time-consuming to create. Once they're done, just by looking at them, you'll surely feel calm and peaceful.
Whenever you see your foot tattoo, you will be reminded of finding the right balance in your life. You can either select a tiny detailed one or get a full set on both your feet. This means one half of one mandala on one foot and another half on your other foot. Also, you can select the colors and patterns depending on your style and liking.
3. Legendary Lotus Flower Foot Tattoos
Lotus is a beautiful flower that can make anyone fall in its magical looks. If you want to get a floral tattoo that looks unique among all the other ones, get a lotus foot tattoo! Emerging from muddy waters, this flower is a symbol of beauty and resilience.
This tattoo will remind you that no matter how hard your current living environment is in-depth, you can rise above those challenges and succeed at anything. Many people connect lotus with religious symbols as it represents the balance of the body, mind, and spirit. Its blooming signifies life and hope, one that conveys positivity and prosperity. So, it is also perfect for those females who are going through a spiritual journey or want to celebrate their personal growth.
You can select the size and position according to your liking. Select the color and shades carefully because the meaning changes a bit according to the specific color. For example, blue is linked to spirituality, whereas white represents purity and peace.
4. Exquisite Henna Foot Tattoos
Are you getting a tattoo for the first time in your life? If yes, you may be a little afraid and confused about getting a permanent one. That's why henna tattoos are the best! These types of foot tattoos are made from a plant-based dye known as henna. The best thing is that this dye is temporary.
Red, orange, brown, or blue-black, you can get henna tattoos in various shades and colors. Henna tattoos are specifically popular in Hindu culture. Females usually inked henna foot tattoos for special or ceremonial purposes, like weddings.
From detailed mandalas to peacocks and floral patterns, there are countless options in henna foot tattoos. At first, the dye will provide a dark and bright color, but the ink will fade over time. And the most important part is that you'll feel no pain as it is just like painting on hand.
NOTE:
Some people can have an allergic reaction to the henna dye, so it's better to do your research beforehand and get a patch test done.
5. Elegant Ankle Foot Tattoos
Another great location for foot tattoos is the ankle! Here you can get either something simple and delicate or more detailed. People who want a large or bigger design, ankle and foot will provide more space.
Take a glance at the above ankle and foot tattoos. Here is a piece that has been inked that beautifully covers the ankle and goes down toward the foot. Select the vines and flowers that wrap around the ankle and continue down to the foot for a feminine design. Similarly, for a bold look, you can pick an animal or mythological creature.
However, let me tell you that getting a tattoo in this place can be a little painful because of thin skin, lack of muscle and fat, and proximity to bone.
6. Delicate Rose Foot Tattoos
One of the most liked tattoos among girls and women is the rose tattoo! If you're also thinking about getting inked, start with a small floral design like rose tattoos. This flower is often associated with life, seduction, innocence, and remembrance.
Some people also believe that it represents the balance between beauty and pain. This is because the bloom is beautiful, but the thorns can harm you. This will remind you that in life, you need to take the good with the bad. If you love this concept, you can get these types of beautiful blossom flower foot tattoos for women.
There are countless ideas and designs available from which you can select the one that you like the most. Pick the rose color carefully as various colors represent different meanings. For example, a yellow rose can represent joy and friendship, while red is associated with passion and romantic love. The rose stem also with thistles gives extra, differentiating significance such as barrier, misfortune, and thoughtlessness.
7. Adorable Small Foot Tattoos
If you're someone who is afraid of the pain of getting a tattoo but desperately wants a foot tattoo, go with small foot tattoos! These cute and adorable small foot tattoos hold meaning symbols. They look absolutely gorgeous, and there are numerous designs you can opt for.
Tiny pieces are not only meaningful as larger designs, but they are also discreet, cheaper, and hurt less. They'll minimize the discomfort, and in less time, you can get a foot tattoo. From a small heart to a word that inspires you and the name of a loved one, you can get inked whatever you want.
8. Charming Feather Tattoos
What do you think about getting a simple and elegant feather tattoo on your feet? You can get these charming women's feet tattoos that will also not be covered by your sandals.
Some foot tattoos are so painful, and they also fade fast, but not the feather ones. They are the most popular tattoos for foot locations to show body art because they are cool and meaningful. Feathers are always associated with freedom, travel, courage, and wisdom.
Apart from this, feathers have important significance in various cultures, including the Native Americans. There are many different birds to choose from. Peacock feathers represent beauty and pride, while eagle feathers represent courage and bravery.
9. Inspiring Cursive Quote Tattoos
There is something so special and unique about quote tattoos. This is because they're so meaningful and personal, right! You can get a tattoo on the foot of your favorite quote. Inking on your feet is the best idea because the long sides will allow you to write long quotes.
So if you have a favorite inspirational quote, get it inked on the side of your foot to keep it close. It doesn't need to be a quote only; you can pick a poem you love, lyrics of your favorite song, or a sentence from a book that inspires you; it could be anything!
Here are some more ideas and designs of foot tattoos for women. Get some inspiration and ink your feet with your favorite tattoos.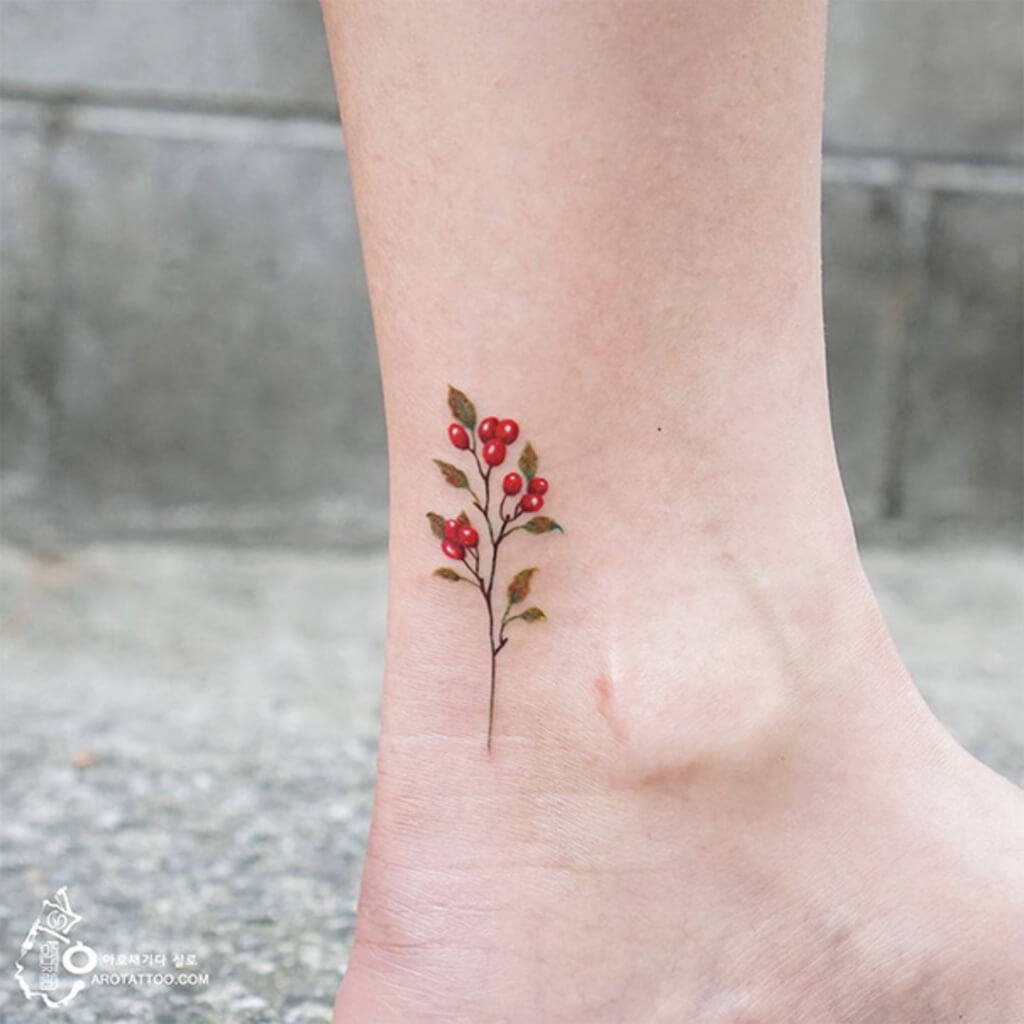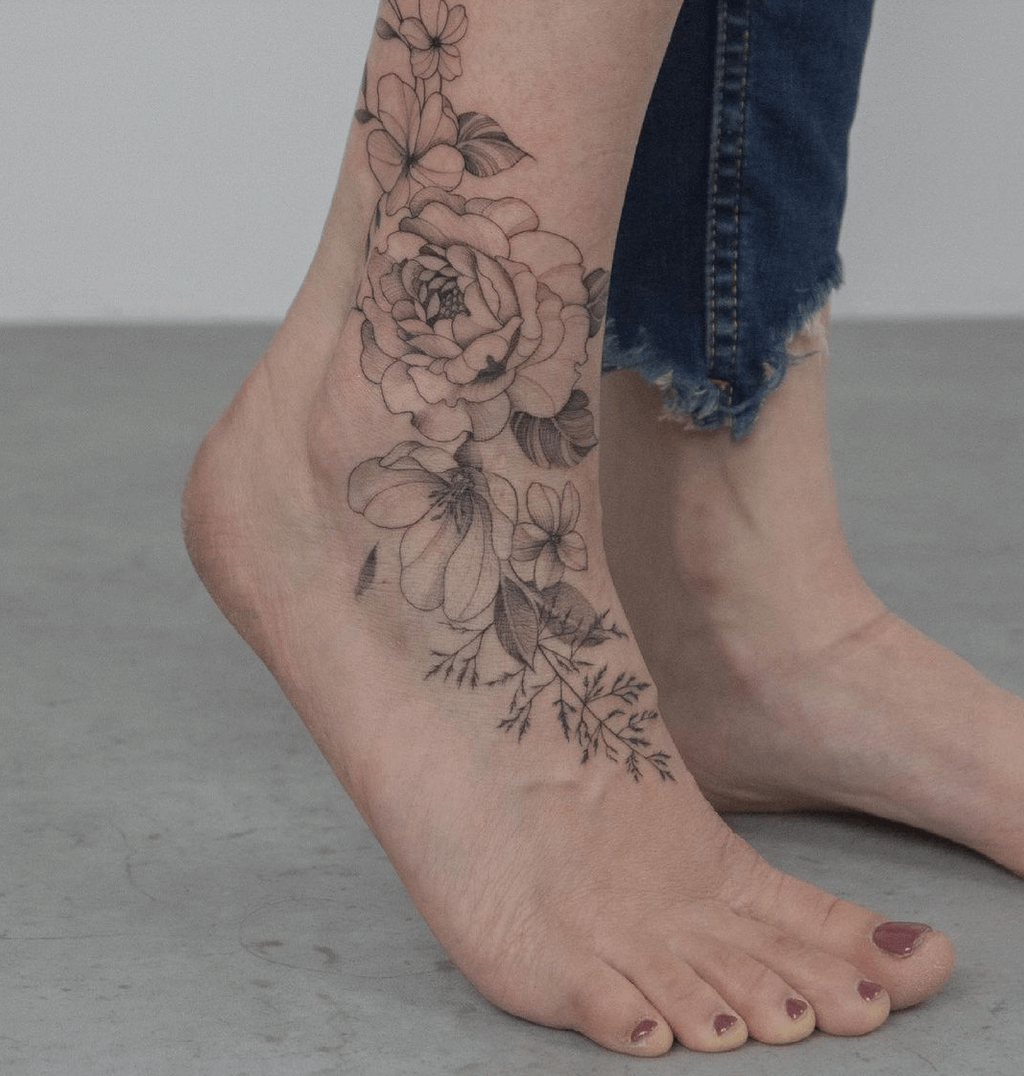 The Bottom Line
So, which foot tattoo do you like the most from the above list? Foot tattoos are undoubtedly captivating, attractive, and a great way to show your personality to the world. From simple black tattoos to a colorful one, a watercolor style, and dot work, you can select any women's feet tattoos designs and ideas from the above list. However, in general, foot tattoos are harder to maintain than any other tattoos.
So, this is all about foot tattoos for women. Also, keep in mind that tattoos are painful to get and can cause infection. So, if you're ready to go through the pain and can afford to maintain or get a touch-up regularly, you can surely get inked on your body. Make sure to get them from a clean and hygienic place and from an authentic tattoo artist.
Don't forget to share this blog with your loved ones and friends so that they can also explore stylish and trendy foot tattoos for women. To know more in-depth about tattoos and piercings, read our previous blogs on Stylish Breast Tattoos, Female Wrist Tattoos Design, A complete guide on Nose Piercing, and Septum Piercing.
To get more information:-