The jacket season is finally upon us season, and we're seeing lots of new fall and winter jacket trends. Do you sense that cool morning air? You likely have a chic jacket or two in your closet, but why not embrace this season's trends? Check out these 15 best winter jackets for women that we, along with many others, can't help but notice.

Whether you need a great jacket for braving a snowstorm on your way to work, staying warm while watching a hockey game, or just a cozy jacket for relaxing after a day of skiing, we've got you covered with the top winter jackets for women.
1. Columbia Women's Full Zip Jacket
This Columbia Women's jacket is made from soft 100% polyester MTR filament fleece for insulation from cold winters. These winter jackets for women come with two side security pockets with zips to keep your valuables safe and easily accessible. The collared neck of this fleece jacket offers ultimate comfort and quality. Designed with a modern, classic fit, this jacket is lightweight and tailored for outdoor activities. The soft fleece is what makes this jacket a must-have as the temperatures drop this season.
Key Features:
Soft and Welcoming
Secure Pockets
Convenient Design
Modern Classic Fit
Cold-Weather Essential
2. Amazon Essentials Women's Puffer Coat
This puffer coat features a shell made of 100% polyester, including a complete polyester lining, and is filled with the same for insulation. Fully quilted, lined, and insulated, these winter jackets for women are built to keep you well-protected even on the coldest winter days. The ultralight jacket is your essential companion in your everyday life. You can wear it with a t-shirt on brisk fall days or layer it with a sweater for the colder winter months. The jacket features flattering seam details for a more tailored fit, zipper pockets, a hood for extra protection, and elasticized cuffs for a stronger grip against cold.
Key Features:
Regular Fit
Water-Resistant Polyester Taffeta
Hooded Puffer
Stylish Details
2-Way Zipper
3. Orolay Women's Fleece Parka Jacket
The Orolay jacket is made of 100% cotton, and the lining is 100% polyester. The soft artificial fiber lining ensures warmth, making it perfect for cold weather. The waist drawstring allows you to adjust the size according to your body type. The hi-lo hem at the bottom of the jacket gives it a fashionable twist. Threaded cuffs not only keep you warm but also offer a touch of luxury, allowing you to enjoy with flair in these winter jackets for women.
Key Features:
Warm and Cozy Lining
Adjustable Waist Drawstring
Ultra-Modern Hi-Lo Hem Design
Multiple Pockets
Threaded Cuffs
4. MEROKEETY Women's Puffer Jacket
This puffer coat has it all: a solid color, windproof design, soft and warm padding, a stand-up collar, ribbed knit cuffs, side zipper pockets, a full zipper, cropped length, and an oversized panache. Not only does this puffer coat keep you warm, but it's also cute and trendy. It's suitable for wearing in snowy, windy, or rainy conditions. Plus, it will bring out the inner fashionista in you as you strut around this jacket.
Key Features:
Unique Design
Versatile and Trendy
Suitable for Various Occasions
5. Zeagoo Women's Winter Warm Jacket
The Zeagoo women's pea coat is designed to give you a sleek look. You can wear it over a slim-fit top and bottom to highlight your feminine side. This coat features high-quality faux fur that provides a soft, durable, and super-warm lining. When you put it on, you'll look amazing, and the coat also gives you a slimming effect. This women's winter coat is suitable for various occasions, including dates, casual outings, and outdoor activities. For a winter casual look, it's recommended to wear these winter jackets for women with leggings and boots.
Key Features:
Sleek and Feminine
High-Quality Faux Fur
Adjustable Waistband
Buttons On the Cuffs
Double-Breasted Front
Fitted Horn Shape
Type A Skirt and Lapel
6. Carhartt Women's Crawford Bomber Jacket
This product is made of 8-ounce canvas, 98% cotton, and 2% spandex, ensuring durability and flexibility. Thanks to Rugged Flex's durable stretch technology, this bomber jacket allows for easy movement, making it suitable for a wide range of activities. The jacket is equipped with a collar and waistband, rib-knit cuffs, and mesh lining, ensuring your comfort throughout the day. It includes a chest map pocket, two lower-front pockets, and an interior pocket, providing convenient storage for your essentials.
Key Features:
Durable Fabric
Ease of Movement
Easygoing Design
Ample Storage
Built to Last
7. Steve Madden Maxi Puffer Coat
Amp up your winter elan with the chic and practical winter coat by none other than Steve Madden. This coat seamlessly combines stunning aesthetics with exceptional performance, ensuring you stay dry, warm, and beautiful during the cold winter months. This coat features a 100% polyester exterior that is both water and wind-resistant, making it ideal for winter weather. It's filled with vegan polyester insulation and has an easy wool lining on the uppers. It is created to resist the severe winters while keeping you toasty warm and on fleek.
Key Features:
Weather Resistant
Easy Care
Sleek Design
Pockets and Hood
Dual Closure System
Steve Madden Quality
8. Calvin Klein Women's Jacket
This product is made with a shell composed of 100% nylon, side panels of 91% polyester and 9% spandex, and sleeve cuffs of 63% rayon, 32% nylon, and 5% spandex. This outerwear jacket has water-resistant properties and a casual, lightweight construction. It features scuba side panels, combining functionality and pizzazz. These winter jackets for women are designed to hit flatteringly past the waist. They look good when zipped up or left open, providing a reliable option for various occasions.
Key Features:
À La Mode Design
Versatile Layering
Flattering Length
Water-resistant
9. ANRABESS Women Long Sleeve Sweatshirt
ANRABESS sweatshirt is made of a blend of 50% rayon and 50% polyester that are thick and cozy. You can choose from a range of sizes to find the perfect fit for you. This pullover features a drop shoulder collar, a half zip-up style, a quarter zipper sweatshirt, an oversized hoodie, and a 1/4 zip long-sleeve sweater. It's an ideal choice for winter jackets for women, offering a y2k fleece casual pattern.
Key Features:
Size Options
Resilient Material
Fashionable Design
Versatile Matching
Multiple Occasions Use
10. Allegra K Women's Trench Pea Coat
This product is made from a blend of 80% polyester and 20% rayon. It features a Peter Pan collar (also known as a doll collar) and a double-breasted design, giving it a timeless and elegant look. The trench coat has long sleeves and slant pockets and is fully lined for poise and functionality. This coat falls to a mid-thigh length, providing ample coverage. You can easily layer it over chunky knitted jumpers for a playful take on cold-weather textures. It's a versatile addition to your wardrobe that complements both work and weekend outfits.
Key Features:
Dressy Collar
Practical Features
Variety of Colors
Mid-Thigh Length
Regular Fit
Wool Blend
Modern and Classic
11. Hanes Sport Women's Hoodie
This product is made from 100% polyester, and the fabric is designed to wick away sweat, ensuring you stay snug during your activities. This jacket features a high/low hem design, providing both grace and additional coverage. The inclusion of thumbholes ensures secure hand coverage, especially during active movements. This product is part of the Hanes Sport line, which combines performance, affluence, and poise. It builds on the brand's comfort heritage and incorporates innovative technologies to cater to your active lifestyle and personal taste.
Key Features:
Cool Fabric
High/Low Hem
Thumbholes
Front Pouch Pockets
Tag-Free
12. Tommy Hilfiger Women's Packable Jacket
This product is made from 100% polyester and features a zip front and hood for added design, and it's a short packable jacket, making it a versatile addition to your wardrobe. The interior insulation of this women's winter jacket packs in extra heat to insulate you from cold temperatures. The lowermost hem drops just beneath the hips, ensuring respite while maintaining warmth. This women's jacket is a versatile piece that can be a part of your daily outfit, serve as an option for a night out, or come along in your work bag. It's a go-to choice for various occasions.
Key Features:
Sharp Design
Warm and Insulated
Versatile Wardrobe Addition
Multiple Pant Pairings
13. MARMOT Women's Puffer Coat
Introducing the Marmot Women's Montreal Coat, a perfect blend of warmth, style, and functionality. This coat is designed to keep you warm and dry. It's crafted from tough, water-resistant fabric and features high-quality, water-resistant 700-fill power-down insulation, ensuring you're comfy and protected from the elements.
Key Features:
Insulated and Water-Resistant
Cushy Linings
Two-Way Zipper
Secure Your Valuables with Multiple Pockets
14. THE NORTH FACE Women's Antora Jacket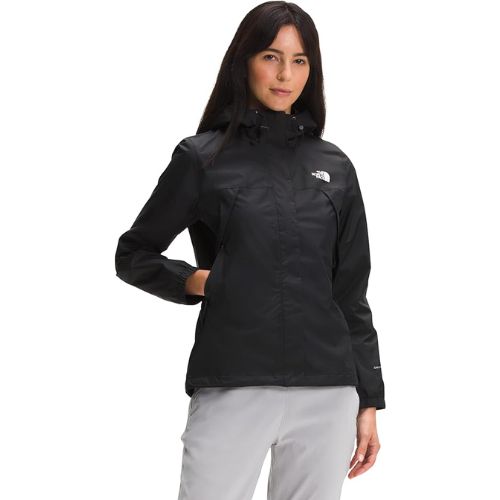 The Women's Antora jacket is your go-to choice for any outdoor activity. It has a watertight, breathable external surface developed to keep you dry, coupled with a secure, woolly internal layer. With DryVent technology and a Durable Water-Repellent (DWR) finish, the outer shell provides waterproof, windproof, and breathable protection. The inner jacket features 100% recycled polyester fleece to keep you warm, even in wet conditions.
Key Features:
Adventure-Ready
3-in-1 System for Customization
Face the Weather with Durable, Water-Repellent
Standard Fit
Outdoor Versatility
15. Under Armour Jacket
The winter wear is made from UA Tech fabric, which is ultra-soft, quick-drying, and provides a more natural feel. This material effectively wicks away sweat and dries quickly, ensuring you stay pleasant during your activities. The Under Armour jacket features a flexible, fuller cut for all-out comfort. It's ideal for training and keeps you cool, making it your go-to training gear.
Key Features:
UA Tech Material
Moisture-Wicking
Athletic Mission
Snug Design
Extra Coverage
Enhanced Fit with Raglan sleeves
Twist Effect
Conclusion
Selecting the perfect winter jackets for women comes down to knowing what you require. Consider your intended use. How sensitive are you to the cold? Do you need a coat that's easy to pack or carry when traveling? If you're going to be active, like shoveling snow or hiking, opt for a lightweight jacket that offers good breathability. In extremely cold settings, a heavier parka can keep you comfortably warm. After you've determined your needs, take a look at our guide to pick the right one.
More women outfit ideas: