Let's be real, we all share an undying love for short bomber jackets which never seems to fade away.
A Woman leather jacket has become such a forceful trend that it is nearly impossible to resist. If you are a woman of fashion, you already know the importance of a leather jacket in your wardrobe. They often refer to as "spring jackets" as they are lightweight yet provide insulation as per your need.
Such a classic wardrobe staple deserves to be styled right. Styling does not only mean accessorizing well, but it also involves choosing the right size, length and fitting.
One of the major differences between a men's leather jacket and a woman's leather jacket is its length. A man's physique is suitable for a boxy silhouette, while a woman is more comfortable in slimmer and petite outerwear for better styling opportunities.
What Is a Bomber Jacket?
Probably the trendiest type of women's leather jackets, bomber jackets are certainly a force to reckon with. They were originally made for pilots flying at high altitudes but gradually gain popularity amongst civilians.
Bomber jackets are known for their versatility and elegance. They exude brilliance when it comes to fashion, and provide comfort like no other. Leather bomber jackets are relevant to all ages, and times proving themselves to be the best of all.
Bomber Jackets mostly feature a front zip closure, with two external pockets. To further enhance the beauty, most designers add a round neck collar or the class lapel collars with silver embellishments. Bomber Jackets for women are shorter in length due to a number of reasons (discussed later).
Why Do Women Prefer Shorter Bomber Jackets?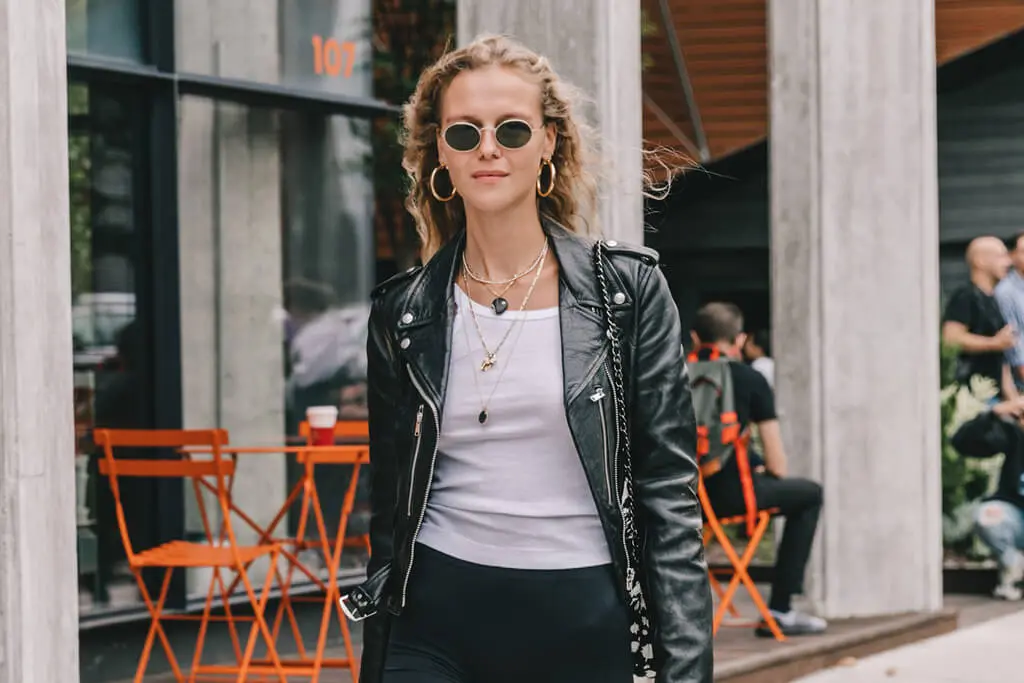 Before you begin to style your bomber jacket, it is highly important to choose the right length. Women tend to prefer short bomber jackets for all the right reasons listed below.
1. Women Tend to Have a Curvy Body
Bomber jackets for women are shaped to sit right on a woman's curvy body. Most women are broader on the hips as compare to their chests, which is accommodating by the short bomber jackets.
These jackets are tailoring with more fabric in the breast area while more fitting towards the waist. This not only provides sleek fitting, but is more comfortable too.
These jackets often come with a waist belt or other types of cinching for a refined finished look. Any length that goes below the waist is too long when it comes to bomber jackets. A shorter length accentuates one's curves and allows a variety of styling techniques which is a dream of most women.
2. Bomber Jackets Women are Paired with Wide-legged Bottoms
When it comes to styling, short bomber jackets look fantastic with wide legged bottoms. They are often paired with palazzos, flared pants, or skirts which are all tied high on the waist. A basic rule of styling is, the longer bottom means the shorter the top, thus the short jacket.
Bomber jackets for women tailor with close attention paid to their body type. Every woman has the right to feel confident in their own skin, and these leather jackets cater that rightfully.
3. Women Have a Shorter Torso as Compared to Men
Men and women are built differently, and so is their clothing. In order to distinguish between a man or woman's jacket, look out for the torso length.
If the jacket features a longer length, then it belongs to the men's section. It is highly advisable to know your size before you invest in a hefty leather bomber jacket.
4. Short Bomber Jackets Provide a Slimmer Silhouette
Bomber jackets are popular for their sleek fit. A slimmer silhouette accounts for even more versatility. Who doesn't want to look slimmer and smarter without any direct efforts? Well, opting for a short bomber jacket automatically helps you look slim and smart in no time.
How to Style a Short Bomber Jacket
Bomber Jackets are really easy to style if you stick to a minimal look. Here are a few ways to style a short bomber jacket
1. Black and White Casual Look
Can we ever get over the classic black and white combo? It is nearly impossible to let go as it is such an iconic look. Pairing a white tee with a black leather jacket and a pair of jeans is a perfect go-to outfit for a brunch.
While this outfit is perfect for a casual day out, it is equally suitable for a quick office tour. Tuck in that white tee and accessorize it with a sleek belt to seal your oh-so-perfect look. Nothing can stop you from being the show stopper now!
2. Suede Green Bomber Jacket
There is no stopping when it comes to a suede jacket! And what better than a blissful green suede bomber jacket paired with a white bottom. Keep your look as simple as you can because the less the better! The key to styling a short bomber jacket is to keep it as minimal as you can.
What amazes us about this jacket is its broad spectrum of styling. Not only a pair of white pants, but this leather jacket equally goes well with a pair of straight khaki pants. Opt these bottoms for a more business casual look.
Put on your favorite pair of Gucci heels, and walk with confidence wherever you go! Do not over accessorize this outfit as this jacket is a statement on its own.
Takeaway
In order to ace your style game, it is highly important to choose the right length to avoid any fashion mishap. You will rarely find a long bomber jacket because it is just not right!
A wrong length can not only ruin the look, but will also be a lot uncomfortable. Designers know their work very well, which is why they cater each body type with utter respect and tailor the jackets accordingly.
Nonetheless, a short bomber jacket is a timeless wardrobe staple which, if styled right, can elevate your style in no time.
Continue reading:-