What immediately comes to your mind when you think about pollution? Big Oil factories, vehicles, smog from coal mines, and many other things. But you'll never think or know about the fact that the clothes you're wearing are actually creating pollution, right?
Yes, it's a bitter truth that fast fashion is one of the major polluting industries in the world!
According to the UN Environment Programme, "20% of global wastewater comes from textile dyeing." Not only does excessive clothing production require a massive amount of water, around 93 billion cubic meters, but it also leaves toxic chemicals and wastes that are extremely harmful to our planet.
Also, fast fashion encourages people to switch clothing styles frequently, which causes many people to give up and throw out their garments, leading to massive wastage of around $500 billion every year. These numbers and facts are horrible!
So, what can you do about this? How to stop these things from affecting our planet?
There are two things you can do: switch to organic clothing and try to re-wear and recycle clothes as much as possible!
Fortunately, there are many organic clothing brands that offer eco-friendly clothing produced by sustainable methods. These best organic clothing brands use upcycled natural materials, organic cotton, natural fabrics, and low-impact dyes. So, you will get organic sustainable clothing on a budget.
Are you also looking for the best natural clothing brands? We've got you!
Today in this blog, we've compiled a list of the best natural fiber clothing brands in this year. From the mountains of Colorado to the shores of Santa Cruz, here are the best fashion brands for organic sustainable clothing.
Let's take a close look!
Top 5 Organic Clothing Brands That You Must Try
Eco-friendly clothing brands produce clothes without using toxic pesticides, fertilizers, or GMOs. These things harm the environment, farmers, and producers in many ways. Pesticides and chemicals can cause various health problems and issues such as headaches and nausea to long-term chronic illnesses, including endocrine disruption and cancer.
Instead of non-organic textile materials, these organic clothing brands use organic cotton, which is more healthy, more eco-conscious, and better for the planet.
Now let's take a look at the best natural clothing brands available:
1. Pact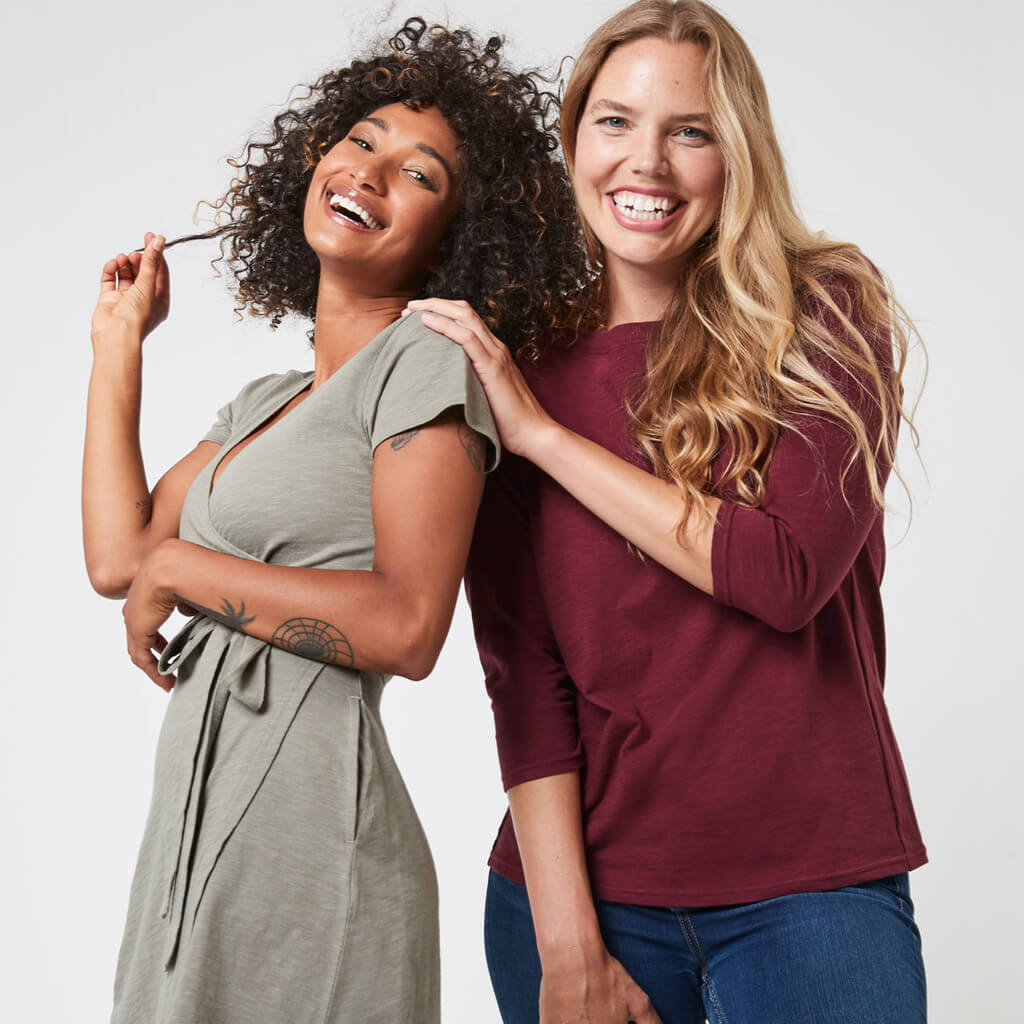 Materials: GOTS-certified organic cotton
Certifications: GOTS certified organic cotton and Fair Trade Certified factories
Size: XS–2X
Shop: Pact
Pact is a great clothing brand for people who are looking for affordable, fair trade basics. They're committed to creating sustainable clothes from the GOTS certified organic cotton, and that too is only in Fair Trade Certified factories & practices. Thus they're also benefiting the farmers and producers along with the consumers.
Compared to traditional cotton, organic cotton uses up to 81 percent less water. Also, Pact uses natural dyes and no chemicals. Everything is done in a natural way possible, from the first stage of growing and harvesting organic cotton to the final stage of sewing garments.
You can buy anything from super-soft tees, dresses, loungewear, underwear, and sleepwear. This is one of the best organic cotton clothing brands that manufactures every clothing piece sustainably, and they're soft, comfy, and organic.
2. Eileen Fisher
Materials: Organic linen, organic Pima cotton, and merino wool
Certifications: Certified B Corp
Shop: Eileen Fisher
If you love to wear timeless staples and looking for clothing with size inclusivity, go check out Eileen Fisher! This brand is certified by B Corp, which is well known for making amazing clothes from organic & recycled materials.
All the clothes have a simple but attractive design which makes your basic wardrobe collection complete. From cropped cardigans and tank dresses to box tops and tapered pants, there are various opinions to select from.
The New York-based, employee-owned brand uses eco-friendly fabrics such as organic linen, merino wool and organic Pima cotton. It only uses sustainable Practices and also supports eco-friendly production. This brand also spreads awareness about water and energy conservation.
3. Boody
Materials: Bamboo
Certifications: Certified B Corp, OEKO-TEX & ECOCERT certified
Shop: Boody
Boody is one of the first underwear brands in America to be named a certified B Corp and OEKO-TEX & ECOCERT certified. Boody creates easy-to-wear essentials from sustainable materials like bamboo viscose. All the clothing is manufactured in Vietnam, China, and India.
Along with organic cotton, bamboo is another fast-growing and natural material. Why is it so popular? That's because it is extremely comfortable, breathable, silky soft and moisture-wicking. So order now your favorite bamboo underwear & basics.
4. Organic Basics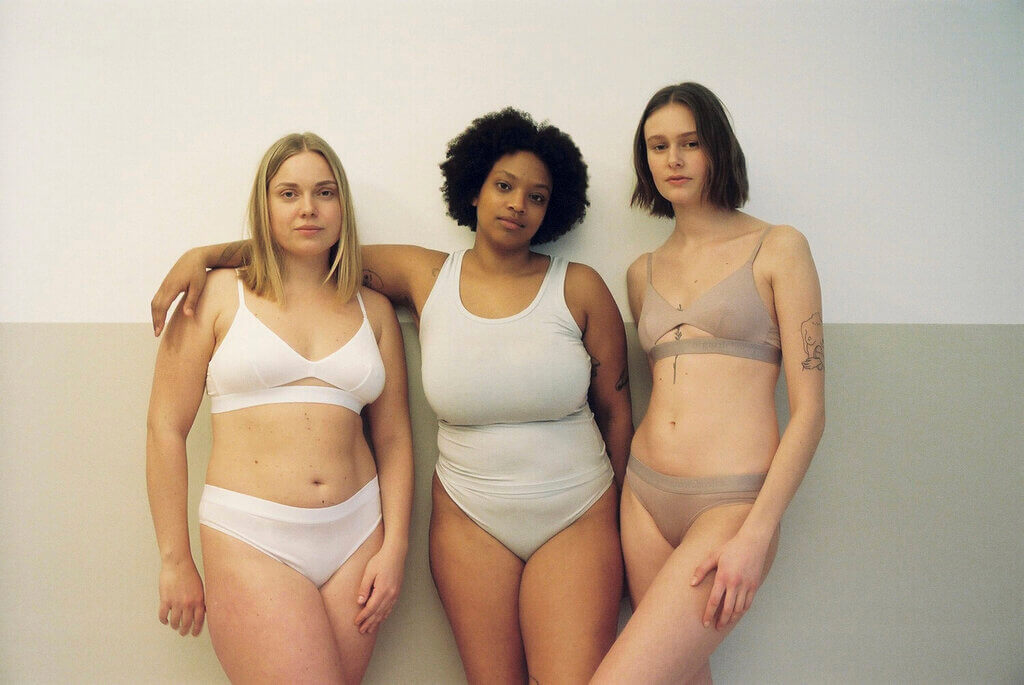 Source: squarespace-cdn.com
Materials: GOTS-certified organic cotton & recycled fabrics
Certifications: Certified B Corp and 100 percent eco-certified production
Size Range: XS-XL
Shop: Organic Basics
As its name suggests, this is one of the best organic brands that produce eco-friendly clothing. These 100% cotton clothing brands are perfect for those who always struggle to find the correct activewear and undies.
This is a Certified B Corp brand that only uses GOTS-certified organic cotton & recycled fabrics. The clothes are high-quality and comfy to wear. From comfy tees and tanks to sweats and underwear, there are many options to choose from. Clothes are made across Austria, Portugal, Scotland, Italy, and Turkey.
5. People Tree
Materials: GOTS-certified organic & biodegradable materials
Certifications: PETA-approved vegan and Fair Trade Certified pieces
Size:
Shop: People Tree
Searching for organic clothing brands that deliver in the UK? People Tree is a PETA-approved vegan brand that provides Fair Trade Certified pieces across the UK. this brand uses GOTS-certified organic & biodegradable materials that are only colored with GOTS-approved and low-impact dyes. It uses recycled packing and prints its labels on FSC-certified paper.
So, what are you waiting for? Get your garments in some of the most vibrant patterns and lovely silhouettes and build your wardrobe collection with sustainable and staple pieces.
The Bottom Line
So these are the top five best Organic Clothing Brands for you if you're looking for some eco-friendly and sustainable clothing.
I hope this guide on organic fabric clothing brands has helped you to choose comfy and affordable organic clothing. If you like this post on organic sustainable clothing brands, don't forget to share it with your friends and family members looking for top cotton brands and Organic Clothing Brands.
Find out more:-