When we talk about bags and purses to carry, the preferred material is leather. Going for a leather bag never goes wrong, but have you ever thought what happens when the leather used in the bag's production is of low quality? Let me tell you, it will end being in a dustbin within a month or so. Plus, they impose great destruction and harm to nature as well.
So what to do? How will you decide whether the leather bag you are purchasing is of high quality or not. I would suggest getting your hands on handcrafted leather bags.
Why handcrafted leather Classic Handbags That Will Add More Style to Your Wardrobe?
The reason I recommended handcrafted leather bags is because of its making process. Expert professionals make them with their hands and a lot of work is done to make it last longer. Plus they use the finest leather available and focus on sustainability.
Also, as they are made keeping in mind the life long use, the design is mostly timeless. So you don't even have to worry about not being in fashion after a while. The design you will get is going to stay there like forever.
When we talk about the handcrafted leather bags, few brands have made a recognizable reputation, one such brand is Escapade. You might think I am being biased about it, but I have personally used the bag, and trust me not even the biggest brands make up to its quality. Let's have a look at the history and main aim of the brand.
What are Escapade Bags Famous for?
Escapade is a Spain-based brand, started by a couple – Carlos Tirado and Kenia Martinez. The brand and its design reflect the desire of a couple to see the world from the first-hand view. The company gained its existence in the year 2017 when husband and wife started making handcrafted bags for their family and friends.
When they knew this was a success and people really liked what they were making, they decided to move on to the next step – taking the Escapade to one level up. They have collaborated with skilled artisans around Spain and manufacture classic, timeless, and modern bag designs both for men and women.
They focus on the sustainability factor and hence every design is made in small production. Artisans make 90% of the bags, and there are very rare chances of 10% manufactured on the machine.
The high quality and durable skin and hides are the by-products of the meat and dairy industry. The buckles and other hardware is of brass or Zamak (according to the requirement). So basically, you are getting the best of the leather bag. You will find backpacks made of suede, top and full-grain leather, nubuck, vegetable-tanned leather, and other good-for-nature materials.
So this was all you need to know about the handcrafted leather bag brand Escapade. Let's have a look at its few best products.
1. Savage Love
This one is made up of black grain calfskin, and the flap is of goat leather, and the hardware is of gunmetal. The cut-out heart design makes it more appealing and will add a sophisticated look to the outfit.
2. New York Leather Backpack
Inspired from New York City, this backpack will come handy to you no matter where you are going, be it for work, an expedition, or a college. The material used is vegetable-tanned full-grain leather and antique brass hardware.
3. Brooklyn Mini Tote Bag
This cute little mini tote bag is made with the waxed canvas with vegetable-tanned full-grain leather and brass hardware. What makes this mini tote standout is its vintage-style design and perfectness for a casual look.
4. Love Escapade Pink Leather Heart Bag Charm / Keychain
Apart from bags, it also manufactures accessories. I really loved a heart-shape leather bag charm or keychain with the brand name carved on it. It is made of smooth Italian leather and has the embellishment of pink and silver studs.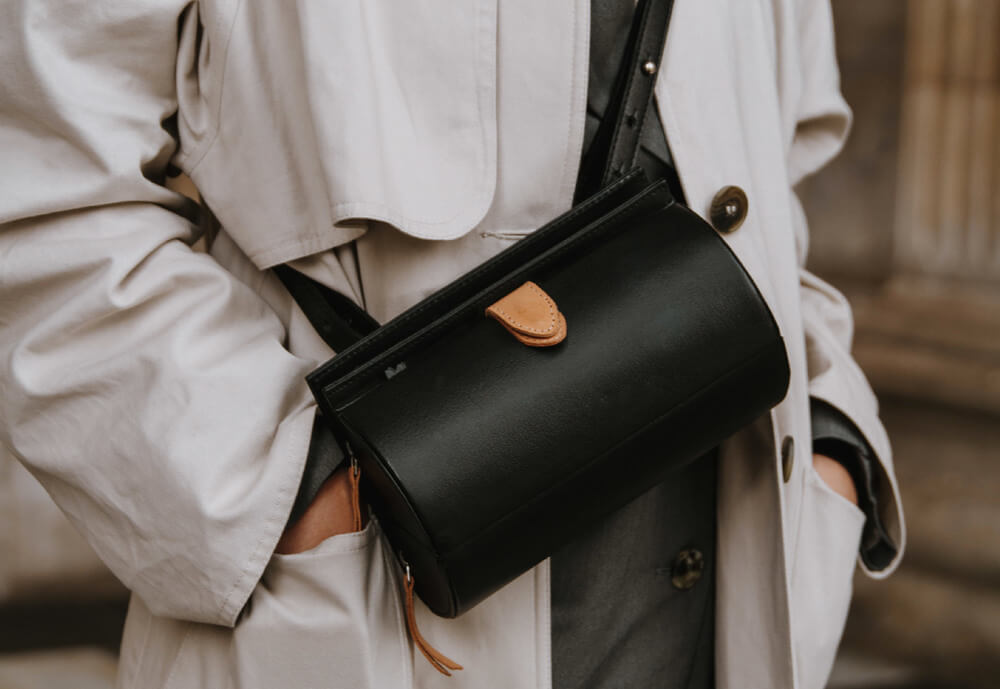 They have also made their way into well-known magazines like Vogue and PurseBlog. Surely, this brand has to offer something, I have done my part of work by telling you about this mind-blowing brand; now it's your turn to try it out. Always remember – Investing in a leather bag is like investing in a life long companion.
● Find out more:-