Chris Hemsworth's complete name is Christopher Hemsworth and he is an Australian actor. He was born in Melbourne. This handsome hunk came into fame after he did a couple of TV series in Australia, since then he became a charming star among girls and boys admire him a lot. He had different hairstyles throughout his life and he amazed people every time he came up with an entirely different hairstyle. Even now that he is a 38 years old proud father of three kids he never fails to stun people with his looks. Here are some of the best Chris Hemsworth haircuts that you need to check out.
Chris Hemsworth Haircuts and Styles in 2022
1) Chris Hemsworth Mid-length Hairstyle: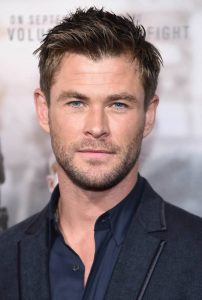 It is for sure that this hairstyle looks best on this hunk and most of the time he was seen in mid-length hairstyles and here in this look also he proves to be trendy as well as hot at the same time and his one look is enough to get any woman crazy for sure. here in this hairstyle you would see that Chris had kind of long hairs which can be said of mid-length at the center and the back as well as sides of his head had kind of short hairs and to style his hairs he might have applied a dash of hair gel and kept the hairs in spike style from the front as well as from the center of the hairs. Trimmed beard all over his face complimented his look way too much and his all overlook make out to be perfect that everyone loved.
2) Chris Hemsworth Long Hair Up-dos:
Here in this hairstyle, you would see that Chris Hemsworth kept his hairs really long and in this hairstyle, his hairs were touching his shoulder and can it can be said that this handsome hunk looks good in even long hairs and this man knew how to maintain long hairs and look good at the same time. Here it can be seen that Chris Hemsworth had his hair colored in light brown color and the shade kind of matched his look and made him look stunning at the same time. Here he kept the parting of the hairs on the middle so in the sides there were equal hairs and he let them be open as it is and the shine of his hairs are the proof that he maintains his hair in pity well manners. He kept his face clean shaved in this look and that perfectly complimented him with long hairs and here we also kept the hair straight with slight waves at the end.
3) Neck Length Wavy Hairs:
This is another long hairstyle that Chris Hemsworth carried out perfectly and there is no such difference in this hairstyle than the previous one but in this hairstyle he kept the length of his hairs short and also he went on with layer cut for sure and the front layers are perfectly visible as he parts his hairs in the middle of the head. Even here he kept his face clear by getting his face clean shaved and it is for sure that clean shaved face went well with the hairstyle. Even in this hairstyle, he kept his hairs colored in a light brown color which looked stunning.
4) Back Length Long Hairstyle Of Chris Hemsworth: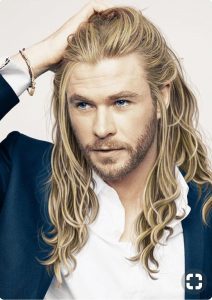 This hairstyle has to be the best Chris Hemsworth long hair up-dos that he has ever got and if you can also manage to get long hairs then you can too try this hairstyle up and it is for sure that this hairstyle seems to be one of the most unique hairstyles that made him look the best. Here you would see that the longer his hair length till his back and he also got his hairs colored in dark brown color and lightest brown highlight up on that and the color combination also proved to be best and after this long, he might have become the fashionista for many. Here he got loose small curls at the end of the hairs and he kept the root to mid-length of his hairs straight and here he had really nice well groomed dense bread which looked killer on him and he maintained both his beard as well as hairs well and that can be seen.
5) Short Smart Hairstyle Of Chris Hemsworth:
This is quite a simple hairstyle for sure and there is hardly anyone who cannot have this hairstyle on and to be honest this kind of hairstyle seems to be universal so it looks good naturally so you can also try this hairstyle for sure. here in this hairstyle, you would see that Chris Hemsworth kept his hairs kind of short and he got the haircut equal from all the sides as well and he kept the color of his hairs dark brown which seems to be stunning for sure. Here in order to style the hairs, he might have just applied some hair gel and with the help of his hand, he might have just created the spike that's it and nothing else.
6) Short Trimmed Hairstyle Of Chris Hemsworth:
Best Of Armie Hammer Style To Check Out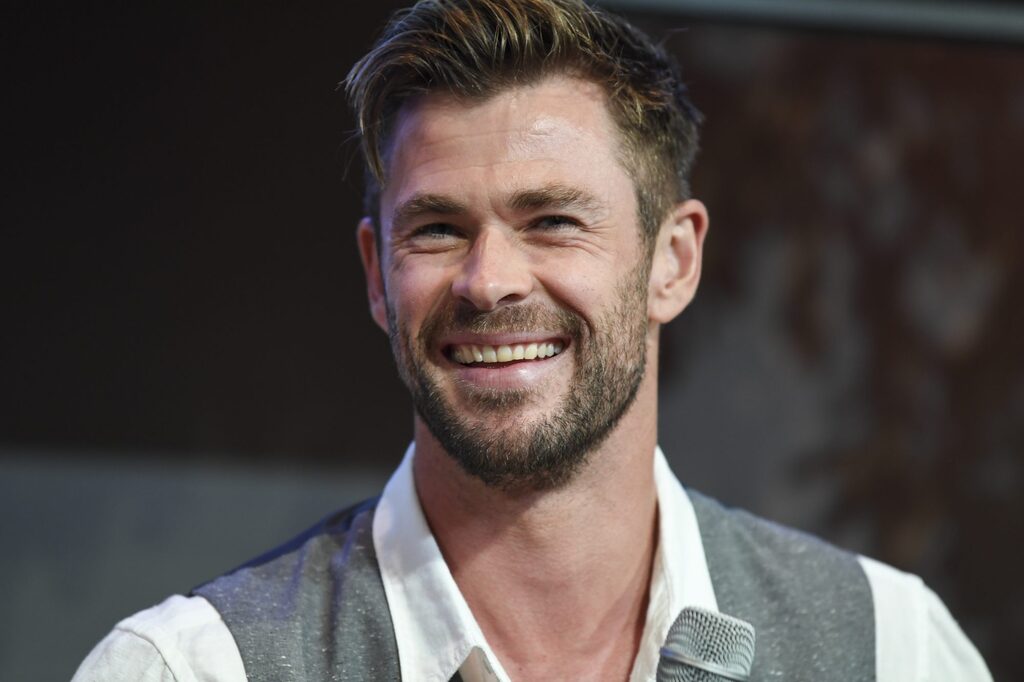 This hairstyle would go best for the season of spring and summer as well and here he kept everything very simple and sleek at the same time. here he got his hairs cut very short from all over his head and being a short hairstyle there is no need of styling it to be honest and to contrast with the look he also kept his beard as well as his mustache quite short as well as trimmed and the look all together came out perfectly and you can also try this haircut out. This hair cut as to be the best Chris Hemsworth Short Hair up-dos.
Discover more:-