Many plant-derived oils and extracts from coconut meat, coffee beans, saw palmetto, and fenugreek seeds have become mainstream ingredients. Thus, many cosmetologists have devoted their time, effort, and money to search for new fruits and herbs for your hair growth shampoos and conditioners.
It's no longer surprising that many people do not know about marula oil, a rising star ingredient in the haircare industry. What is marula oil, and how can it enhance your mane's quality? If you've never heard about this wonder oil, this is the right time for you to learn about marula oil and its hair growth benefits.
Getting to Know Marula Oil
Marula oil is an essential oil from the yellowish fruits of the marula tree or sclerocarya birrea. This tree variant grows abundantly in southern Africa and Madagascar. The white nut inside the fruit is considered the source of marula oil.
As an ingredient for beauty and hair products, marula oil's best assets are its fruity fragrance and lightweight consistency. Not only is it easy to slather on your hair, but it is also loaded with nutrients that can surely benefit your locks.
Are you still not convinced with this essential oil? Discover the promising effects of marula oil on your hair.
The Promising Effects of Marula Oil on Hair Growth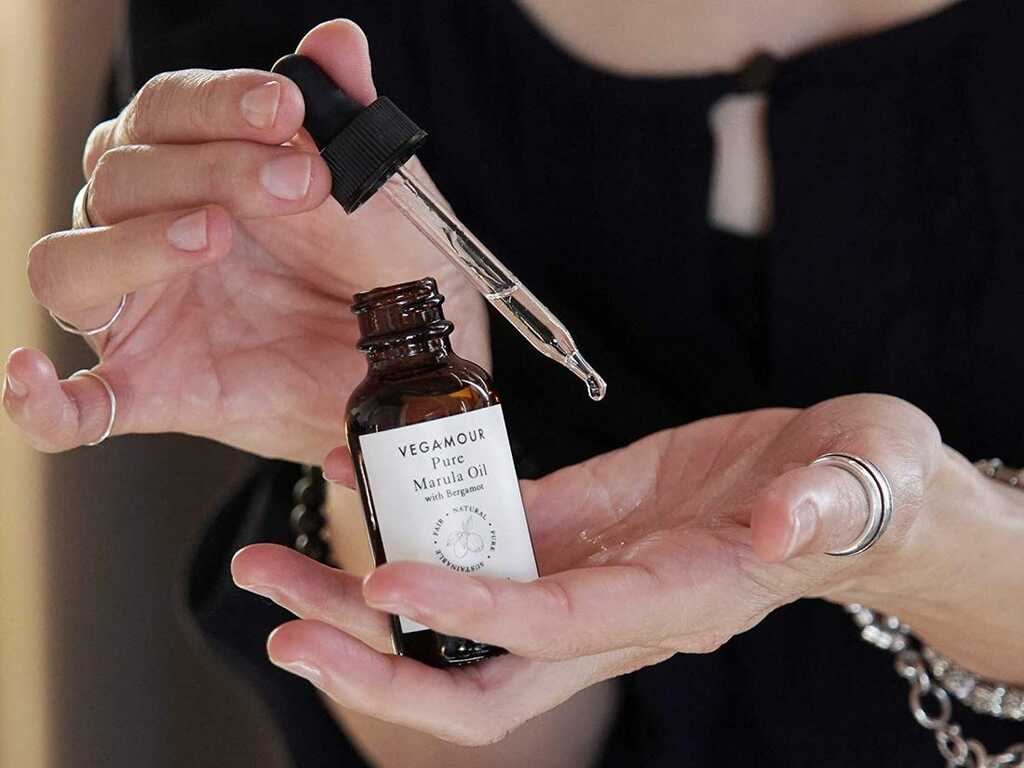 1. It can protect your hair against free radical damage.
Oxidative stress can create free radicals that attack the cells in your hair follicles, thereby causing hair growth problems. Thankfully, marula oil is a rich source of vitamins C and E. These hair vitamins have antioxidant properties that prevent free radical damage.
2. It can revamp your locks with its moisturizing properties.
Just like any other essential oil, marula extract is also known for its powerful moisturizing properties. It is packed with fatty acids, such as linoleic, oleic, and palmitic acids, which protect your hair cuticles from external damage. As a result, water retention is prevented, and your strands remain hydrated.
3. It can give your hair the luster that it needs.
Never skip on any moisturizing hair product, for your hair becomes more lustrous when it's well-moisturized. Marula oil helps to cover the cracks on your cuticles, thereby giving it a smooth texture. In turn, your bump-free hair can reflect the light without any hassle.
4. It can prevent premature hair aging.
Your hair can thrive for many years before shedding. However, external factors, such as heat and pollution, can disturb your hair's regular growth cycle and trigger premature greying and shedding. With the help of marula oil, your collagen production can fight off the early signs of hair aging. Therefore, use this essential oil to maintain your youthful look with your super-pigmented and ultra-thick hair.
How to Use Marula Oil as a Hair Growth Enhancer
Make use of marula oil's hair-boosting power by making these hair care recipes.
1. Hair growth conditioner with marula fruit extract
If you are into personalized hair treatments, use marula oil to boost your hair conditioner. Marula's fruit extract is known to be a potent moisturizer. Therefore, adding a few drops of this essential oil on your favorite conditioner can give your hair extra shine and moisture. After cleansing your locks with a mild shampoo, slather the conditioning cream on your hair and leave it for at least 20 minutes before rinsing your locks.
2. Hair mask concoction infused with marula oil
Hair masks provide deep nourishment and moisture for dull-looking locks with the help of various natural ingredients. Since marula oil is a lightweight substance, it can easily be absorbed by the hair. Adding this essential oil on your hair mask concoction can save you time and boost your hair growth.
Enhance the Quality of Your Locks with Marula Oil.
It's not about the fame; it's about the hair growth benefits that an ingredient can offer. Therefore, choose only the best and safest treatments for your locks. Give your hair a total makeover with the help of marula oil.
To find out more:-