Long gone are the days when the only acceptable wedding ceremony/reception outfits were long flowy dresses in light shades. Times are changing and so is fashion. This upcoming wedding season, try out something unique that will set you apart from the crowd. While it may seem a bit bizarre to wear dressy pant suits at weddings, they have already started trending because it's time the ladies start getting creative with their fashion choices and step outside the box.
Here's why dressy pant suits for wedding are the best outfits in this year:
1. They are Super Comfortable
Yes you can wear a traditional floor-length evening gown and keep on adjusting the train all evening or you can simply opt for dressy pant suits and steer clear of all the hassle. If comfort is your number one priority, go for this. Neither too concealing and certainly not too revealing, dressy pant suits can make you look twice as confident and feel much more comfortable than the traditional outfits. The best part is that you can be at ease no matter what you're doing. From spinning, bending, and sitting however you like to raising a toast, you can rest assured that there will be no fashion slip-ups in a pantsuit.
Check out the comfortable as well as voguish dressy pant suits for wedding guests:
2. They Make A Statement
It goes without saying that in a room full of long and short cocktail dresses, a woman wearing a dressy pant suit with subtle bead work and featuring a contemporary design will definitely make a powerful style statement. It will show you're not a trend chaser, rather a trend setter. Besides, they are available in many designs and styles so that you can look sexy and classy effortlessly.
Moreover, the chances of some else showing up in a similar, let alone same, pantsuit as you are next to none. So, if you wish to truly stand out at a wedding, and make not only a stylish but also unique fashion statement, a pantsuit will be your best mate. Go through the wonderfully unique dressy pant suits from latest collections:
3. Good For All Types of Ceremonies
With one piece dresses, the struggle is too much to find something that goes with the overall tone of the party. Whether it is a fancy ceremony that demands a formal and sophisticated attire or a small intimate wedding that's good for a casual get-up, you have to go an extra mile to find the right outfit. Not with dressy pant suits though because they're simply all-in-one. So if you have a big fancy party coming up, choose pant suits with nice jackets in light shades like cream or white and colour coordinate them with your shoes. For a casual ceremony, strapless or off-shoulder one piece dressy pant suits are good to go.
These are the versatile dressy pant suits for that are going to own 2023 wedding season:
4. They're Extremely Stylish
What's the ultimate aim of fashion? It's to look stylish while not compromising on comfort. Dressy pant suits are simply ideal for this purpose. In the modern times where looking unique is all about getting flirty with the dominating trends and experimenting with your comfort zone, dressy pant suits for wedding guests are queenly outfits. A pant suit makes you look voguish and confident- just like a modern day woman should be.
Plus, they look fabulous on all different body types. From an apple figure to pear, inverted triangle, and hourglass shape. A pantsuit can accentuate every feminine physique if chosen wisely. We'd suggest peplum, ruffled or overskirt pant suits for apple body type women, frilled off-the-shoulder ones for pear shaped figures, and halter necklines, strappy or plunge necklines for hourglass women.
5. Perfect for All Age Groups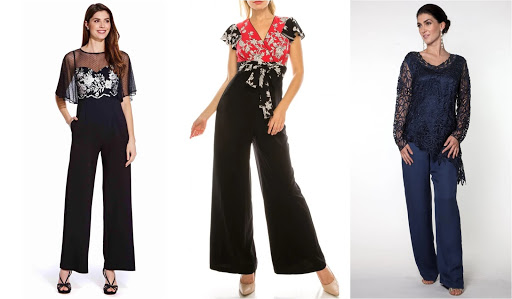 Whether it's for a mother or for a teenage girl. Dressy pant suits are part of an extremely elite and versatile fashion that works fine for all age groups. If you love low maintenance fashion and do not want to go overboard with anything, renovate your wardrobe with the latest designer dressy pant suits available online.
Even though dressy pant suits are a fine line between casual and fancy, one should not go easy on the fabrics. Choose luxury and breathable ones like chiffon, satin or Georgette. Too casual fabrics like denim or jersey are strict no-no. Accessorize accordingly with ear studs, stilettos or strappy mid-heels and make all heads turn at the party. Happy Shopping!
Discover more:-