COVID-19 pandemic has put everyone behind the masks and (somewhere) doors as well. With the increase in cases and discovery of new strains social distancing and face mask are essential to keep oneself safe and sound. However, you can't harm the environment while protecting yourself. The medical grade masks are great but they are single time use, hence go for the sustainable face mask.
However, Why reusable face masks? The use and throw face masks we use have a lifespan of around 450 years before degradation. Yes, that's true!
Now, think how much harm can it cause to the environment? It will disturb the ecological cycle and eventually, it is going to harm the earth's atmosphere only.
With this increasing concern, there are many brands that have come up with the best sustainable face mask option saving us and the environment at the same time.
When it comes to the face mask the first thing we see is protection. So, talking about the sustainable and eco-friendly face mask, we have many unanswered questions. Before we move towards the brands that have introduced the organic face mask, let's get you answers to your queries.
Best Sustainable Face Mask Brands
You will get hundreds of options in eco sustainable face masks online, but the biggest question is which one is genuine. Not every claim is true, hence we researched about brands, analysed their products and made a list.
This list will disclose few of the best sustainable face mask brands in the industry that acts as a saviour for the environment. Cloth masks will save you from viruses out there, and you are washable to last for a long time.
1. Amour Vert
Amour Vert is a sustainable fashion brand that focuses on timeless and slow fashion trends to reduce the negative impact of the clothing industry on the environment. Amour Vert is a French word for 'Green Love,' and the only aim is to produce the versatile and ethical fashion products.
It produces the best sustainable face masks using deadstock fabrics and also focuses on comfort and fit. They produce both woven and knitted masks. Woven masks have a pocket for the filter while a knitted one doesn't.
Knit masks are the pleated one and provide ultimate safety. All the masks from Amour Vert are zero-waste and sustainable products. With each purchase of eco-friendly sustainable masks one is donated to the essential worker in the city of San Francisco.
2. Naturepedic
The name of the brand itself suggests its motive. Naturepedic is a well-known mattress company. It produces organic mattresses that provide ultimate comfort and sustainable solutions to child-like sleep.
With the increase in demand of masks, the company decided to designate a specific place in the factory for the organic face masks' production. The face masks made are of 100% cotton.
Their masks have two layers of cotton and are sewn in Chagrin Falls, Ohio. They are lightweight, durable, machine washable, reusable, and breathable masks. The shape of masks is designed keeping in mind all the aspects, hence provides comfortable fit and good facial coverage.
3. Encircled
Encircled, a sustainable clothing brand. From its beginning to current scenario, it has been clear with the aim of making the slow fashion foremost choice for people. If you are from Canada, you know this brand well, it has won over the hearts of many with its recycled and comfortable clothing.
The brand has started making non-medical reusable masks in Toronto with jersey material. The fabric used in the making of the mask is GOTS-certified organic cotton and recycled polyester (50%).
It comes in a pack of 5 black masks, each having a separate pocket to add filter and adjustable ties. They also give you the option of donating masks to essential workers and local organizations while purchasing.
4. Tonle
Fashion industry has become the second most polluting industry worldwide. With the increase in fast fashion, the environment is being harmed ruthlessly. Wastage is at peak. However, in this situation clothing brands like Tonle are making the difference by accepting the vision and mission of zero-wastage and fair fashion.
The apparels it produces are not just average, but they are classic and timeless pieces that everyone loves. Whatever they make be it masks, or cloths everything is from deadstock.
The tonle's sustainable face mask is made of three-layered cotton, as instructed for cloth masks. It has stopped using elastic bands as it irritates the ear back. Instead they are using ties to make a one-size-fit-all mask. They also have various elegant prints to offer for the perfect fashion trend.
5. Anchal Project
A project started to save the environment through sustainable home decor and fashion products. Just like Tonle, Anchal Project is a zero-waste brand that believes in using deadstock and creating the best and impeccable design of it.
This brand sells only organic cotton face masks that are hand embroidered by the artisans in India. Then they are cut and sewn by the team workers in Louisville, KY. All the face masks are adjustable, reversible, and reusable.
The packing process is as safe as you would have thought. All the masks are washed and pre-sanitized, and then packed in the pocket with the gloved worker.
6. Christy Dawn
A minimalist brand ran by a model-turned-designer focusing on using repurposed cotton in making masks. Fashion factories have a large amount of carbon footprint in the industry, but Christy Dawn minimizes it by using the recyclable cotton and fabric to make designs.
The brand focuses on recreating vintage designs in footwear as well as apparels. If your choice is a boho style wardrobe then Christy Dawn should be your choice. They have a tailors in Los Angeles where two types of masks are made.
One is made from 100% deadstock cotton with elastic as an ear strap and the other one is made from 100% deadstock silk with tieable straps. There comes a pack of 5 masks and the other 5 are donated to the needy ones.
7. Avocado
Avocado is a mattress company that manufactures pillow, bedding, and green mattress. Avocado is one of the certified B Corporation companies that follows the go green principle in manufacturing goods.
The company has started producing organic cotton face masks from the reusable fabric. It is made of two layered GOTS certified 100% organic cotton with tie straps or behind the ears elastic band.
The masks have pockets where you can put the filter (if you want). It comes in various prints, colors, and designs.
8. Whimsy + Row
Whimsy and row a sustainable fashion brand providing apparels that you will feel great to wear. The fabric used in making its stock is 100% organic and recyclable. The main aim of this fashion brand is to provide accessories and clothing locally made in LA.
The company has started making sustainable face masks since the beginning and are utilizing the deadstock that otherwise would have ended up in the landfills. The 100% upcycled masks are machine washable and dryer-friendly.
The masks produced are easy-to-wear, reasonably priced, and perfect for running day-to-day errands in them. They have also targeted donating masks to the vulnerable communities in LA and rescue organizations.
9. Threads 4 Thoughts
Threads 4 thoughts another sustainable and organic fashion brand for both men and women. It has a wide collection of clothing from XS to XXL sizes. It produces a comfortable and stylish range of clothes from casual to active wear.
If you are looking for printed masks, threads 4 thoughts is the best option. It makes masks using sandwash jersey, Lenzing Modal, and recycled polyester making is ethical and durable.
The GOTS certified organic cotton masks have received amazing reviews online. All masks produced are washable, recyclable, and easy to wear without harming you or nature.
10. United By Blue
United by Blue is a B-Corp certified company making ethical fashion available to all in different sizes, colors, and styles. It uses ethical recyclable materials to produce its clothing and helps waterways to be plastic-free with each purchase.
The masks from United By Blue are made using a blend of hemp, organic cotton, recycled polyester, and deadstock fabrics. The design and styling of the mask is very good, and are most popular among men.
It comes in a pack of 3 masks and with each purchase a mask is donated to the Chosen 300 for the protection of homeless people of Philadelphia.
11. Made Trade
Made Trade a company that focuses purely on ethical business, then be it related to the wage system or the sustainable products. From the very start it has been focusing on that only. They are elevating in the sustainable fashion business gradually with the trust of their customers.
With the introduction of sustainable face masks, it created a standard using earth-friendly materials like recycled hemp and GOTS certified organic cotton blend. They are heavy in weight yet soft to touch.
The masks of Made Trade come with the filter space and now in new striped print too. You can buy these masks individually in packs of three or even six. All the masks are made in compliance with the CDC's fabric and Kaiser Permanente's cloth mask making guidelines.
Here are another three sustainable face masks brands that will help you in keeping nature safe and sound along with yourselves.
12. The Social Outfit
The Social Outfit brand makes double layered masks with remnant fabrics and has a nose wire shape for added protection. Whenever you purchase a mask from this company a mask is donated to the needed organization.
13. Bhumi
An australian brand producing sustainable face masks from the deadstock and upcycled fabrics. The masks come in double layered protection with ear loops and tightly knitted jacquard print.
14. Armedangels
We have seen printed and solid color reusable masks, but what about the quoted one? How do you think it will look? Well, it sounds interesting to me. The masks Armedangels manufactures are of recycled polyester and organic cotton making is safe for the environment too.
15. Etsy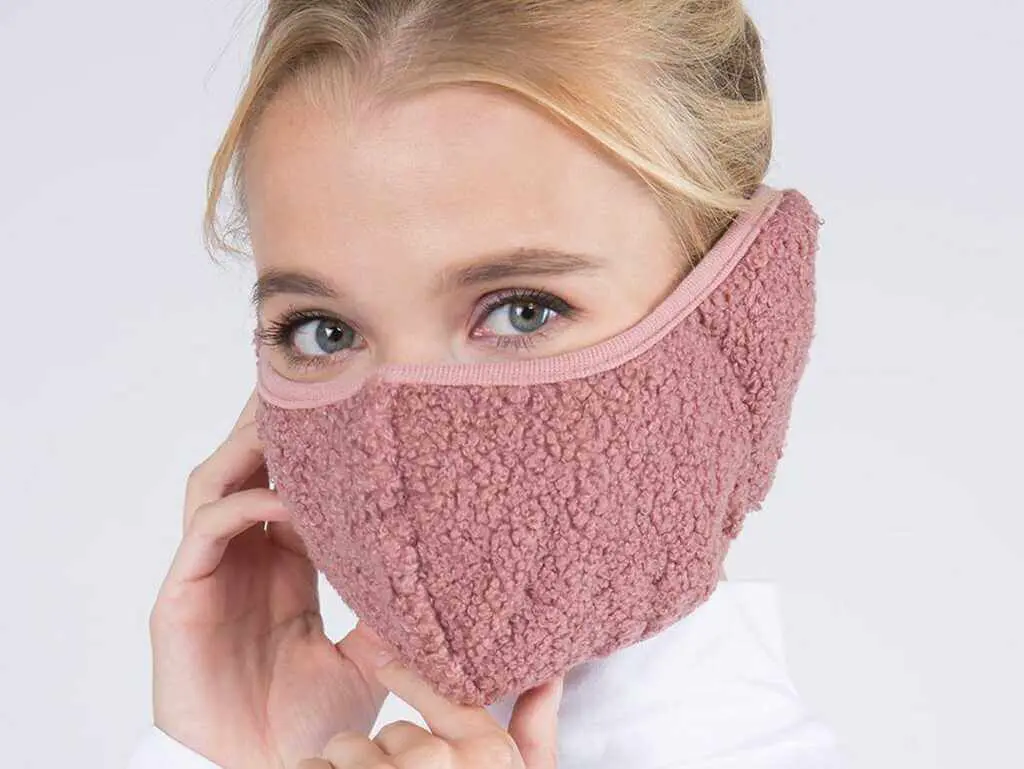 Who doesn't know Etsy? The E-commerce shopping website/app provides a platform to artists and handicraft-persons for showing their talent and selling the best hand-made products. Etsy also has a large variety of organic and sustainable face masks.
Above-mentioned are the brands that you should focus on for getting the safer and ideal sustainable face masks.
How to Make Sustainable Face Masks At Home?
Making sustainable masks at home is not that hard. These masks are made of organic materials like cotton. When you are planning to DIY a face mask, make sure it is breathable and can protect you as well.
There are two techniques of making masks, one is through sewing and another is non-sewing.
First Let's Move Ahead with the Sewn Reusable Face Mask:
Materials and Tools Needed:
Fabric
Thread and needle
Elastic band
Scissors
Ruler
Steps:
#1: Cut the two pieces of size 7" X 9" from a fabric.
#2: Sew them together leaving ½-inch on three sides and keep one side open.
#3: Turn it right-side-out and have a perfect rectangular piece at the desk.
#4: Create pleats at the 7" distance (If you want) and sew them to keep in the place.
#5: Last step is to add the strap at the ends. Once you stitch that you have the sustainable mask ready.
Now, Non-Sewn Reusable Mask:
Well making the non-sewn sustainable mask is a very easy process. All you have to do is get the t-shirt, bandana, or headband that you don't use. Cut a piece of rectangle and give it a three-fold. Then add rubber ties that will act as a strap to the mask.
Frequently Asked Questions on Sustainable Face Mask
Why Use a Sustainable Face Mask?
The main reason to get the reusable face mask is to decrease the negative impact of them on the environment. With the increase in use of face masks, there has been a significant boost in the plastic pollution as well.
Do Sustainable Face Masks Protect You?
Yes is the simple and direct answer. The fabric masks can protect you from virus filled droplets of others and vice-versa. The protectiveness is the same in both masks, but the added benefit is it is reusable. It won't harm anything, be it the environment or your pocket.
Do Sustainable Masks Come with Filters and Nose Wire?
Sustainable masks are made with degradable and environment-friendly materials, but with that it also focuses on the main objective. So, yes brands are making sustainable masks with nosewire and filters.
Why Is a Reusable Face Masks the Eco-Friendly and Better Option?
Reusable masks are made from fabric that you can wash and reuse again. The medical grade masks are one time use, you have to throw it away. Using sustainable face masks will help you in maintaining the environment intact and harmless.
How Reusable Face Masks Can Be More Sustainable Than Disposable Ones?
The answer is simple, reusable face masks can be washed, sanitized, and reused while that's not the case for disposable ones. It takes years to degrade the disposable masks.
Closing Statement for Sustainable Face Mask Brands:
Here comes the end, whether you are planning on making your own sustainable face mask or ordering one online, you have the answers. Contribute towards nature by opting for sustainable clothing brands, not just for masks, but for everything.
Keep reading:-