Have you ever faced a moment when you want to take a picture, but don't know how to pose or give a weird pose? Everyone has faced these awkward moments in their life at least once. Here's the key to get amazing pictures: the perfect Model Poses!
According to photographers and models, taking wonderful images is easy and smooth as butter; what that seems often challenging is to figure out which pose will be the best in relevance to other factors like the purpose of the shoot, the backdrop ambiance, etc. Many people often get nervous in front of the camera and end up with bad poses.
Do you know how photographers take extraordinary pictures every single time? Do you want to know their secret?
Yes, when you do the right poses to the camera, the cameraman or photographer will be able to capture the perfect shot. Now, you might be wondering that only models know how to pose correctly. That's not true; there are some common poses that are really effective in taking incredible photos.
Today in this blog, we've piled some of the popular and best model poses for both males and females. So, if you are one of those people who are really shy in front of the camera or don't know how to pose, keep on reading. You can also check female model poses.
Let's first know what are the various types of photography and how they help in capturing amazing pictures.
Types of Model Photography
Whether you're a professional photographer or just want to get some pictures of yourself, it's important to know the various types of photography. This will give you some creative ideas and also help you during your entire model headshot photography.
High Fashion Photography involves artistic and creative poses including an elongated neck, intense eyes, striking, and a confident posture. You can see models with glamorous yet quirky poses in fashion magazines.
Commercial Photography has a more natural and minimal approach because it is all about the product. The commercial model poses are more simple and natural, such as a smiling face, hand on the hip, or a slight bend of the knee.
Runway model Photography involves graceful motion and interaction with props like clothing fabric while strutting on a runway or catwalk. We can see runway model poses at fashion weeks and designer clothing brands promotions.
Fitness Photography is about showing the model's athleticism and strength. Here the poses are generally action shots, like running and jumping. Models are doing physical activities such as lifting weights, bodybuilding, or doing a shoot using exercise equipment.
Now you know all types of model photography and their related poses. So now, let's begin with the ultimate Model Pose guide of 2021. First, take a look at female poses and learn to pose for your next shoot.
Top 5 Female Poses For Photography in 2021
Female poses are all about showing your beauty and cuteness. Whether you're shy to face the camera or learn model poses for fashion photography or want a bold photoshoot, you'll find perfect model poses for photo shoots in the below list. Let's begin.
1. Look Over Shoulder
Let's start with the simple pose: look over the shoulder. This is a very common and popular pose for females in portrait photography. All you need to do is turn your body halfway and look directly towards the camera. This pose gives a slimming effect and showcases the back curve.
You can do this pose with either full-body or half-body posing. Just make sure that you never slump your shoulders and keep your hair away from your face. Also, don't touch your chin to your shoulders. The best thing about this pose is that it will work in almost any location and lighting setup. Looking good female model poses.
2. Laying on the Back
Another easy pose for females is the lying position. Just lay down on a flat surface like a floor, bed on your back, and look directly at the camera. Make sure the angle doesn't create a double chin.
Arrange your clothes and hair according to the pose, and for a change, you can look to the straight and side of the camera. Look at the above picture for reference.
3. Rest on a Soft Surface
This is more on the relaxed side, just like the laying pose. First, sit on a comfortable surface like a bed, chair, table, or couch. Now, put your one or both hands on the prop. Now, you can either look into the distance or look at your camera.
Here's another comfortable pose. This photo is taken from a higher angle which gives a smooth effect. The secret behind this pose is the angle of the camera. If you take the picture from eye level, the model will appear more comfortable. Whereas, if the angle is higher, it will create a feeling of sensitivity or vulnerability. Emotions play an important role in emotive portrait photography.
4. Sitting on Steps or a Chair
This is another great female pose idea. Using a prop like stairs, steeps, or chair will allow you to take or give a perfect picture shot. You can use different angles and heights to get different looks.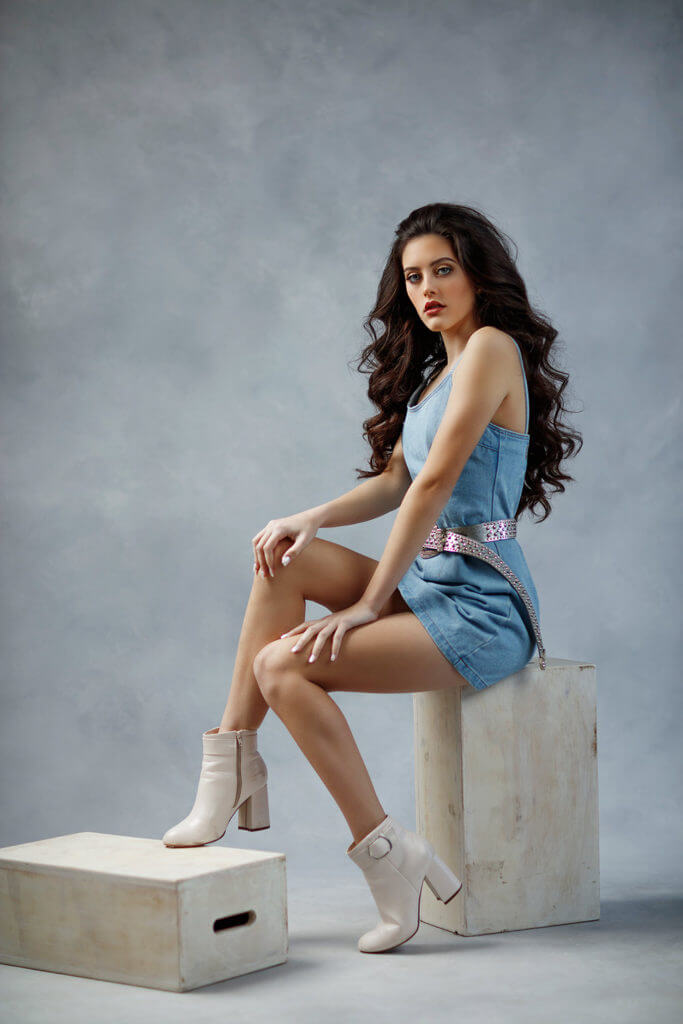 Wherever you're doing these kinds of sitting poses, pay attention to the position of your legs and feet. Always try to be on tippy toes as it adds length to your legs. You can also put additional things like here the model has put one of her feet on an apple box. This will surely give you a more interesting pose.
Try to sit on the very edge of the chair or another object and curve your back a little and lean forward. This will give your body the best posture.
5. Full Length Portrait Pose
The last on the list is the standing or full-length female portrait poses. The above picture shows a model with a standing pose that works in tandem with camera angle and focal length. This will brilliantly enhance the subject's apparent confidence and give a photo with a unique angle.
For this shot, you should stand with a wider stance with one foot closer to the camera and choose a low angle and wide focal length. This will accentuate your size and position within the frame. Look at the above picture for reference.
This pose is perfect for those ladies who have a lot of head-and-shoulders or half-length shots but no photos with the standing pose. This pose will cover your entire body and give you a stunning full-length shot.
There are several poses to do in this style, like walking or using some kind of props. Do whatever in which you feel comfortable and confident.
Top 5 Male Poses For Photoshoot
When it comes to modeling, we always tend to think about female models; however, these days, male models are also famous for their poses and excellent modeling skills.
So if you're looking for some excellent male poses and ideas, keep on reading. Along with the poses, we've also explained things like what looks natural? Where should you start? With the help of these poses, you will be able to capture some of the best pictures of yourself or anyone.
Let's jump in male model poses!
1. Face Close Up
Face close-ups or headshots are an essential part of any model portfolio, so don't forget to add them to your shot list. They're just like a warm-up before a shoot. As a beginner, you can also start with the headshots to practice your skills.
Normally male model poses for photography are about showing masculinity. For the face and head, the signature looks are about showing a chiseled jawline and broad, powerful shoulders.
You can look straight to the camera or lean slightly to keep the framing square. If you'll add a little bit of creativity in these half-turn and shot-over-the-shoulder poses, they will surely be on a different level. For example, you can add some water spray to the hair; this will help to capture the perfect shot while highlighting the face at the right angles.
2. Full Profile Standing Poses
It's vital for models as well as photographers to include a full profile shot in their comp cards. These standing poses include simple to slightly high profile full portraits of the model. It may look simple to you, but these standing poses present plenty of opportunities.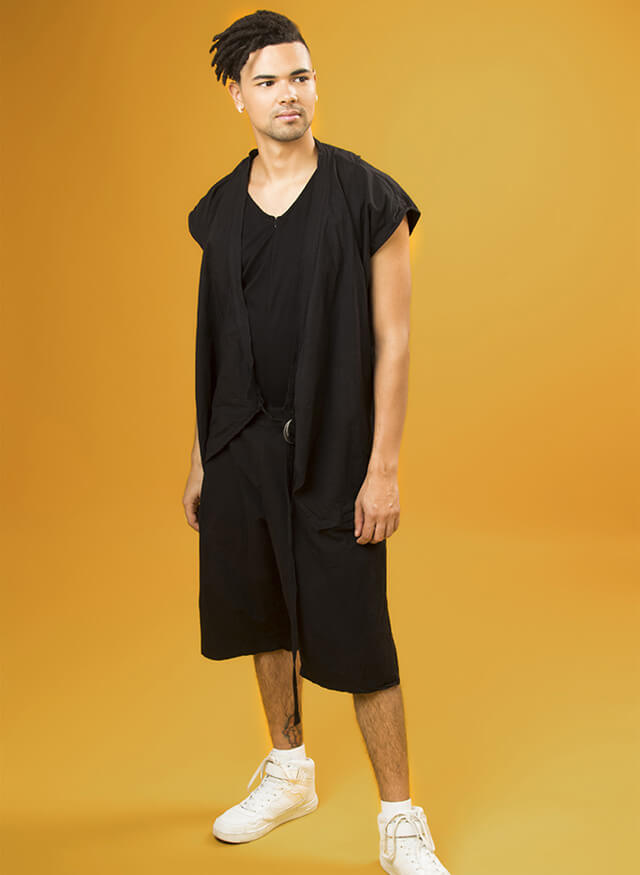 You can stand with legs crossed or give a pose with one leg moving further to another. Make sure to balance the toe of the front leg on the floor. From business trousers blazers to casual looks, you can experiment with this pose.
3. Hands in Pockets
Want to look chic and classic? If yes, try hands in pockets model pose. This pose is about showing a model with casual confidence. And at the same time, the model will look relaxed and content.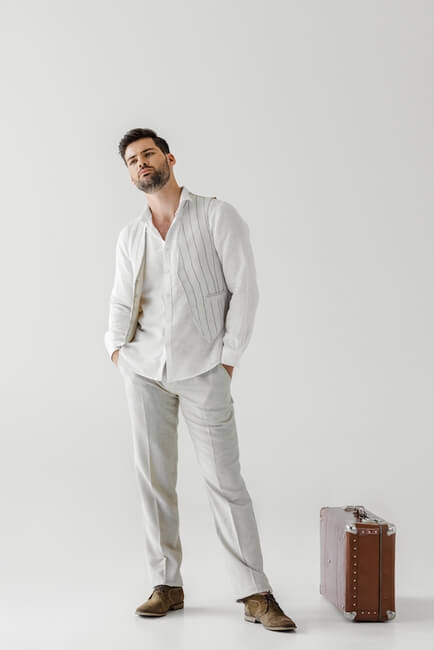 Keep your hands in your pockets, so they look good and face either to the camera or slightly sideways. Also, make sure that you don't put your entire hands in the pockets because it will seem like you have no fingers or hands.
4. Sitting Poses
Another great go-to male model pose is sitting. Sitting will immediately add a sense of vulnerability to a pose; however, there are still ways to portray masculinity. From chairs, stairs to even guitar cases, you can use any prop. The best thing about using props in photography is that they really change the feel of a photo shoot.
Try various sitting props, including railings, a bench, even walls, and add an interesting depth to a photo. The model must know how to work with any prop they are given, and the rest belongs to the camera angle and lighting.
5. Casual Stroll
A casual stroll is a pose with one foot in front of the other as if you are walking. This pose is simple but looks really good in pictures. You can either look at the camera or look away from the camera. male model poses
A male photoshoot will always include poses for men when they are walking, so you can try a casual stroll pose for a change. The motion looks excellent in the shot only when you move slower so that the photographer can capture the perfect image at the right moment.
Here are some more model poses ideas and inspirations for both males and females: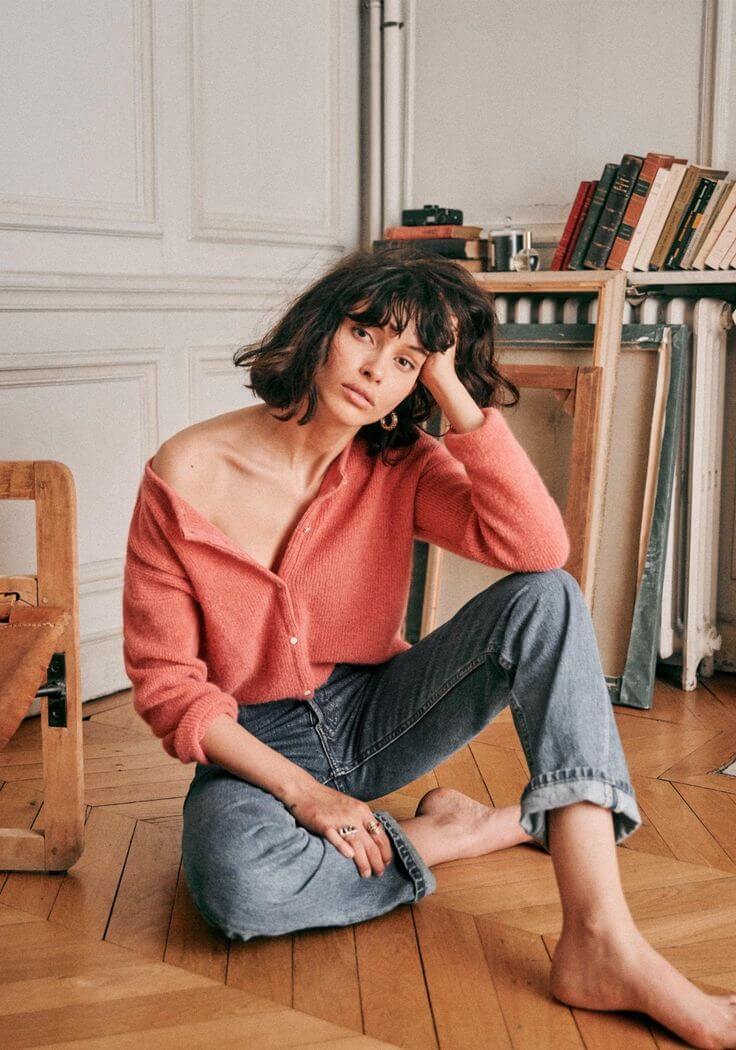 Final Verdict
So which Model Pose do you like the most? Anyone can be a model! Yes, when you know how to pose at the right time, you can get the perfect pictures. Whether you're a male or female model or photographer, now you know all types of poses. Now it's your turn to practice them well before facing the lens. Practicing them will make the pose more natural to you, and you'll be more comfortable in front of the camera.
So this is all about the best model poses for males and females. I hope you like this blog and share it with your family and friends and help them to capture the perfect picture.
For more information about skincare, haircare, or fashion styling tips, keep coming to Fashionterest. Also, follow us on our Instagram page fashionterestofficial for daily fashion updates.
Find out more:-