Little girl camo outfits are selling like crazy right now. It's not like these patterns actually make anyone invisible, so it can't be that the kids are begging for camo because they're looking to acquire superpowers. (Though yes, please! If you've got connections, let me know.)
What's the deal, then? Why so popular? Well, the deal is that our girls look especially charming wearing camouflage. 
They just do.
And it's a good thing because the look isn't going anywhere. The trend may have its ups and downs, but it's never quite died since it exploded on the scene in the 1980s. Some people think it was Andy Warhol's experimentation with his camouflage series, and others think it was the hip-hop scene that gave it an acceptable level of coolness.
It was once the way to save money. People would shop for durable, well-made clothes that didn't break the bank and found it in army surplus stores. Like denim work clothes, camo made the jump from function to fashion, and it hasn't moved since. But whatever started the trend, it's here to stay. 
Right now, it's particularly sizzling and seems to be all the rage in fashion circles, which is why everywhere keeps selling out. 
But snag it, when you can, because, as I said, our girls look so very adorable in their stylin' camo.
And here are some things you can do with it.
Style #1 – Contrast a traditionally masculine look with some femininity.
This flutter tee has a soft ruffle at the sleeve, which works brilliantly with camo. I love how the child model is wearing a big green bow, too. 
While I was searching for army green bows, I kept finding them—but they were all sold out. So like everyone else, when they can't find a mass-produced item they need, I hit up Etsy. This army green bow is just the right color to match most camo. A pretty, shiny necklace with the ruffly camo tee and bow is just the right level of contrast between femininity and masculinity in this outfit.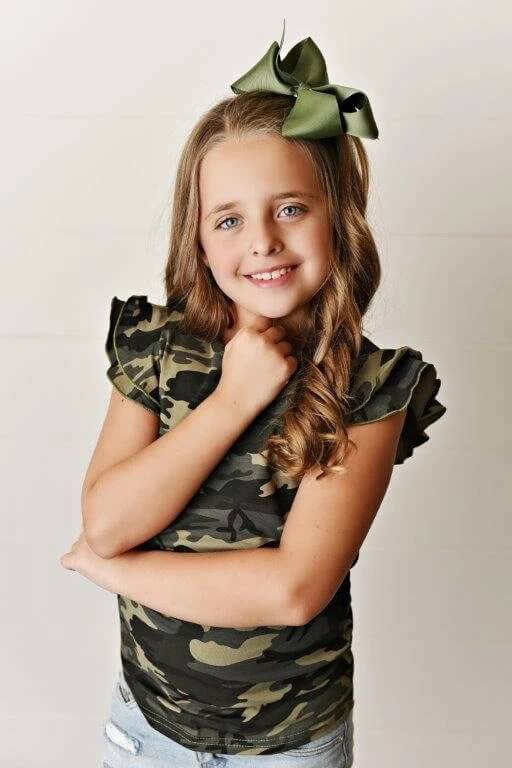 Source: shopify.com
For the pendant, think along the lines of a unicorn, butterfly or this sterling silver heart-shaped locket. Kids love lockets because of the hidden pictures. It's like a secret passage for jewelry.
Don't make the mistake of pairing camo pants with a camo shirt. Unless you're actually in the army, overdoing it on camo is a common fashion-please-don't. Denim is always a good choice, as are solid leggings. 
Style #2 – Clever Spin on a Twirl Dress
This camo tulle dress from the same clothing company, Presley Couture, as the flutter tee is a clever spin on the fun and flouncy twirly dress. With this outfit, I'd recommend some silvery ballet flats to dress up your girl's look like these from Target. These gold ones from Discount Dance would also be equally lovely, and probably more comfortable. Throw in a shiny purse like this one from Forever 21, and your girl's good to go.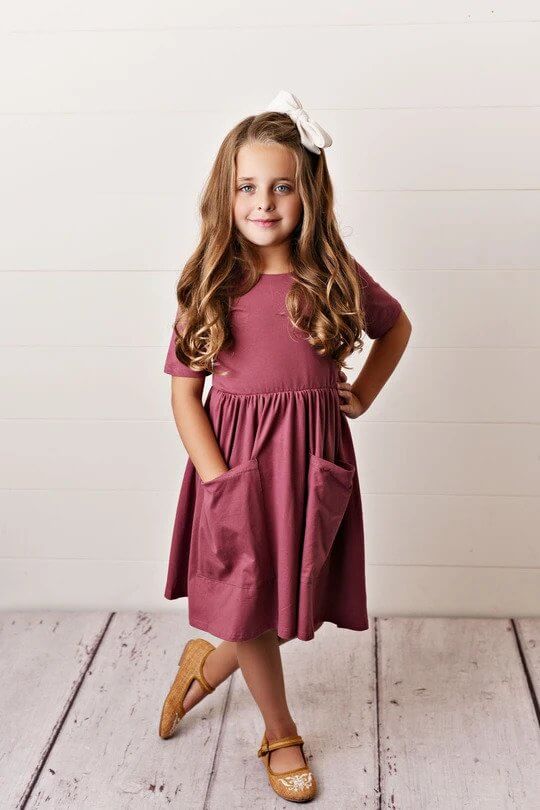 Source: shopify.com
Style #3 – Style a Skirtall
A kids denim skirtall is another fab way to style camo. You can either go with a long-sleeved camo shirt and some complimentary colored tights or — in warmer weather — a short-sleeved camo top would be adorable with some woven or leather sandals.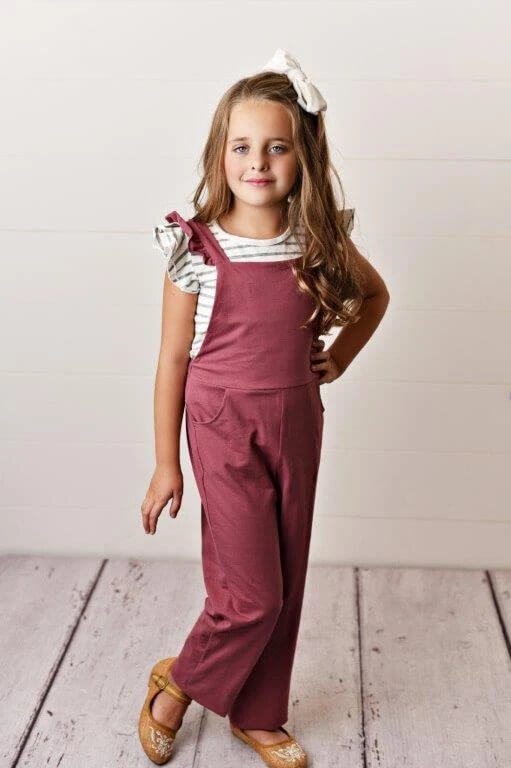 Source: shopify.com
Similarly, Presley Couture also has some fantastic jumpsuits that pair wonderfully well with a short sleeve camo top.
Also Read: Cute And Essential Must Haves For Newborn Baby Clothes
Style #4 – Unexpected Take
This long-sleeved pink and gray camo outfit has the look, but it couldn't be further from the original military or hunting accessory style. The blouse is shown with a pink bow and denim jeans. The combination of textures and style going on here makes for a great ensemble. You wouldn't think pink camo would work, but it works so well, and gray always looks fabulous with pink and white. The ruffle is a nice touch, too.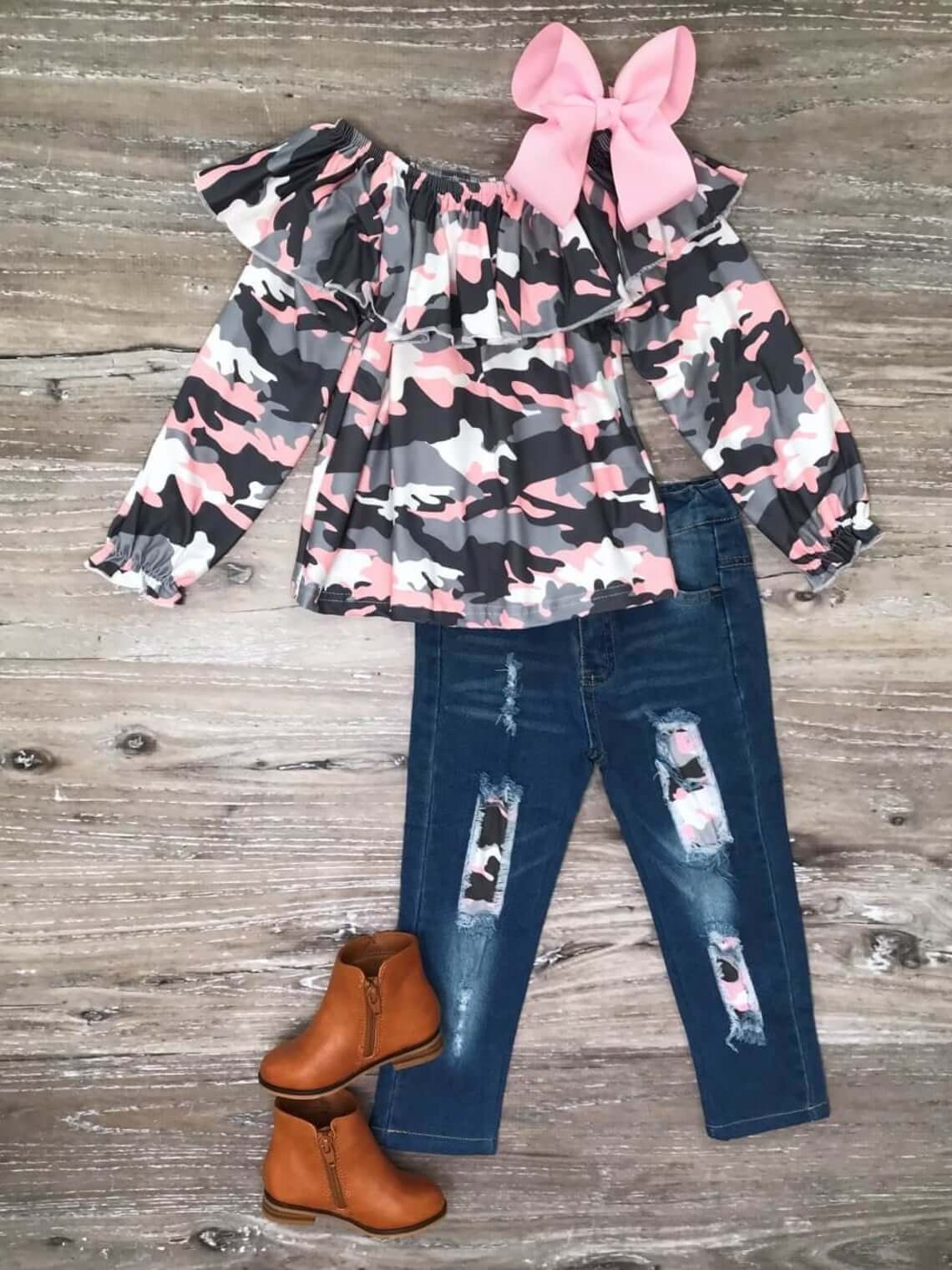 Source: etsystatic.com
Style #5 – Overalls
Now hear me out: shortie overalls. I considered the whole full-length overalls in a camouflage pattern, and it almost worked. If you added a pink shirt underneath and a pretty belt, maybe you could make it work–but it's pushing it. You want to avoid the whole "Going Hunting" aesthetic unless you're actually going hunting.
But when you're wearing camo just for fashion, I'd stick to shorties like this. A white, feminine short-sleeved shirt and red sandals would be particularly adorable.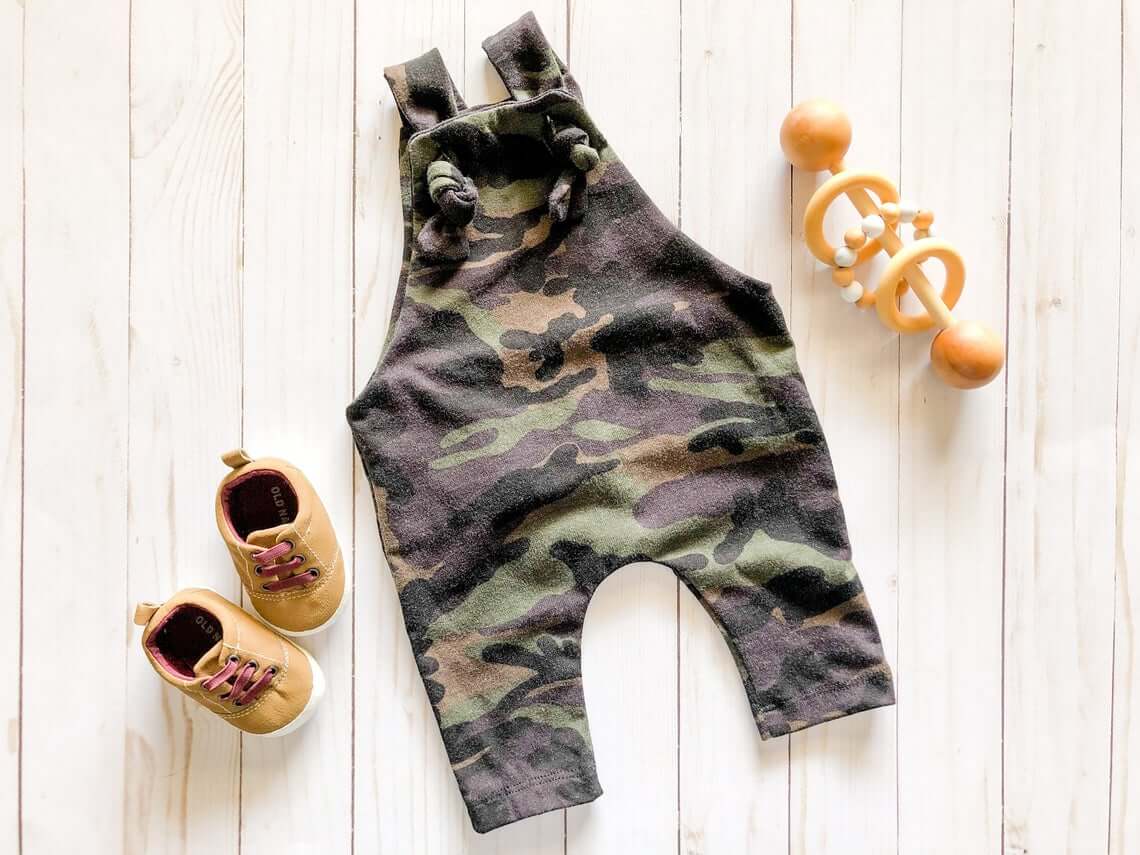 Source: etsy.com
So remember, camo makes a great addition to your repertoire, but use it sparingly. Don't go full camo from head to toe, and you'll be set.
What goes with camo goes with a variety of different outfits, meaning your little one's wardrobe will have a whole new versatility with just a few additions. If you are ever at a loss as to what your baby should wear to an occasion, don't forget you can always fall back on the Mommy and me outfits. They're a classic fashion trend and never fails to crank up the adorableness.
So she doesn't just get to be super-in-style with camo, she can combine different fabrics and accessories. 
Having choices is one of the best parts of life.