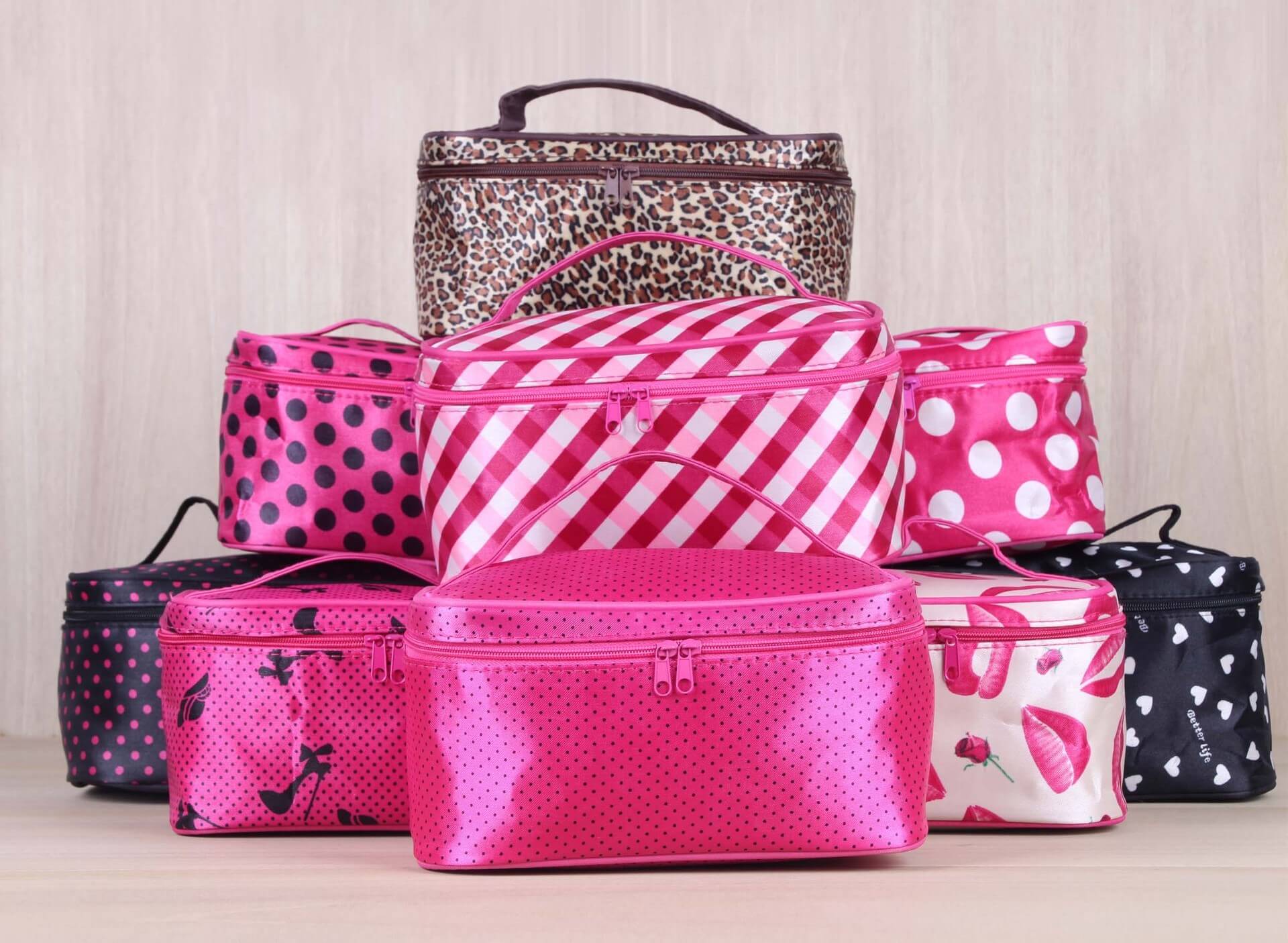 Toiletry bag would save you if you have too much of extended products which you need to carry with yourself and it proves to be helpful even if you want to travel light handed with just a few of your essential things. This kind of bag is very handy and spacious and at the same time, they are very stylish so you would not feel embarrassed with this kind of bag rather it would make you look girly as well a very trendy at the same time which is a great thing for sure. there are many designs of travel toiletry bag that you can check out and if you are wondering about the some of the best toiletry bag for women then  here are some of them listed below which you need to check out and also you can try to carry them up as well to look trendy and stylish:
1) Tancendes waterproof travel size makeup bag: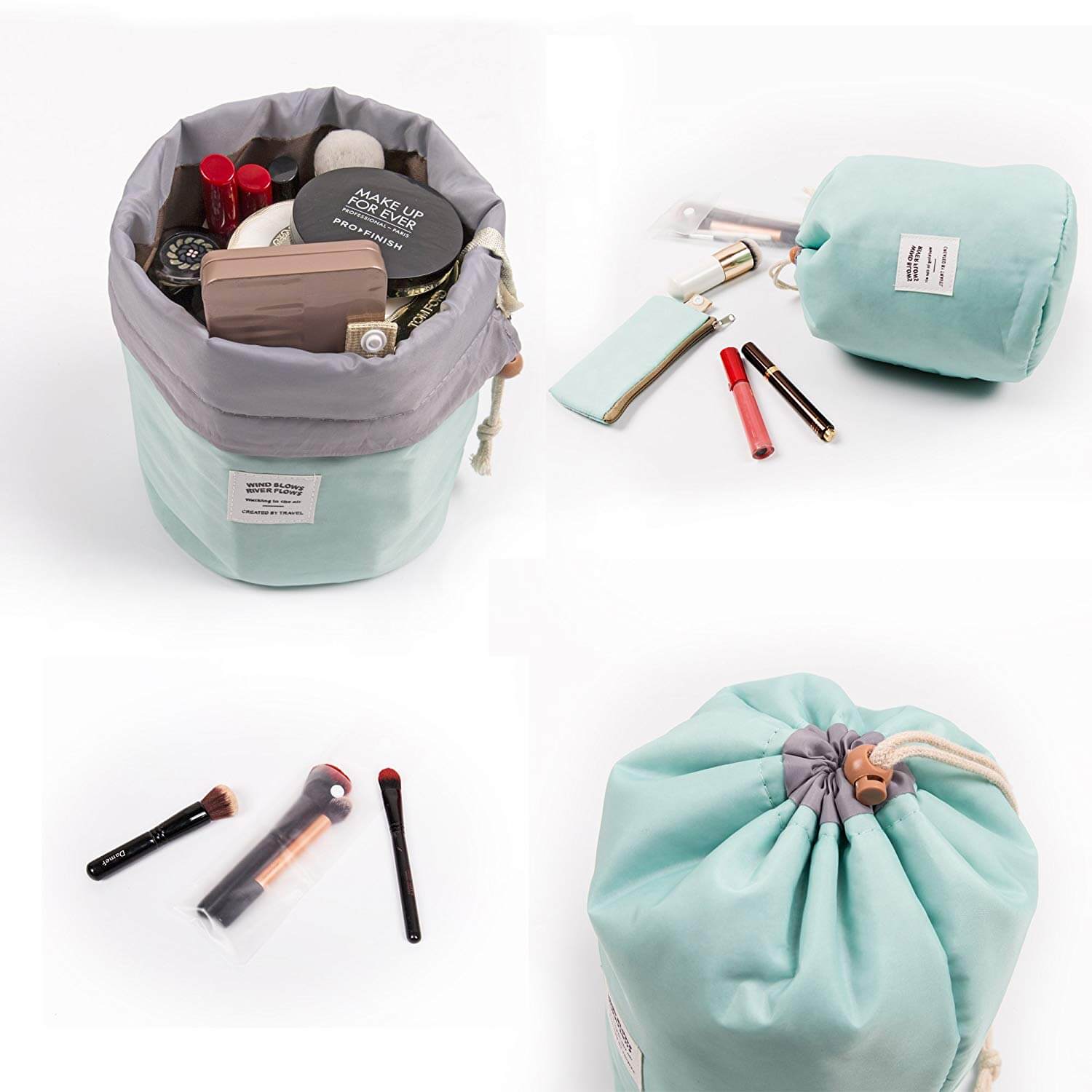 Source:amazon.com
No women has enough makeup ever to have so it actually became a habit of almost every woman to keep on stuffing makeup while traveling because we women have an assumption that we may need all so why miss out anything at home regret so we actually need a huge spacious bag for keeping or carrying out make up things and at the same time it should not look bulky so that it can be easily carried to any place. This particular transcends bag is a love of many women as it is it very spacious that you can stuff many things in this bag and it is in a round pattern so it looks classy as well as stylish at the same time. the best thing about this bag is that it is waterproof so your products inside would be safe and also you can get your hands on different colors and also if in case you are not carrying it anywhere so you can fold it and store anywhere you want and in case of dirt you can always wash it up which is a great thing. The light weight of the bag makes it the best preference of most of the women and you can also try it out.
Also Read : HandBags: The Need For Every Woman's Professional Life
2) Trendy makeup pouch for everyday outing purpose: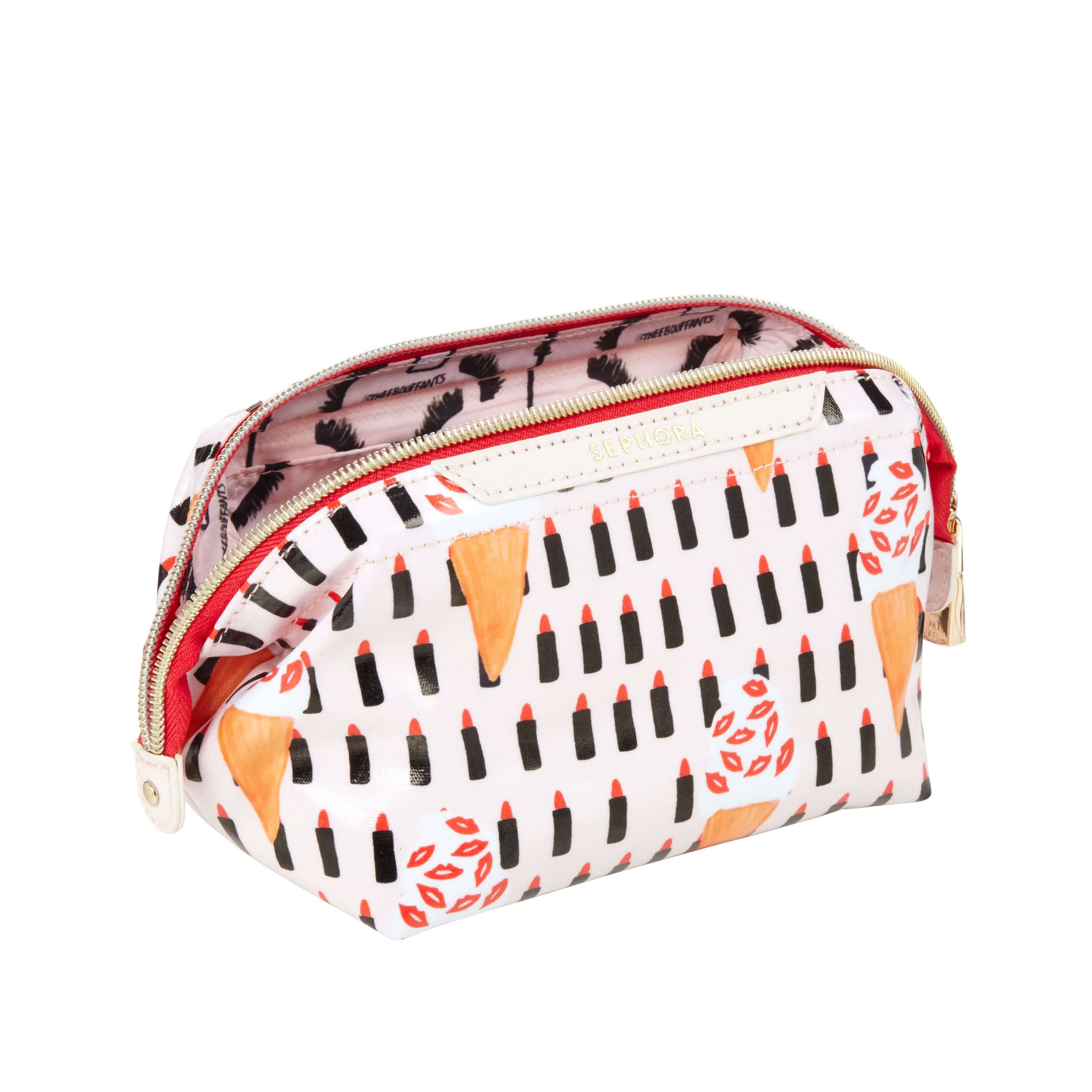 Source:r29static.com
Now you don't actually need a big makeup bag for everyday purpose and rather you need a makeup bag where things of your touchups would fit in easily so you can check out this toiletry bag with lipstick prints on it and it looks super cute at the same time it is spacious enough to fit in quite a lot thing and you can even keep some cash and your phone in the pouch itself and if you would carry the pouch as it is then it would make you look super trendy and also you can get different patterns drawn on the bag as per your preference. This bag is made up of thick cloth so it is washable and you can even fold it if not using the bag. You can also stuff your essential things such as your keys, some chocolate in this bag and for the whole day you would be sorted which is a great thing and you can get this in both online as well as offline store. Here you can get Online Stylish Fashion Accessories for Women.
3) Bag all my vanity travel case: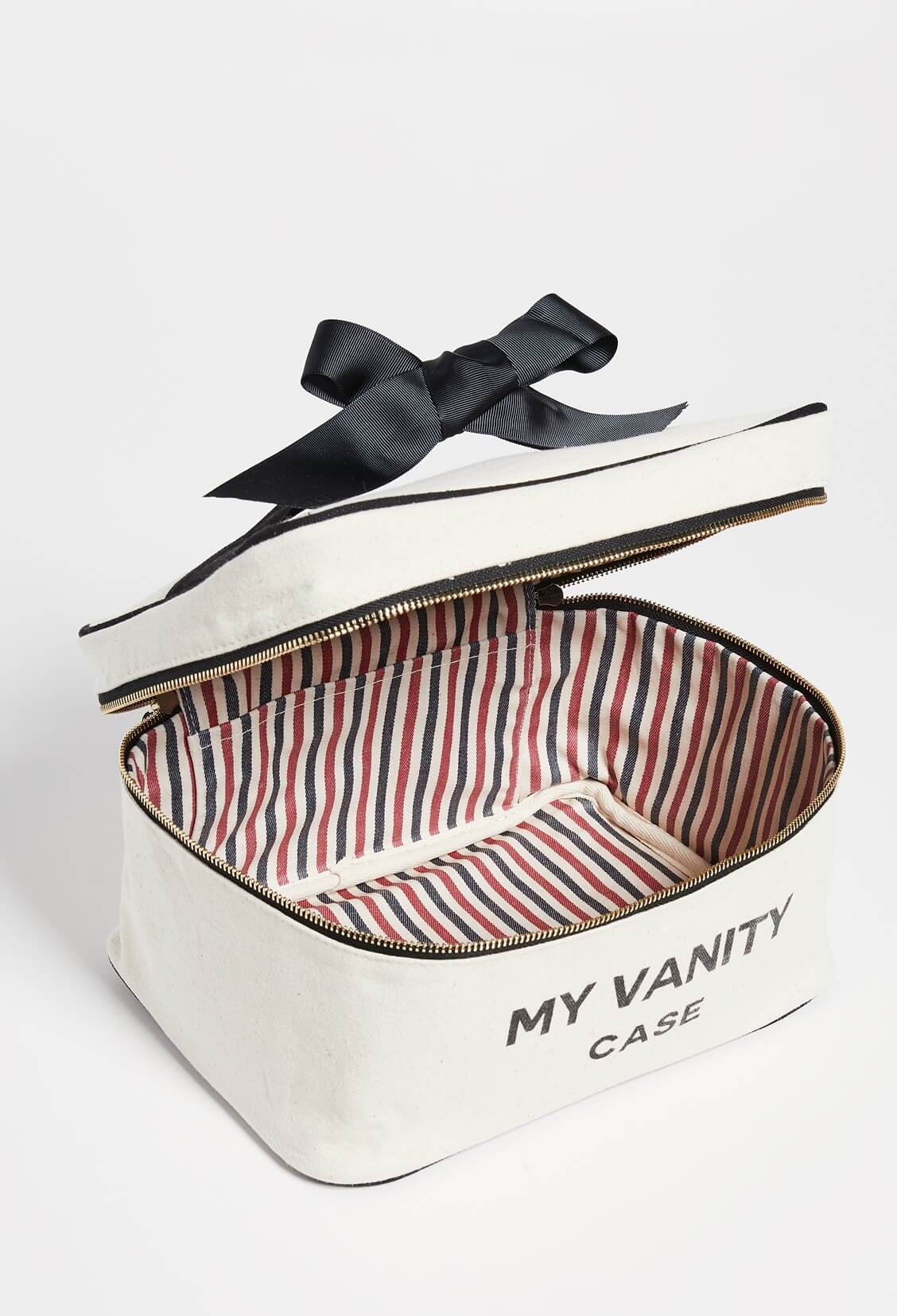 Source:amazon.com
This seems to be perfect if you are going for long vacation and quite a lot thing is not actually getting in your travel bag so you can get this cute yet trending travel vanity bag for storing all your extra things. It has some cute message or savage message was written on it and its base color is muted which gives the bag a very delicate as well as sophisticated look which is great. It comes in a zip look system which makes it a bit safe and you can even lock it and have keys along with you at times. you can wash it of course and you can not only carry makeup in this vanity but also some essentials such as your bikini set, oral hygiene products, skin care, and hair care products and many more other things. You can always get your hands on vanity with different messages written on it. You can get this bag in both online as well as in the offline market which is a great thing for sure as this would help you in your next vacation.
4) Balsa 201 clutch: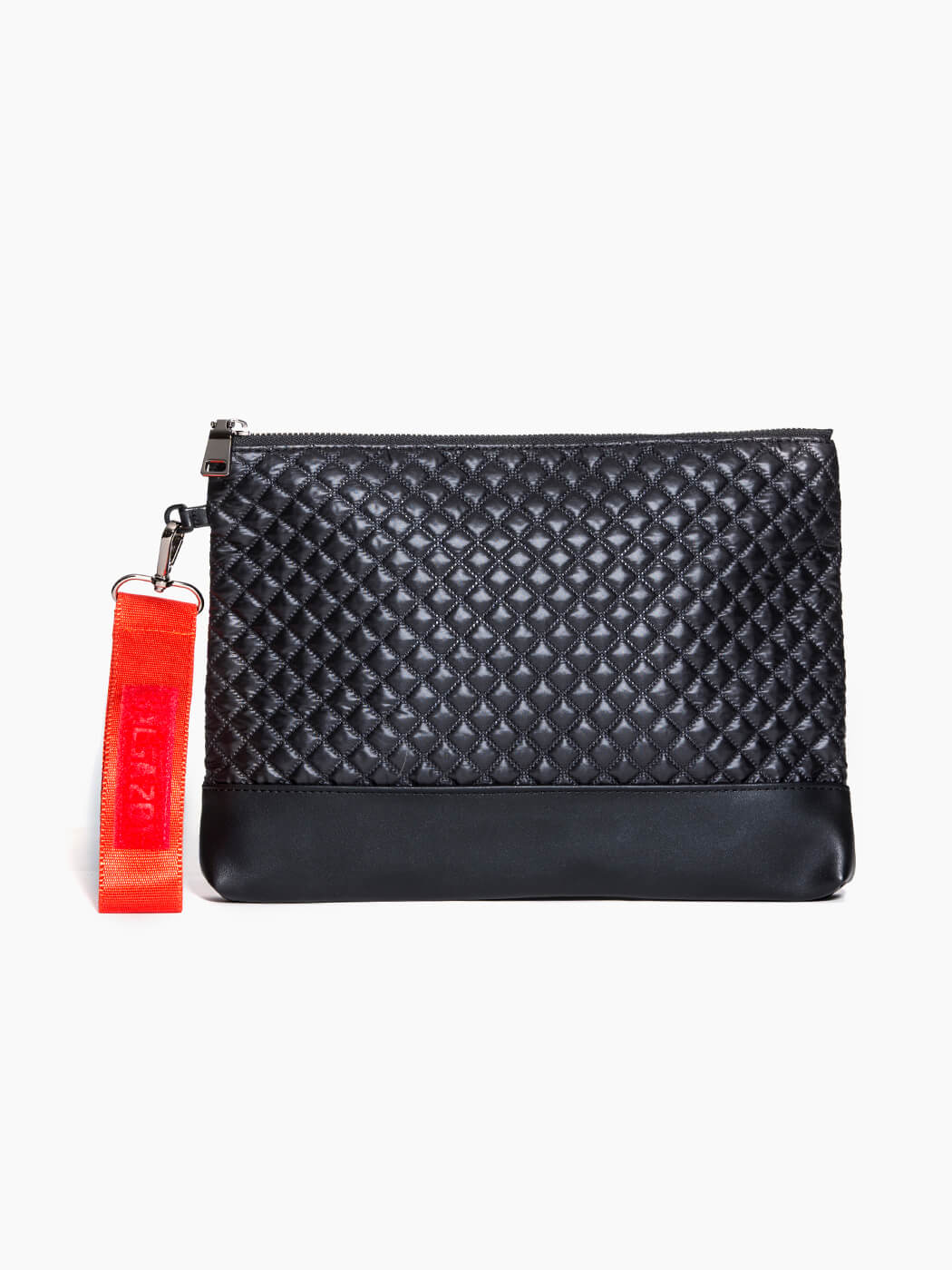 Source:cloudfront.net
This cute, as well as elegant clutch, can transform your whole look without even trying much and this seems to be so cool that you can carry this on a daily basis and don't be fooled by the sleek and skim appearance of the clutch as this clutch is quite spacious and it can actually fit in some of your products of important things in it. this kind of clutches seem to be best if you are going for a simple get together or something when you don't need to carry your side or handbag with you and so you can just grab this clutch and move. There is a strap which makes it convenient to carry and you can fit in your some touch-up things, keys, cell phone, money and some card in the clutch. It comes in a zip lock appearance which makes it super comfortable as well as secure and the black look of the clutch makes it appear so elegant that you would love it for sure. You can wash it or clean this clutch easily at home which is a nice thing and you can also get this in both online as well as in the offline market.
5) Tumi Alpha 2 hanging travel kit: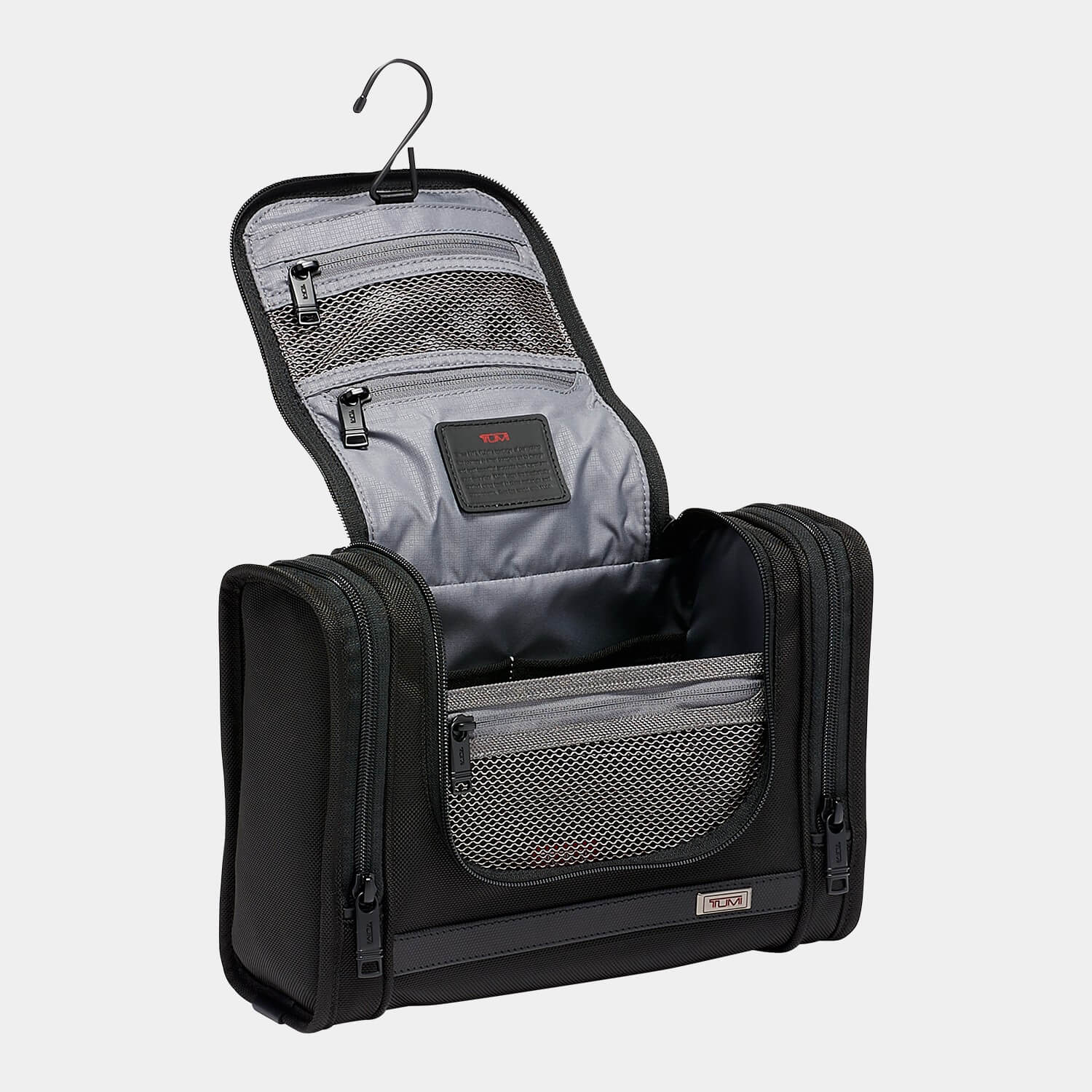 Source:worldshop.eu
This is again a nice travel bag and as it is very spacious so if you are going for a one or two day trip then this bag can prove to be more than enough for you and this bag has got so many zippers that you can always keep your things organized in the bag and also this makes it the best travel toiletry bag ever. This bag is in a thick cloth material which is washable so you can always clean it up easily at home whenever needed. This comes in a nice black color which makes it look so elegant and at the same time, it seems stylish as well. This has got some interior as well as exterior zips and also has a lock system so your products would be safe inside the bag.
6) Henri Bendel Brown and white large hanging bag for weekend trips: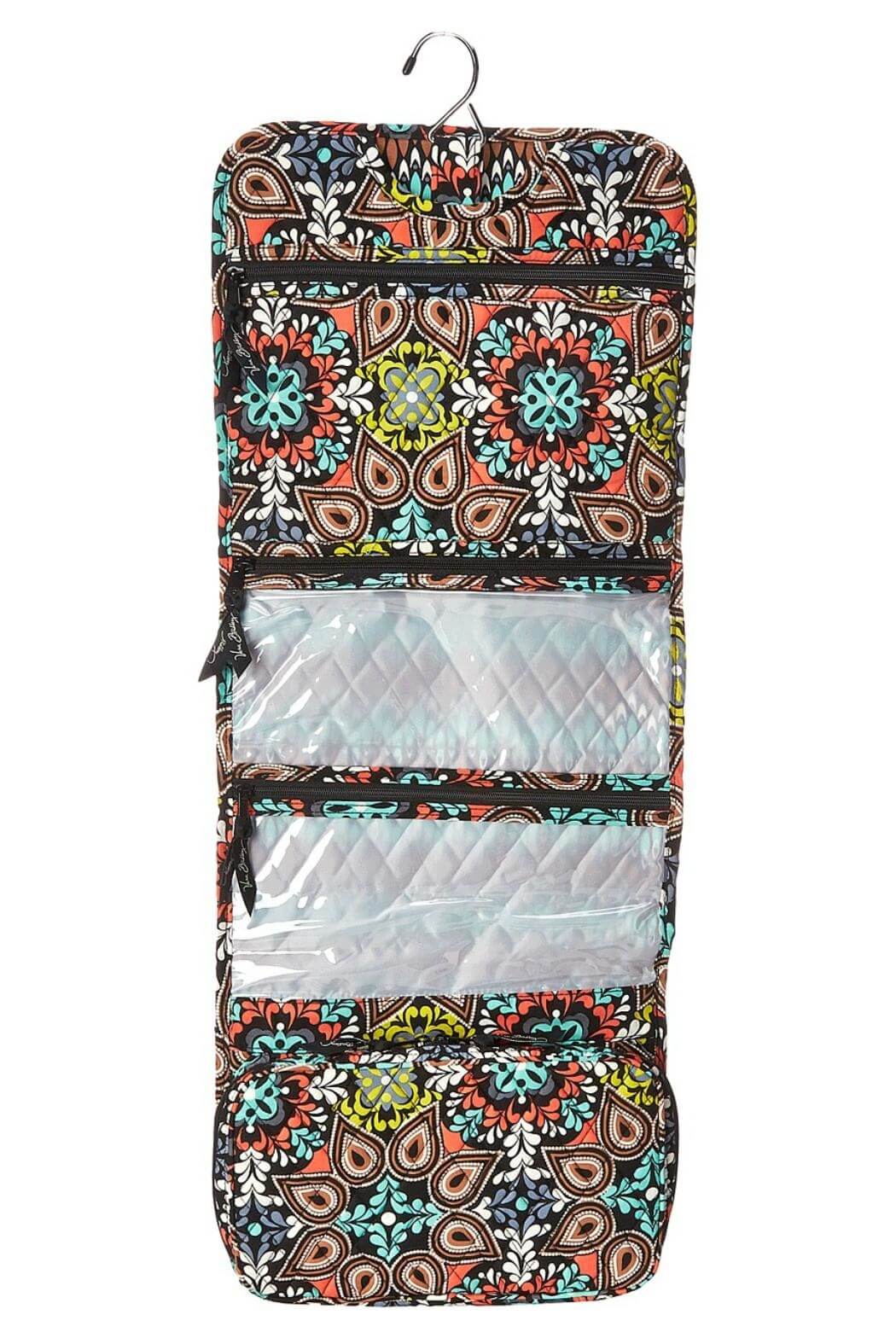 Source:shoptiques.com
This bag seems to be longer than any other such bag and it has got some nice prints on it which is actually making it look cool and more like chic like a bag. It is so spacious that you can keep all your things for a weekend travel trip and you literally won't have to carry any other luggage along with it and here there are separate zippers so you can keep your things in separate chambers which make things manageable and very organized. You can simply hang it anywhere so it doesn't even would eat up much of your space which is a great thing.
7) L.L Bean personal organizer toiletry bag: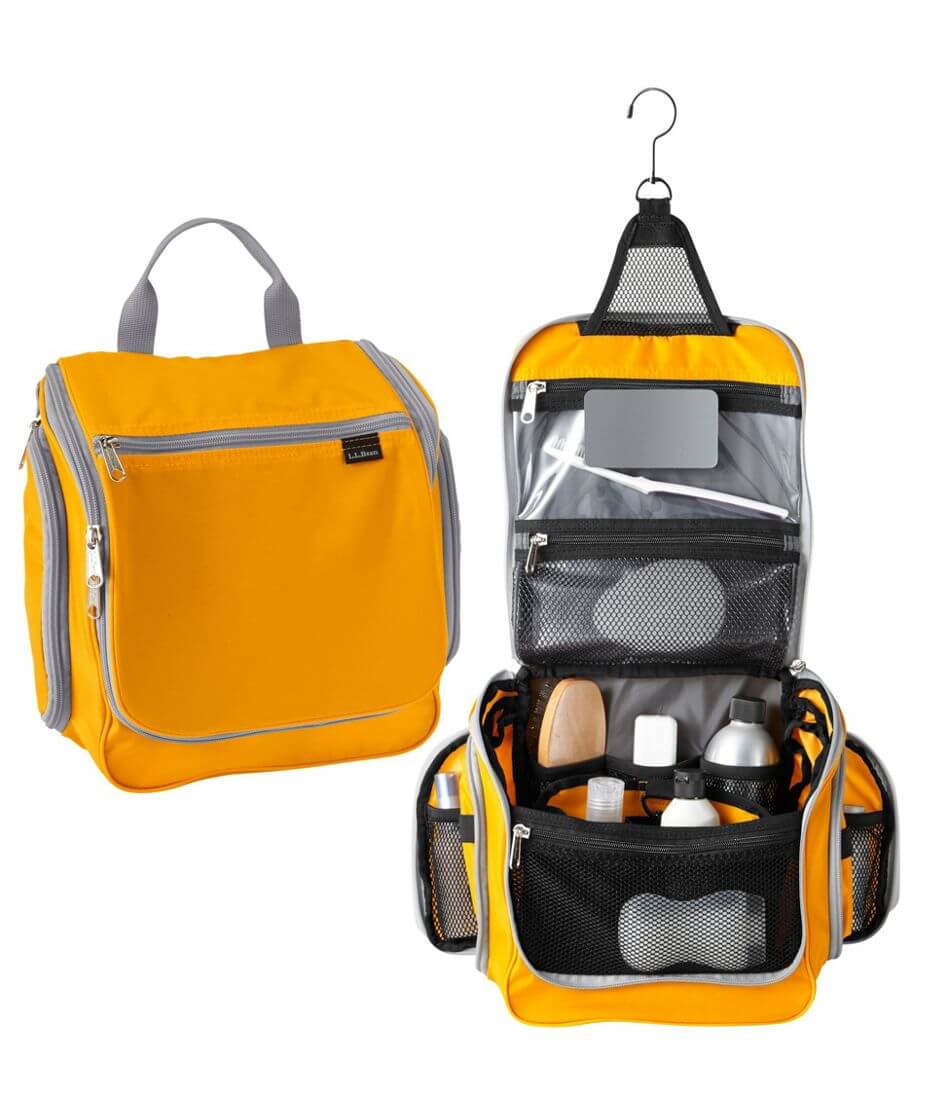 Source:global.llbean.com
This is an amazing toiletry bag if you are someone who wants to have different departments for keeping different things and this very spacious and also it has got some interior as well as some exterior zippers so that you can keep things accordingly and also you can get different color options in this travel toiletry bag and also as it is made up of a cloth material so it is really easy to clean and the best thing about this bag is that it comes with its own mirror so you don't even have to carry an extra mirror for your makeup which is great.
These were few of the best travel toiletry bags that you need to check out and also to you can find more such designs as well as information at Fashionterest.