Summer is hitting at the door and now it is the time to decide the dresses to wear in the summers. If you think that only women are hiking their style game then you may not know that truth as men are also not lagging behind and they have amped up their style game as well and in this summer of 2019, they would show some amazing style and if you are confused about what to wear this summer then here are some of the best men's summer fashion that you need to check out rather you need to collect them in your wardrobe:
1) Printed shirts with shorts: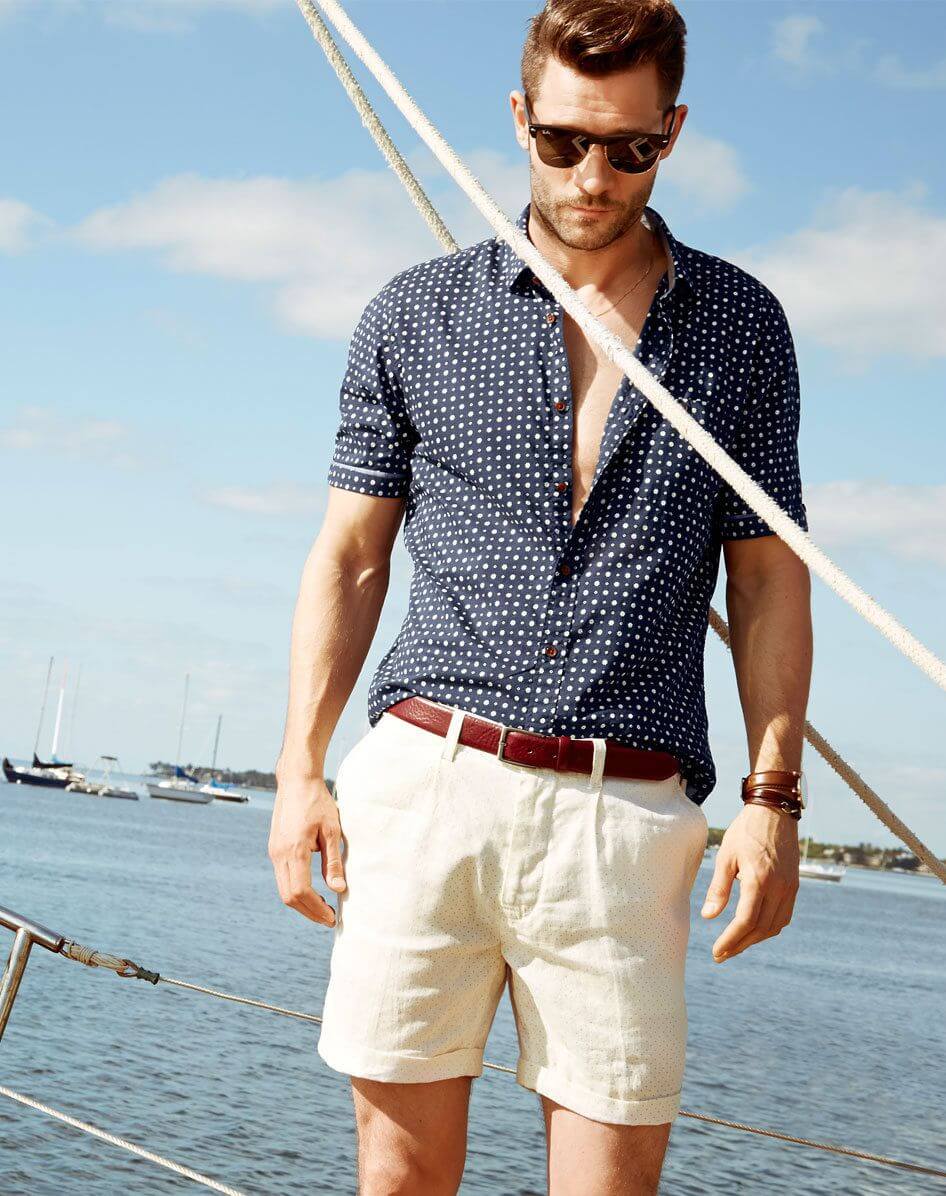 Source:-pinimg.com
If you are planning for a day out in oceans or near the beach then this look would prove to be perfect for you and this look can be carried away by almost everyone irrespective of age. Here you can have a dark color based shirt where there need to be light colored prints on it and this combination looks the best. You can literally pair it up with khaki short of light color and a cool shade would complete the look and you can wear a leather belt.
2) Ripped jeans: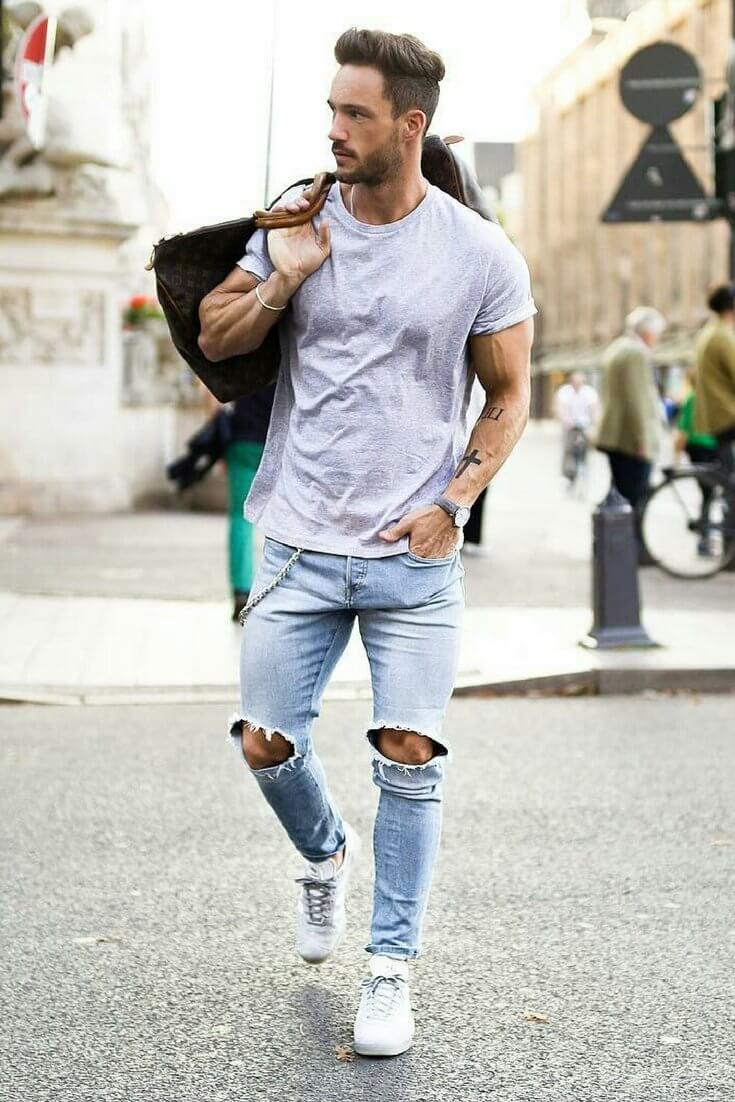 Source:- shopify.com/
Ripped jeans are in trend and almost everyone is crazy about the trend and especially youngsters are wearing this everywhere. This trend is so stylish that this can be worn literally on every occasion and people are actually wearing this to every place. Here you can get your hand on a pair of knee ripped jeans of any denim color and you can literally pair this up with any casual T-shirt and a pair of sneakers would do all the magic.
3) Printed shorts with vibrant silk shirt:
Source:- pinimg.com
This look would make under the limelight all the time and this look seems to be exactly fine for the summer season and this look would make anyone look hot in the hot summer. Here you need to get your hands on printed shorts that need to be of knee length and to compliment the shorts you need to get your hands on a vibrant colored silk shirt of full sleeves and with this, you can wear a pair of slippers and you are ready for any summer party.
4) Flat leather belt shoes: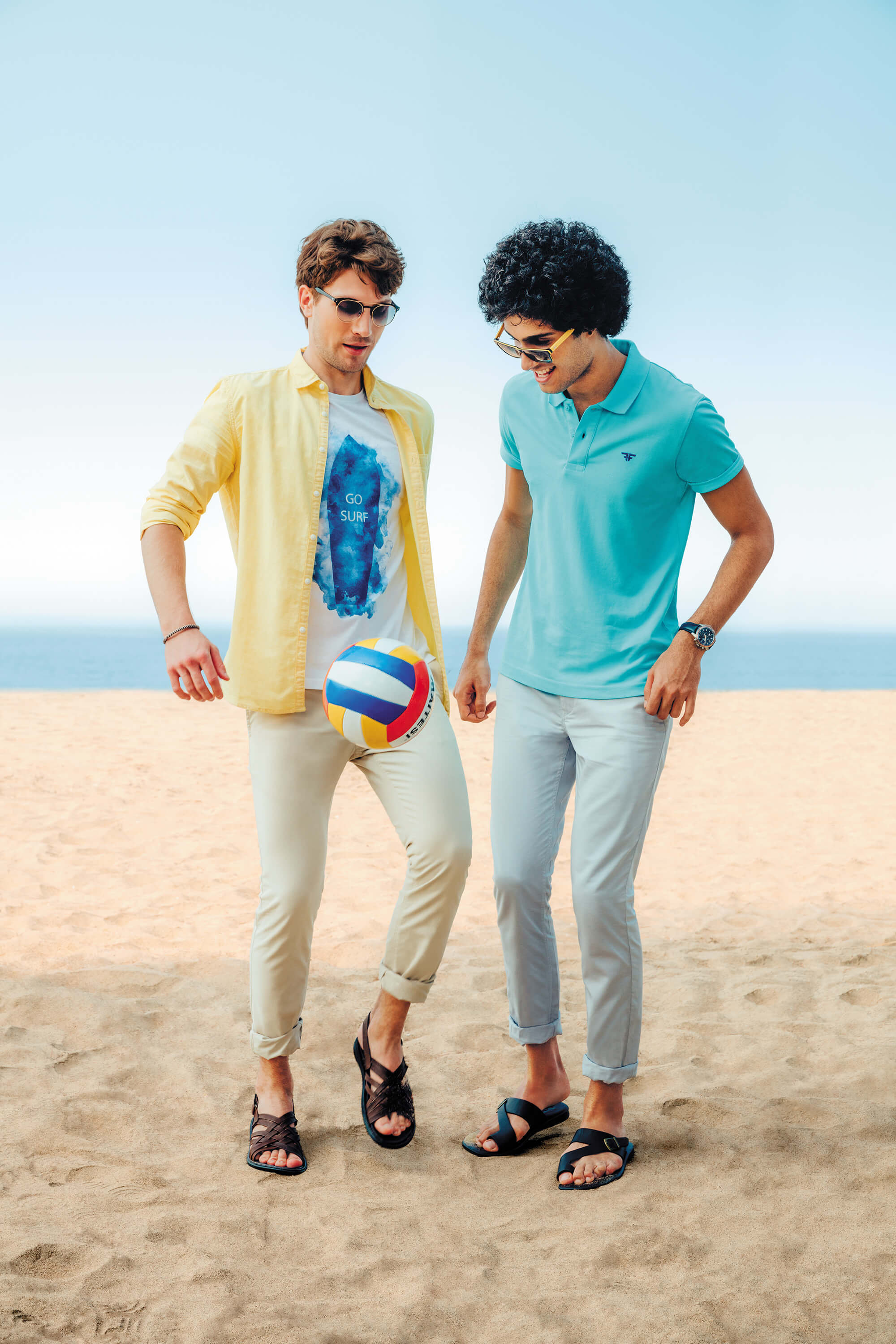 Source:- cipinimg.com
Summer is all about sweat and in if you live in a humid place then your condition would be miserable and in this condition if you would go for sneakers then your feet would be sweaty and would smell bad that this thing can make you embarrassed in front of your friend and other people which no one actually wants. So the best idea here is to wear flat leather belt shoes in this season as they look too cool and at the same time they would let air pass through so your feet won't be sweaty at all.
5) Same colored shorts with a shirt: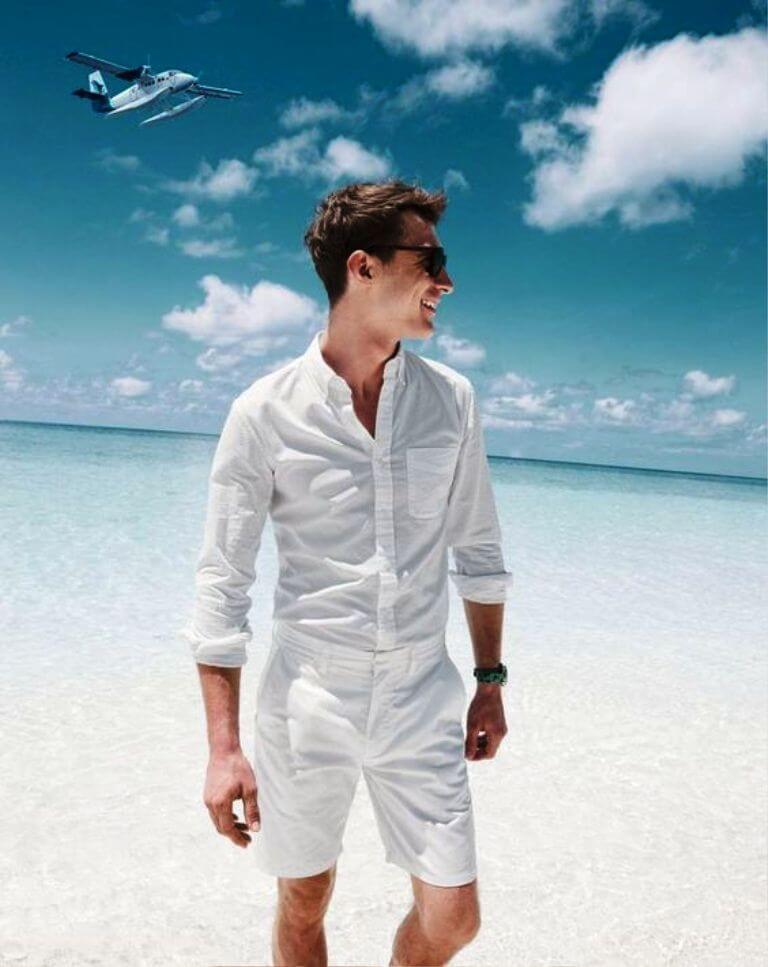 Source:- instaloverz.com
This is one of the best way to get yourself ready for a day outing and the look would come up great if you would choose this for beach strolls or fun and you can also wear it to pool parties as well. here you need to wear a white colored shorts of thigh length which would be slightly above the knees and you have to wear full sleeves shirts of the same color and complete the look by pairing it with a black or blue sunglass and you can also wear a waterproof sports watch and this seems to be one of the best summers looks for men.
6) Casual long denim shorts: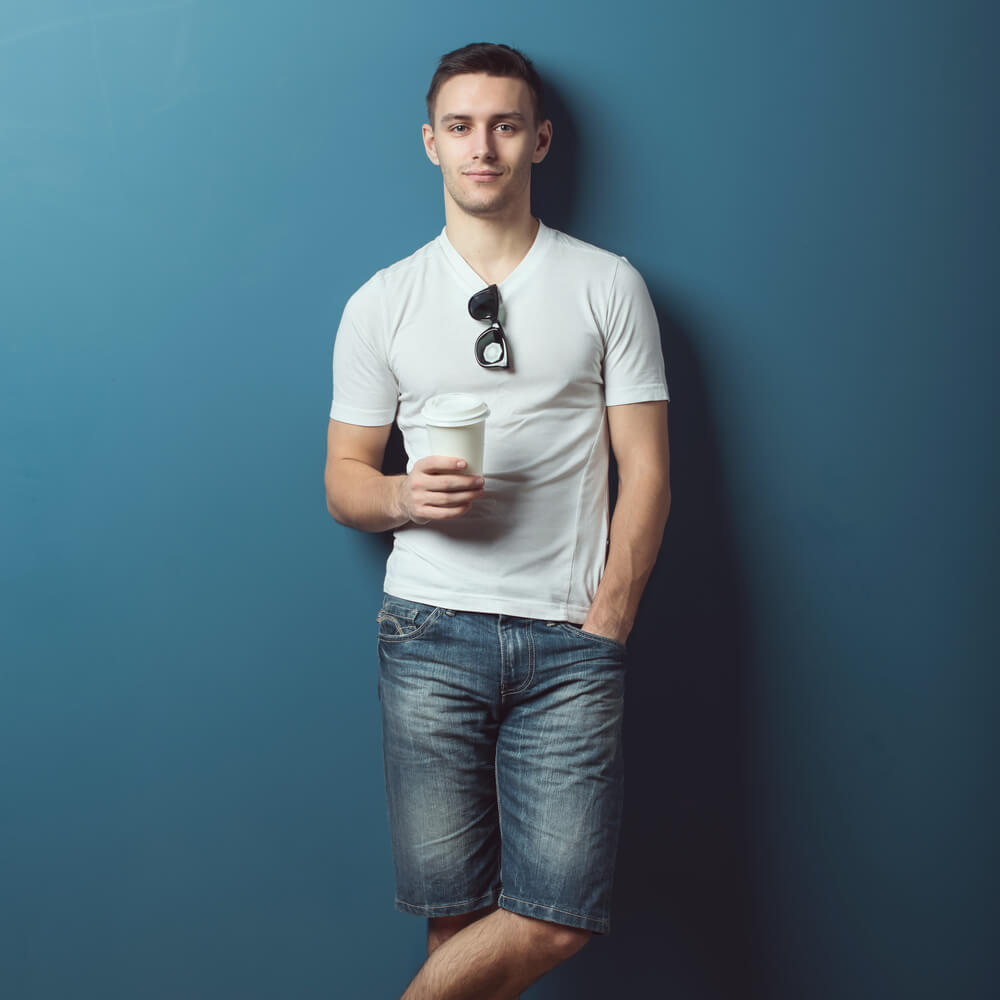 Source:- wordpress.com
Denim, as well as shorts both, are in trend and now you can combine both the trends together and form the best men's summer fashion and to do so you would need t get your hands on a denim shorts which would be of a long length almost of knee or just below the knee length and you can literally pair this up with a casual round neck short sleeves shirt and you can also have sunglasses on and you are good to go for any outing or purpose.
7) Casual jeans: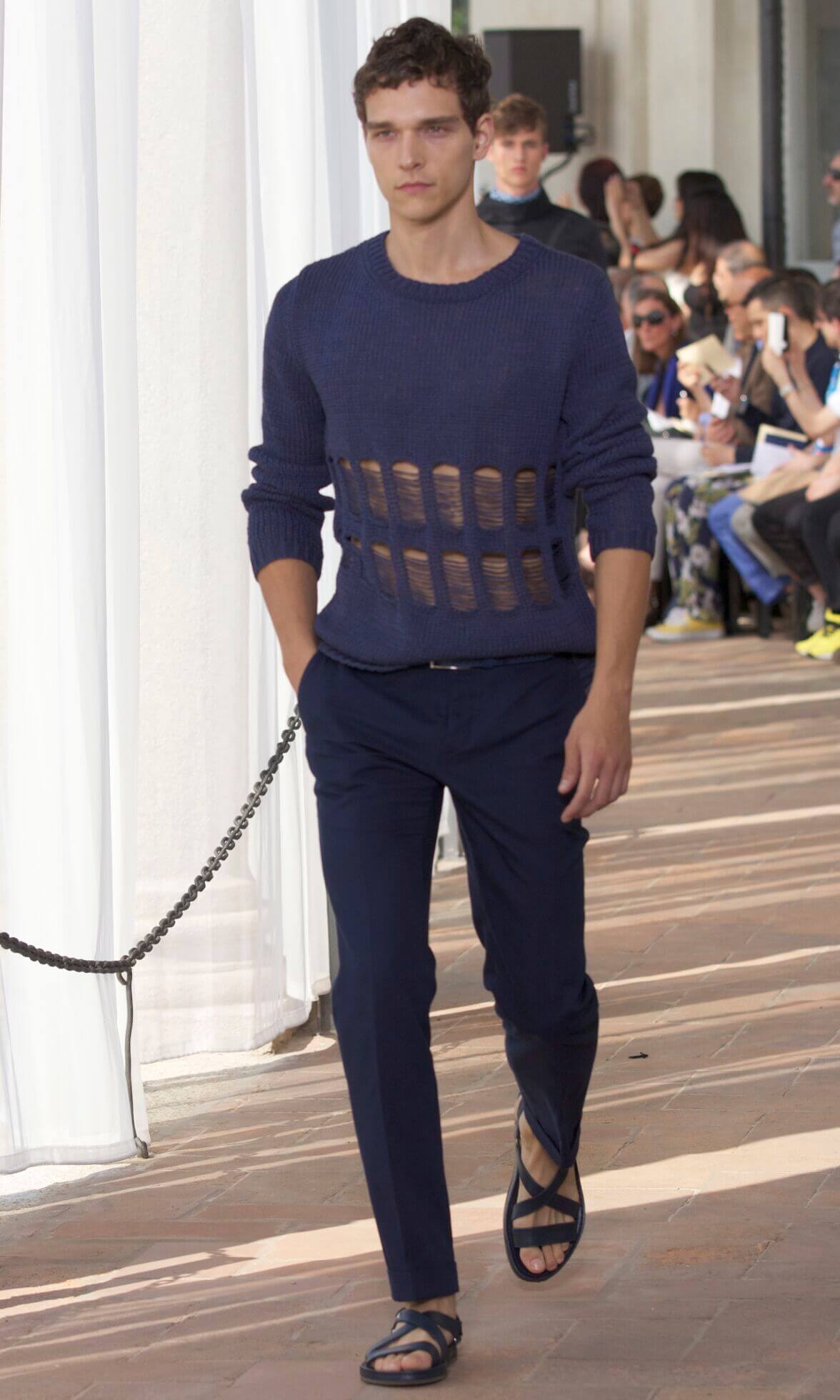 Source:- dhgate.com
This is one of the most casual looks to carry out in the summer and moreover, this look can be carried up in almost every season with some small changes on. Here you can wear a casual full sleeve shirt of stretchy cotton as the material seems to be very comfortable and you can go with dark colors if you don't want to look too vibrant and along with it you can wear dark blue colored denim jeans and to complete the look you can literally go wear a pair of leather belt shoes and you are good to go. Make sure to pull on the sleeves up to the elbow length all the time.
8) Stretchy casual cotton shirt: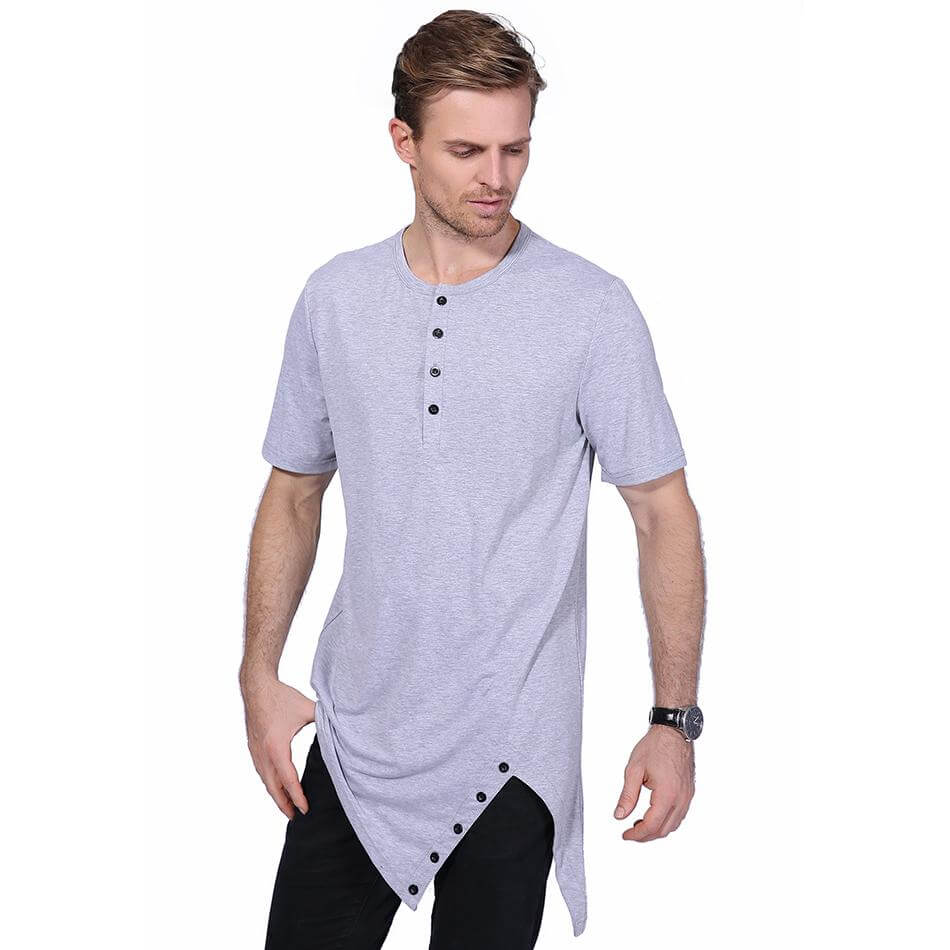 Source:- trashness.com
This type of shirts are in trend nowadays and the craze of this kind of shirts is more among the youngsters and even kids can wear this type of shirt and rock any event successfully. Here you can see that there is a slit cut at one front corner at the bottom and there are buttons lined together as well and even in neck area there are buttons and the material is of cotton which makes the shirt super comfortable during summers and air can pass through the fabric.
9) Statement boots: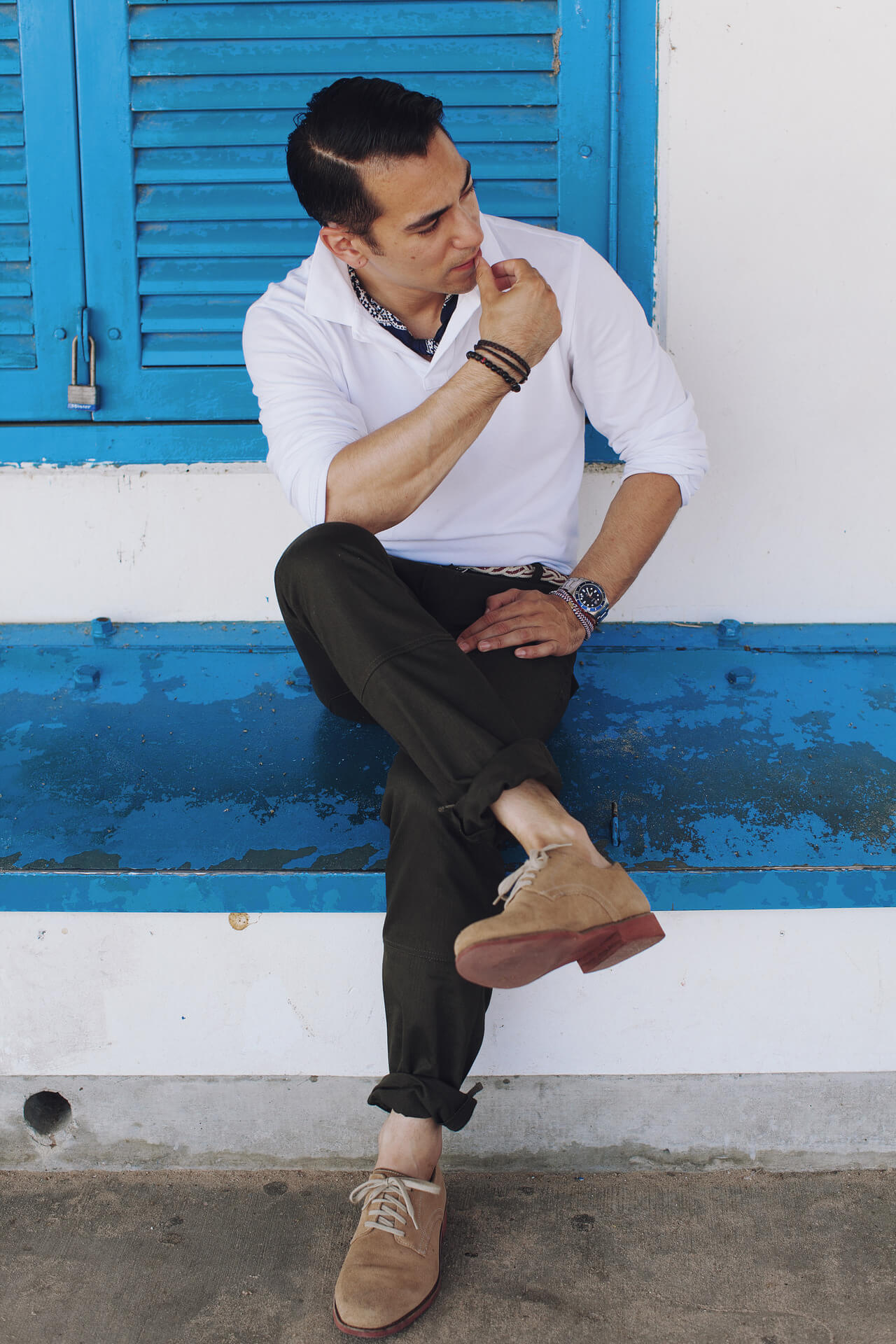 Source:- pinimg.com
This boot seems to be super cool and it can provide with the best summer hairstyle looks for men and this kind of boots can be worn with any outfits but they best go with light as well as sober colored outfits such as black and white and you should always go with the classic brown colored boot.
10) Short denim shorts with casual sneakers:
Source:- pinimg.com
This look can prove to be the best men's summer fashion of all time and if you are going for outings then choosing outfit would save your day and you would look good throughout the day. Here you can get your hands on short thigh length denim short and wear a cotton casual short sleeve shirt of any dark color and complete the look with classic white sneakers and you are good to go and a sunglass would amp up your entire look.
These were few of the summer looks for men that you need to try out in this summer season and also you can find out more at Fashionterest.