We all have our favorite denim clothes with us. And despite the fact that new denim trends pop up every year, there's no reason to ditch a pair you love just to get a new look. Instead, you can think of new ways to style them so that they feel like a fresh addition to your spring wardrobe. The street-style images ahead will provide you with plenty of outfit ideas to do just that. Try dsw coupons and get discounts on your denim purchase. Have a glanced look at some of the ideas of pairing up your favorite denim clothes to give yourself a fresh, new, simple yet stylish look ever.
HOW TO WEAR A DENIM JACKET
Partner a denim jacket with black jeans and a t-shirt for a stylish casual look. For a smart-casual ensemble, try wearing your denim jacket with chinos and a shirt.
When it comes to choosing shoes to wear with your denim jacket outfit, you can select either sneaker, boots, or relaxed dress shoes. For a fashion-forward outfit, try a double denim look. On what to wear with a denim jacket during summer, you can opt for a sleeveless style.
Also Read: [Complete Guide] How To Wear A Denim Jacket For Guys
WHAT TO PAIR UP WITH DENIM JEANS
CASUAL SHIRT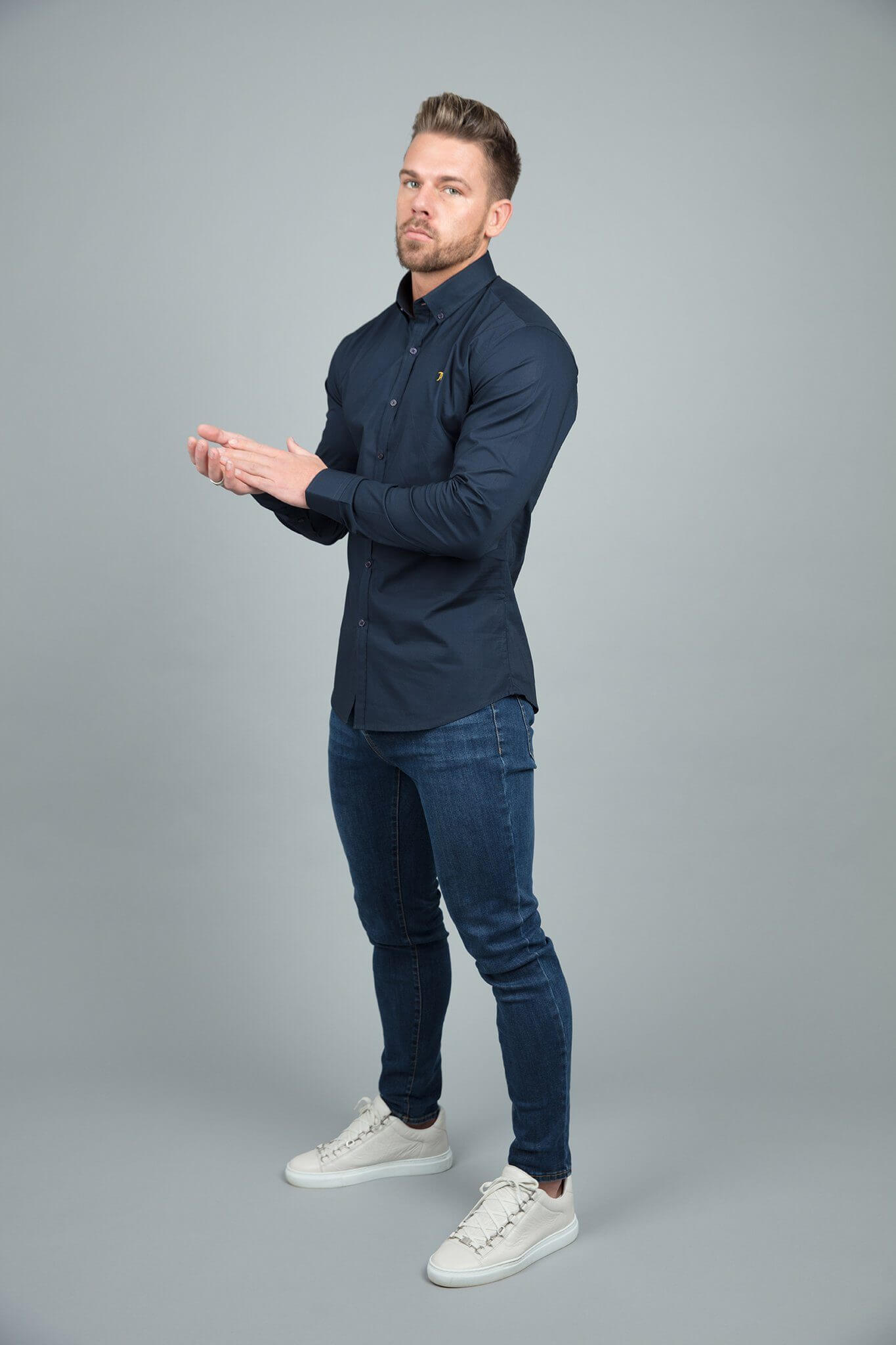 Source: shopify.com
Dressy enough for a date, easy to wear for hanging out with mates. A check print casual t-shirt is the best choice to pair with black jeans. Green, red or blue is best. Choose a long sleeved shirt you can roll up to the elbows for a laid back vibe. You can wear this open with a white V-neck t-shirt underneath – or tie around the waist for grunge vibes. It will definitely look trendy and will make you look extra stylish.
STRIPED POLO SHIRT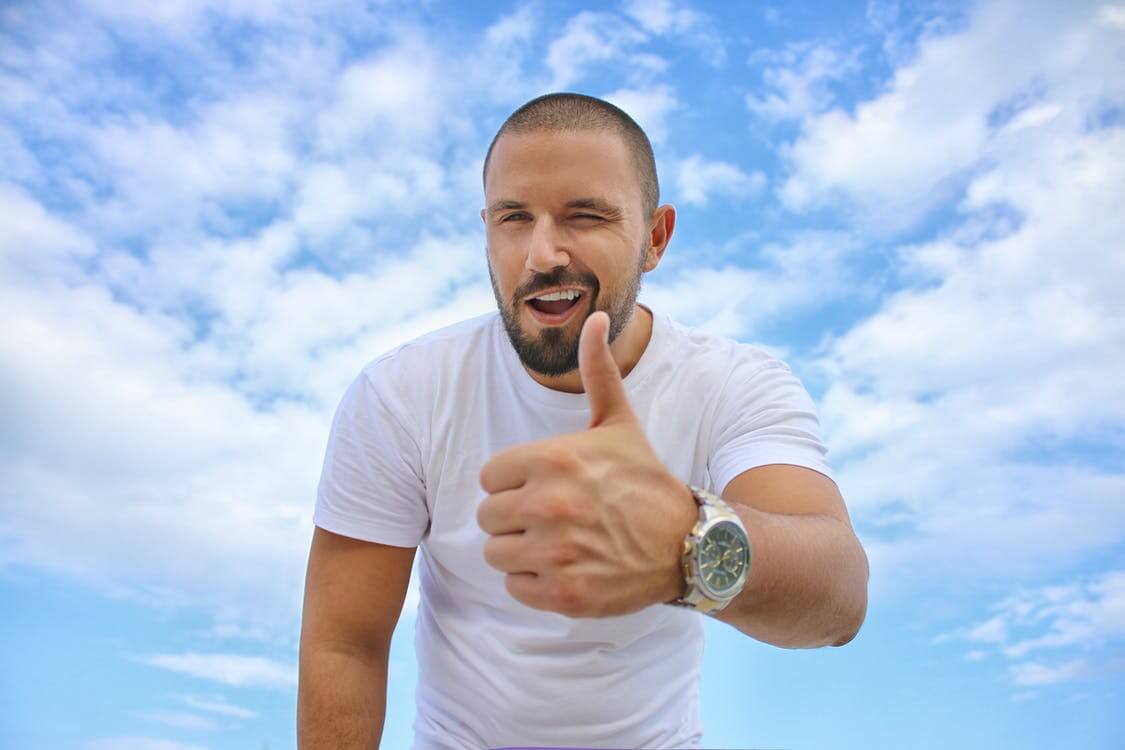 Source: shopify.com
You can pair up your denim jeans with a striped polo shirt in your wardrobe. Pastel shades – yellow and blue – add a softer vibe with slim-fit black jeans. Great for any casual occasion or partying with friends at the weekend- the t-shirt makes you look smart and stylish. Just remember – the smarter the occasion, the stronger the collar needs to be.
PAIRING UP WITH DENIM SKIRT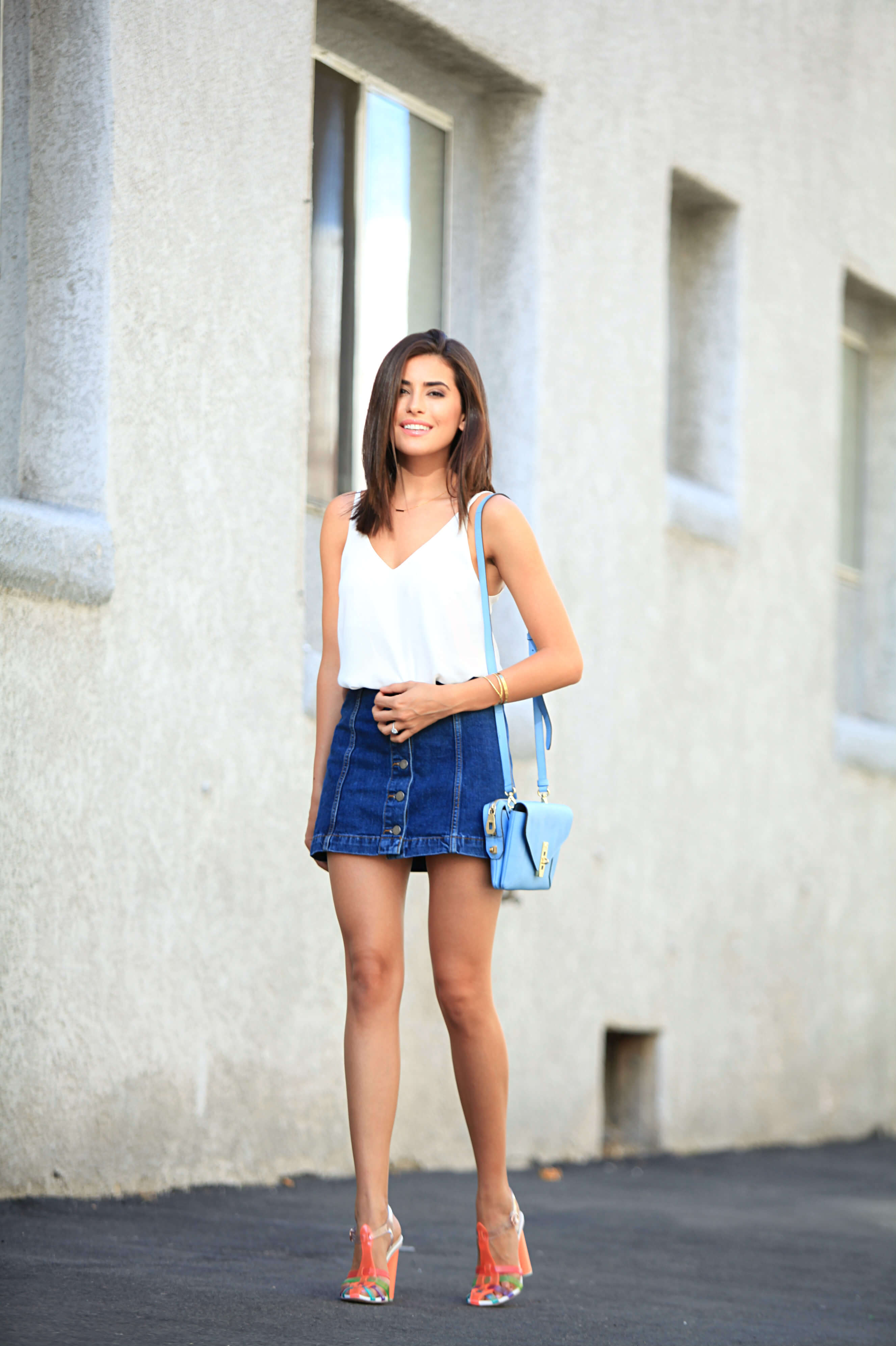 Source: sazan.me
When you're thinking about what to wear with your denim skirt, you'll realise you can wear anything you like and look attractive and stylish. Casual style with a classic tee, sophisticated with a button-through blouse, feminine with a floral print top or all attitude with a jacket.
You can style your denim skirt with leggings, with tights, or leave your legs looking long and sexy. And with your matching footwear, you can create a multitude of different looks with one basic style. Put up your denim skirt with boots, converse sneakers or high-heeled gladiator sandals. You cannot even think of how trendy and classy you can look.
STYLE UP WITH DENIM JOGGERS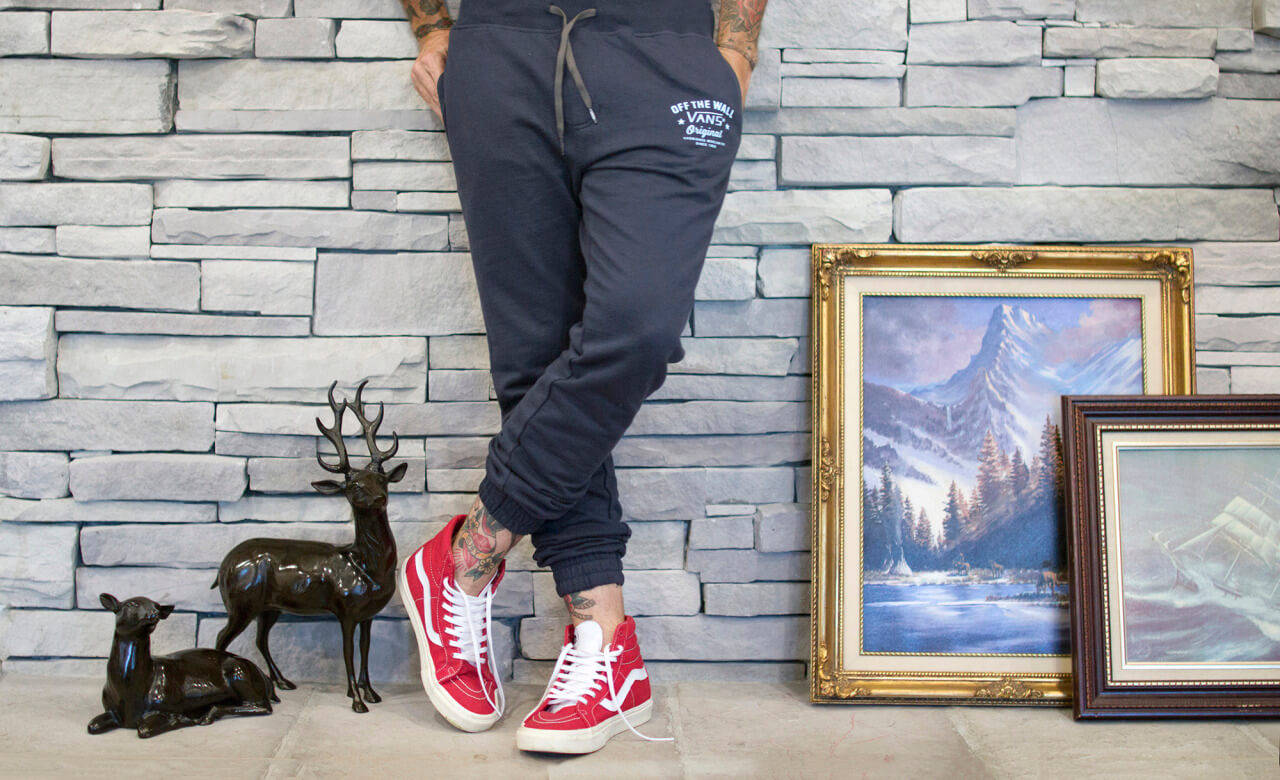 Source: onpointfresh.com
There are so many ways you can style your denim joggers, among which a plain white T-shirt works the best – even black for that matter. Wear a pair of casual shoes to keep it simple, subtle, and stylish. You can also opt for a monochrome look by wearing a grey top. Or pair them with a graphic T-shirt, running shoes, and a messy bun and spend a casual weekend chilling with friends and family.
STYLING YOURSELF WITH DENIM JACKET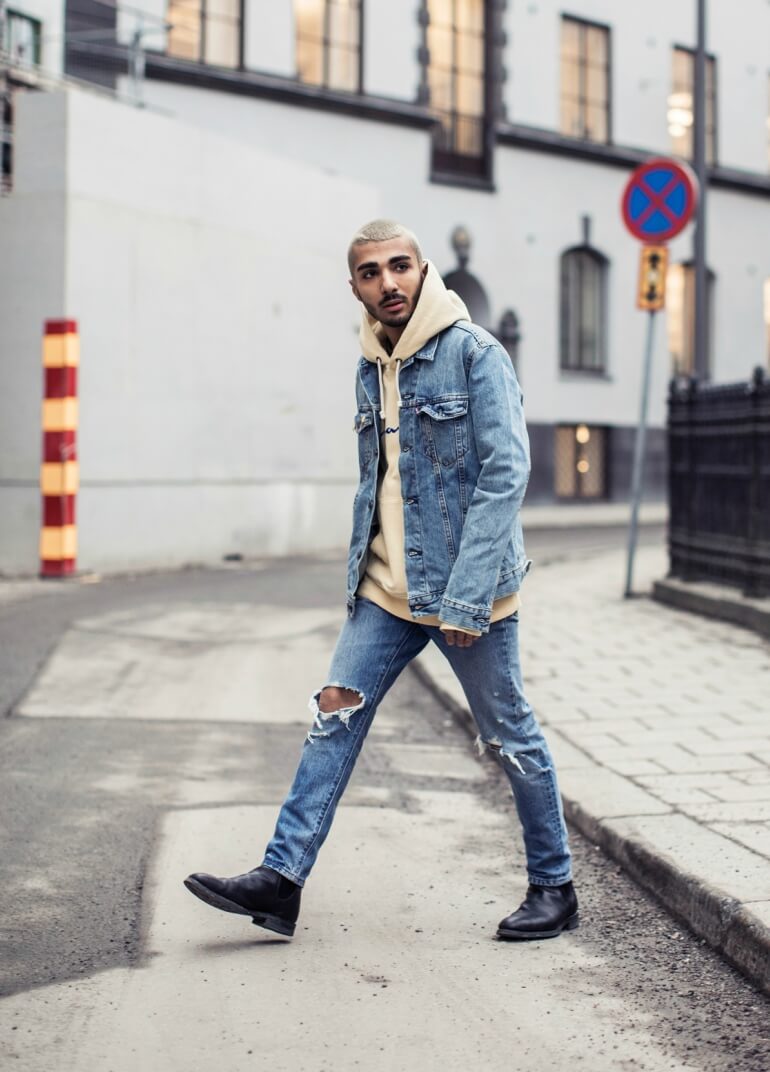 Source: nexcesscdn.net
Denim jackets are the best because you can pair them up with literally anything. They always lend a casual vibe to any outfit, but they can also be dressed up a little bit.
Keeping you simple and subtle, the denim jackets are a perfect match with your floral dress or simple jeans and t-shirt. Pair it with a white lace dress and boots to put a classic touch on a feminine look or to make it fancy, you can wear it with sequins and heels too. Wearing a crop top anywhere, any time by putting a denim jacket over it can give you a different and stylish look all over.
Keeping it very simple for daily purpose and college-going, you can simply put on a striped polo or a plain t-shirt and wear the jacket to give you a smart and trendy look.
For a smart casual ensemble, try wearing your blue denim jacket with chinos and a shirt.
WHAT TO WEAR WITH JEANS
Double-denim is a term that's been brought up more and more often in the last few years. You can try a subtle approach and achieve something that's both on trend and looks classic and put together.
For the shirts, it's best to pick ones that are well fitted and fully buttoned up. Try to pick lightweight denim, as anything too heavy is going to look more like a denim jacket and won't give the clean, fitted look you're after. It'll also be easier, if you're not quite ready to go for blue on blue, to choose a blue denim shirt and black denim jeans. This is still giving you the double denim look but with more subtlety.
CATCHING UP WITH DENIM SHORTS
WEAR AN OFF THE SHOULDER TOP WITH DENIM SHORTS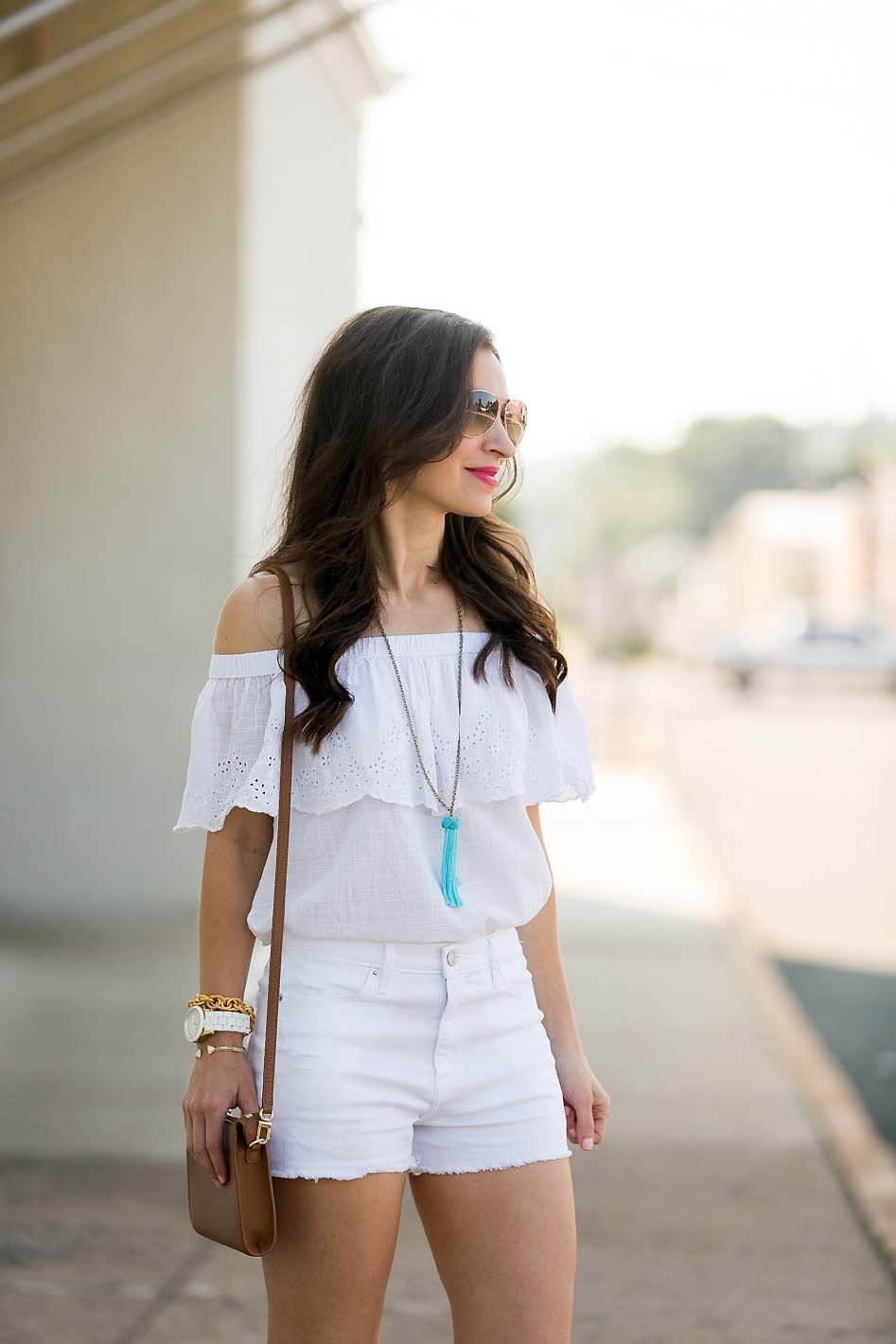 Source: lipglossandlabels.com
Wearing a trendy top is a great way to instantly update your go-to denim shorts this summer. A fashionable off the shoulder top makes these dark denim cut-offs look fresh for summer fashion. Choose a top in a lightweight fabric with a super trendy print and add a great pair of sunglasses and classy funky sneakers and you've got a cute outfit for wearing to concerts, festivals, cottaging, parties and other casual hangs with friends this summer.
WEAR A BUTTON-DOWN SHIRT WITH DENIM SHORTS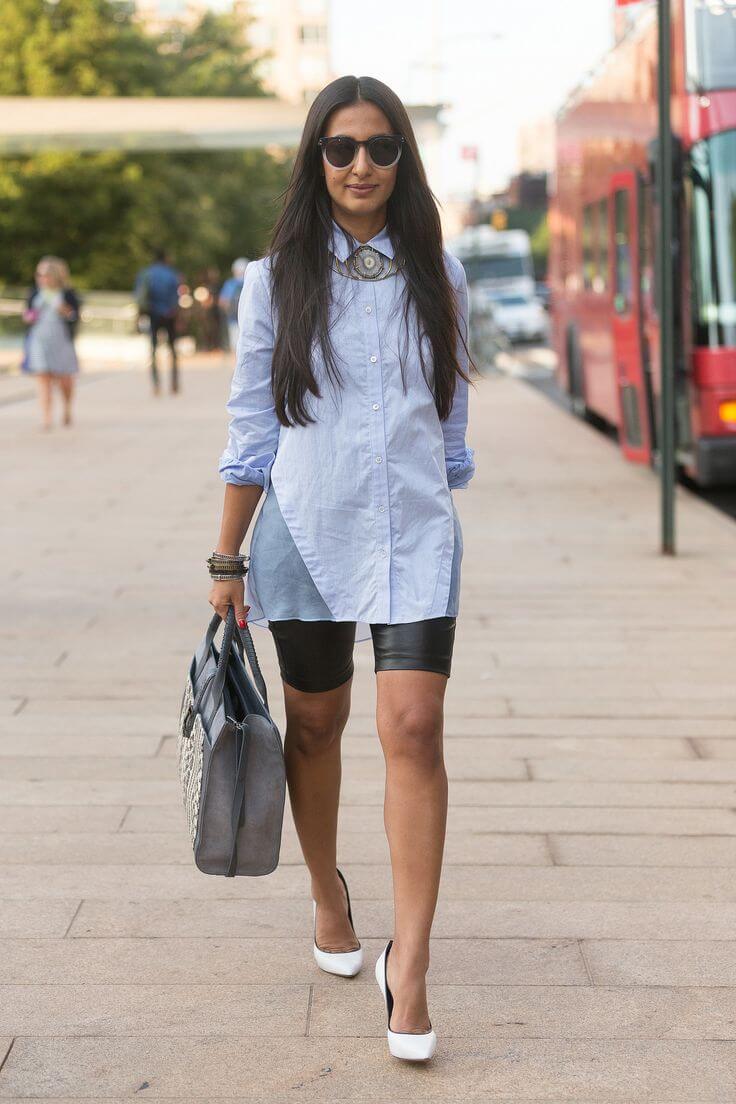 Source: glamradar.com
Another fun way to take your casual look in jean shorts up a notch, while still looking effortlessly cool. Try wearing a button-down shirt tucked into your favourite denim shorts. You can select a shirt in a soft cotton fabric, or even a chambray denim shirt, for an outfit that's perfect for weekend parties, night-outs and any other casual occasion.
DENIM ON DENIM
Wearing double denim never goes out of style. Recently, Many of the top notch celebrities have set up a new tend and proved this. You can par up your denim jeans with a cute crop denim top, can wear a full-length denim dress.
You can even pair up your denim shorts with a denim shirt and put on a easy-to-carry lightweight funky sneakers with a cross body bag. This will definitely give you extra stylish and smarter look.
So, These were some of the idea of wearing denim clothes. Next time when you go shopping, do consider these idea and have fun shopping!
HAPPY SHOPPING! HAPPY TIME! 😊