If you have a special event coming up on the calendar, it is vital that you get yourself organized well in advance to ensure that you feel your best on the big day.
From the importance of dry-brushing to making an appointment with the best makeup artist in Qatar, read on for the five steps you need to follow to get ready for a special event.
1. Start Dry-Brushing Your Body
Two weeks before the big event, you want to start exfoliating your body with a dry brush (if you don't already do this). Dry brushing removes dead skin layers while also helping to firm your skin, boost blood circulation, and reduce cellulite. All together, this helps your skin to look more refreshed.
Additional benefits of dry brushing include promoting lymph flow/drainage; it also unclogs your pores and stimulates your nervous system, which helps you to feel refreshed. To dry brush, you need to have a stiff bristle brush with a long handle.
Before you get into the shower, use the brush in an upward motion on the skin starting with your feet and then moving up your legs, back and so on. Make sure you brush in an upward motion (against the flow of blood). It is also essential to do it while your skin is dry as this helps you to exfoliate it and increase blood circulation without removing too much moisture. Just remember to apply lotion after you have been in the shower to ensure that you are putting moisture back into your skin.
2. Focus on Your Skincare
On the day of a big event, you want your skin to be looking as flawless as possible, which is why you need to start thinking about your skincare in advance. Depending on your current skincare routine and any skin problems you are currently facing, you may want to book an appointment with a professional aesthetician. They can recommend whether you should have a series of Microdermabrasion sessions or something similar.
A week before the occasion, opt to use a peeling or a charcoal mask that will help to draw out excess oil and dirt from your skin. The more you can focus on having unclogged pores, the easier (and more effective) your makeup and skincare products will go on.
Additionally, you want to make sure your skin is properly exfoliated. Depending on whether you are acne-prone, have sensitive skin, or are looking to battle dryness and dullness, you can find an exfoliating product that will work for you.
3. See Your Hair Stylist
Of course, in order to look your best for the event, you are going to want to make an appointment with your hairstylist. Every salon offers a different array of hair styling services, but you want to be sure you are choosing something that works for you, your event outfit, and the event itself.
One of the best things you can do to ensure you get the hairstyle you envision is to bring for your hairdresser examples of styles you like. You can then have a conversation with them about what they think will work and what wouldn't work for your hair type. Make sure you listen to their advice and are being realistic about any potential changes you want to make.
You can also opt to meet them for a trial or a consultation a couple of weeks before to help reduce the likelihood of experiencing an unpleasant surprise. Depending on what you decide to get (and how drastic it is), you want to ensure that you are giving yourself enough time to get used to it before the event.
4. Choose Your Outfit in Advance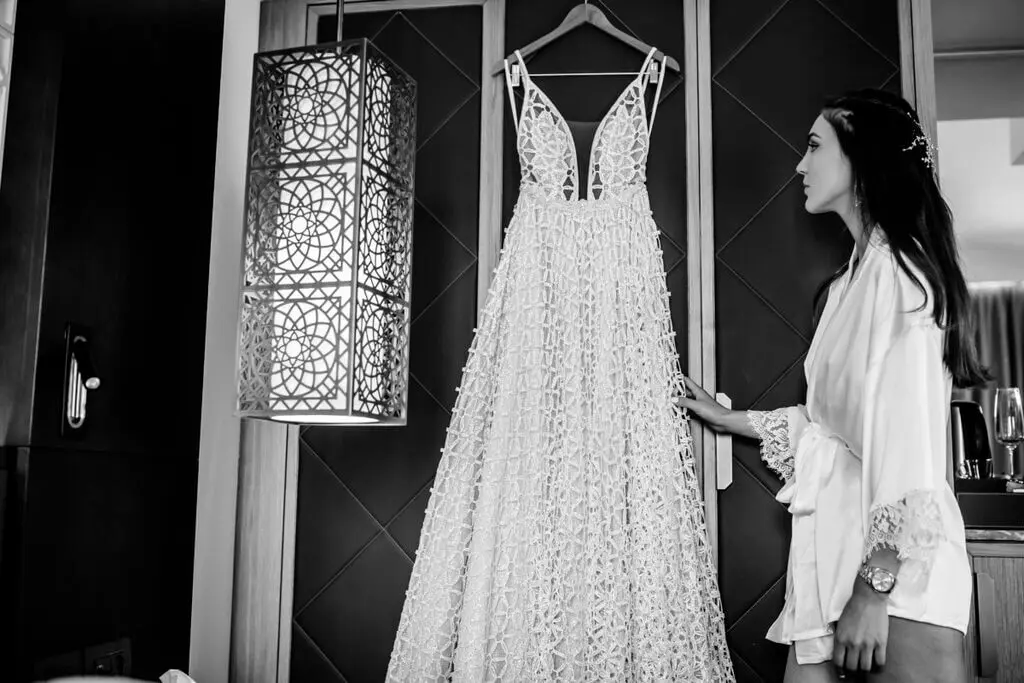 What you are going to wear is a large part of getting ready for any occasion, so you want to make sure you have it chosen in advance. Not only will this significantly reduce your stress (and save you from running around shops the night before), but it will also give you enough time to get any alterations done.
You may also need extra time to find the right shoes, bag, and jewelry, and the more time you can give yourself, the more likely you are to put together the perfect outfit. Similarly, you want your hair and makeup looks to work with the clothing choices so that altogether, you have a cohesive ensemble.
5. Opt for Professional Makeup Services
Even if you love doing your own makeup, sometimes you simply want to be pampered. When you are preparing for a big event or a special occasion, it is highly recommended that you book an appointment with the best makeup artist in Qatar (or wherever you reside). Treating yourself to this kind of service will not only feel incredibly special, but it will also give you some time to relax before the event.
The more you can reduce your stress on the day of the event, the easier it will be for you to enjoy what is about to happen. An experienced makeup artist will know how to time the entire process appropriately and will have the tools, products, and know-how required to deal with any makeup emergency that may arise.
They will also know how to do makeup that lasts for hours, so you don't need to be concerned that your mascara will run or you won't be looking fully put-together in the photos.
Final Thoughts
If this seems like an overwhelming amount of things to think about and has you feeling more stressed than prepared, then the most important thing for you to do is to sit down and make a plan. Give yourself plenty of time to make the necessary appointments and to purchase the required products. In fact, the sooner you can be organized, the more enjoyable the whole process of getting ready is going to be.
What do you like to do before you get ready for a big event? Do you have any additional steps to add to this list? Let us know your thoughts and any of your tips in the comments below!
For additional insights:-