Spring is knocking at the door and it is the time that you prepare your wardrobe well to appear stylish throughout the season and the spring fashion trends are already out and if you want to be the fashionista then you need to appear in style throughout. If you are wondering about Spring Fashion Trends then you need to check out the below listing and also you can get things arranged accordingly in your wardrobe and the best about this listing is that it has got almost everything covered of Women's Fashion so you don't even have to look up for more:
1) Huge Sunshade Hat:
Spring is the time when the sun shines bright and this is the time when maximum people get sun damages and if you don't want to be counted among people who have got sun damages then you need to get yourself covered but in style. If you are thinking that only sunglass would do the job then you may be mistaking and also being hot weather you cannot even go with full covered dresses so for these days you can go with a huge sunshade hat and that would make you look trendy for sure. This kind of hat seems to be perfect for the day time and would give sun protection to your entire face and also you can get color options for this hat so you can, of course, get your hands on your favorite color or you can go with statement colors as well. You can aslo check Summer Fashion Tips For Moms.
2) Thigh Pleats:
This kind of dresses seem to be very stylish and at the same time it would make you appear hotter than ever and here the uniqueness of the dress is at the thigh portion and here you would get pleats there at the thigh area. Now there are many kinds of pleats to choose for and you can either go with small as well as précised pleats or you can even go with huge statement pleats and both of them looks equally gorgeous and would also make your look appear smarter. Here mostly you can get one piece dresses in this range though you can also get your hands on shorts of with thigh pleats and they would also look equally gorgeous and would enhance your look more.
3) Sensible Shorts: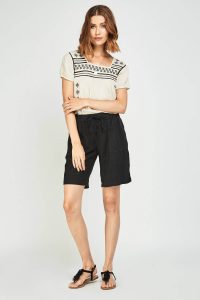 Shorts are always in trend but spring is the time when you can flaunt your shorts and rest of the season has their own trends, to be honest. Here you can get your hands on short pants that would be of your above the knee length. You can get many prints on this kind of shorts and they look super look and also this kind of shorts can be worn to any place and also this kind of shorts and so versatile that you can pair them up with almost everything and they would still look good on you. You can actually have common colors of these shorts so that they could look contrasting with any of your upper tops.
4) Summer Waterproofs:
This is kind of jacket that is sweat-proof and so this kind of jackets are waterproof from inside and they look super cool as well as attractive at the same time. here you can get your hands on an endless variety of different colors and you can wear them just like you would wear a normal jacket and the interesting thing about this jacket is that they come with a hoodie kind of thing so you can pull it over and can save yourself from the sunrays and also they can be paired with different lowers and they look stunning on denim and also on casual statement colored lowers.
5) Flats:
This spring season has something different and unlike any other seasons this time flats are in trend and if you also want to be in trend then you need to grab your pair of flats and flaunt them on and the reason being the flats be trendy is simply that they are super comfortable and would not even cause any trouble in your feet which is the best thing for sure. There are different designs available in flats and you can also get them in different colors and the best thing is that flats go well with almost all dresses and also would make your appearance good in all occasions as well which is the best thing for sure.
6) Fringes:
If you think that fringes only look good when it comes to haircuts then you are far from the reality as fringes are now being used to style dresses as well and the best thing is that dresses that have fringes are in trend as well so even if you don't want to try fringe hairstyle then also you can definitely try dresses that has fringes on. Here you can get the fringes on almost every dress but they best suit on the full sleeves tight one-piece dress or you can even get tops with fringes on them and according to your taste you can select your outfit that has fringes on it.
7) Neon Colors:
Bright colors are always loved as they make you appear younger as well as louder at the same time and the best part is that they look super cool and no color can be brighter than neon colors and so this spring is all about neon colors and if you want to be noticed in the crowd you should also get your hands on neon colored dresses for this spring season. Here you can get different dresses and it's just that the color needs to be in any neon sort of shade. These neon colors look the best if you would wear then in the day time though they look good in the night time as well.
8) Puffed Sleeves: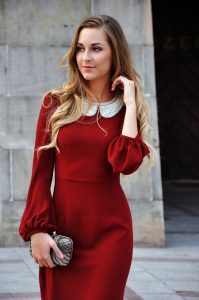 There are many kinds of sleeves that you can look after but puffed sleeves seem to be a trendsetter at least for the spring season 2019 and dress with puffed sleeves has to be one of the best Spring Dresses of 2019 for sure. here you can get many lengths of this sleeves but the puffed full sleeves seem to be the best among all and also you can get these kinds of sleeves in your one-piece dress, tops and also in your blouse and they look amazing in all kind of clothes for sure and they would make your look appear much soberer as well as classy at the same time.
9) Sequins:
Is there really any time when the sequins are not in trend? I guess there is no such time or season rather sequins work seems to be in limelight all the time and these are such kind of works that would keep you highlighted even in the crowd and if you are someone who wants to be in trend all the time then you need to get some dresses with sequins work. They seem to be glittery so they basically compliment every woman also they seem to be perfect as party wear or for any night time occasions as well and with any of sequined dress, you would get your party looks sorted for sure.
10) Dyed Prints:
Colors are the new trend and you have to agree with the fact that spring is the time when women try to experiment with colors more than rest of the year and so even in this spring season you can get your hands on dyed multicolored cloths and you can literally get these colorful prints on almost any of your outfits and these colorful clothes look the best during the day time though you can also wear them up in night time as well.
11) Statement Shorts:
These are basically denim short pants and summer is all about shorts and it is the time when ladies flaunt their shorts and look amazing for sure and even this time denim shorts are in trend and these shorts are so basic as well as universal that they would look good with any of your tops and they even look contrasting with almost all colors so you don't even have to be worried about your look while you have this kind of shorts on.
To get more information:-