In this epoch of everything personalized and customized, not only youth but old generations are also demanding for personalized products then be it outfits or jewelry, everything is customizable. There is no doubt that they are ruling the jewelry world without any disturbance.
But we often buy personalized jewelry without knowing its worth and actual meaning. Personalized Jewelry is made to create havoc of love in the heart of a person whom it is gifted. This type of jewelry expresses your love for that person. Or even if you are getting it for yourself a meaning behind jewelry will always make you smile for no reason.
So here in this write-up, we are going to read about two major jewelry (necklace and ring) and ways to customize them. There are many ways to customize them like getting your initials engraved or photo stuck and many other ways. But the one that is in trend nowadays is "name engraving". Yeah! Don't you think it will look great when you are wearing a necklace having either your name or both of yours (you and your love of life!) engraved on it? The same is in the scenario of rings.
After reading this article, we promise you that you will want to Get Name Necklace and custom name rings for yourself (and maybe for your loved one).
Get Name Necklace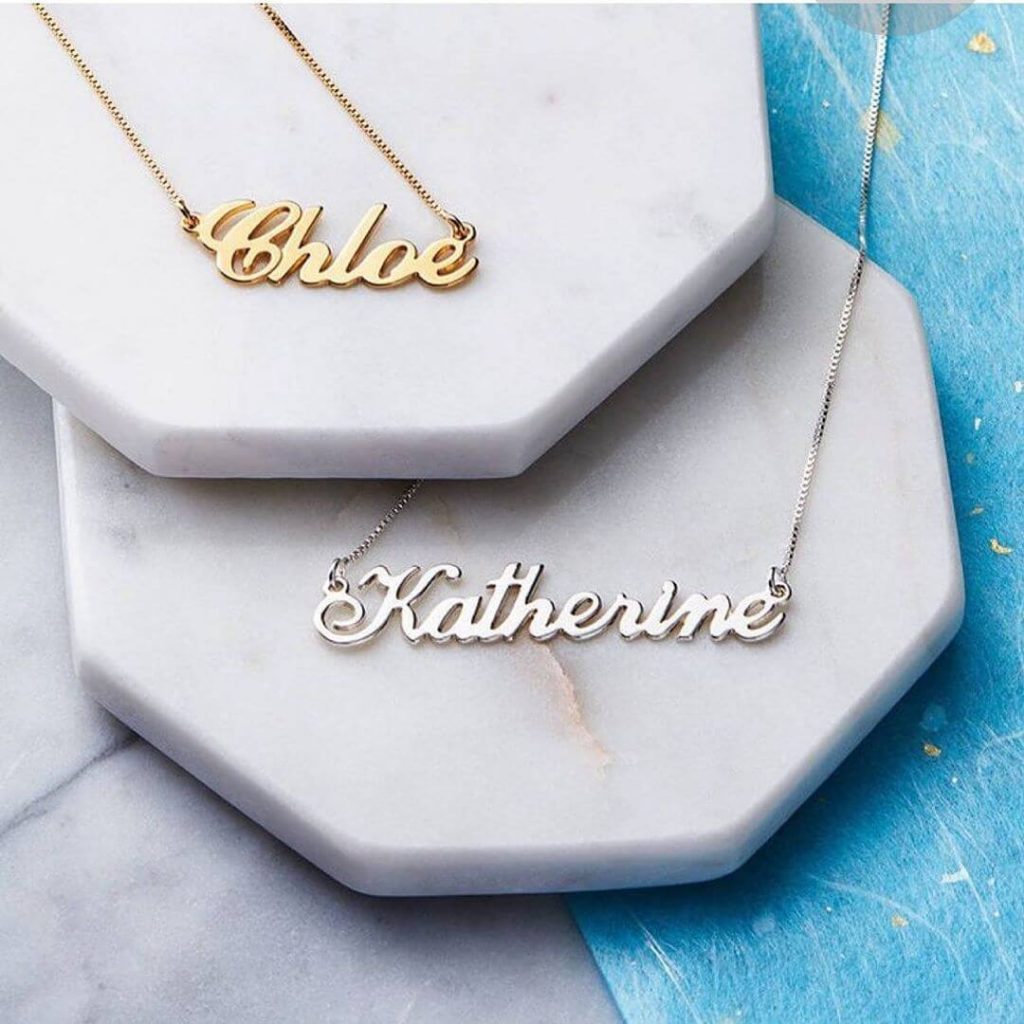 Source: cdninstagram.com
We will tell you about some remarkably awesome designs for your name necklace that you can keep it for yourself or gift it to either your parents or lover. But firstly, I would like to tell you that you can get necklaces in gold plated or silver plated as these are the best options.
Now moving to design, for yourself you can go for the name pendant, plus point is that it can be worn to your workplace as well.
The infinity symbol pendant with engraved name of the couple can be gifted to a friend as a wedding or anniversary gift, or you can gift it to your partner as well. Other designs that will also look enticing are interconnected hearts having a name on it, or two different necklaces one having a heart-shaped lock pendant and another one will be of a key pendant, and both will have a name engraved on it.
As for gifting to parents or a family member, you can go for the heart outline shaped pendant with a diamond or a birthstone in the middle of it. To make it personalized, select a quote, and get it engraved on the necklace.
Also Read: What Kind Of Wedding Jewelry Are You Prefer On Your List?
Custom Name Rings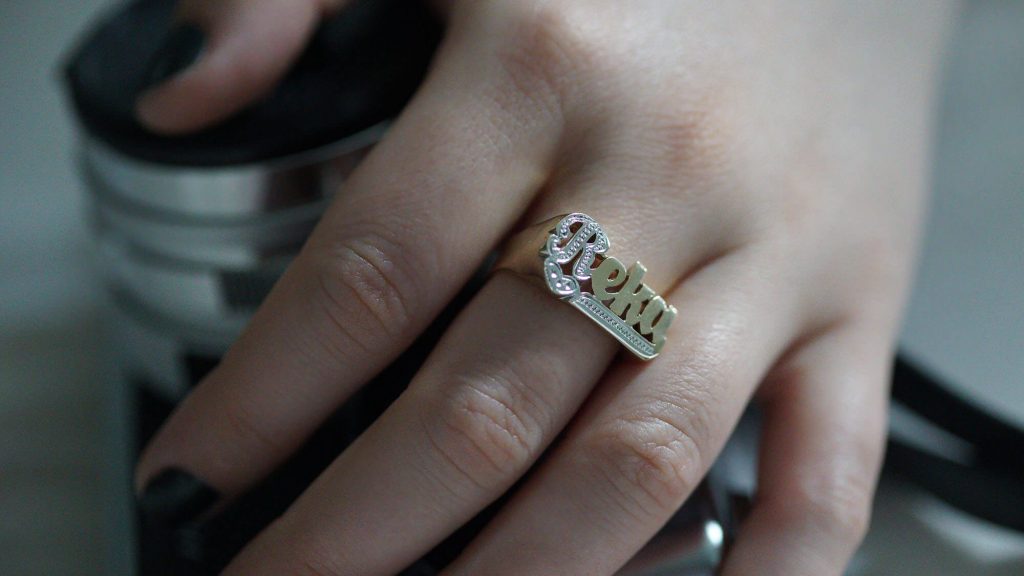 Source: goldmannoodles.com
Have you heard about the fact that Finger Symbolizes their own existence? Yeah! They do. Every finger has its own meaning, and which type of ring should be worn is also decided by that. Therefore before moving on to the designs of custom name rings, we would like to tell you about the symbolization of fingers.
-Index and Pinky Finger
The first finger and last finger is called index and pinky finger, respectively. In earlier times, not many people preferred wearing rings on these two fingers, but recently it has become a trend. Though just for fashion but first and the last finger got its significance in wearing rings.
-Middle Finger
An ideal finger to wear a ring is a middle finger, as it perfectly balances the confusion of which hand has the wedding finger and adds a glamorous effect to your outfit when a finger is worn on it. While wearing a ring on the middle finger, all you need is to see its design. This finger has the charm to add elegance to any outfit.
-Wedding or Engagement Finger
The fourth finger of the hand is known as a ring finger, or you can also say a wedding/engagement finger. Usually, the fourth finger of the left hand is considered as the ring finger, but some parts of the world recognize the fourth finger of the right hand as the ring finger. So it becomes really confusing in figuring out whether the person is engaged or not!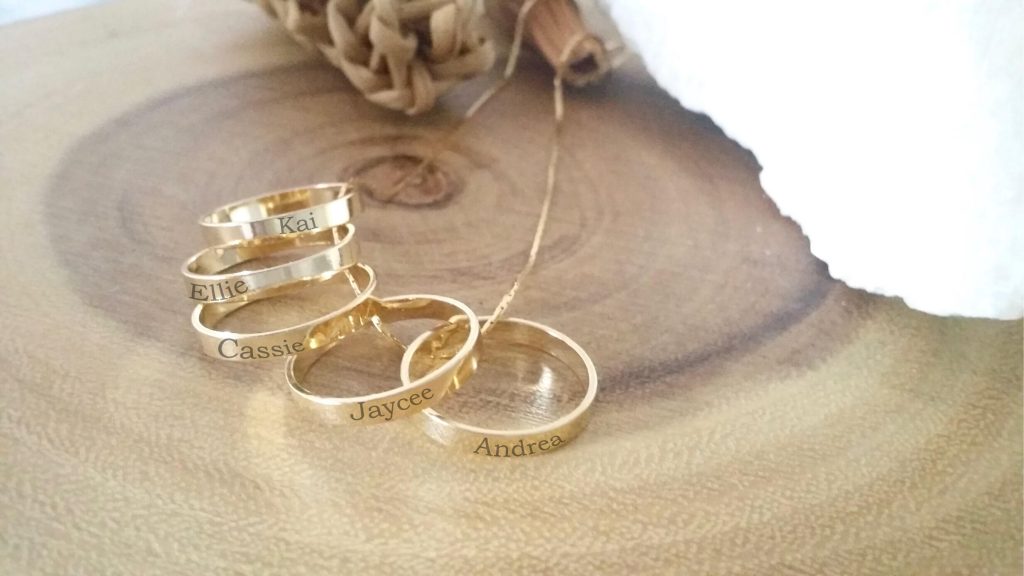 Source: my-whys.com
As you got an idea about what each finger symbolize, now we will move towards the design specification of custom made rings. These Custom Name Rings have been in the trend from the past few years. Nowadays, even engagement rings are customized. Personalized rings can make a person feel unique and connected.
Initials on stacks, monogram ring, band ring with your name, etc. are the different designs of customizable rings. As for what to inscribe there are many ideas like engraving name, romantic phrases, your vows or some evergreen quotes like 'I promise', 'My heart is in your hand', 'Forever', 'Eternity', etc. Except for this, you can add a birthstone diamond on to it to make it memorable.
Closure
In short, whenever you get personalized jewelry for yourself or gifting, always keep in mind about the meaning behind it and its significance. We hope you are clear about the same thing after reading this article.