Summer is almost here and will be knocking your door soon. Summers are meant for chilling at beaches and flaunting body, later one depends on your choice. We try our best to look best every season with trending outfits, so there shouldn't be an exception for summers. Summer vacation excites you to buy swimsuits. But the dilemma is which one will suit you best. Every year you wore bikinis but not this year. This year is for One-Piece Swimsuits that are perfect for your body type and will highlight your best body parts. There are many types of swimsuits like a one-piece, bikini, swim dress, full swimsuit, and tankini. Now it isn't necessary that every kind of swimsuit will suit you. But yeah ultimate solution is this year's most trending swimwear "One-Piece Swimsuit."
We are going to help you find a perfect One-Piece Bathing Suit according to your body type. And yes obviously the trending print and pattern too. First, let's understand about body types. There are mainly five body types:-
Rectangle:- Rectangle body type has the same waist measurements as of hips, and bust and width of shoulders and hips are the same. Overall your body looks like a rectangle shape. You have well-defined shoulders and they are the best focal point for your body.
Triangle:- Your body type is a triangle if your hips are wider than your shoulder and bust. The waistline is perfectly defined and arms are slim. Triangle body type is also considered as 'pear' shape body type.
Hourglass:- Hourglass body type has a perfect waistline that is narrower than your hips and bust. Your hips and bust will nearly be of equal size. Your upper body and legs are proportionate. Hourglass is an ideal body type and every tailored clothing is made considering the hourglass body type.
Inverted Triangle:- The name itself explains that it is the opposite of the triangle. Your shoulders and bust will be wider than the hips. And the inverted triangle is also known as 'Apple' shape body type.
Round:- Larger bust size from the rest of your body with the fuller midsection (waist and tummy) then you have a round shape body. Round body shaped women tend to gain weight around the stomach and waist.
These were the body types, with the help of the types as mentioned above, know your body type. After that, move on to select a perfect One-Piece Swimsuit for yourself. We are going to mention One-Piece Swimsuits and on which body type it will suit the most.
Off-Shoulder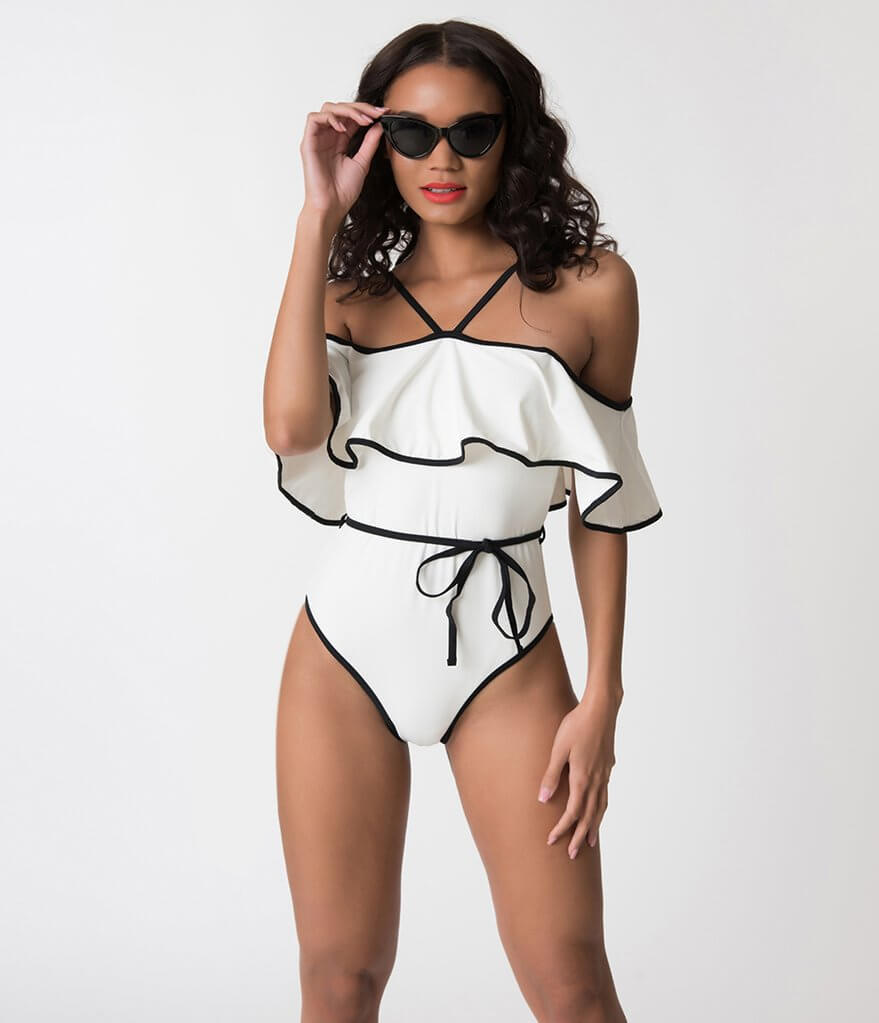 Source: unique-vintage.com
The one-piece swimsuit that has off-shoulder is perfect for the triangle (pear) shaped body type. It will highlight the broad shoulder you have. Plus off-shoulders gives a cute look to anyone who wears it.
Also Read: Ideas For What To Wear In 60 Degree Weather
Strapless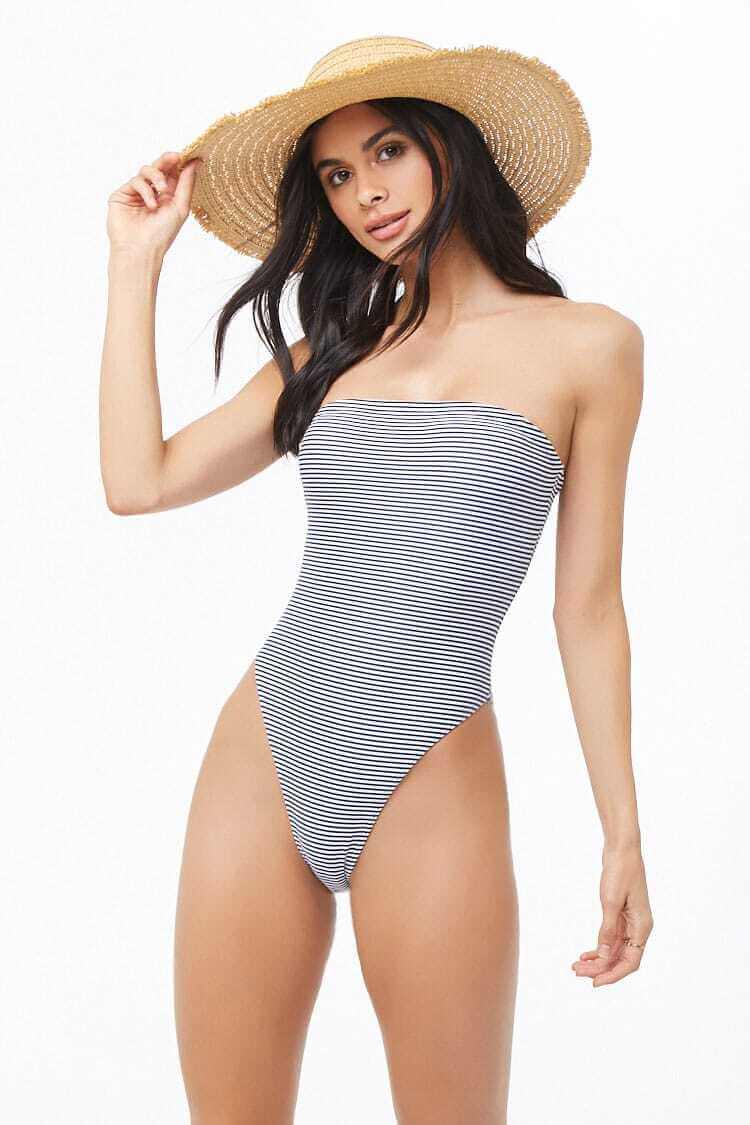 Source: forever21.com
A Strapless swimsuit dress is a perfect option for both hourglass and rectangle body type. The strapless sweetheart neckline will highlight your slender neck and perfect shoulders. The swimsuit that has tummy tucker too will flatten your tummy and hide the love handles.
Halter Neckline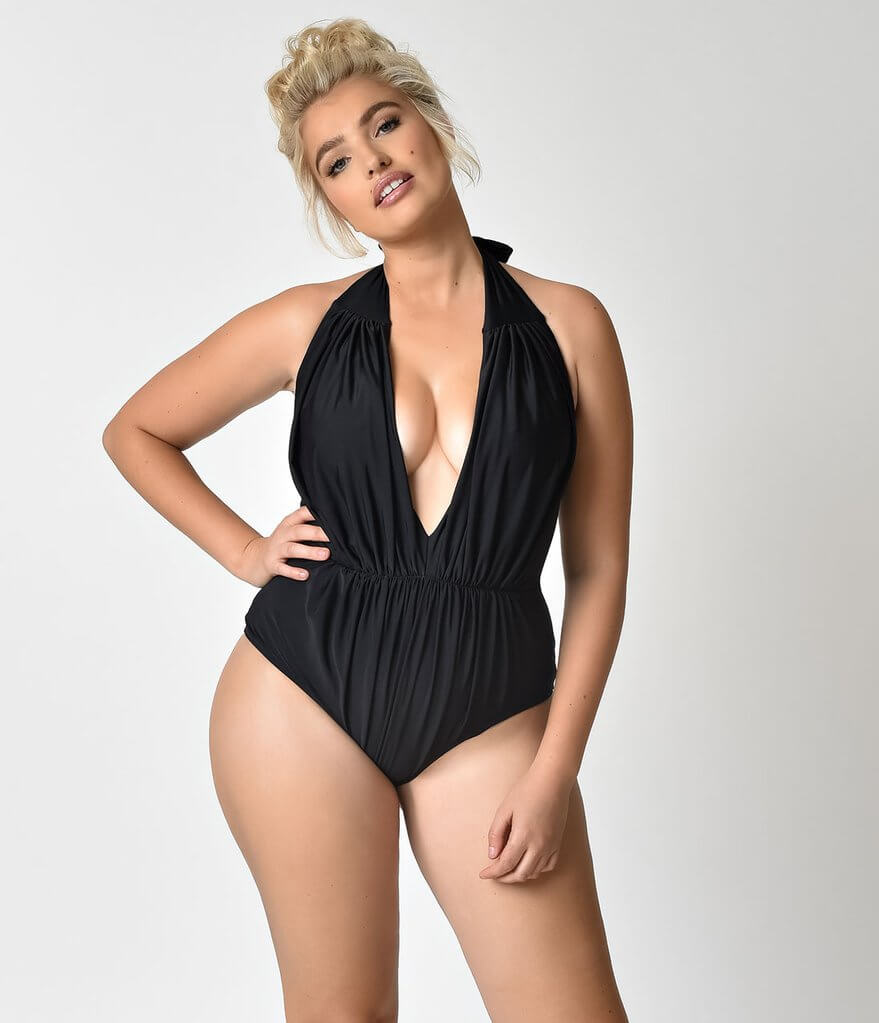 Source: unique-vintage.com
The high halter-neck neckline swimsuit goes for every body type. The body-hugging, comfortable, and irresistible swimsuit will earn you a head-turns on your vacation at the beach. Animal print or floral print is the best option for a halter neck swimsuit.
High Waisted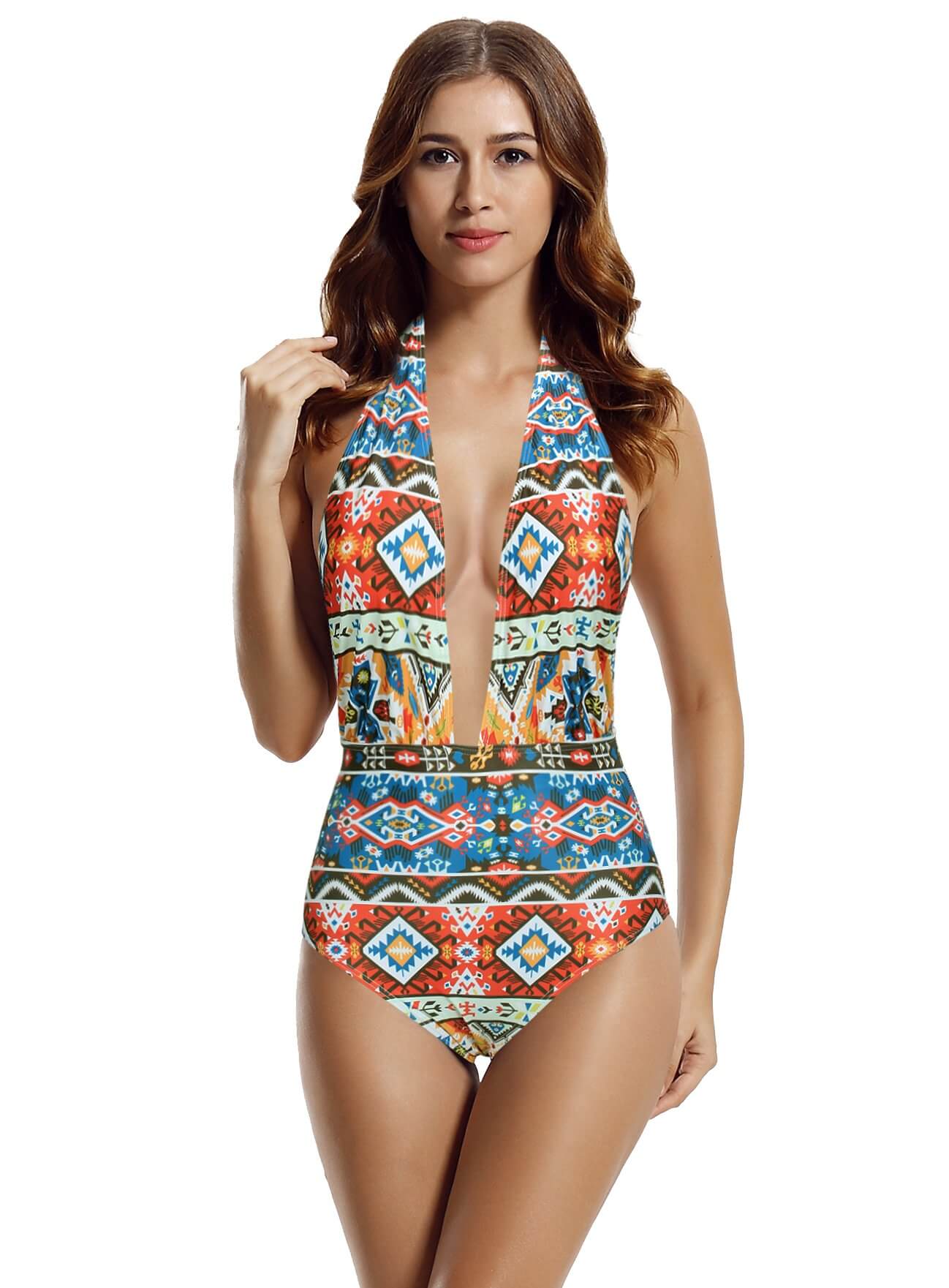 Source: zeraca.com
The high waisted swimsuit will hide the fuller midsection and will give you the confidence to carry the swimsuit. It will still look better on you even if you don't have a fuller midsection. Nothing is more comfortable than Highwaist! So high waisted swimwear is also for every body type. They are good options for Summer Bathing Suits for you.
Plunge Neckline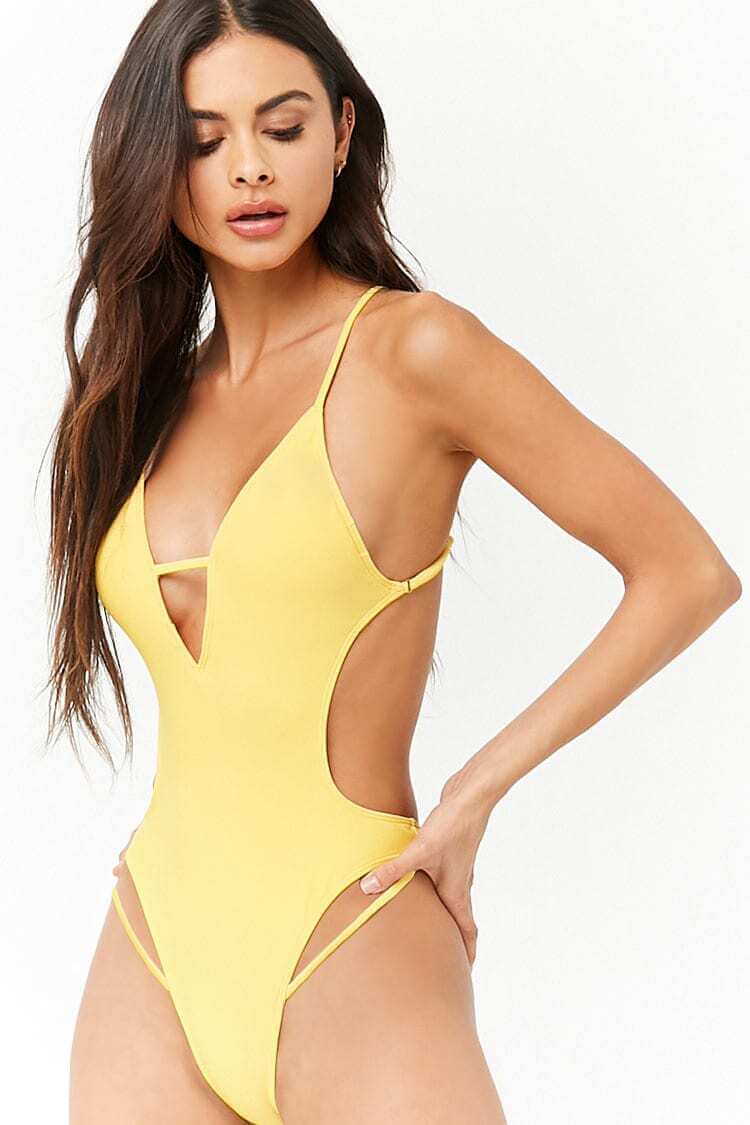 Source: forever21.com
The hourglass body type can perfectly pull out the swimsuit with a plunge neckline. The one with crochet panel, plunge neckline and tie-able back strap makes it look sexy and stylish from the back as well.
One-Shoulder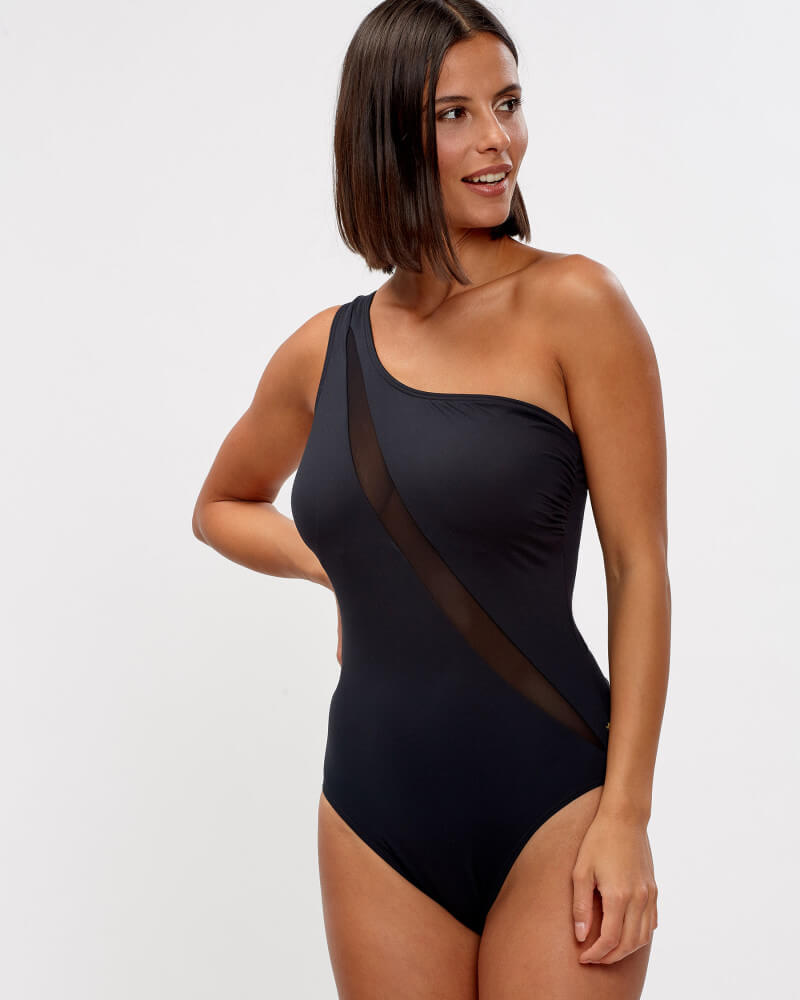 Source: lavieenrose.com
One shoulder or asymmetrical neckline swimsuit is the best option for the one having an inverted triangle body type. Get a high waist one-piece swimsuit that will hide your love handles and give you a flattering look.
Spaghetti Strap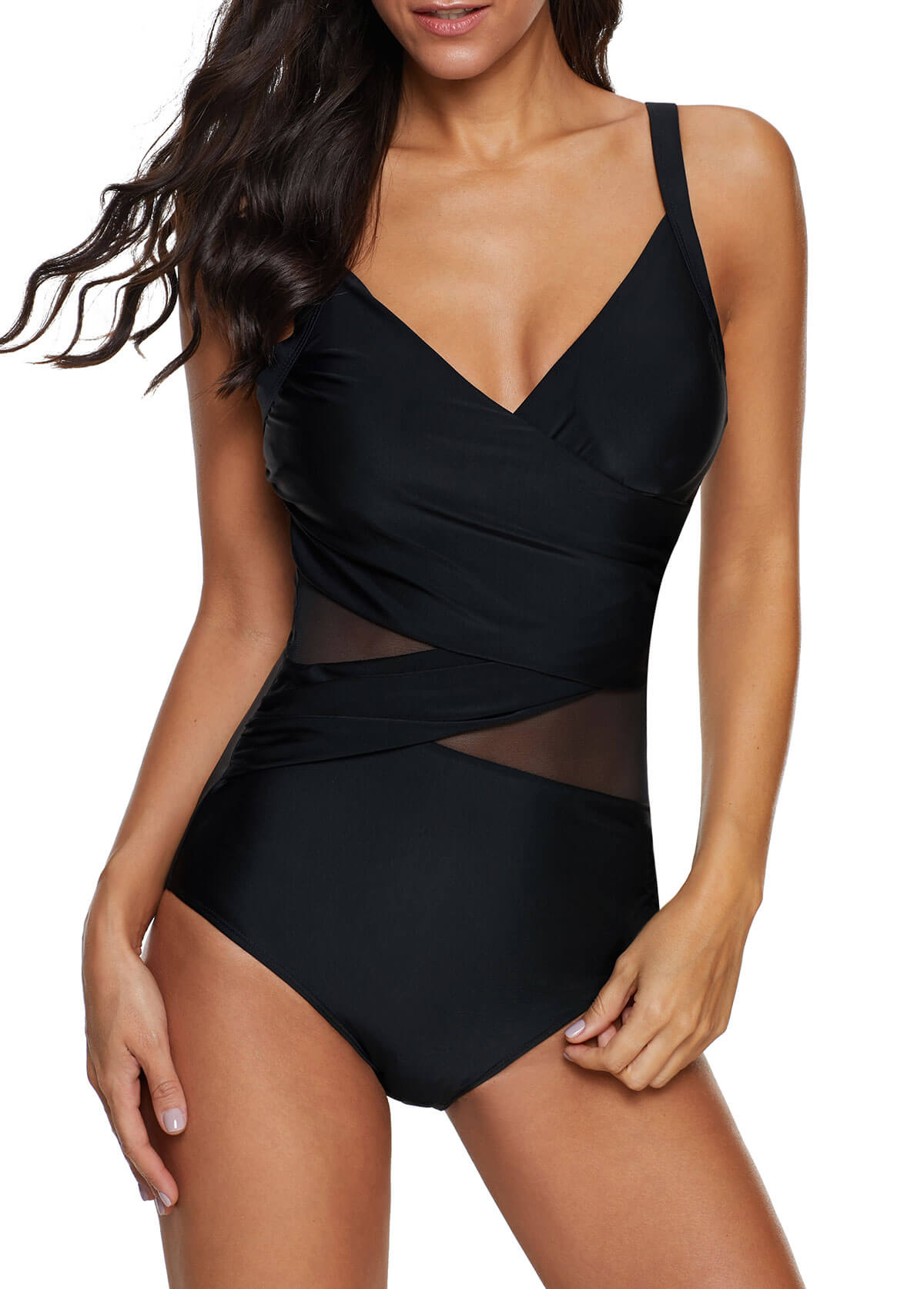 Source: liligal.com
Let rectangle body type women flaunt the spaghetti strap swimsuit with any of the basic necklines. The swimsuit with horizontal or vertical stripes with a belt that will create a focal point at your perfect waistline is best for rectangle body type.
These were the one-piece swimsuits that will go with your body type. Whether it is swimsuit or casual wear trending print and pattern are always to be considered. 80's or 90's style print and patterns are back in trend, so pick out one having those elements. For more such ideas related to fashion, visit Fashionterest.