The never-ending trend of off-shoulder tops is giving major outfit goals. Although those were introduced for summers to beat the heat in the fashion industry and to add some hot chic looks nowadays these are worn to the red carpets too. Off-the-Shoulder Shirts are something that can make you look alluring, playful, and sassy.
What are Off-the-Shoulder Tops? The tops beautifully represent your collar bones and shoulders. These are the classic tops that any age of women can pull off with proper styling and pairing. Off-shoulder tops are the greatest creation of our skilled Top Fashion Designers that are loved by everyone.
According to fashion stylists, wearing off-shoulder tops is not as messy as they look. You just have to be careful firstly while buying and then while styling and pairing it. Here we will tell you about the way of selecting the perfect style off-shoulders and how to pull it off flawlessly.
Also Read: 9 Best Birthday Outfits For Women 2019
Selecting Guideline
Keep in mind your perfect size while buying off-shoulders. Oversized is suitable for basic t-shirts or shirts, not off-shoulders.

Getting too tight top or the one with the elasticized neckline will stress you up while wearing and will also make you uncomfortable so if you feel that it is tighter for you leave it, don't buy. Vice-versa will be the situation if you get loose or oversized one, it will also have the risk of revealing the parts that you won't want to get exposed.

The perfect size is the one in which you can feel comfortable and confident.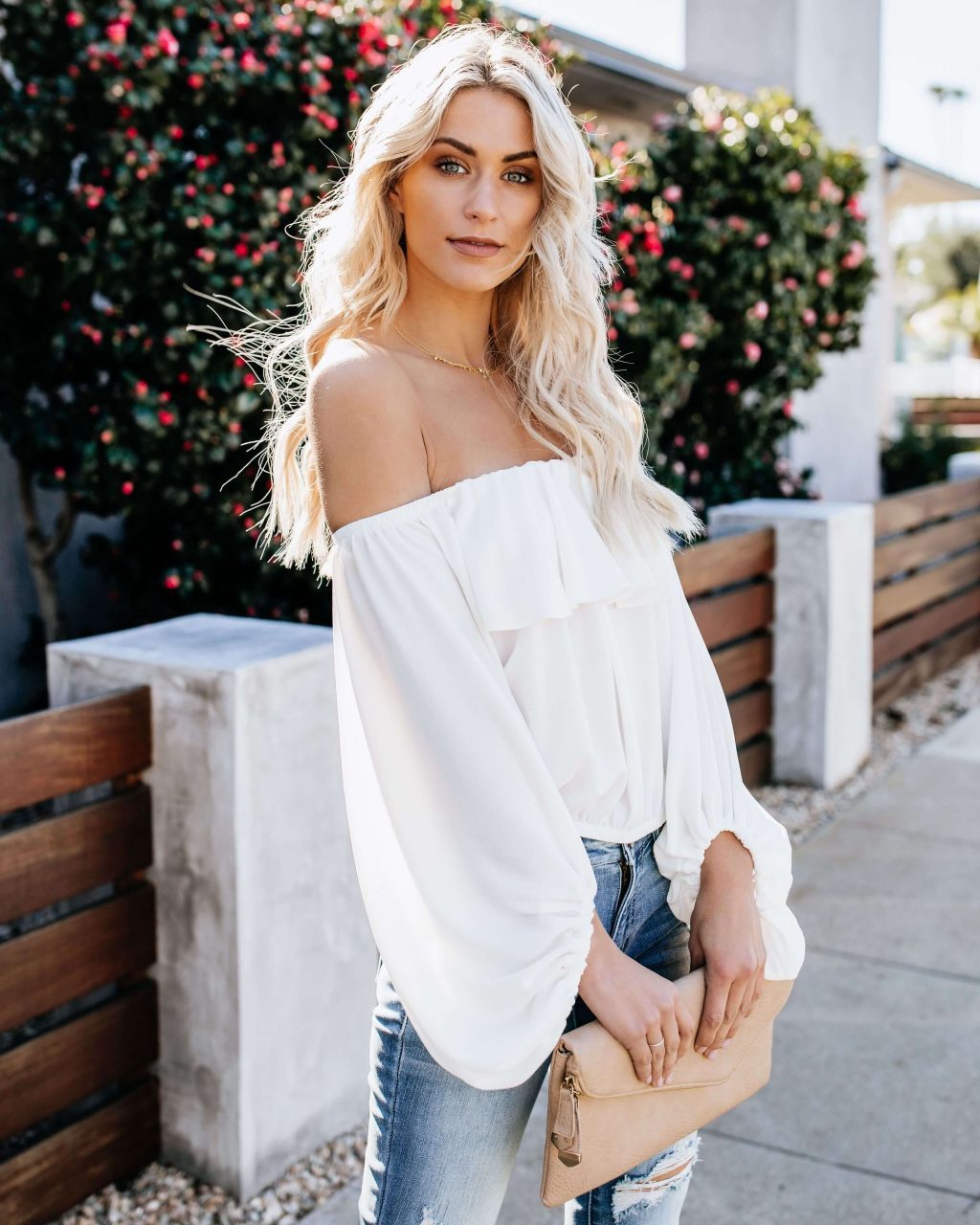 Source: shopify.com
Styling Advice
-We will segregate this section into four different parts that will cover-up the whole outfit issues from bottom wear to a hairstyle. Before moving on, you should know what your body type is and what kind of pattern suits you. So let's get moving:
Bottom Wear:- For bottom wear you can go for either skin-fit jeans with the flowy off-shoulder or flare-y pants with skin-fitted Off-the-Shoulder Shirts. Apart from jeans and pants, shorts and skirts are also an excellent option to pair with this type of clothing.
Jewelry:- Jewelry is something that most of the women like to wear. Yeah! Some women don't like to pull off jewelry much, and that is totally fine. This top doesn't always need Jewelry to Slay the Look. But if you are planning to have jewelry on your outfit, make sure it's not too loud and not also subtler. Idle jewelry is either a long neckpiece or choker (To be precise, layered chokers go well with them). For earrings, you are free to go with anything studs, hoops, tangled anything!
Foot Wear:- Footwear decides your overall look. According to human psychology, the first thing that we notice in another human being is hair (discussed just below this point) and then its footwear! So basically, that means your footwear also matters a lot in your outfit. You know, footwear can really add a spark and magic in your outfit. Wearing sports shoes will give you a sporty look whereas heels or fancy footwear will allow you to pull out a glam look.
Hairstyle:- Hairstyles should be something that can add beauty to your look. Off-shoulders will never restrict you with the hairstyle game. You can go either with pulled up hair bun (messy, sleek whatever you want!) or leave them hanging (with or without curls). You can also stay in the mid-part, by that we mean braids! Try out different types of twists that will also slay the look.
These were the styling tips if you go for off-the-shoulder shirts or tops. You won't have to bother about bottom wear if you are going for some cool off-shoulder dresses or jumpsuits.
Now as you know, how to buy and style this fantastic creature, we have another surprise for you, and that is we have picked up some of the great crop tops with different patterns and designs that you should totally have in your wardrobe.
Let's check out the designs then,
Strappy Off-Shoulder Shirt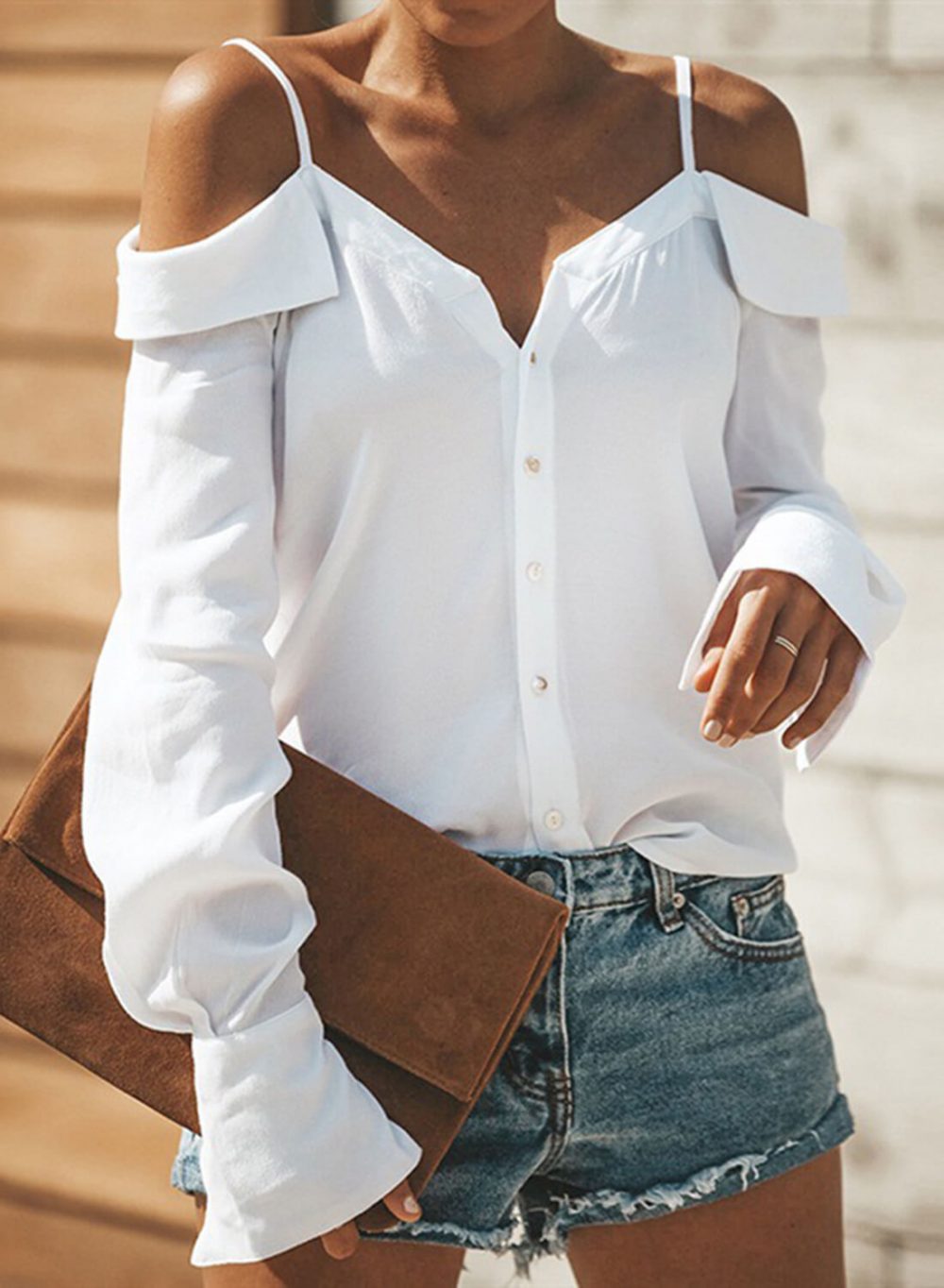 Source: stylesimo.com
This white strappy Off-Shoulder from Faballey is perfect for office wear. Pair it with black skin-fitted jeans and formal heels.
Split Sleeve Crisscross Wrap Crop Top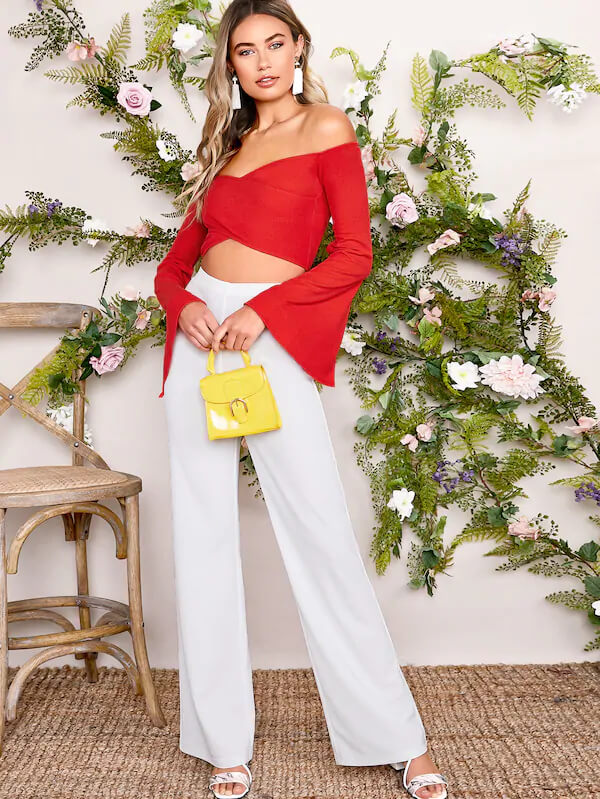 Source: ltwebstatic.com
This Shein's Wrap Top is in a bright red color that will give to vibe you wearing to party at a pub or club. Plus its statement sleeves with split cut gives it a rich cut and Crisscross Wrapping adds a perfect amount of charm to it.
Off-Shoulder Floral Top for Plus Size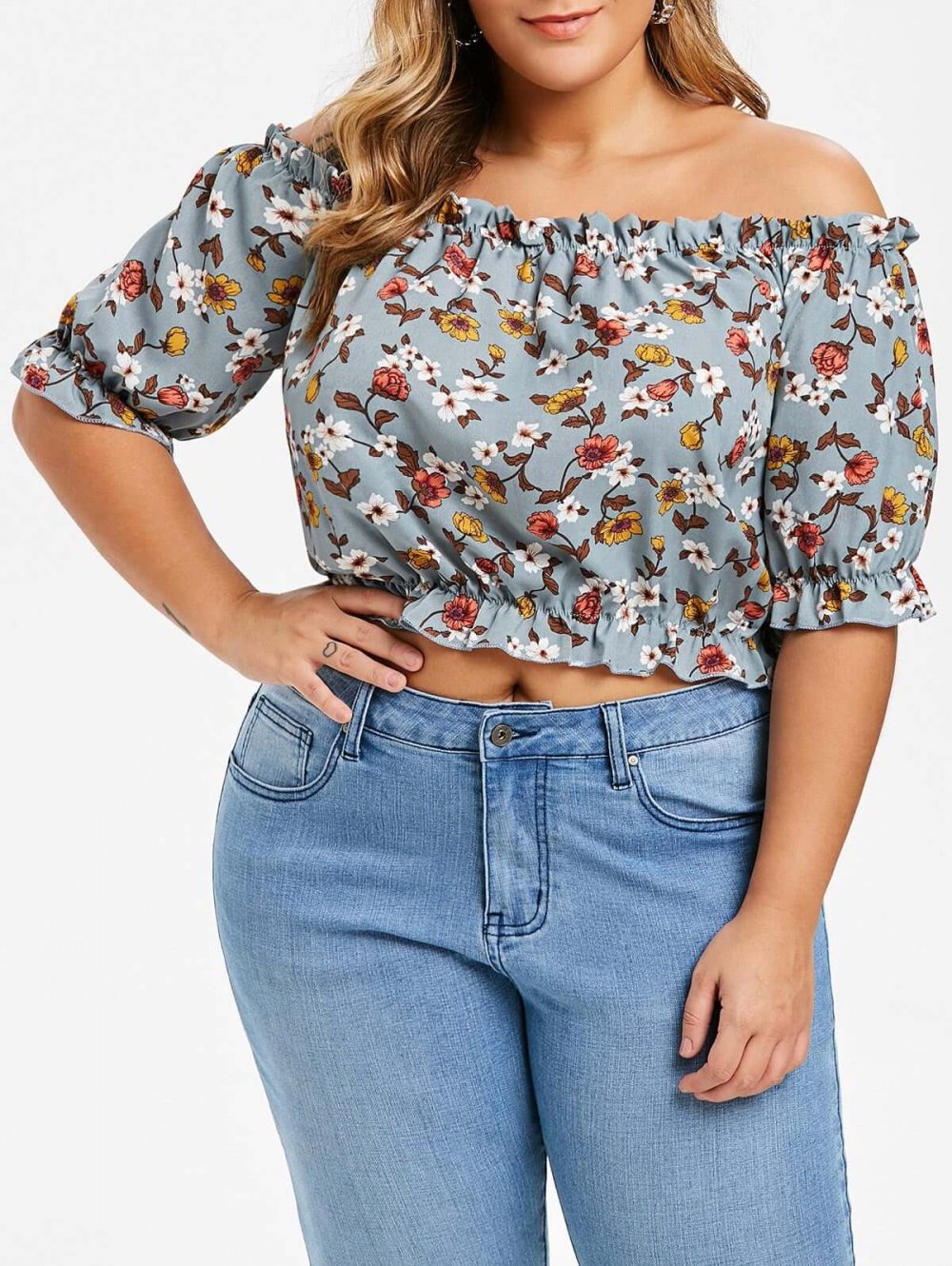 Source: rglcdn.com
Who said plus size couldn't wear off-shoulders? This Rosegal's Floral Top is perfectly made for plus size women to raise up the styling.
Off-Shoulder Broidery Top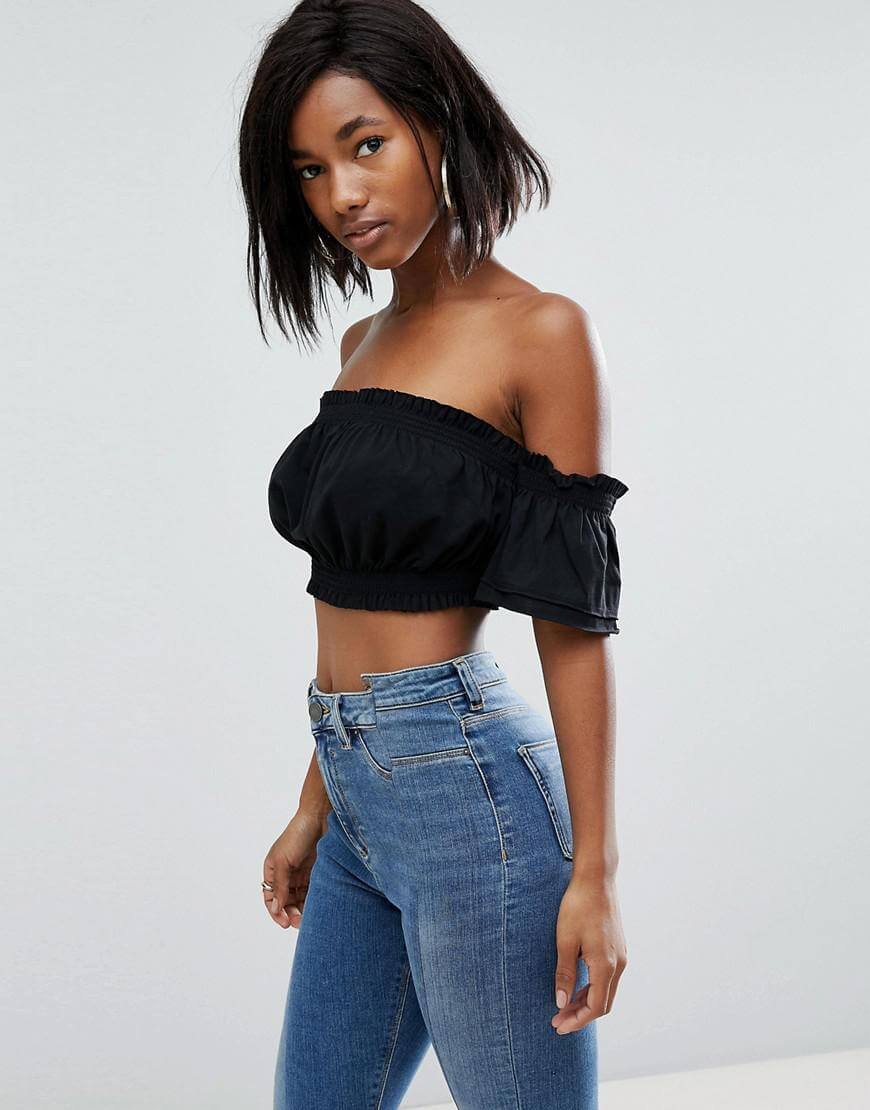 Source: lystit.com
ASOS's Broidery Top is the thing that you need for a beach vacation!
Polka Top Wrap Top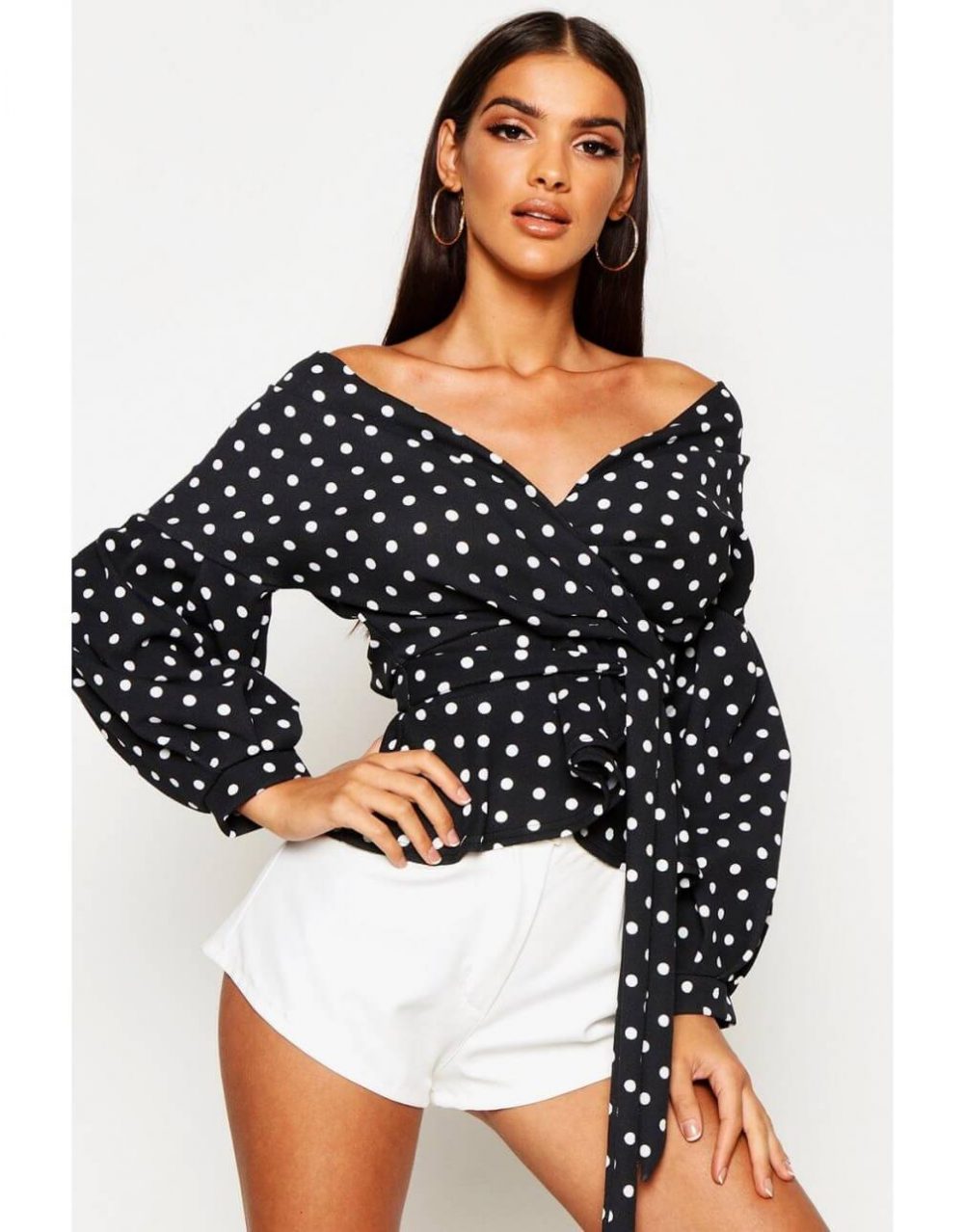 Source: vccim.com
Polka's are love and wrapping is a new trend in women's off-the-shoulder tops. This Top By Boohoo is all you need to style yourself most classily.
Ruffled Sleeve Off-Shoulder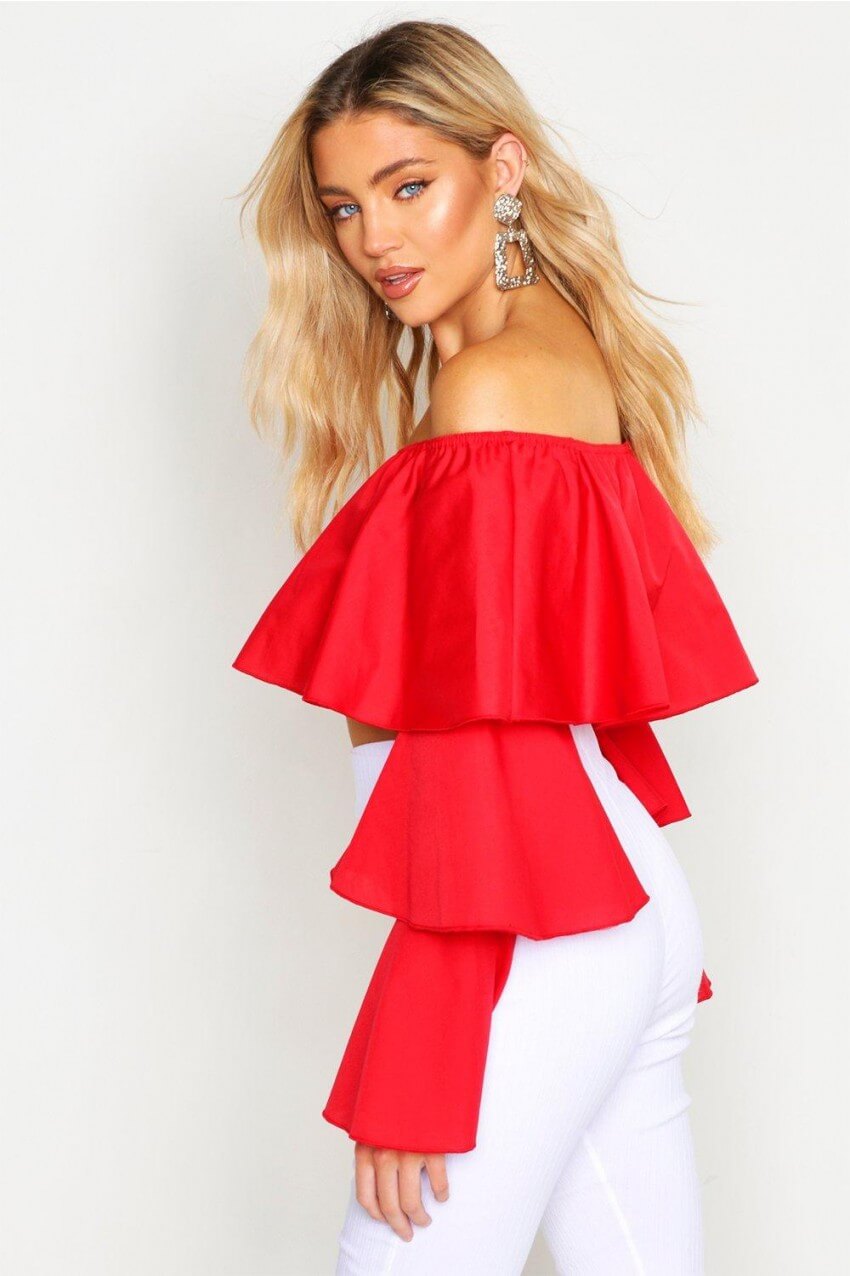 Source: boohoo.com
Everyone and designers most prefer variation in sleeves this year and got their eyes and creativity stuck on them. You will see the most variations in sleeves and will love them to the core. One of its examples is ruffled sleeve Off-Shoulder Top By Boohoo.
Here Fashionterest has provided you with the best of the off-shoulder tops to go for or have them in your wardrobe. For more ideas related to fashion, visit the website.