The make-up vanity table has a long and interesting history. A 3000-year-old inlaid cedar cosmetic box found in an Egyptian Pharaoh's tomb held an amazing collection of ointments and perfume jars, face paints, and a framed polished metal mirror. 
In Medieval France, upper-class women carried ornate boxes called necessaires while traveling that contained perfume-flasks, nail scissors, files, and combs. 
Roman women used balms and lead powder on the skin and kohl to line the eyes, while Chinese men and women used different dyes to stain their finger-nails. The Tang dynasty nobility carried small rosewood boxes that held a mirror, rouge, and lip-paint. Brides in ancient India were gifted ornate boxes that held cosmetics and grooming tools. 
In the 18th century, these portable boxes gave way to a new fashion. The boxes were placed on narrow tables and equipped with a vertical mirror and a stool or chair. 
While women preened in front of their "dressing tables," men were not left behind. They groomed their beards and hair standing in front of a mirror, with a narrow cabinet fixed on the wall to hold their supplies and grooming tools. 
In America, the Chippendale style remained popular through the 19th century, while the Hollywood glamour industry spawned a whole new concept in vanity and make-up tables. 
Today, no modern home is complete without a vanity or dressing table, usually placed in the bedroom. In earlier decades, where homes were large and spacious, there may have been a separate dressing room or an alcove attached to the bedroom. 
However, today, with living spaces shrinking rapidly and the science of cosmetics having evolved enormously, most women and men are satisfied with a small vanity table placed in a convenient spot in the bedroom or bathroom. 
Different Types of Vanity Tables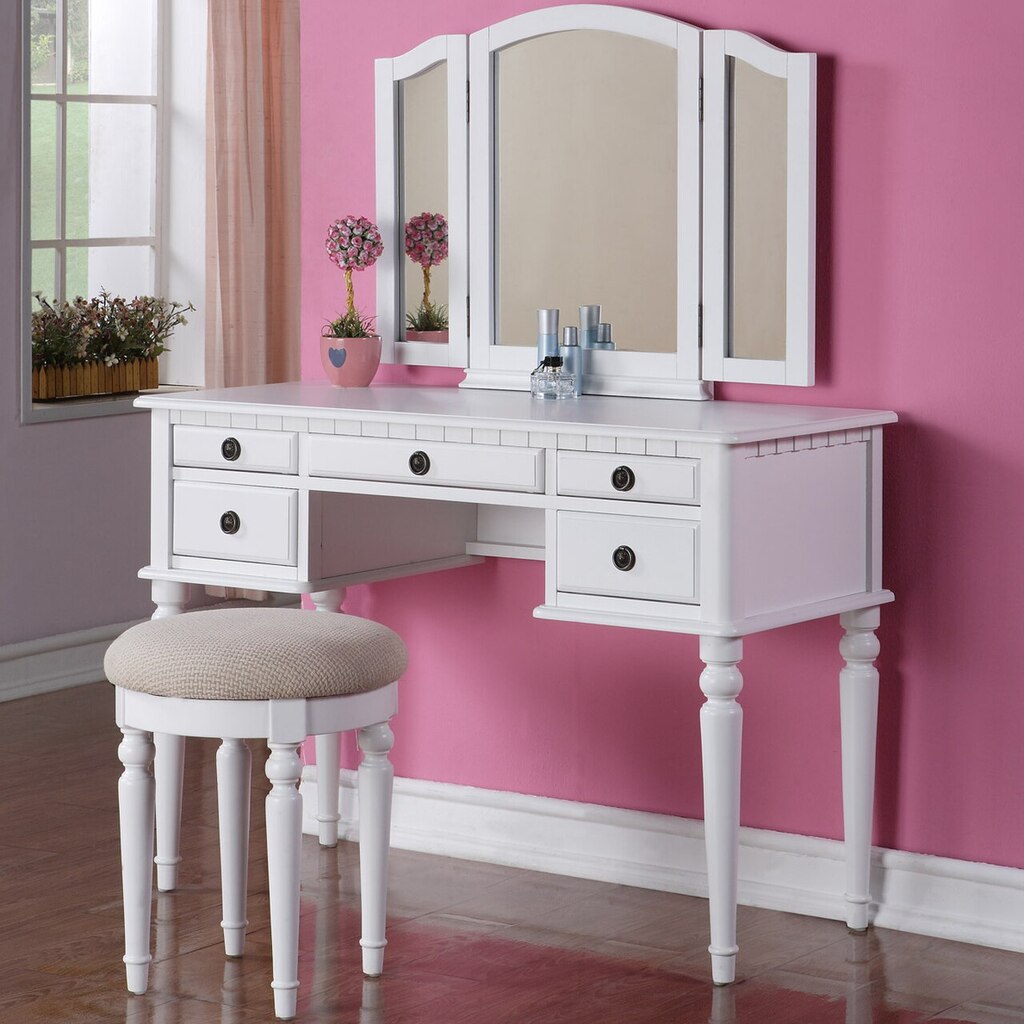 Source: bigcommerce.com
You can pamper yourself with a variety of different types of vanity tables based on your needs, preferences, lifestyle, and budget. A busy working woman or a young mom whose beauty routine is swift, practical, and functional would mean a minimalist design. Someone who enjoys collecting cosmetics and beauty products, loves trying new looks, and has a lot of space in the room would prefer a large and well-designed vanity to stock products, beauty tools, accessories, etc. 
The different types available are:
Vanity cabinets
They usually fit under the sink in the bathroom and, with a mirror added above, are a great option for both men and women. A double-sink option allows a couple to save time while rushing off to work. 
Mounted Under Sink
You can mount a sink into your vanity table and make it a multi-functional make-up cum grooming station in your small bathroom. Hang the mirror on the wall above for the best effect. The stylish, slim, and sleek design works best, with narrow shelving on the side or above for storage.
Vessel Type
If you've loved the style in hotel bathrooms and stylish spas, this is the theme for you. However, make sure that you have a large-sized bathroom because this unit does take up a lot of space. With the sink above the vanity and storage below, it is meant for the spacious bath. 
Free Standing
These types are a great option for smaller bathrooms, but they don't offer much storage functionality. The pedestal type is entirely decorative, while the cabinet style is restricted to a few small drawers below. 
Make-Up Vanity
This a great option for large bedrooms and is an accent piece of furniture by itself. Mirrors, lighting, drapery, and seating add to the style. 
Styling Your Vanity Table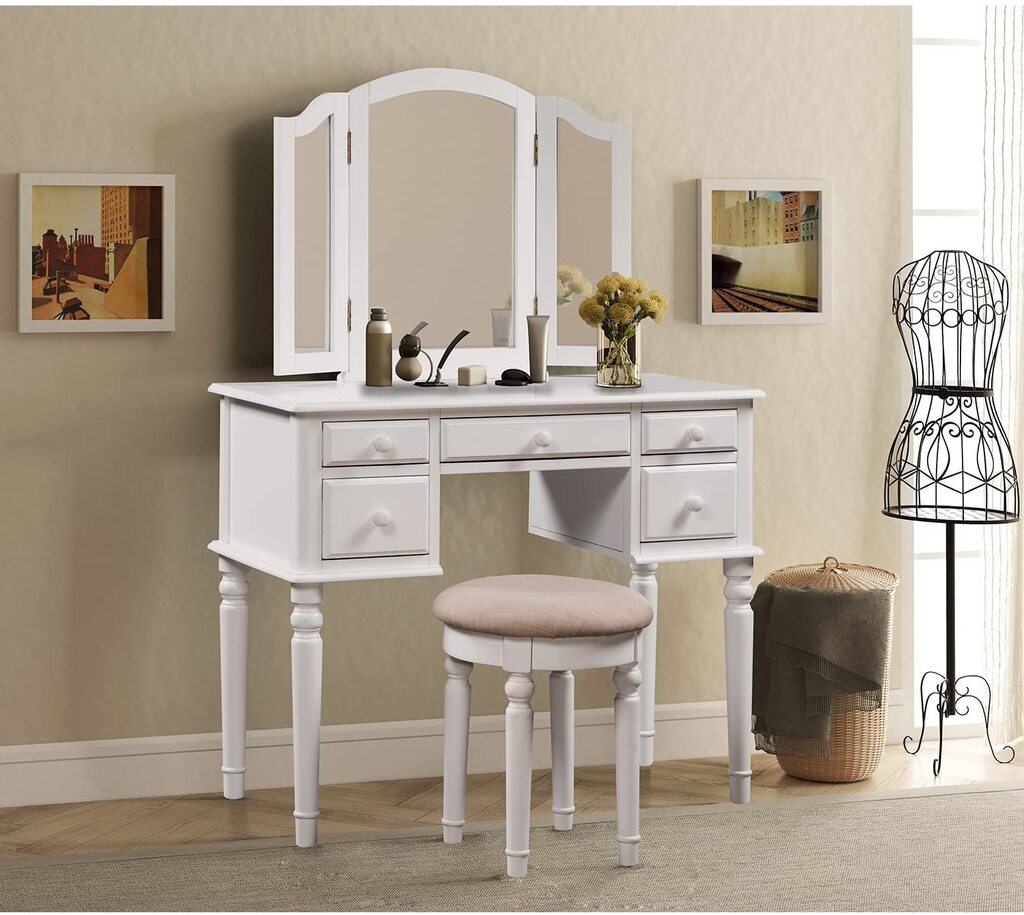 Source: amazon.com
1. Colors and Shapes
Match the colors to your bedroom or bathroom for a seamless, put-together look. For smaller bed/baths, keep the colors light and soft. You can select a shape such as circular, square, rectangular, etc. to organize the furniture and accessories in your room, including the make-up vanity table.
2. Personalize
Everything in the room reflects your personality. You can use this theme consistently throughout the bedroom and house in general. Country-style, minimalist, Victorian, antique, classic, modern, or ethnic – you best decide these themes.
3. Materials and Texture
Based on the theme and colors you choose, select the right type of fabrics for the dressing chair or stool. If you're using wood, metal, marble, bamboo, etc. for your small vanity table, ensure that the fabrics you use are in keeping with the colors and theme. For smaller rooms, use light-colored paint on the walls, with subtle trim on the vanity table and ceiling in a slightly darker shade to give the feeling of space.
4. Freshen Up
Remember that this is where you use art and skill to help you look your best. Keep the vanity table decorated with pretty, fresh flowers and beautiful perfume bottles. You can choose floral themed wall-paper or motifs in the fabrics used in the room. Add a perky little frill in crisp organdy or lace around the vanity table.
Also Read: Mistakes we need to Avoid While Doing Makeup
5. Neat and Uncluttered
Whether you have a large, luxurious vanity table or a small, cute one, the most important thing is to keep it neat and well organized. This helps the rest of the room look clean and tidy. Additionally, you also save time and effort in looking for your stuff. Keep things to a minimum, and don't buy cosmetics and makeup just because they're on sale.
6. Organize your Stuff
Decide exactly what stays on top of the table and what gets stowed away into the drawers and cabinets. Have the stuff you use every day placed within easy reach. Organize your make-up accessories in the order in which they're used. Tools such as curling irons and hair-dryers should be stored separately, while perfume must be kept away from direct sunlight.
7. Lighting
Place your vanity strategically so that you get the maximum amount of natural light when you're putting on your make-up. This helps you when you're rushing out to work or have to keep a lunch appointment. You can install lights around the mirror to glam up the room and help you get your evening look right. Fairy lights and candles help to reflect light off your mirror.