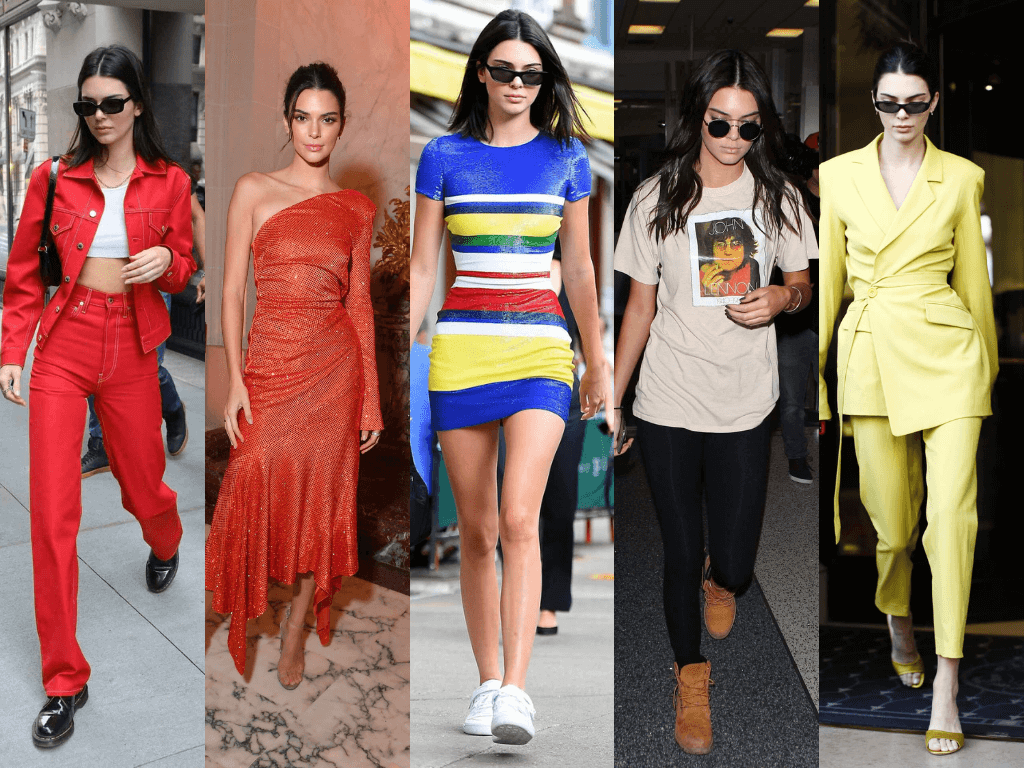 Another Jenner sister at her best. When Kylie was doing her best in stating the fashion for girls out there, Kendall Jenner was no less. They both have their own styles and reflects their own personality. Kendall shows off her cute as well as bold side when it comes to styling herself. 
Kendall Jenner Outfits are also easy to carry out and can be worn by common girls on the streets too. Many Fashion Models are into setting trends, but no does it as she does. Obviously, she can do it more appropriately may be due to her genetics.
All the Jenner and Kardashian sisters have a monopoly in setting trends. Plus we guess they also have the premium access to all the designer clothing. Right? Have you ever looked at the Kendall Jenner Dress? If yes, then didn't you ever felt that? 
Okay stepping aside, let's get going with the Kendall Jenner Fashion statements that you can carry to your college, outings, or parties. You believe it or not, after following her path of fashion world you are surely going to thank us. But do that later, the first dive into her world.
Also Read: 10 Best Kylie Jenner Street Style To Follow For The Head Turns
Black on Black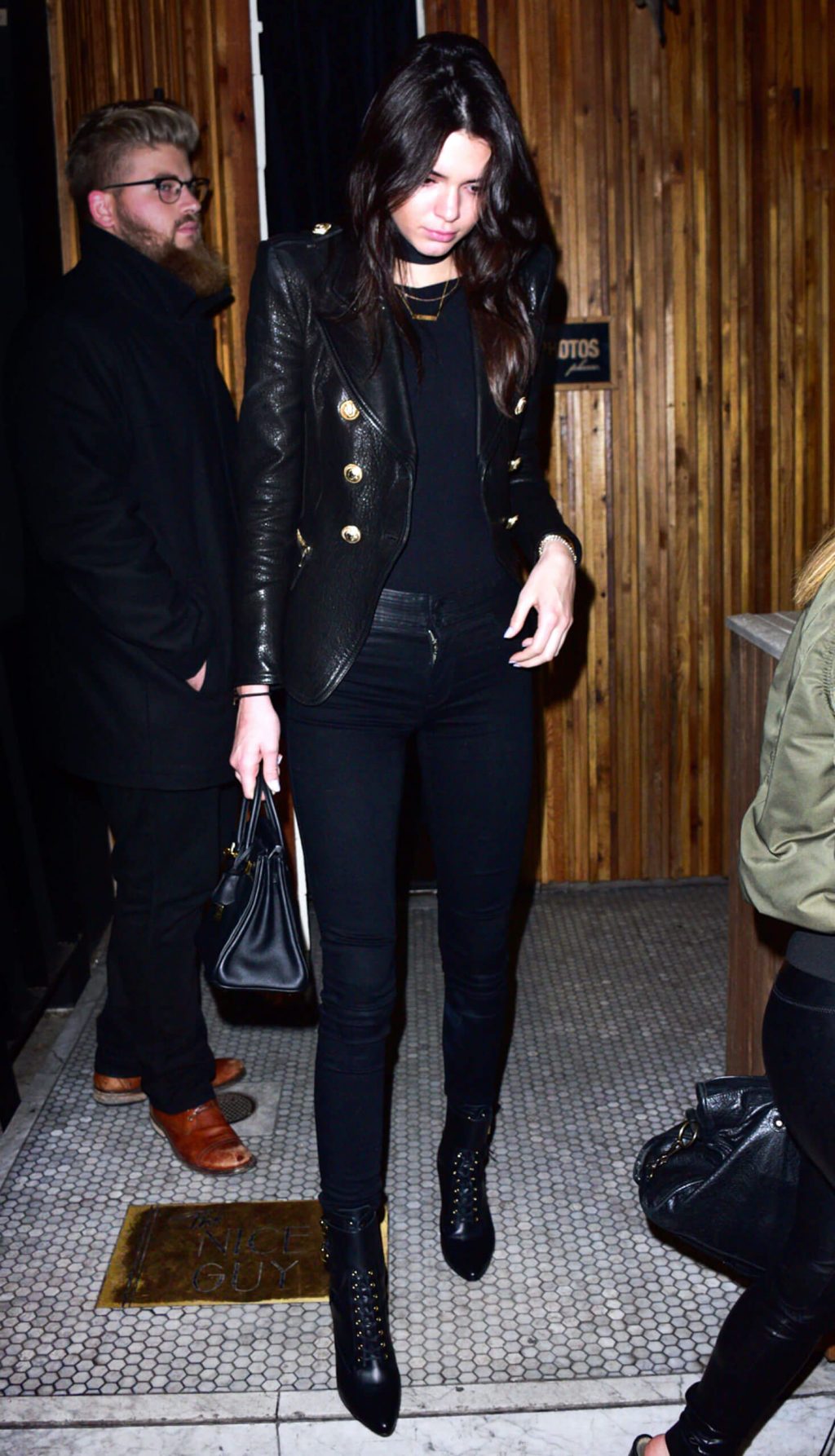 Source: usmagazine.com
When everyone is still stuck on denim on denim ensemble, Kendall went a step forward and showed off that black and black are not dull either. She wore black strapless leather top pairing it with flared leather pants and black strappy sandals while stepping out in Los Angeles with Kylie. 
Red Denim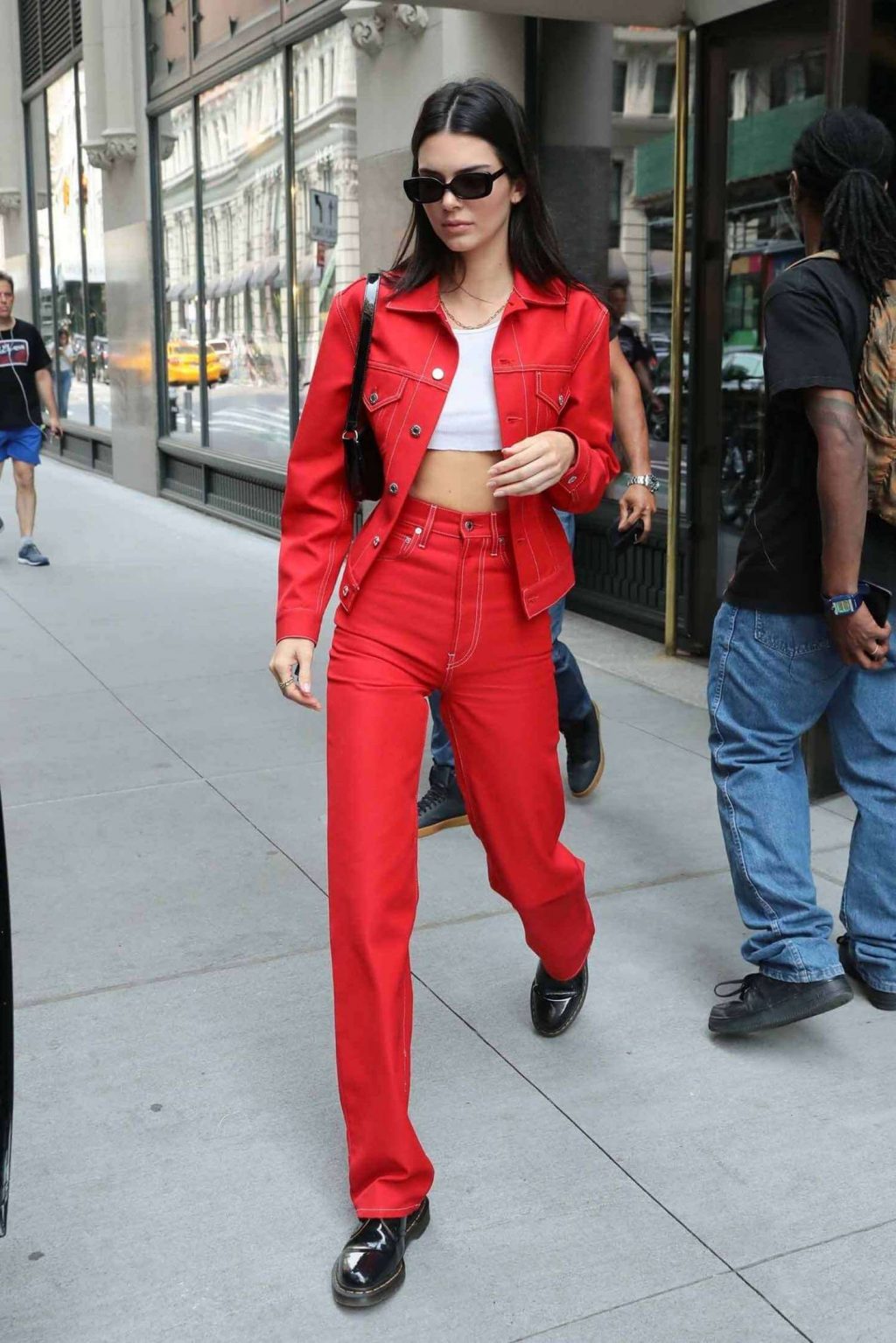 Source: wp.com
Blue is outdated; new denim is red. Her red denim outfit made everyone go – Aww. She matched a red denim jacket with the jeans and a white crop top. To complete the look, she added combat boots. And here you were thinking about whether you should go for them or not. 
Snake-ish Skin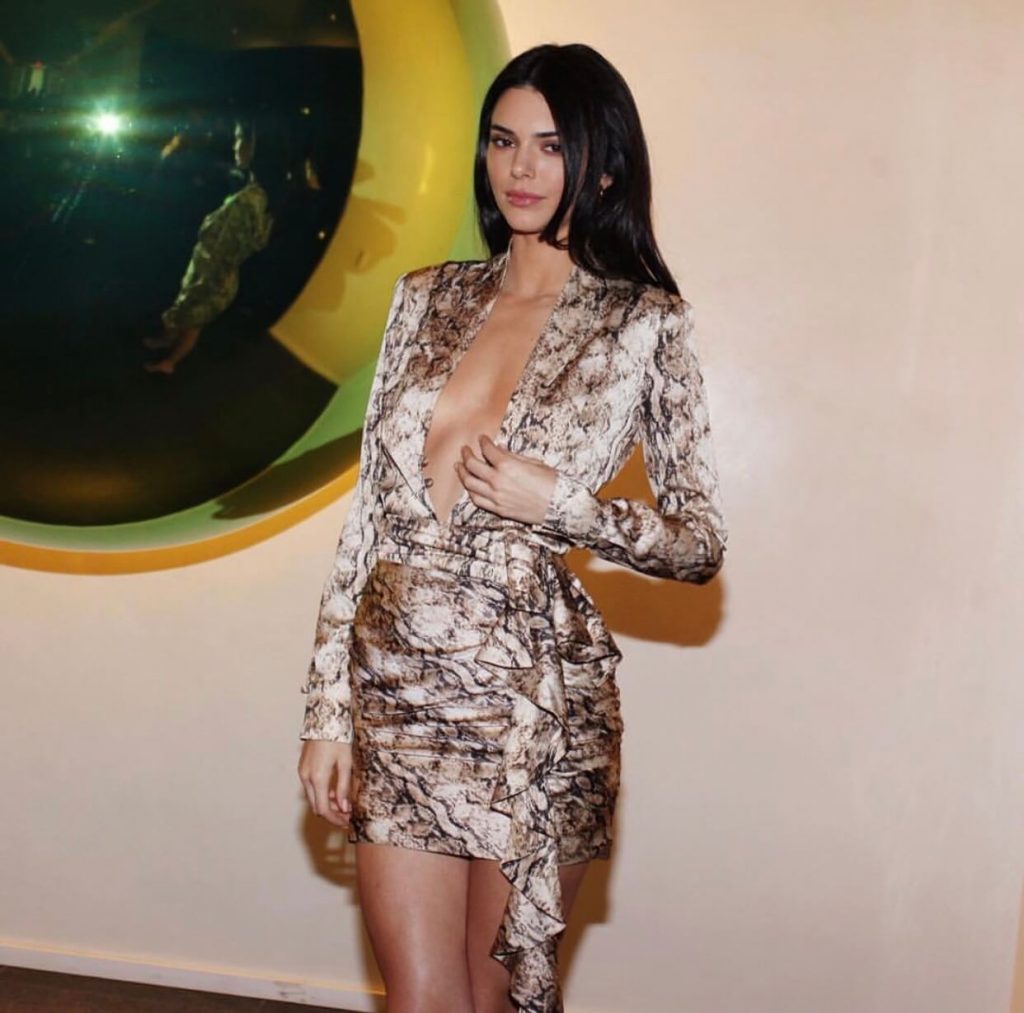 Source: whicdn.com
It was expected that she would be having snake print her wardrobe; after all, it is the latest trend others are also following. But we guess she took it very seriously, from footwear to top to pants and even a snake print mini dress, yeah! She owns it all. And have worn to parties and events where people went crazy looking at her.
Blazer Dress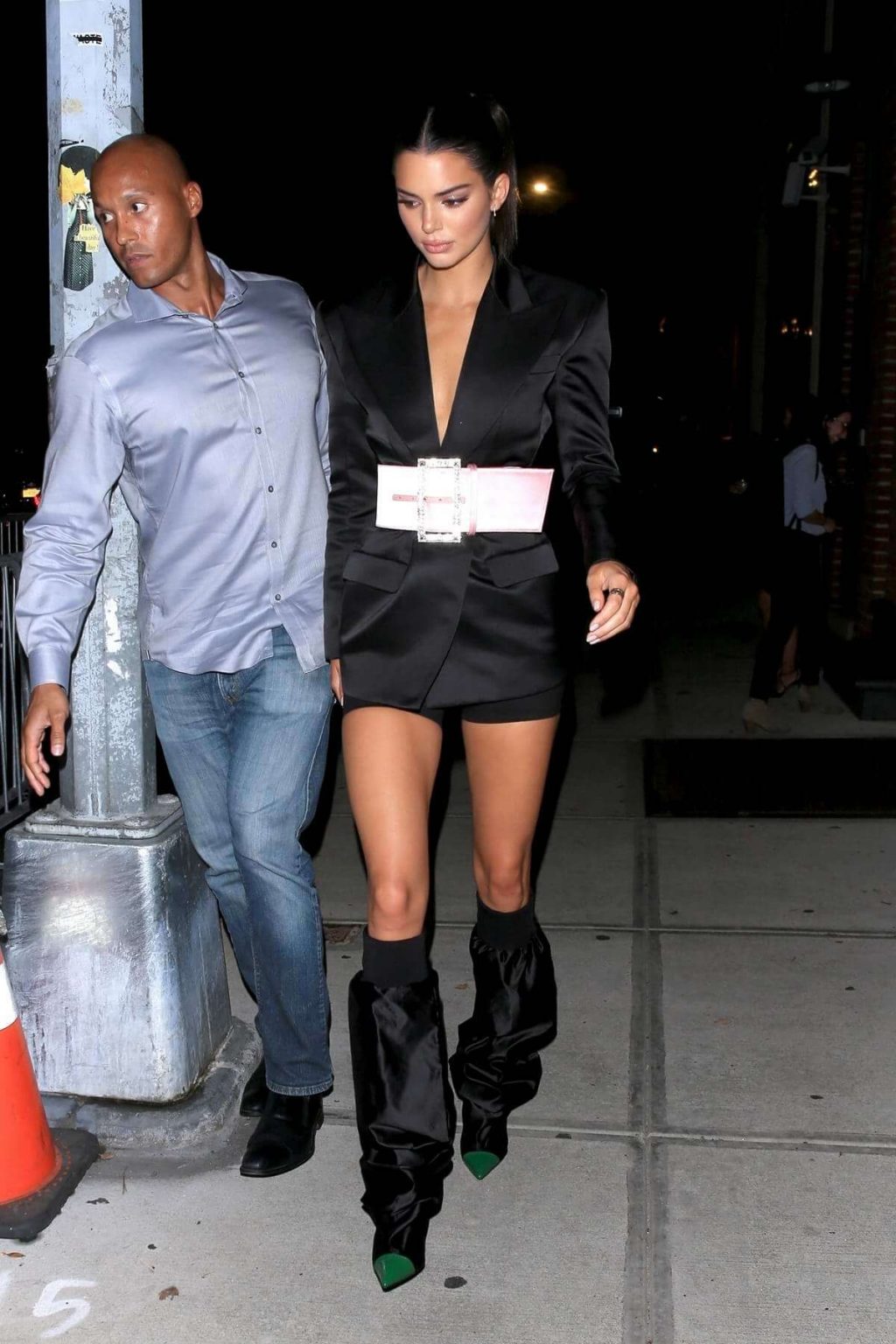 Source: celebsfirst.com
Blazers! They have become the favorite of all. Maybe multi-tasker too. At first, we knew blazers are for formal meetings, but now they are worn even to parties and casual outings also. The upgradation blazers are getting makes us feel envy. Kendall wore blazers in different ways from blazer dress to a blazer with shorts, oh to be exact denim shorts.
Bike Riding Ensemble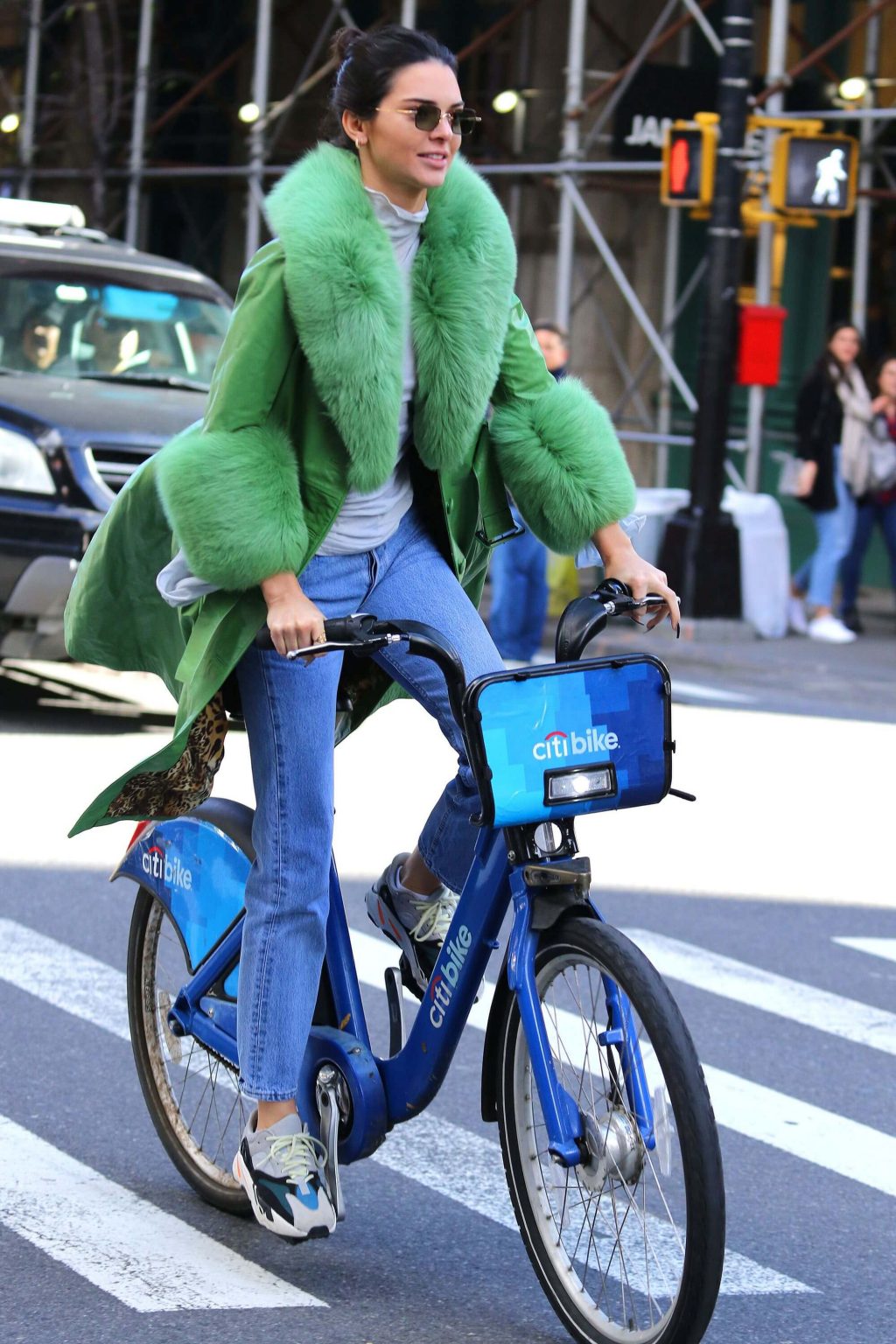 Source: hearstapps.com
A birthday outfit can be exciting or casual. We don't think there is a way that we can put both together. But Kendall did it. She wore turtle neck gray t-shirt pairing it with the blue straight fit jeans. Her outfit got exciting when she added a green knee-length fur coat to it. Oh yeah! Did we mention it? That she went on bike riding in NYC on her birthday. Let's see what she is up to for this year's birthday bash.
Whitish White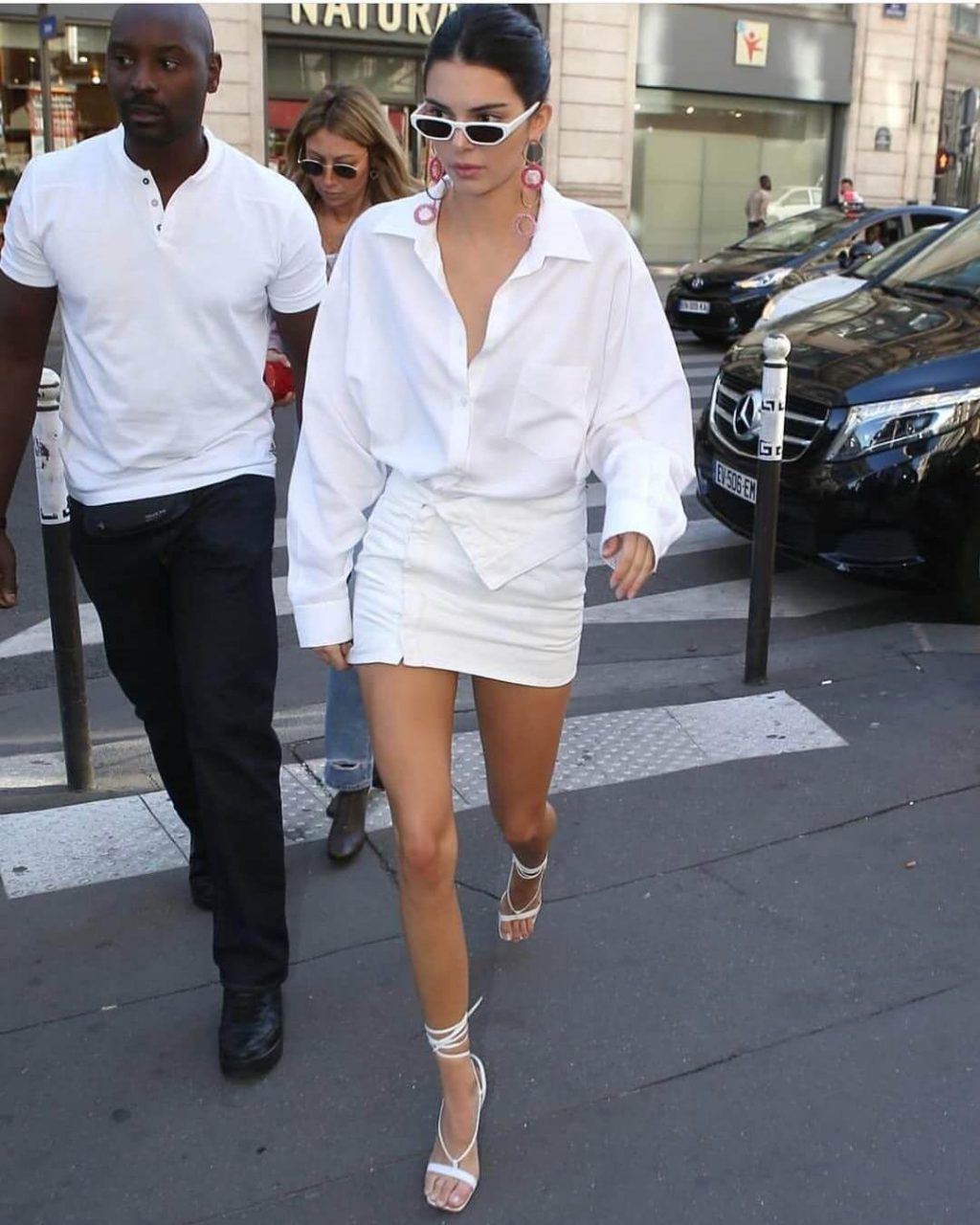 Source: pinimg.com
Ever worn white when on shopping? No? Then wear it as this fashion model did. A buttoned-up shirt and a white mini wrap skirt, what else you need? And to add more charm to her outfit, she added lace-up sandals and coral chandelier earrings.
Meeting Ready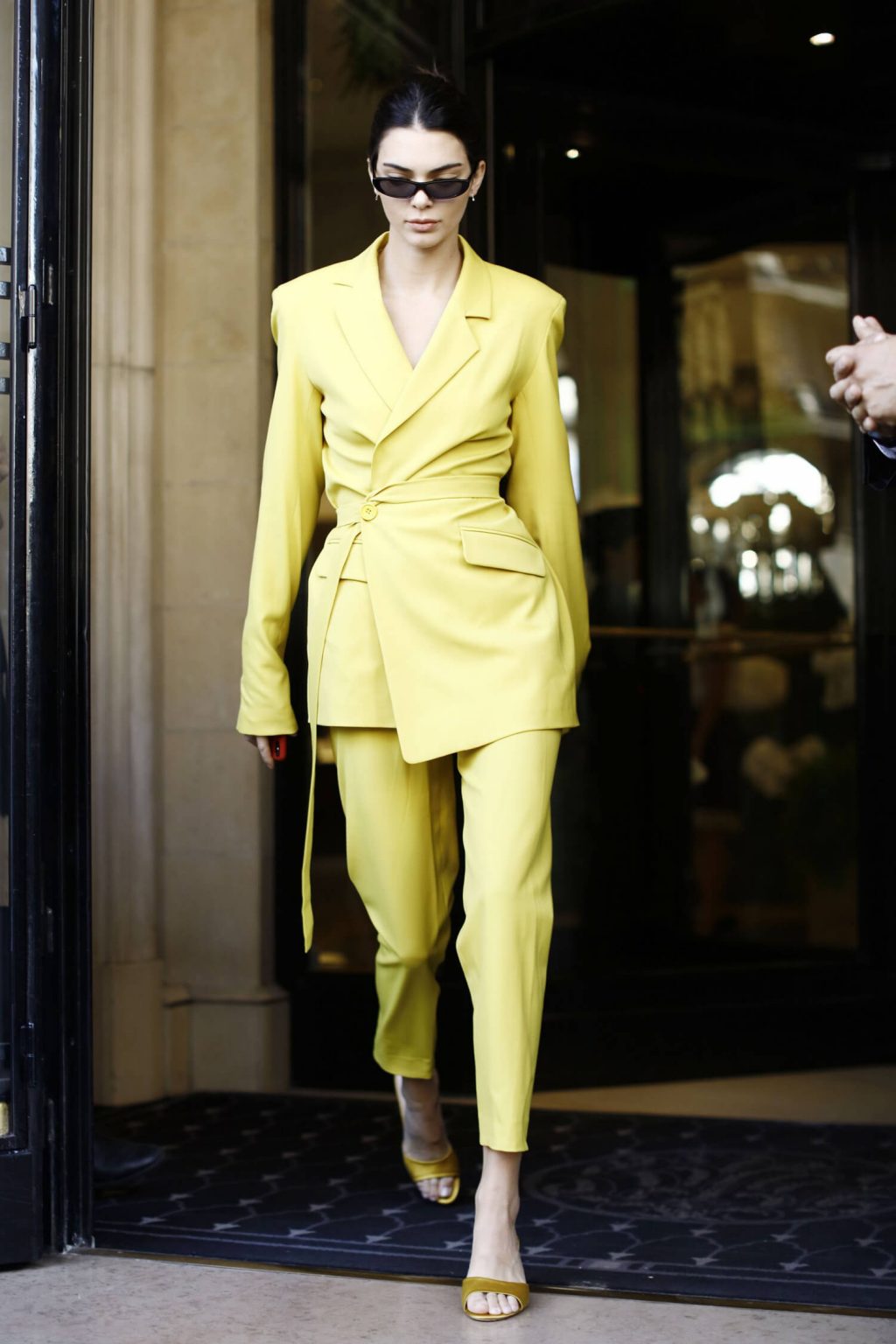 Source: gall-img.com
Get ready with Kendall for your meeting! Top to bottom yellow, even pumps – the office wear statement that Kendall thinks is great. To make your look more intimidating tied your hair in a sleeky low ponytail.
Graphic T-shirts
Source: gotceleb.com
And you thought, they were out of fashion! Graphic t-shirts are the most essential thing that you can wear to college or even to an outing with friends. Complete your look with either sports shoes or a pair of sneakers.
Sparkly Red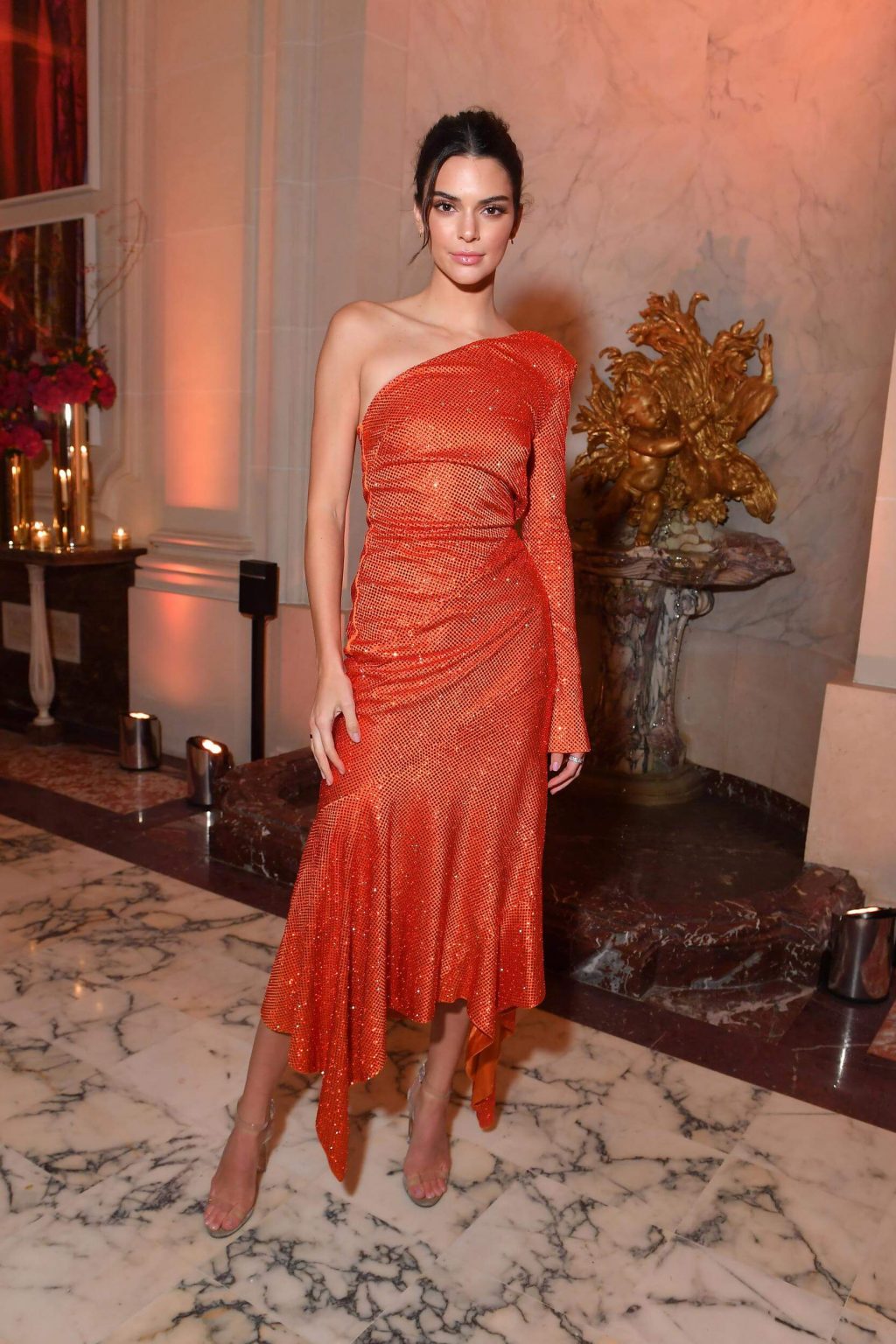 Source: standard.co.uk
Seems like Kendall loves red! She has been seen in many of the red outfits. Or is it a sign of a new color trend? Who knows. But her one-shouldered sparkly red dress at youtube cocktail party surely made its way into the hearts of many girls. She completed her look with all-time favorite PVC sandals.
Rainbow Sequins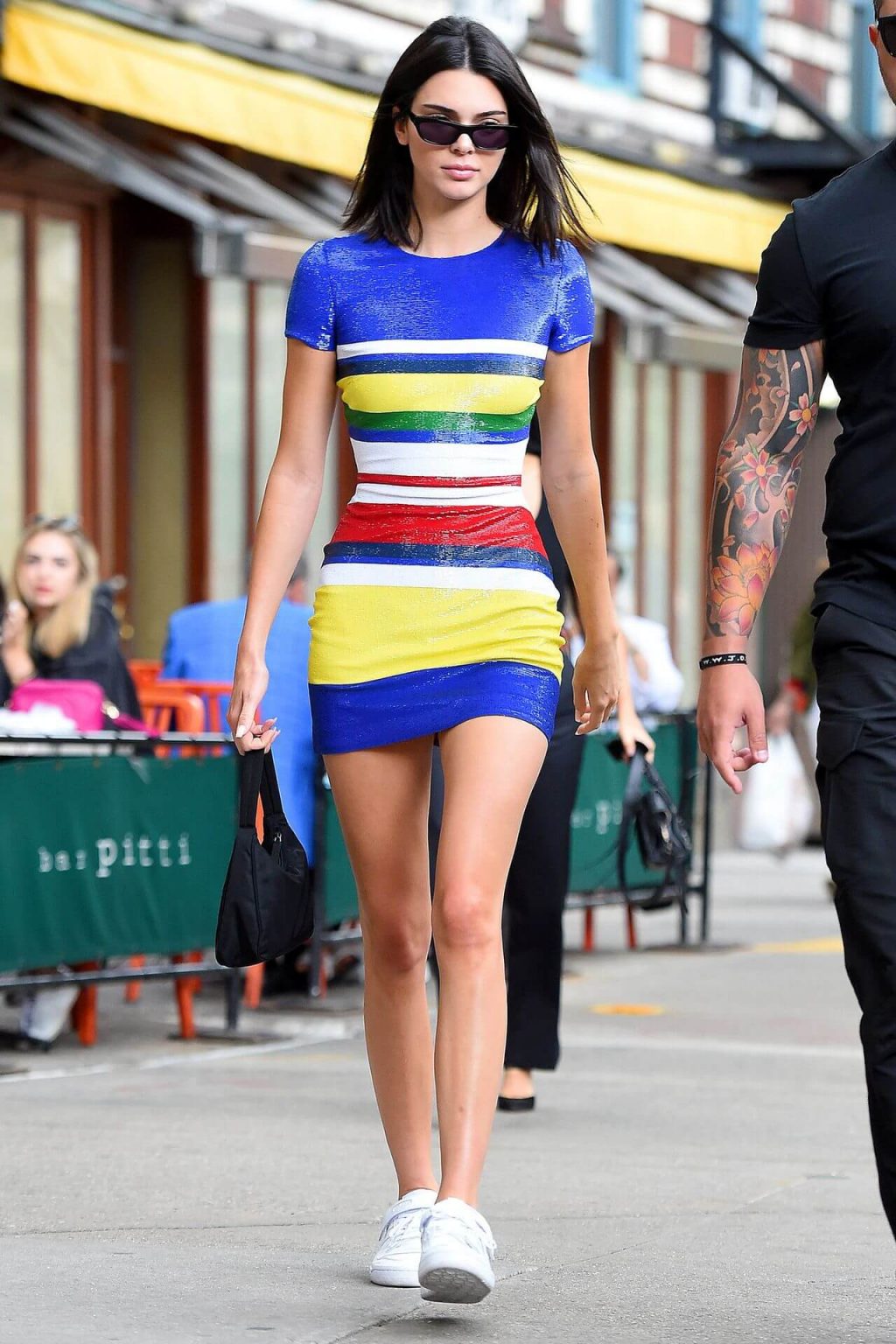 Source: pinimg.com
Sequins were madly in style in recent months. Kendall wore a rainbow sequin mini dress from Ralph Lauren and added a Kendall + Kylie sunglasses that complimented her dress. White sneakers were too perfect for the outfit. Yeah! This is New York City look. Add jewelry and sparkly sandals to convert it into a party outfit.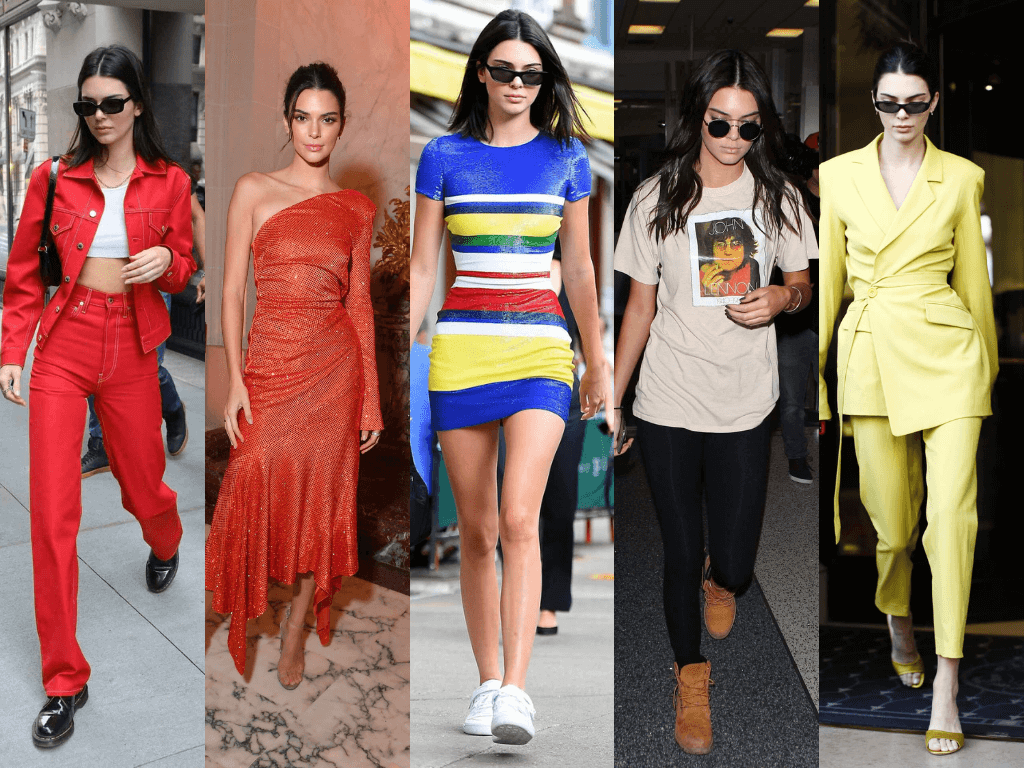 Source: google-image
Here are some of the best  Fall Outfit Ideas 2019 to try out.
Above were the outfits that Kendall wore and made the streets of NYC her runway. Steal her style and make college your runway or star of the night at a club. For more ideas on fashion styling and outfit ensembling, visit Fashionterest.