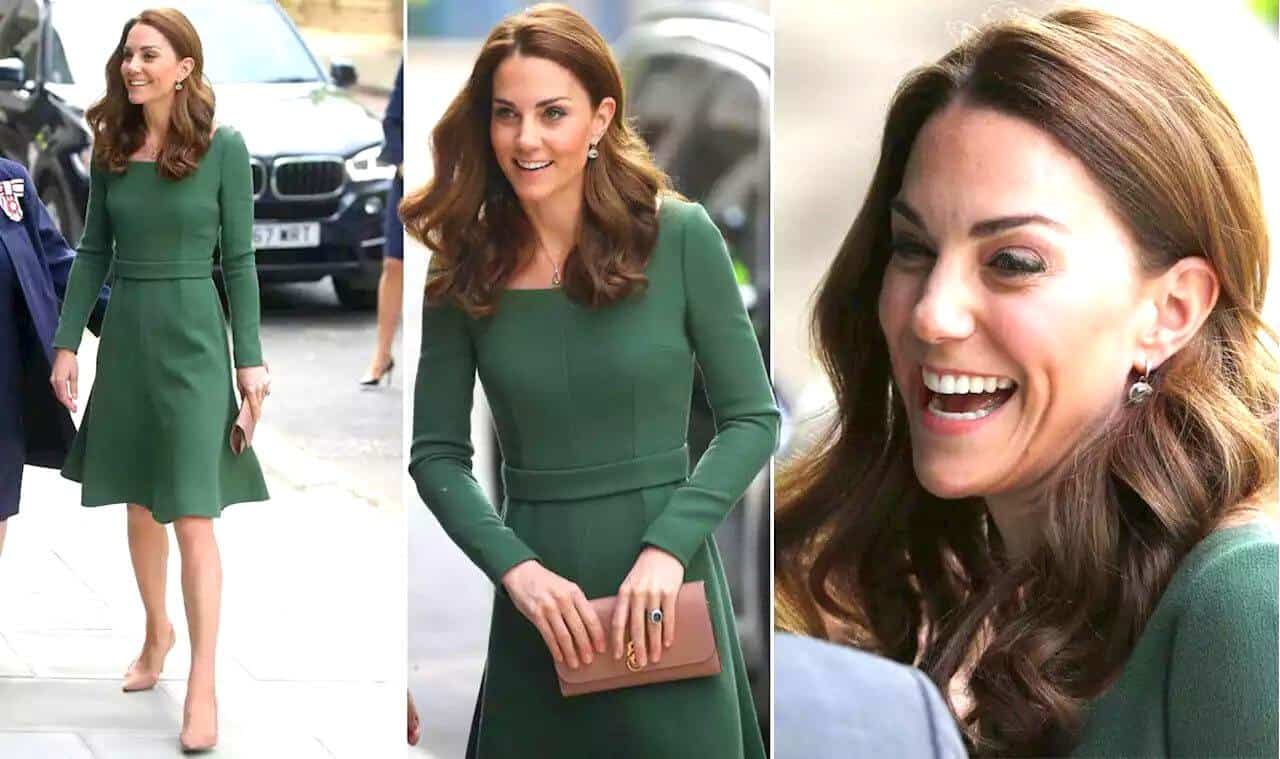 We always follow the royals for their classy dressing sense and Kate Middleton is definitely one of them who always impressed people with the stylish yet classy dressing style or you can say fashion sense of hers. Kate Middleton tied her knot with the royal Prince William and since then she is known for her royalty which is great. Recently Kate was seen wearing a green flared dress which looked stunning on her and she got this dress specially designed for some special purpose. 
She wore this dress for visiting the Anna Freud National center and while she wore this dress many people commented that the dress is similar to per previous dress which was in a beautiful lilac color but despite the same design this green dress is meant for a very special purpose. The main reason behind choosing the color green is that this color represents mental health and since she was about to Anne Freud center which is a centre that looks after the mental conditions of children so she chose this green dress for her. She followed the Royal Fashion for the event.
Since Kate is quite attached to the mental health centers that help children to look after their mental health so she often goes with the shades of green way too often which is a great thing and she does this for not any fashion purpose but rather for a very good reason which we all appreciate. If you want to know more about Kate Middleton Latest Outfit choices then here are some of them listed below that you need to check out and also you can copy her out to look as classy as she is:
The Love For Green: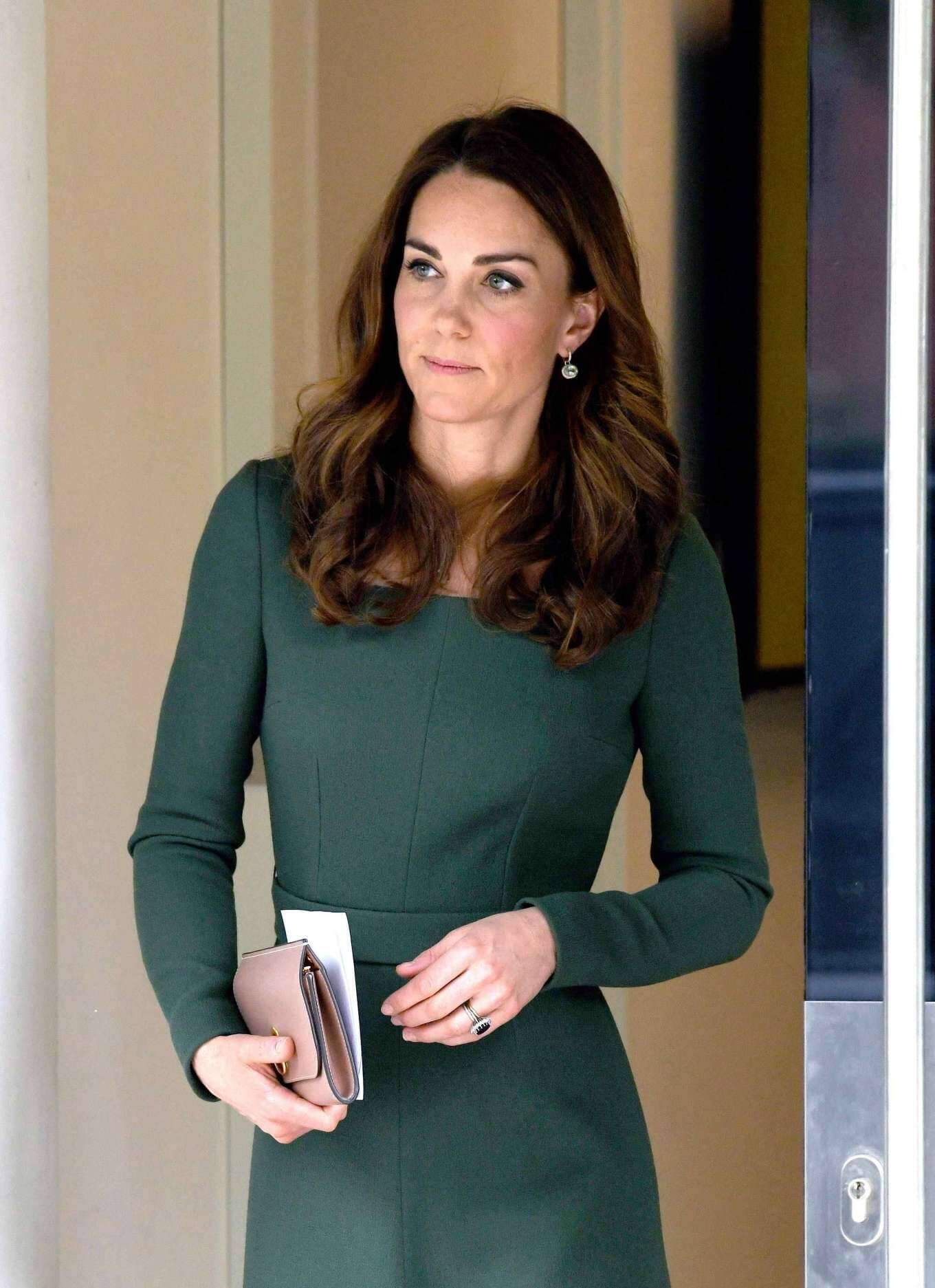 Source: sassydaily.com
This cannot be said whether the reason behind green Kate Middleton Dress is love or not but at least this is clear that her love and care for children who are not mentally stable is more than her fashion sense and the best things is totally rocked her soft glam look and end up looking very classy and if you are someone who loves classy yet simple looks then you can simply follow Kate Middleton.
There were many events recorded when Kate chose to wear green over any other color and we understand her point and support her as well now coming to her green collections she can look like a green freak because she has so many designs in multiple green colors which are slightly different from each other.
The only aim of her behind going for green is the concern that she always has in her mind about the children who are suffering from mental disorders. The green color is so soothing that this color doesn't actually bother anyone who is not mentally stable and unlike other colors, green doesn't overly excite them. Her choice for green started a few times back when she understood and joined hands with the children mental awareness champs and since then she tried to balance her aim and her fashion game together and we need to appreciate her for this.
Also Read: Meghan Markle Style Guide: The Royal Bride's Wardrobe Transformation
How Kate Middleton Sets Her dress?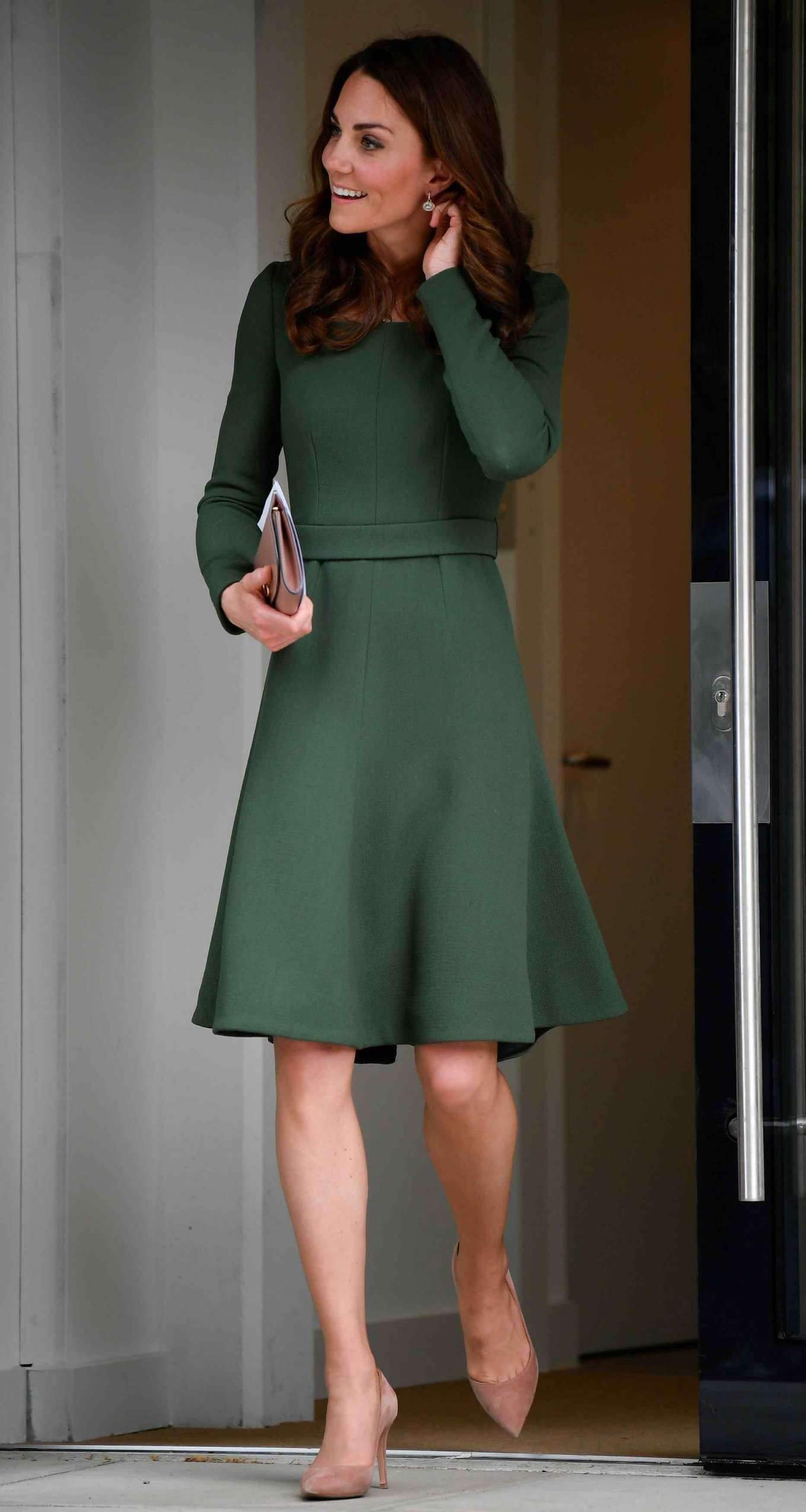 Source: sassydaily.com
Now that we already know that the royal lady has shifted to the color green so it would be fun to see how she styles her green outfit every time in a different way. Kate Middleton outfit is in limelight for being green and she doesn't wear the same shade of green every time but she keeps on Experimenting With Different Shades Of Green which is a great thing and also she pairs her different green dress with different accessories which are great to see and this would definitely give you an idea of how you can pair your green dress to look elegant as well as stylish at the same time.
Recently in the Anne Freud National centre visit she wore a dark forest green dress which was up to her knees and the dress was skin fit from the upper portion of her body and had flares at the bottom and the dress came with full sleeves and Kate kept her makeup minimal here and also here she wore a nude or you can say a neutral colored classy shoes and carried one nude clutch as well.
Later on, she was again spotted wearing a leafy green woolen full sleeve dress which she paired with black leggings and even here she kept her makeup minimal and also she wore a small diamond earring to complete her look and it is for sure that she looked so classy as well as elegant there.
The reason behind choosing green is now quite clear and so to support the reason even if she would have to go out of fashion then also she would not mind which a great thing that she aimed.
This is some of the Kate Middleton Outfit choices that she prefers nowadays and you can know more such interesting things at Fashionterest.