Hey, are you still wearing those old plain shaded jeans? If yes, then you definitely need a wardrobe-change.
Gone are the days when people used to wear plainly shaded jeans. Distressed jeans are new trendsetters. When these jeans first appeared on the screen, everyone thought it is more suitable for runways and models. But as time passed, we started loving them like anything, and now, I don't think there is a single wardrobe without them. There are ruling! 
But if we talk about their price range, they are pretty high! Do you know what actually distressed jeans are? Distressed, ripped, or torn – they all mean the same. A few scrapes, frays, fades, shreds and rips make a good distressed or ripped jeans. Rather than paying for torn out jeans, pick out old jeans and convert it into something more voguish and obviously, ripped. Yes. We are talking about DIY!
Also Read: Leading Baggy Pants For Men And Women
Take on a challenge on how to rip jeans at your own place. It is super easy and fun to make. 
Here we have mentioned a step-by-step guide on how to distress jeans without spending money.
Basic things you will need for the DIY are:-
– Piece of wood or Cardboard (for the protection)
– Tailor chalk or Pencil (for marking)
– Tweezers (for removing threads)
– Fabric scissor or Knife or Cutter (for holes or shreds)
– Sandpaper or Pumice Stone (for fraying)
Points to Remember:-
Shreds look best in the thigh area.
Fray edges look trendier.
Holes are best on knees or above two inches.
Best areas to give distressed effect knee, edges, pockets, and thighs.
Step: 1 Select the Jeans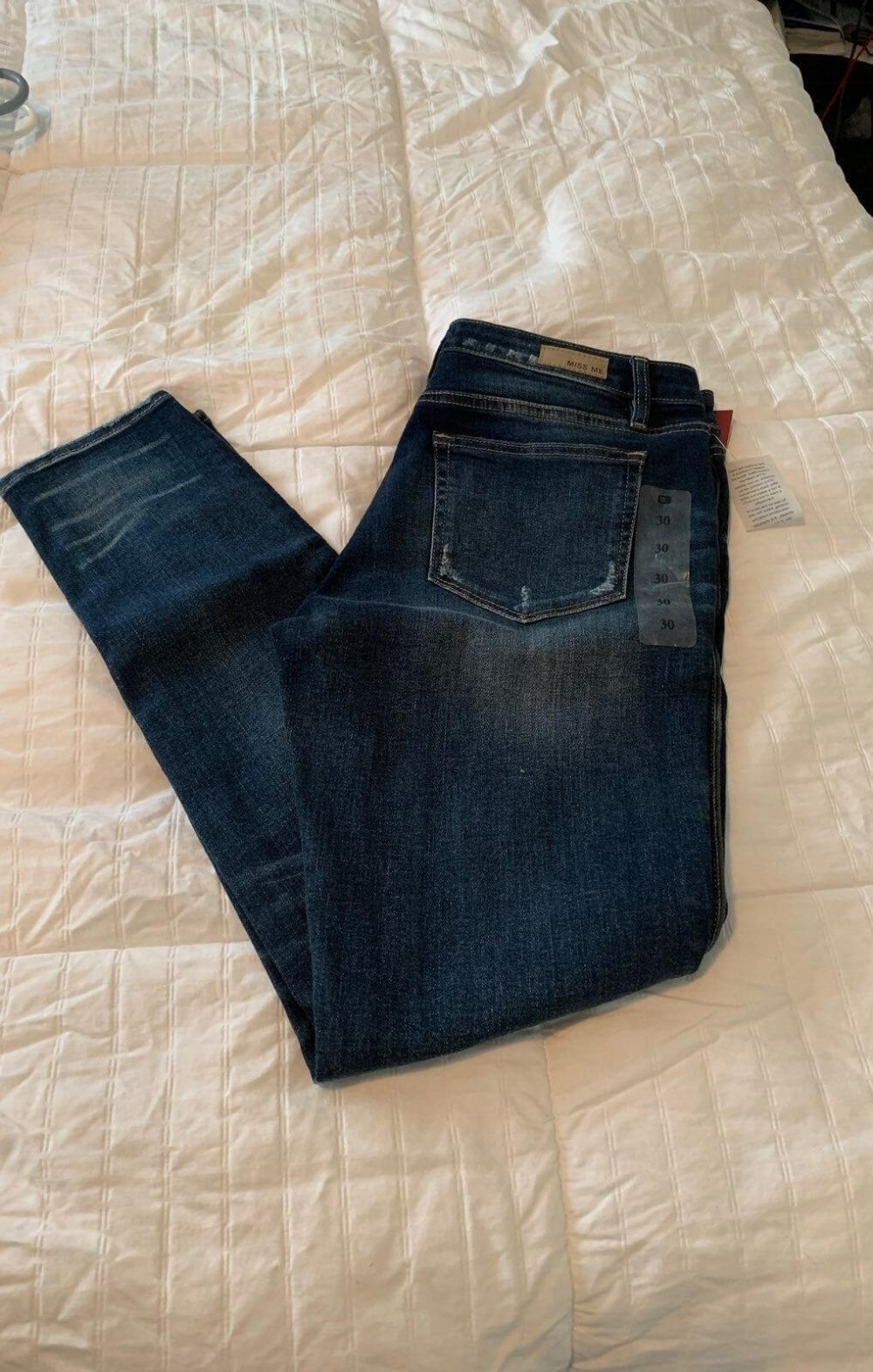 Source: pinimg.com
The first and foremost step is to select the jeans or shorts you want the distressed effect on! 
What I feel is, already worn jeans or shorts can give the best result. But don't hesitate to buy a new one for the same.
Okay, when you select the jeans, make sure to go for shaded jeans rather than dark-dyed. Ragged jeans will give the perfect distressed outlook while dark-washed jeans look to new to be ripped.
Step: 2 Mark the Area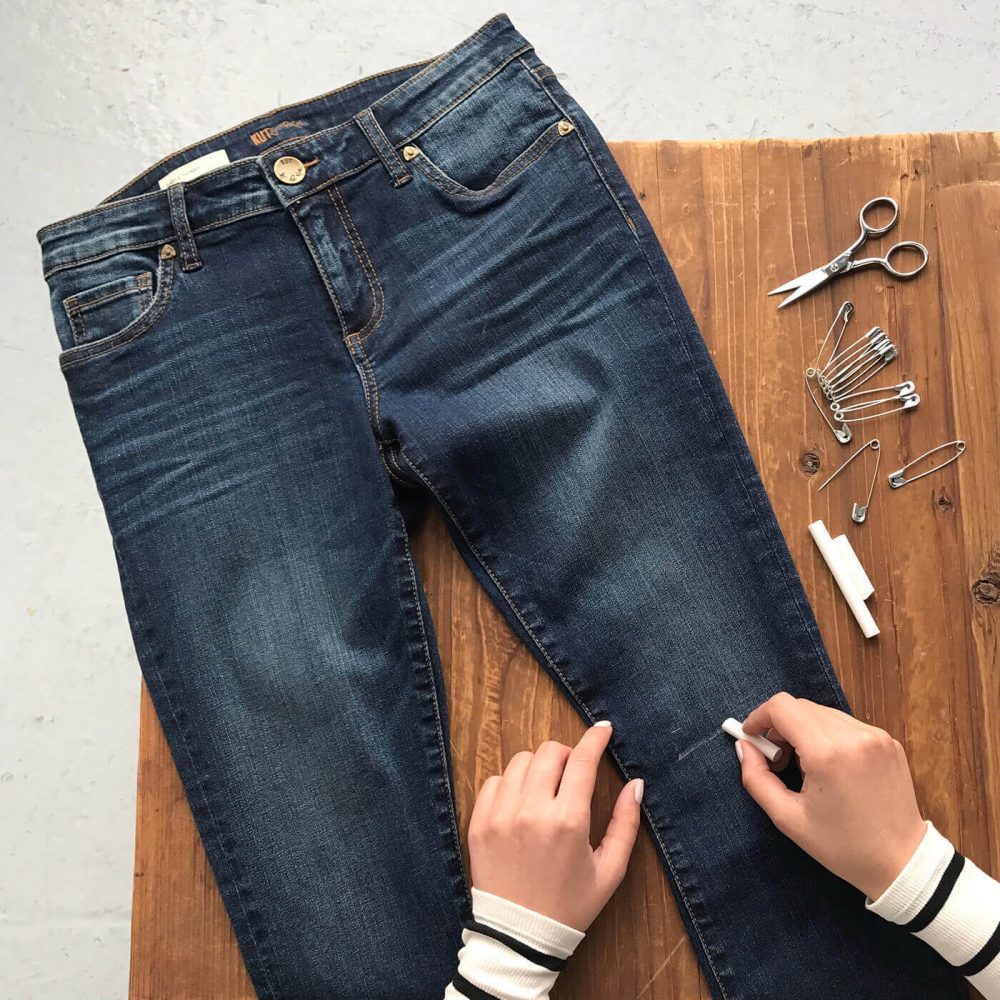 Source: stitchfix.com
The next step is to mark the area where you want a cut or hole. Mark with tailor chalk or pencil as that can be removed easily.
Picking a spot isn't the most difficult thing, but beginners usually make a mistake. Hence already mentioned the places where you can give the effect. Before starting the procedure.
Step: 3 Fray the Jeans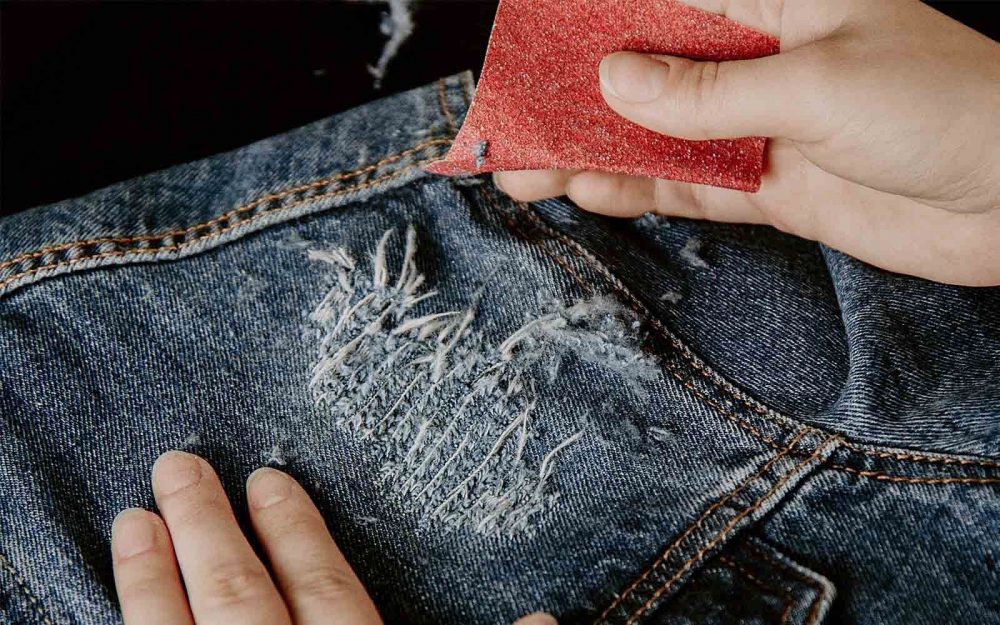 Source: pinimg.com
After that, start fraying the jeans using sandpaper or pumice stone. But before that, add a woodblock or cutting board into the pants. This way, you can avoid altering both at the front and end if you have both, then randomly scratch the jeans with both of them in the marked area.
This will thin out the fabric, and it will be easier to get on to the next step. If you want a torn-out look, then you can skip this step. But for the distressed look, this move is important.
Step: 4 Loosen the Fiber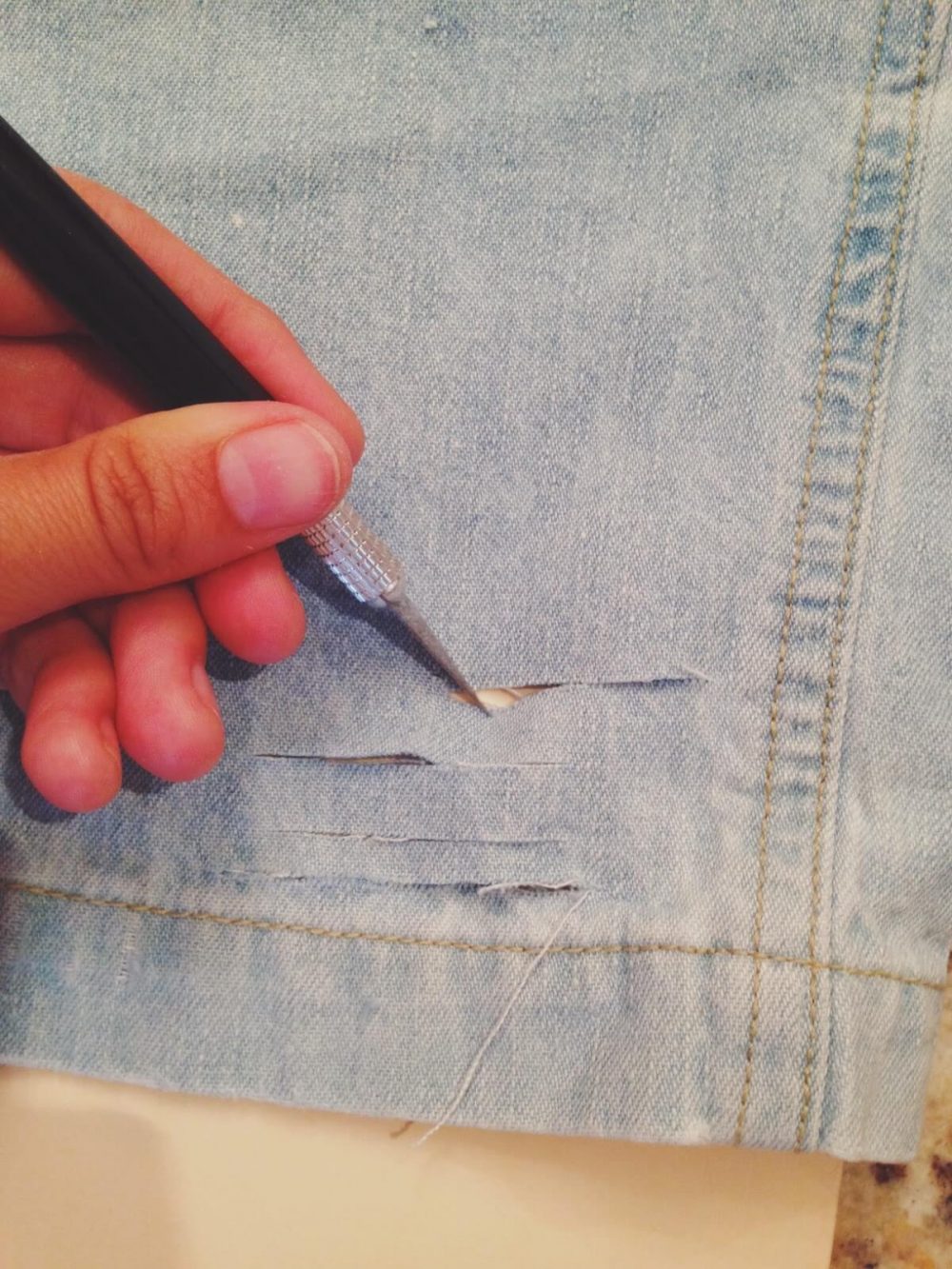 Source: blogspot.com
For stringy or thready effect, use a knife or scissor to scratch the already weakened area. This will loosen the area and will create a hole-like effect on the area. After that, you will need to remove threads. This way, the distressed area will be created.
Step: 5 Make a cut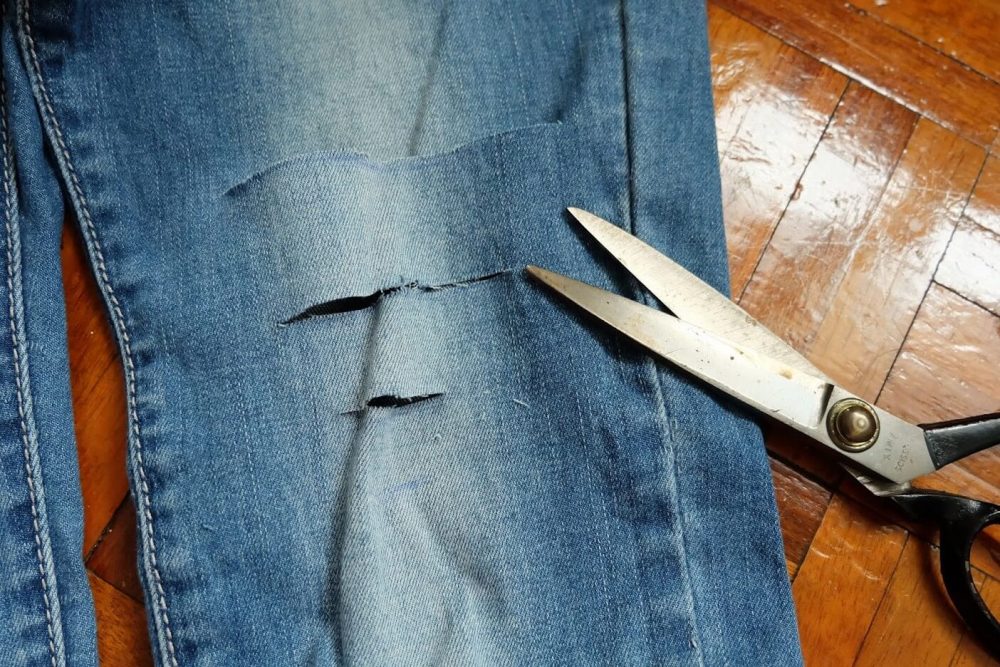 Source: blogspot.com
Now take scissors or knife and make a small cut on the distressed area. Be cautious. Don't make cut too large, or it will be ruined. You always have the option of expanding the cut afterward. But at first, don't make a cut more than half an inch. Make a rip across your body, not up and down (horizontally, nor vertically).
After that, now use your hands and pull out the threads to make it look natural. As you will start wearing jeans, the cut will naturally grow.
Step: 6 Strengthen the Edges (Optional)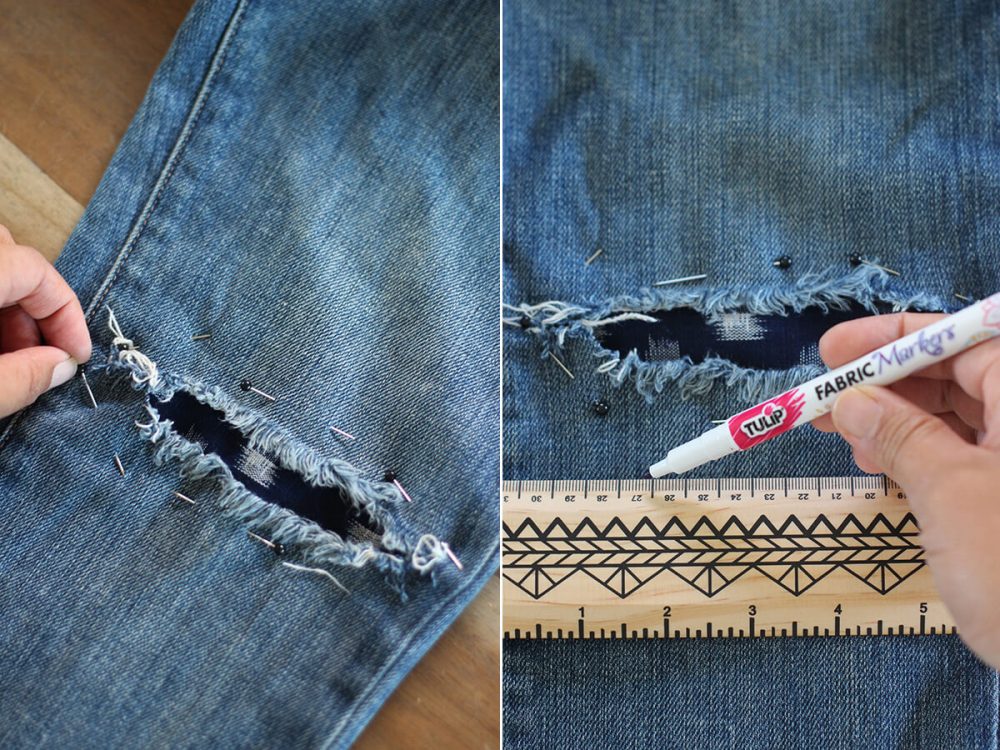 Source: honestlywtf.com
If you don't want a hole to get bigger, reinforce it by sewing around the edges of the cut. This will give a finished look. Use either white or blue thread. If you want it to grow over time, keep it as it is. This step is totally optional, based on your preference.
You can also give the following final touches:-
Pull out threads 

Fray the edges and pockets

Go for cut-outs

Scrape or bleach-out.
Here are some fashionable types of jeans for women.
So these were the steps that you will need to follow to distress your jeans at home. For more information related to DIY's or fashion industry, visit Fashointerest.