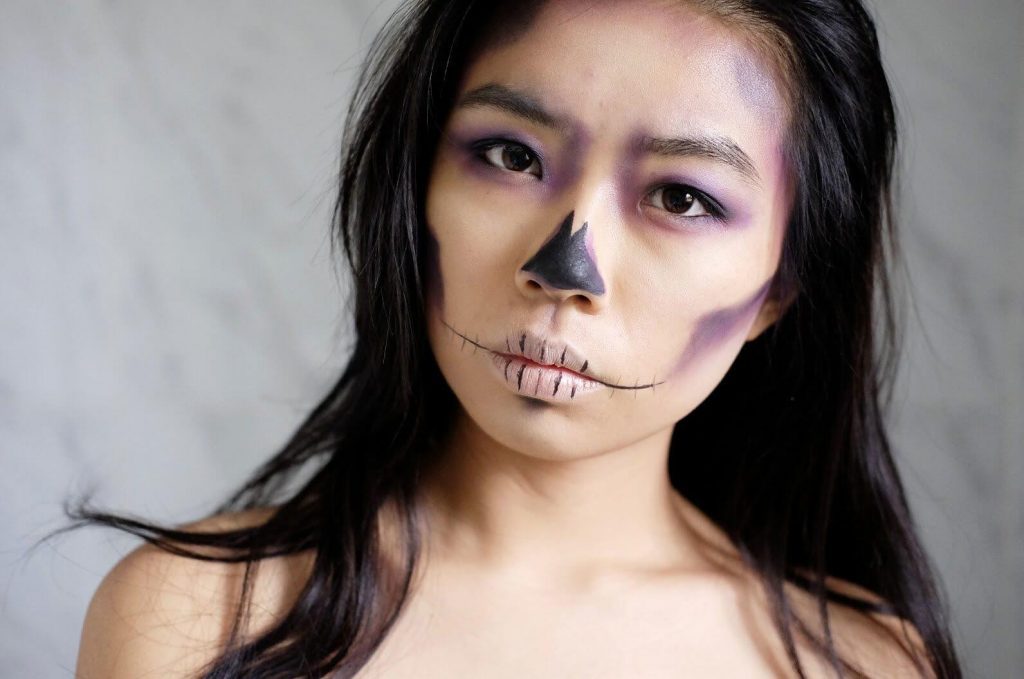 Yay! It's Halloween.
Yeah, we know it's still a month later. And to be exact 31st October. But Halloween needs preparation in advance. Don't you feel it? Halloween party arrangements, theme deciding, venue deciding, invitation circulating, and whatnot. Are we missing out on something? Or did we forget to mention some necessity? 
Yes, we did forget, but it isn't late still. Okay, Halloween makeup and costumes. The most significant decision to take for Halloween, whether you are the one attending or organizing. Halloween brings exciting and horror. So your Halloween makeup look should reflect the purpose.
There are people like us who will decide on everything still at the end moment they will need quick makeup and that is why professional makeup artists are there. They are our survivors, book one of them now only, so that you will be stress-free till Halloween. But before that, you will have to finalize the look. And till the end of this article, you will surely be able to decide one of the Halloween Makeup Looks.
If you don't want to hire a makeup artist, you can also do this makeup at your home. We have attached a Halloween Makeup Tutorial at the end of each character. So here we have mentioned some of the characters that you can choose from, for the Halloween party and their Easy Halloween Makeup videos.
Also Read: 33 Halloween Pull-Offs Inspired From Celebrity Street Style
Vampire
The most beloved Halloween character is a vampire. You know some characters are commonly seen on the streets on Halloween and Vampire is one them. Not only because recreating a vampire's look is easy, but it is the most intimidating character you will ever come across. There are only two-three things that you will need to recreate the look, and they are, vampire teeth, white powder, and lots of blood (fake one!).
The Joker
Joker – a scary clown. Who doesn't know him? We guess he is the only villain character loved by people so much. His acting and his look make him the second most intimidating character to be in Halloween. You will need face-watercolor and rigid collodion. And red lipstick is also a must. Be a Joker make your girl Harley Quinn.
Mrs. Pumpkin
Using pumpkin has a headpiece for Halloween is pretty old and no one finds it scary. So this year try creating pumpkin head with your face using makeup products. There are two-three things that you will have to buy like a white pencil and face-watercolor of black, orange, yellow and brown. Black gel eyeliner and eyeshadow you will be already having with you.
Zombie
Zombie Apocalypse! Transform your self zombie and let people know about the apocalypse. Zombie's character has been liked by many of us. Especially after the number of movies on them and countless games. Games have evolved the role of zombie pretty scary. And we have been pro at surviving the apocalypse on the screen that if we actually face zombie, we know how to meet them.
Harley Quinn
Brave up girl; Joker is your man! Haha! If you are going to a party in a couple then either you should go for a Mr. and Mrs. pumpkinhead or Joker and Harley Quinn. In our opinion, the second one is the best. Of course, they are the most loved ones and are easy to pull out as well. You can recreate the look by using your daily Make-up products.
Pennywise
Pennywise is a unique character from the "IT" movie. It said that he is billions of years old. And his origin is from another planet called Macroverse. He is often found in the town of Derry, Maine. He has unbelievable powers like the ability to transform himself into any person, animal or object (a mixture of them also). Pennywise is one of its forms, and you can call him the evil clown. He decided to be a clown as kids like them, and this makes it easy for him to trap kids. Scary enough! Right?
The Mask
The scary yet fun character is of the mask. You probably have watched the movie dozens of times, every time you will see the film, you feel like having one mask for yourself how he gets transformed from introvert to total extrovert, from boring to fun-loving, from less expressive to extra expressive. Transform yourself into 'the mask' and let yourself free and do whatever you want – scare people, rob people, make fun of them, whatever.
Frankenstein
I, Frankenstein the movie based on the demons and its hunting got a particular liking during Halloween. The look he had is scary enough to recreate for the party. The best thing about the Frankenstein is the screw on this neck. He was created (in the movie) using the dead corpses. 
Edward Scissorhands
For Edward Scissorhands, you will need to use your DIY skills for preparing the hands, or you can get them online too. The best thing about this Halloween creature is that it can be done on both men or women. The most significant misery for Edward was his hands, and that also makes him stand out from the crowd. Its makeup is also easy to do using glue and your daily make-up products.
Valak
Who doesn't know her? The scary nun from the series of 'Conjuring'. Though the movie isn't that scary, the look of Valak covers up 50% of the part. She went pretty viral on social media after the release of the movie. Many Valak prank videos are there on youtube. So let's turn prank into reality and be a nun this Halloween, A scary nun – Valak! You can recreate the look of Valak by using a glue stick, yellow lenses, translucent powder, black matte eyeshadow, black eyeliner, and eye pencil. Just follow the tutorial, and you are ready to achieve the look.
Cheshire Cat
Recreate the cat look (oh to be precise, Cheshire cat) by using shades of purple eyeshadow, pink eyeshadow, black and white eyeliner, and of course mascara. The different point of this cat is its teeth, look at the video, you will understand.
Scarecrow
The name itself says, "I am here to scare you." Haha! Scarecrow doesn't need much of efforts, a few minutes if you are pro at make-up and if you are a newbie, it might take 1-hour or so. But it is super easy to pull out. You will need a brow pencil, facepaint, eyeshadow palette, and fake lashes.
Mystique
For creating the look of Mystique, you will need prosthetics that you can get online from anywhere. And after that, using the adhesive stick it. Other than that, you will need face paint, eyeshadows, hair color spray, liquid latex, etc. Go through the video for the complete tutorial.
Double Vision
Double vision! Create by following the tutorial. All you need is eyeshadows, lipstick, white jumbo pencil, black and white eyeliner, and other products that you use in day to day life. Let people rub their eyes twice after seeing you!
Here are some Halloween Nails designs to try out this Halloween.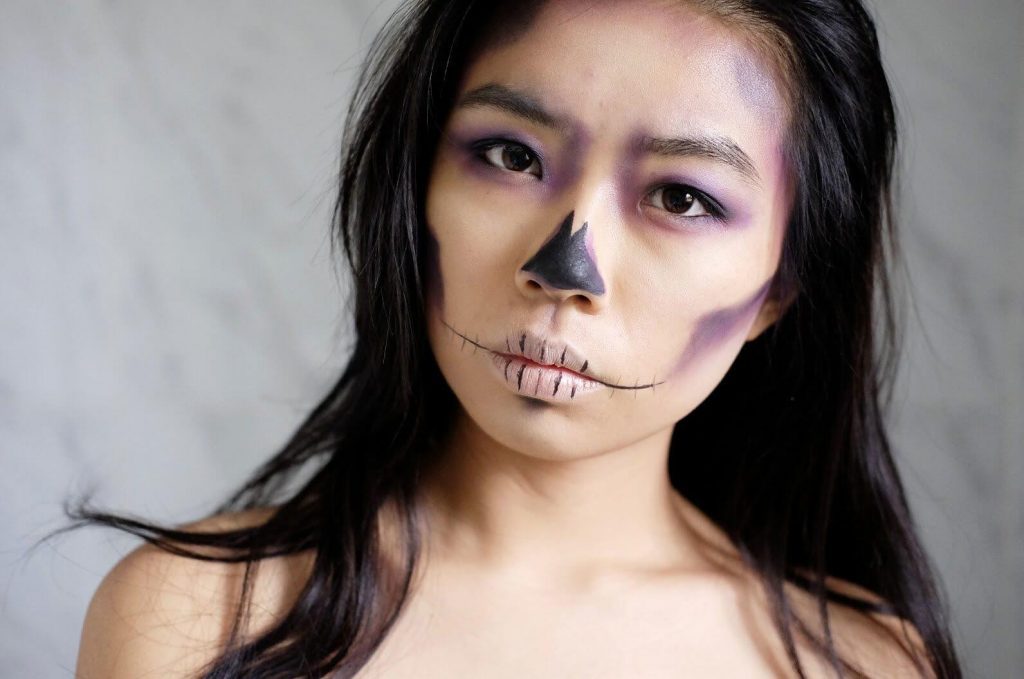 Source: fashionmagazine.com
So above are the Halloween 2019 makeup ideas that you can go for this year. We hope this article has helped you in finalizing the spooky look for the event. For more updates on fashion and beauty related tips, follow Fashionterest.