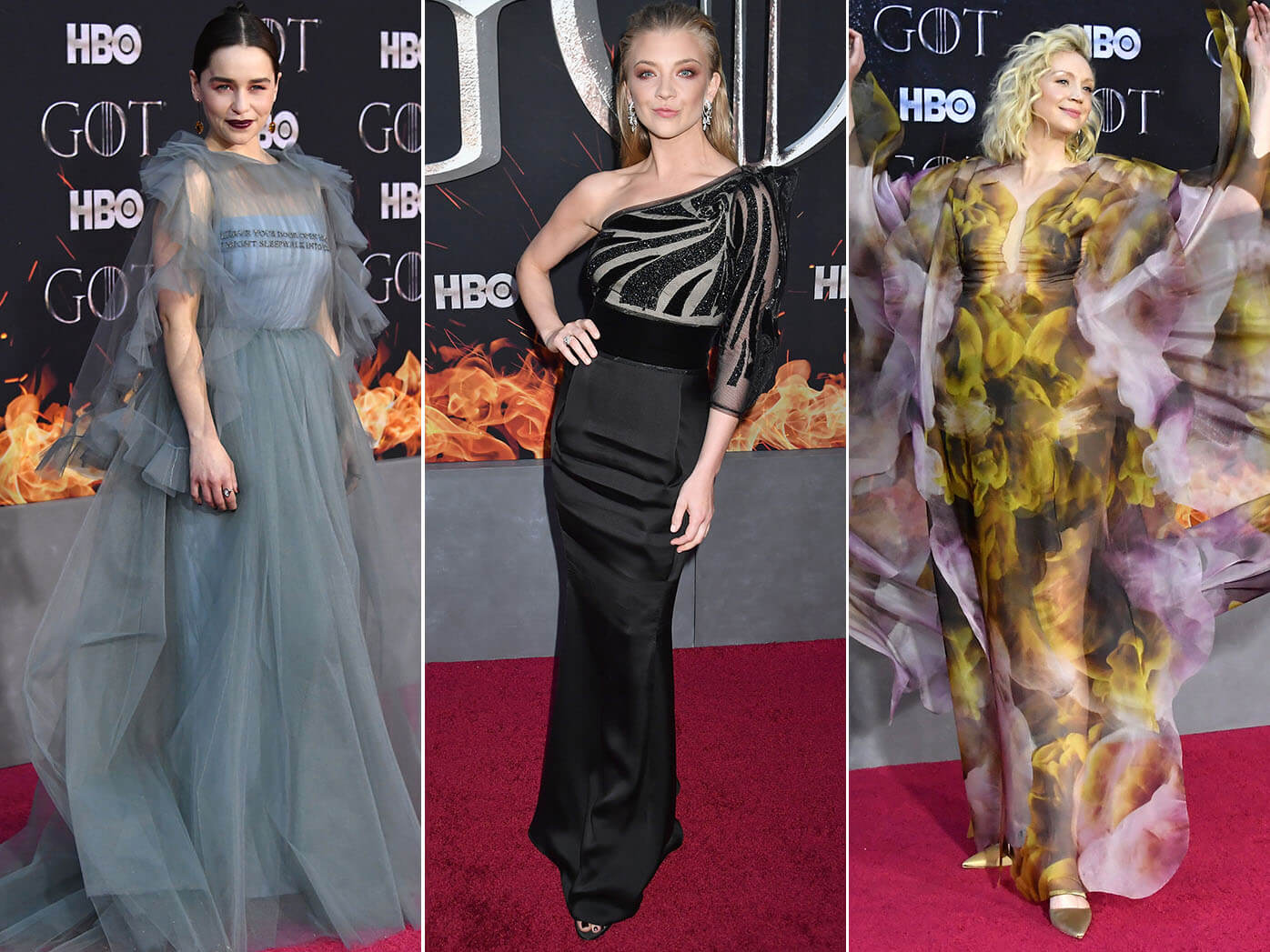 Red carpet is a very special occasion for all the stars and Hollywood dies and literally puts on all the effort to look the best on the event of the red carpet and so we have spotted the Game of Thrones crew at the event and they were slaying in there mesmerizing red carpet ready outfit and it cannot be denied that they looked so good that you could hardly get your eyes off them. Now you must be wondering about their outfits that they wore in the red carpet so here are the red carpet looks of the celebrities of the game of thrones which you need to check out:
1) Esme Bianco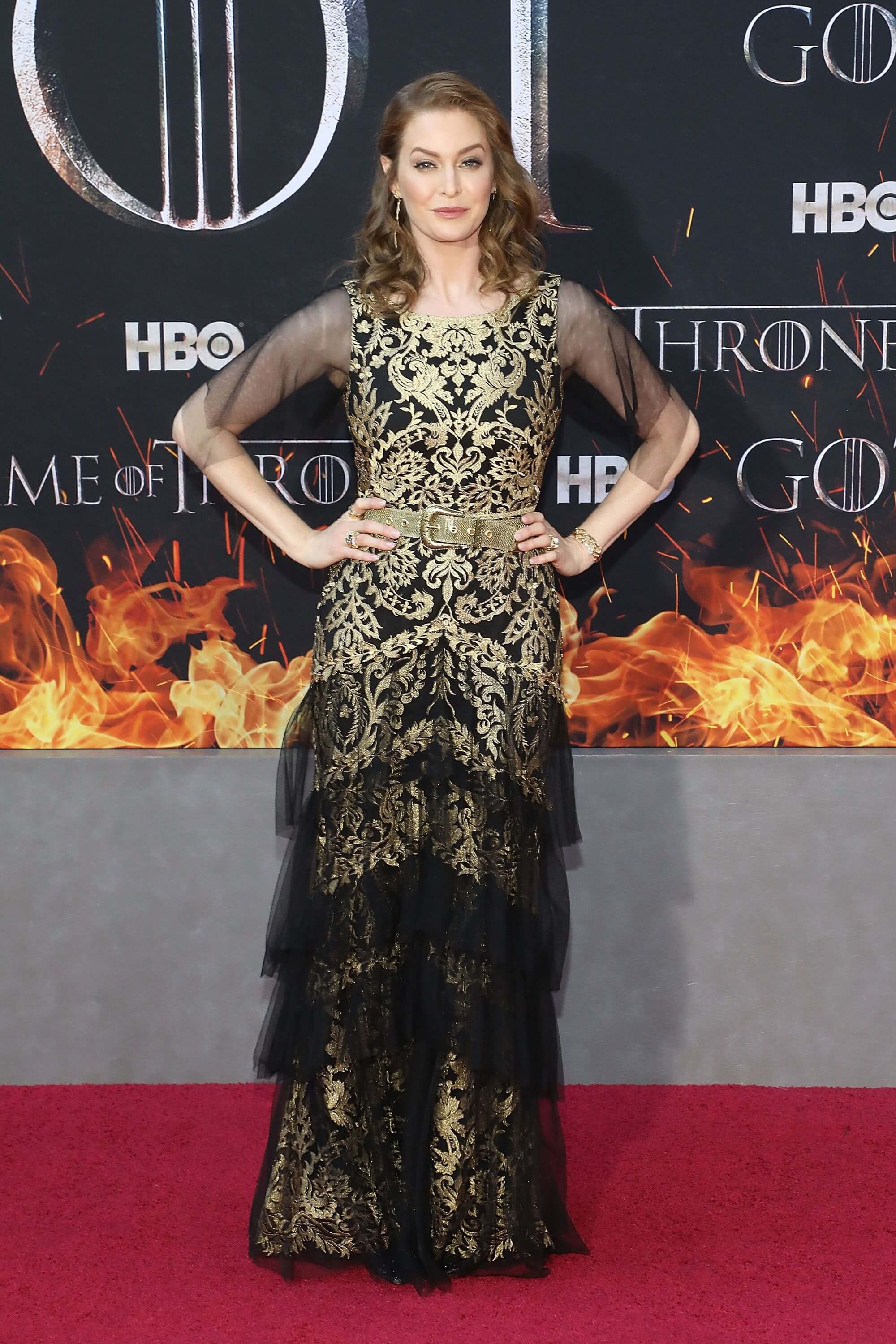 Source: s3.r29static.com
Marchesa was her choice for the red carpet event and we are glad that she went with this gorgeous black and gold combination dress as she looked amazing in that and here she kept her makeup neutral and her dress was all shiny which created a good balanced in her overall look. Here the base of her dress was in black and there was nice golden detailing on her dress and here she had full sleeves and also there were several layers in her dress which made the dress look so amazing and beautiful.
2) Arya Stark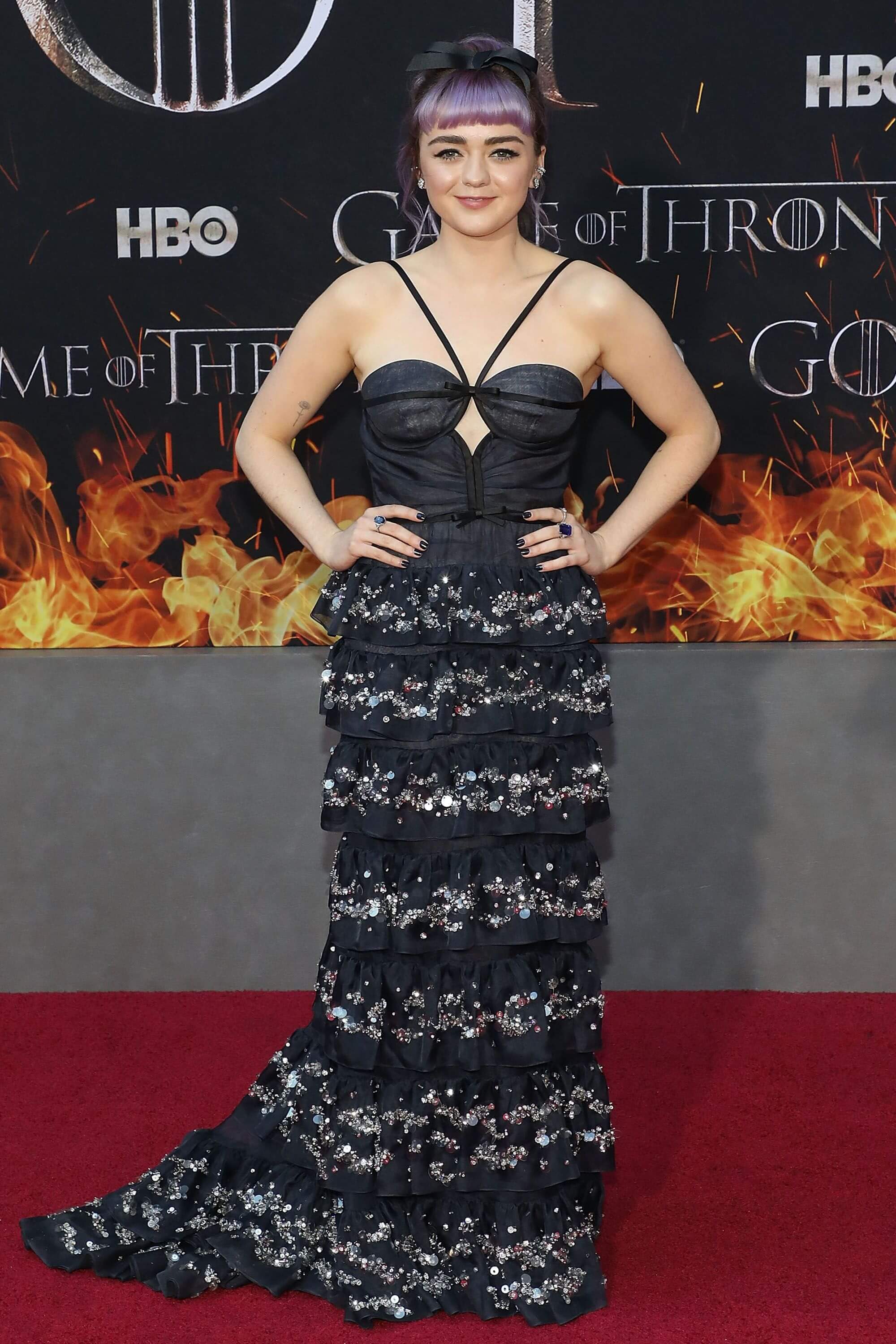 Source: s3.r29static.com
This little girl has now become a lady and here in the red carpet she was seem slaying in her black gown which she got from Miu Miu and she looked so gorgeous that we hardly could get our eyes off her. The detailing of her dress was gorgeous enough to catch eyes and here you would see that her gown has multiple layers and in this dress she literally looked like a doll and the silver work on her gown make it more attractive and also she kept her makeup toned down and got everything in neutral tones which kind of balanced her overall look.
3) Nathalie Emmanuel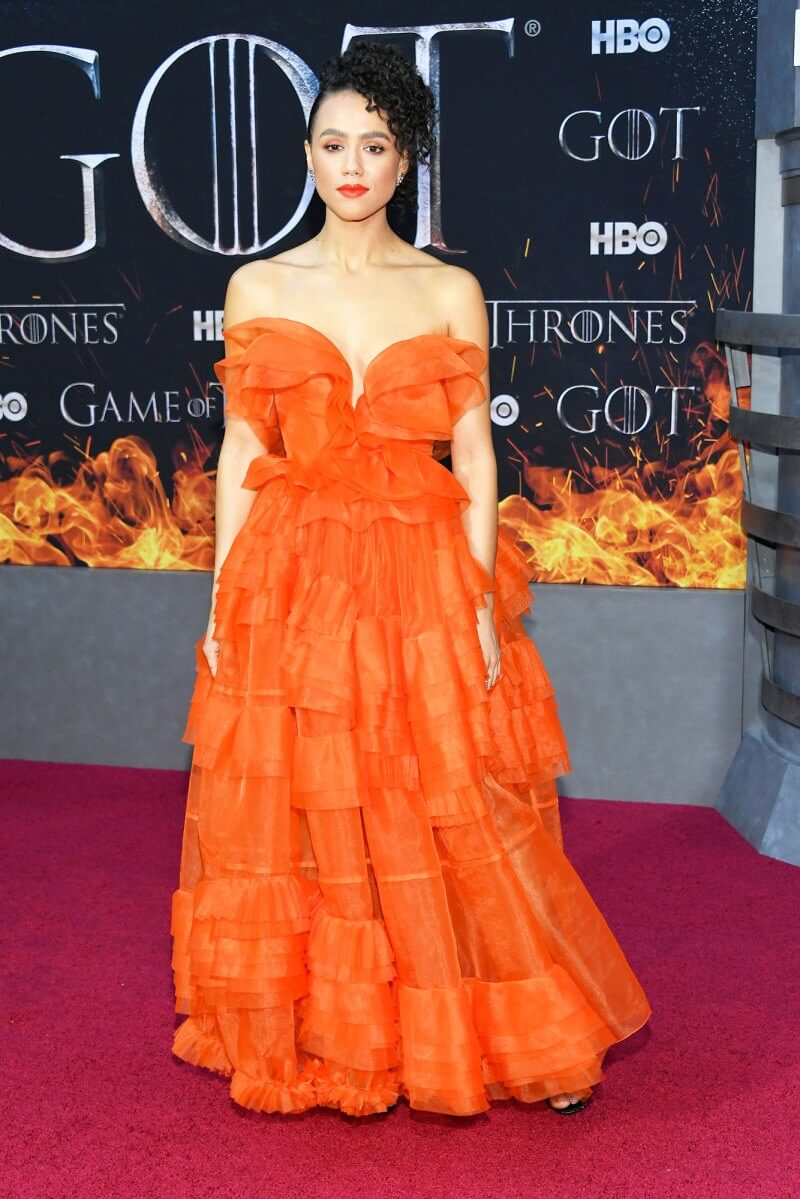 Source: usmagazine.com
This gorgeous lady just lit the fire on the show with her bright look and she literally looked gorgeous and hot at the same time. Here she chooses to be bright with her entire look and kept neutrals aside and bold color selection are loved to be very honest. Here she chooses to wear an off-shoulder orange multi-layered gown which looked so damn hot and she looked more gorgeous with her bold red lipstick and a touch of pink on her cheeks completed the look and she kept her hairs up in a bun kind of hairstyle which went well with the outfit.
Also Read:- The Most Iconic Celebrity Red Carpet Dresses
4) Rose Leslie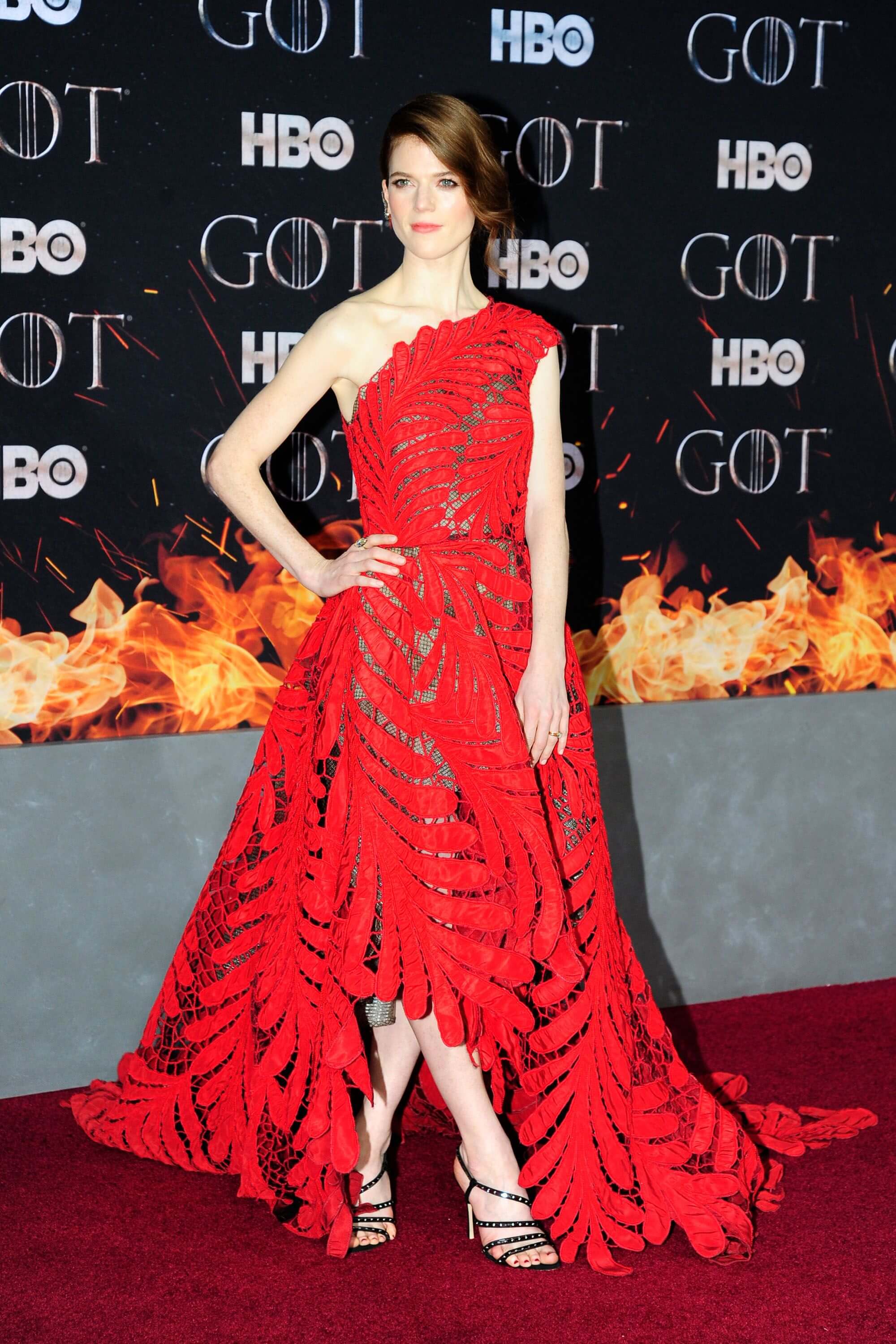 Source: s2.r29static.com
This gorgeous lady proved to be the best and she literally caught all the attention towards her with her gorgeous look and it is for sure that her dress proved to be perfect for the red carpet rather her dress seems to be among the best-worn dresses of the red carpet and here she wore Oscar De La Renta red dress. Her dress was not only the gorgeous one but at the same time, it was one of the most innovative dresses in the show as well. Her entire dress looked like leaves which turned out to be awesome and the red color of the dress seems to be perfect for her red carpet look.
5) Kristian Nairn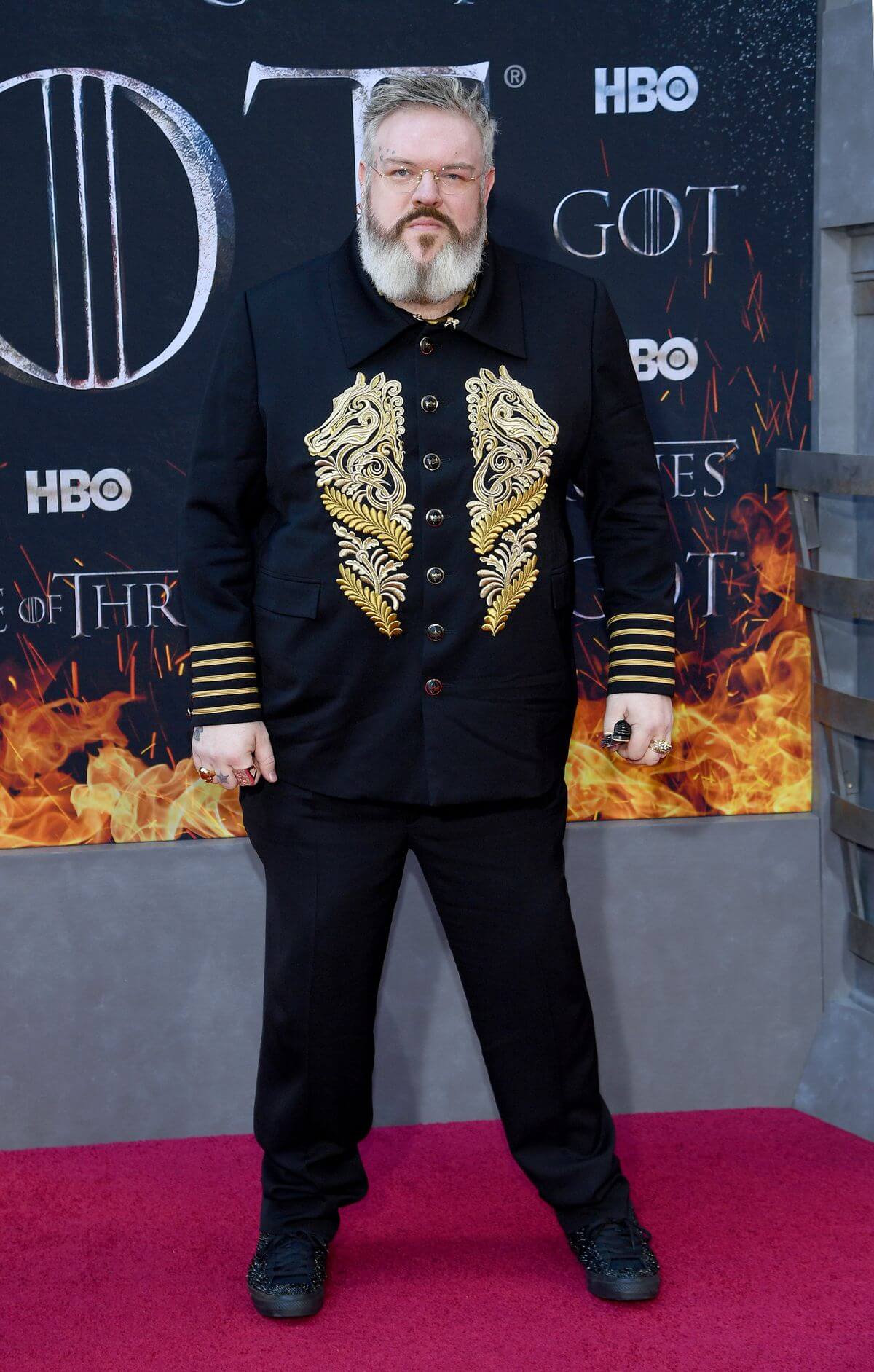 Source: gannett-cdn.com
This guy played the role of Hodor styled himself in the black pant as well as a shirt and the most unique thing about his shirt was the golden design at the front which looked so amazing and this literally got our attention and wore black shoes and kept everything else quite simple went too loud.
6) Amanda Peet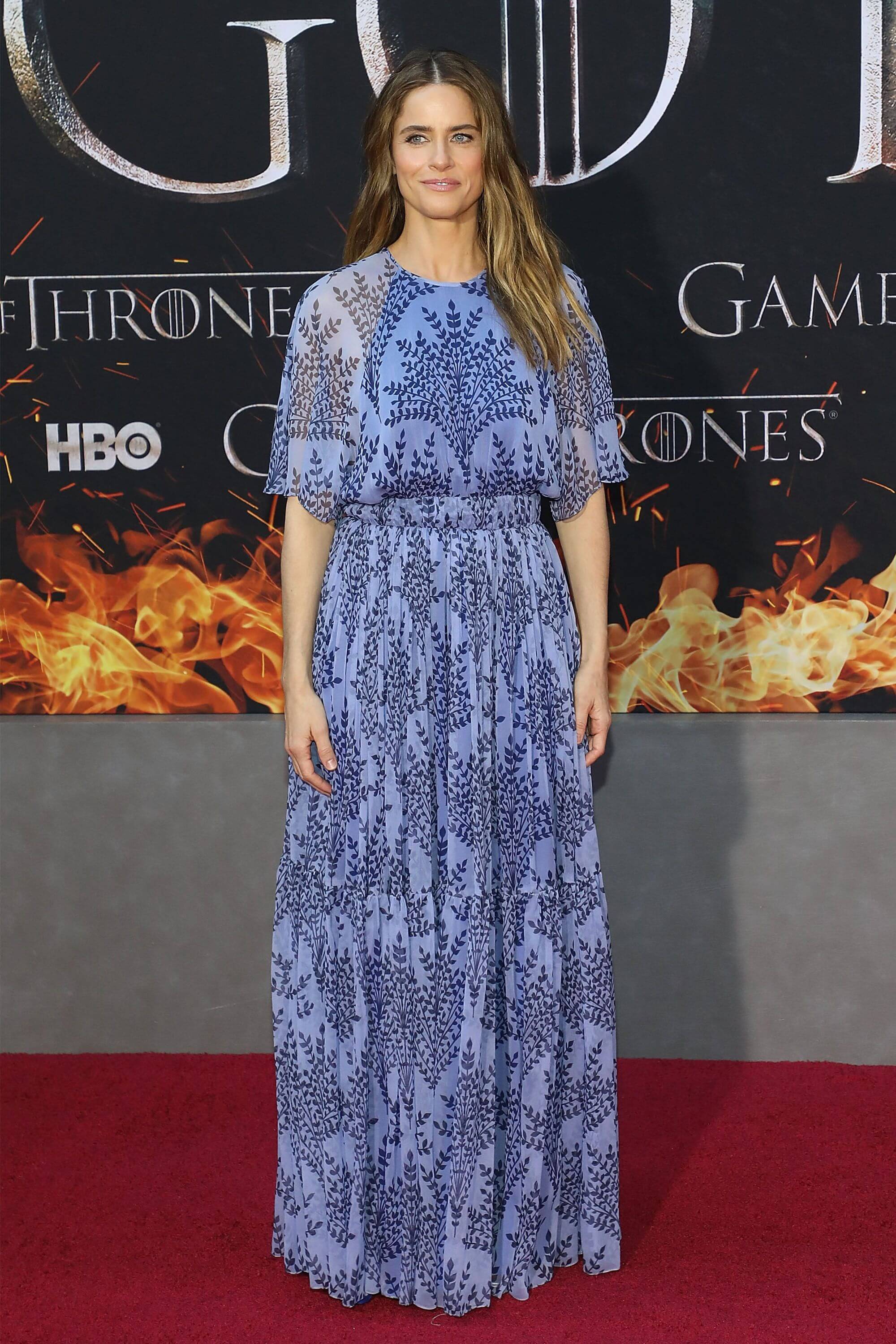 Source: s2.r29static.com
She tried being simple with her Carolina Herrera masterpiece and she looked so mesmerizing and soothing that we didn't even want to get out eyes off her and her dress did all the magic for her. She went on with a light blue dress which has so many beautiful black designs on it and she went with balloon sleeves which seem to be quite unique. She did her makeup well and preferred to go all neutral which basically balanced her entire look so gorgeously.
7) Sarah Paulson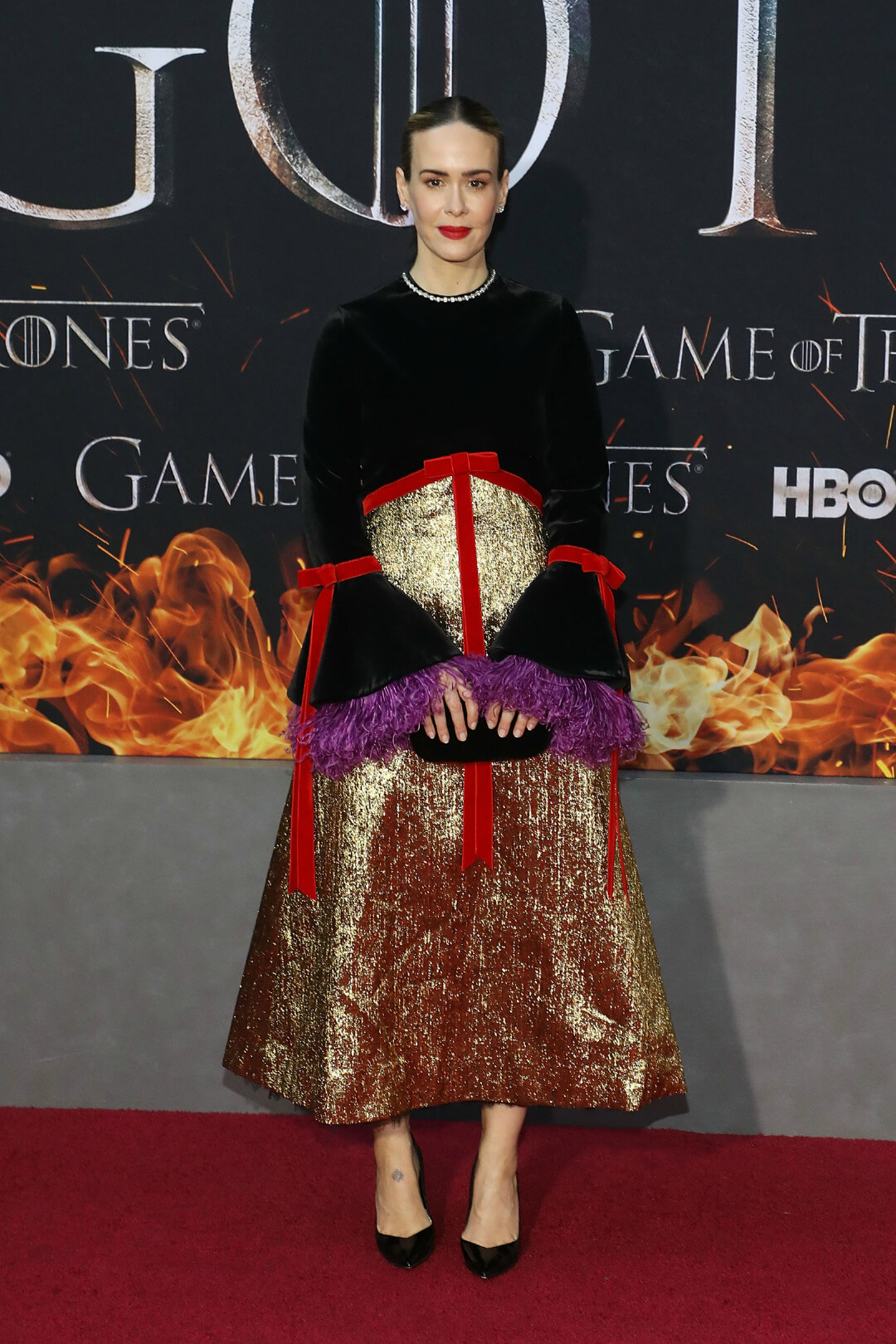 Source: s2.r29static.com
She went bold with her look and didn't fear to go a bit glitterier with her outfit and here she chooses a Gucci outfit which made her highlighted in the red carpet event. Here she went on with a long dress with a black upper which has full sleeves with flairs and there is a red ribbon tied in her sleeves as well as in her waist and her skirt was all glittery and golden which was looking so beautiful and there us even lace detailing on her sleeves which added a pop of color in her outfit and her red lipstick matched well with her dress.
8) Carice Van Houten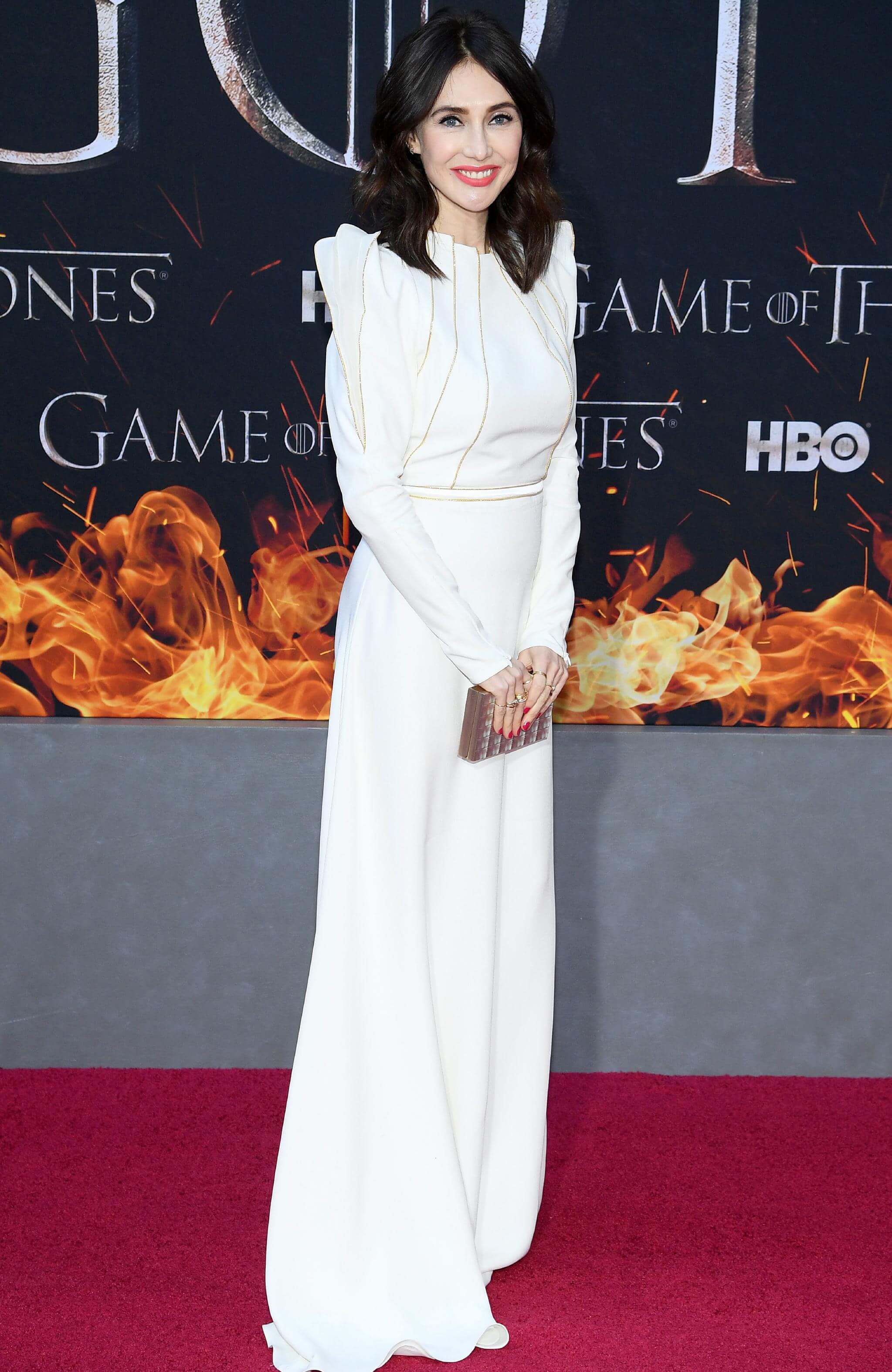 Source: s2.r29static.com
This diva choose to be the brightest diva with her white dress which she god made by the talented designer Ronald Vanderkemp and we simply cannot take our eyes off her as she looked so damn gorgeous but at the same time she choose to stay simple as well and the perfect balance of simplicity as well as glamour made her one of the best-dressed ladies of the red carpet event. Her dress is quite long which looks sleek and full sleeves made the gown look elegant. She went on a bit loud with her makeup with bright orange colored lipstick which made her entire look well balanced.
9) Sophie Turner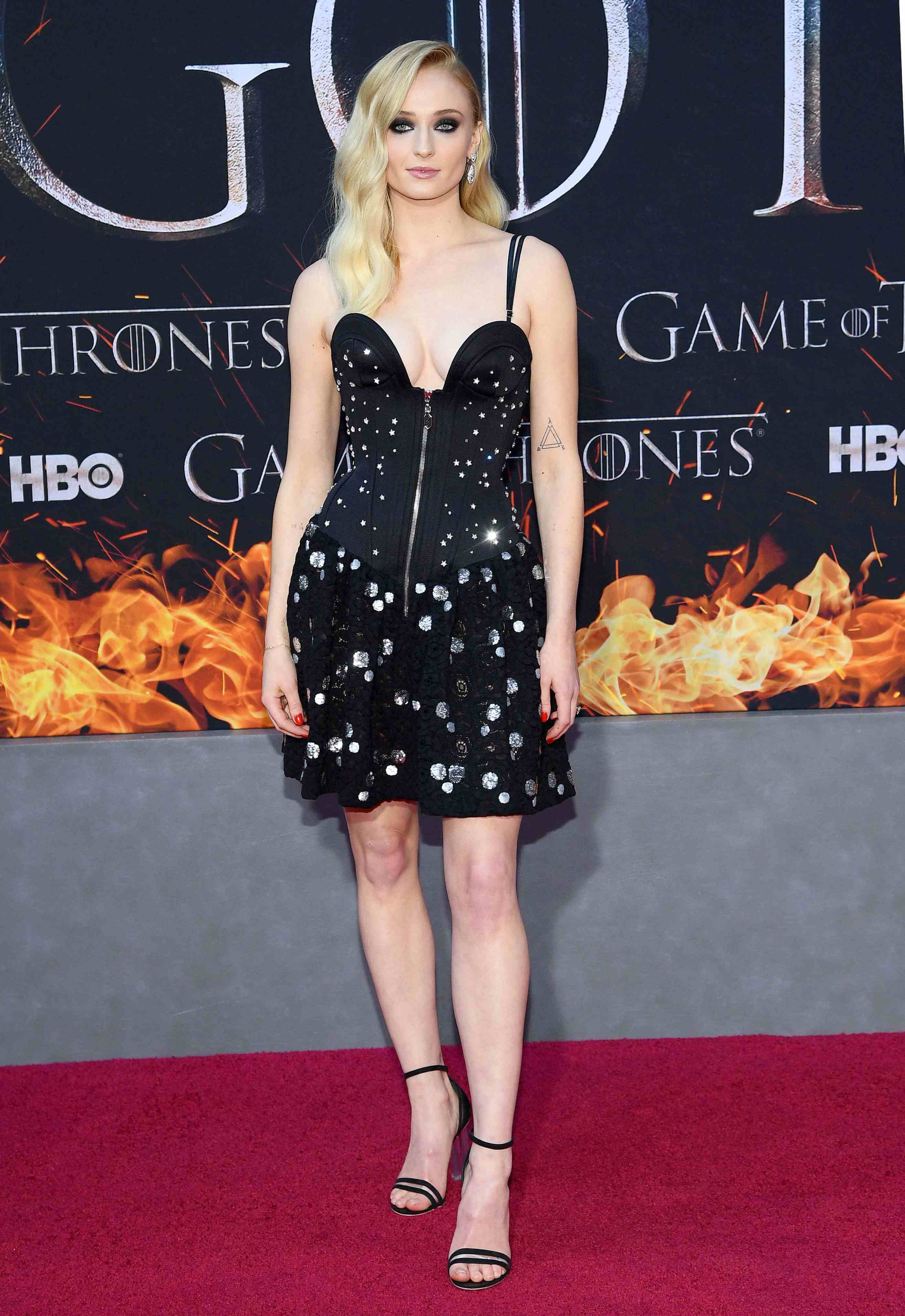 Source: rp-online.de
Sophie turner chooses to wear a masterpiece designed by Louis Vuitton and she kept her look simple with a black short dress and it is for sure that she managed to carry her entire look so well that everyone might have adored her for her look. Here you would see that her black dress in of mi length with thin straps and there is zipper at the front which seems to be unique and also here you would be able to see some silver work on the dress which looked so amazing and her smoky eye look matched so well with her entire outfit and she kept her lips nude.
10) Natalie Dormer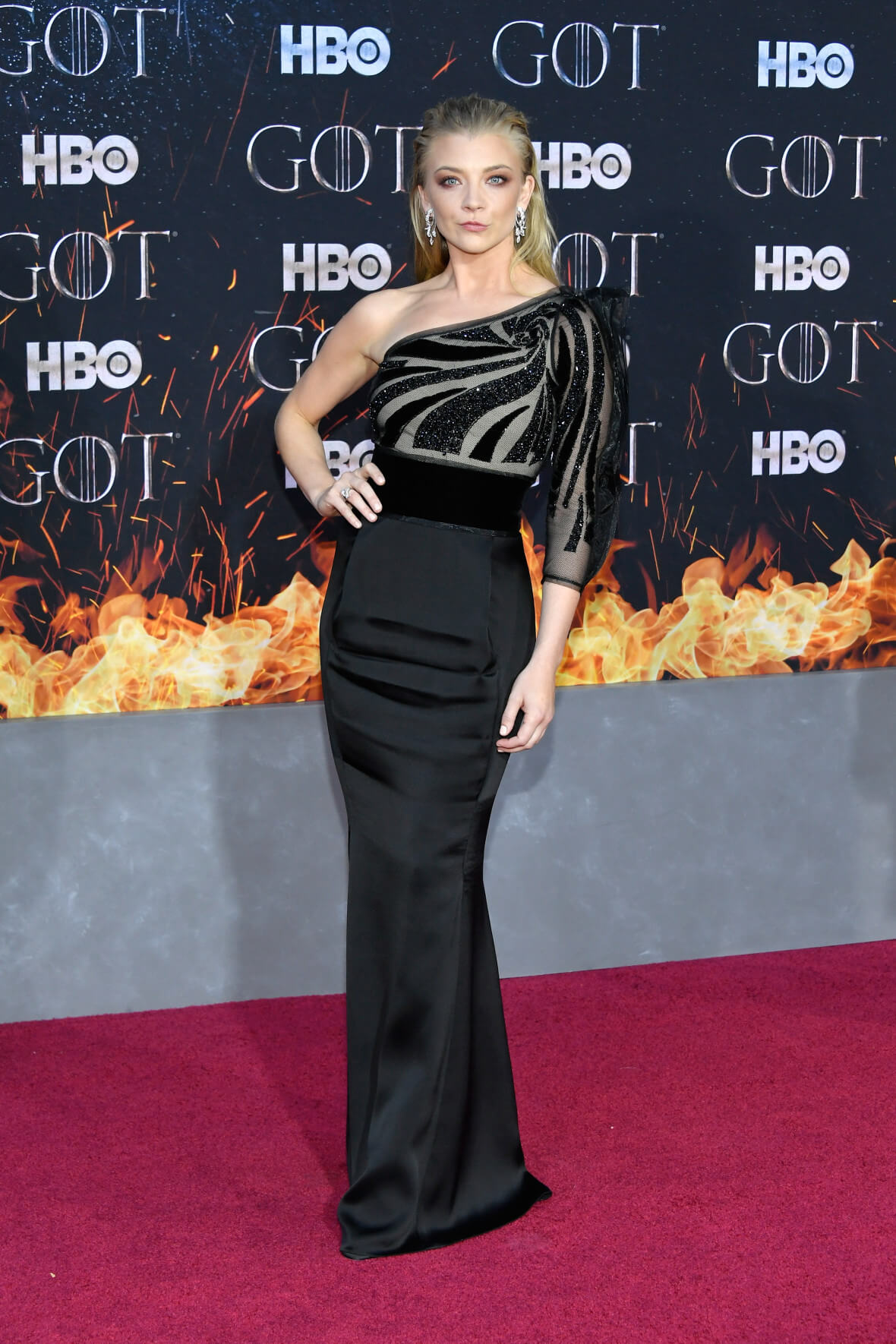 Source: lifeandstylemag.com
This beautiful diva chooses to be in her Armani dress and she looked gorgeous in her dress and there is no doubt in that for sure. She kept her look sleek and at the same time she raised the temperature with her amazing appearance. Here she went with a long black gown which is kind of narrow at the skirt portion and the in the top part there are nice grey colored designs which seem to be so beautiful. She went on with neutral makeup with her eyes a bit smoked up and overall she just rocked the event with her mesmerizing look.
11) Lisa Bonet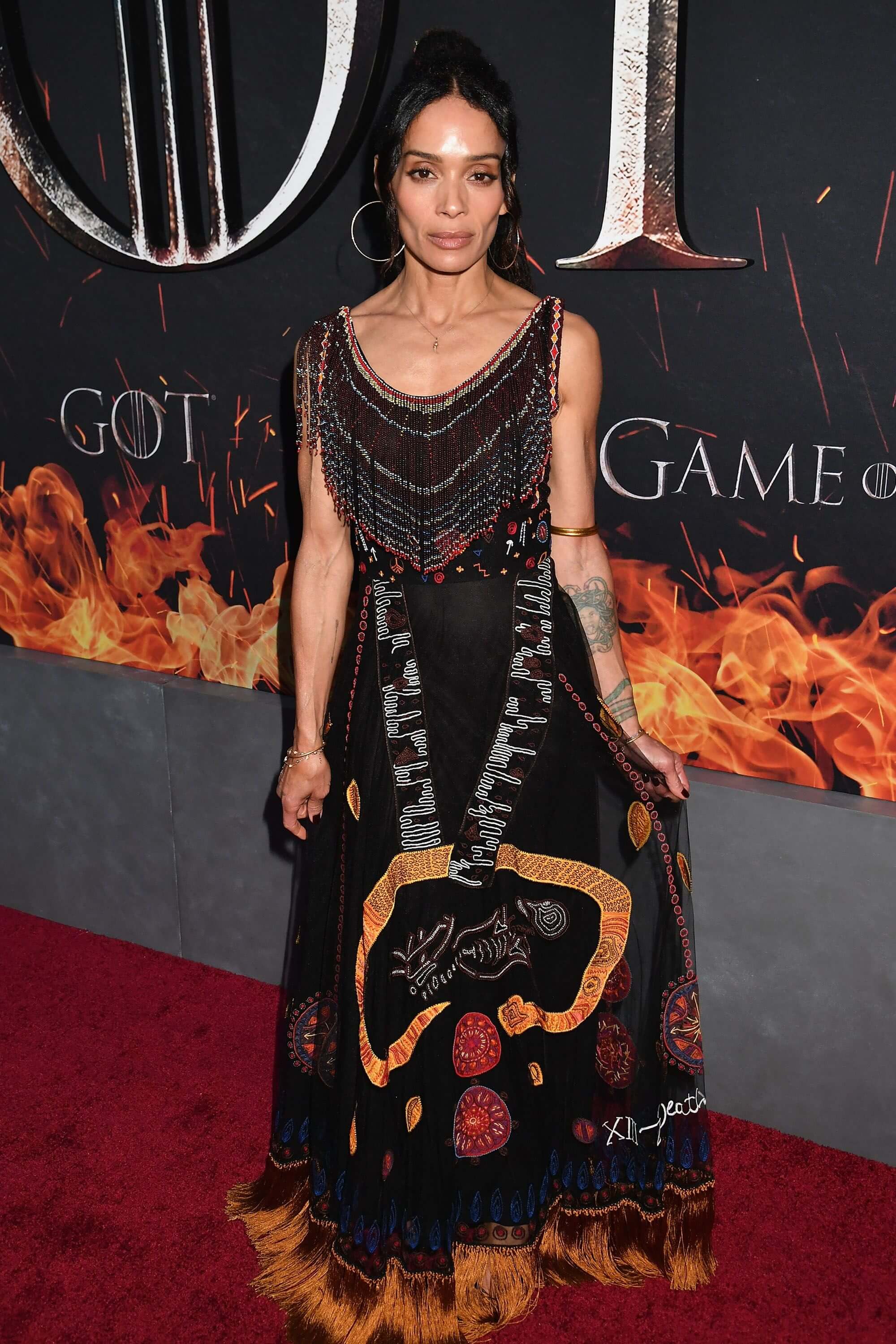 Source: s1.r29static.com
This lady also went with a black masterpiece that she got from Dior and it cannot be denied that she looked innovative in her dress though it cannot be said that she looked the best as we already stopped more amazing looks of her previously but still she managed to carry out the outfit and has also justified the outfit. Here the black gown has some orange and red designs going on and also she kept her makeup a bit neutral and we loved the glow of her face.
12) Emilia Clarke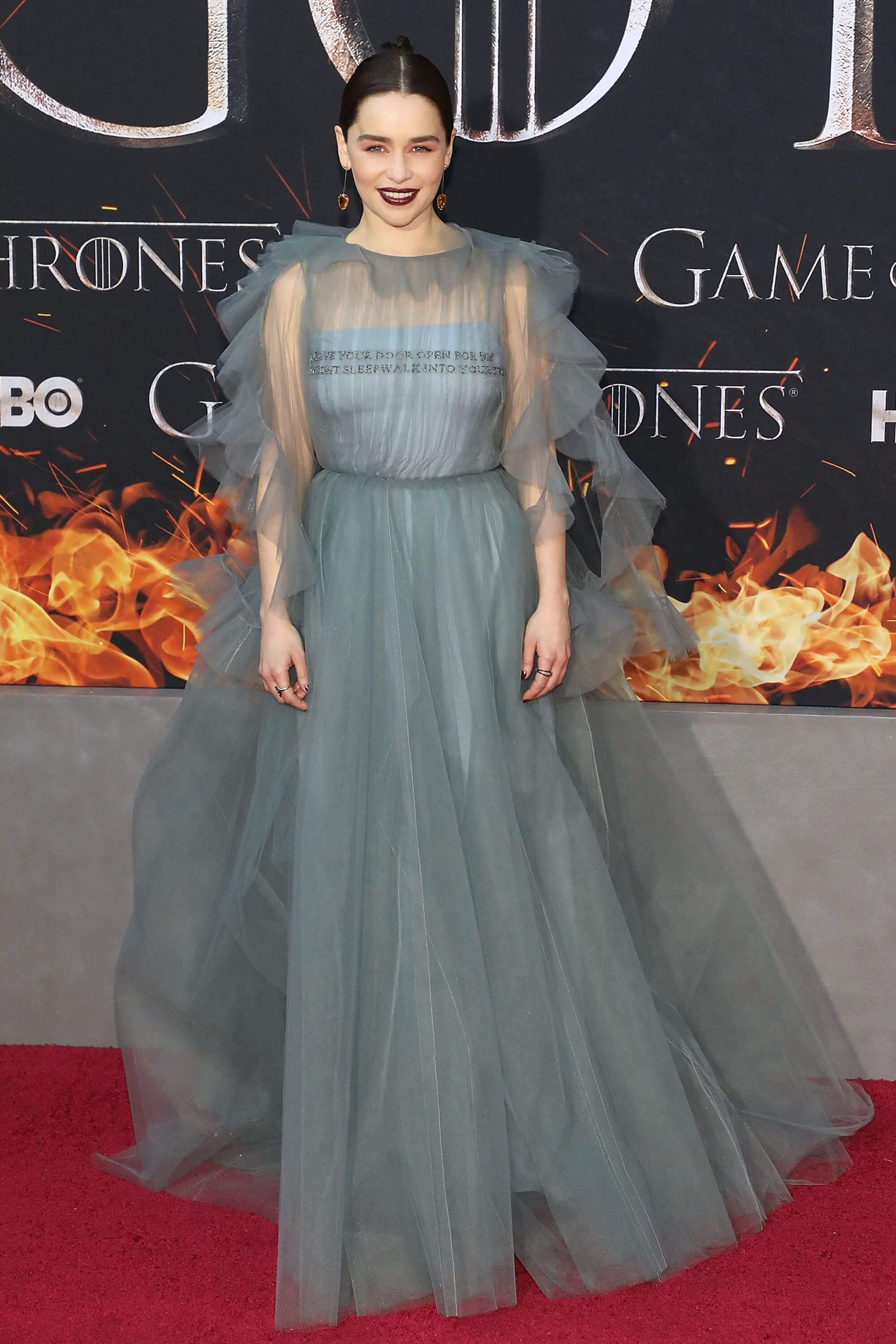 Source: s1.r29static.com
This gorgeous diva choose to wear a designer dress prepared by very talented Maison Valentino and she went with a pretty grey gown and the experiment with not so usual color went so well that she was literally slaying her look at the red carpet and got all the limelight for sure and we literally loved who she was looking. Here you would see that her dress has so many sheer layers and the full sleeves with flares seem to be the most unique part of her dress. Alongside she wore dark colored lipstick and kept rest of her makeup minimal which complemented her overall look.
These were the red carpet looks of the game of thrones celebrities which you need to check out and also you can find more at Fashionterest.