Summer is about to end, and the season of fashion 'FALL' is going to start. It may be bummer for some people. But if you are like us, totally on a fashion yacht, then fall season is an opportunity for you to show your skills on the street, office, college and where not! The Copenhagen Fashion Week held in the first week of August was all about Fall Outfit 2019. And how can we forget? CFW has hyped up the street style fashion in a beautiful way.
Still, many of us will have doubts about the Fall Outfit Ideas. That is totally normal. How? We get confused about whether to buy a new wardrobe, or we can use our summer ensembles to recreate the fall outfit.
Ummm!!… If we see, there are higher chances that you will need to go shopping has summer outfits will be somehow of thin material to save you from hot weather while for fall you will need cozier clothes to give you warmth. So what now? Are all those chic style summer dresses are of no use? 
Well, we have an answer for that too!. But for that, you will have to read this article till the end. What is this article about? This article is about the Fall Outfit Ideas 2019. Here we have described the ways you can style yourself this fall with your existing clothes and maybe for some essentials you will have to go shopping.
Also Read: Complete Insight On Fall Outfits For Every Occasion
So let's start layering up.
Summer Dress + Cowboy Boots + Trench Coat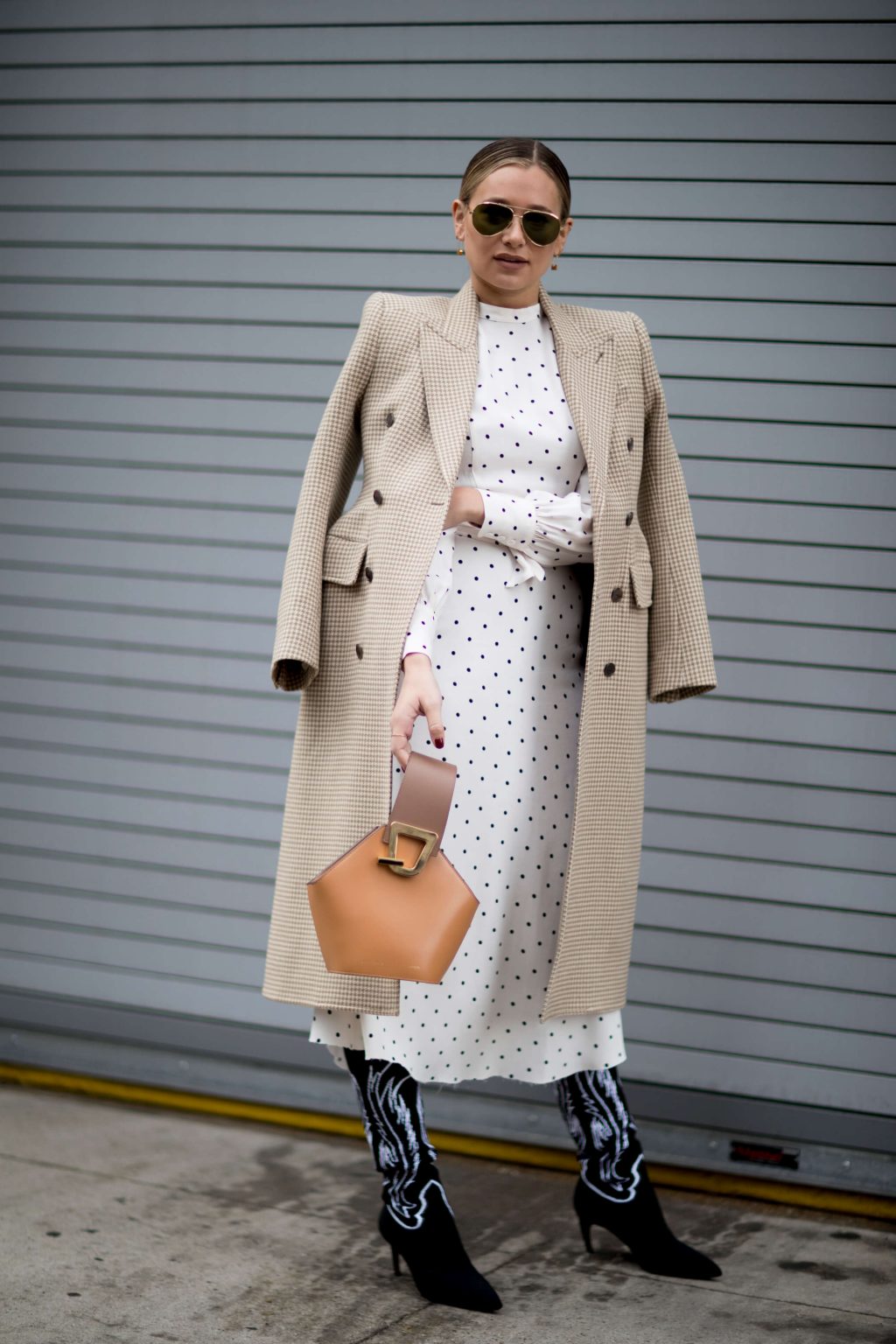 Source: elle.no
Yeah! You can use your summer dress. Style your summer dress with a trench coat and cowboy boot for a casual outing. This way, you can create Cute Fall Outfits. Pair all your summer dresses with different types of jackets and boots for the same. 
Co-ordinating Business Pair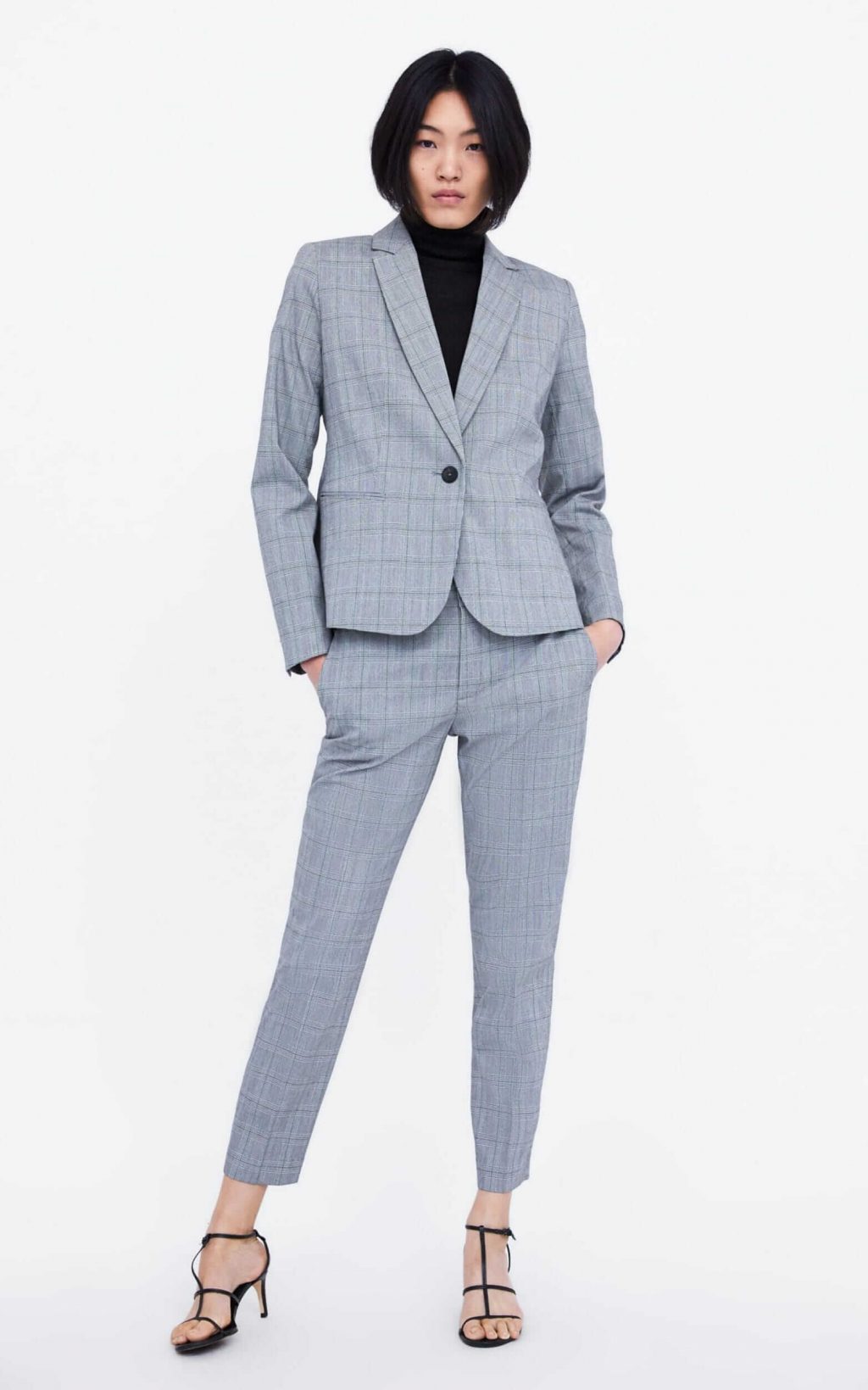 Source: telegraph.co.uk
Business meetings can never take hold, whether it is summer or fall. It's you who have to think something to save yourself from cold weather as well as slay the business outfit look. Co-Ords have always been in trend, but no one would have thought of it as a business outfit. Get yourself a co-ordinating business pair outfit.
Slit Skirt + Sweatshirt + Sneakers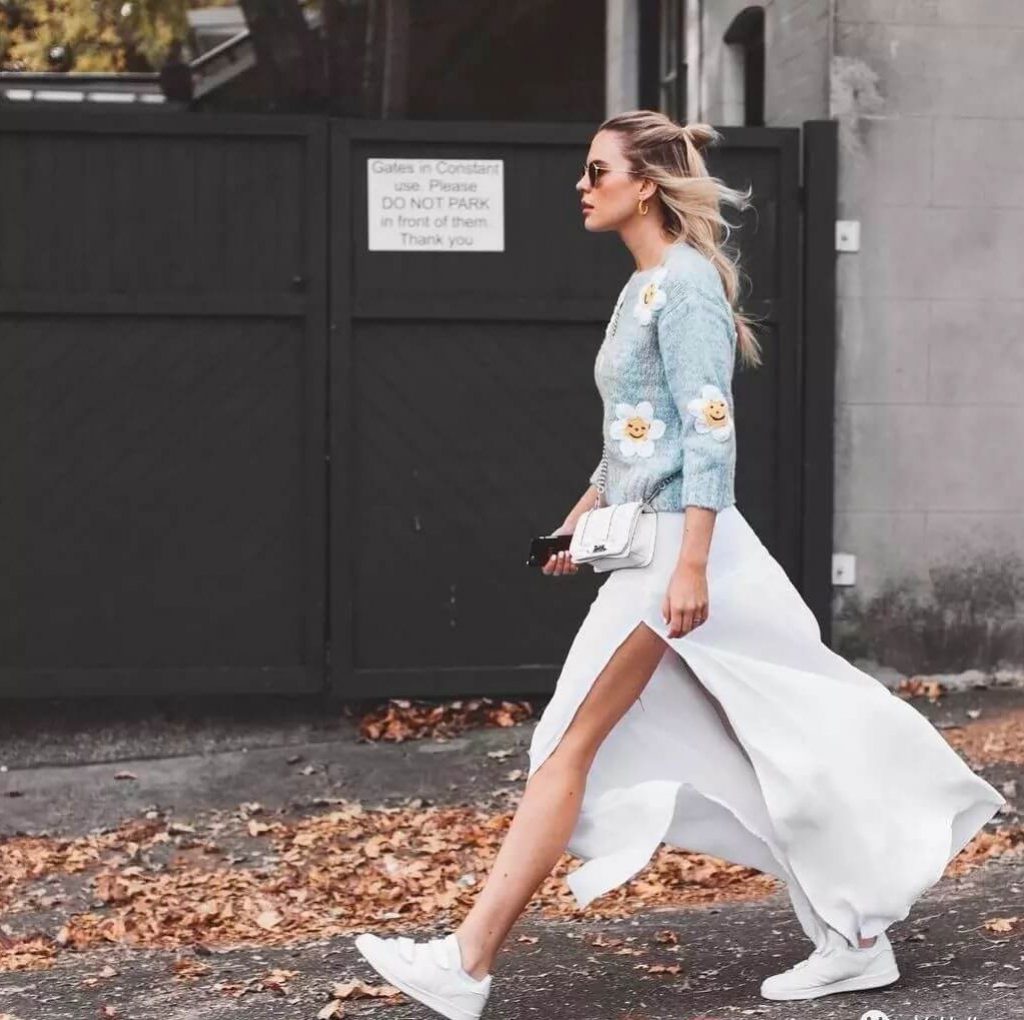 Source: qpic.cn
So what if it is a little bit cold outside? You can still wear your slit skirt by pairing it with a sweatshirt and sneakers. You can also go for oversized sweatshirts. If you feel slit skirt will freeze you up then add patterned or plain tights to add warmth to your outfit.
High Waisted Jeans + Turtle Neck Tshirt + Blazer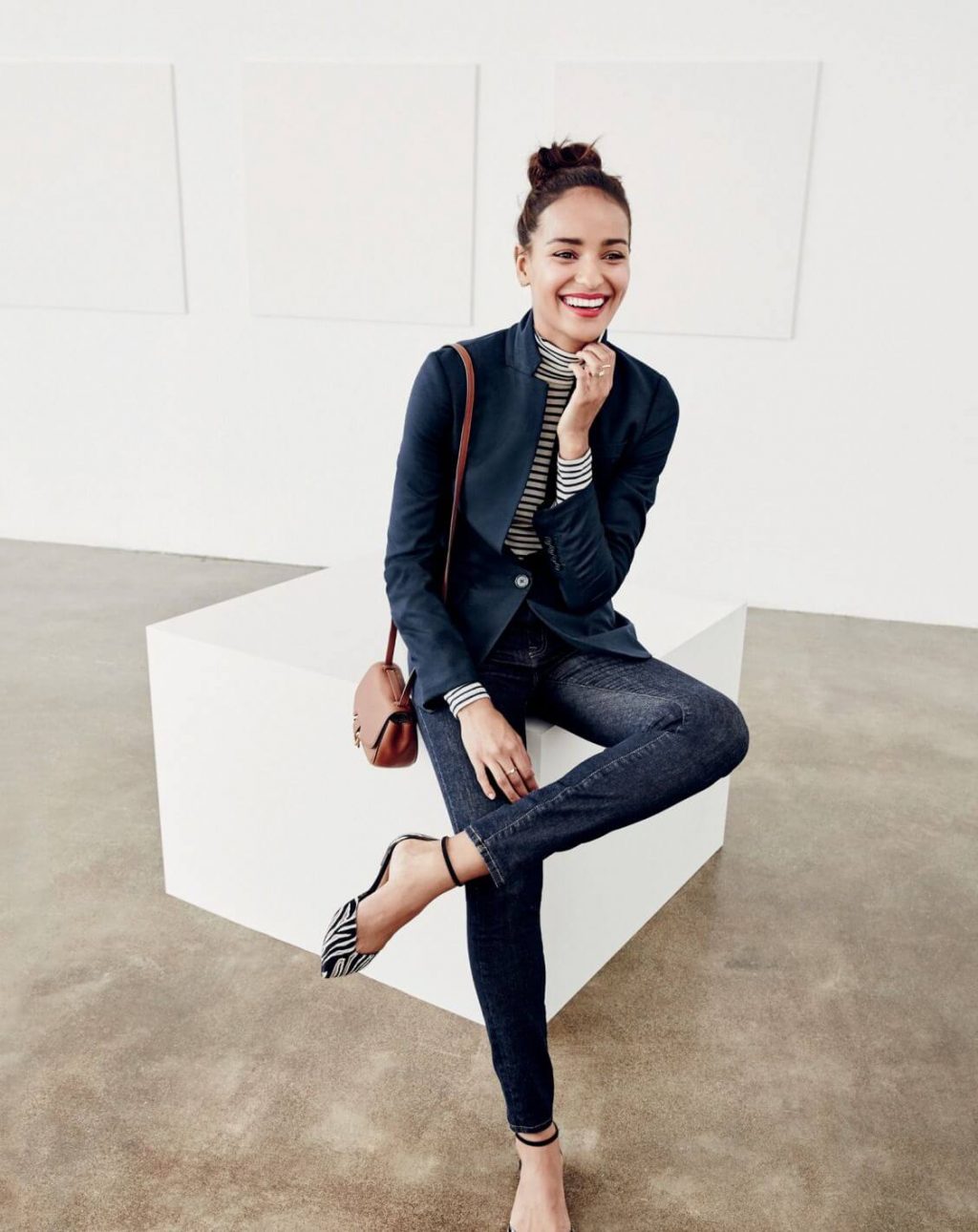 Source: pinimg.com
High waisted jeans are like a timeless piece of clothing. They have been in trend for a really long time. So why not let them do the magic this fall too? Pair high waisted jeans with the turtle-neck T-shirt and add a Blazer to your outfit it will give you a formal look too. And if you are heading to dinner with friends after office you will have to remove blazer and tadaa!!… you are dinner ready.
Flared Pants + T-shirt + Faux Fur Coat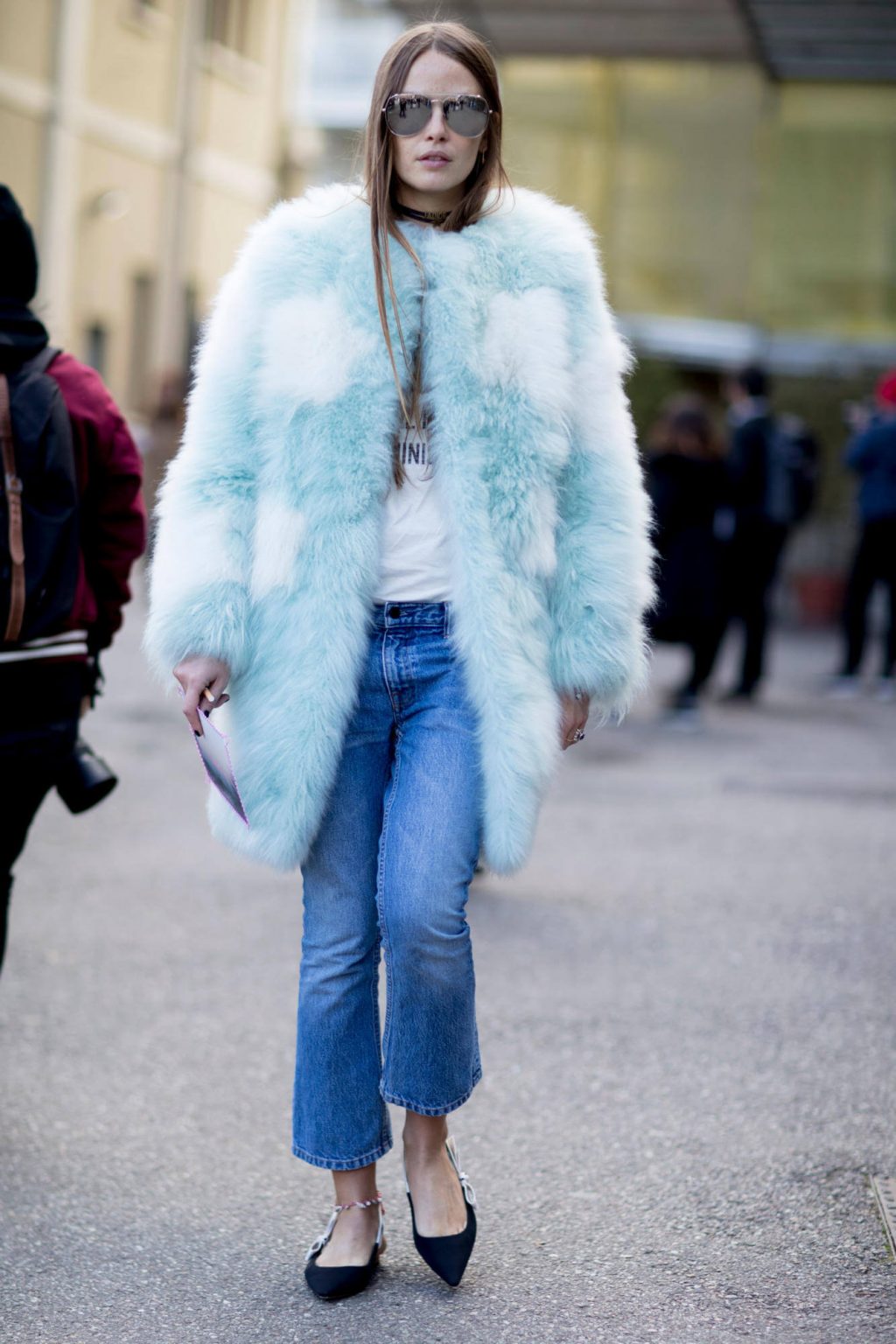 Source: lookastic.co.uk
Get dramatic on the streets. Add a faux fur coat to your outfit. Flared pants with a t-shirt and a fur coat when on a shopping expedition.
Maxi dress + Moto Jacket + Leather Boots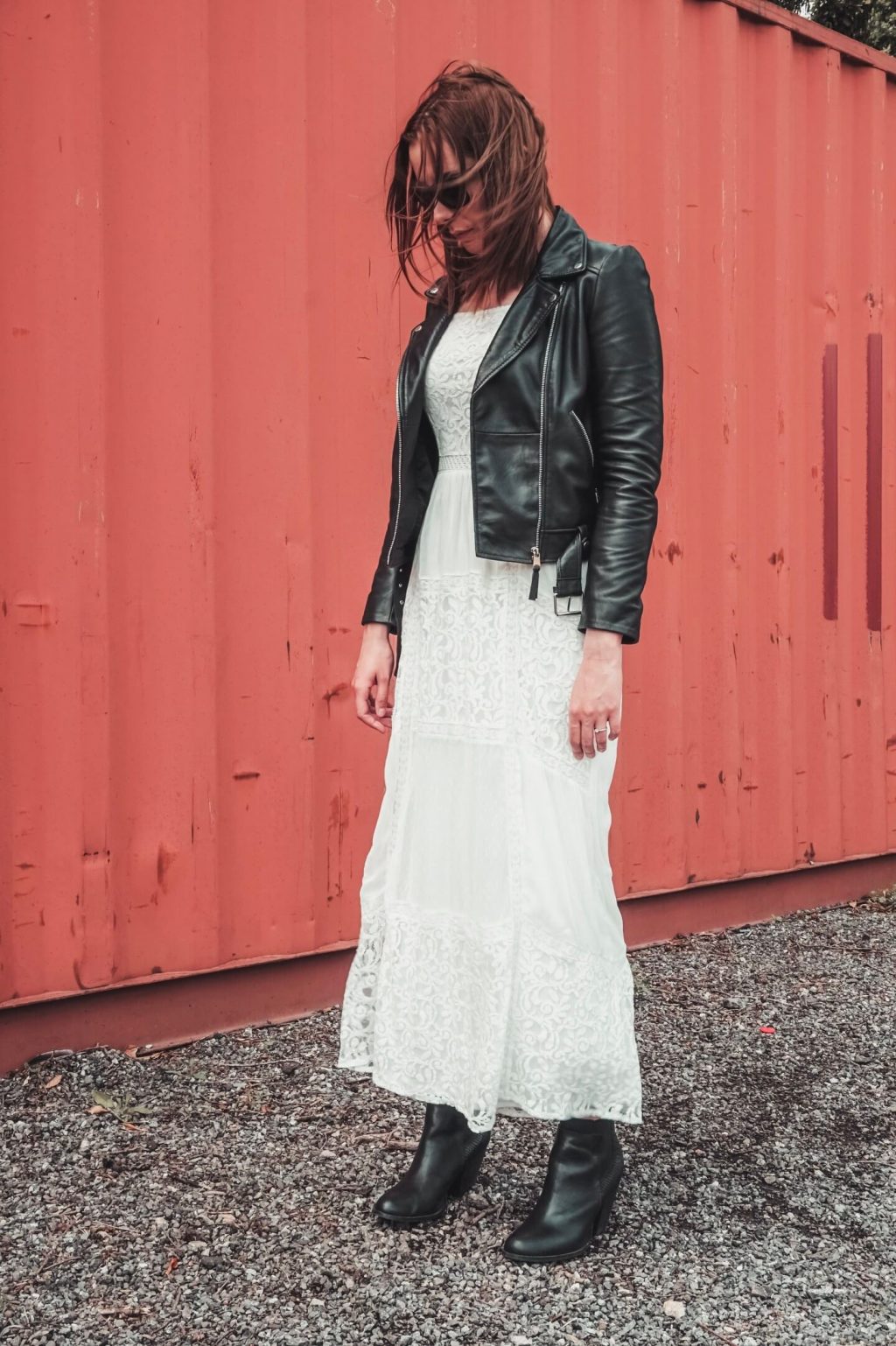 Source: wp.com
Style your maxi dress with a moto jacket or biker jacket to save yourself from cold and leather boots. As your leather boots, you can go with a printed one too, and maxi dress can be with a slit cut also. 
Boyish Jeans + Sweatshirt + Cowboy Boots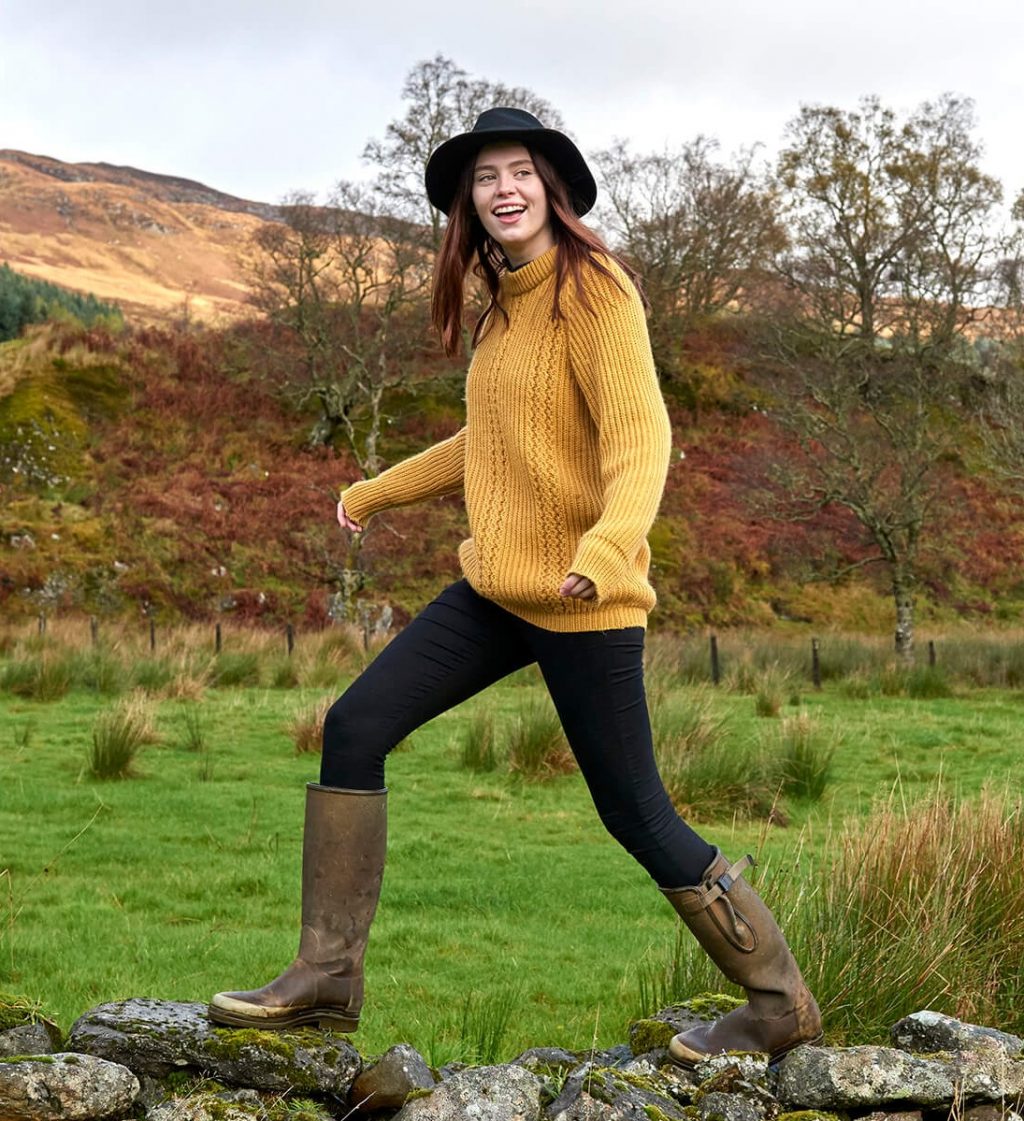 Source: s-nbcnews.com
Boyfriend jeans made everyone go crazy with different styling ideas. Pair them with an oversized sweatshirt and cowboy boots for a relaxed look. You can carry this outfit to your college as well. Make a style statement. 
Wide-leg Pants + Oversized Blazer + Heels (with socks)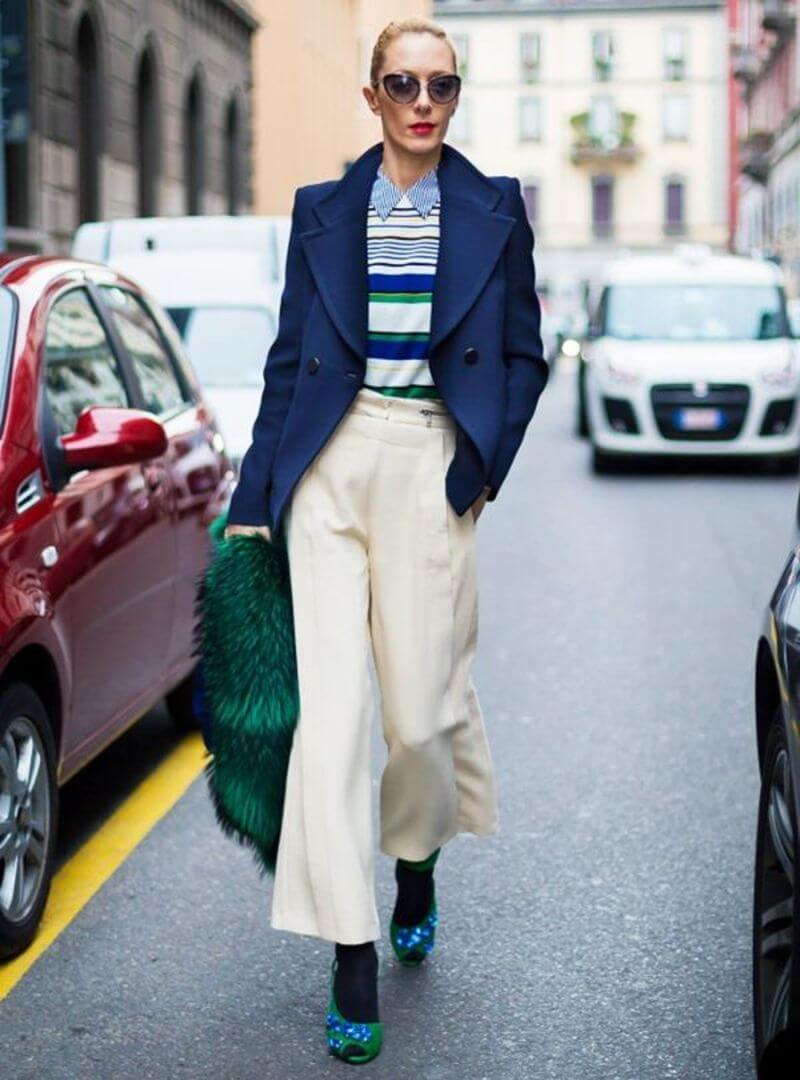 Source: mycampus.gr
Another office outfit! But don't worry, you can wear it to outings, and date nights too. Put on your wide-leg pants pair it with any basic tee and grab your oversized blazer and put it on. Complete your outfit with heels and don't forget to wear socks it will be cold outside. Yeah! Socks are a new fashion statement this fall.
High-waisted Jeans + Hoodie + Puffer Jacket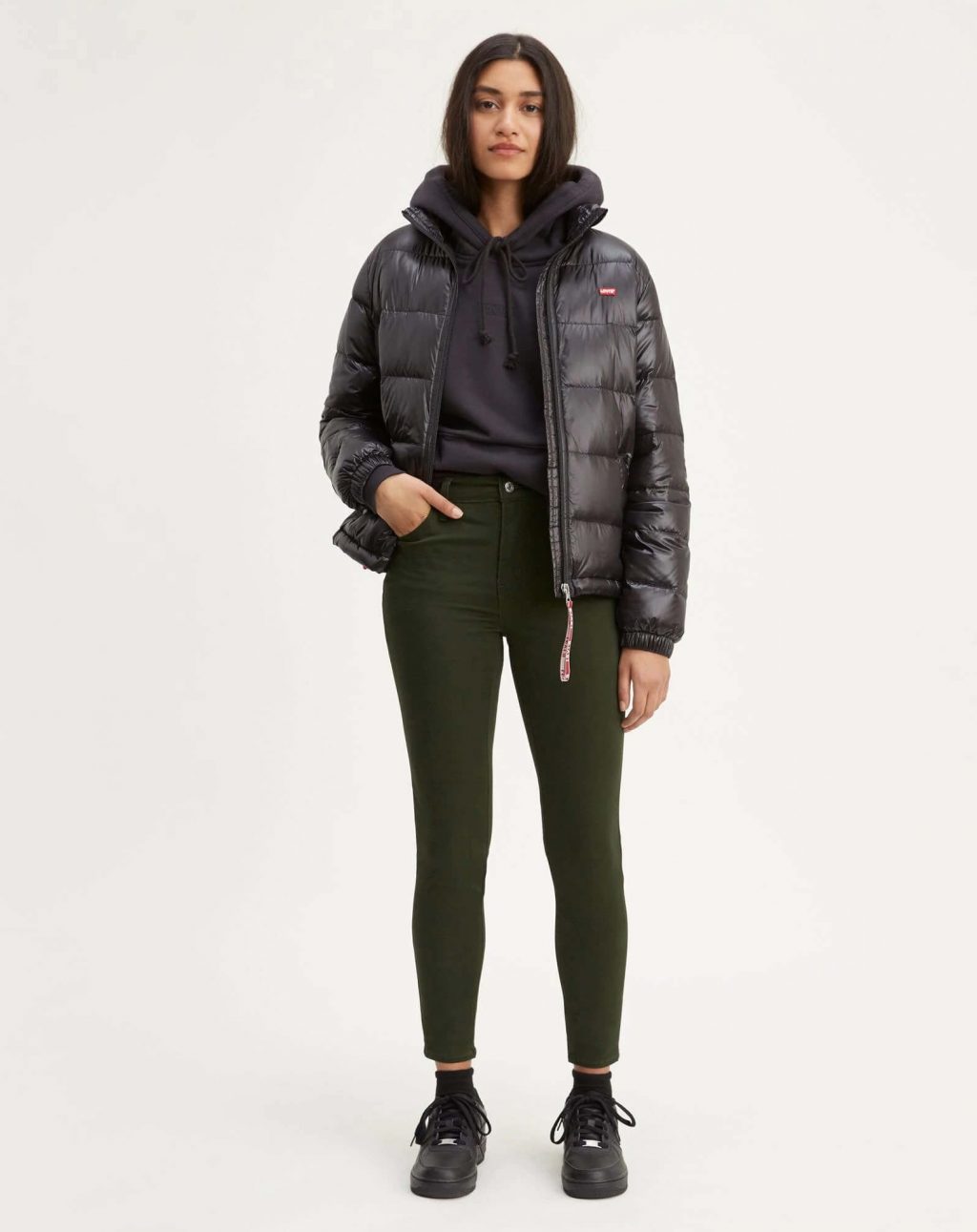 Source: scene7.com
Told you they are timeless! Okay okay, we know it was four outfits ago only. They are love; what can we do? But this is a different one. Pair your jeans with a cropped or regular hoodie and add a puffer jacket to puff the look of your outfit.
Sweater Dress + Denim Jacket + Hat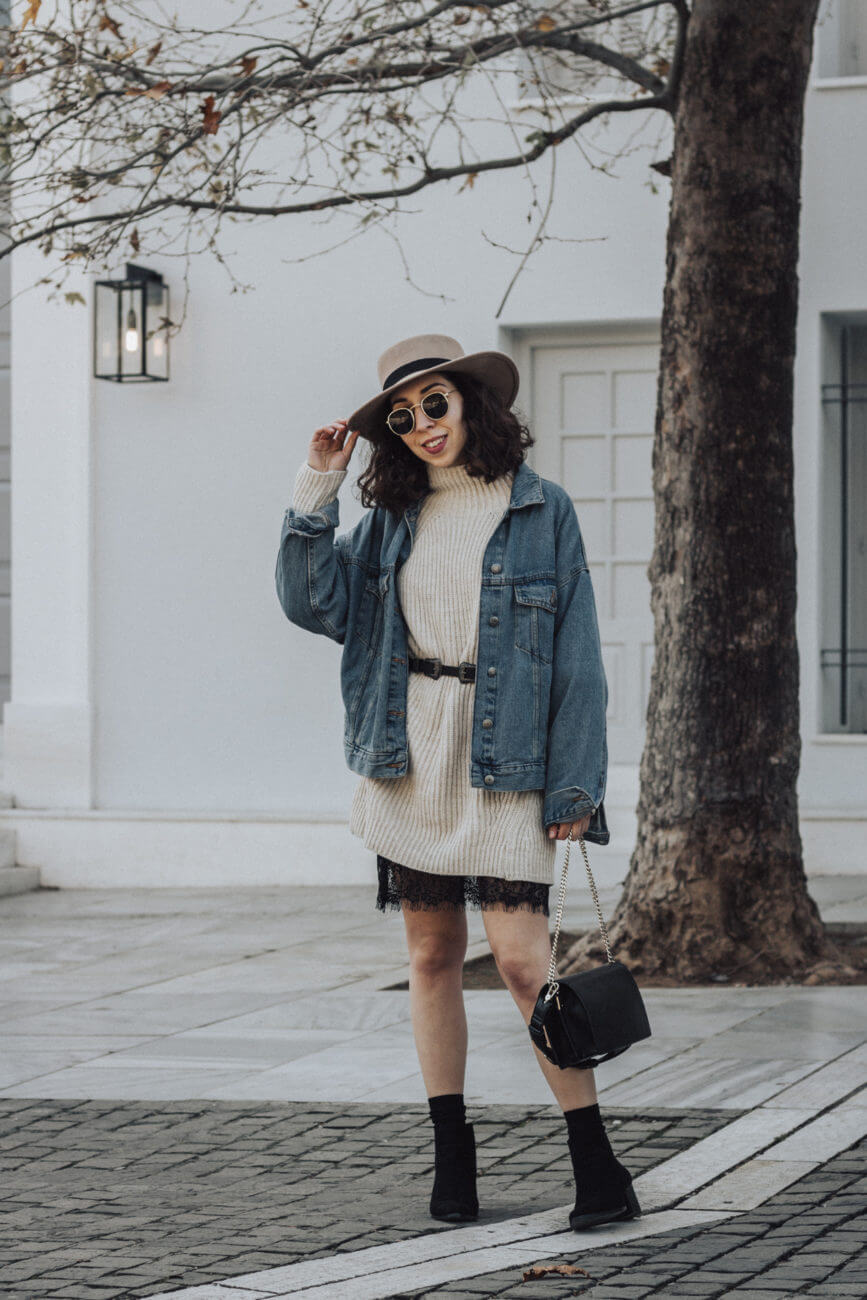 Source: somethingvogue.com
It is fall and sweater dresses are going to be in town with all they have. And you can't deny that you too love them. They are such an adorable ensemble. Get your hands on a sweater dress and pair them with a denim jacket – an evergreen piece of clothing. To complete your outfit, add a hat to it.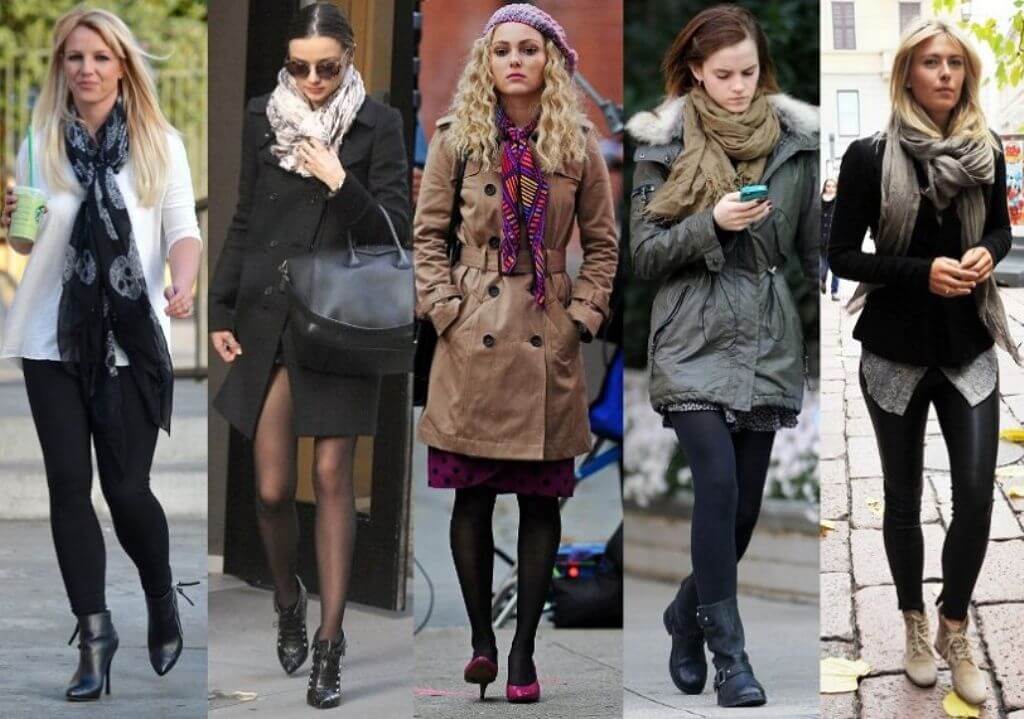 Source: pinimg.com
These were the outfit ideas that you can wear this fall and let people admire you for your fashion sense. For more suggestions related to fashion styling or industry, visit Fashionterest.