Have you ever wondered when this DIY came into existence? How are they done? What are its benefits? Why do people nowadays prefer DIYs? And many more questions start revolving around your mind on hearing the word DIY.
DIY is related to the making or creation of something on your own rather than buying. They came again into existence in mid of the 90s and is still preferred by most of the youngsters. Let us tell you that DIY existed from years and years if you had focused we wrote 'again' in the above sentence. DIY is the acronym for Do It Yourself. The benefits of DIY include getting the latest pattern within the budgeted amount. You can be sure of the quality (it's your creation though!). It is the most preferred way to get the trendiest things with you or to create something that no one has.
Tote bags have been in style for many years and are successfully going ahead with its purpose of making things easier for everyone in carrying their stuff, groceries, books, and whatnot. But sometimes its design also matters to us people and to satisfy that unsettling craving for different and unique styles of tote bags to pursue, DIY Tote Bag came for the help. 
Here in this content, we are going to tell you about how to DIY Tote Bag and some of the exciting tote bag patterns that you can carry to the market, library, college or even on a usual outing. 
Also Read: Extraordinary Handbags To Accessorize Your Attire
So let's start with how to Make a Tote Bag, and this is how it goes:
2 Fabrics for Outer Layer

2 Fabrics for Lining

One Piece of fabric that is lengthy for straps (about 44") and width should be of 4".

Canvas 

Scissors

Thread and Needle

Sewing pins
This the most crucial step for a DIY, don't get panic and follow the instructions:
– Decide the size you want your tote bag to be, then add 1" to it and mark it on the fabric (you can go for square-shaped as well as rectangular one too) then cut it.
Tip:- If you are beginner, create an outline before cutting.
– Follow the same procedure for the cutting of lining fabric.
– Lastly, cut the 44" long fabric into half so that you will have two straps with a width of 4".
Now you have four pieces of fabrics, two for outside and two for the lining. In addition to that, you will be having two lengthy pieces of fabric for straps. 
Now place both the fabrics on each other with the right sides together after that add lining fabric cut-outs on the respective sides, secure it with sewing pins and sew them altogether from three sides, keep one side open for the opening of the tote bag.
After this, you will need to create the 'box' bottom to add depth to the bag. For this pinch the two corners of the bag in an angular position and stitch at the distance of 1½ " on both sides.
Your bag is ready.
Now its turn to get their support system ready. We mean straps. Take those lengthy cut-out fabrics, put a canvas on it (don't forget to iron it, without ironing it won't support), fold in half, and stitch it. Do the same with another fabric.
Now you have straps ready with you.
Now first you will give the finishing to the opening of the bag by stitching the hem of four pieces differently. Then, sew straps on the bag, to be precise between the lining fabric and outer fabric after that give an all-around stitch for the finishing.
This bag is ready to be taken to the market for a stroll, don't forget to tell everyone about how you made it.
Above you read about how to make a tote bag and now we will show some Tote Bag Pattern that you might like to try. Yeah! All of them can be DIY.
Denim Recycling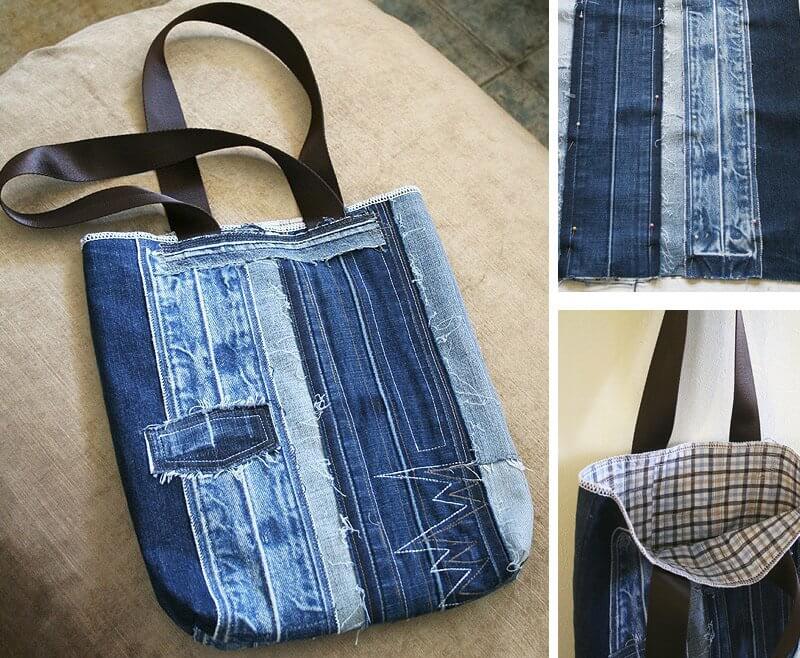 Source: steemitimages.com
Don't throw your old denim; use them to make your new tote bag. Cut out the legs of denim and use them as the outer fabric. The plus point is you don't have to add lining as denim fabric has outstanding durability. You can carry it to college or on a picnic.
Tie-Dye Print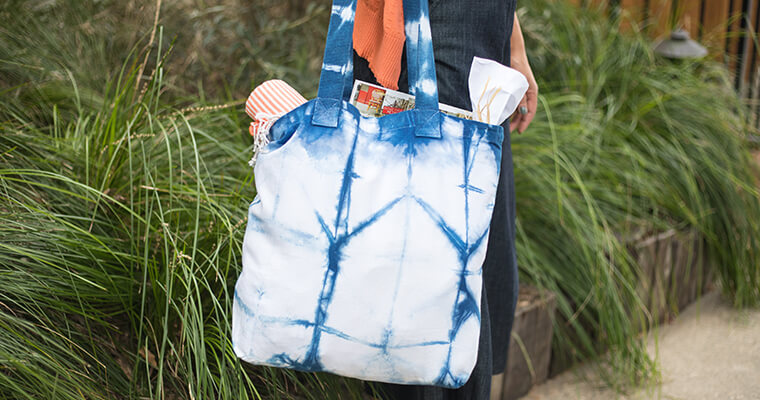 Source: rogersgardens.com
Forgetting the trendiest print of the year on your tote bag, you will have to make sure that plain fabric is used in its making. After the tote bag is ready, use the Tie-Dye Technique that you like and convert it into trendy tie-dye printed tote.
Cute Doodles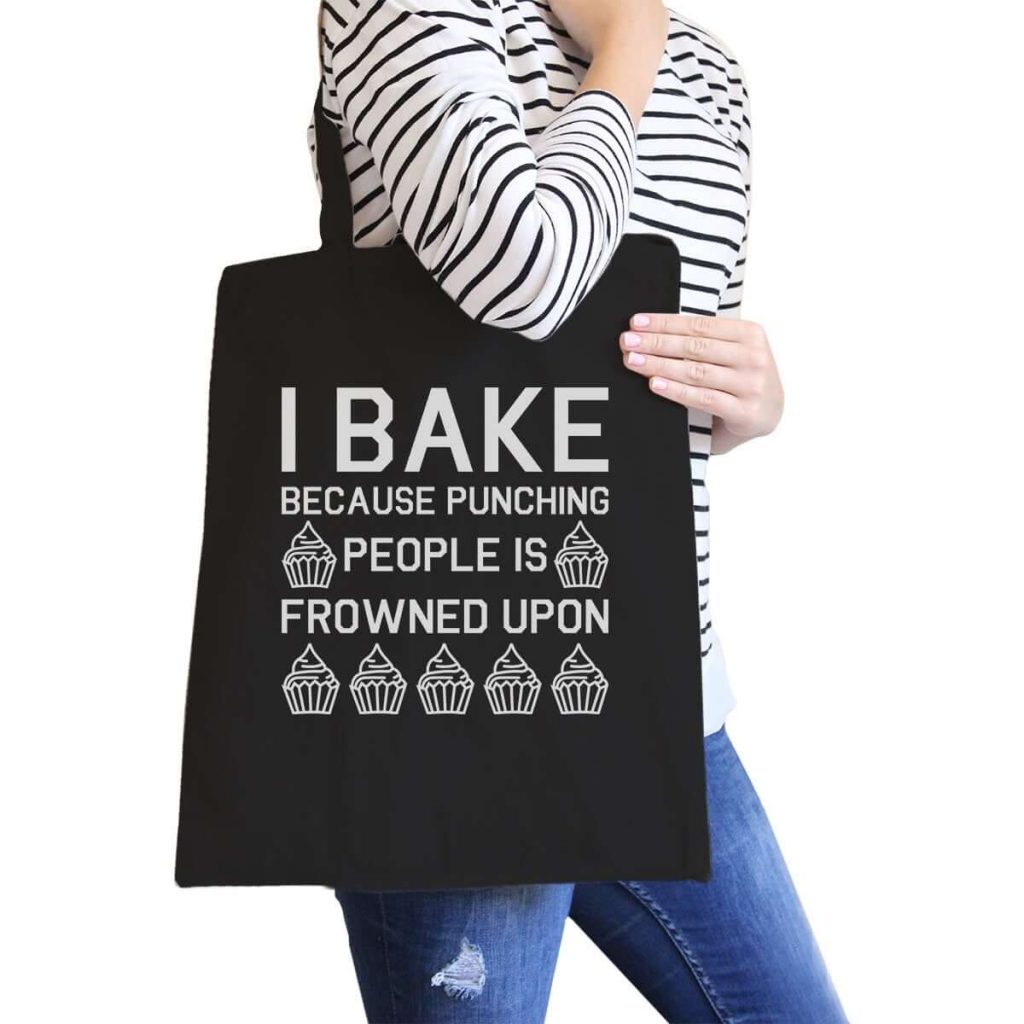 Source: ostkcdn.com
Everyone loves doodles, show your creativity on the bag by drawing doodles on the tote bag with fabric markers.
Hand Painted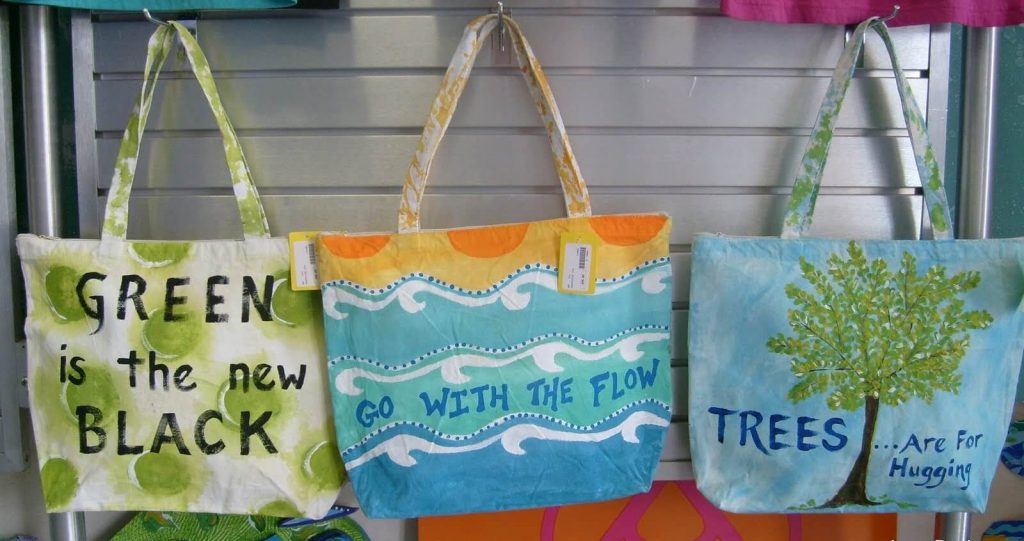 Source: blogspot.com
Hand painting is also a good option you can paint water you want if you are not a good artist then try abstract art (a real savior!).
Embroidered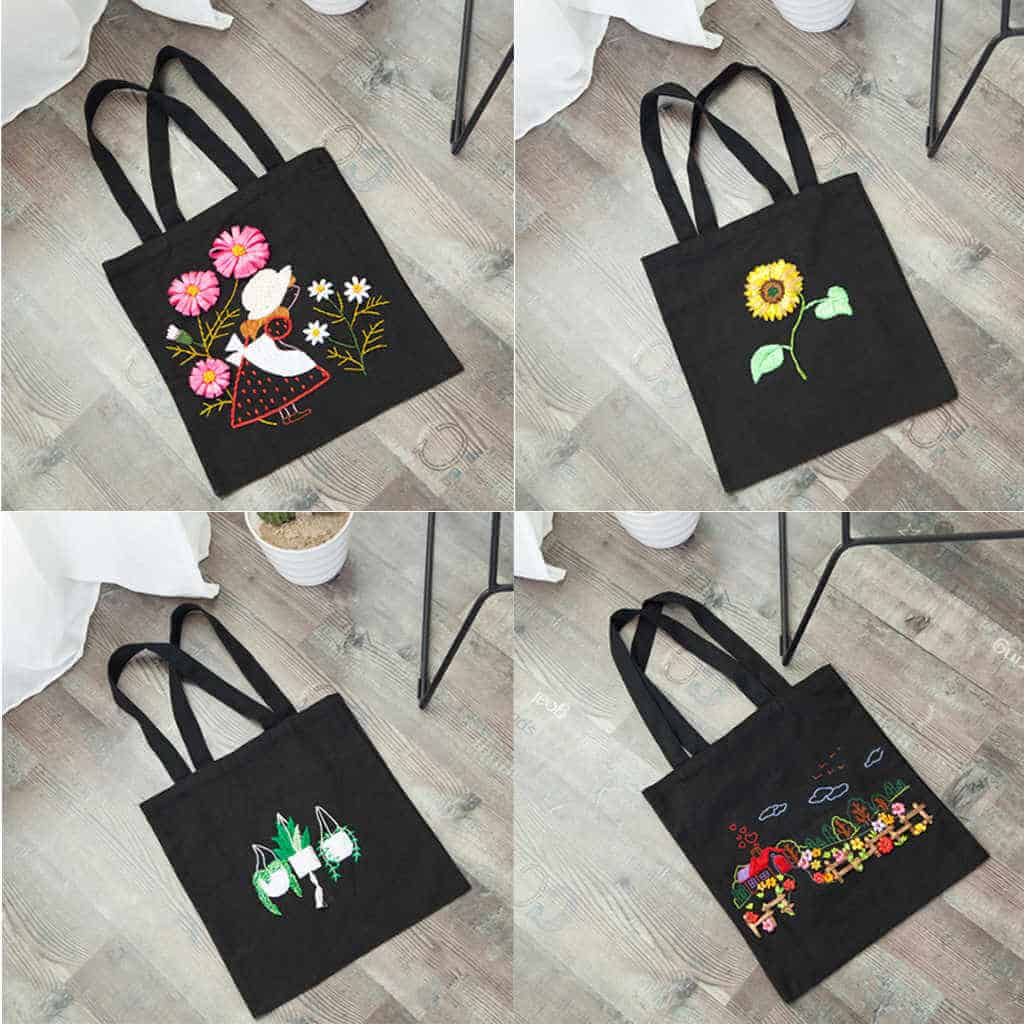 Source: alicdn.com
Embroidered Tote Bags look so beautiful and elegant. Download the online template that you like, trace it on the bag, and get going with the embroidery. Use Monochrome Colors to make them attractive.
Quoted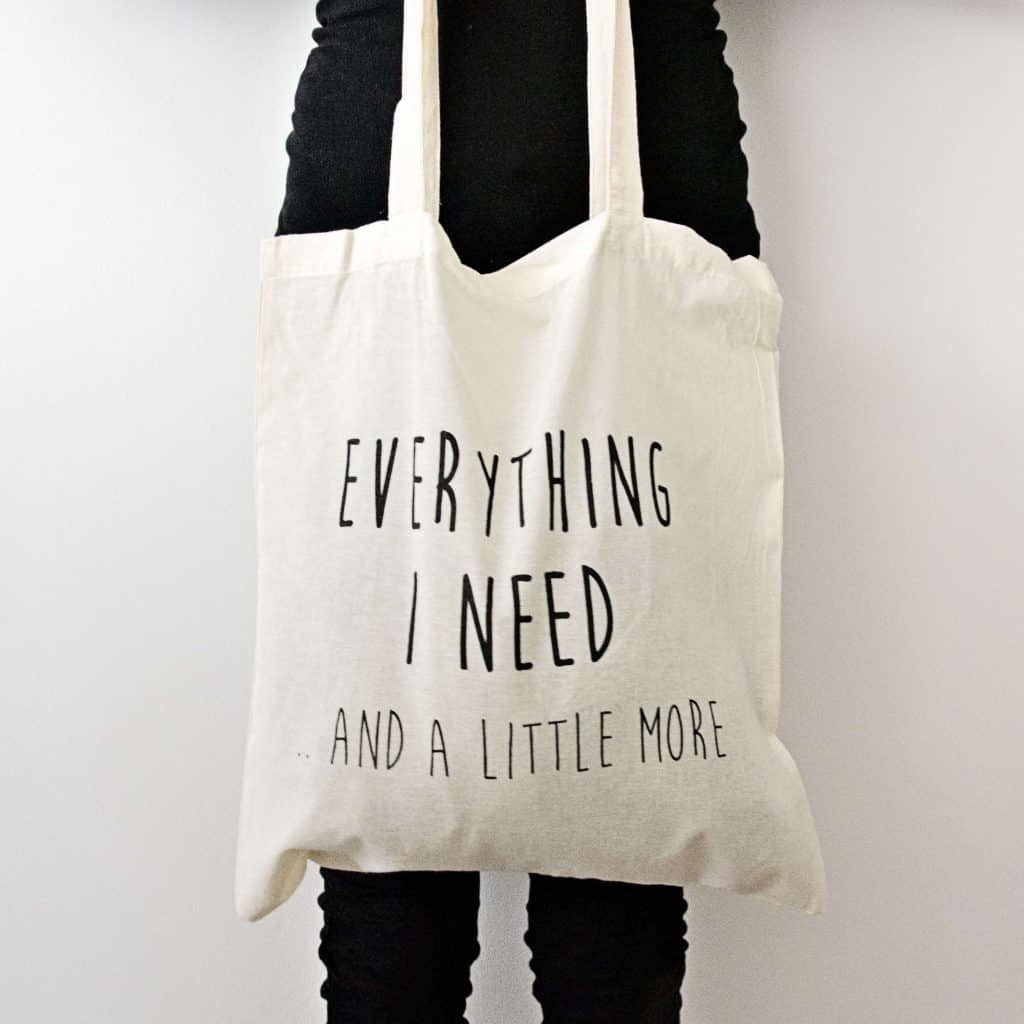 Source: pinimg.com
Show off your calligraphic skills by writing a classic quote that you truly believe in. You can even hand-paint them by getting cut-outs.
Tote from Tank Tops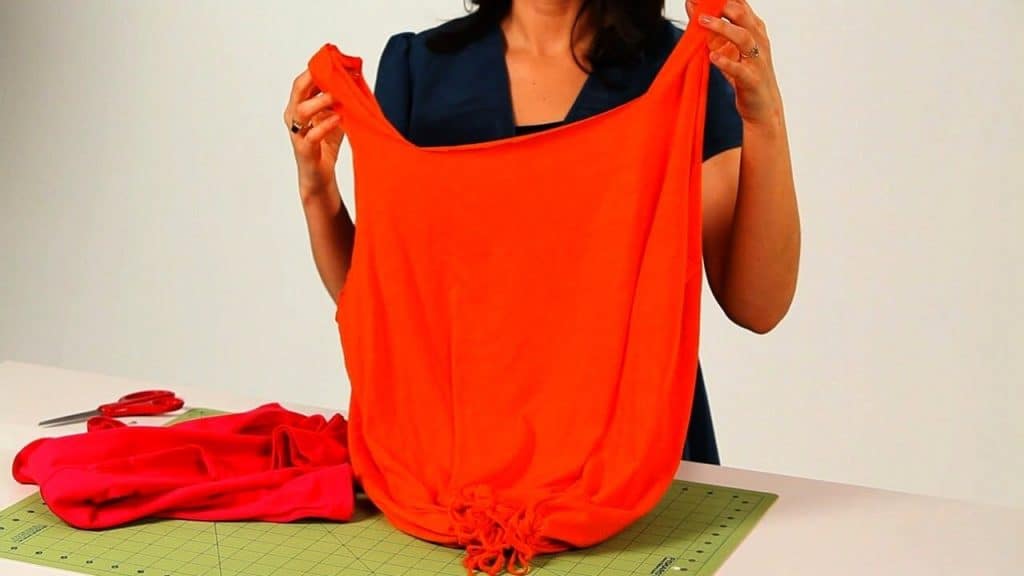 Source: ytimg.com
The most adorable and cutest tote bags are made using tank tops. Plus they are easier to make like it will take only minutes to get done. We will tell you how! Take your washed tank top and stitch it from the bottom part and its done. Isn't it real quick and easier!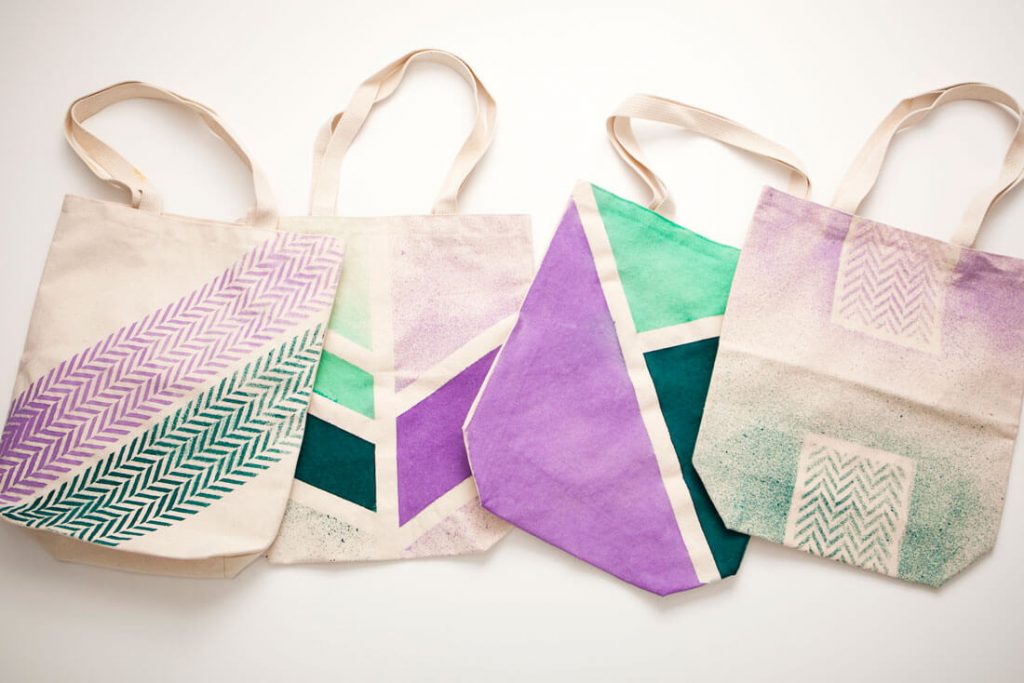 Source: diys.com
Here are the tips for making Decorative Dandiyas. These were the Tote Bag Pattern and DIY tote bag tutorial presented to you by Fashionterest, for more ideas visit the website.