Celebrity 10yearchallenge photos are everywhere in the internet nowadays and it seems like everyone is accepting the challenge and as viewer everyone is enjoying those picture so here are some of the most talked as well as admired pictured of celebrities who did the celebrity 10 year age challenge which all about the look they had 10 years back versus the look they hold now:
1) Jessica Biel
Source :- Instagram.com
This gorgeous lady has changed a lot in the past ten years and by the pictures that she puts on her instagram handling is enough to reveal that although she states the same and also mentioned that she still loves the look that she had 10 years ago and especially the tan line in her body had her heart. Her makeup preferences, as well as her hair hairstyles, have transformed a lot in the last 10 years.

2) Jennifer Lopez
Source :- Instagram.com
This hot diva has accepted the challenge like a star and everyone is going crazy for her transformation and moreover by the picture that she shared she made people see the beautiful transformation of her from the pregnancy time to now and she is an inspiration that shouts out loud that life doesn't ends after pregnancy and you can still follow your dream and groom yourself to the perfection even after pregnancy.


3) Kate Hudson
Source :- Instagram.com
Kate shared her picture of 2008 as well as 2018 instead of 2009 as well as 2019 but we still love her transformation a lot and by her picture it can be said for sure that she has changed herself a lot and she has now become bolder than ever as she now doesn't cares about anything but just listens to what she wants to look like. She captioned her picture as a decade as well as a buzz cut later. Her makeup has transformed a lot and the positive vibe she carries along can be seen through her face.

4) Candace Bure
Source :- Instagram.com
This beauty accepted the #10yearchallenge from Lori Loughlin and this thing she mentioned in her instagram picture and people cannot get their eyes from the picture that she shared. She has always been an inspiration of having short trendy hairs and still now she bangs on with her short hairstyles and looks absolutely stunning. Her makeup looks now appears fresher than even and it can be said that she is age in reverse and the way she looks now can inspire a lot of people. Even though she now prefers being minimal but still looks perfect every time.

5) Lori Loughlin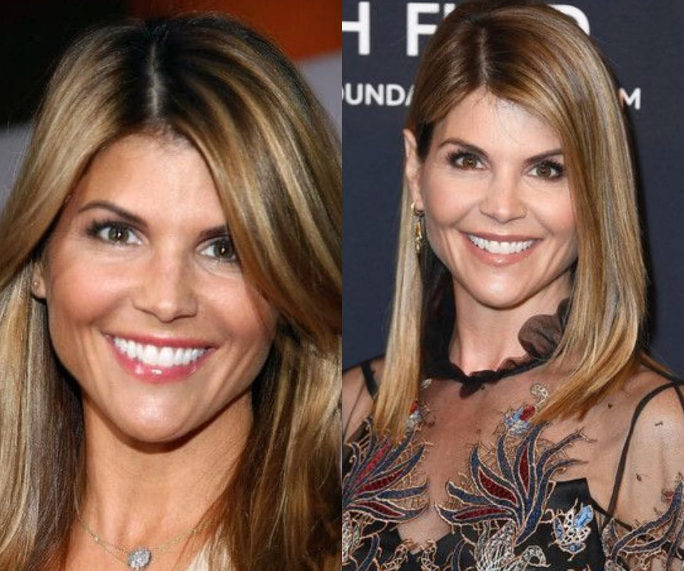 Source :- Instagram.com
We love her honesty as she stated in her caption of the picture of the 10 years challenge that she shared the picture of 2018 and not a picture 0f 2019 but still she undergone a lot of change but her bright smile is constant and people simply cannot get enough of it for sure and the grace she carries along with her makes her the favorite of many. Her make is now way too versatile as well as elegant than the previous her and the confidence as well as positivity can be seen in her face.
Also Read :- Excellent Pictures Of Justin Bieber And Hailey Baldwin Wedding
6) Alison Brie
Source :- Instagram.com
The grace that she maintained from the past 10 years can be seen in her pictures today and she captioned her picture by stating that she is still standing under the sun as ten years back but a good thing that she developed over the past years is the now she applies more sunscreen which we should all try as well. She has been transformed into a graceful as well as elegant lady and viewers love the way she is presenting herself nowadays and her makeup game changed a lot in past few years.

7) Nicki Minaj
Source :- Instagram.com
Nicki Minaj always steals the limelight for her bold looks and this lady never hesitates to experiment with colors and get transformation in a fraction of time. Her look now is completely different from how she looked 10 years back and it is for sure that her experiments have increased and her fans love it for sure. Even she captioned her picture with two emoji and nothing else and the picture she has shared tells a lot about the trend that she is setting nowadays.

8) Sonequa Martin-Green
Source :- Instagram.com
She stated in her 10 year challenge picture that before any good thing or bad thing that ever happened in her she loved the fact that as the time slips always every struggle pays with and a man ends up growing older it not just her who is growing older but the entire world is moving with her and viewers absolutely love her bold thought. This lady makes it clear even if she look no more younger then also she won't stop loving her although her look which is much tanner as well as elegant than what she was previously made her more beautiful.

9) Reese Witherspoon
Source :- Instagram.com
This celebrity surely have transformed a lot from the look that she had 10 years back and everyone is going crazy for what she looks now. She captioned her picture as time flies faster when people have fun in their life well the same happened with her as well as her fans doesn't mind that for sure. The lady has a gorgeous transformation with her hairs longer that what she had 10 years back and also she is going a bit neutral with every passing day.

10) Ellen DeGeneres
Source :- Instagram.com
In her 10 years challenge she says that now she holds her hand differently from that she used to do 10 year ago. There are indeed lots of changes that came in her look but her smile is still constant and beautiful as it was 10 years ago. The different hair style that she is having now is quite different from that of 10 years ago though she has short hair now and then. Her dressing style has changed a lot as well as viewers love it.

These were few of the most loved celebrity those have accepted the 10 year challenge and you can check more such thing at fashionterest.