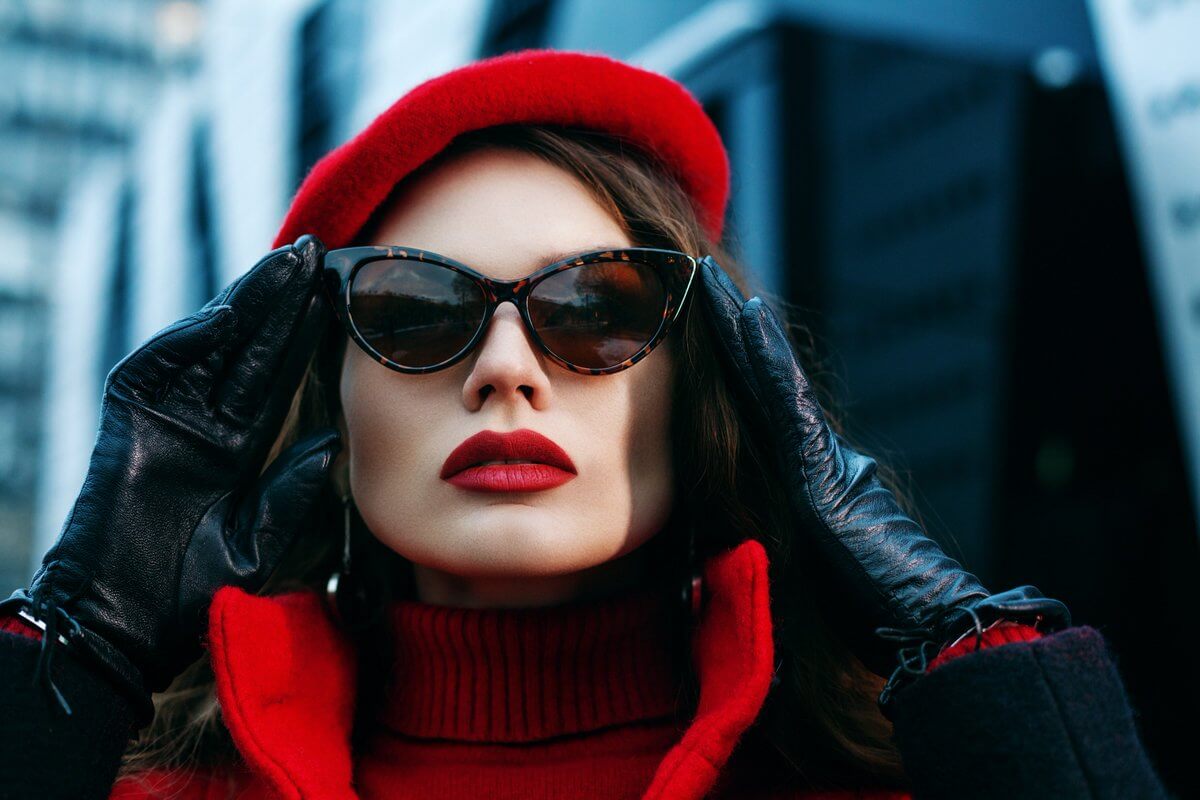 Sunglasses have become a necessity for sure and no matter what we should always wear sunglass juts to keep our eyes protected from the harmful sunrays because that UV rays a well as sunrays can actually damage our eyes can even result in blindness which no one wants for sure and it is for sure that you might also be wondering about some sunglass designs for this summer season because summer is all about sunglasses as well as sunscreen for sure which you should not miss in any condition. There are so many different patterns as well as shapes of sunglasses which are meant for different face shape and cat eye sunglasses are among them which seem to be fine in almost every face shape and women look the best in Cat Eye Glasses for sure. So here are some of the best Cat Eyes Sunglasses that you need to check out and also you can try them out for sure in this summer:
1) Le Specs x Adam Selman Last Lolita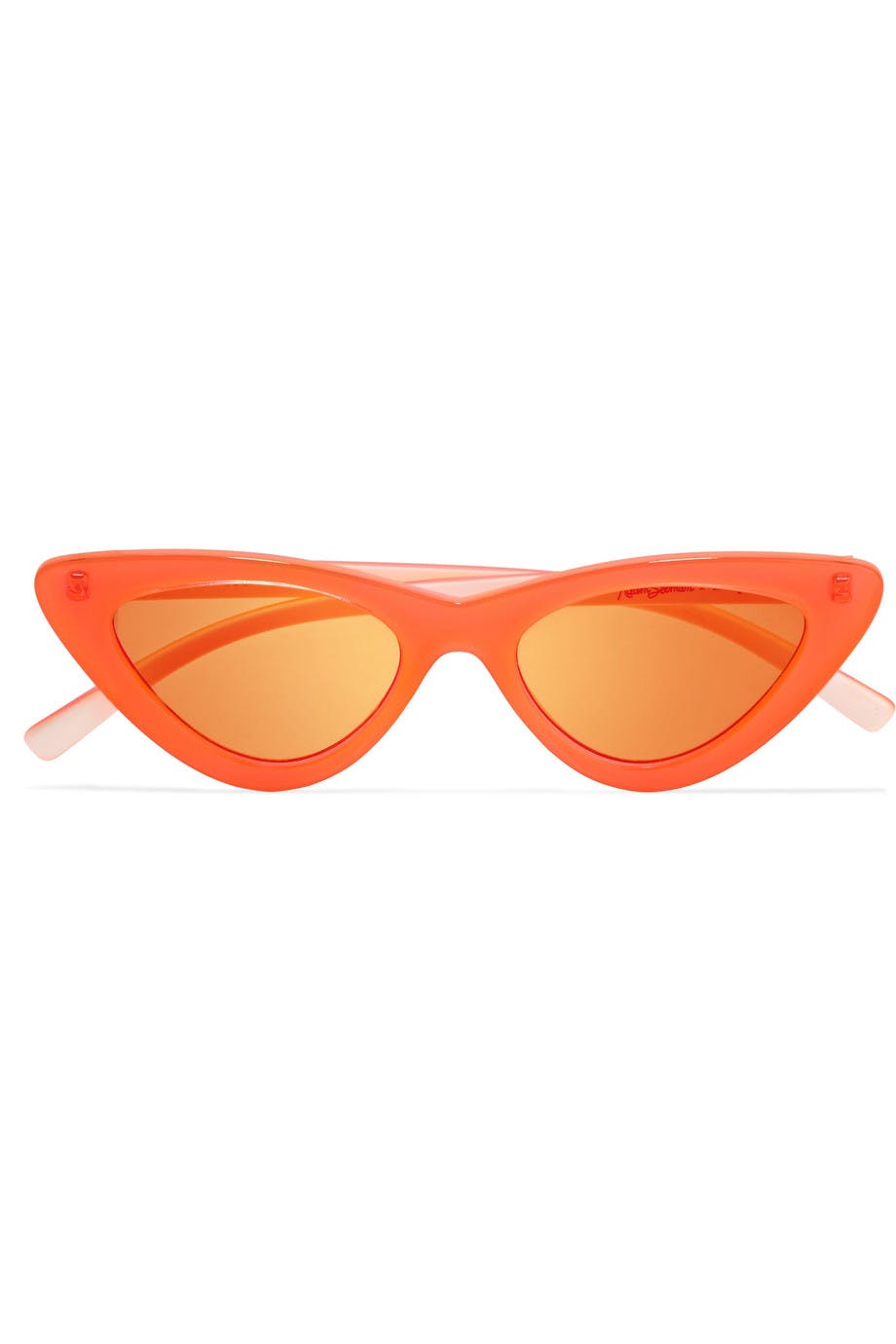 Source:stylist.co.uk
Also Read:  The Hottest Pairs Of Cat Eye Sunglasses To Sport In This Spring Season
This seems to be one of the sleekest cat eye frames for sunglass available in the market and being it a Le specs piece it is already very trustworthy and the design came out to be so sleek that this kind of frames or you can say that this kind of sunglasses can be worn by anyone as this would basically suite almost every face shape which has to be a great this so no matter what your face shape is you can pick this glass up without a second thought for sure. This kind of glass goes well with almost every outfit so you can carry this out on a regular basis and this is the reason why this kind of glass seems to be a onetime investment. Here you can see that the glass has a really thick frame with that amazing cat eye structure which seems to be amazing and also you can get your hands on different colors of this spec according to your preference and also you can avail this from the official website of the Le Specs. With this spec on you would look more chiseled up which would enhance your beauty for sure.
2) Celine Petra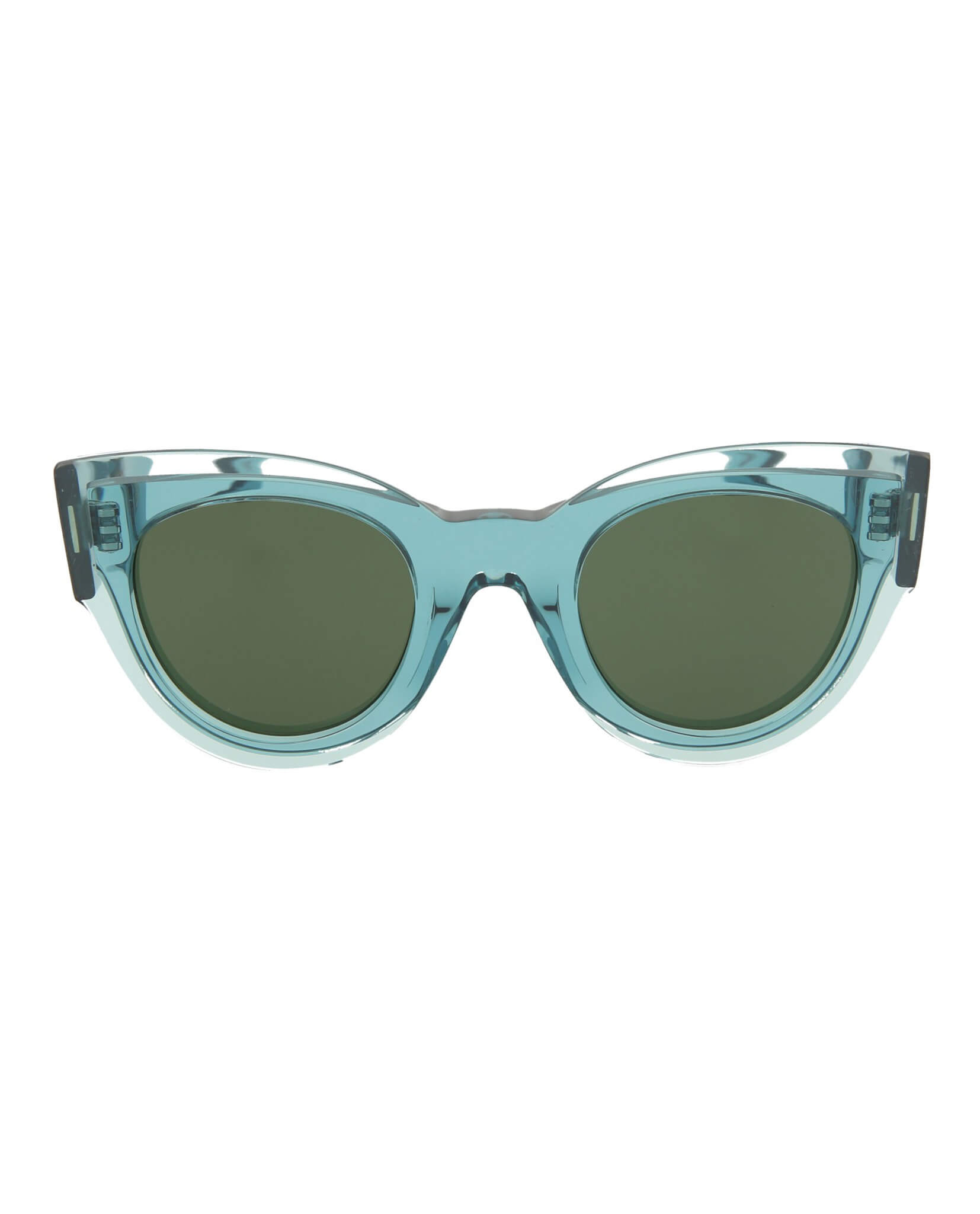 Source:cloudfront.net
This sunglass has everything that we generally look in a nice sunglass and this also has additional qualities as well which is a great thing for sure. Talking about the structure of this glass here you would see that the frame of the glass has a double cut design which basically makes the glass look like a cat eye glass. This glass has a thick frame this makes it look like a retro-styled glass which is definitely in trend and also if you see the frame of the glass then you would be able to see some sort of patterns drawn in the frame and it is literally of two colors in total and the pattern is said to be the tortoiseshell pattern which looks amazing for sure. The glass is also kind of tinted so your eyes would be relieved and the best thing about this glass is that the glass provides protection from both UVB as well as UVA which is a great thing for sure.
3) Saint Laurent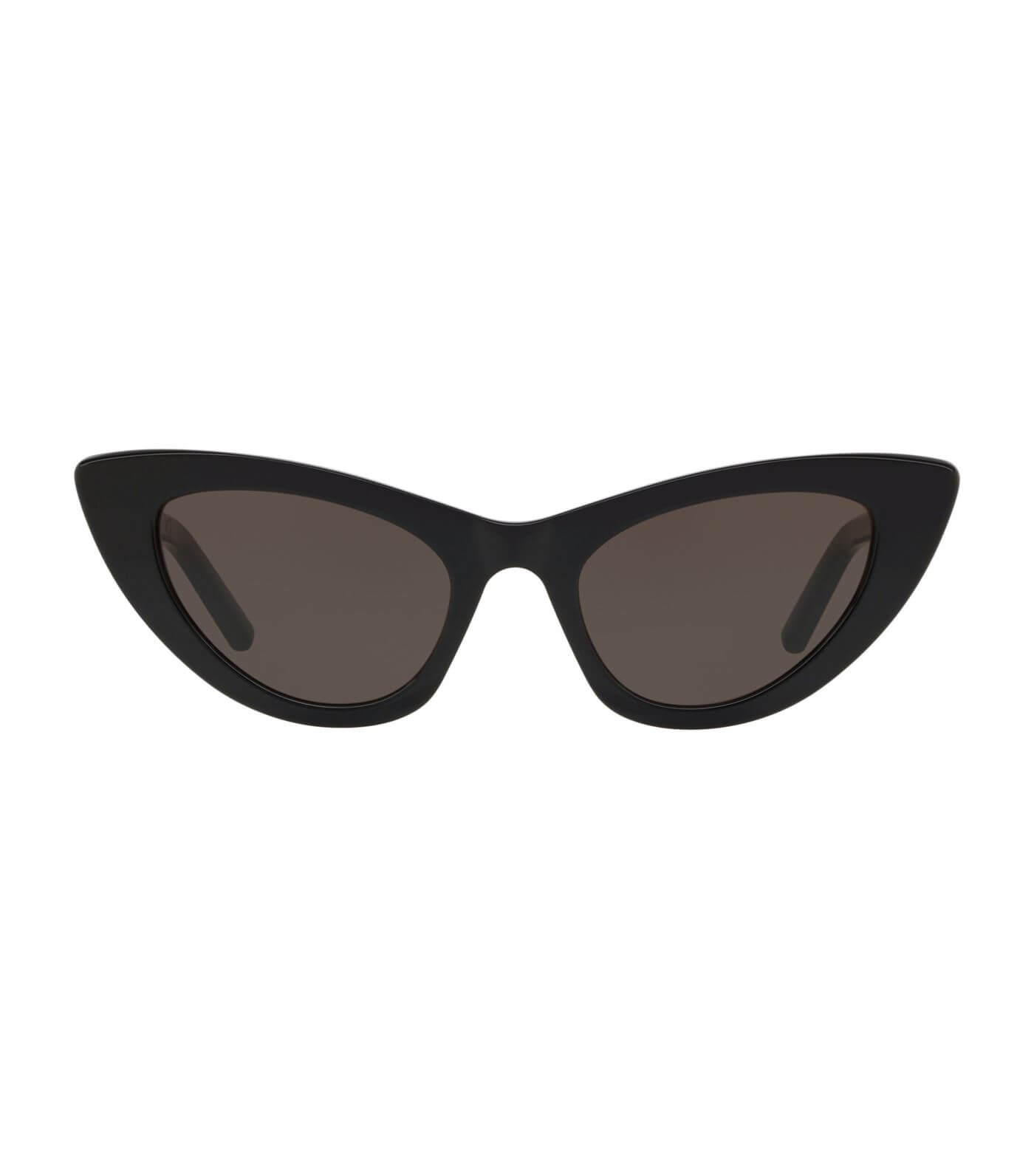 Source:harrods.com
If you are someone who is not about chic style but want something which would look sober as well as elegant at the same time then you can check this sunglass out which has a nice cat eye finish which seems to be very stylish as well as elegant for sure. It has a very thick frame and the color black is actually doing justice to the sunglass and this kind of glass can be worn by almost anyone and also this gives a kind of mysterious look which ends up being seductive as well so if you are desiring for such looks then you should try this sunglass for once at least. This sunglass also has tinted glasses which basically help in keeping your eye cool and so less stress would be there on the eyes. The best thing about this sunglass is that the sunglass would give you 100 percent protection from the UV rays so there would be least sun damage in your eyes and also you can get this sunglass online in great deals.
4) Linda Farrow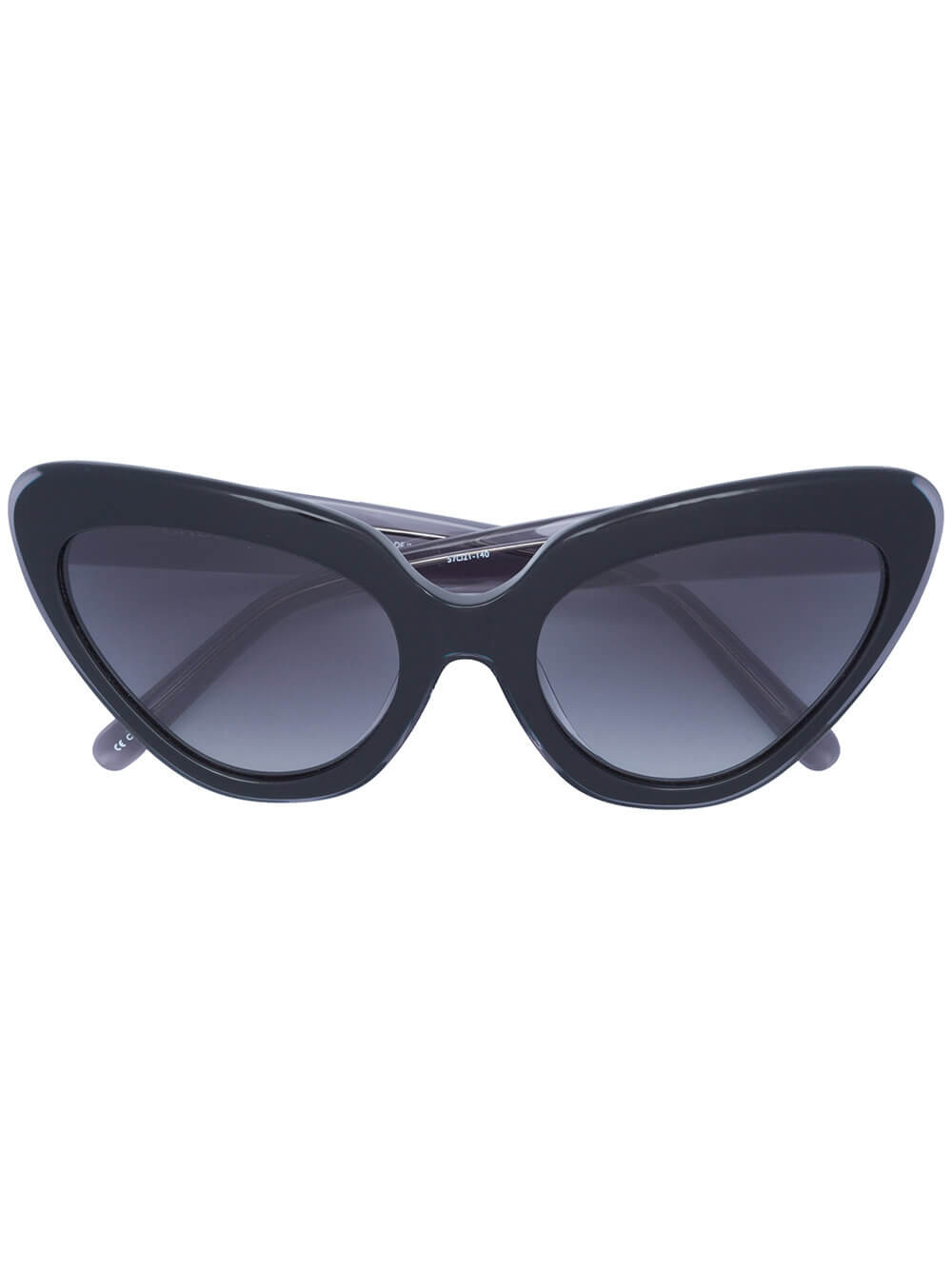 Source:harrods.com
If you are not into fiber as well as plastics then you can have a look at this particular sunglass as because this sunglass comes in a metallic frame which makes the cool even more classier than others for sure and also you can get colors of your choice which is again a great thing so you can actually mix match the glass according to your outfit. Moreover, the lenses of this sunglass are tinted which makes it look the best and at the same time, it ensures that the eyes could get that cooling after wearing this sunglass. You can even see gold or rose gold finish on the frame of the sunglass which makes it kind of sparkly and glittery as well. This also does justice to the work of any sunglass as it would make your eyes cool and at the same time it would keep your eyes protected from all the harmful rays and the best thing is that this sunshade can be worn by anyone of different ages.
5) Moschino 52mm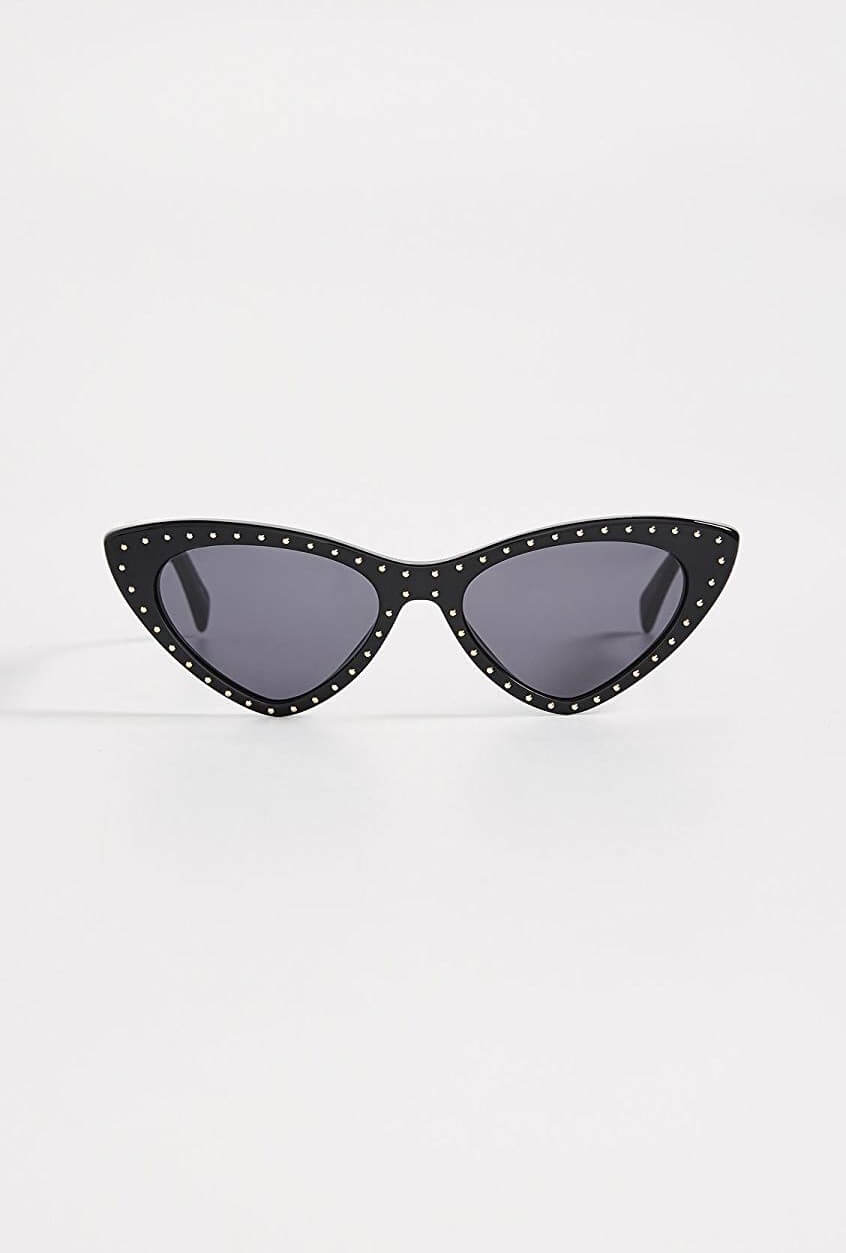 Source:cloudfront.net
This particular sunglass is comparatively smaller in size which makes it one of the best cat eye sunglasses and so if your face is also kind of small then you can, of course, get your hands on this Amazing Sunglass and also it looks quite different from any ordinary sunglass which is a great thing for sure. The sunglass has a thick retro style frame which comes in a variety of dark colors so you can actually choose according to your choice or preference. The best, as well as unique part of the sunglass, is the glittery studs that are all over the sunglass frame and these studs actually make the sunglass appear this unique as well as fashionable. This sunglass has a tinted lens as well which ensures that the eyes remain cool and also the protection from UV rays are guaranteed from this sunglass.
6)  Celine Eyewear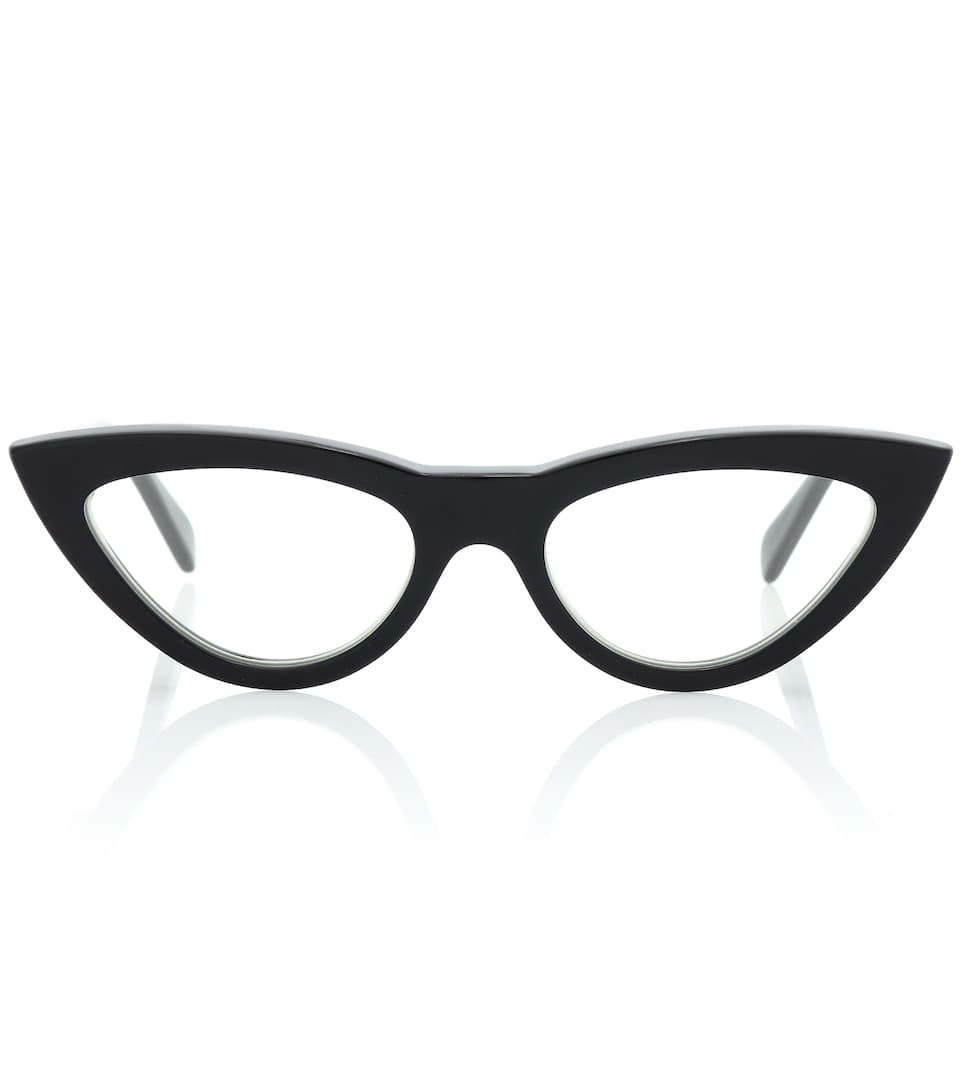 Source:mytheresa.com
This sunglass is also comparatively smaller in size so it would not actually cover up your whole face as such which seems to be a good thing because women or girls generally don't have big face and generally most of the sunglasses tend to cover the whole face up which is not a good thing for sure but with this sunglass you would not face this same problem again. This sunglass has sharp edges which make it look much more chick like and also make you look elegant at the same time. You can get the frame in different colors and also you can actually choose the color of your lens which is a great thing and you can even go for frames which have nothing at the lower line. This sunglass would, of course, protect your eyes from UV rays and also this would keep your look as well as your eyes cool at the same time.
7) MCQ Metallic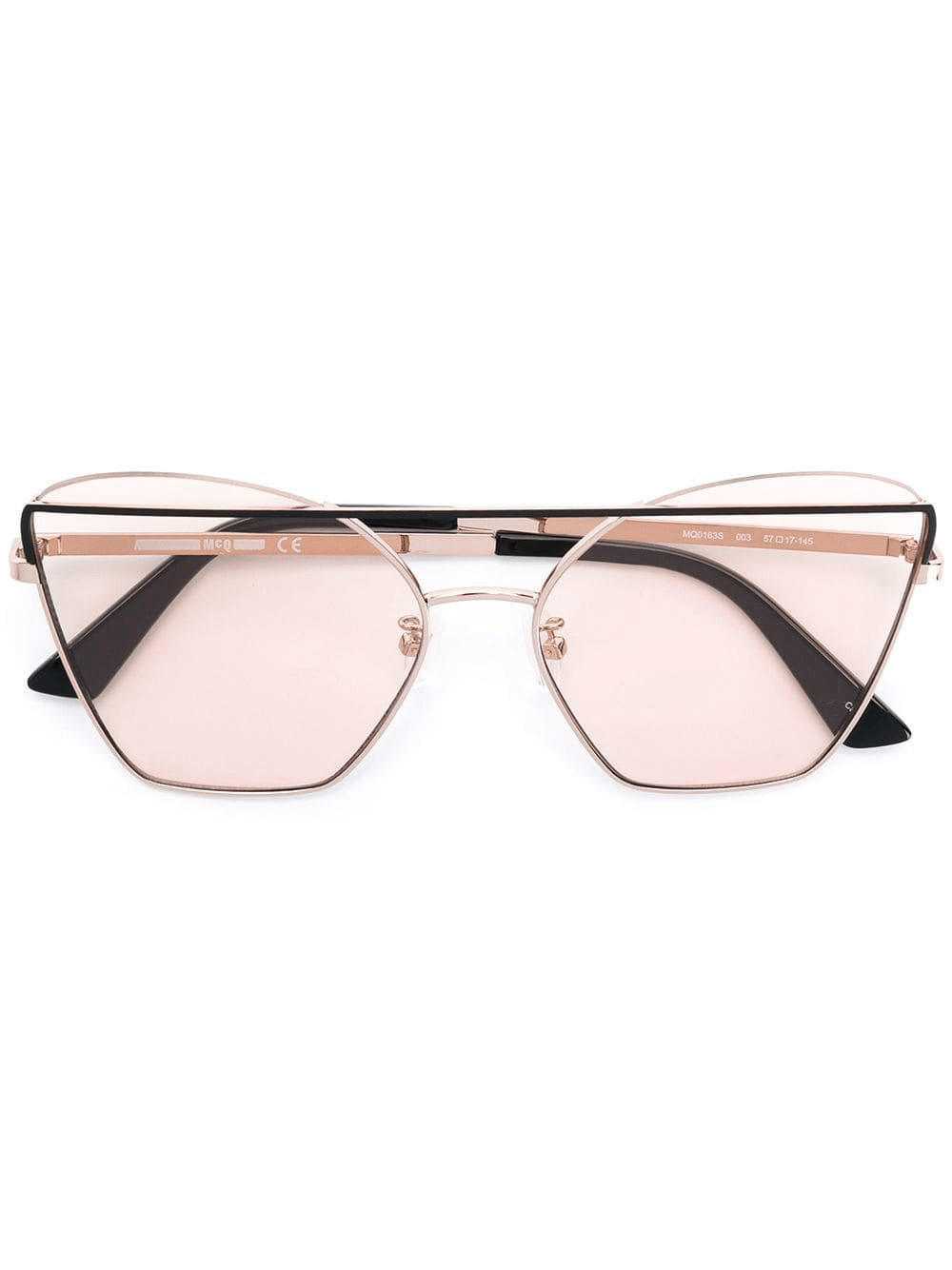 Source:modesens.com
If you got bored by the same thick framed cat eye sunglasses then you can actually try this kind of cat eye sunglasses as this is has a narrow metal rim and so if you are someone who doesn't like plastic or fiber then also this glass would prove to be perfect for you. This glass is not really very small or not even a very large one which makes it the perfect sunglass for sure. This has a double layer of the metallic rim which actually defines the shape of the glass more and the best thing is that you can get this glass in different cool shades such as sky blue, pink and many more so you can choose one according to your preference. This would, of course, keep your eyes look and also it makes sure that the eyes could be saved from any harmful sunray which is a good thing as with this sunglass you can get style as well as protection at the same time. You can get your hands on this sunglass through online sites at a reasonable price.
8) Miu Miu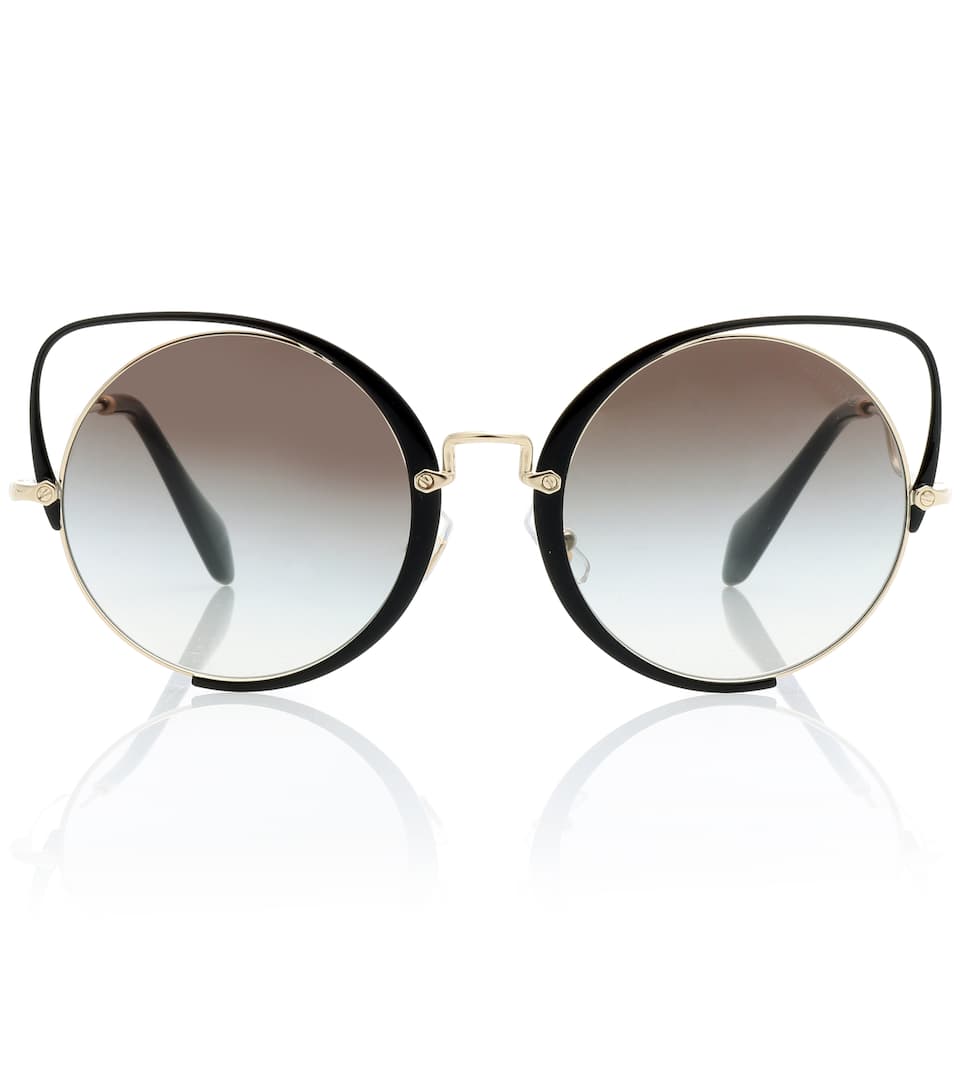 Source:mytheresa.com
If you are the one who loves chic style sunglasses but at the same time if retro glasses also attract you then you can go with this kind of sunglass as they present a good combination of retro as well as modern style in terms of looks. Here you would get the metal frame which is again a nice thing because there are many people who tend to avoid bulky looking glasses. This has a nice round kind of lens shape and over that there is the cat eye frame which is winged out and you can get your hands on different shades of this glass which is a good thing so you can always choose the one according to your preference every time and also you can get your hands on this through online shops at great deals which is the best thing for sure.
9) Christian Roth Rock n' Roth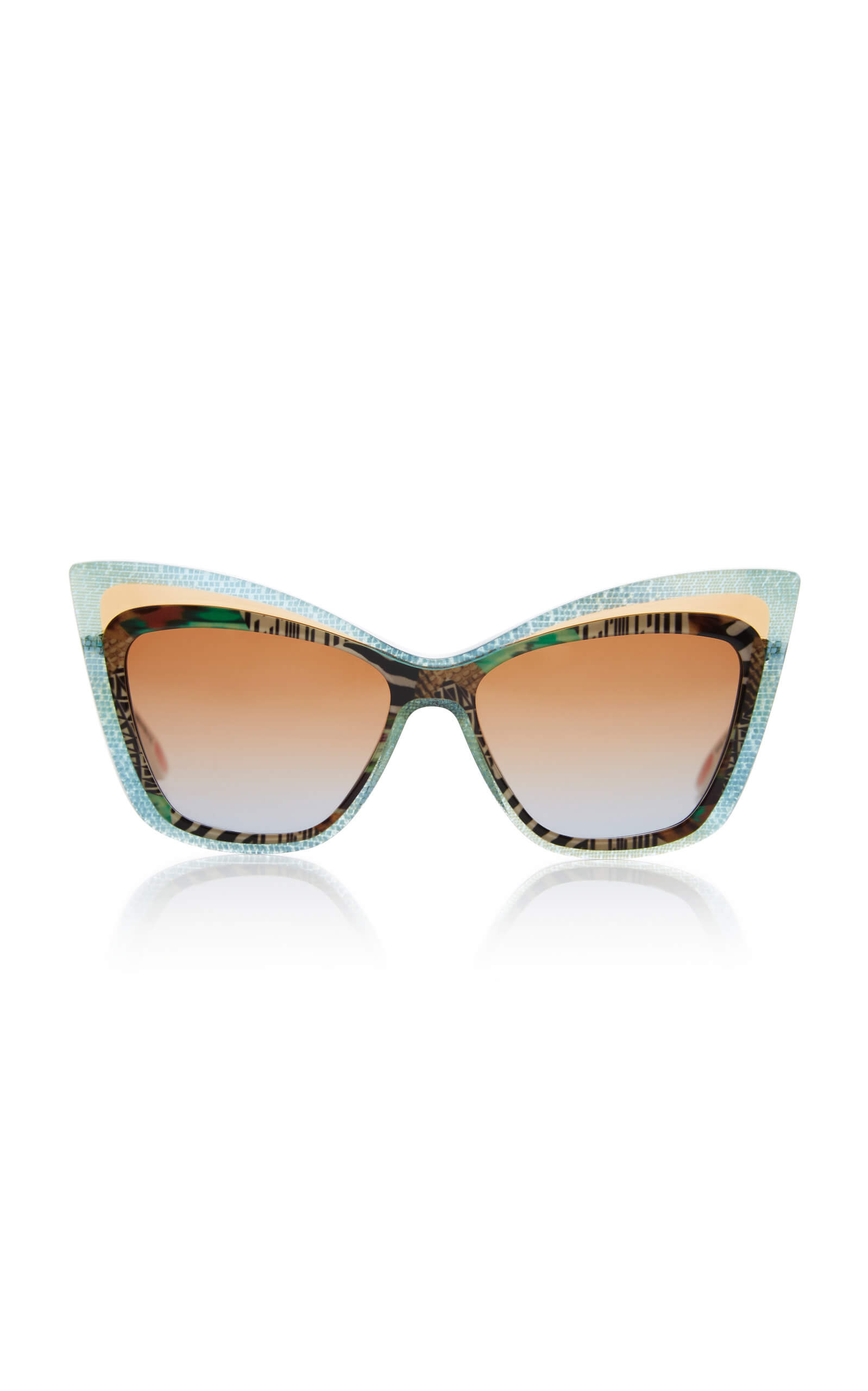 Source:modaoperandi.com
If you are the one who swears by retro designs when it comes to glasses or sunglasses then you can check this out for sure and they are the rocking retro which would make you look unique as well as stylish at the same time. You would get 100 percent UV protection from this sunglass and as they are tinted so they would keep your eyes cool at the same time and also you can get this in different shades and the double layer of the upper frame makes it look this unique.
These were few of the best Cat Eye Sunglasses that you can check out and also you can find more such things at Fashionterest.