Can You Wear Black To A Wedding? This is the most asked question of those who love wearing black but would the society accept the color in wedding occasions? Well, it is definitely a very big question for sure but the society has modernized enough that now it accepts the color and rejoices wearing it in all occasions so if you are thinking to wear a black dress in the wedding then you can go on and rock your look at the occasion. Now that you are sure about wearing a Beautiful Black Colored Dress In Wedding then now you must be wondering about how to carry out black in the occasion of wedding or you may also wonder what dress you can pick to wear on the wedding day so here are some of the best ways to wear that black wedding dress like a pro that you need to check out:
1) You Can Add A Dash Of Color: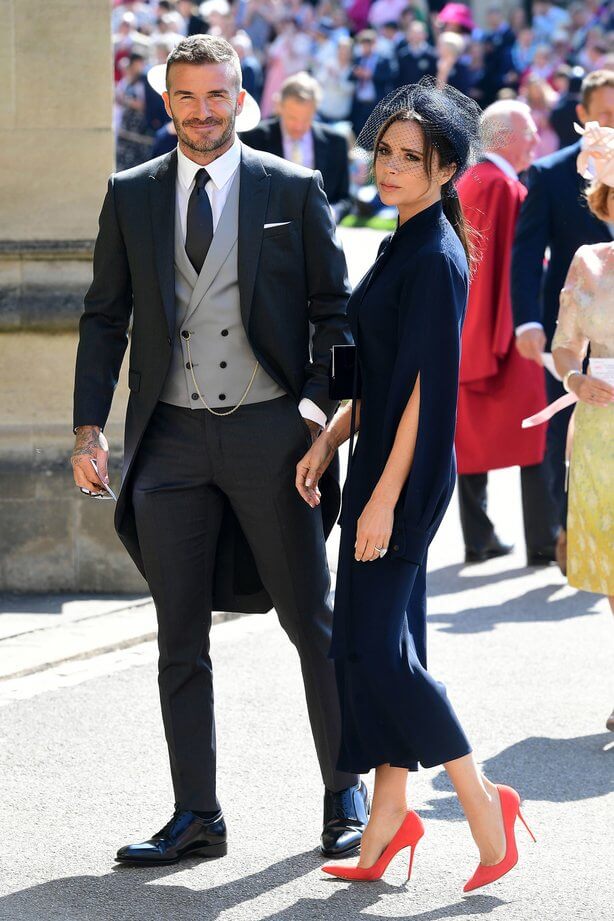 Source:rasset.ie
Also Read: How To Have A Great Springtime Wedding Without Spending So Much Money
Well if you are not comfortable about wearing all black in the occasion then you may add some other color as well in your outfit and red always seem to look best with black so you can try adding something that is in the color red. Well, you can basically get a pair of classic red heals with your all black wedding dress and it is for sure that with the dash of red in your outfit you would look the best for sure. you can keep the rest of your look neutral and do not wear too much accessory with the look rather make the look appear simple and the color black as well as red would make your entire look pop and you would look like a diva at the occasion for sure. Even celebrities sometimes went with the combination and this combination never failed to impress people for sure.
2) Color-coded Wedding: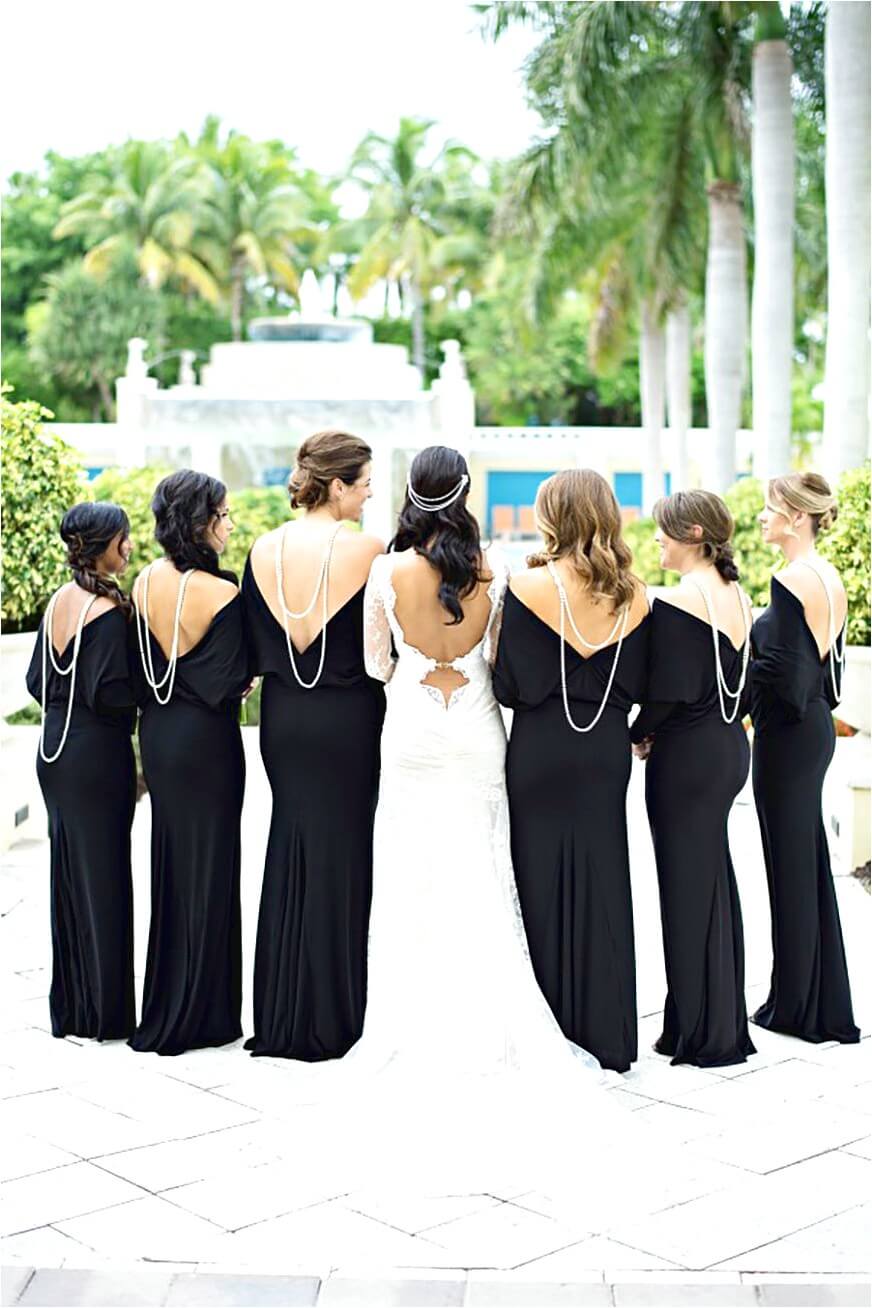 Source:thetommywebbband.com
Black dress can also be worn in weddings which have color codes and black seems to be one of the most common colors that often people set as a color code for the wedding and the concept behind colors codes is just to make each picture appear perfect and also in this way everything seems to be so perfect as well as organized at the same time. if you are the bride then you can keep the color of your dress black and your bridesmaids would have dresses of different color or you can go with a different color such as white or red and rest of the guest would have the color code of black colored dress in the wedding and this would definitely make the wedding appear in style as well as would make the occasion appear gorgeous. While you do so you need to make sure that you click lots of pictures and in these kinds of themes often all the men wear almost same kind of dress whereas all women wear the same kind Black Wedding Dresses.
3) Match Your Dress: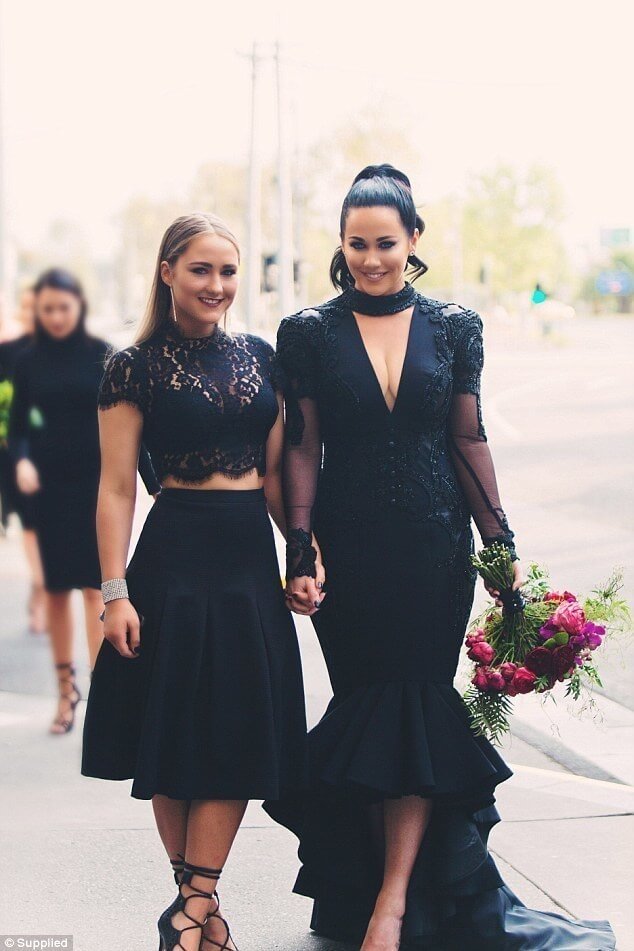 Source:lifebuzz.com
Well, matching your dress with the most special person seems to be a good idea for the occasion of a wedding. If it is your sister's wedding or if it is the wedding of your BFF then you can choose your dress accordingly and both of you can look color coordinated and that would be super cool as well as super special at the same time. Here you can go with the color black and you may not wear the exact same dress as the bride but you can definitely get something similar to wear. You can also go with dresses that have lacework on them and the black laced dress seems to be one of the best Black Wedding Dresses of all time and you can definitely try this out and look amazing at the same time.
4) Be Sleek Be Simple At The Wedding Party: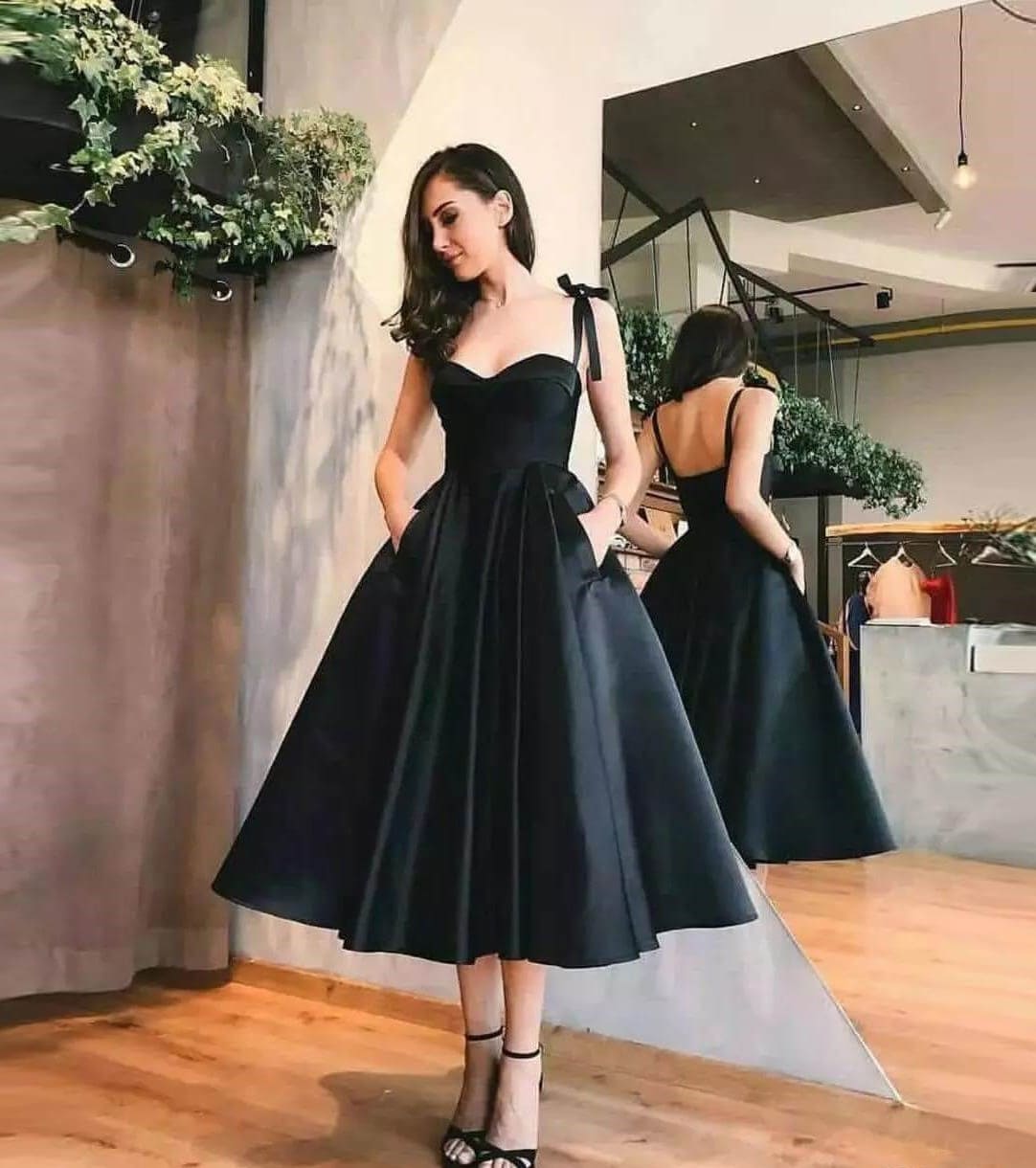 Source:dhgate.com
While you choose to wear the color black in a wedding party you need to ensure that you choose something super sleek which would make your look classy just like the color itself and you may not want to ruin the purpose as well as the elegance of the color. Here you can go with a mid-length gown which seems to be elegant for the purpose and also here try to keep the look simple and so do not experiment too much. Simple neutral makeup would match well with the look and you would be able to catch some eyes at the event and also compliments are confirmed with this look. Here you can have elegant black shoe along with it as it would make them look more elegant as well as sober at the same time and do not wear too much accessory with it.
5) Men In Black For The Wedding Purpose: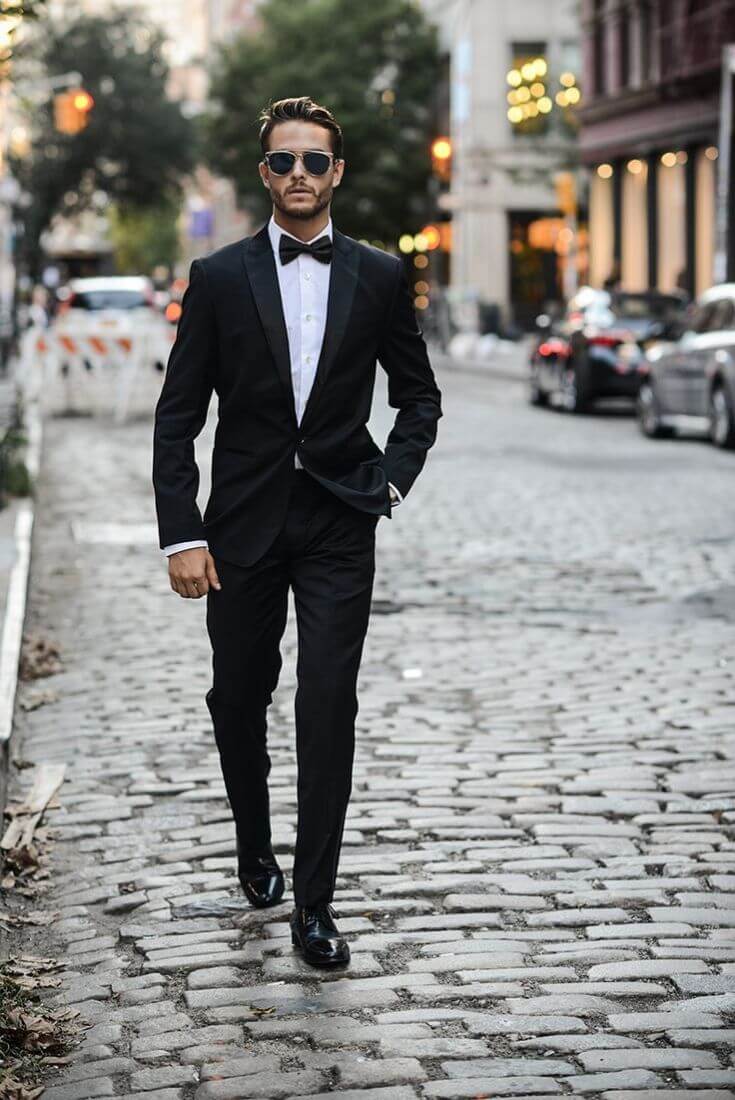 Source:dmarge.com
Well, it is for sure that men also need to dress up perfectly in the wedding occasion and if you are someone who loves wearing black then you can definitely follow this outfit and wear it on wedding occasion like a pro. Here you can mismatch your dress with the color white as well as black and here you can simply carry out the look with a pair of black trousers as well as coat and a classic white shirt and to make them look more classy do add on your classic black leather boots and a small black bow on the tie area would complete the look and you would look dashing for sure in the occasion. You can even add a black shade if the occasion is taking place at the day time and a silver watch is also preferable in this look.
6) Do Not Go For The Too Short Dress: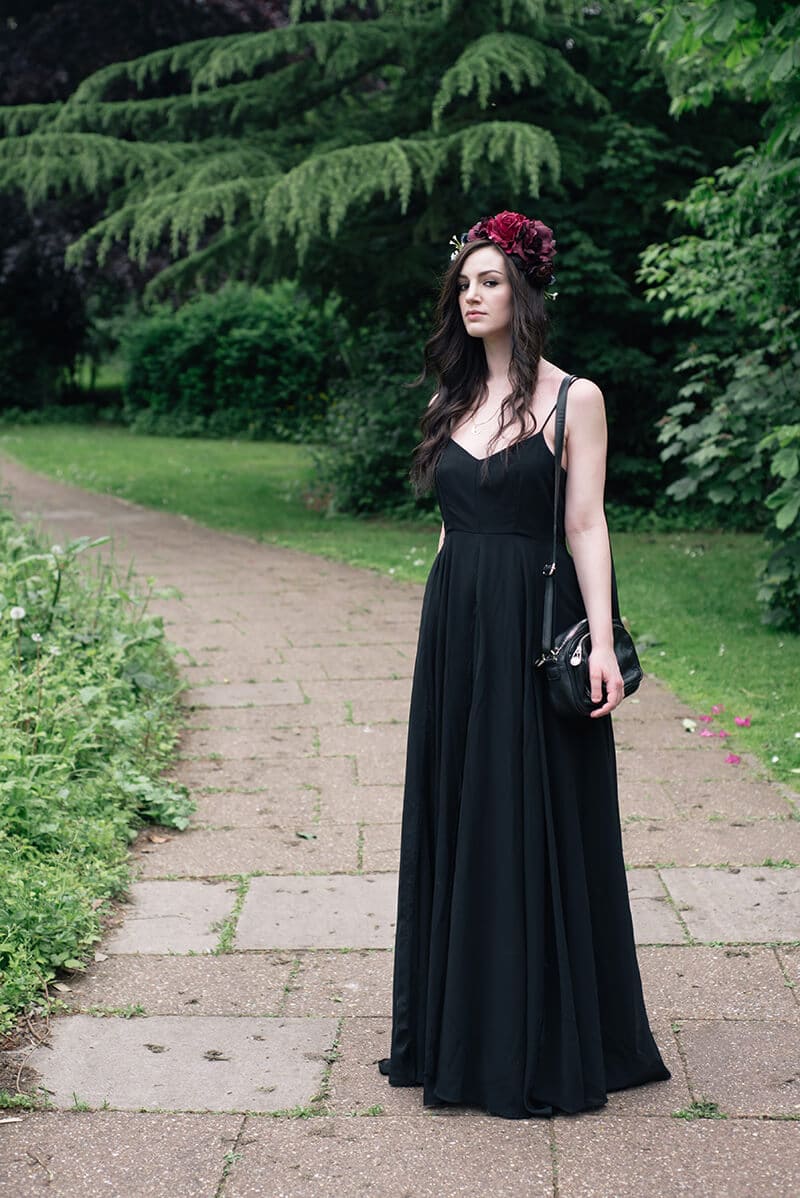 Source:faiiint.com
You need to understand that it is a wedding occasion and looking sober is a must here so make sure to look delicate as well as sober and for that you need to avoid wearing too short dresses also wedding dresses is all about gowns so here also you can go with a chiffon black gown of full length and it is for sure that this kind of dress looks amazing on almost everyone also the best thing about long gowns are that they work as best figure correctors so even if you think that you couldn't achieve the perfect figure for the wedding season then consider wearing black gowns to get yourself sorted for the event. Here you can also add a beautiful flower tiara which needs to be colorful and this would complete your look and would also make you appear the best at the same time.
7) Black Partners: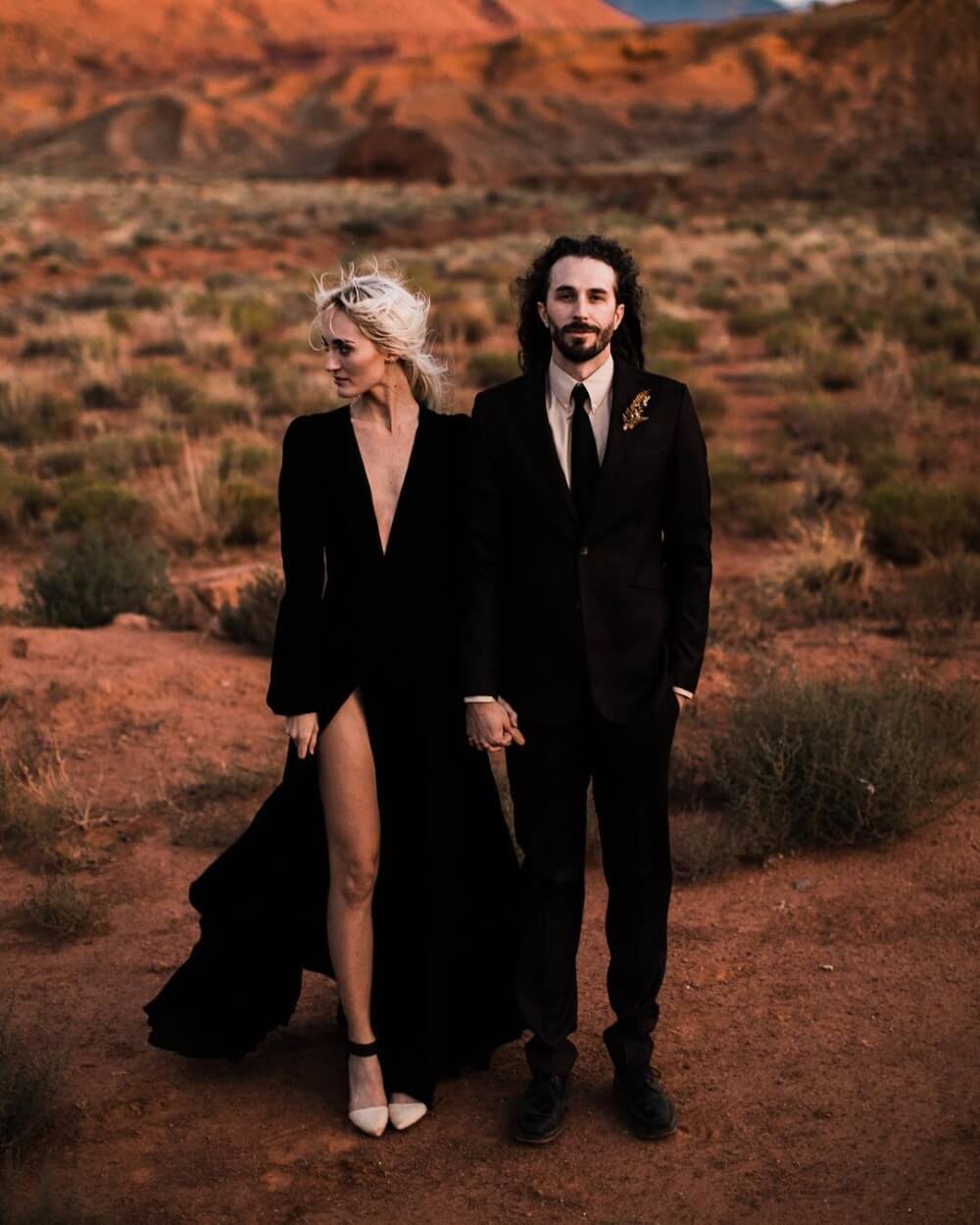 Source:weddingchicks.com
If you are attending a wedding with the love of your life then you can actually get yourself color coded with each other and black seems to be the best option here. you can wear an elegant black slit dress and your man can compliment your look by wearing a black trouser as well as coat and you can get clocked together at the event and set couple goals for others at the event and it is for sure that both of you would look the best as well as smoking hot at the same time and you can also follow this idea even if it is your own wedding.
These were few ways to carry black perfectly in a wedding occasion and if black is your favorite color then you can definitely follow these few black Wedding Outfit ideas and accordingly you can get yourself styled as well and also you can check out more such ideas at Fashionterest.